We continue our exploration of European country design principles (which began HERE) with photo gallery inspiration from a home beautifully and authentically reflecting them. Chateau Domingue's founder Ruth Gay and her husband constructed this Houston home with reclaimed materials, imbuing it with character and wonder. Prepare to swoon in Secrets to Capture Rustic Elegance in European Country Interiors, Cont'd.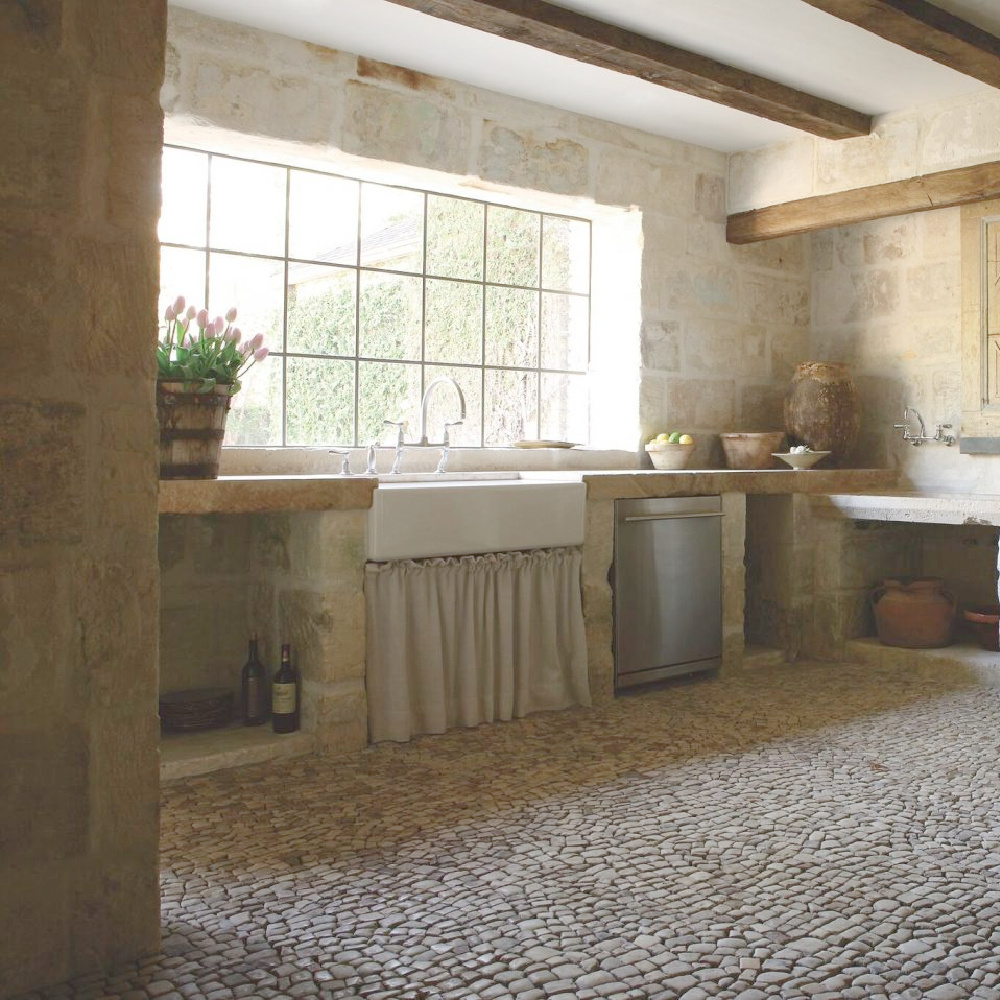 Secrets to Capture Rustic Elegance in European Country Interiors
Let's continue our house tour of the unforgettable home of Ruth Gay which began HERE!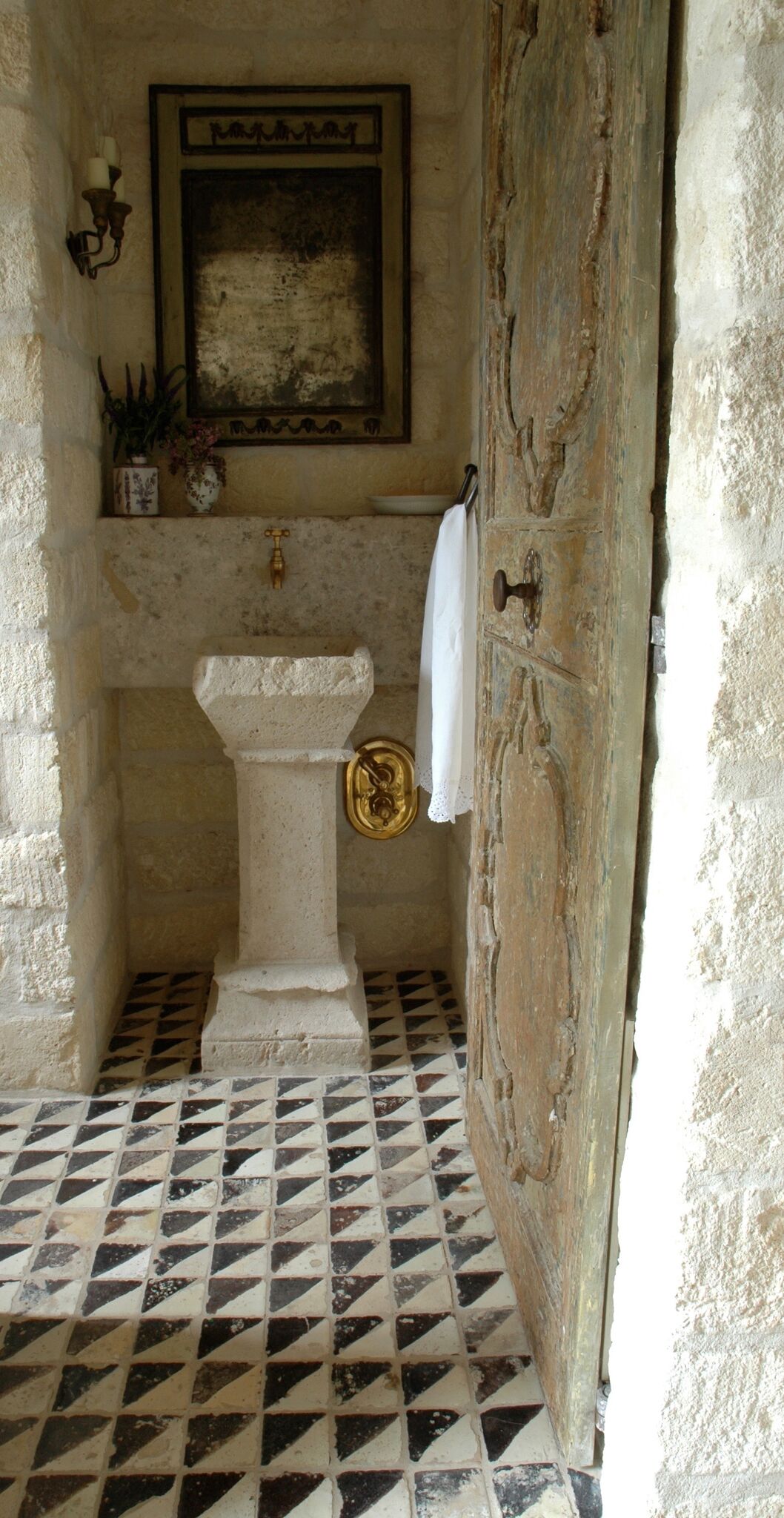 Design: Pamela Pierce Source: Chateau Domingue Photos: courtesy of Chateau Domingue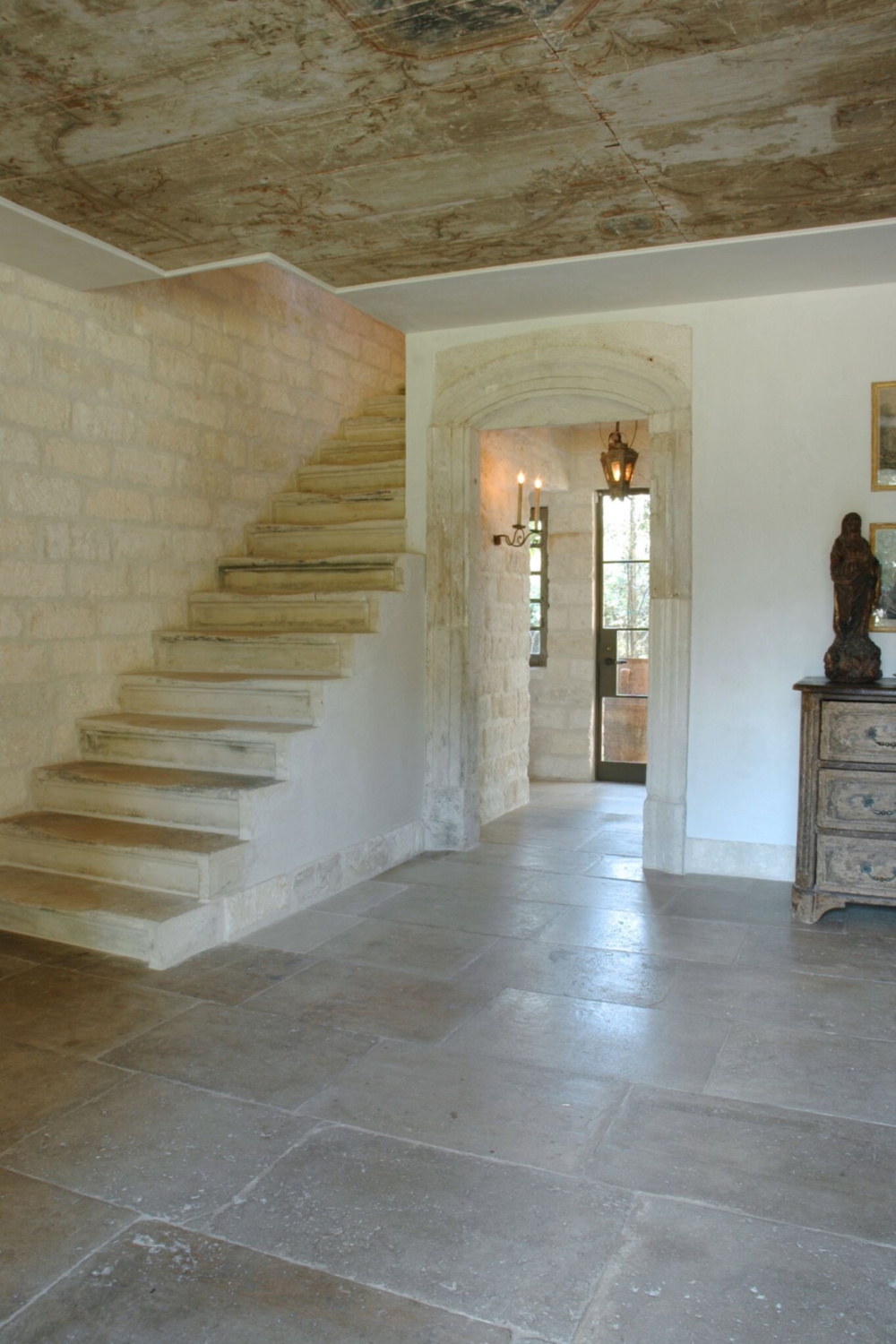 European Country Inspired Design Authenticity & Context
Let's avoid reducing a design style as exquisite as is seen here, to a few steps for "scoring the look" or "capturing the flavor." There are HUNDREDS of steps (I'll ask Ruth and her designer, Pamela Pierce for the exact number…Ha!).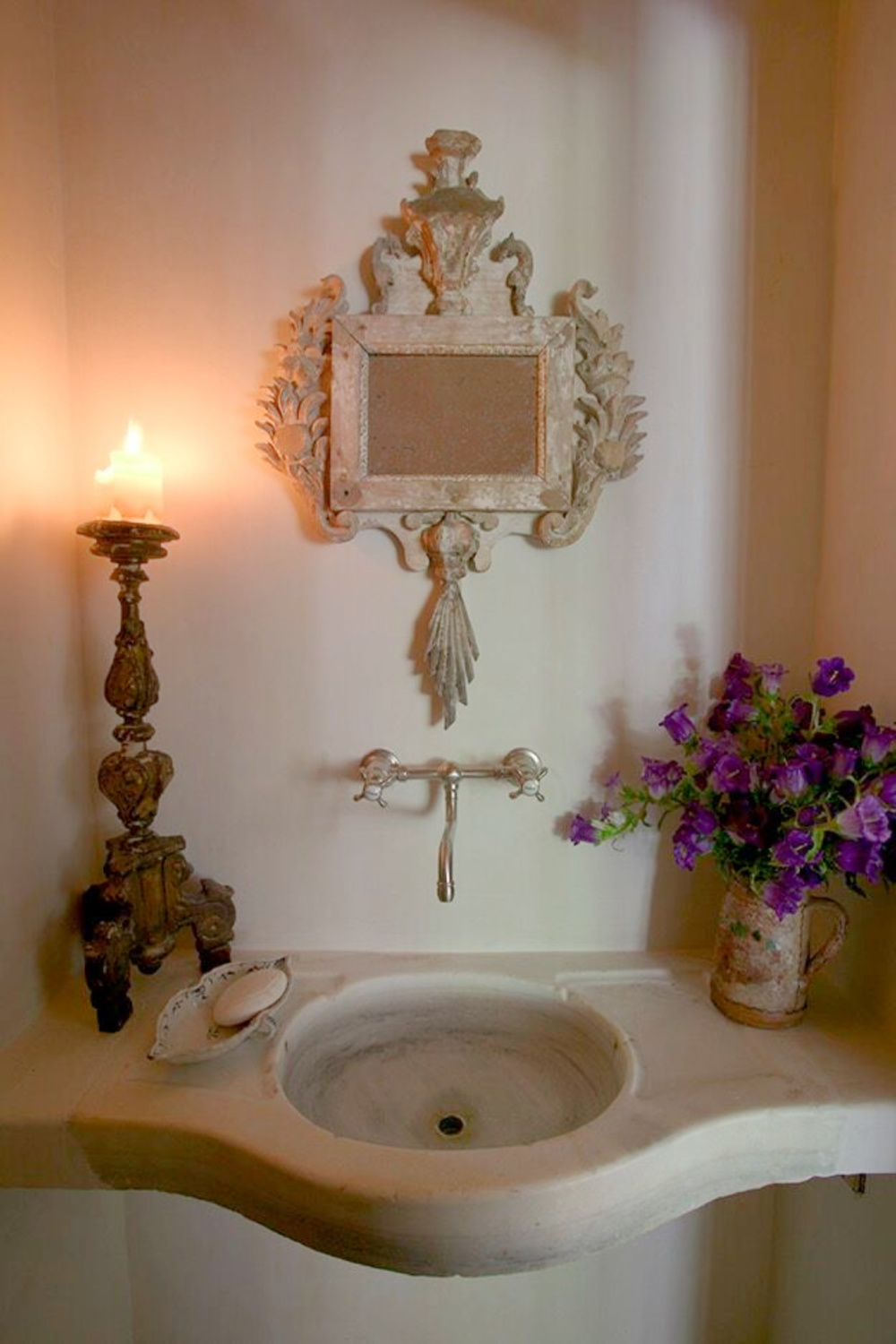 Instead, let's notice patterns and the poetry of the interiors as a springboard to discuss guiding principles rather than getting the look.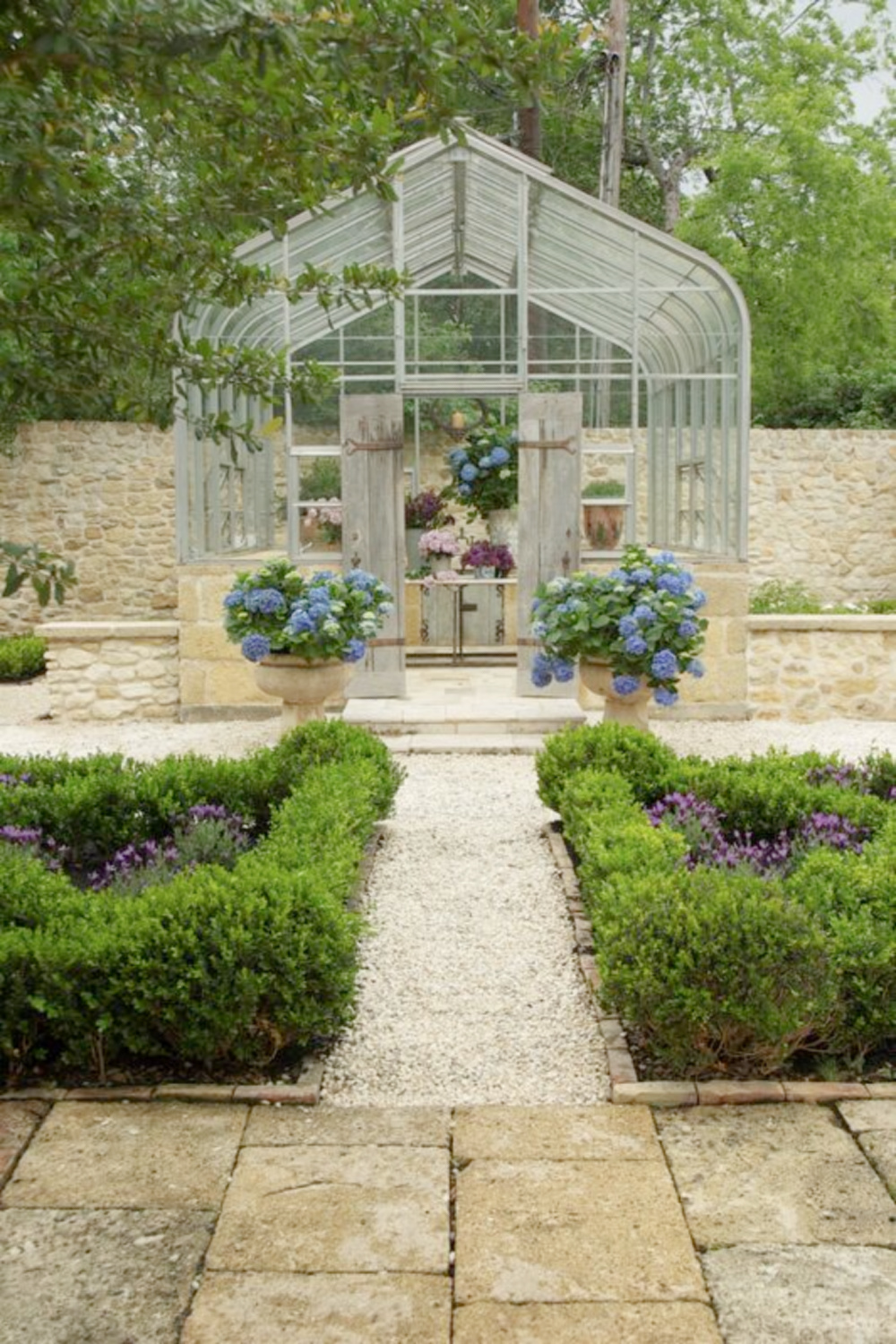 1. Educate Yourself About Origin
First of all, if authenticity is what we're after, we must become firmly anchored in the origin of European country and French farmhouse style. We should familiarize ourselves with the lovely landscapes of rural France, of Tuscany and Umbria.
Such education is not likely to grow simply from reading and researching the work of this famous designer or that famous design house.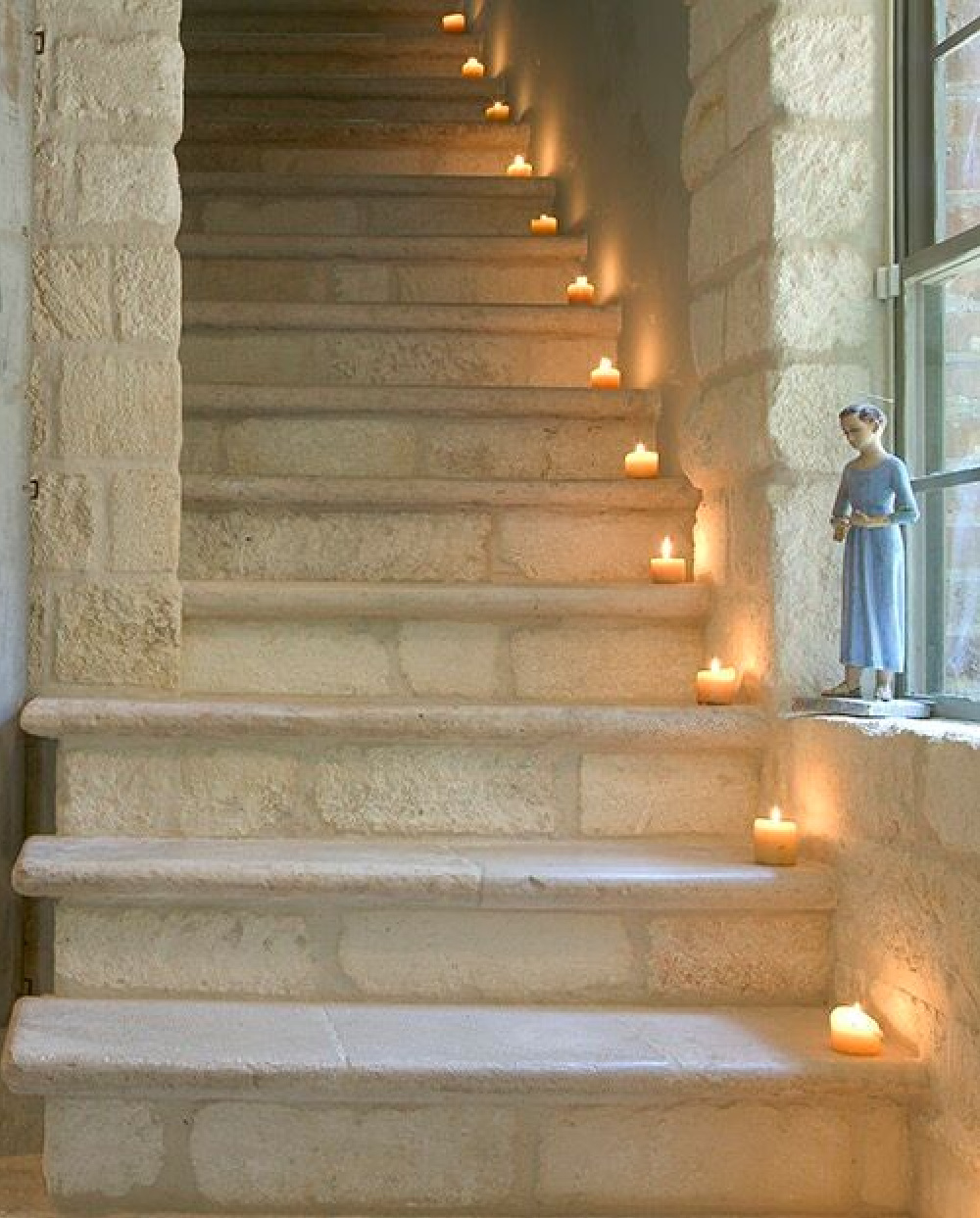 A Country French look, for example, has long established its enduring appeal. Its beauty and timelessness derive from its natural connection to the culture and character of the region.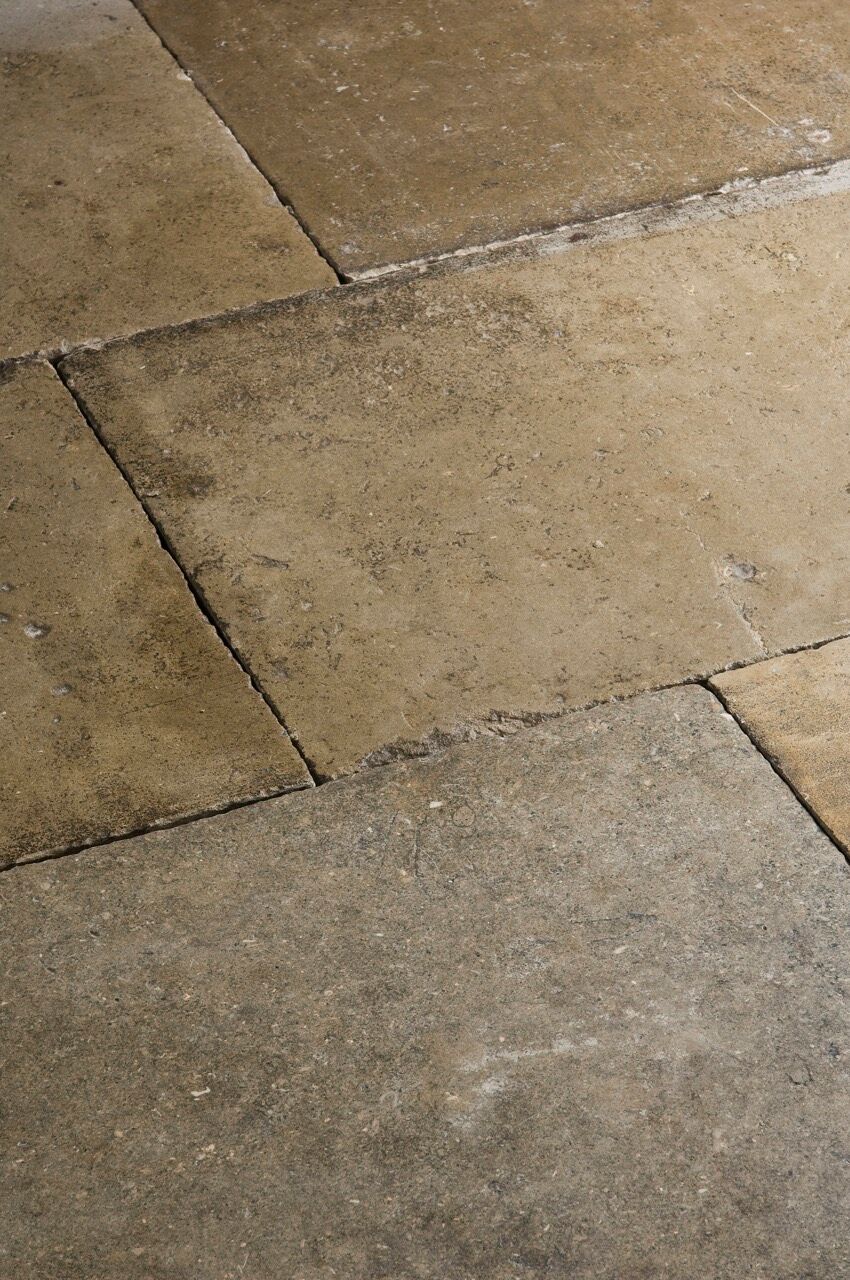 No wonder it is not easily emulated, "scored," or created outside of France. Most of us haven't the patience, ma cherie!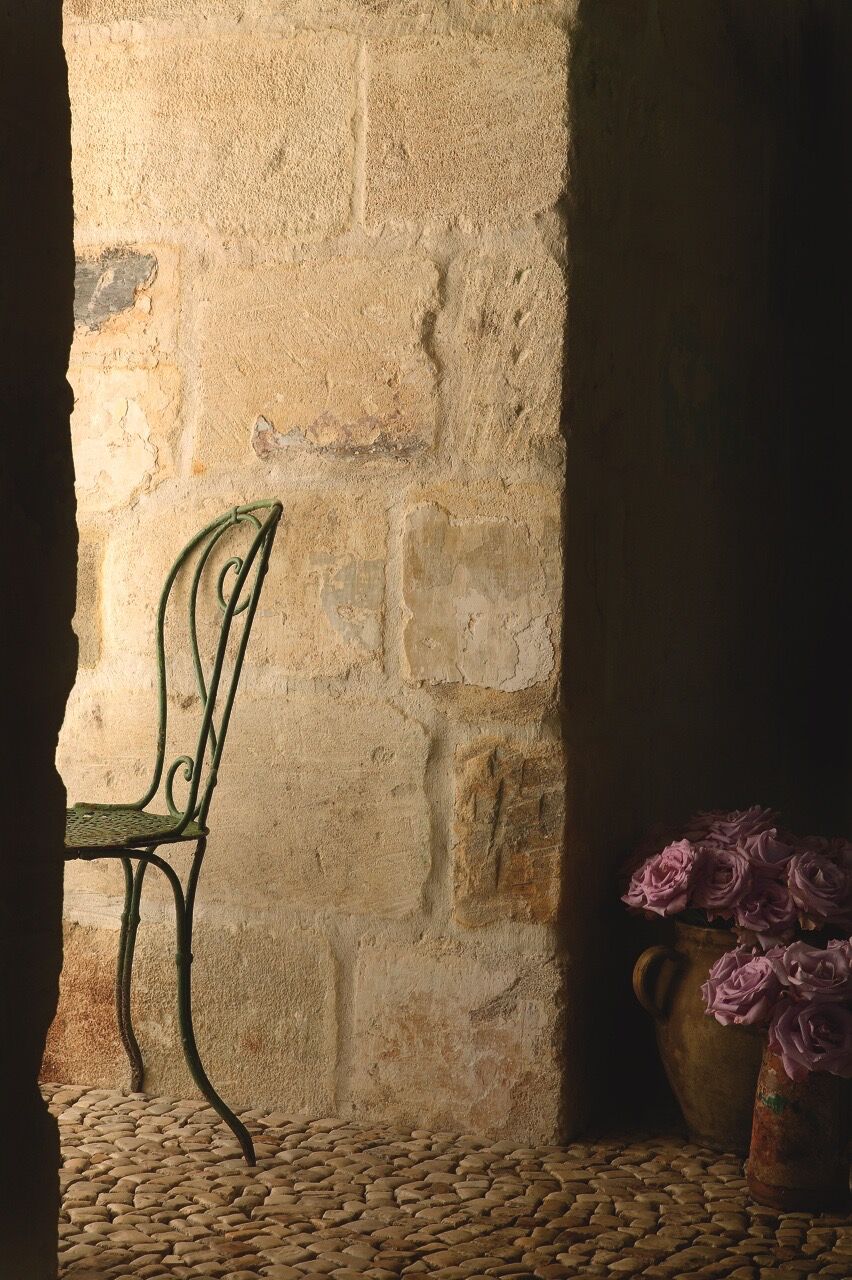 2. Learn About the Culture
Secondly, a European country inspired or Country French approach to home decor (which is often effortless, unhurried, and nostalgic) echoes a body of cultural ideals and values.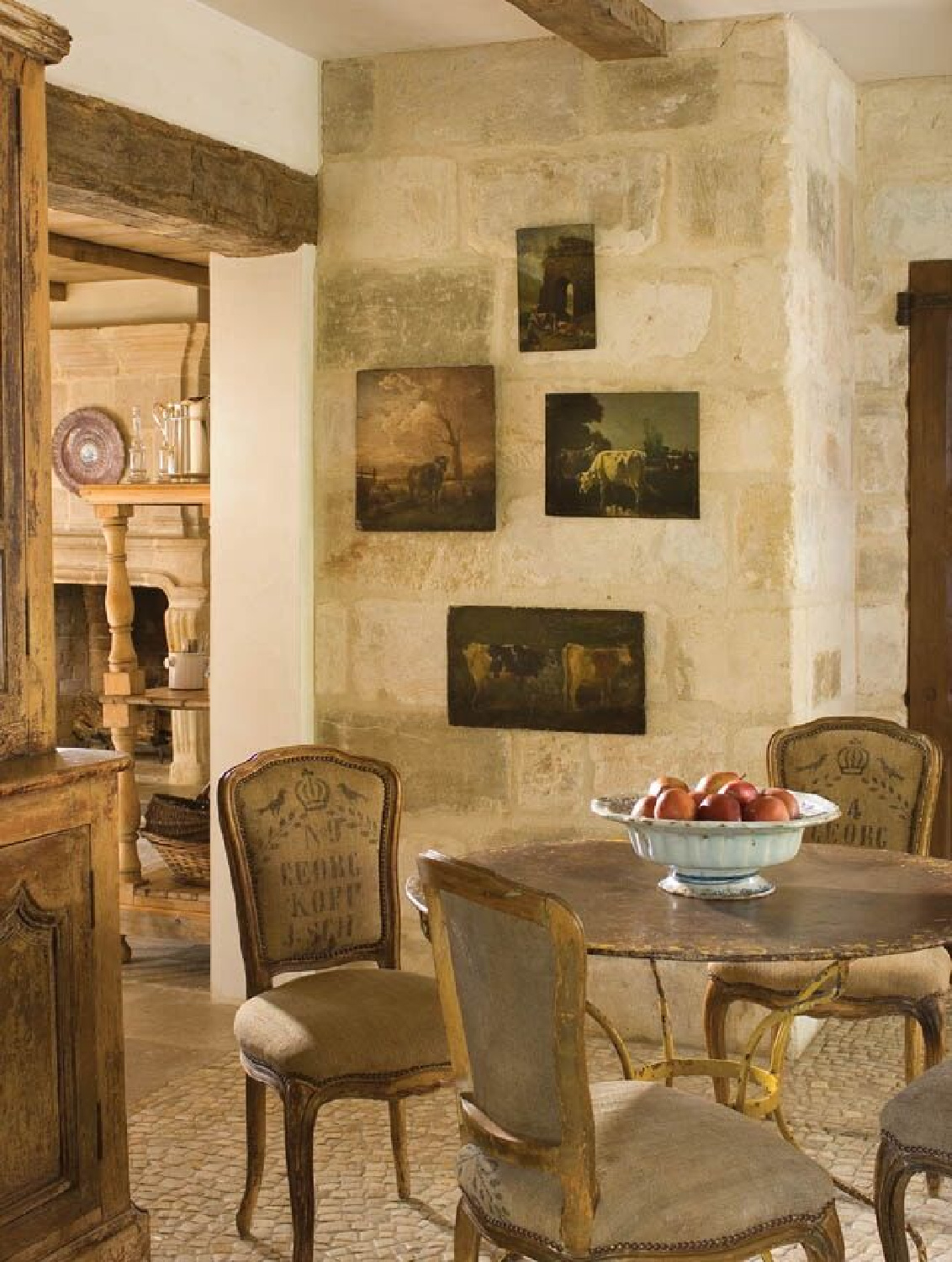 To understand why this design approach appeals to Americans, we must delve deeper into European culture and history to discern the aspects which attract a following.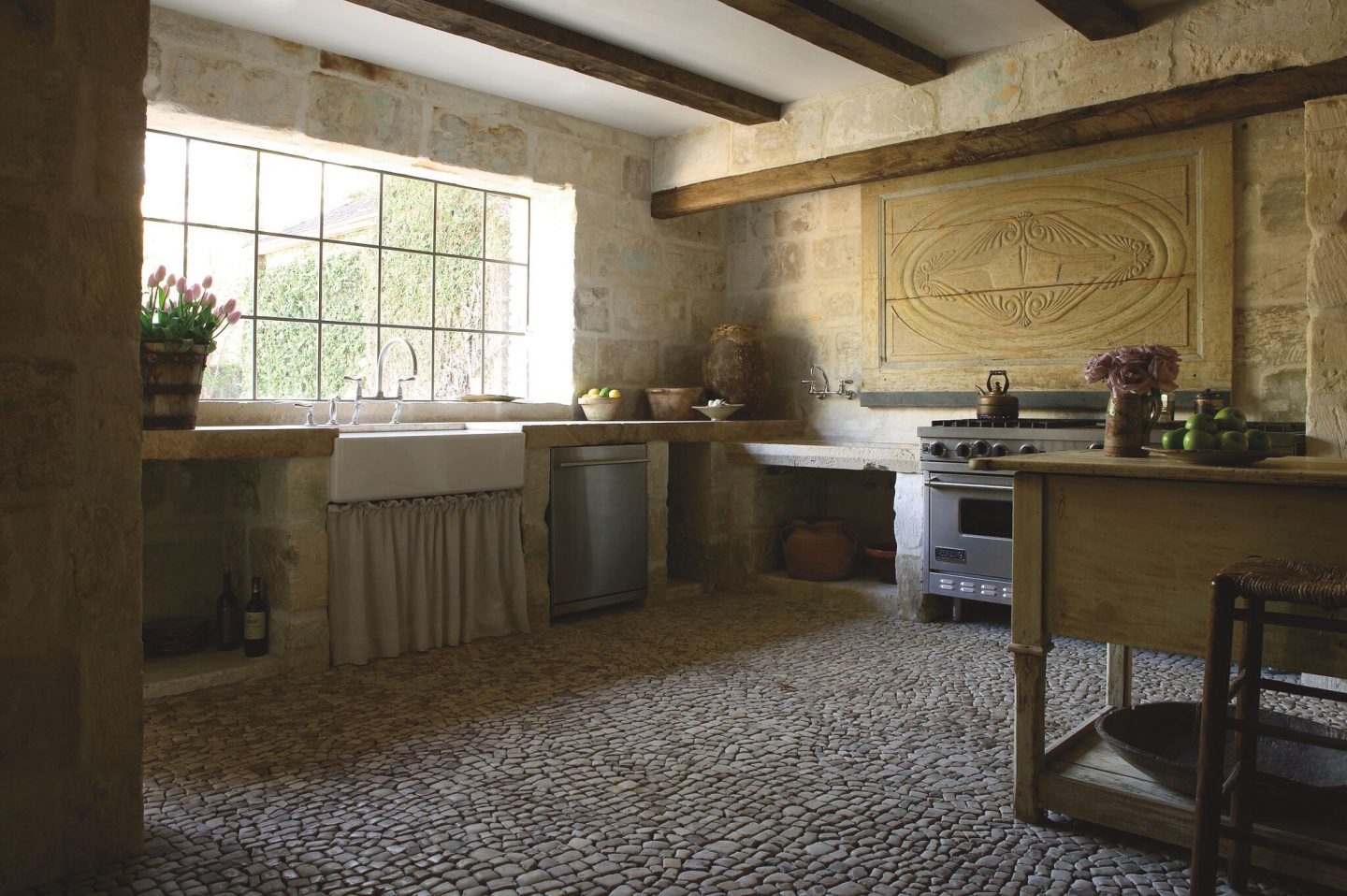 3. Timeless Over Trendy
Thirdly, instead of following trends and redecorating every decade (or season if you glance at influencers on IG!) as Americans often do, traditionalists in the French countryside favor a timeworn look.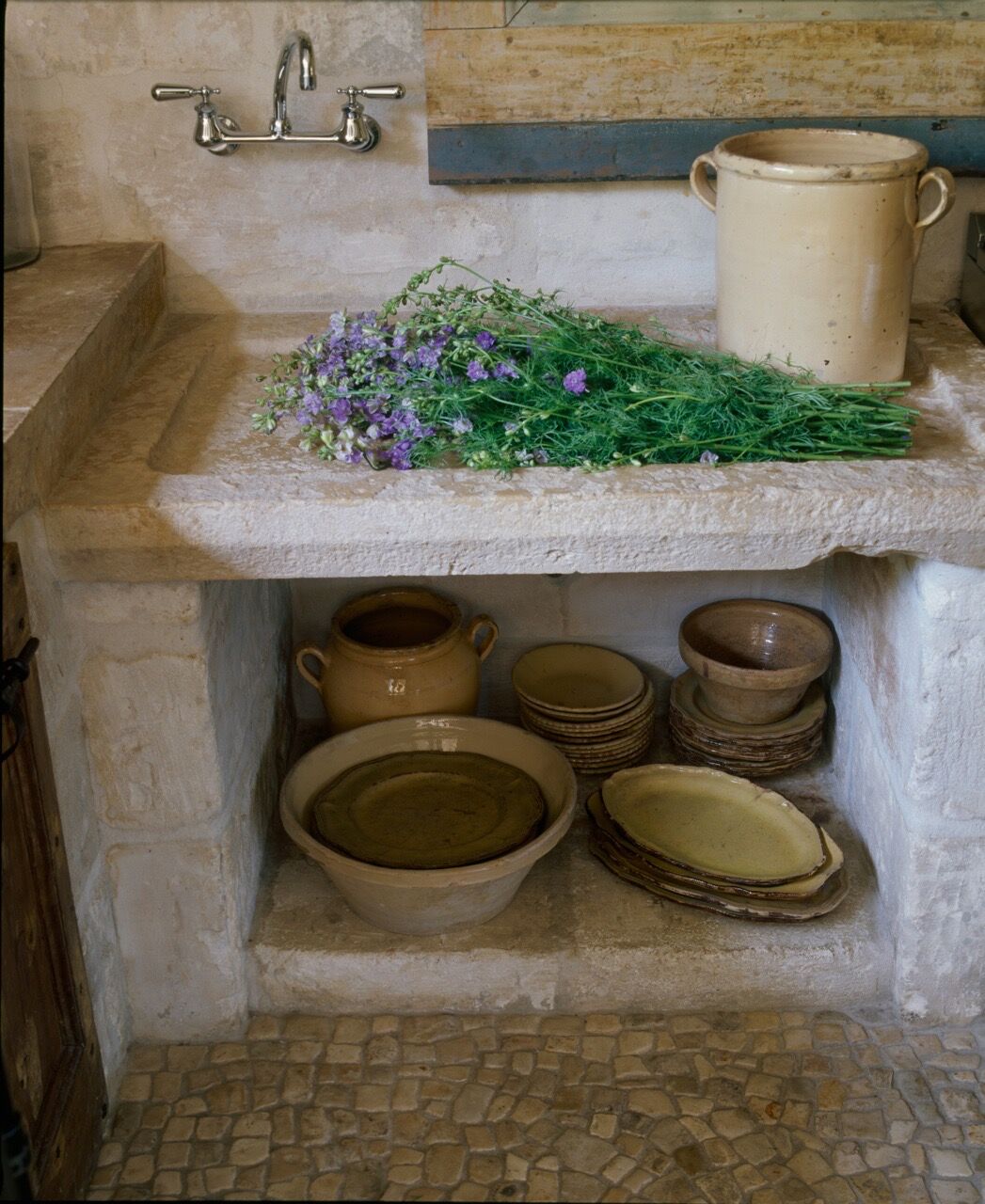 When you decide to ignore what is coming down the catwalk and seek an enduring timeless look, antiques and reclaimed authentic materials are your friend!
Tour a 17th Century property in Cologne to get into the spirit!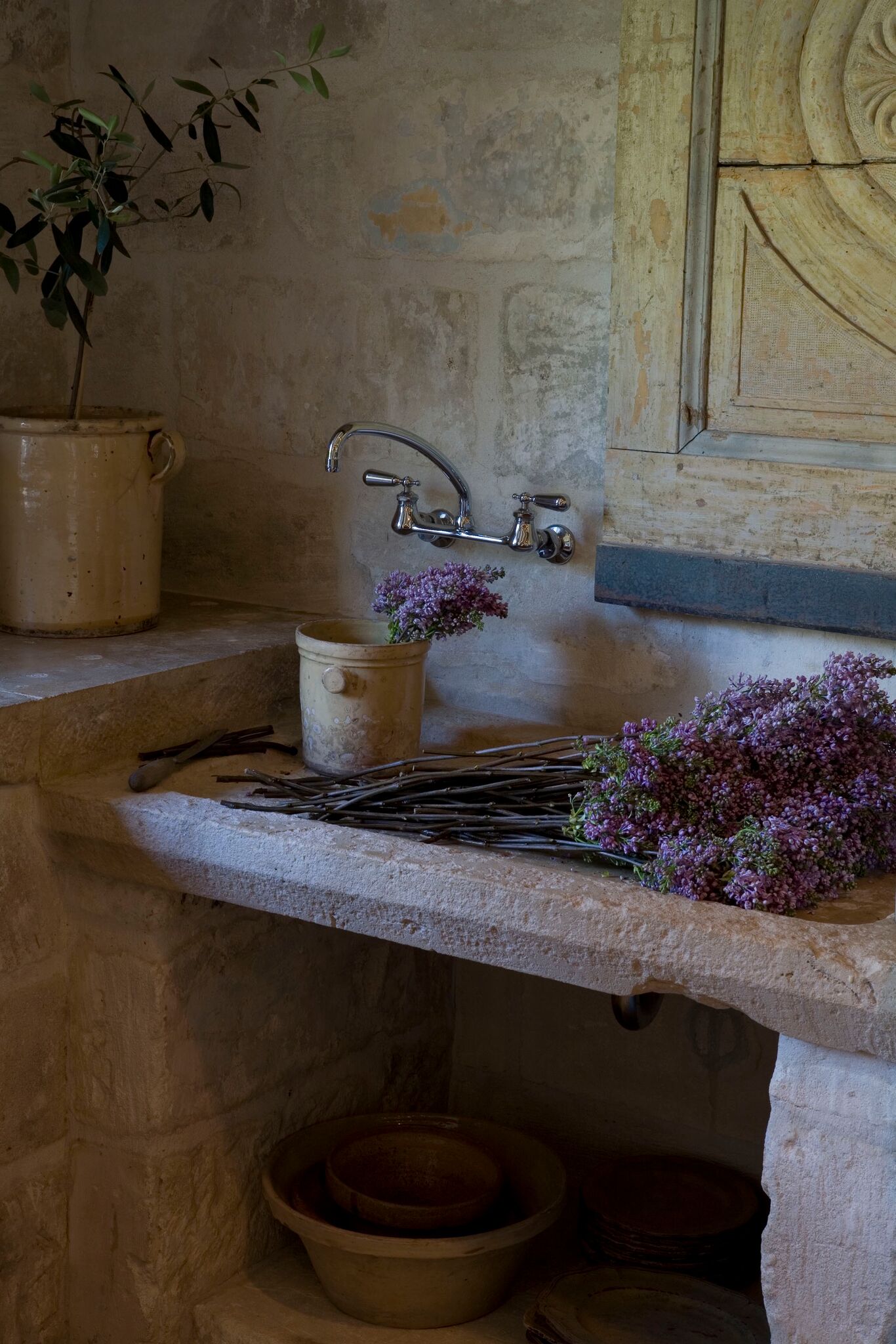 High quality and long lasting pieces which increase in value over time can become heirlooms. Buying less but better naturally follows.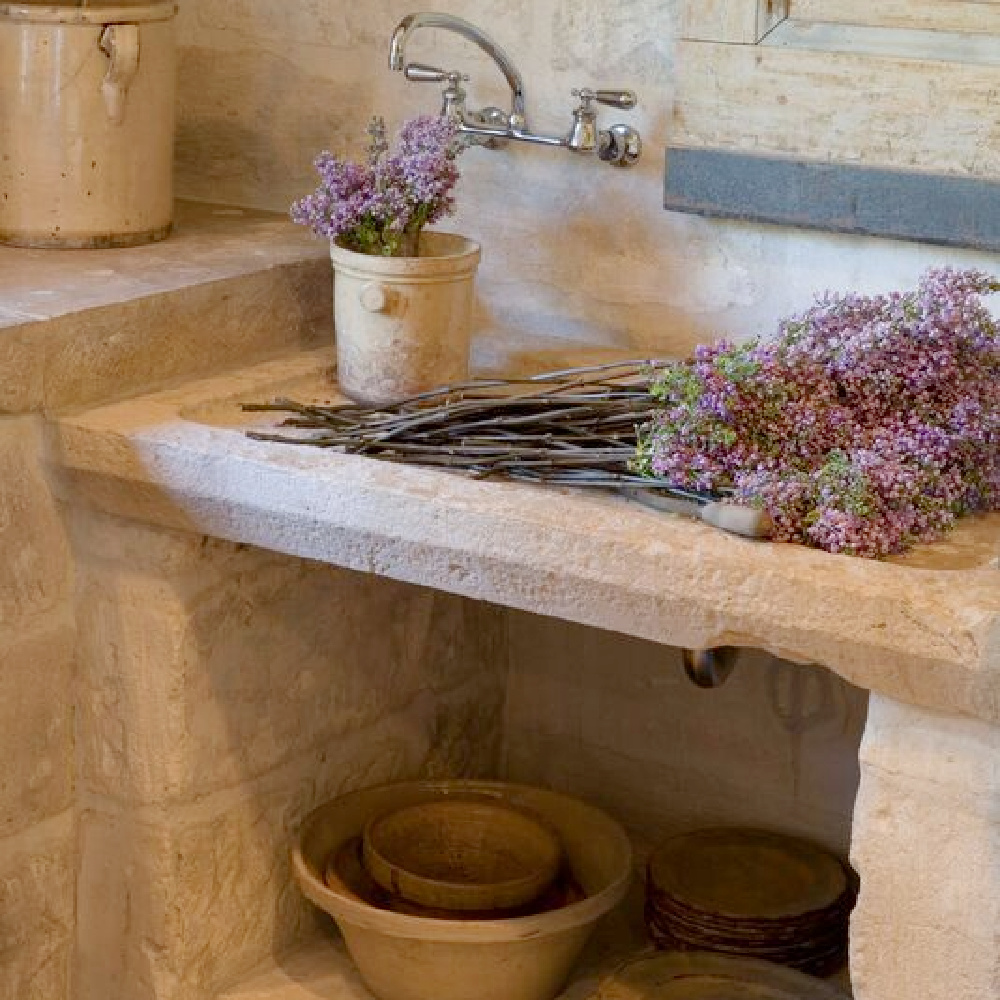 The look is rustic, elegant, simple, sophisticated, and timeless yet not contrived or overwrought.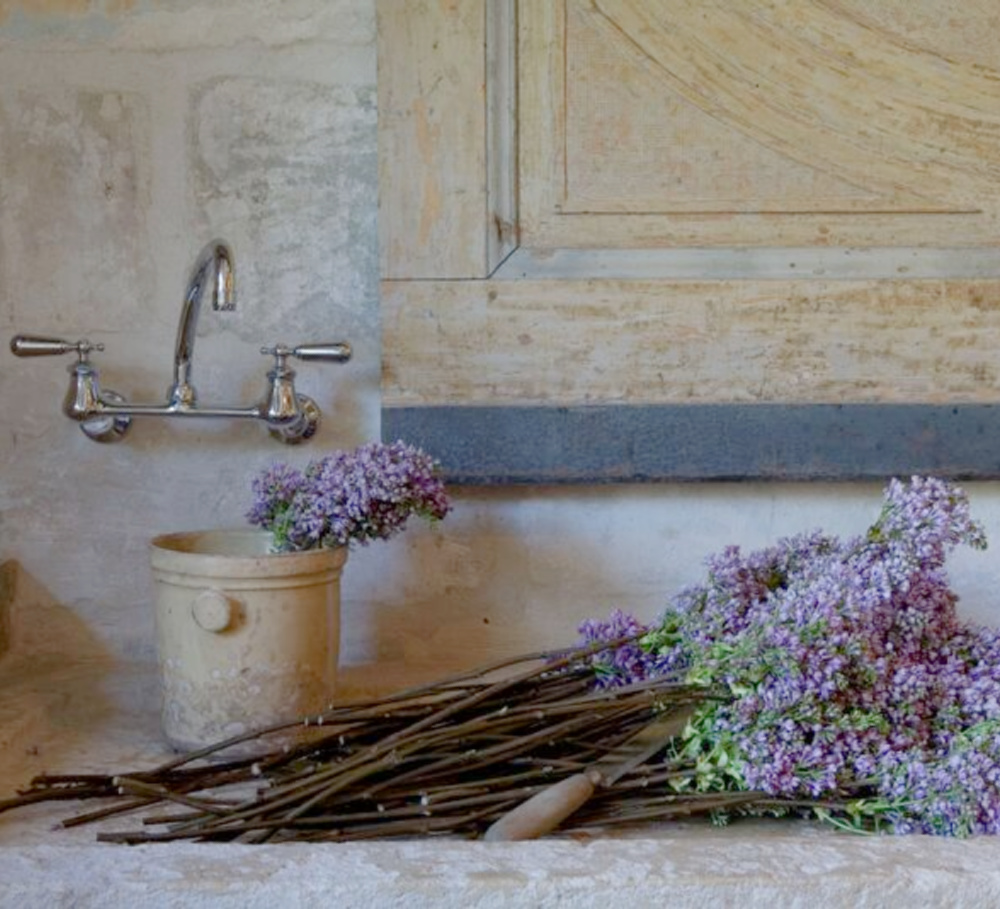 4. Mystique in the Mix
Fourthly, there is often a sense of refinement in traditional European country or French Country homes where a masterful mix of ancient with vintage results in a cohesive, sensible interior which also feels soulful and interesting.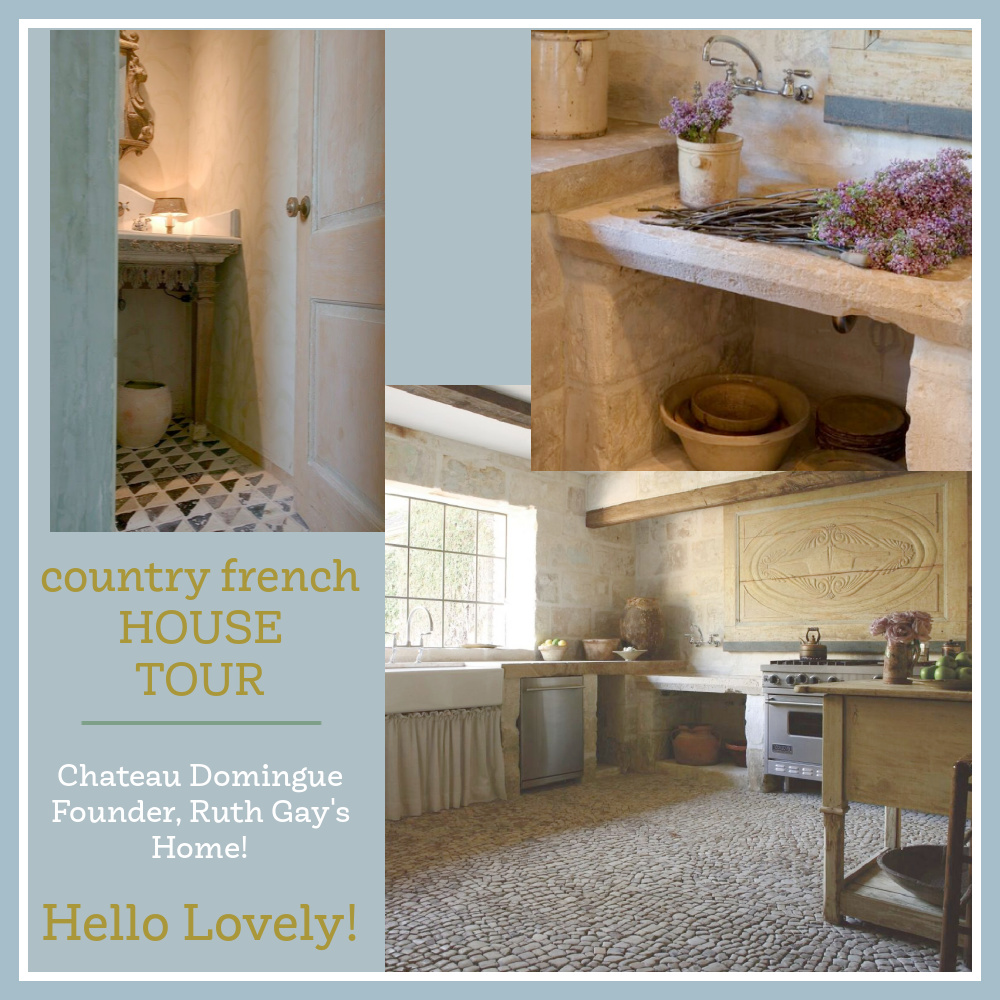 Even a contemporary painting or a modern lamp may harmonize with an ancient carved chest or clay pot. Pleasing combinations sing when there is friendliness and subtlety within the mix as opposed to contrived efforts to juxtapose, contrast, or shock.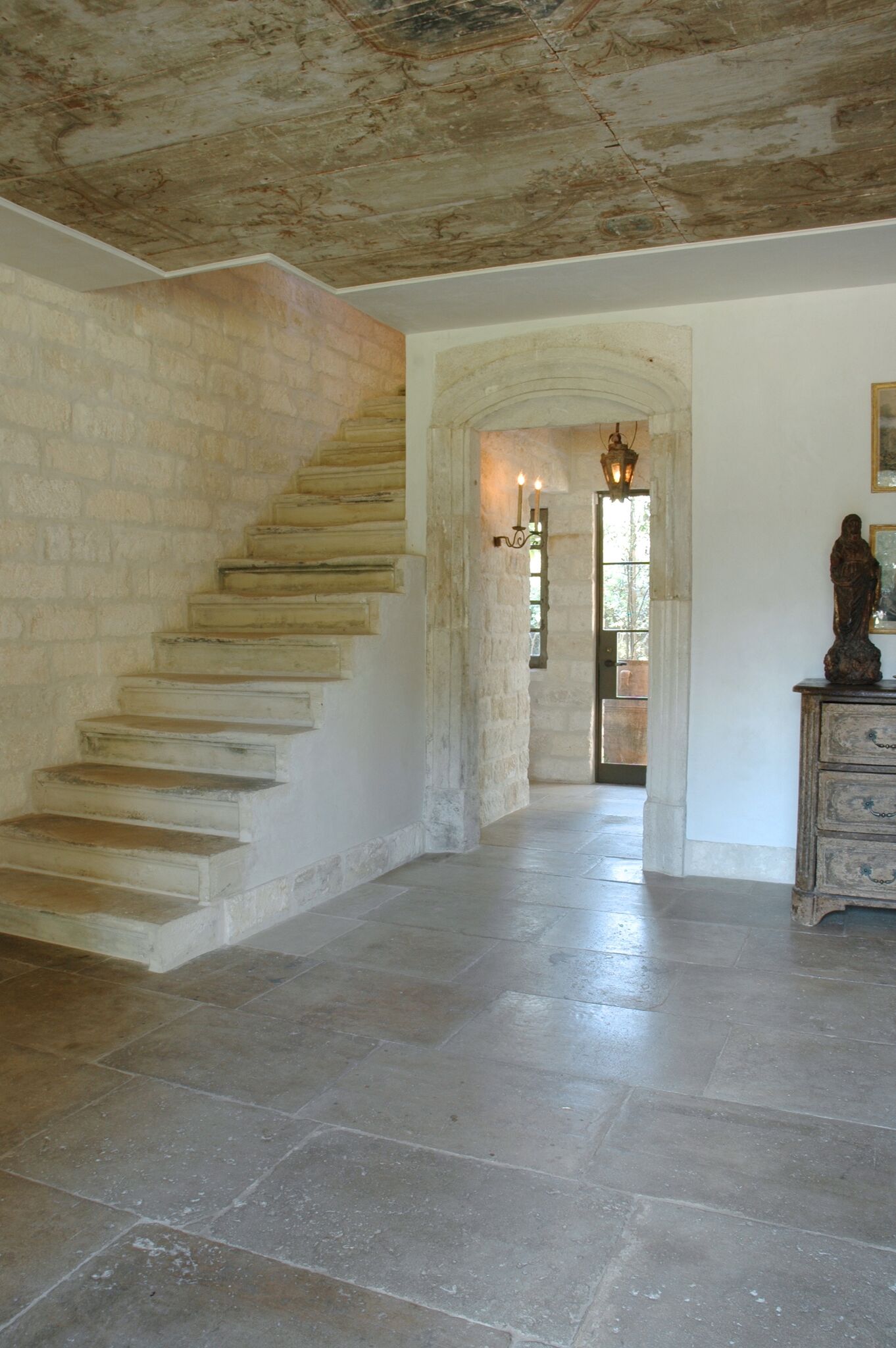 Additionally, collected antiques and heirlooms impart a sense of rich historical character which simply cannot be purchased with a few clicks shopping online.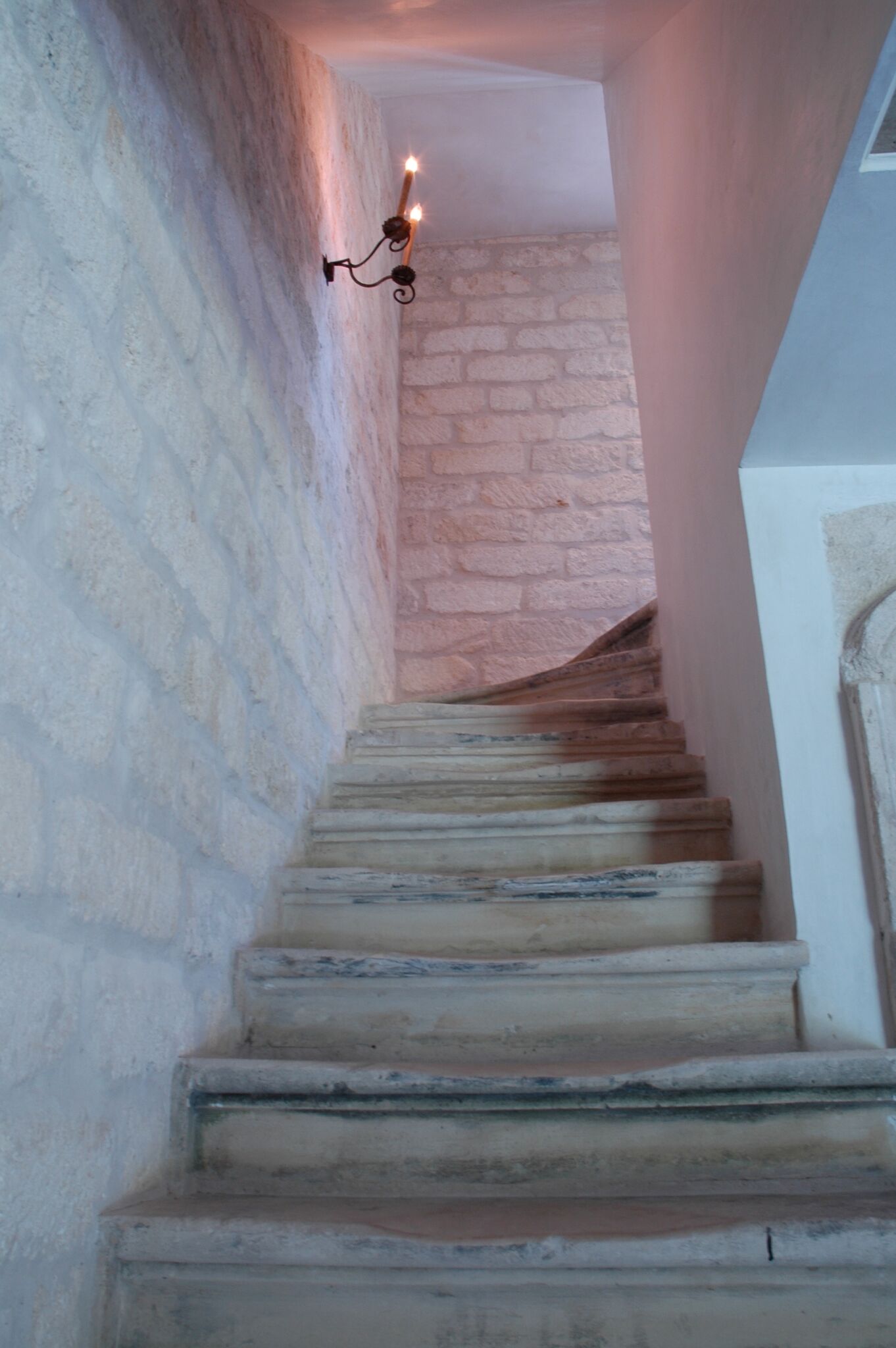 Refined and Rustic European Country Essentials
1. Refined Takes Time
Firstly, many Americans still opt for matching furniture sets which may fall from favor in style after only a few years. We're often in a rush, we're often pressured to stage to get top dollar for resale, and it's tempting to visit a showroom or two then call it a day.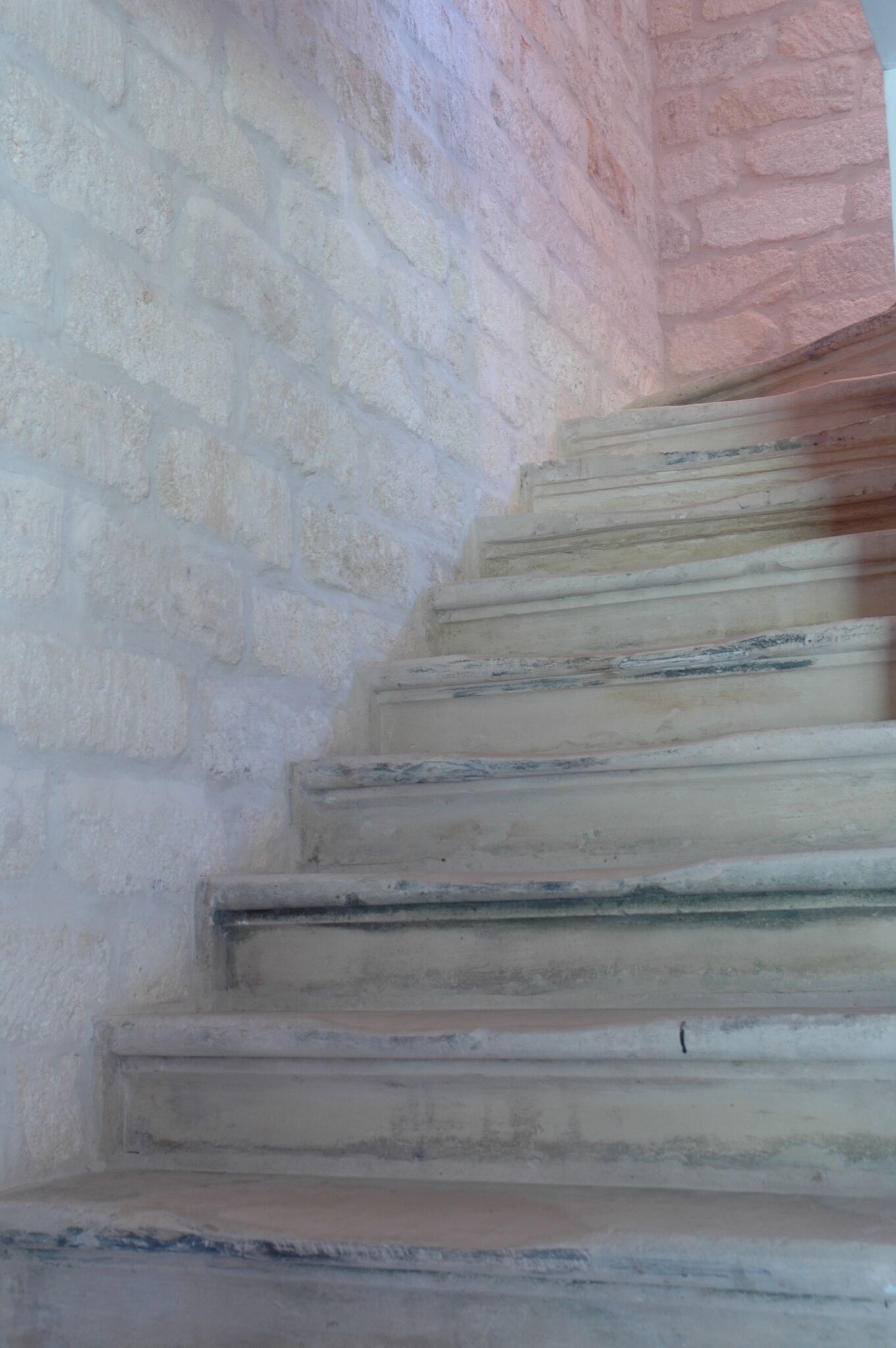 Such strategies work against achieving "an evolved European Country look" which demands: thoughtful curation, restraint, and patience.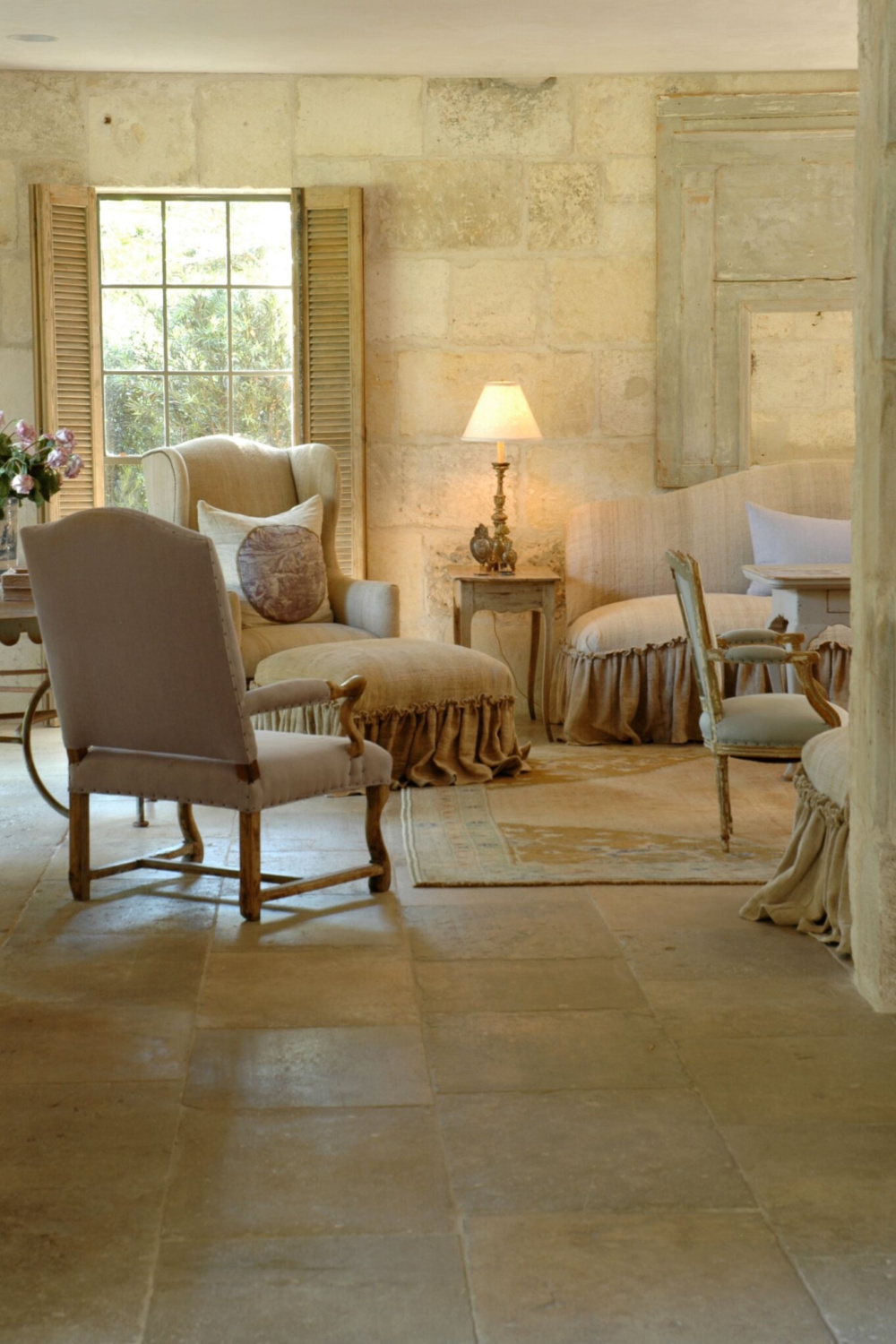 2. Elegance Involves Evolution
Matchy-matchy is not ideal for a French farmhouse or Tuscan villa since evolution takes time. Patina takes time too along with collecting or inheriting treasures.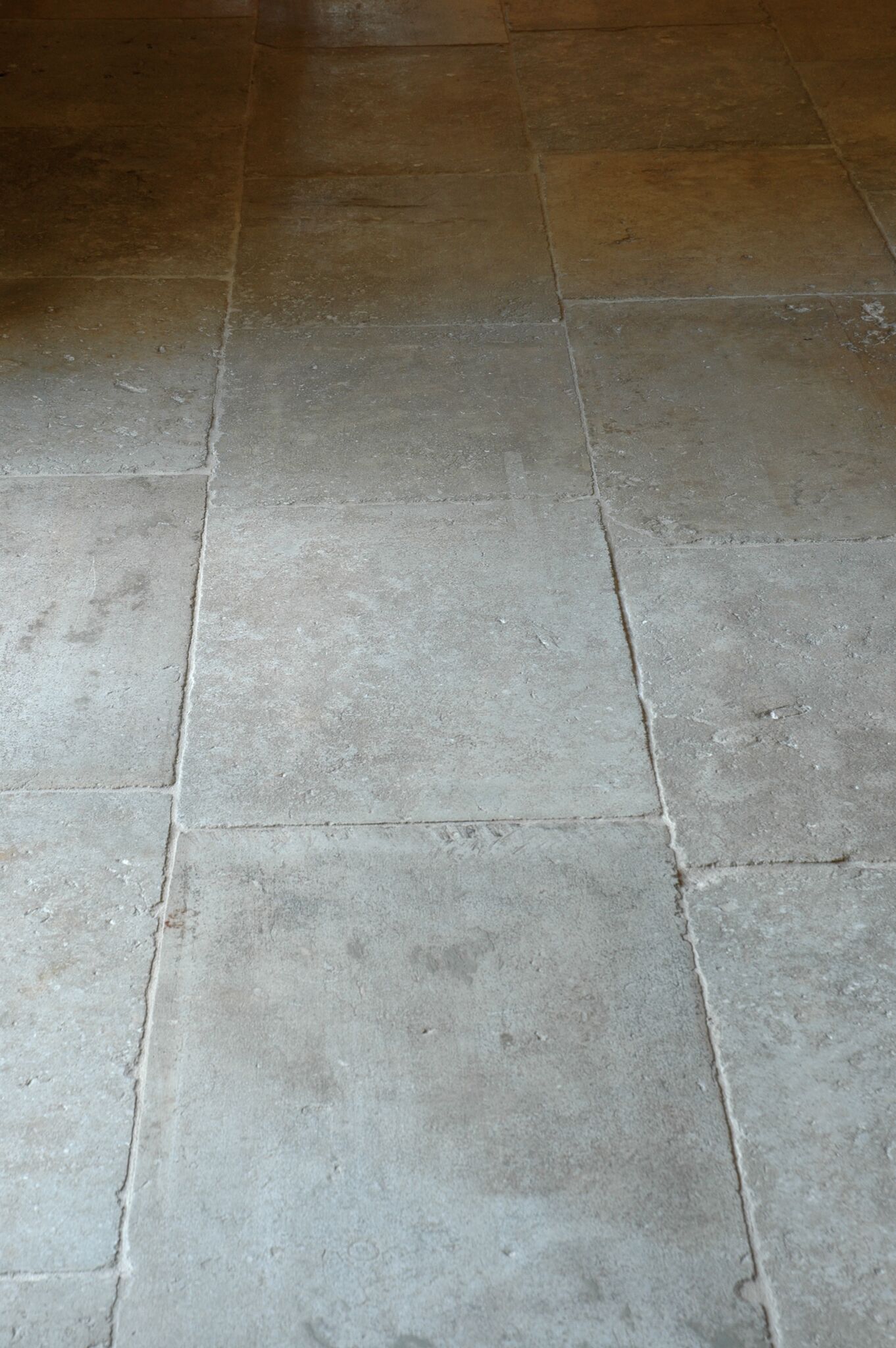 Hunting for just right piece is easier than ever thanks to the internet, yet choosing the proper mix of pieces for a character-rich interior with timelessness STILL takes time.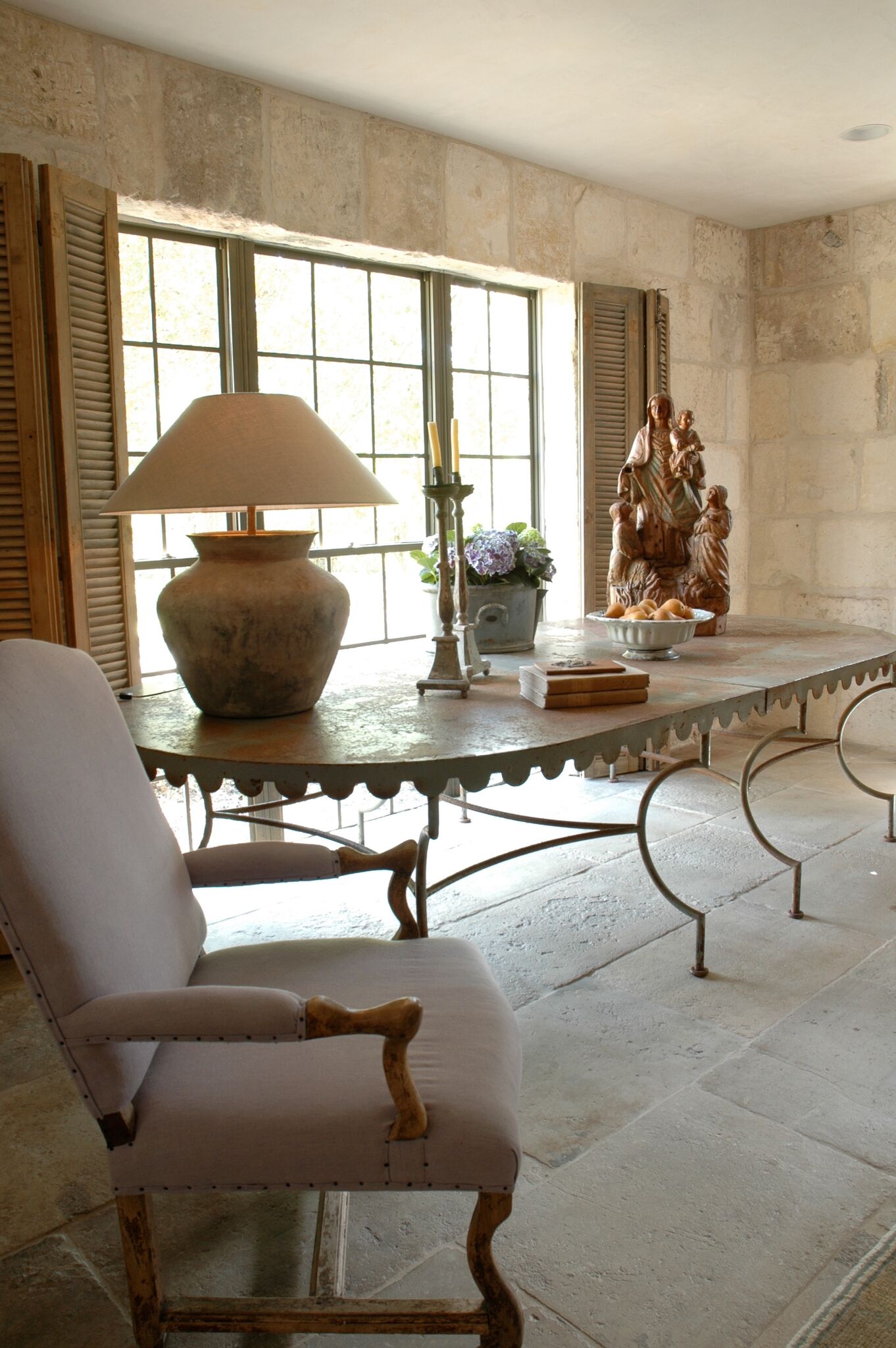 3. Simplicity Entails a Thousand Details
A simple yet refined elegance requires expert knowledge and a keen artful eye. Ruth Gay and Pamela Pierce have earned their trained peepers.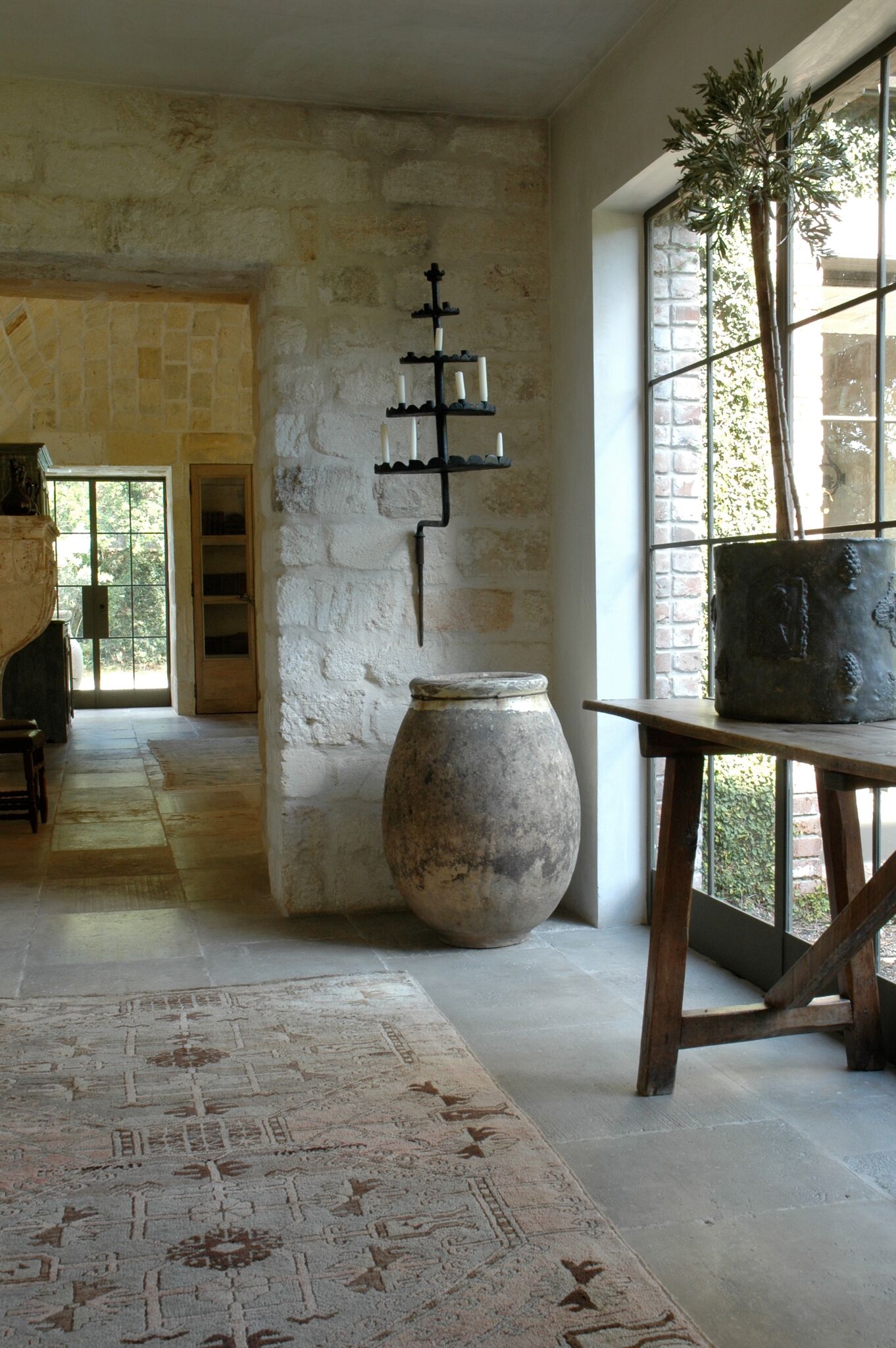 European country and French country approaches to furnishing interiors certainly appear intuitive, relaxed, and flexible. However, the thoughtful curation of what stays and what goes flows from experience and seasoned design intelligence.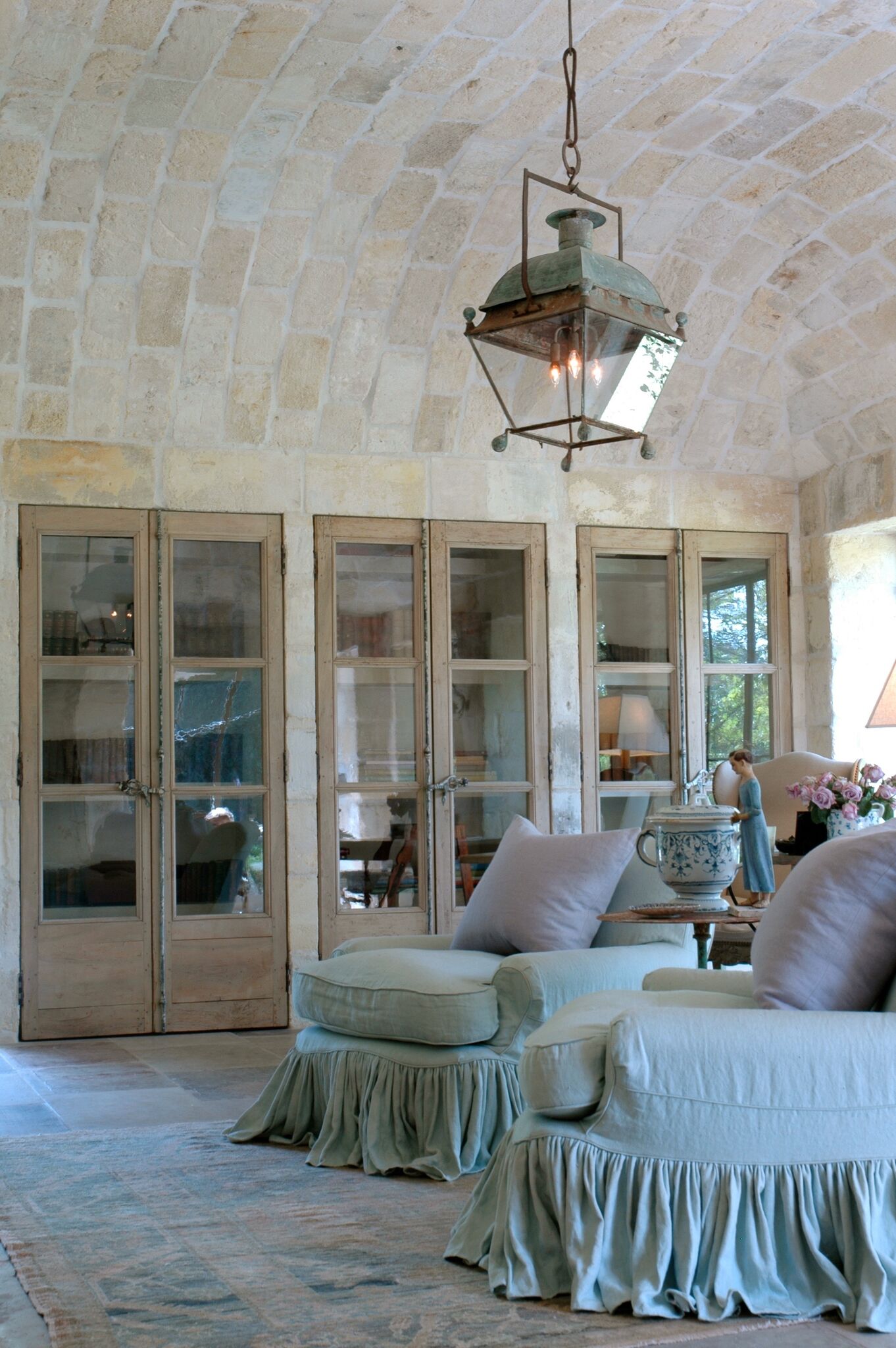 4. Rustic Yet Refined Requires Relaxation
Rooms develop character and charm over time as an owner collects, tweaks, and thoughtfully edits. Traditional European country home owners likely do not think in terms of "ultimate goals" for their interiors. Unless they are employing a designer, they probably pay little attention to mood boards or trendy paint colors.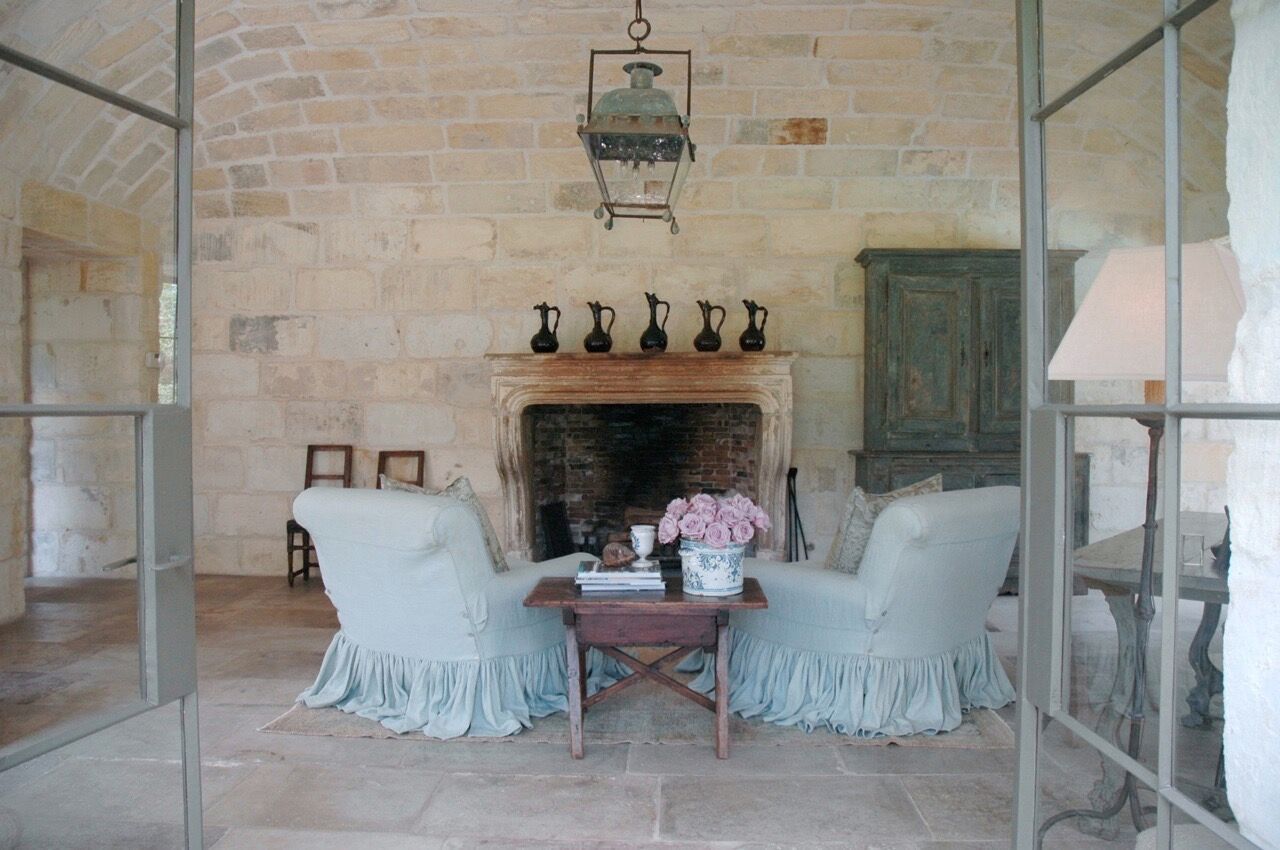 Rather, the evolution emerges more naturally with a relaxed approach to allow rooms to become what they should become!
Evolution can yield lovely, functional, harmonious, rustic yet refined timeless spaces which appear under-decorated, under-baked, and un-influenced by trends.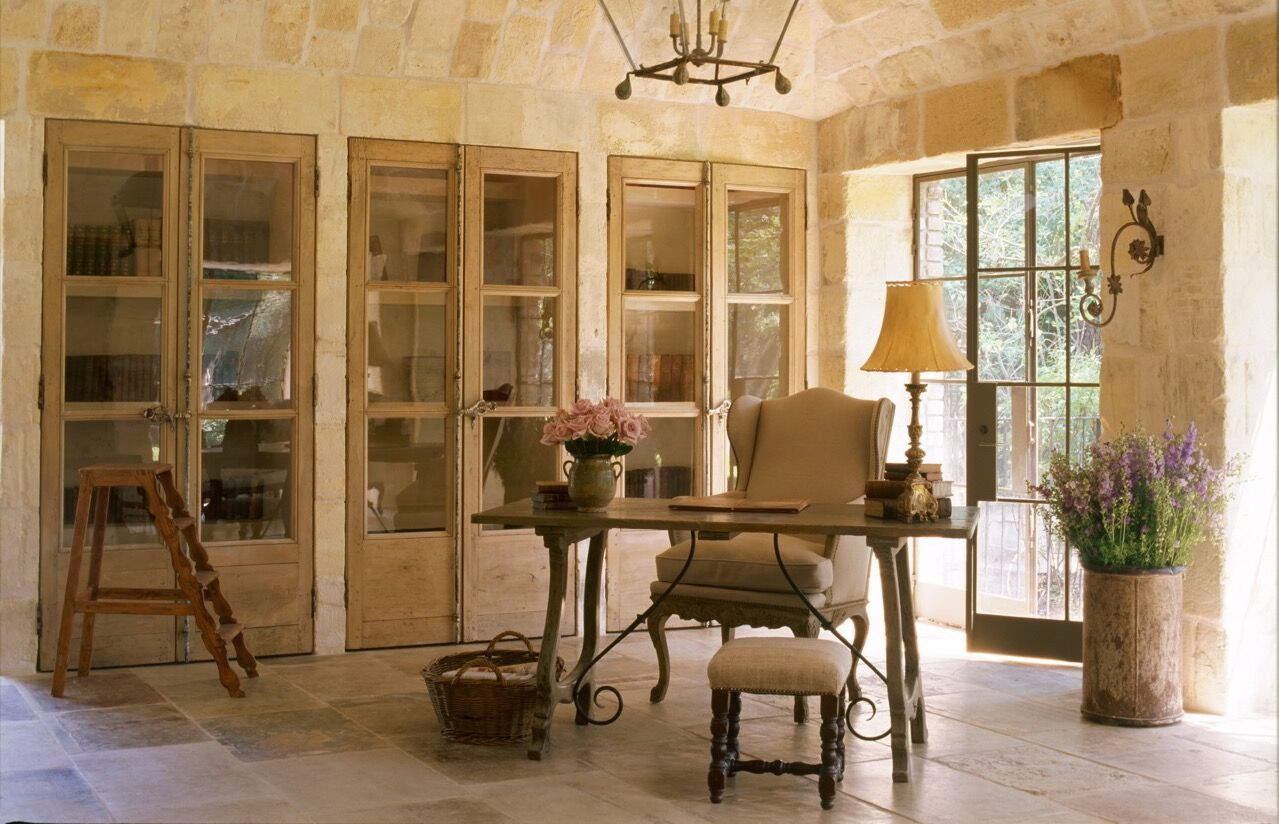 5. Flexible, Purposeful & Practical
Since many European country homes and French farmhouses are smallish and cozy, rustic yet refined country style leans toward the practical. Without walk-in closets and spacious pantries, furnishings and fixtures must work in a variety of rooms.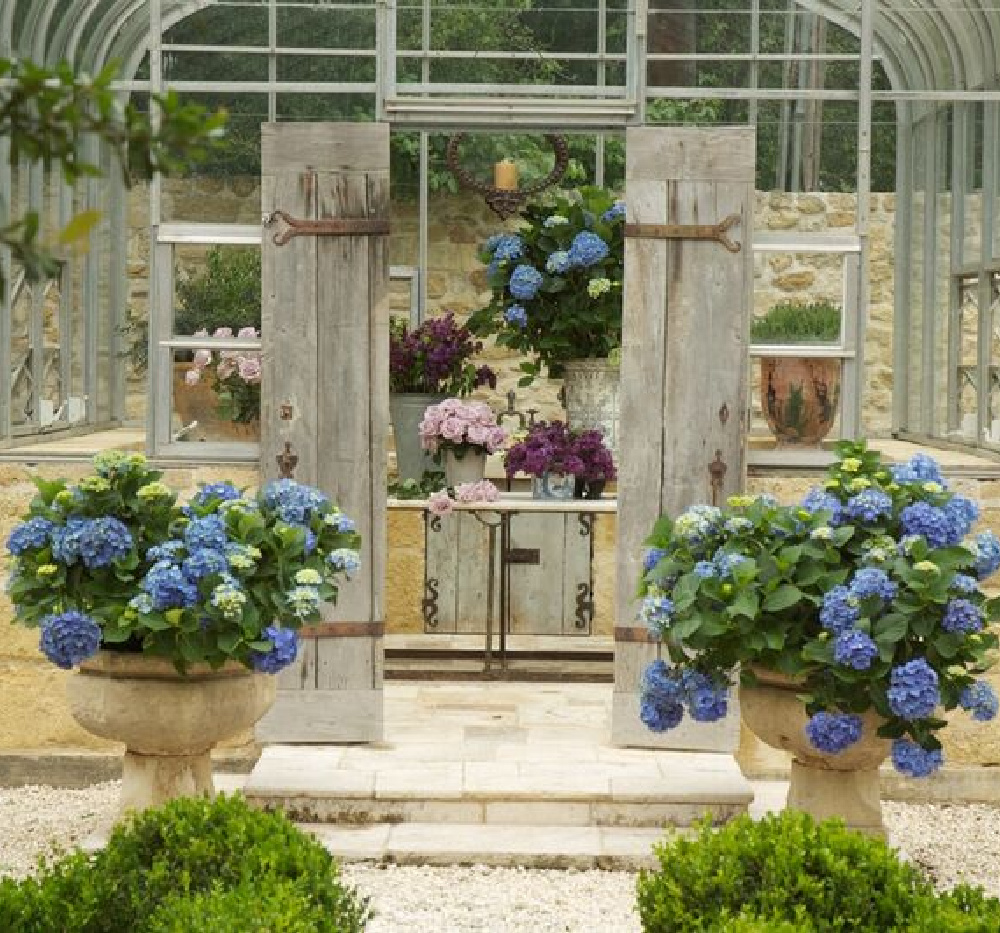 Out of necessity, pieces may be shifted around to function in various spaces. Since many French farmhouse furniture pieces are rugged, weathered, chunky, and indelicate, they age gracefully over time from all the use.
It's easy to see the beauty of investing in fewer yet higher quality pieces which will work hard no matter the room in which they live.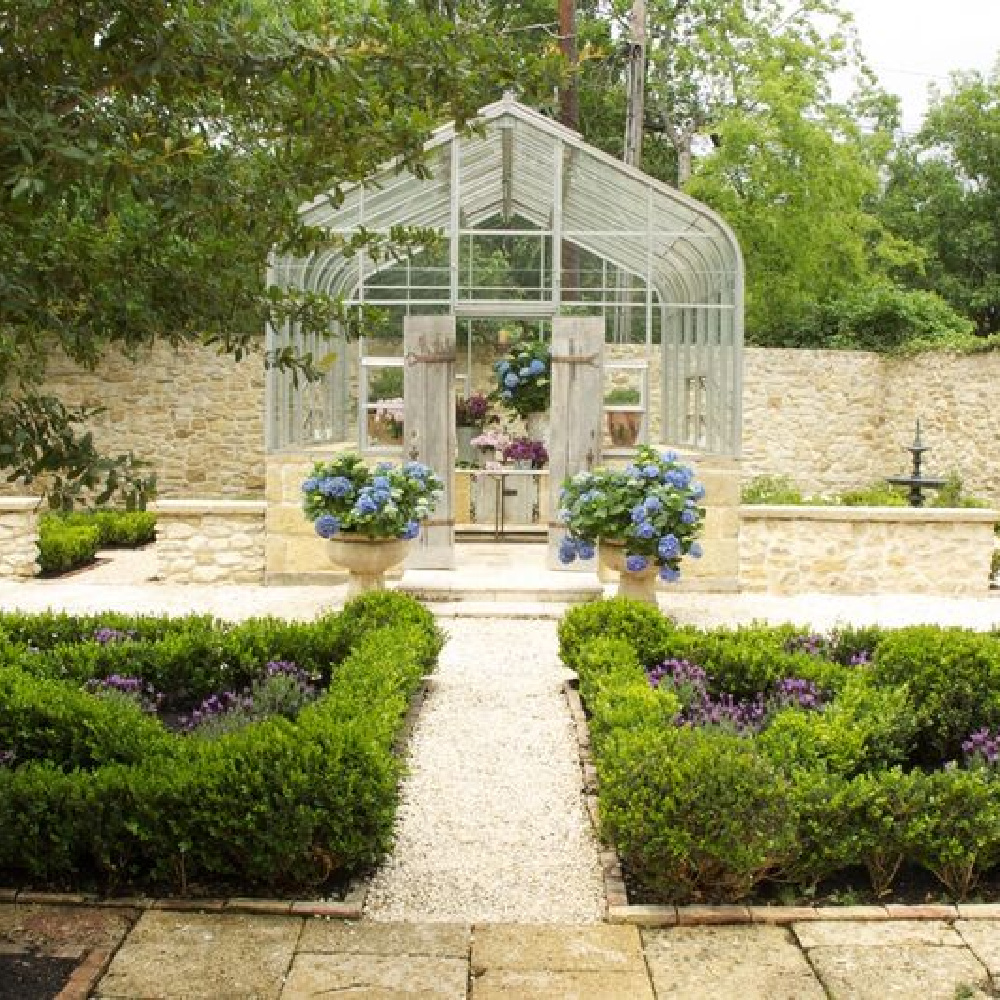 6. Nature Honoring
The French love their gardens and bringing fresh flowers inside to decorate the home, arranging blooms quite casually. Just like fresh ingredients for cooking and tasteful decor, fresh flowers have a way of "elevating the everyday."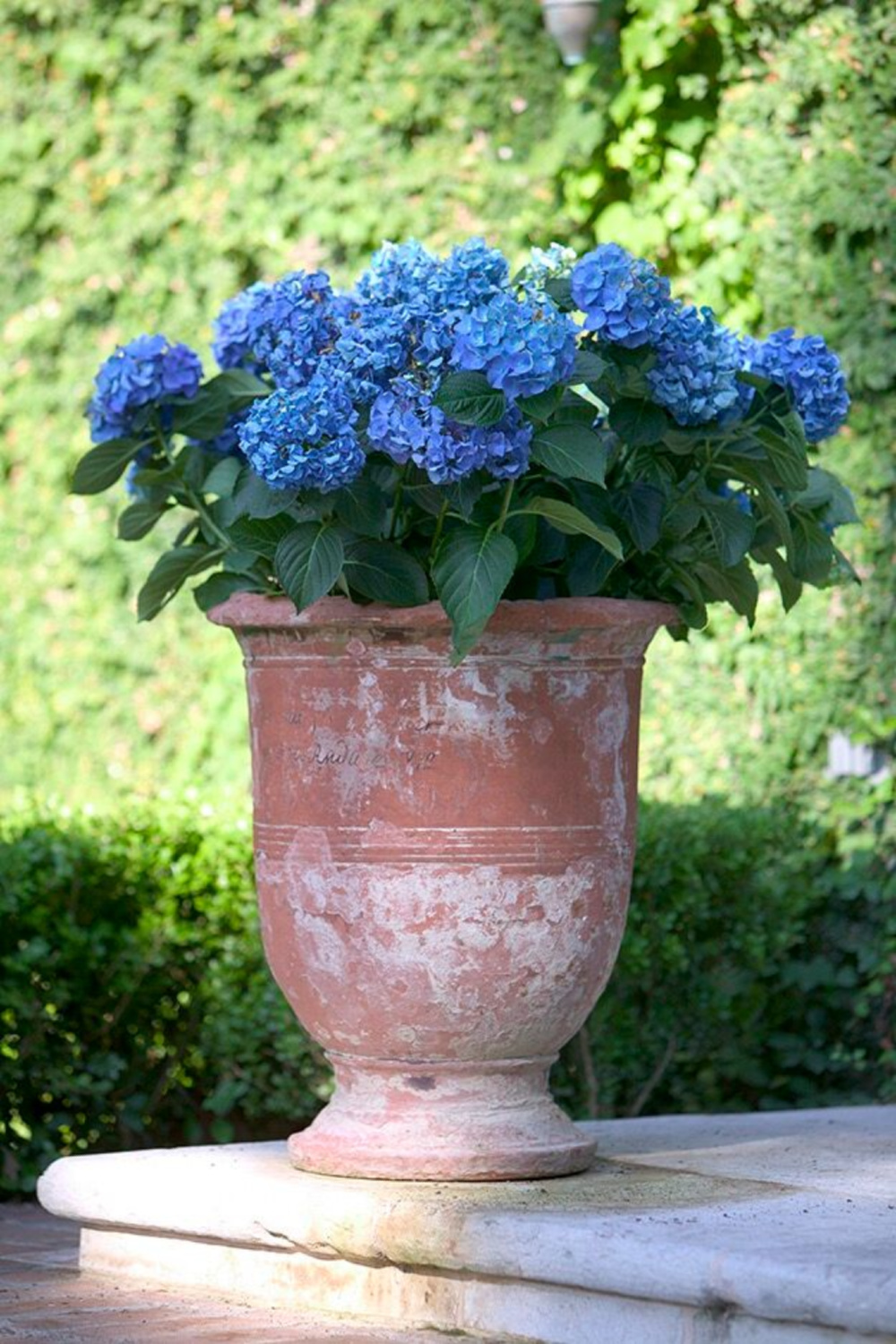 The French are so inspirational with regard to their approach to beautiful daily living, love of food, and regard for fine art. Depending on the region, sunflowers, irises, and poppies are common flowers which flourish in the French countryside.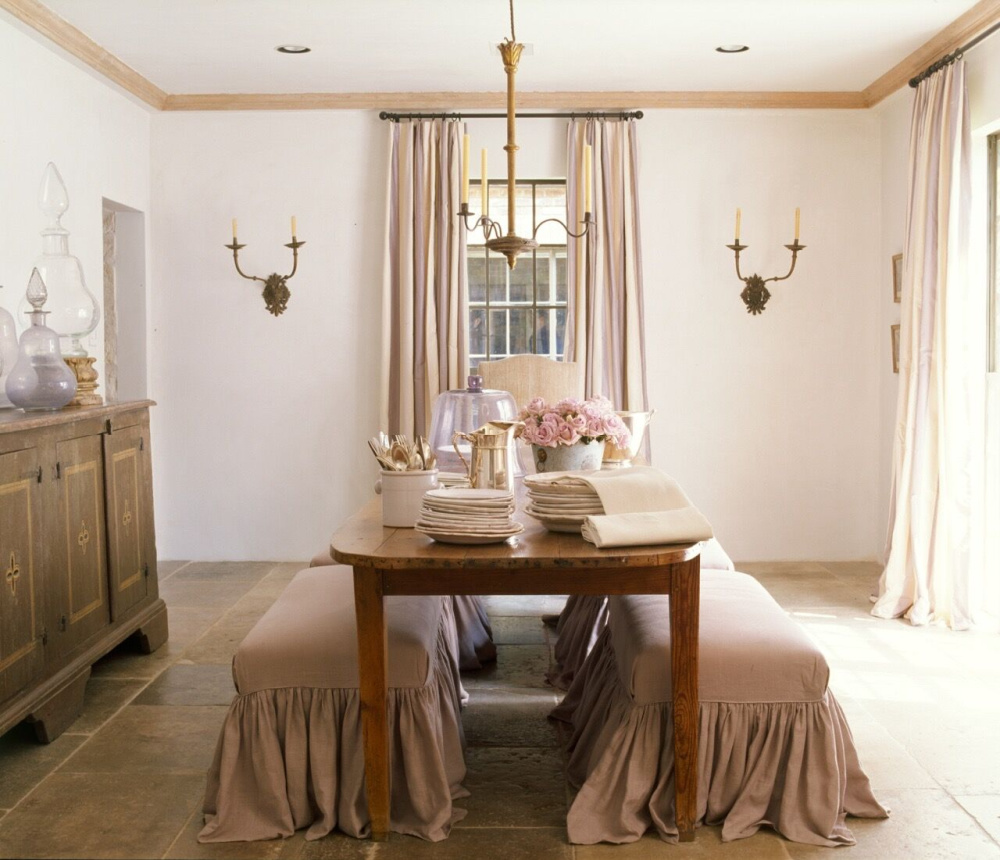 7. Rustic & Weathered
Since European country is a style which celebrates age and tradition, scratches, rust, and signs of wear are welcome. Shiny, newly stained, or lacquered finishes frequently fall flat when paired with antiques and vintage pieces which have patina-ed beautifully. Even aged rugs work better in such settings.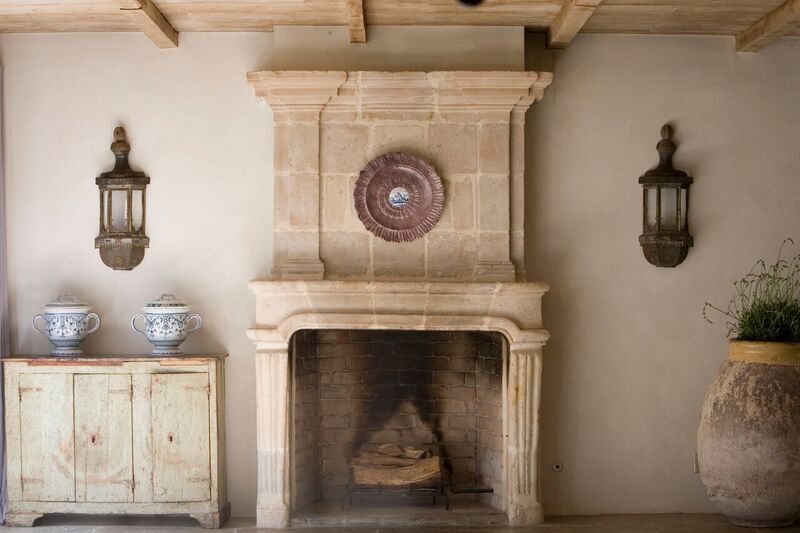 8. Faded & Threadbare
The French don't shop for a new rug simply because it has faded or frayed. Nearly threadbare is fine until it is no longer useful. What a contrast to a very suburban American habit of growing "bored" with this rug, that accent chair, or that vase and replacing it with another from the strip mall before any wear has accumulated!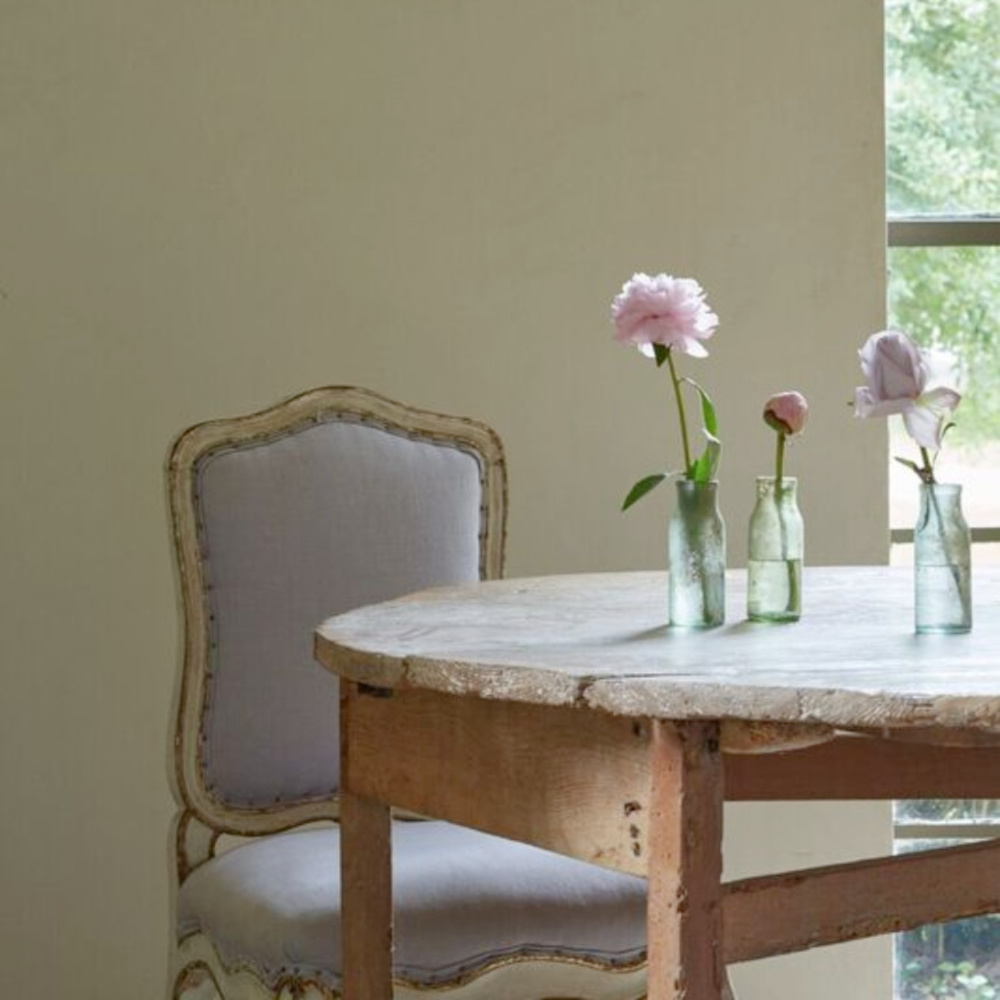 Choosing beautiful, high quality pieces (made from natural materials) which only grow better with age is a smart strategy when putting together a room with the same timeless spirit.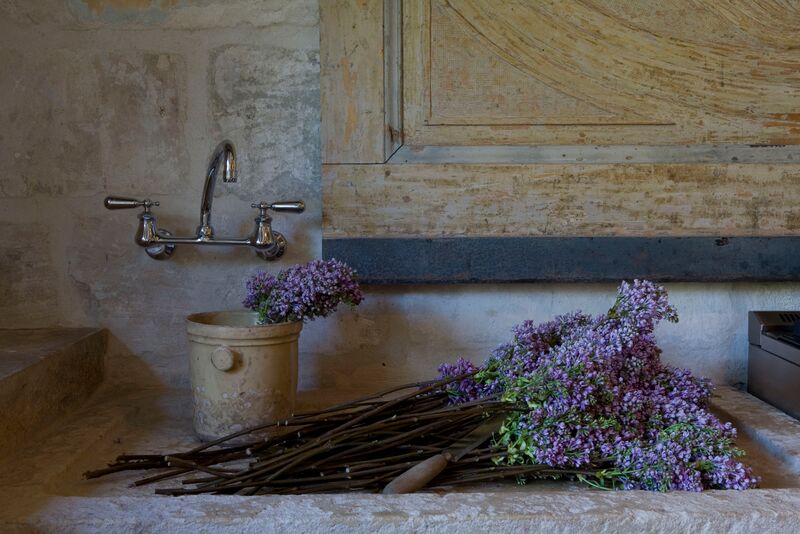 9. Adding Romance
A French country chandelier or charming lantern are more recognizable hallmarks of this beautiful design style, and candle-style lights add a rich romantic layer to interior design.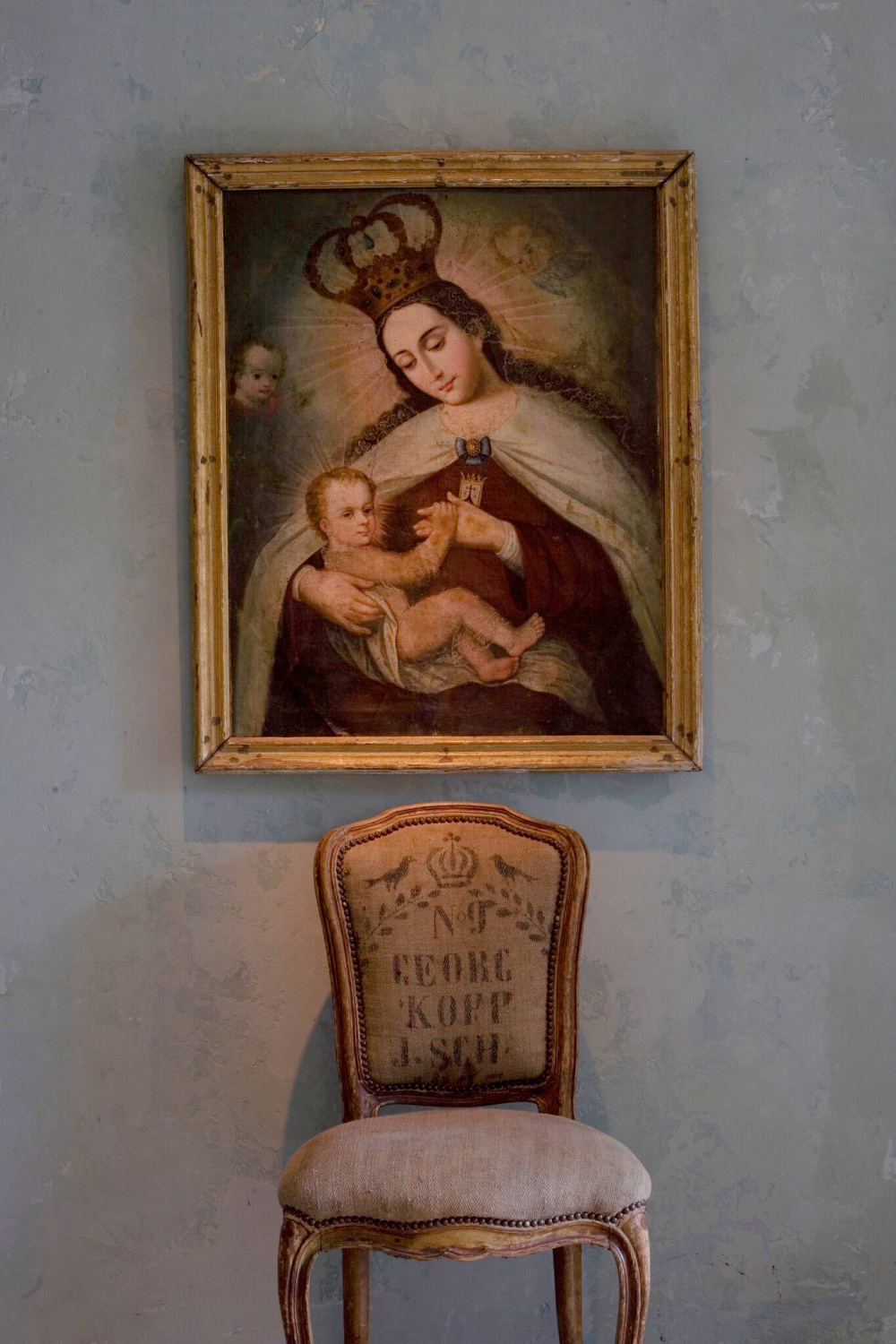 The finishes of these lighting sources tend to be weathered wood or aged metals so antiques often look more pleasing than reproductions. The sparkle of crystal from a chandelier or soft glow of a lantern can juxtapose beautifully with more rustic and rugged furnishings in a Country French space.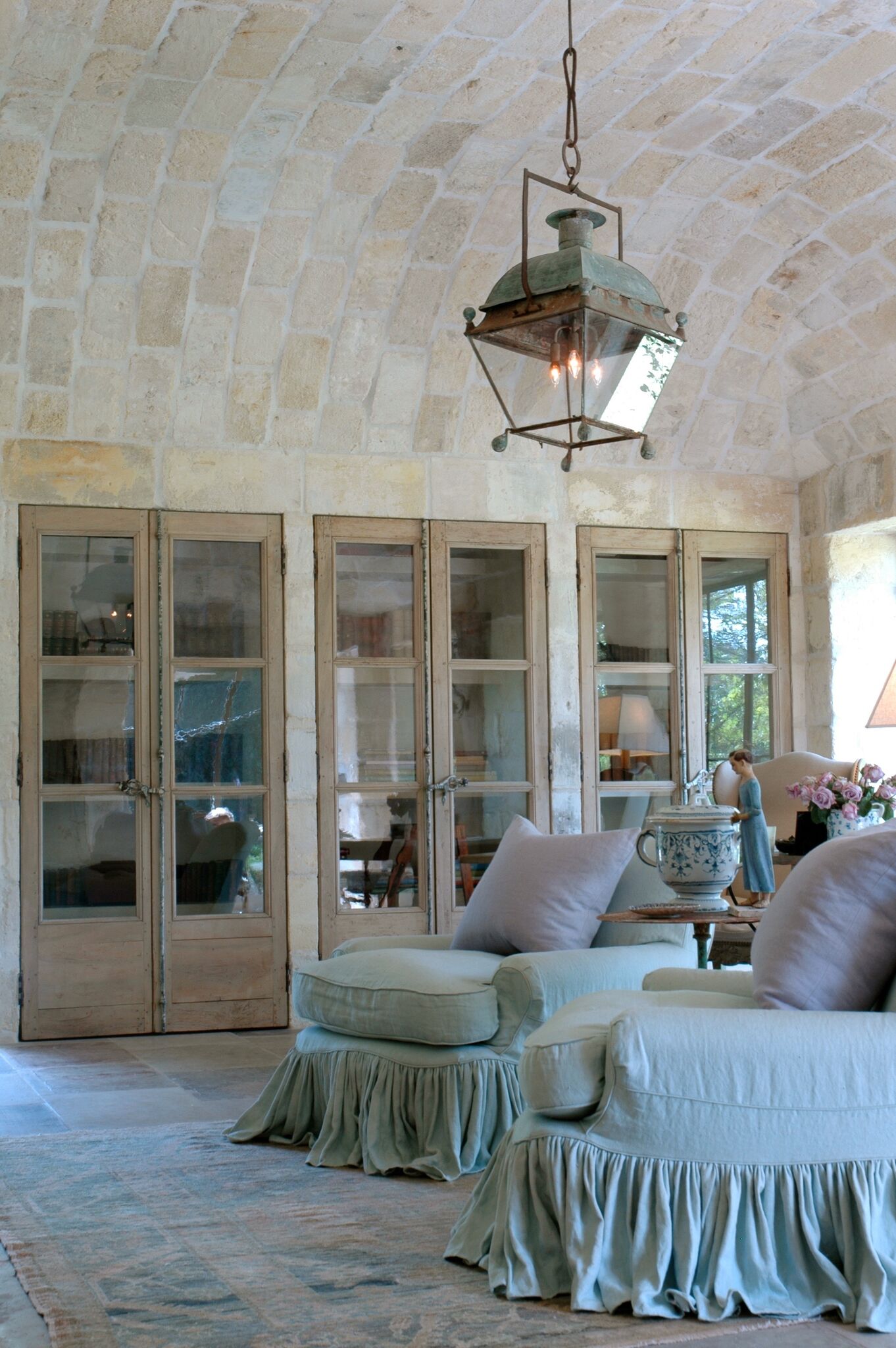 A perfectly patina-ed lantern is tough to beat!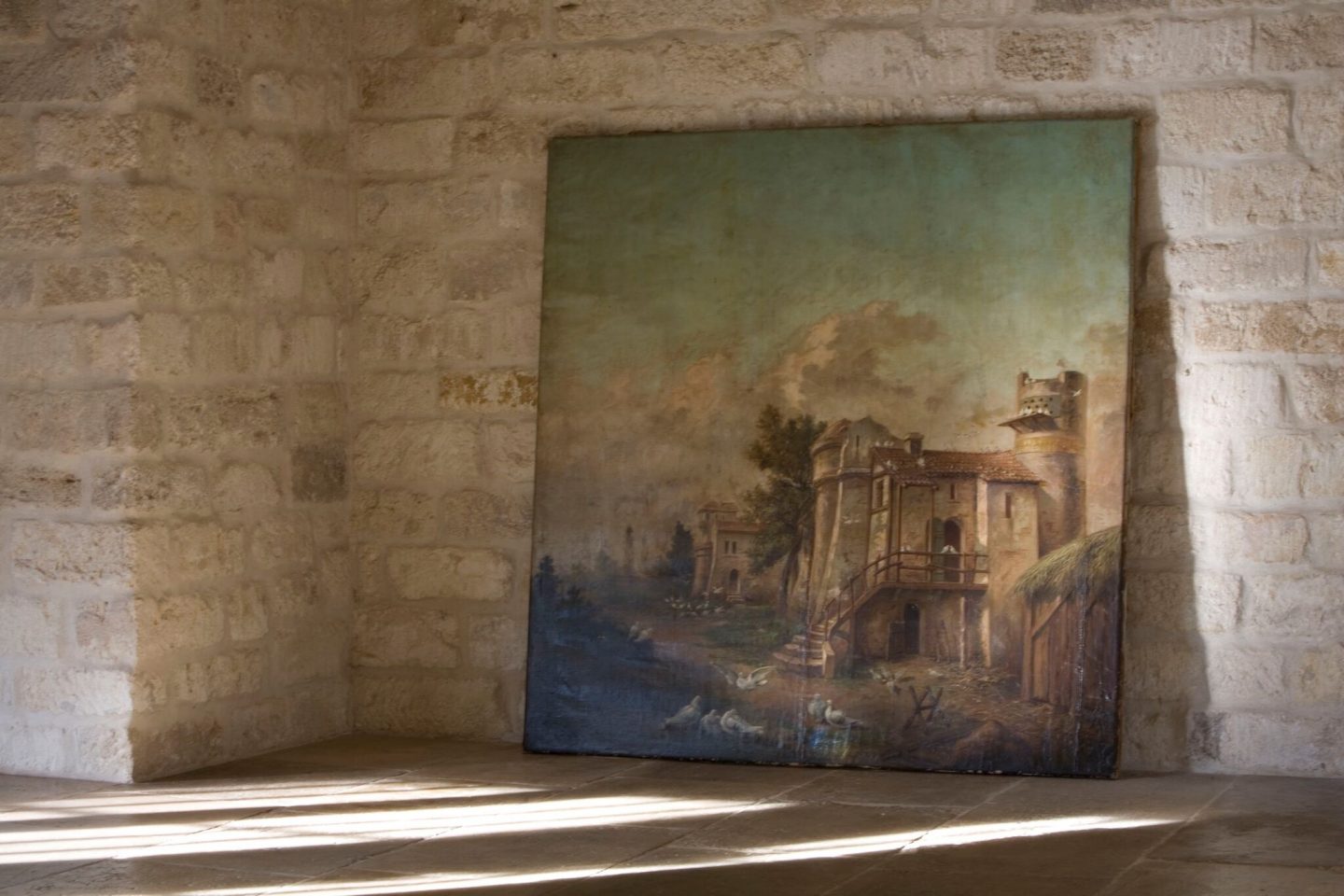 10. Pale Color Palettes & Restraint
I admire the pale palette often employed in European country and especially French country homes. Those faded creams, greys, blues, reds, and golds tell a story of: the countryside, the passage of time, natural sunlight, understated beauty, and tranquility.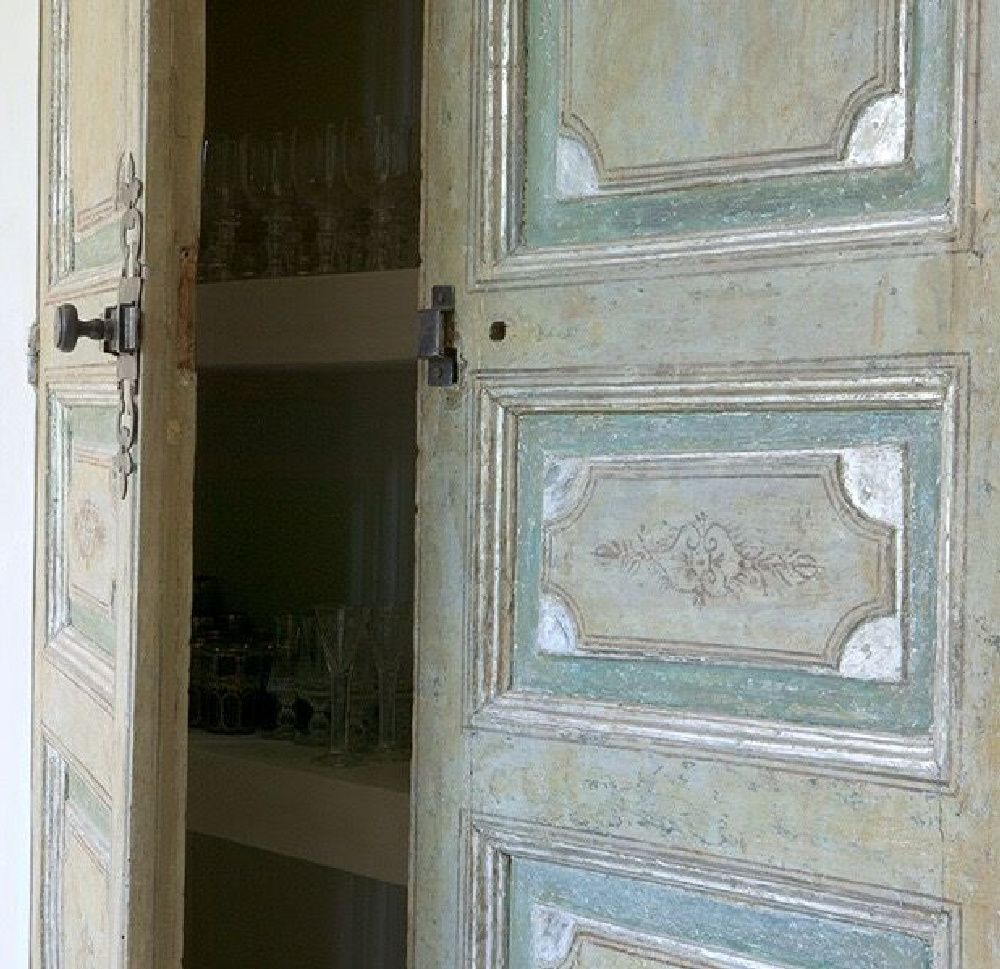 In terms of restraint, there is a tranquility and conservatism to the design style with plenty of opportunities for the eye to rest.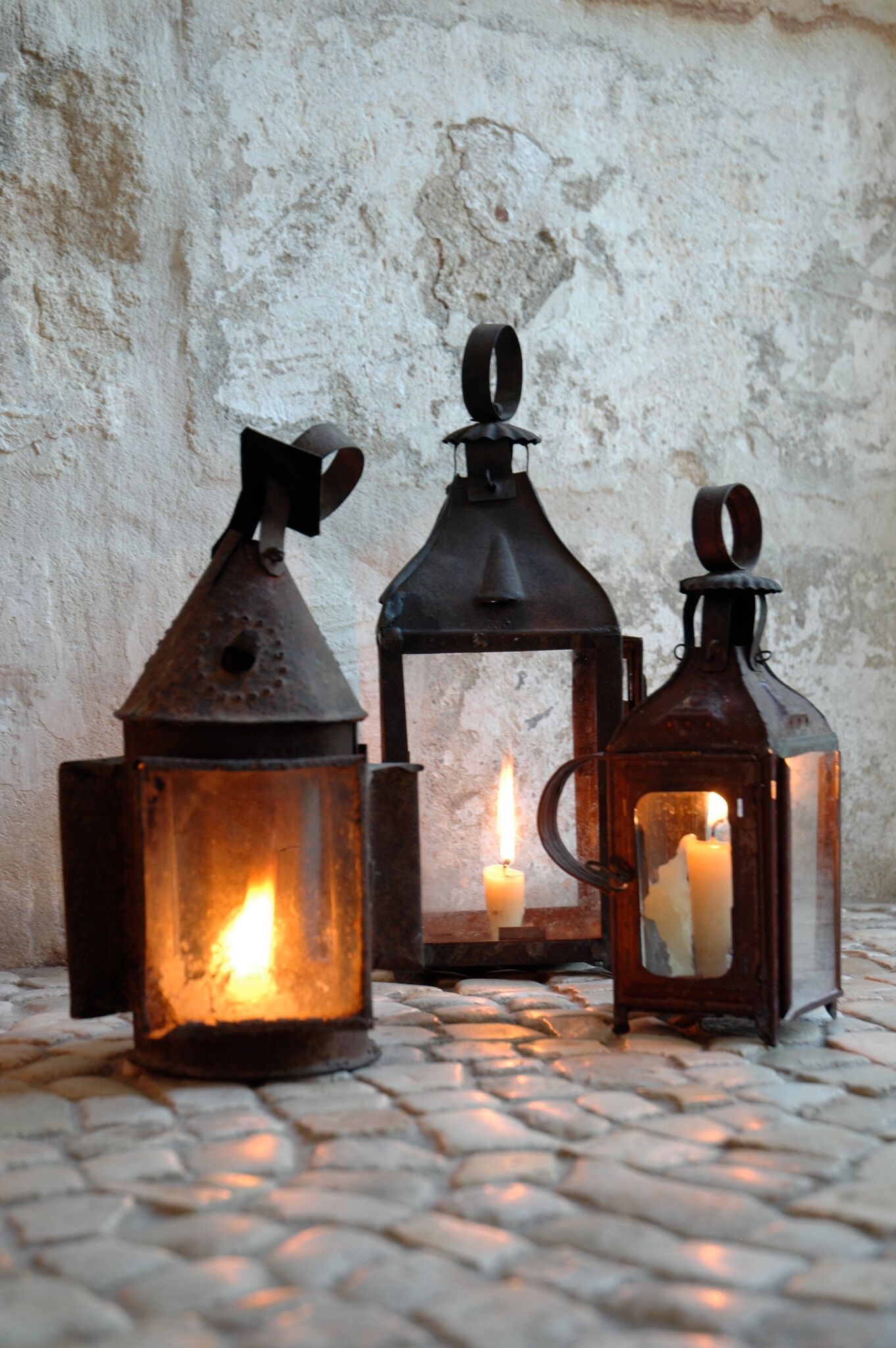 11. Imperfections Welcome
The Country French way is more tolerant of: wrinkles in fabrics, flaws in objects of all varieties, and imperfections in furniture and finishes.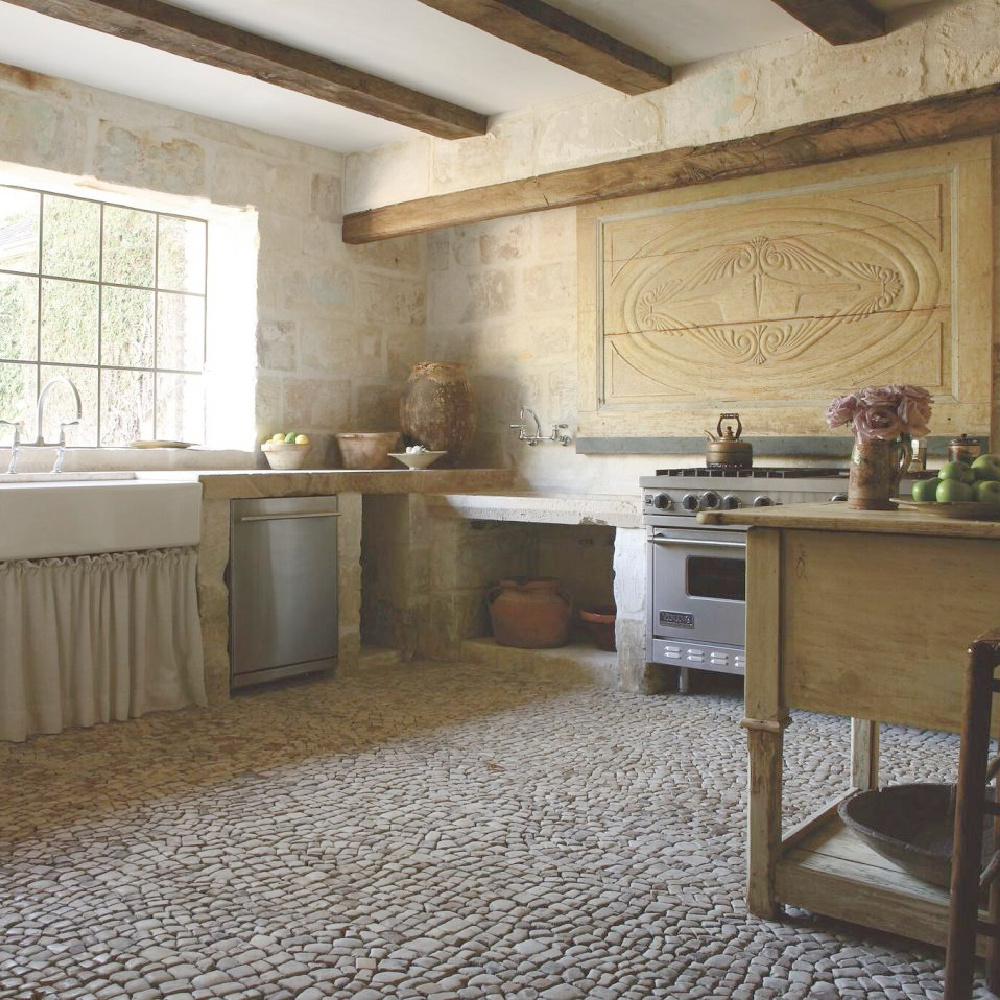 A country house naturally lends itself to a more casual living approach than a city house. Work related activities and busy schedules likely do not enter into the equation. Imperfections and wabi sabi charm encourage a slower pace and relaxation in a French country farmhouse which is decidedly NOT a Parisian apartment or a Versailles-styled chateau.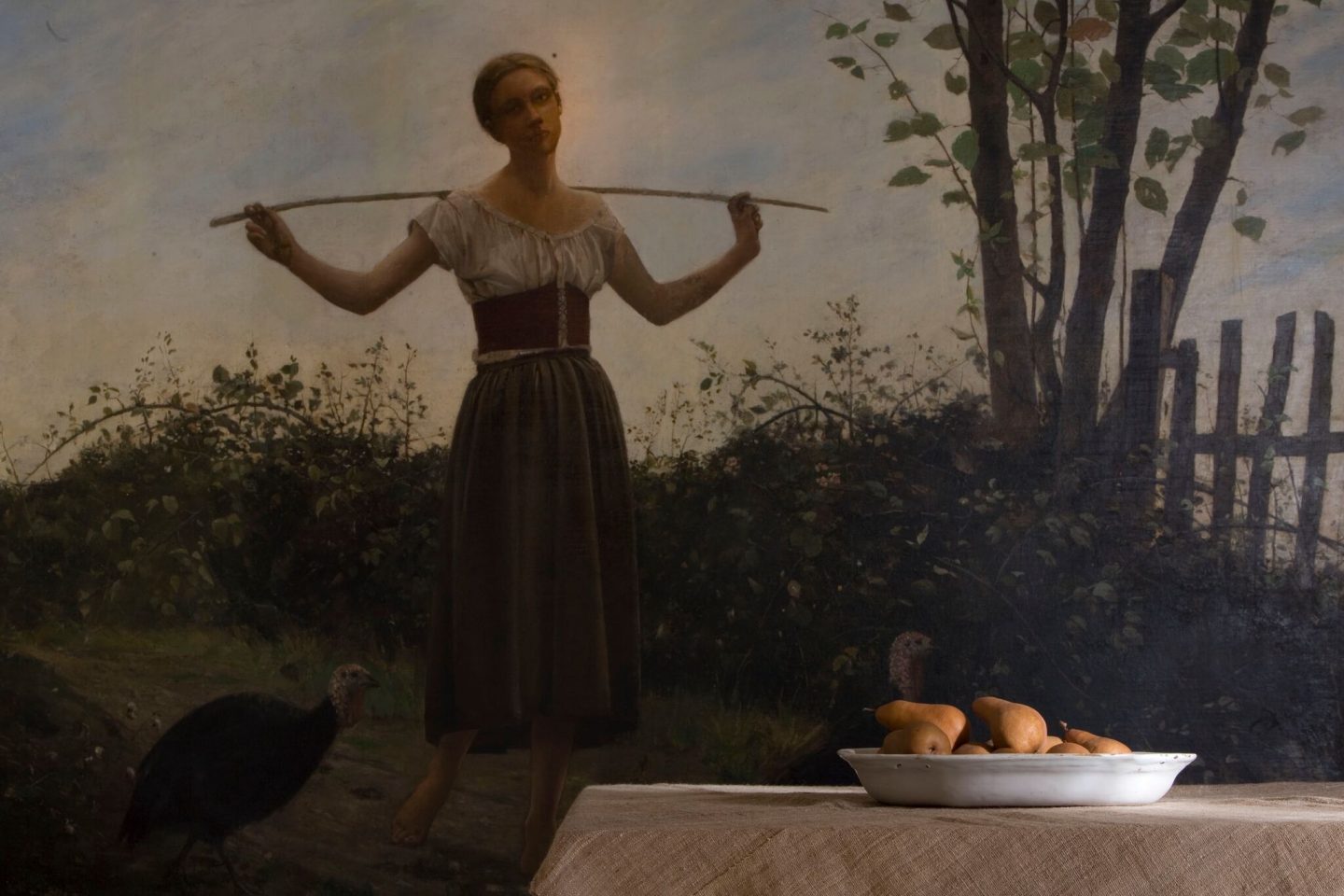 Hello, Lovely Chateau Domingue
Chateau Domingue is an invaluable source for the ingredients to create timelessly authentic, European country inspired interiors.
Ruth Gay sources 15th to 19th century architectural elements and monumental European antiques such as: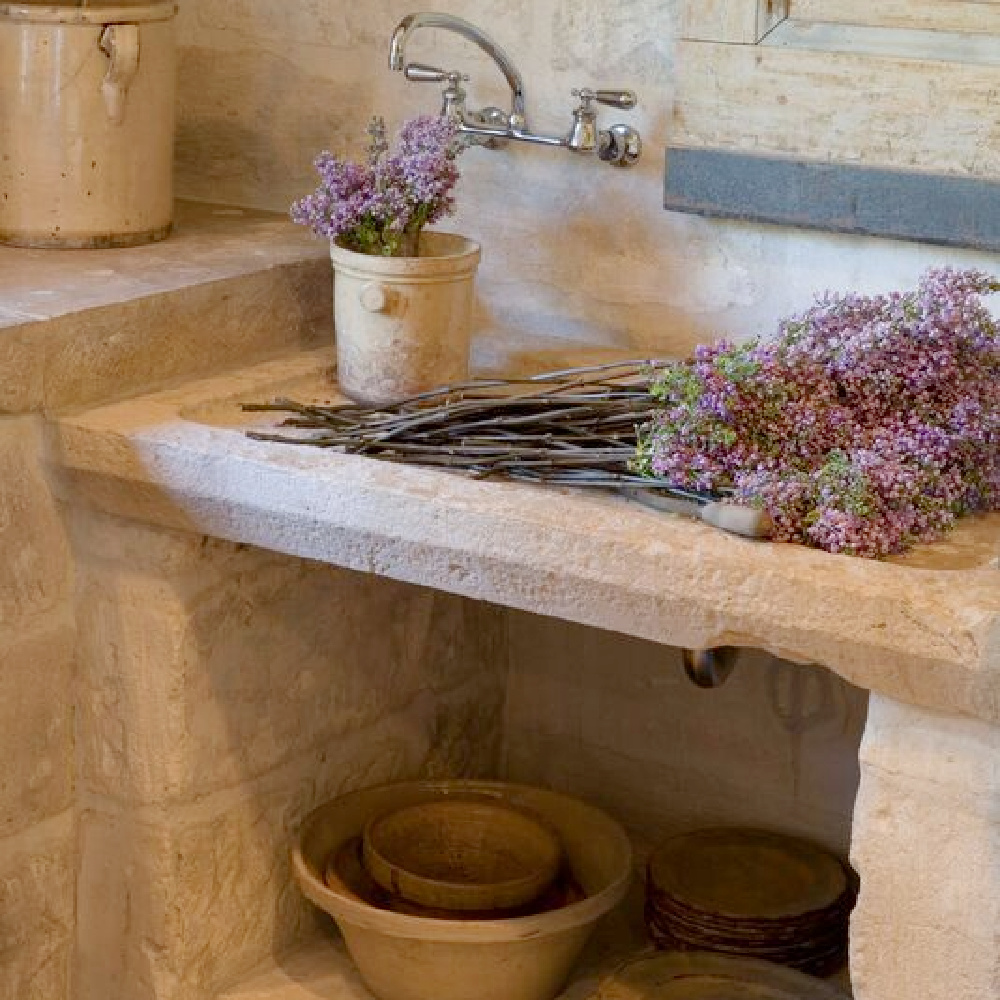 Antique Furniture
Stone surrounds
Mantels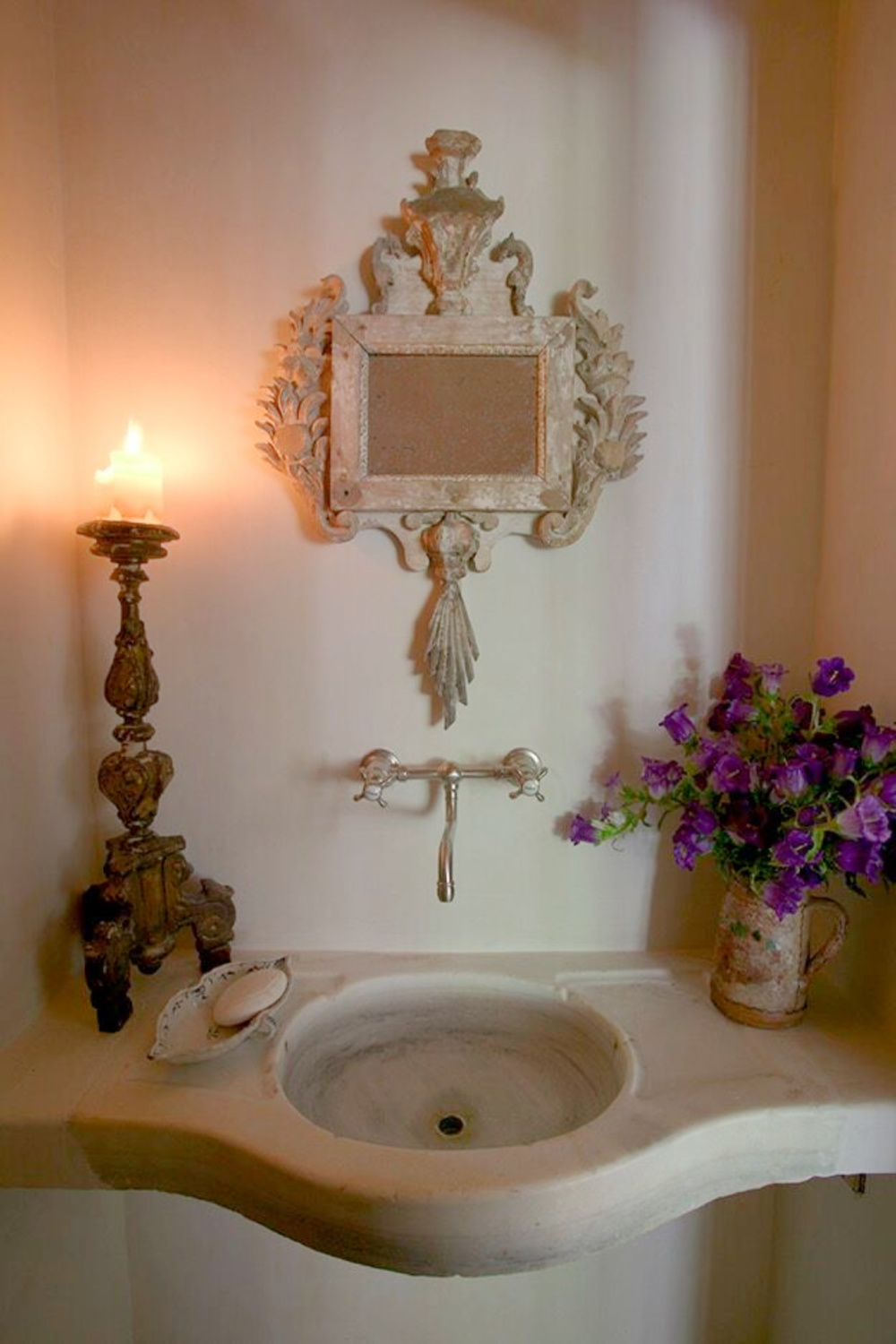 Gates
Fountains
Garden Decor
Doors & Windows
Hardware
Wood Flooring
Tiles
Stone Flooring
Lighting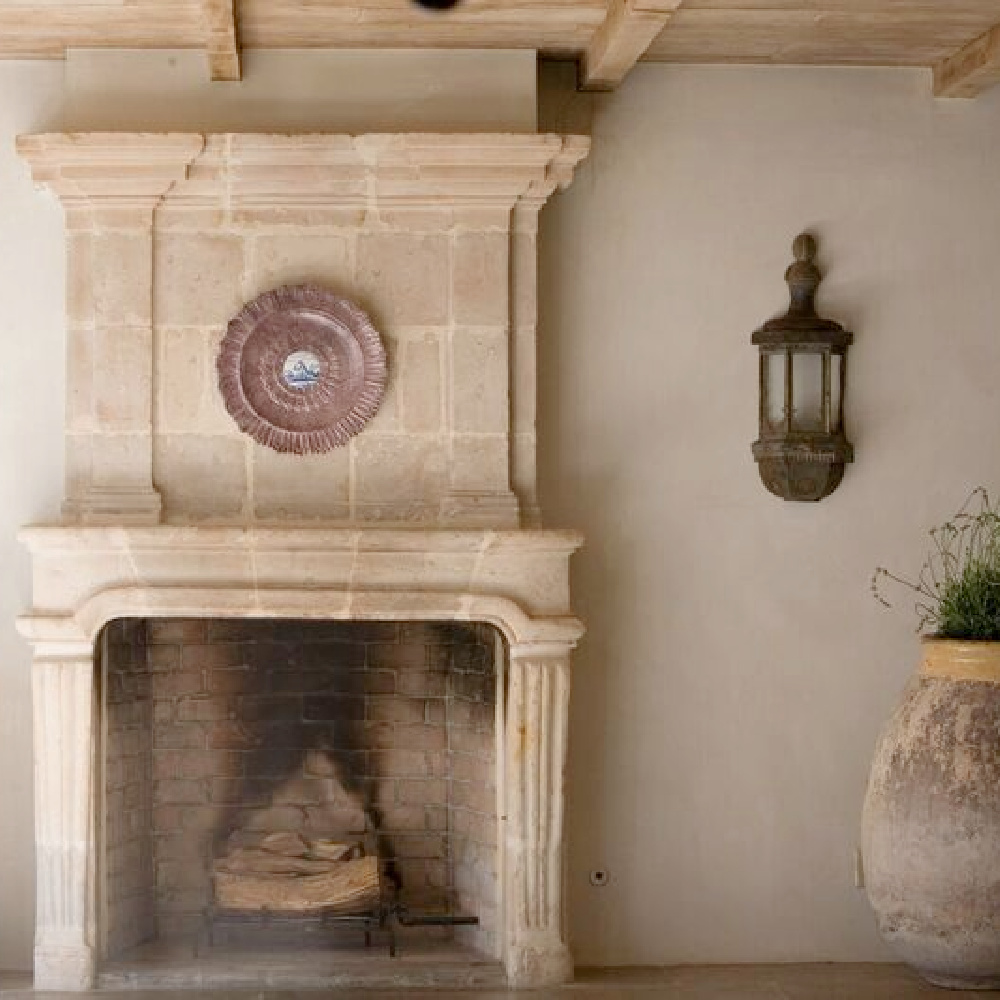 Domingue Architectural Finishes
Creating a timeless look for interiors can often be achieved with beautiful plaster and wall finishes, and Chateau Domingue also offers Domingue Architectural Finishes.
Chateau Domingue Steel Windows & Doors
You are probably seeing custom steel windows and doors in amazing homes, both modern and country all over the internet, but where can such bespoke treasures be sourced? For one, Chateau Domingue.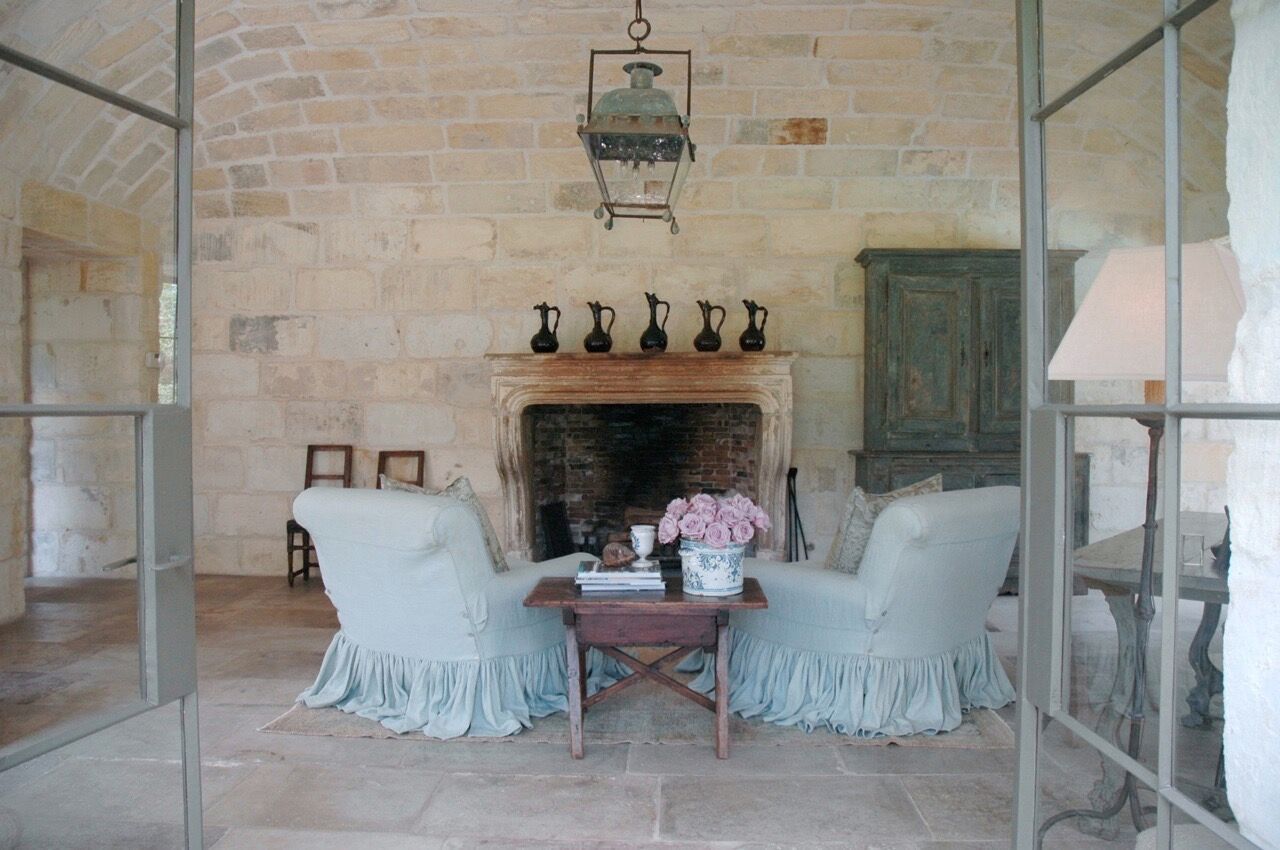 What a treat to spotlight Chateau Domingue and the lovely home of its curator, Ruth Gay.
Do pay CD a visit at 3560 W 12th Street, Houston, Texas 77008 or online.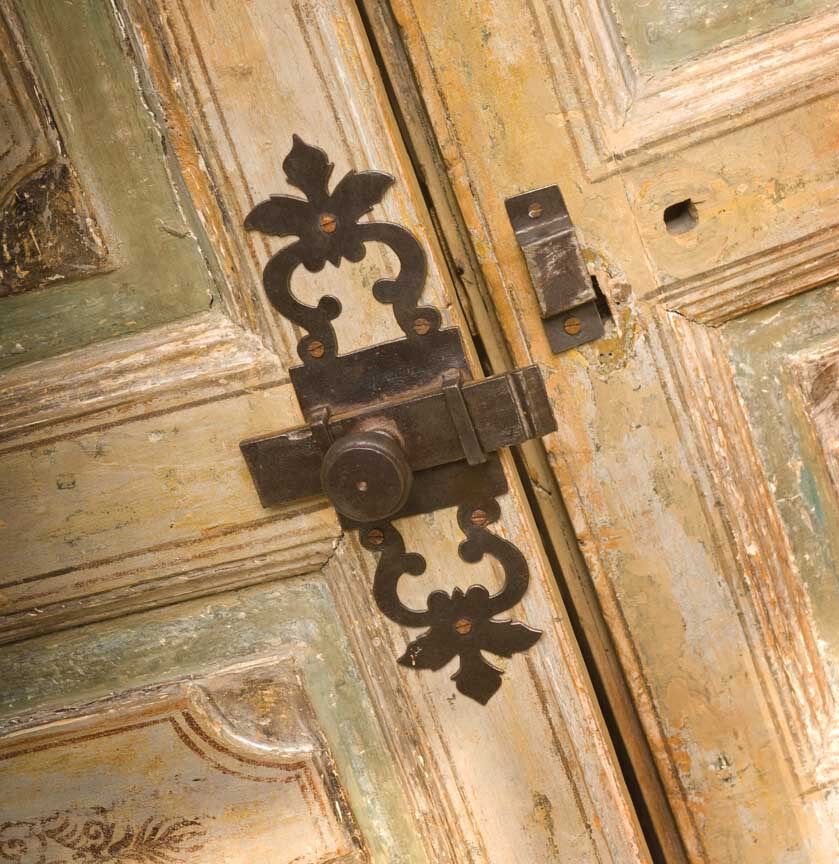 Don't miss the first installment of this post HERE, and for more rustic European inspired design inspiration, see this as well as this house tour.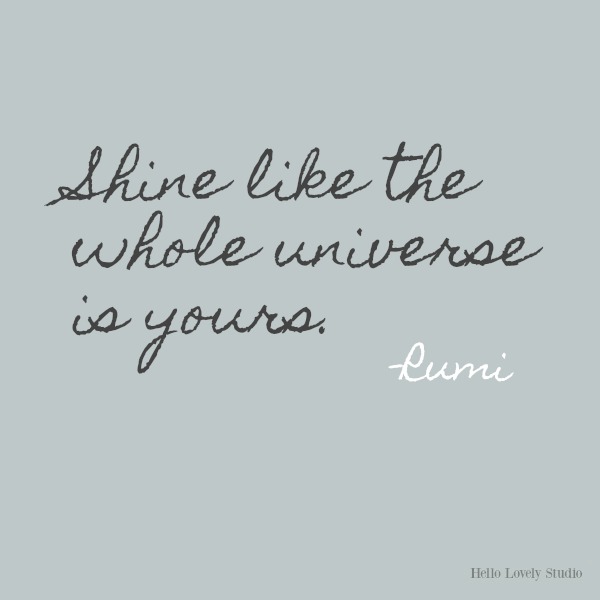 I independently selected products in this post—if you buy from one of my links, I may earn a commission.
Peace to you right where you are.
-michele
Shop for items you already intended to buy on Amazon RIGHT HERE, and also find home decor here to keep decor inspiration flowing on Hello Lovely!
Hello Lovely is a participant in the Amazon Services LLC Associates Program, an affiliate advertising program designed to provide a means for sites to earn fees by linking to Amazon.com and affiliated sites.