We're nearing the four year mark of buying our beloved fixer upper after downsizing from twice the square footage and property. The years have flown here, maybe because there always seems to be another project on the horizon or another son moving home temporarily, or because (and this is the most likely), these renovators are getting old so time passes quickly! Before & After: European Country Style Fixer Upper is a peek at the DIY transformations of our work here as renovators.
We have done the renovation entirely ourselves, with the exception of the hardwood flooring, new HVAC, new windows, and new roof. Hope you enjoy seeing how far we have come!
This post contains affiliate links which I hope you will use since they won't cost you a penny extra yet may earn this blog a small commission.
Before & After: European Country Style Fixer Upper
Fixer Upper Overview
This place did not look exceedingly horrible in photos when we saw it online. It was owned by the bank as a foreclosure property, and to keep their costs low, they installed cheap taupe carpet (without replacing pet soiled carpet padding), spray painted all the hardware and faucets white, and painted the walls yellowed antique white. There were critters living in the attic, a shower/bathtub leaking into the electrical box below, water damage underneath subfloors, and a jungle of weeds for a view.
We Viewed it Years Earlier!
One slight advantage we held in entering this mess of a project? We toured the property 12 years earlier when it was on the market at a time it had been cared for inside and out. The gardens were lush and beautiful, and the interiors were lovingly cherished. At that time, the home was not only too expensive, its floor plan did not make sense for our young family.
This time around in its forlorn, neglected state, we had no competition for this home! Not even the neighbors wanted anything to do with it since they watched it decline over the years with a steady stream of renters.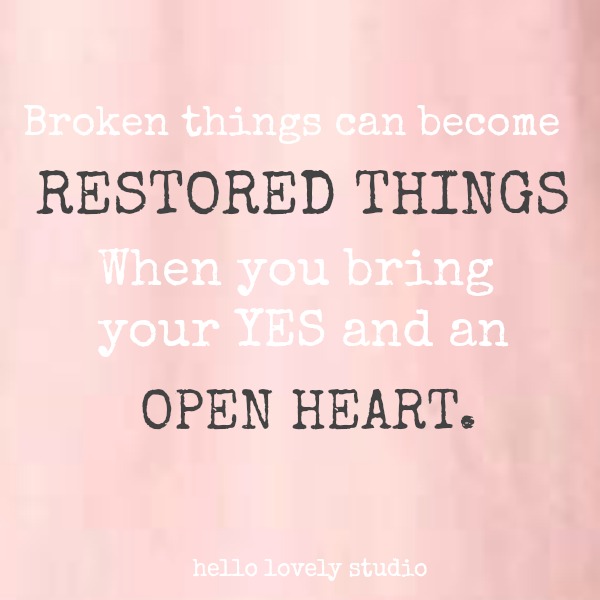 French Country Courtyard Dreams
Clearing away all the overgrown straggly bushes and weeds made way for a peaceful, pea gravel courtyard you can see RIGHT HERE. The siding on the house is light stone grey. I went for a tonal look for preowned outdoor furniture purchased from a friend, painting it a 50/50 mix of FARROW & BALL Cornforth White and Hardwick White.
European Country Fixer Upper Before & After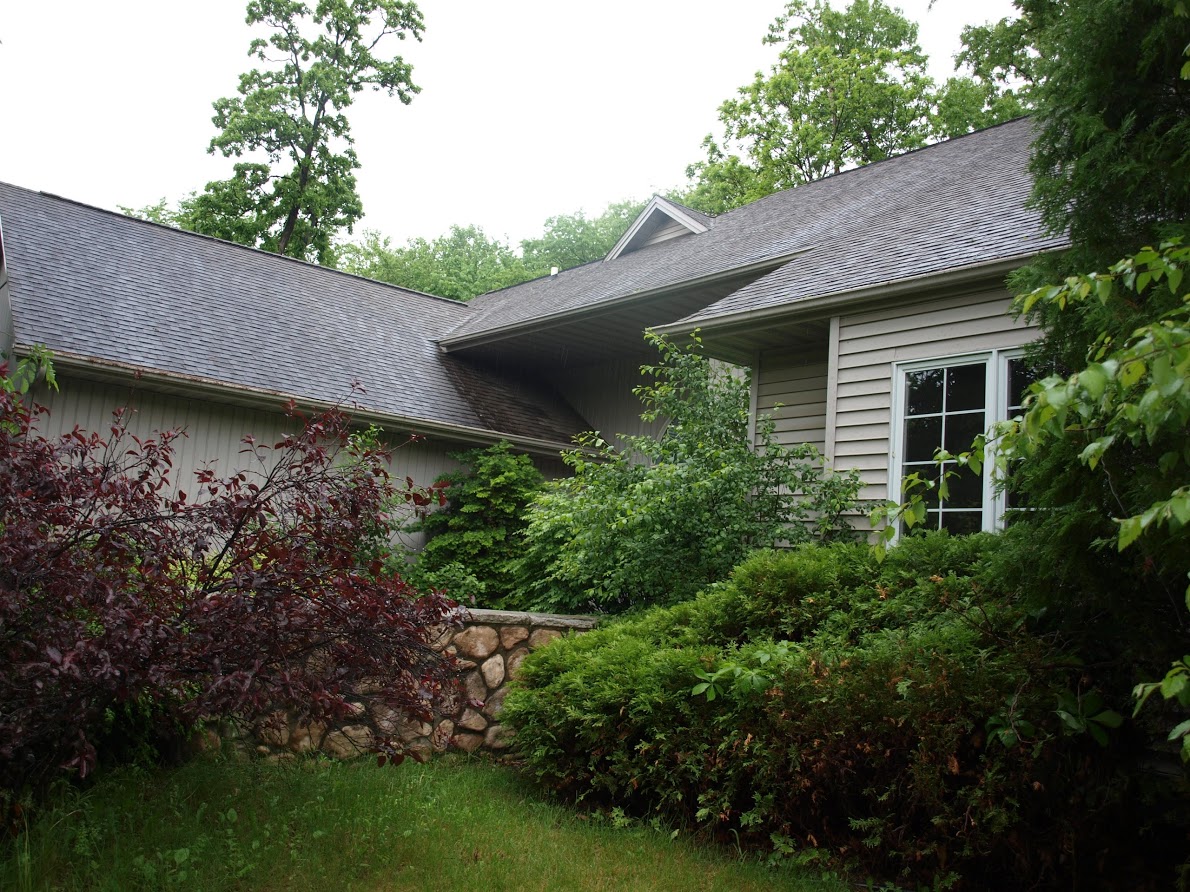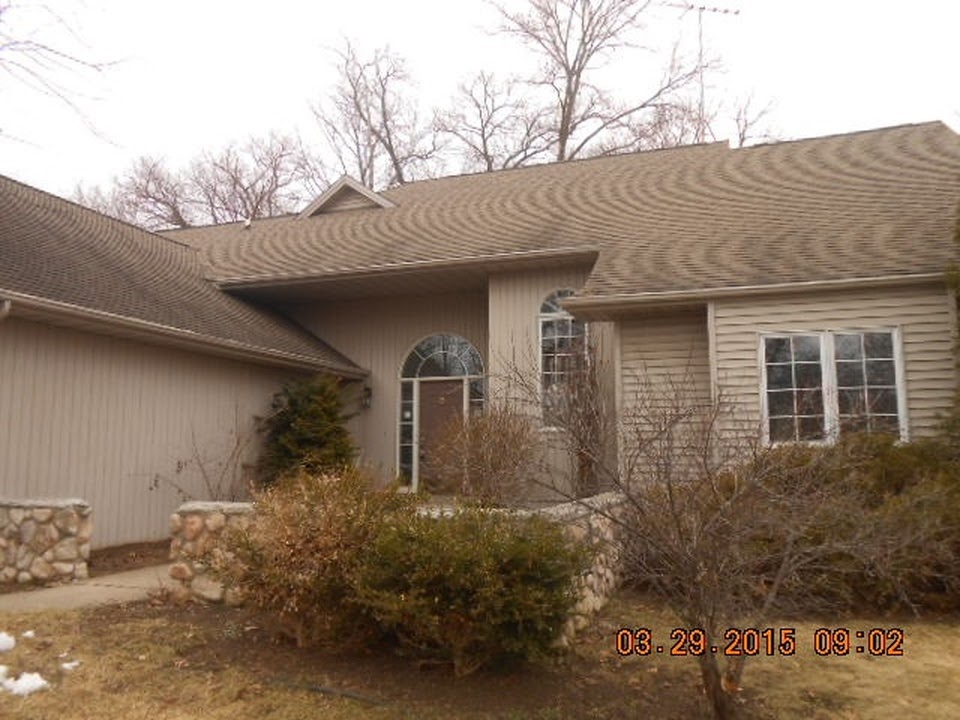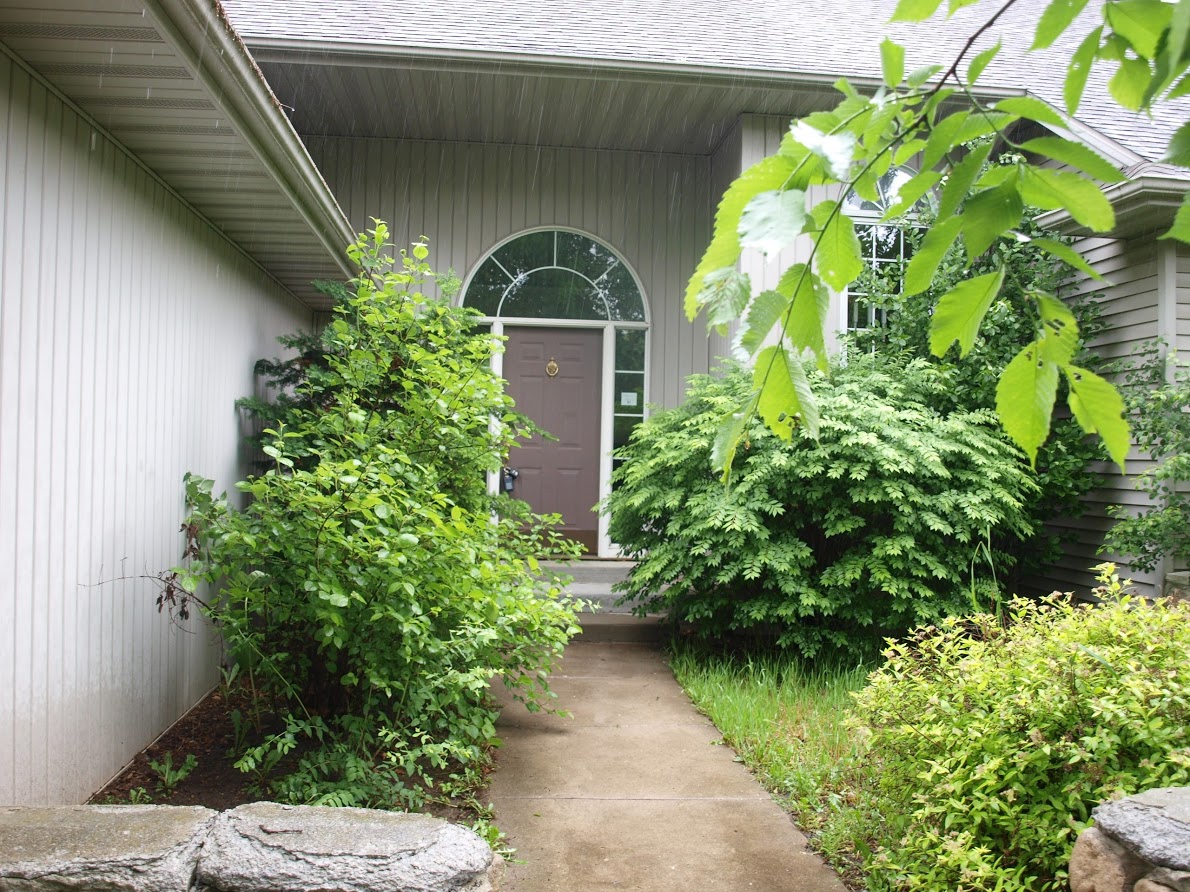 European Country Fixer Upper: Front Door Before & After
Replacing the front door was actually not a priority since I knew just painting the existing steel door could make a big difference. It was after we worked with Pacific Entries to replace most of the hollow core interior doors with solid, rustic alder planked doors that we realized we could transform both the interior entry and exterior porch in one fell swoop!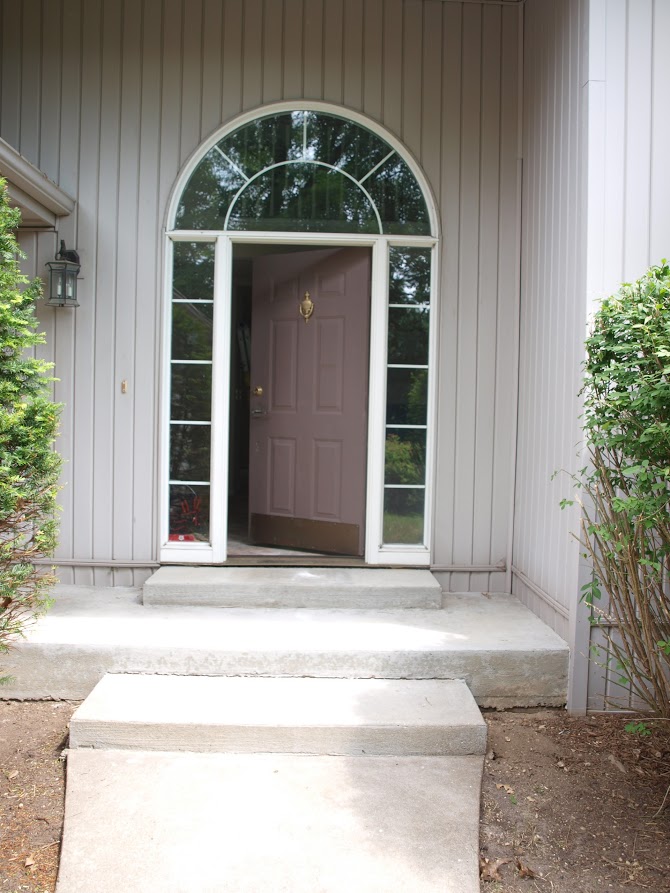 We still haven't upgraded the exterior lighting at our home, but what a huge difference. We love giving this place an identity with French Nordic cottage and European country farmhouse style.
Eventually, we would like the river rock walls topped with a natural stone, but since the tops we inherited the place were eroded and nasty looking, my idea was to remove the old top and replace with low cost concrete as a temporary solution.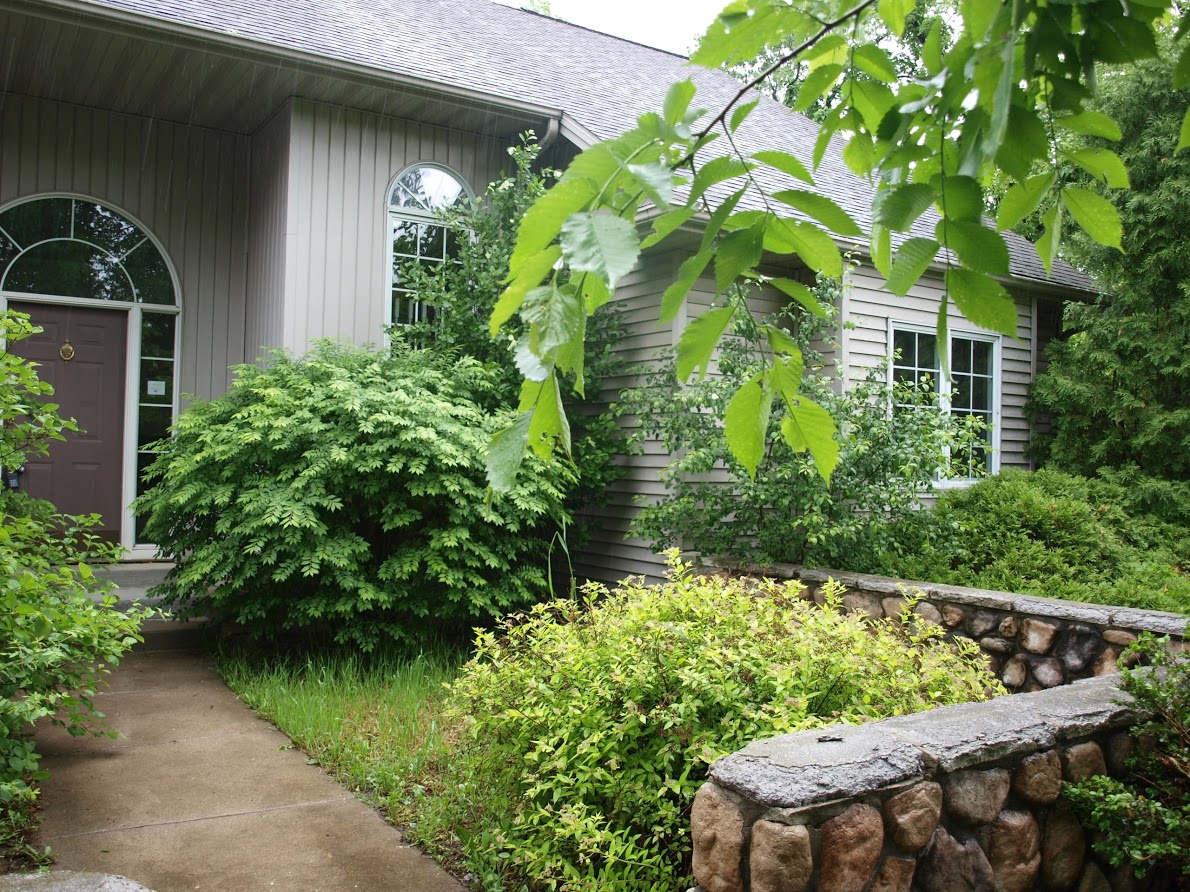 For under $40 (the concrete pavers were under a dollar each from Home Depot), this solution has served us well even 4 years later.
European Country Fixer Upper Entry
I'm not exaggerating when I say the tile near the front door was the exact color of an awful bruise. It was sort of fitting since the whole house had been beaten up. We still haven't upgraded the bifold closet doors which I despise, but things look a lot better!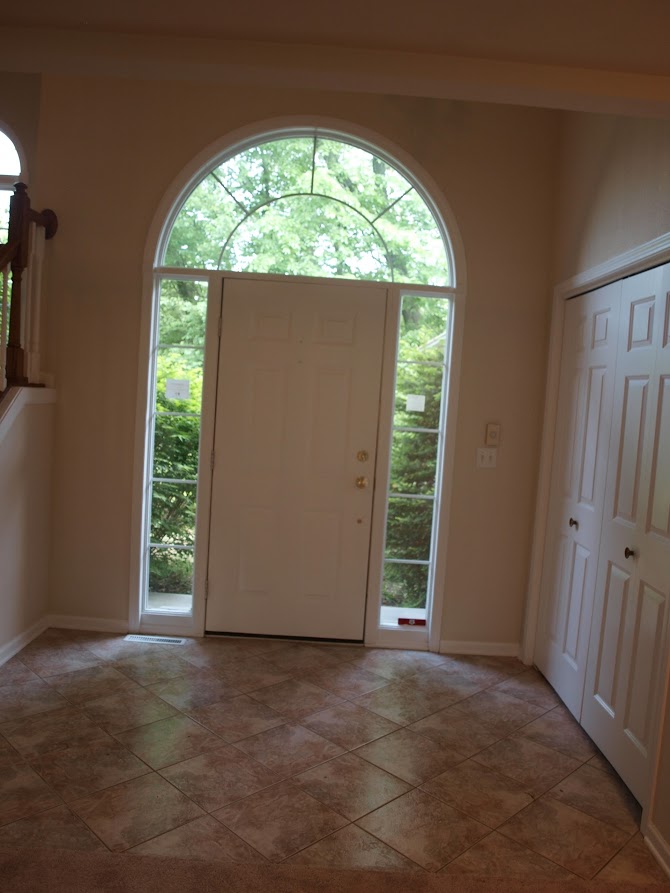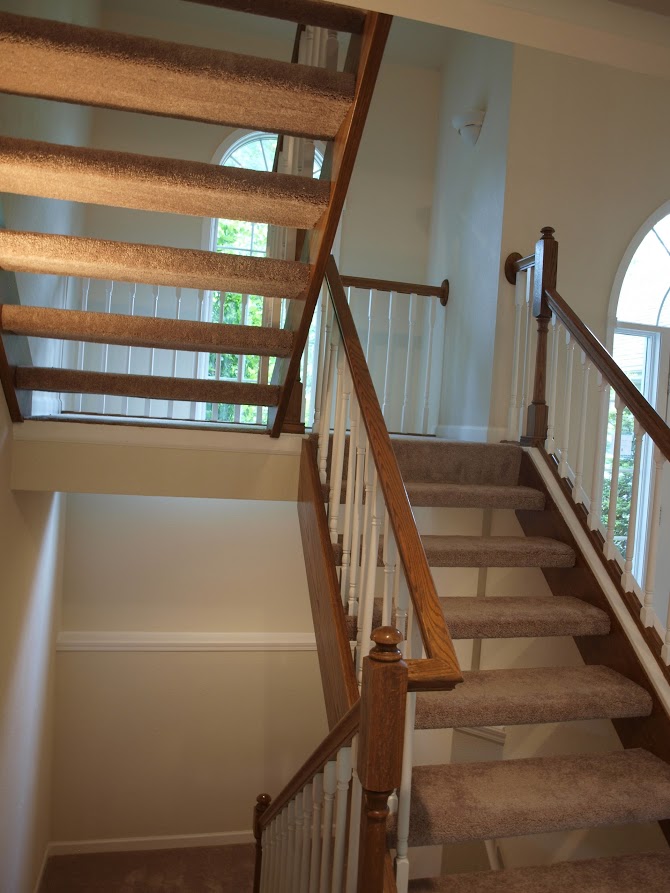 The stairs were the open riser type which I associate with the Brady Bunch, and they can be sort of charming in the right project and when they are wood rather than wrapped in cheap carpet. We needed a budget friendly fix!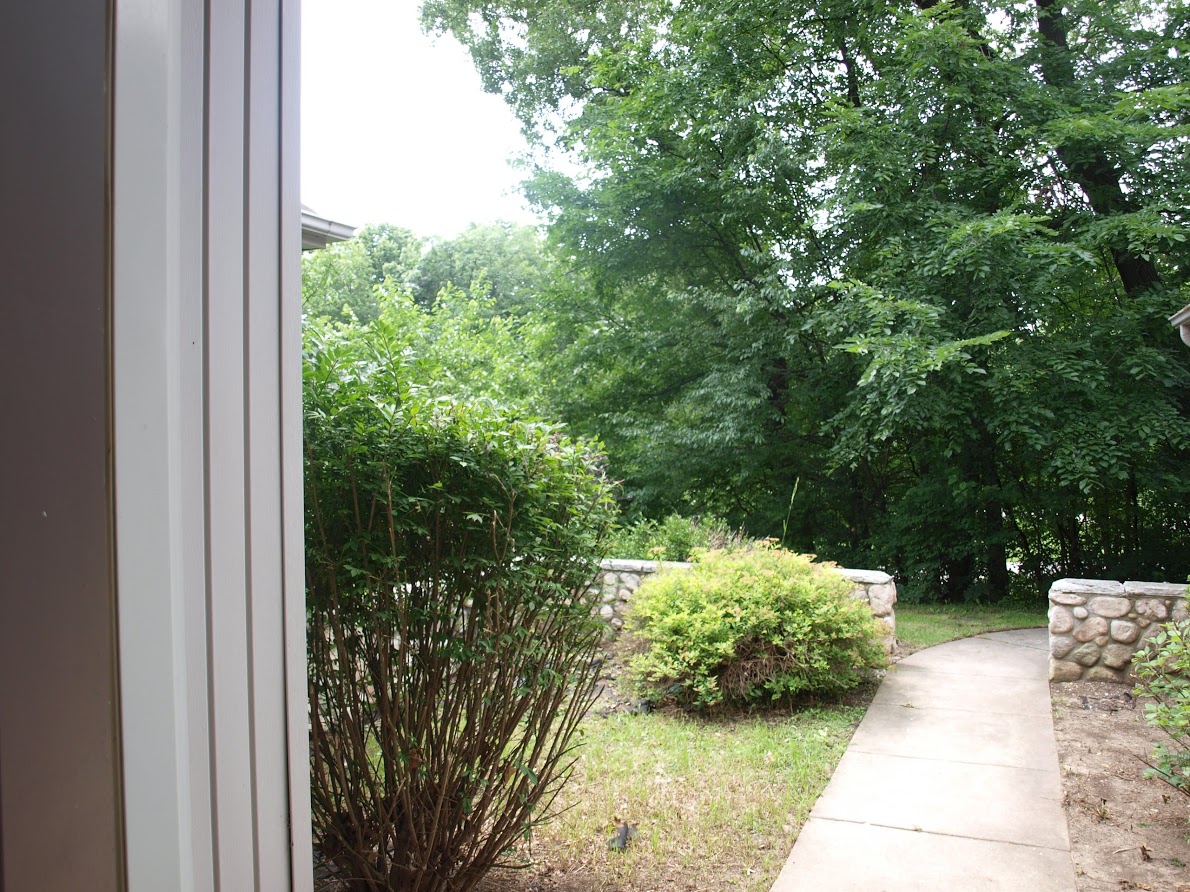 We closed the risers, installed a linen-hued durable carpet, and painted everything white except for the handrail. I sanded most of the existing stain and varnish from the rail and then rubbed on a clear wax.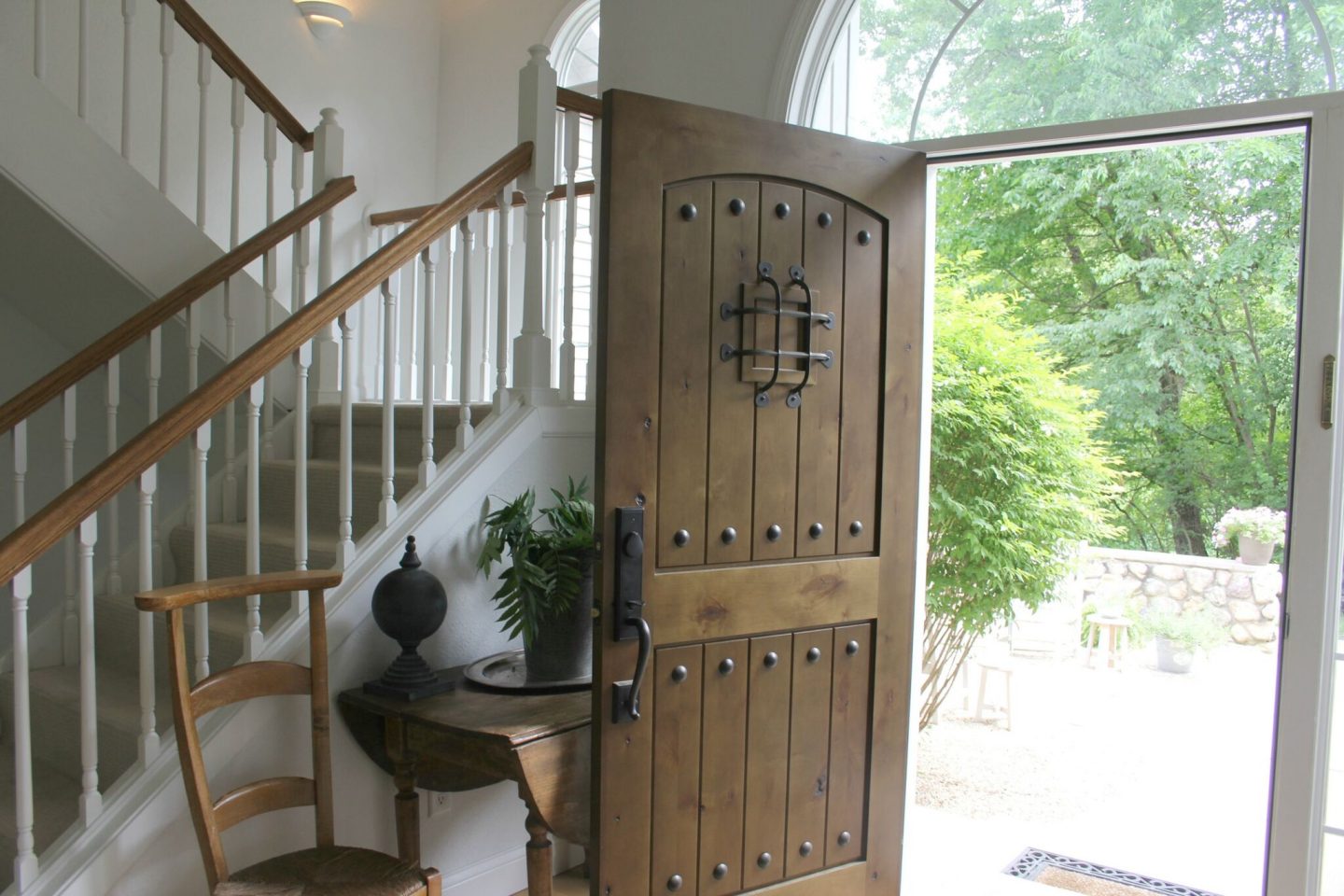 European Country Kitchen Transformation
The marketing photos of the kitchen in the house didn't look horrible since they showed off the natural maple hardwood floors and white cabinets. Except you can't tell from photos that the wood floor had been destroyed from water underneath and that the vinyl cabinets were worn out and well past their prime! The countertops were new navy blue laminate, the sink was a new white cast iron model, and white range and microwave were brand new.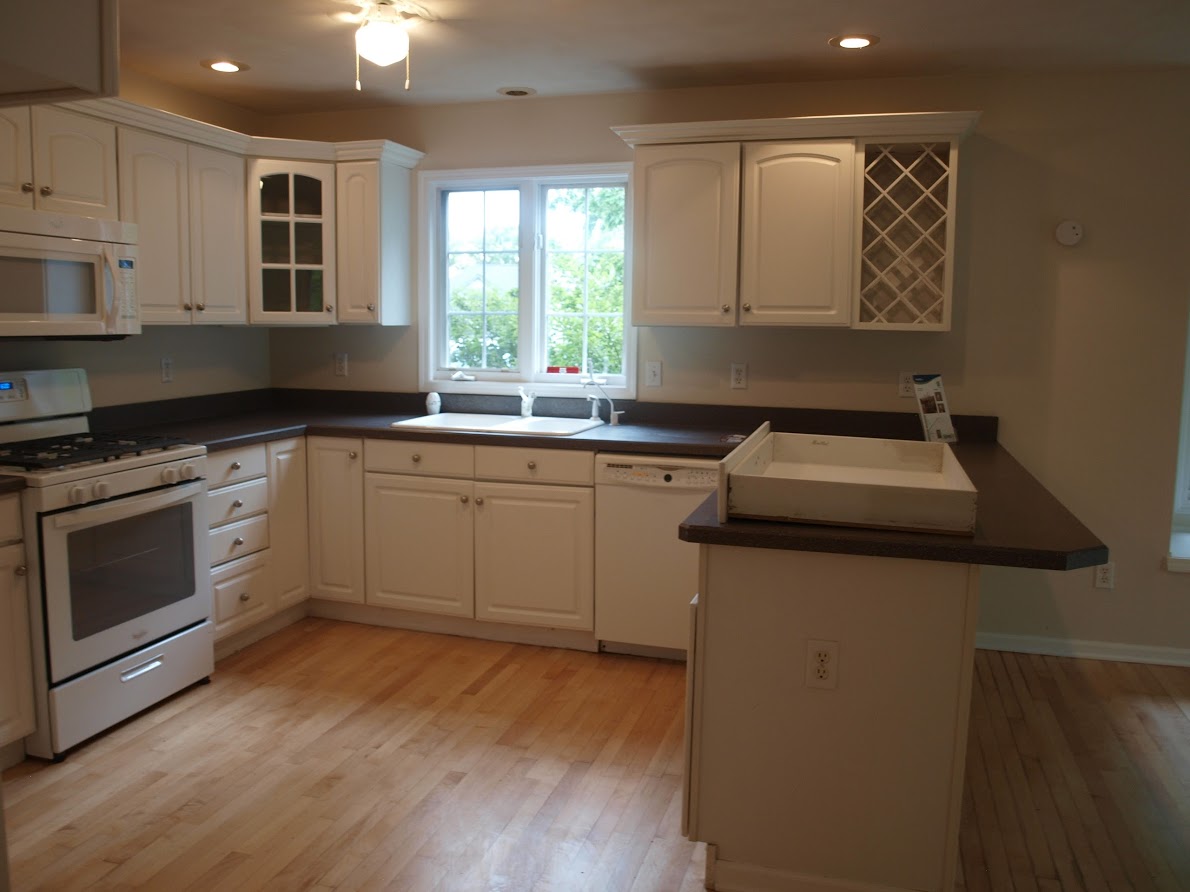 We salvaged the cabinetry we could and moved it with the countertop into a basement workshop. Every single thing we could re-purpose in this fixer upper was incorporated into the plan.
Before & After Kitchen Renovation
As is often the case, things got far worse in the kitchen before they began to get pretty! Here's the breakfast dining area of the kitchen before we were forced to demo the flooring (no worries – we salvaged the usable boards!) and redo almost everything except the window seat.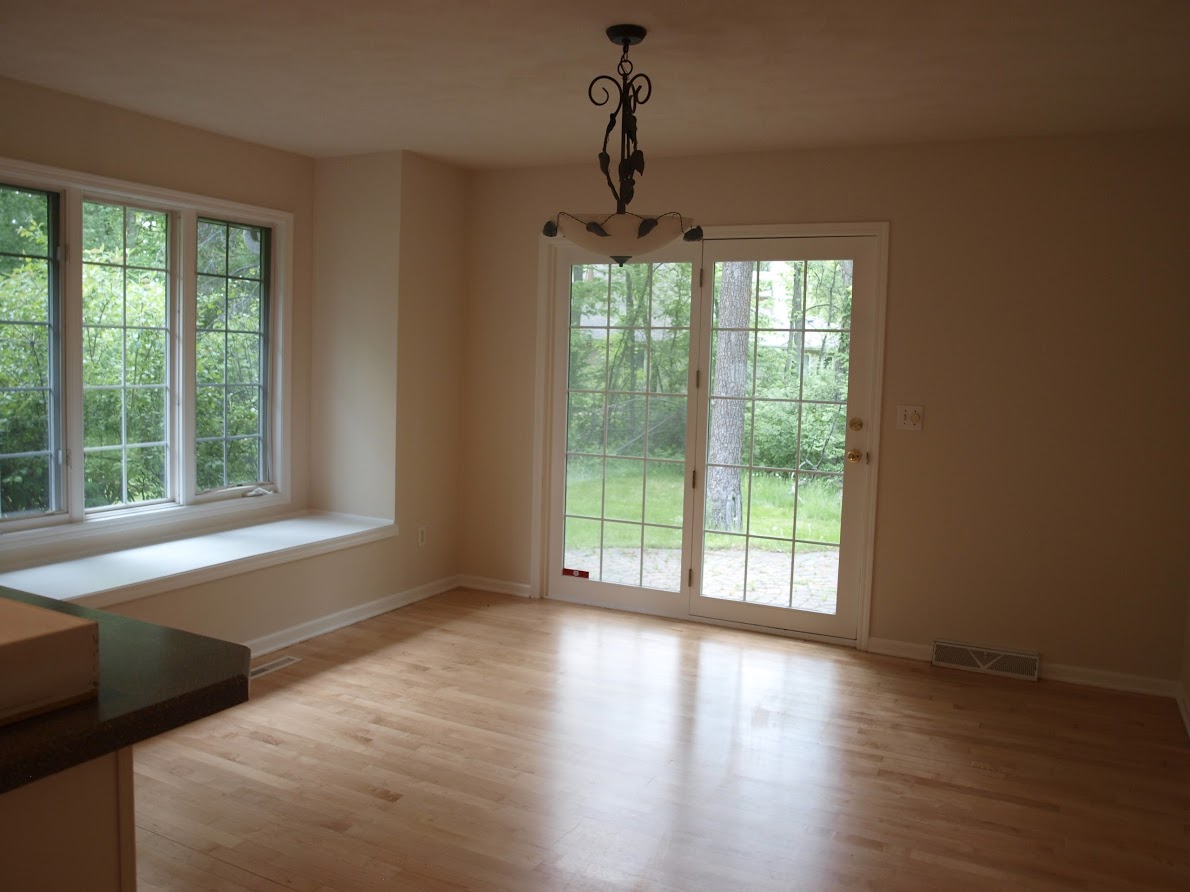 Care to see how things got worse? And just so you don't think I'm making it up that the whole house was painted an awful antique white…look at the contrast of old vs new BENJAMIN MOORE White I painted the whole house.
In the old kitchen design, upper cabinets flanked the window over the sink and felt so boxy and claustrophobic for me. The ceiling fan was old, loud, wobbly, and ridiculous.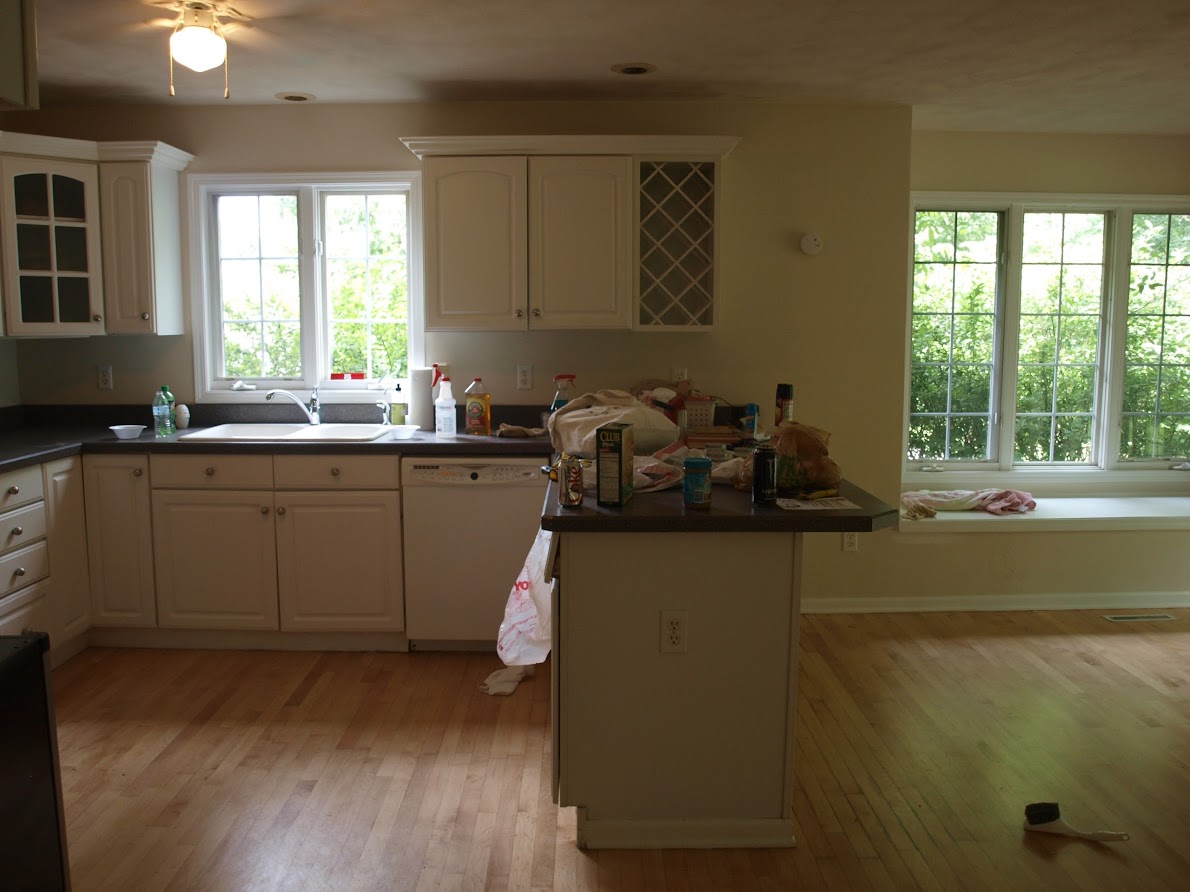 Polished marble subway tile taken to the ceiling brought an airy, serene, contemporary look but it did cost us storage. I tried to make up for it by installing ceiling to floor cupboards (a very English country look) on the frig and oven wall. Here's how that wall looked before we installed cabinets and appliances:
The step back cabinets to the right of the ovens (above) contain a cool appliance garage (on a hinge which lifts straight up) so I can hide away my toaster and blender.
This was my first cooktop (see above), and while it functions well, I kind of miss having a range, mainly because I love the look of a traditional style kitchen.
In the kitchen's U-shaped design before, the refrigerator was located across from the sink wall. I chose a French Door Frig and moved it to the corner, adding horizontally installed wood beadboard (and no cabinets, hooks, or any clutter) to the former frig wall. (And yes, when we viewed the house, they didn't even bother repairing an old broken kitchen drawer which was just plopped down on the breakfast bar.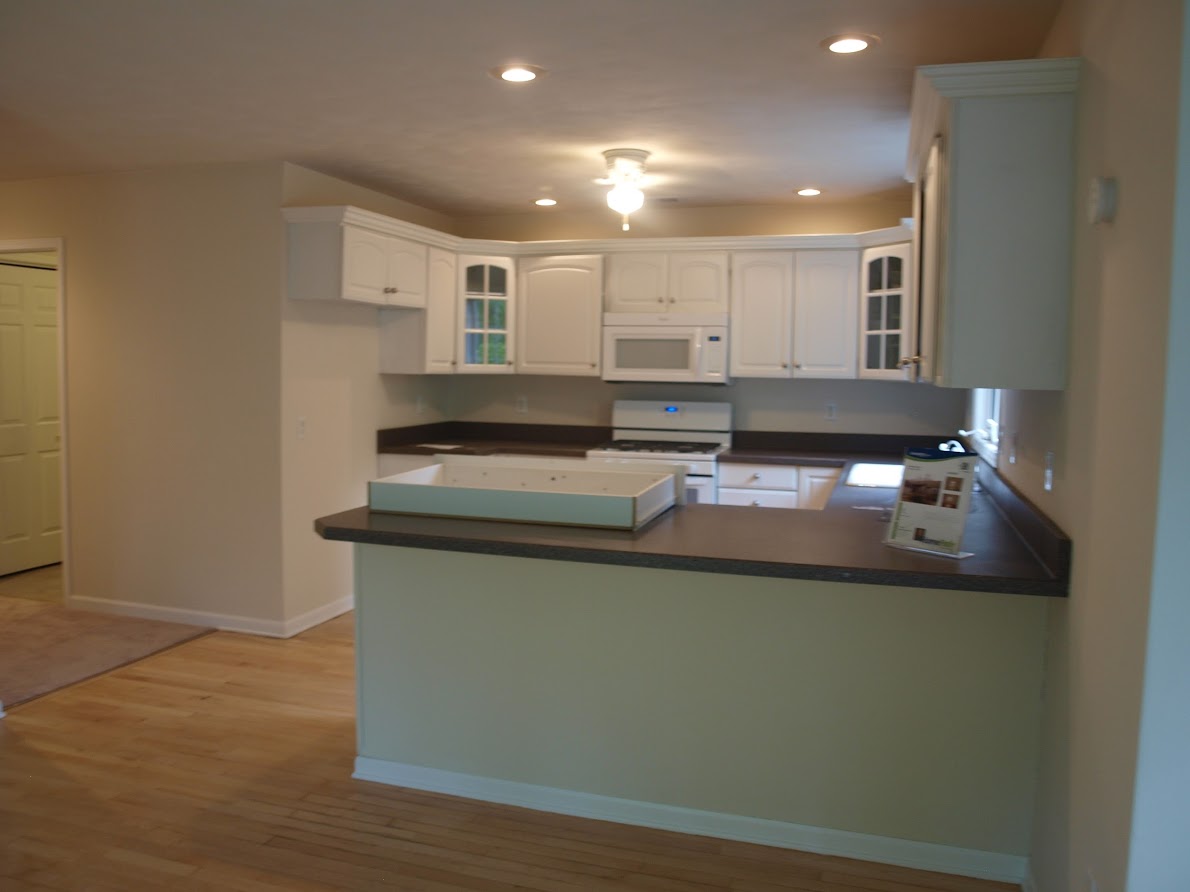 A simple but smart addition to the breakfast bar: horizontal installed solid wood beadboard which I painted white. It takes all sorts of abuse and wipes clean far better than drywall!
You can read about my journey to find the right white countertop RIGHT HERE. And just so you're aware, I didn't use any sponsors on any of this kitchen renovation so you don't have to wonder whether I'm pushing a particular appliance or surface in here. We spent a ton of money even with doing the work ourselves!
The mirror was hung just a placeholder since we wanted floating shelves which are still all the rage with the cool kids in their modern farmhouse obsession. Still no shelves, and I'm okay with it.
Can you believe how dark this kitchen felt? It needed love!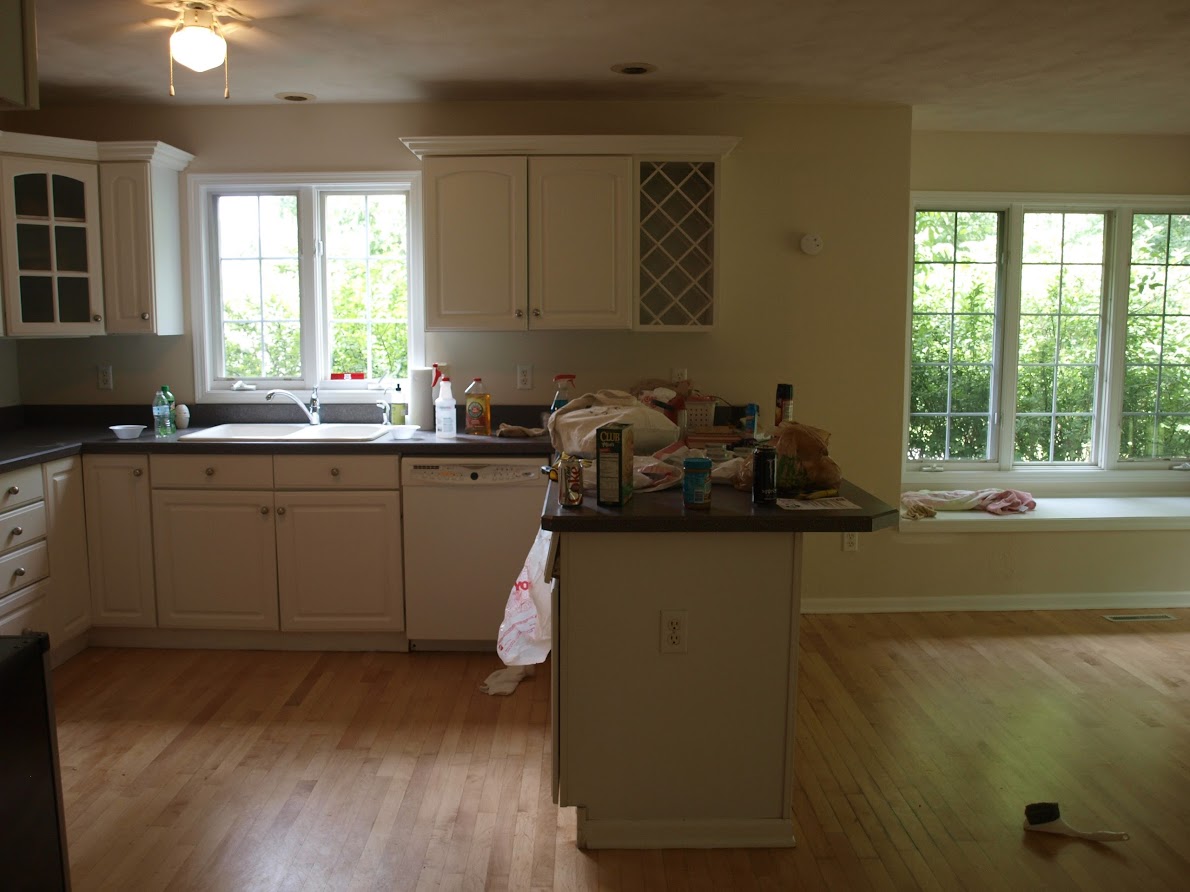 Hope you enjoyed this before and after! My next post RIGHT HERE continues the tour of our fixer upper's great room and master bedroom. Take it for a whirl too!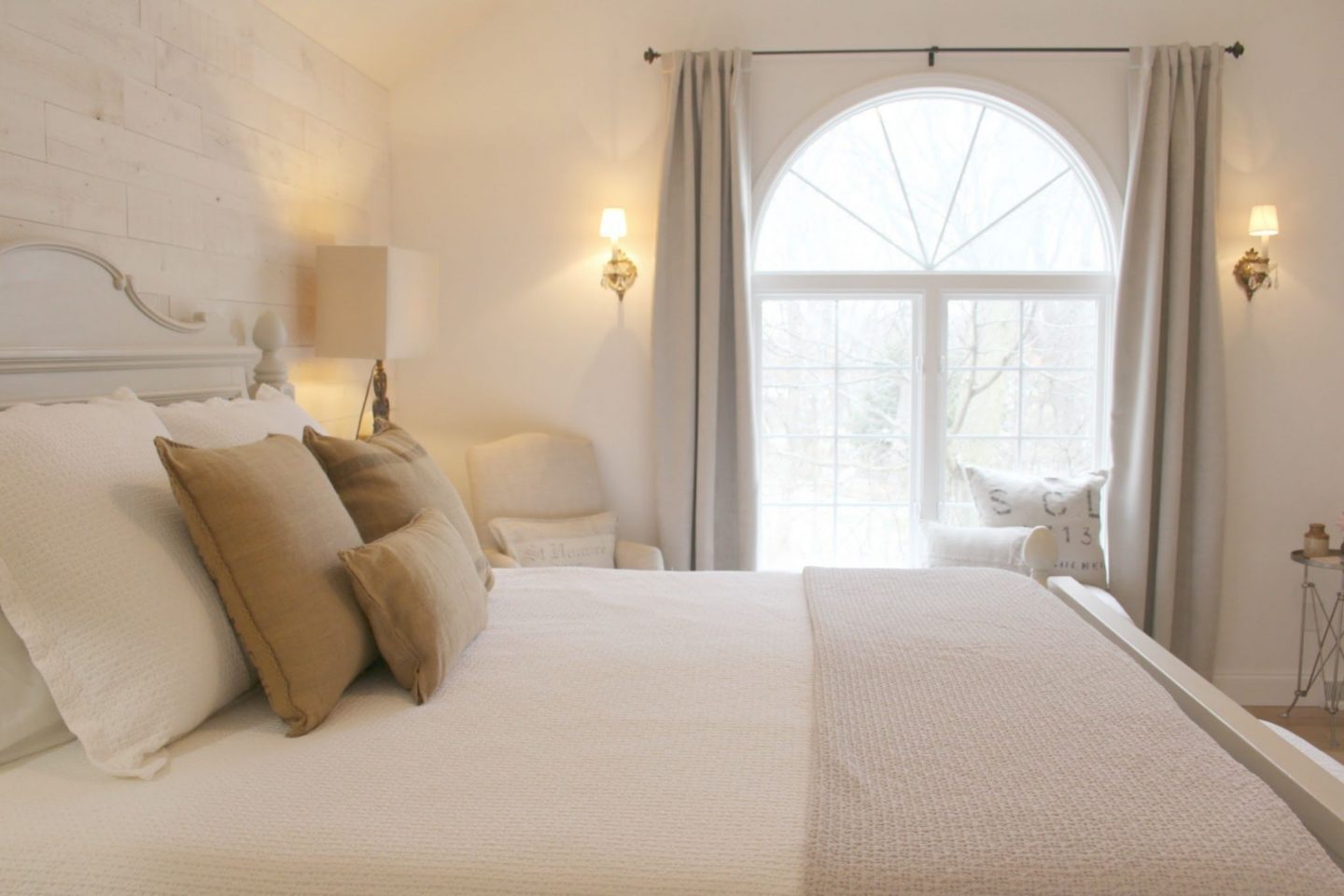 DON'T MISS Part 2 RIGHT HERE. For more French Nordic inspiration, do visit THIS and THIS.
I independently selected products in this post—if you buy from one of my links, I may earn a commission.
Peace to you right where you are.
-michele
Shopping for items you already intended to buy on Amazon RIGHT HERE (not just items mentioned in posts) or home decor keeps decor inspiration flowing on Hello Lovely!
Hello Lovely is a participant in the Amazon Services LLC Associates Program, an affiliate advertising program designed to provide a means for sites to earn fees by linking to Amazon.com and affiliated sites.