I brought home some lovely Christmas decorations from Urban Farmgirl (in Rockford, IL) this week, where all sorts of farmhouse style, rustic, country, vintage style, simple holiday decorating ideas and vignettes will happily greet you. Let's get inspired by the cozy comfort of Urban Farmgirl Christmas Decor!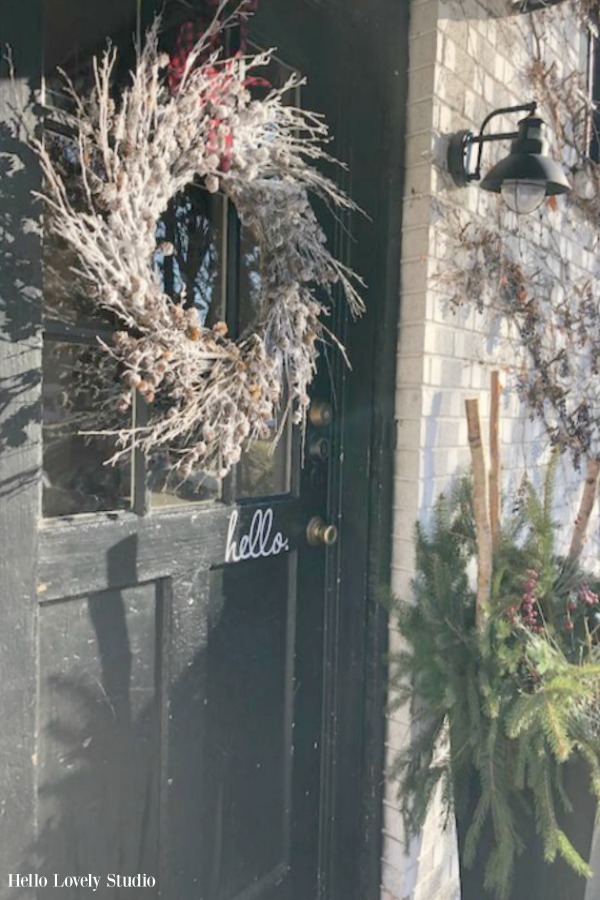 Urban Farmgirl Christmas Decor Inspiration
I'm sure you are going to love what you see, and do pay Urban Farmgirl a visit in person (2202 Rural St., Rockford, Il) or online to purchase what you see.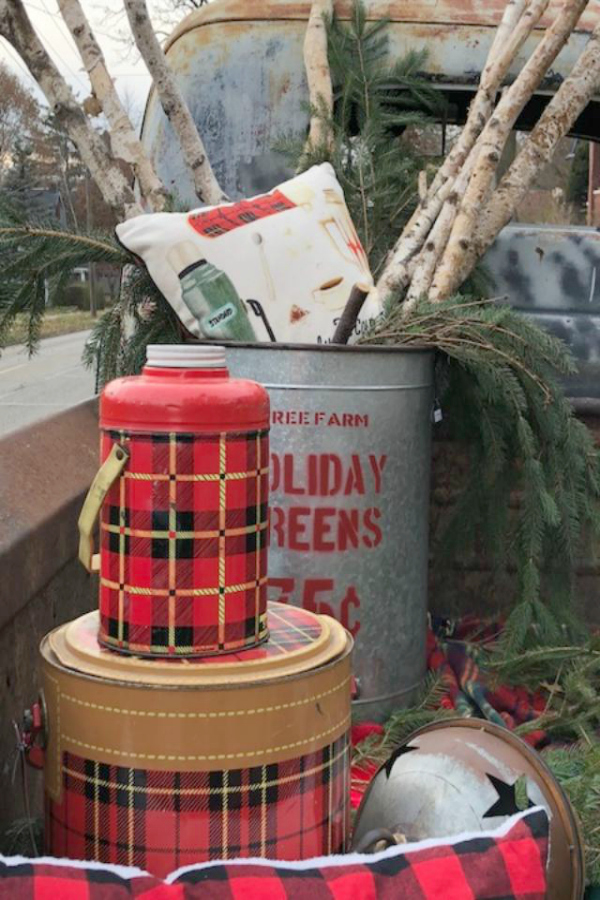 But first.
You may not be familiar with this Christmas song ANOTHER YEAR HAS GONE BY (cowritten by Bryan Adams) by Celine from 20 years ago that I never tire of! It still makes me cry because it captures gratitude for a loving relationship. Give it a listen and share the joy with a lover.
Front Door Decorating Idea
I love this simple lovely look and have had tall black planter boxes like the one below flanking my front door for years. I deck them with fresh evergreen branches from the yard, berries, twinkly lights, and twigs, similar to what you see here. But I love the birch added, and I'm crazy about how it works with the white brick.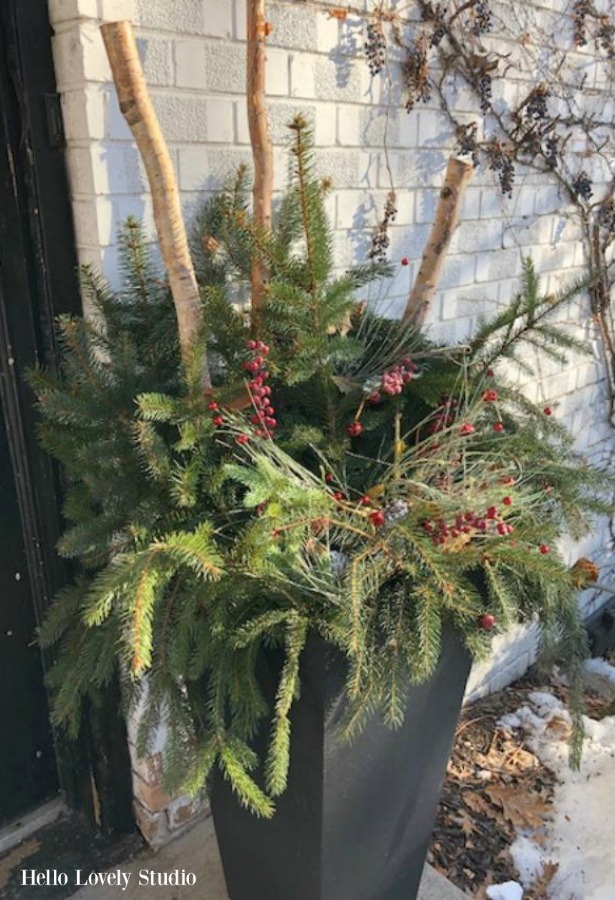 I didn't do any editing to this shot below – it was a gorgeous sunny day with a beautiful blue sky over Urban Farmgirl. Climbing vines on the white exterior, black painted trim and door, and barn style lights combine for farmhouse-in-the-city loveliness.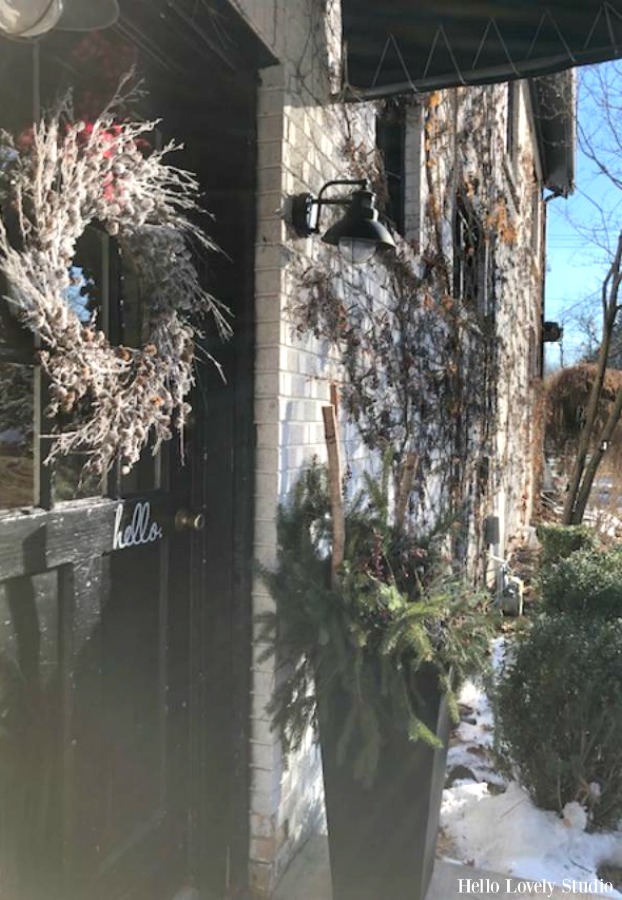 Modern farmhouse is often a celebration of black and white, but what I love about Urban Farmgirl is all the warm vintage colors waiting inside!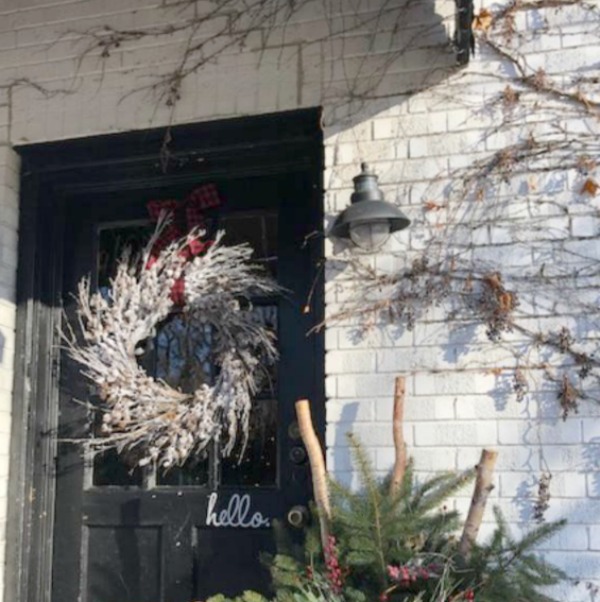 Not that I get out all that much, but I had not seen these mercury glass lights before…aren't they fabulous!?!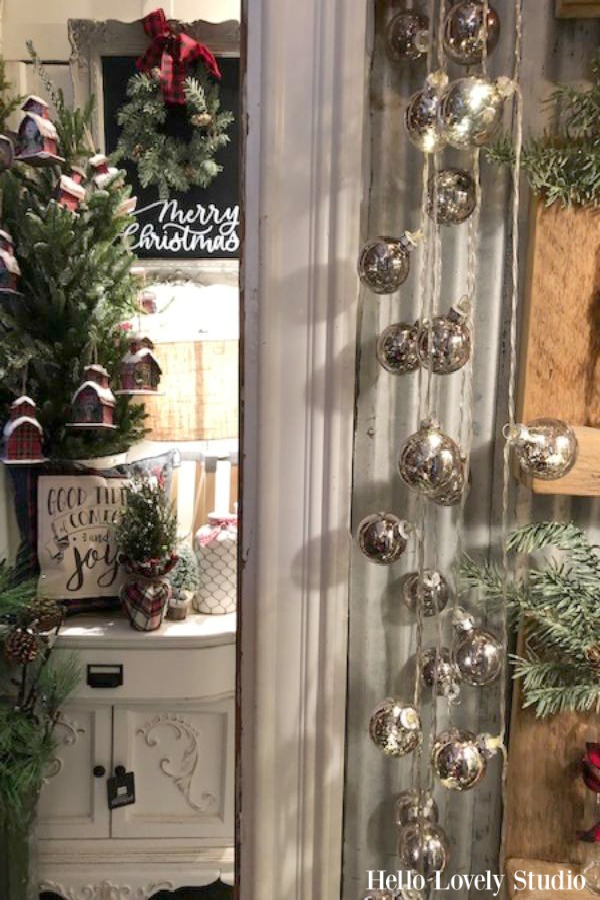 More birch branches charming me – these against corrugated metal siding and a vintage fireplace.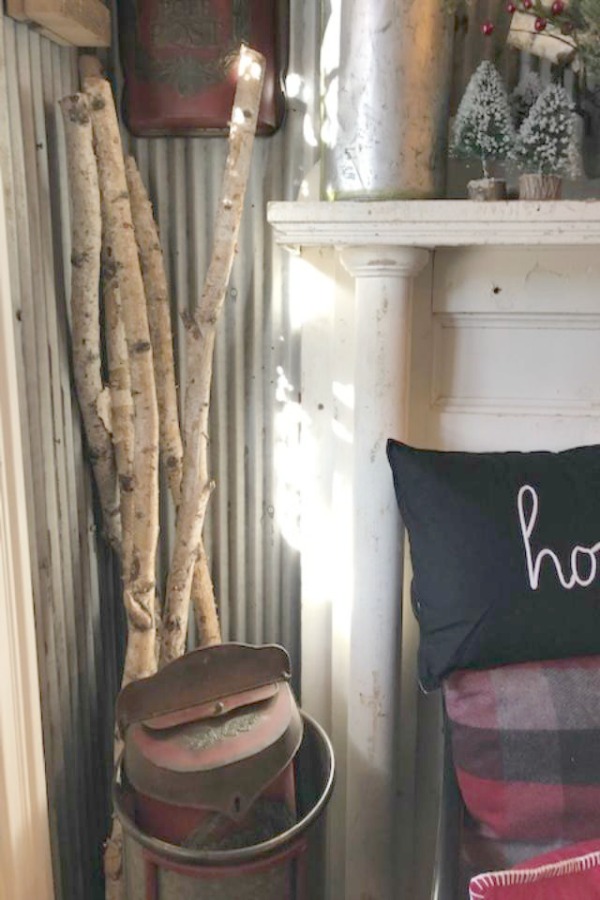 I love scoring styling ideas from pretty shops, and here's one that's semi-hidden. For a nonworking fireplace (or if you drag home a vintage surround and mantel to use it for decor purposes only), fill in the fire box area with a sheet of corrugated metal. I love the contrast with the white.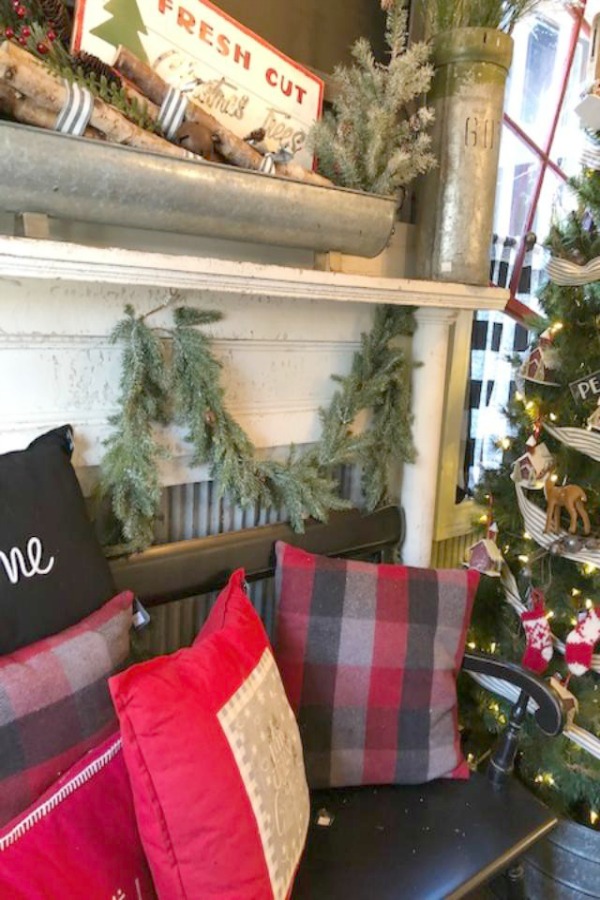 A Scandinavian moment with felted wool trees, gnomes, and tone on tone Christmas white splendor.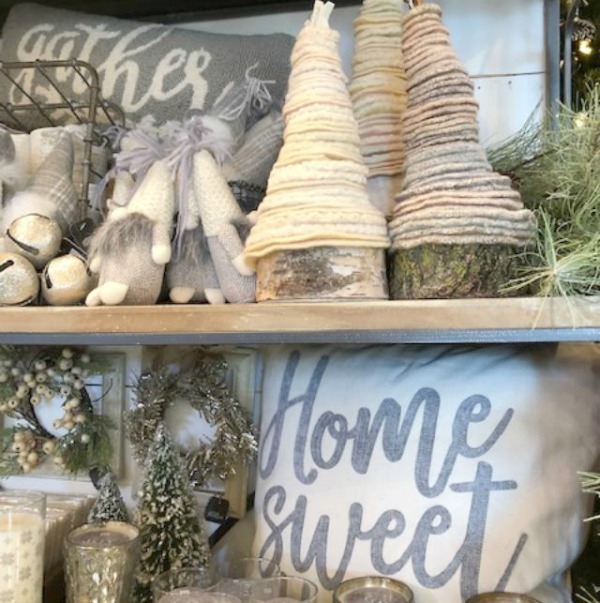 Simple farmhouse style signs proclaiming peace and noel are just the right scale to make an impact.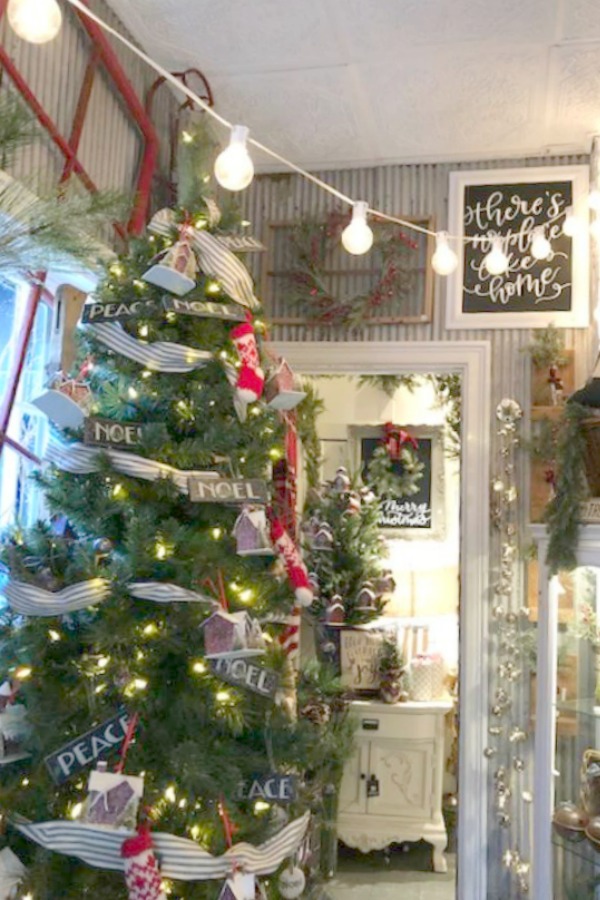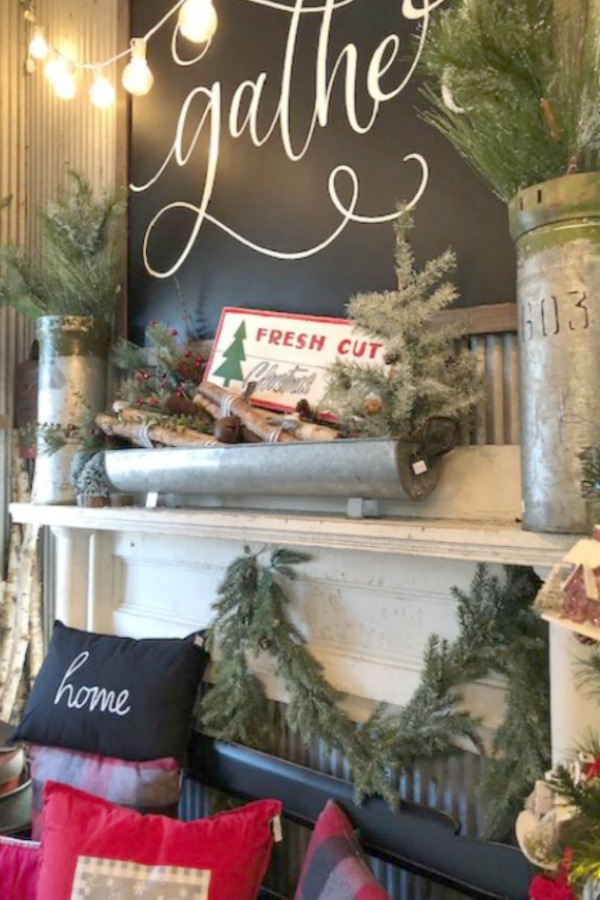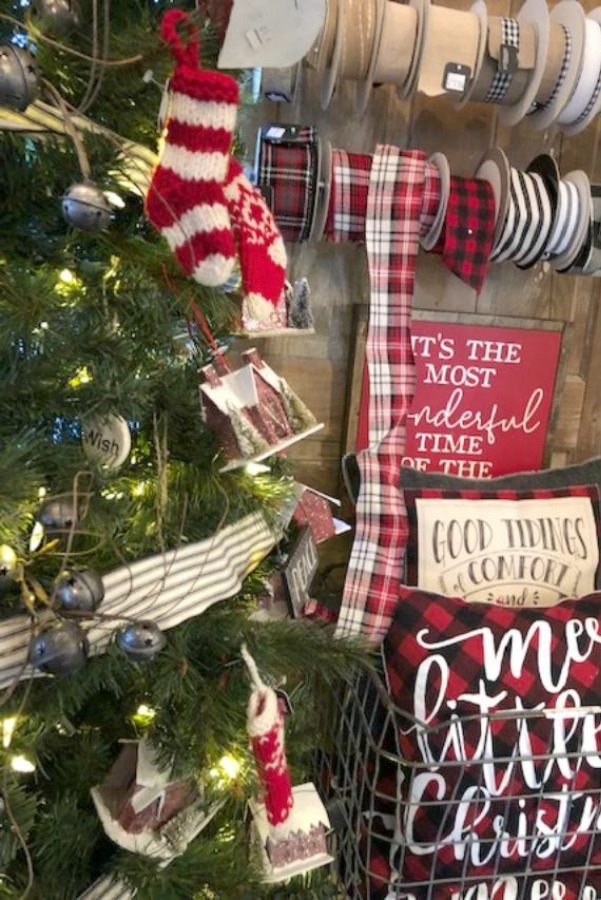 I love the pinecone garland which looks so sweetly handmade with twine. The pinecones glisten with a subtle sparkle suggestive of snow.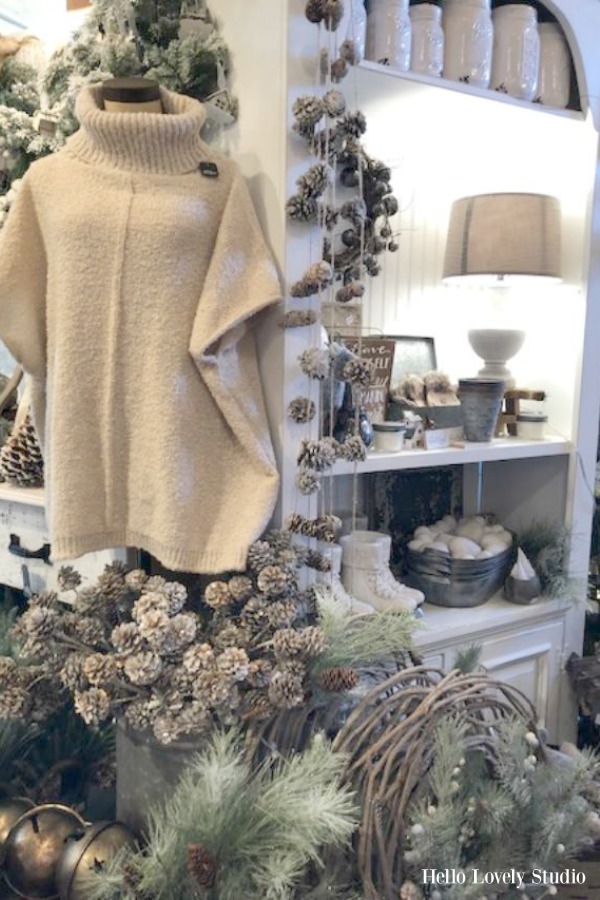 Buffalo checks, gingham, and plaid patterns are everywhere in country Christmas decor, and they are well represented in the shop! I'm also partial to the bells on grapevine wreath!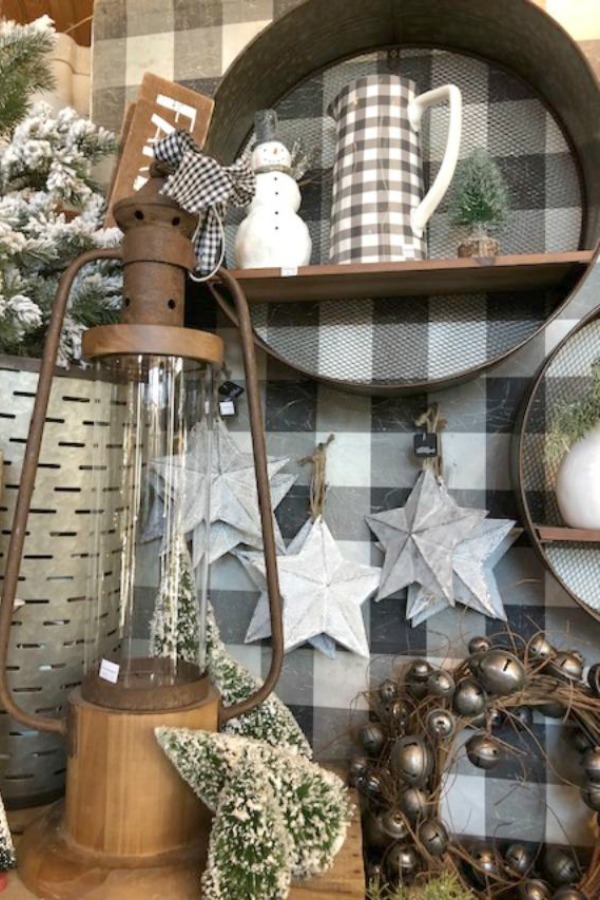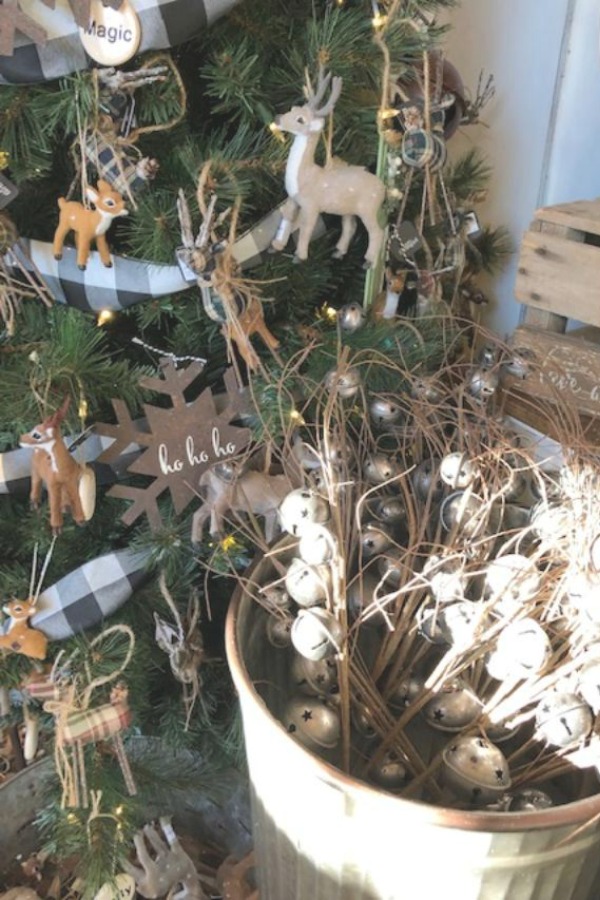 The sign says 'There is nothing like staying home for real comfort," and for me, it resonates as truth. Even a posh hotel with spa cannot approach the relaxed feeling that comes from my home.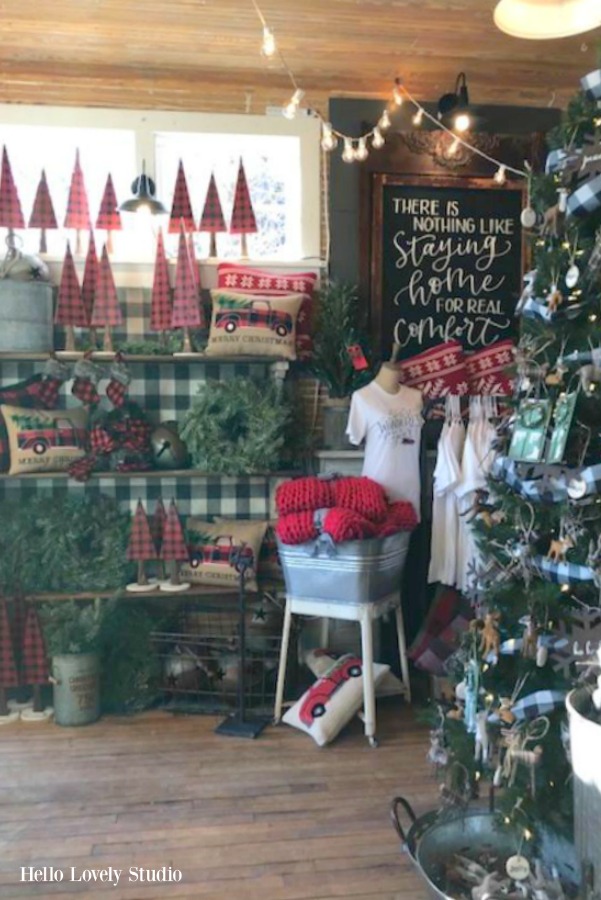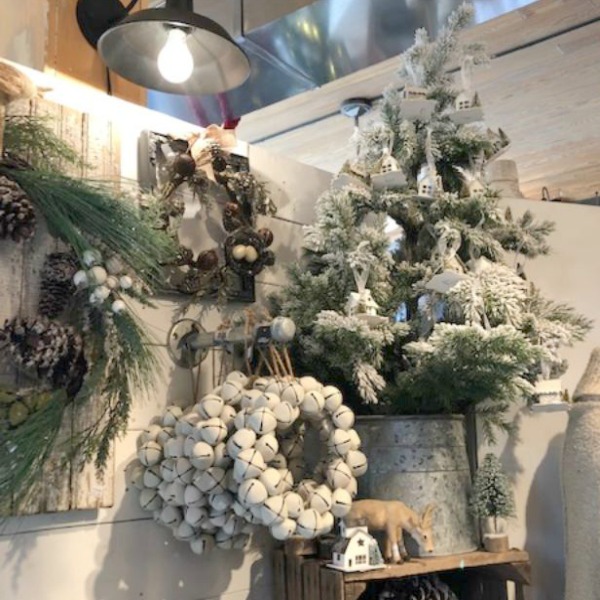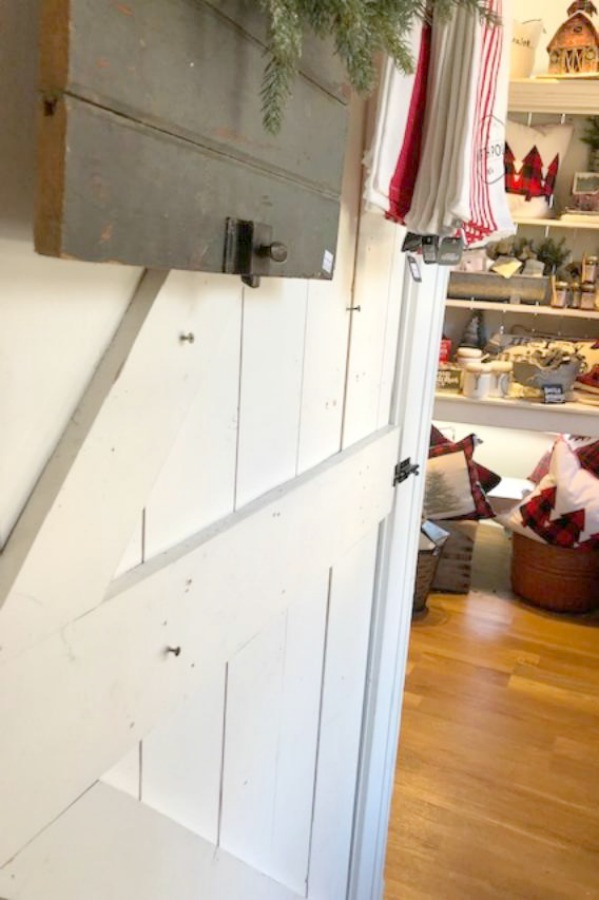 I loved the vintage red color of these dishtowels below with whimsical messages.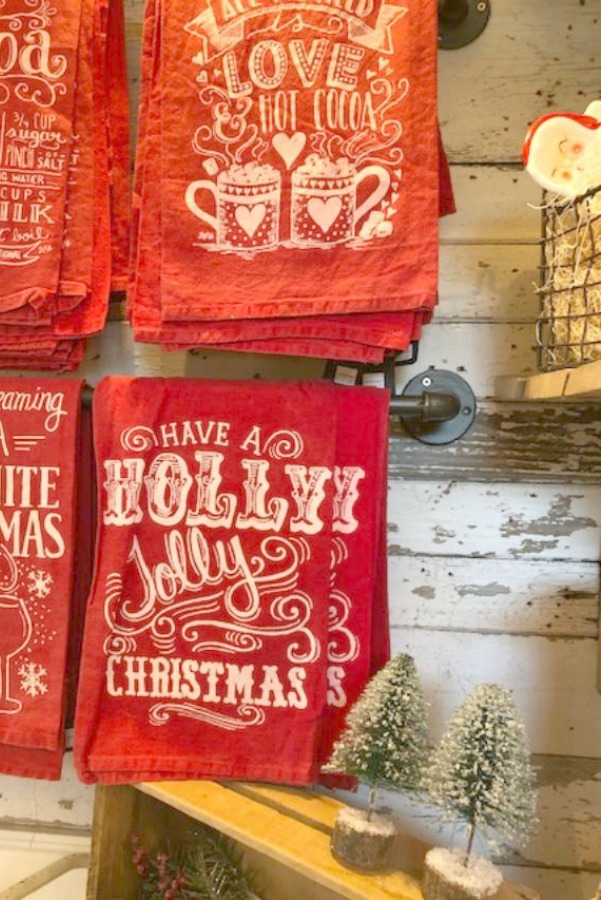 Vivid red and white checks are so happy lovely, and the Joyeux Noel towel will look perfect in my kitchen!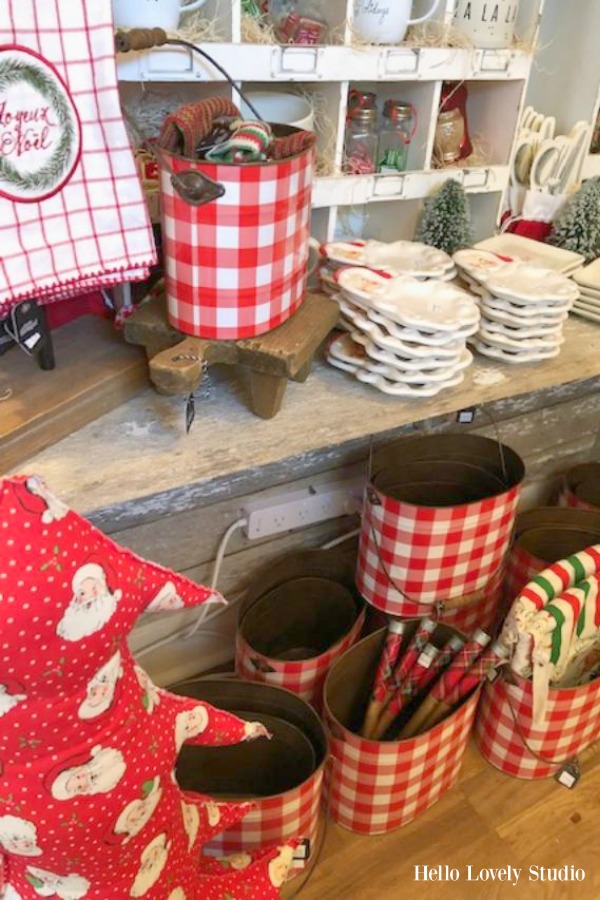 How charming are these merry plaid little loaf pans with spreaders? What a perfect hostess gift for a baker.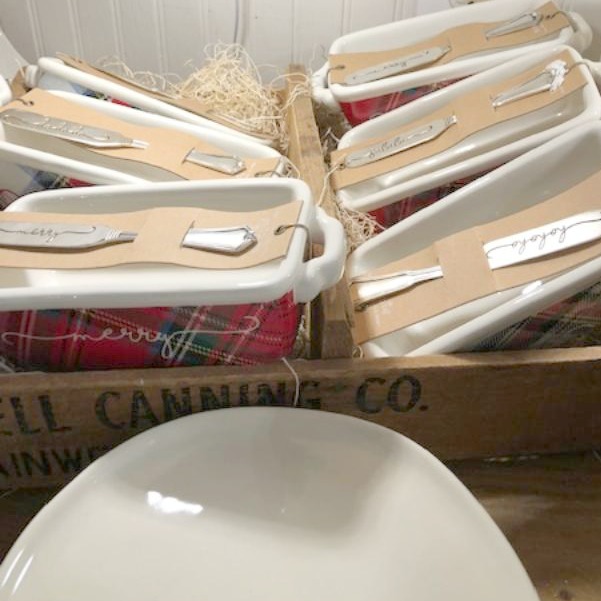 I'm still thinking about these mercury string lights!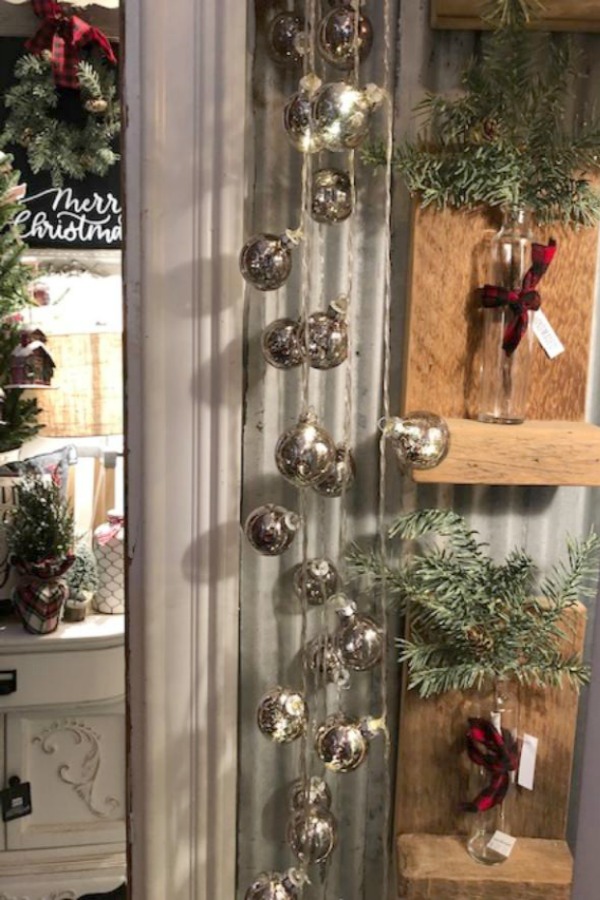 This incredibly quaint old pickup occasionally makes an appearance in front of the shop – don't all of us farmhouse style lovers need one for styling?
DID YOU LISTEN TO THAT CELINE SONG EMBEDDED ABOVE YET? WHAT DID YOU THINK!?!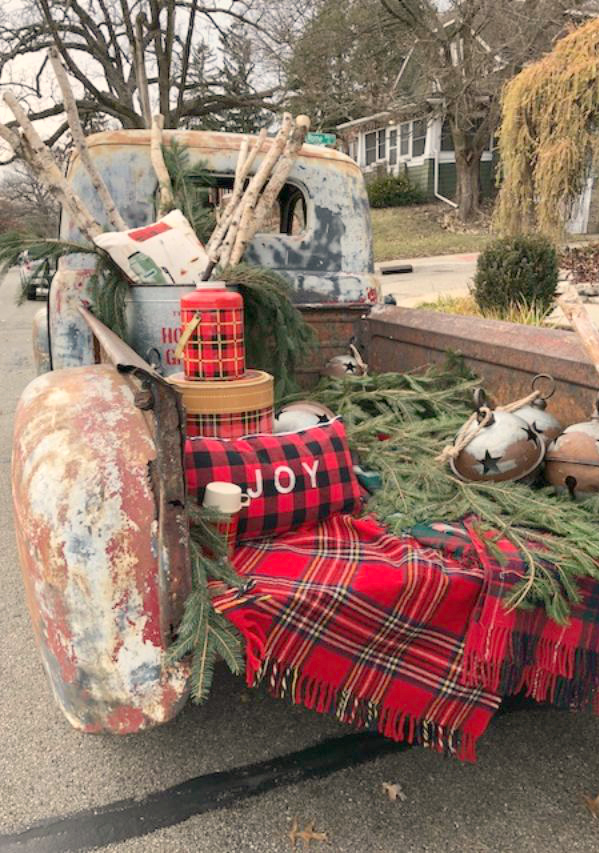 Hoping you are enjoying your December and the holiday traditions you and yours turn to this time of year. I am simmering fruity-spice mulled concoctions on the stove, nibbling on way too many cookies and cakes made here, and cooking up comfort food for my men who make me feel like a million bucks when I get it right.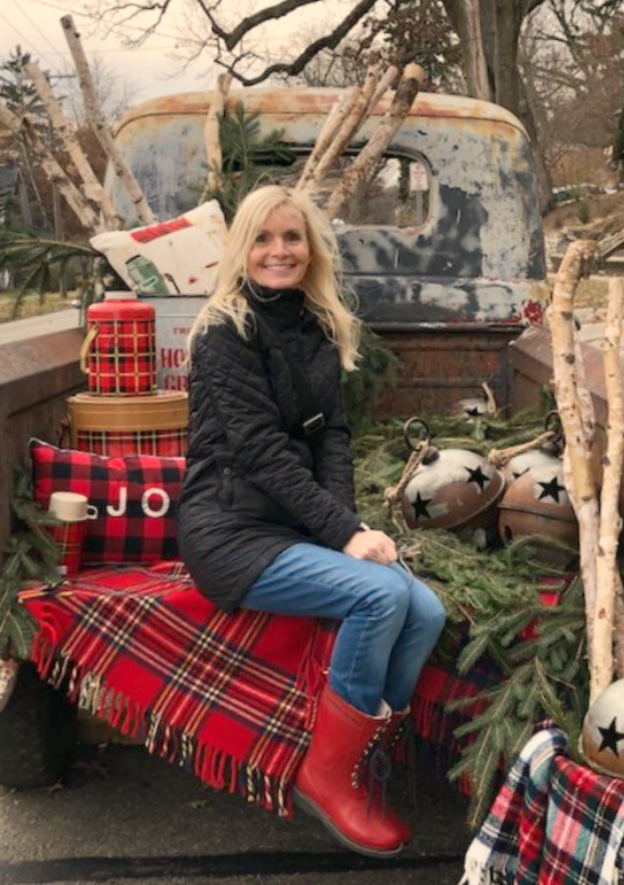 Make sure you see THIS STORY with gorgeous vintage Christmas decorating inspiration and more American farmhouse Christmas lovely await RIGHT HERE.
Peace to you right where you are.
-michele
This post contains affiliate links which I hope you will use since they won't cost you a penny extra yet may earn this blog a small commission.
Support Hello Lovely by shopping Amazon RIGHT HERE for anything (not just products mentioned here) to keep the inspiration flowing!
I'm a participant in the Amazon Services LLC Associates Program, an affiliate advertising program designed to provide a means for me to earn fees by linking to Amazon.com and affiliated sites.
Click HERE to find cost conscious furniture and decor for your home too!