So many lovely homes with inspiring interior design are shared on this blog, yet only a few move me to think: I AM MOVING IN THIS SECOND! Today's feature is one such home. An impossibly gorgeous French nest in Tucson, Arizona, belongs to interior designer Jennifer Lincoln Cutler, a passionate Francophile who consistently gets WHITE right. Her identity as The French Nest Co., is one which may be on your radar if #frenchfarmhouse or #romanticfrench are hashtags you routinely search since her Instagram feed featuring her work is BEYOND dreamy. French Farmhouse Christmas Decor Inspiration from her own home in Arizona and will delight your senses with its simple sophistication and approachable elegance.
A few of these links are affiliate links – using them won't cost you extra while earning this blog a small commission…yay!
French Farmhouse Christmas Decor Inspiration
I spent hours luxuriating in the designer's photos of her home so beautifully decorated for Christmas. If you are like me, you will need to stare for periods of time at the beauty and expand the image to fully appreciate an object's patina or a textile's detail.
I have also woven in a few quotes which I believe have meaning for Jennifer.
Romantic Chandeliers + Peely Paint Perfection
Deep Versailles Sigh!
French Canisters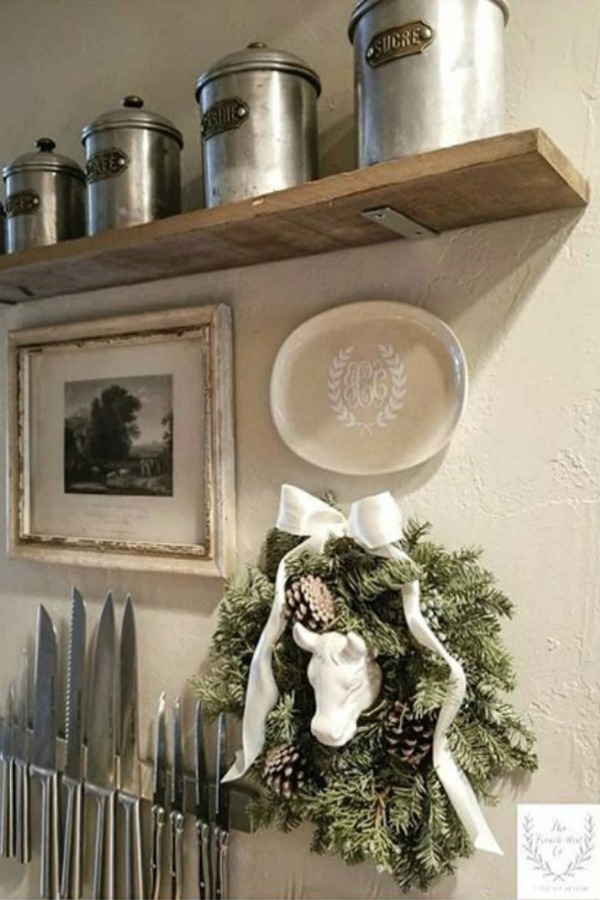 Interior Design: The French Nest Co Interior Design. French Farmhouse Christmas Decor Inspiration…certainly lovely indeed! Country French Holiday House Tour of an Exquisite European Farmhouse Inspired Home in Tucson, Arizona.
In case you are hunting for a vintage French canister set, you may recall seeing THIS OPTION from My Petite Maison featured HERE.
Heaven Came Down & Glory Filled My Soul!
Simple Sentiments & Greenery
These rustic urns would look lovely with fresh greenery.
An Elegant Vignette Idea We Can Steal!
Need a cozy throw or blanket? See THESE.
Stripes on a Bow!
Symmetrical Splendor
Go stocking stalking RIGHT HERE. (no one has to know!)
Timeless Elegance
One of the Designer's Adorable Kids
That Box!
I'm Starry Eyed Staring at Stairs
For classic bell jar styled glass hurricanes, see THIS OPTION.
More French Nest Moments Sans Christmas Decor
Guest Bedroom
Whites Done Right
Framed Etchings & Those Checks!
French Country Bedroom
Rustic Refinement
Breathtaking Placesetting
Country French Whimsy
In a Client's Breakfast Nook
Oh, my heavens!  I am so inspired and don't want the tour to end…et vous?
(For another enchanting glimpse of European farmhouse perfection, SEE THIS.)
MERCI BEAUCOUP, MADAME CUTLER, for your décor de noël magique!
What I wouldn't give to be hired as your assistant in Arizona and be immersed in your country French world…mais oui, I will happily pet sit le fur babies and collect le drycleaning with a smile!
Let's enjoy more of the designer's timelessly tranquil French inspired portfolio soon, and until then, be sure to FOLLOW THE FRENCH NEST CO on Instagram!
Peace to you right where you are.
~michele
I'm a participant in the Amazon Services LLC Associates Program, an affiliate advertising program designed to provide a means for me to earn fees by linking to Amazon.com and affiliated sites. An easy way to support HELLO LOVELY? Start RIGHT HERE to SHOP for items on Amazon (anything at all – not just products mentioned in the post!) you already intended to buy…it won't cost a penny extra yet may earn this blog a few pennies when my link is the first you click!
You'll also find a wealth of friendly priced furniture and decor for your home HERE.
To see my favorite gorgeous furniture picks, GO HERE.