I typically do not have a Thanksgiving decor plan that varies from my Christmas one. Since orange has never been my cup of tea, and I like to decorate for Christmas on turkey day, well, it makes life easier. So let there be white, and let there be light for Hello Lovely Tranquil Thanksgiving Mood this year and every year.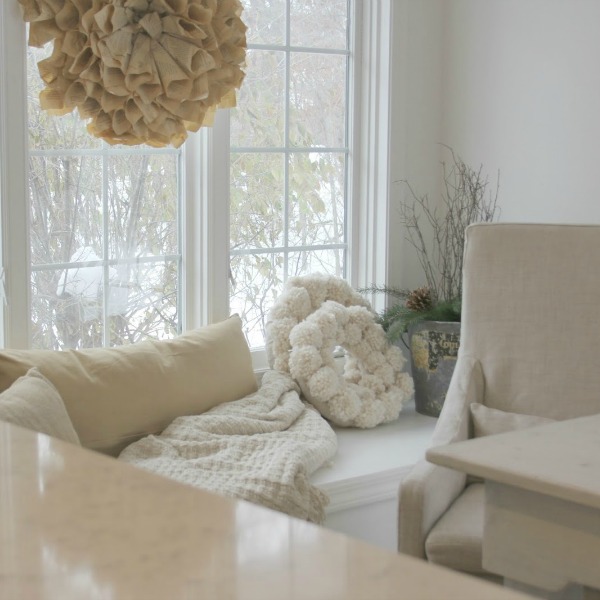 Hello Lovely Tranquil Thanksgiving Mood
Happy Thanksgiving, friends!
This time last year, I was in the summer-like Southwest in flipflops for Thanksgiving, where shocking pink bougainvillea climbed a trellis just outside my bedroom window! Since we sold our Arizona vacation house, this year, we are staying at home in Northern Illinois where the courtyard wall and outdoor table are still frosted with snow.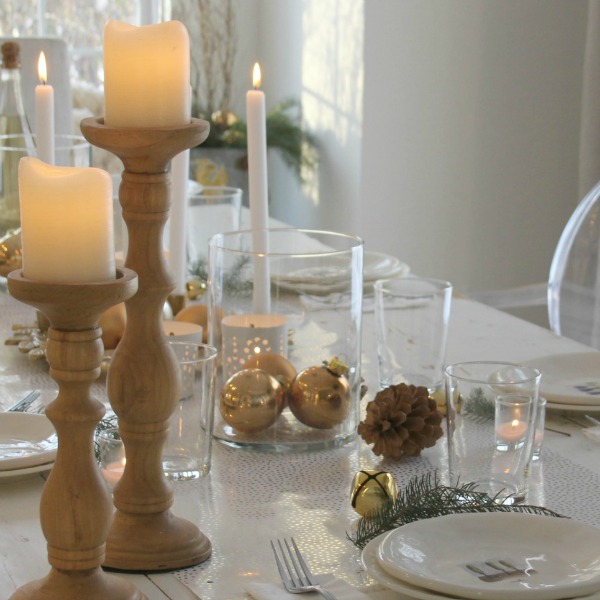 As I mentioned the other day, we are opting for a very laid back Thanksgiving with no hosting and no traveling to family. Instead, we will have a simple dinner and make roasted turkey sandwiches to deliver (with other essentials like socks, wipes, etc.) to folks locally who are homeless. We'll also deliver sandwiches to folks who may have to work on the holiday.
Affiliate links follow and won't cost you extra yet may earn this blog a small commission.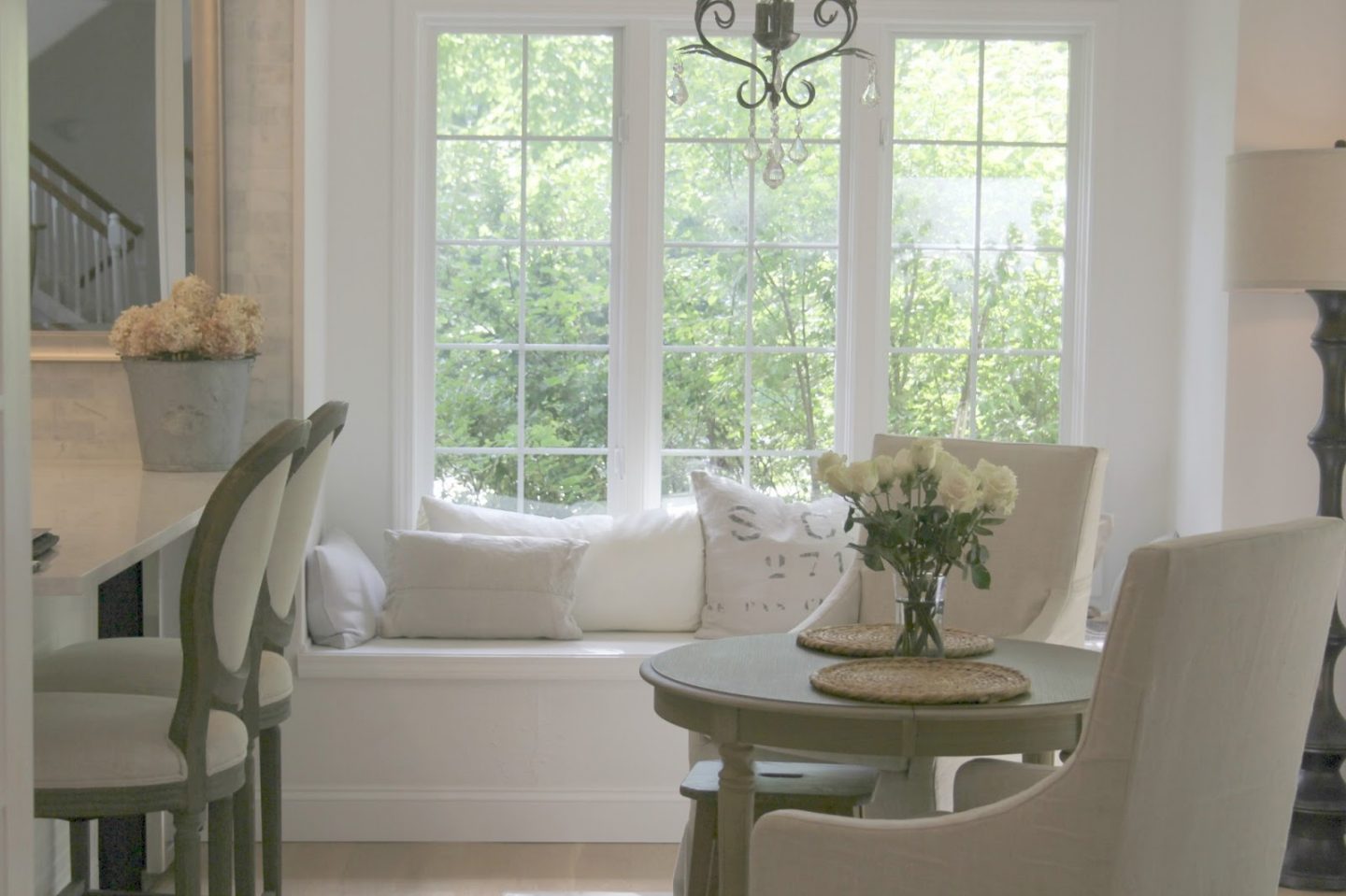 Hushed Tablescapes With Candlelight
Candlelight and humble ingredients converge on a hushed farm table.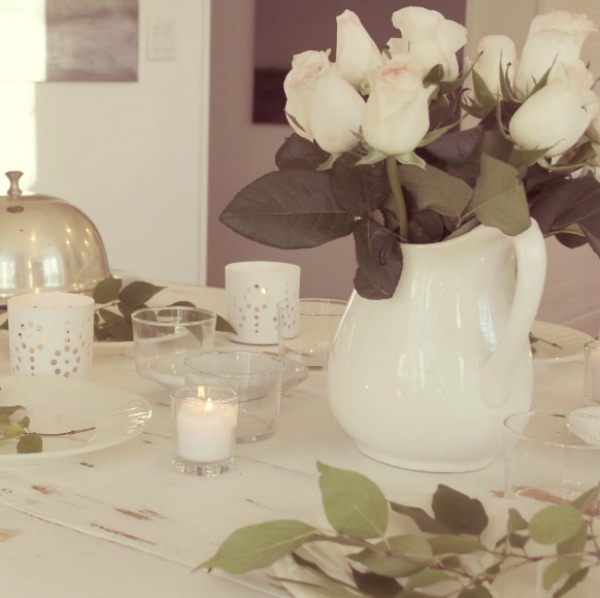 This year, our Thanksgiving table will be hushed, serene, and inspired by a French Nordic aesthetic. When you want to encourage peaceful loving exchanges and intimacy, one way to nurture the mood is with soft decor elements.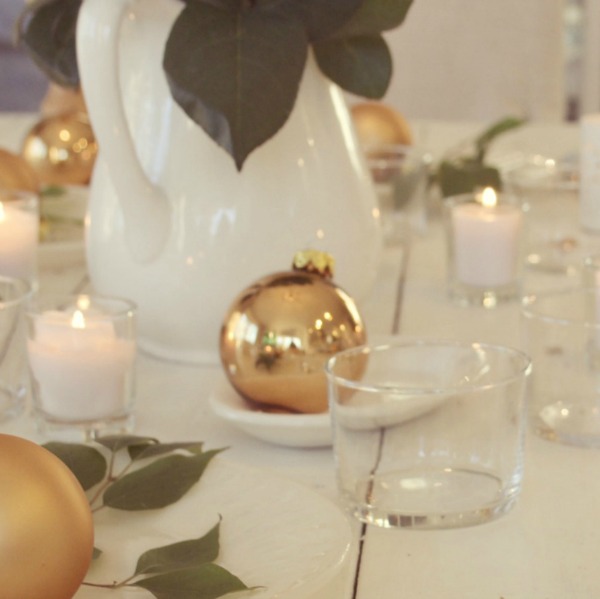 White or Blush Pink Roses
I can't help it. White on white decor feels natural to me in any season!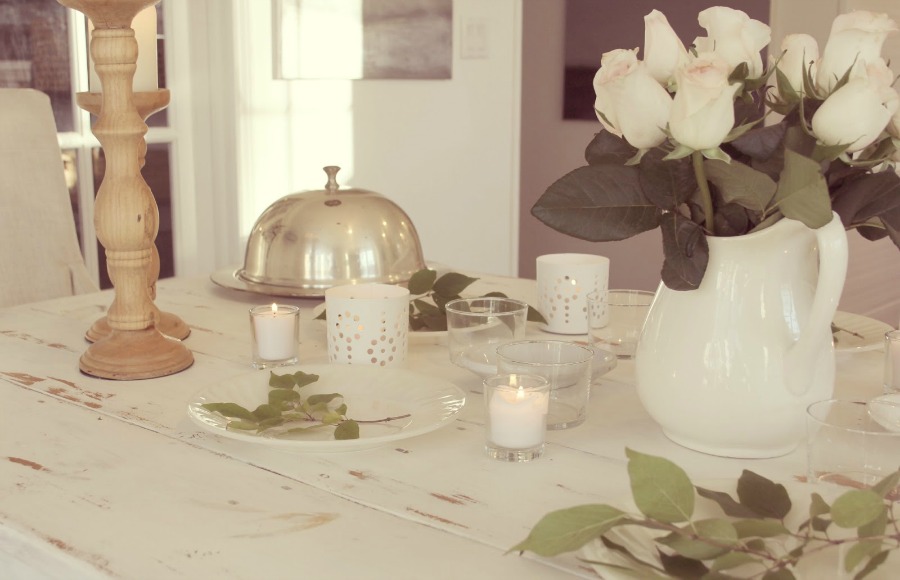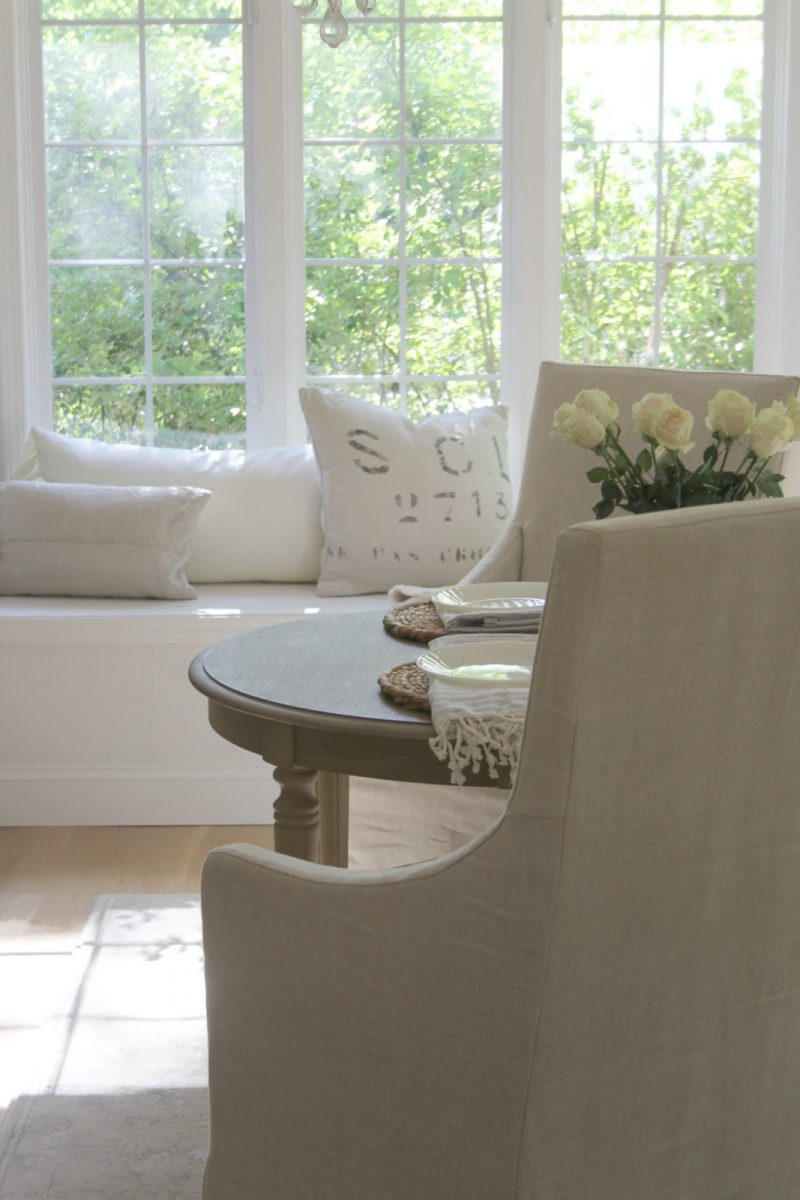 Are you expecting a crowd this Thanksgiving? Lucky you!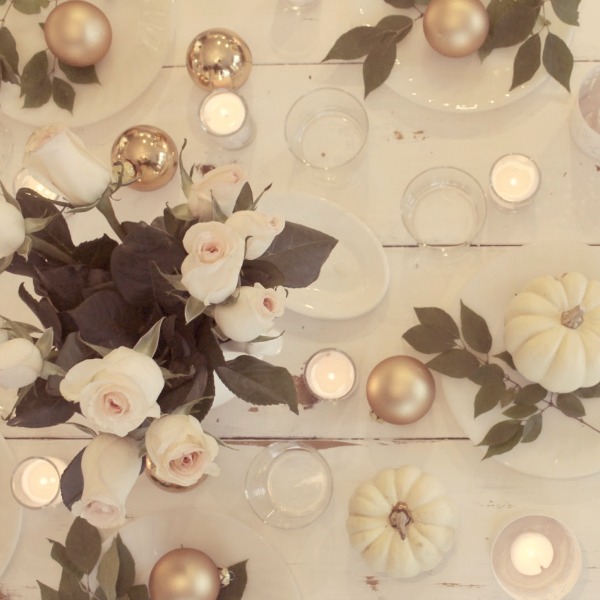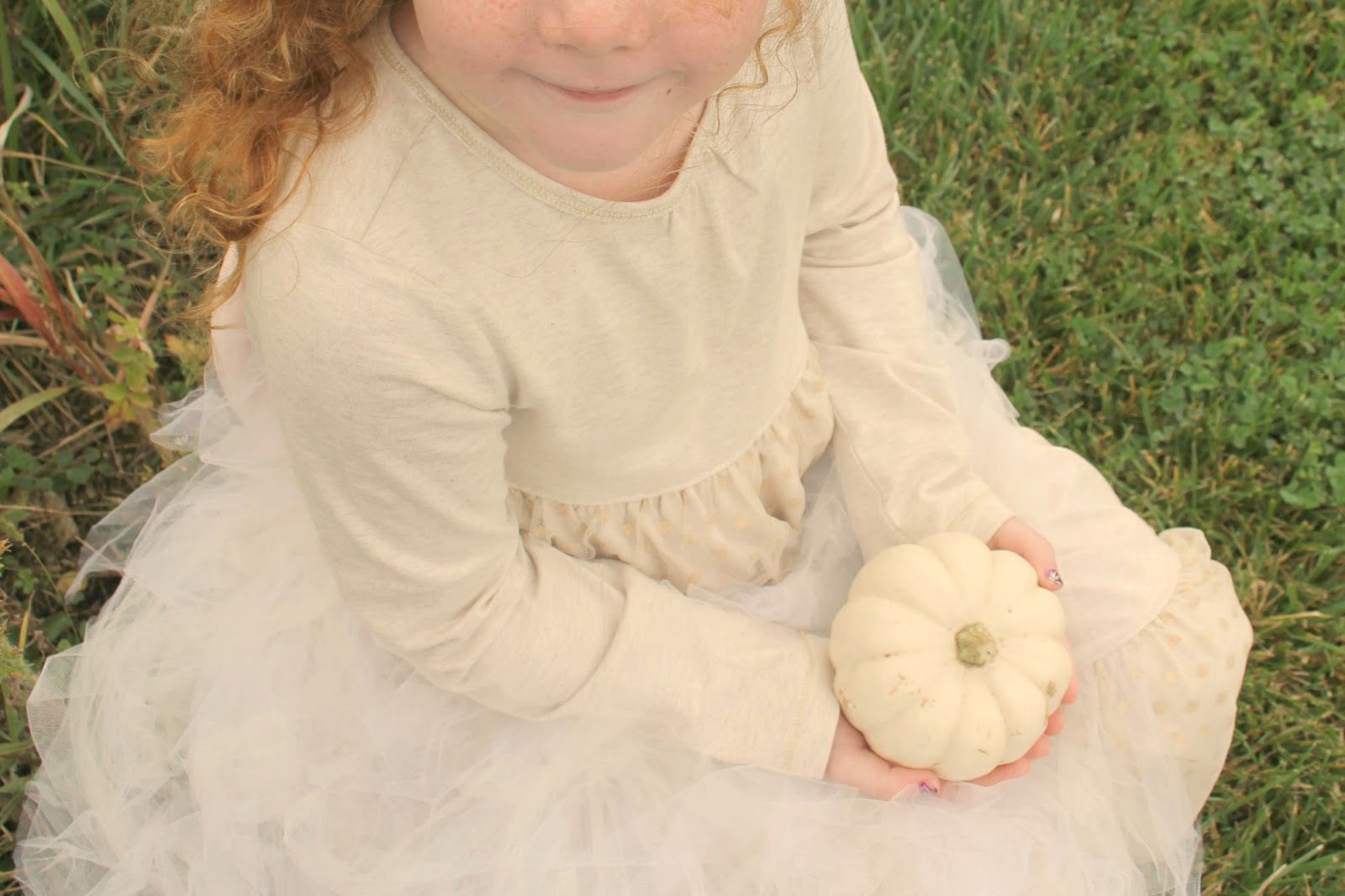 Child-like Gratitude and A Sense of Wonder
This sweet girl in tulle I photographed has reached an age where pilgrims landing at Plymouth, petite pumpkins, and pretty leaves dancing in the air are still magical…such childhood wonder can always be awakened in your heart and mine.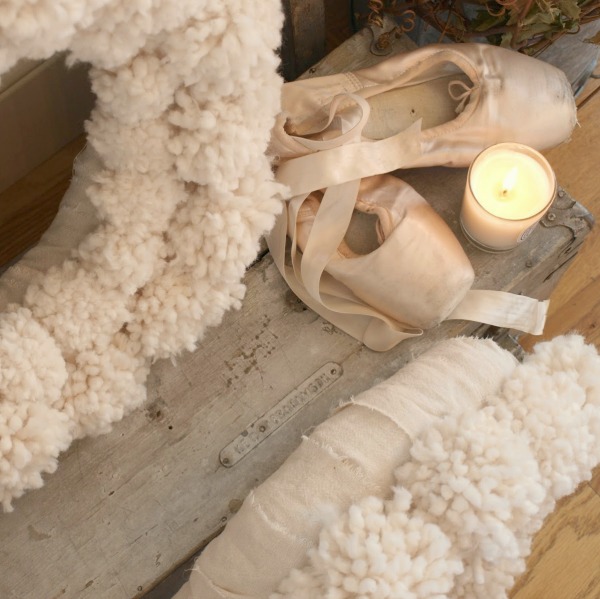 Here is a prayer I wrote a couple Novembers ago, and it continues to be my prayer.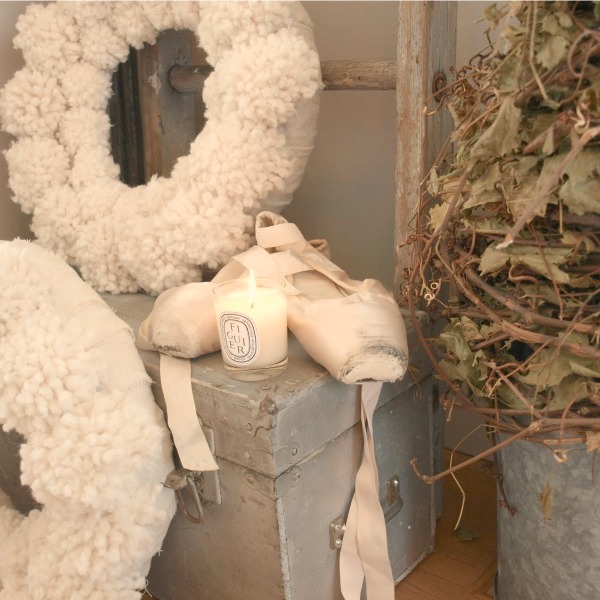 Soft and Cozy Textures
My passion for pom pom making endures! If I am not forming poufs from tissue paper (why, yes, white tissue!), then my 70's flowerchild self is making wooly pom poms from wool yarn the old fashioned way.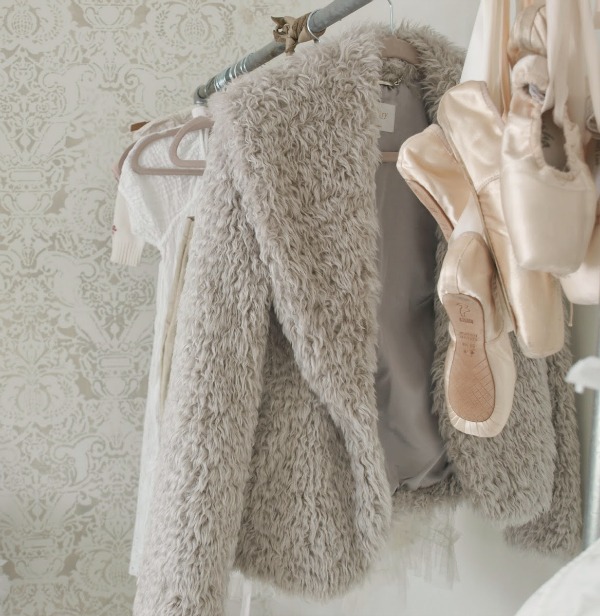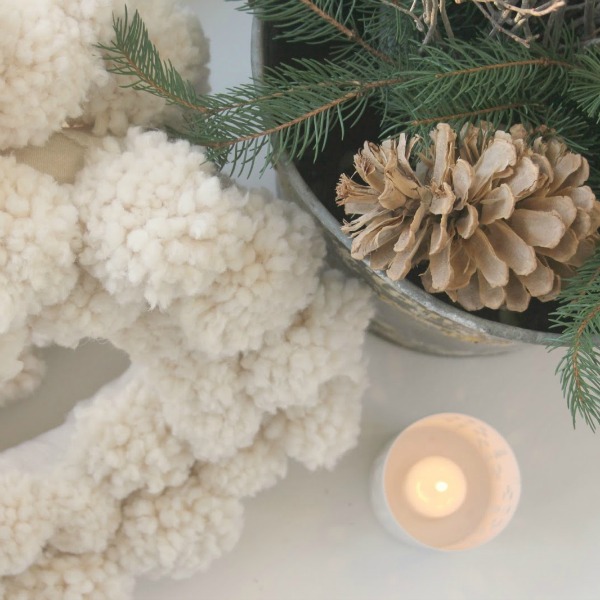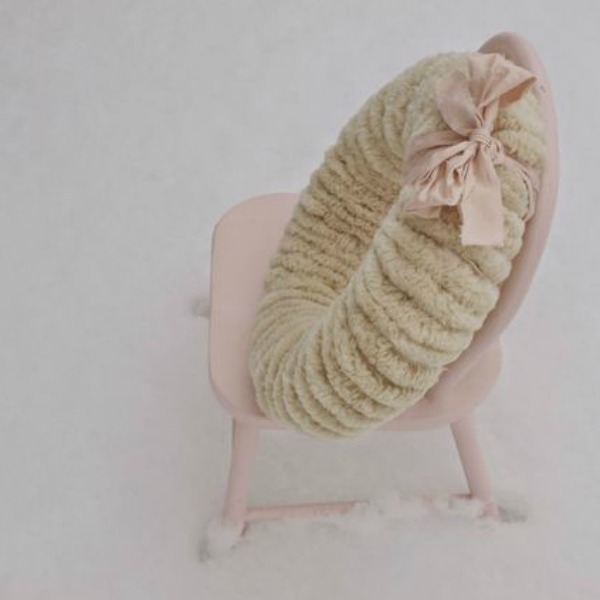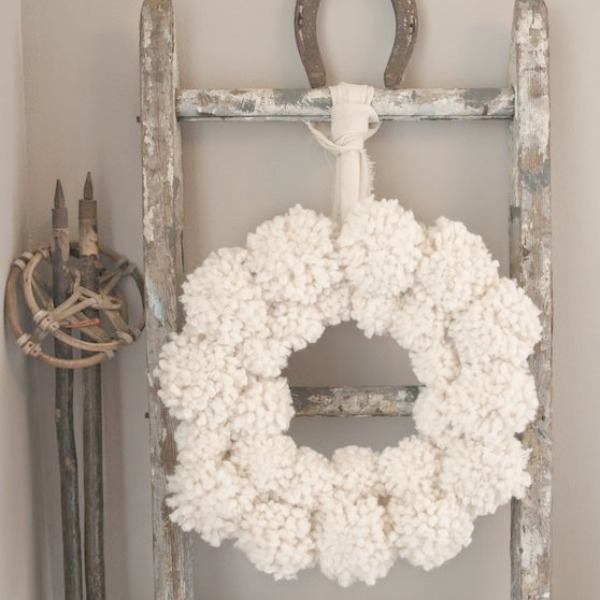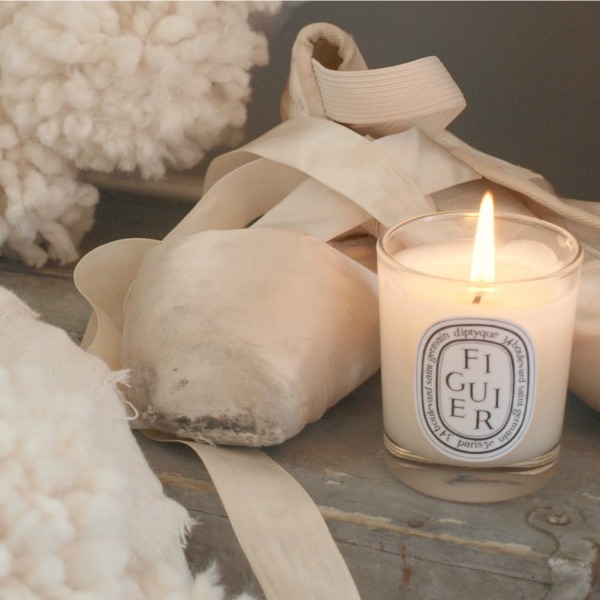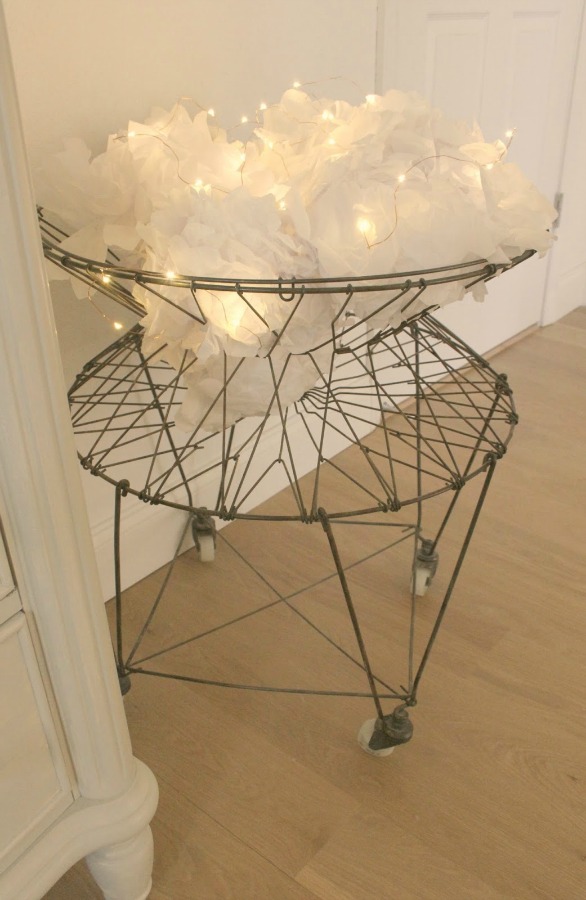 Fresh Greenery is Perfect With Neutrals
We're fortunate to be able to forage right outside our door for greenery and branches which look so festive with neutral and white decor.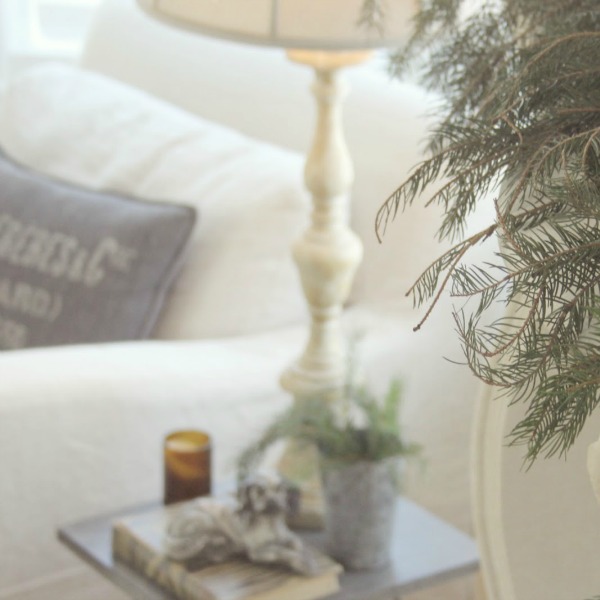 I brought this chalkware pooch home with me from Paris where I found him at a vide grenier.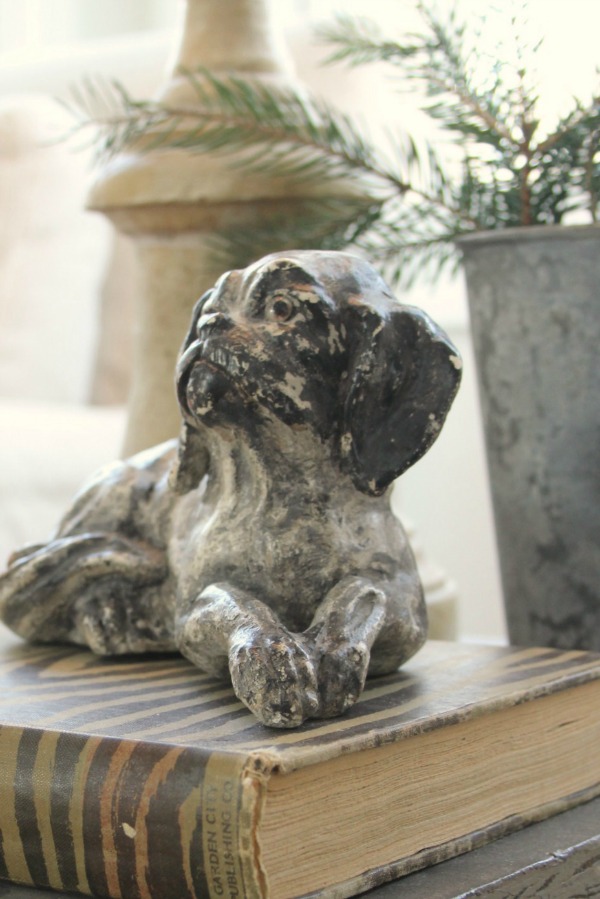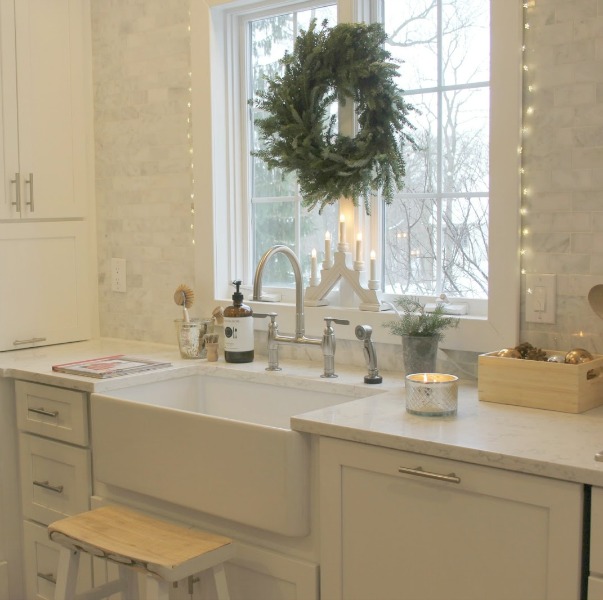 Rustic Yet Refined
As for me, I don't ever want to take 'rustic' too far. I love weathered textures, peely paint, tarnished metals, etc. but I need a good dose of clean, airy white mixed in there as well. You can see my vintage galvanized pail on the window seat below.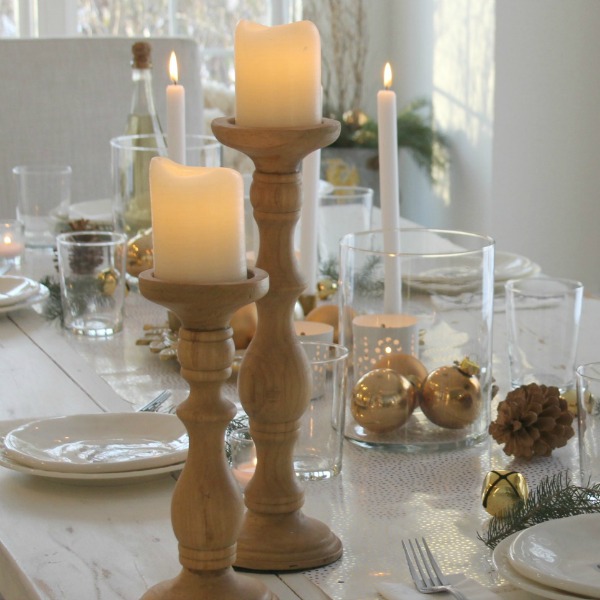 I love how the vintage pages of my paper wreath (below) also add great texture but still whisper.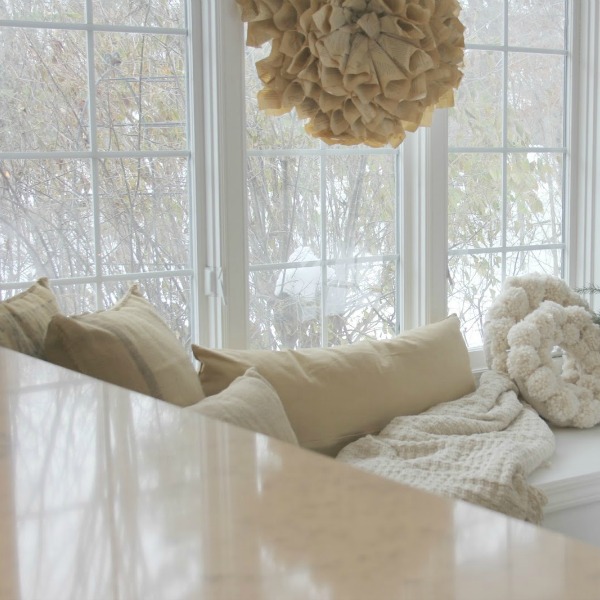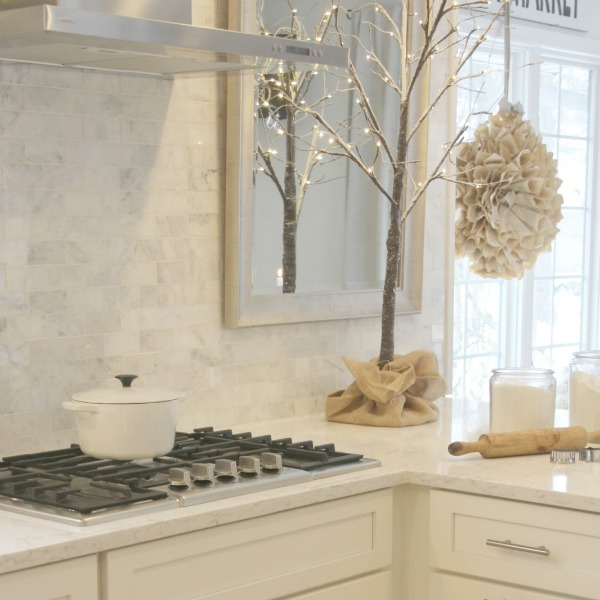 Wintry Branches Kissed With Snow
Inside and out, this time of year the trees are bare and if we're lucky, iced with lovely white snow. So why not bring that look inside? It can be as simple as plopping a bare wintry branch in a clear glass vase. They impart a gorgeous, natural silhouette and look beautiful for an extended period of time.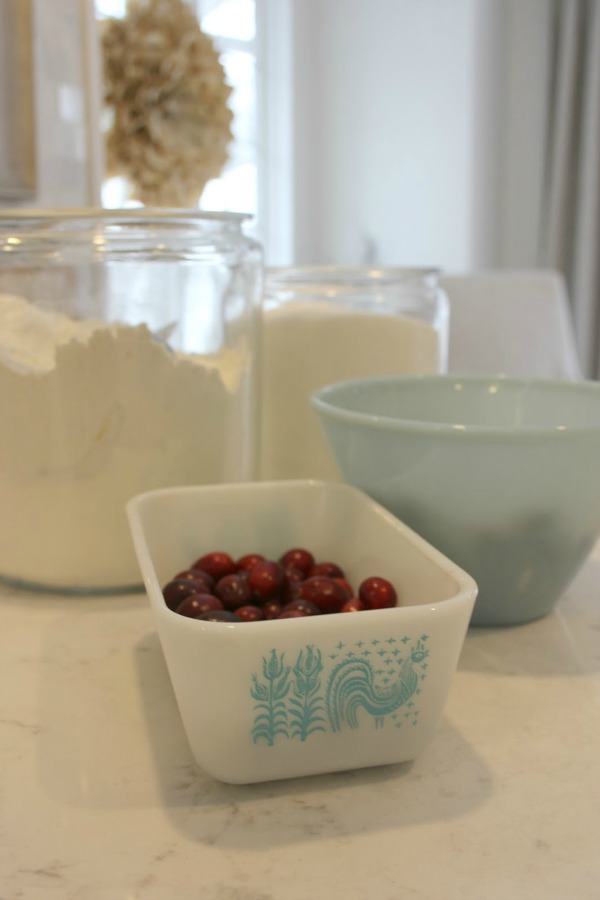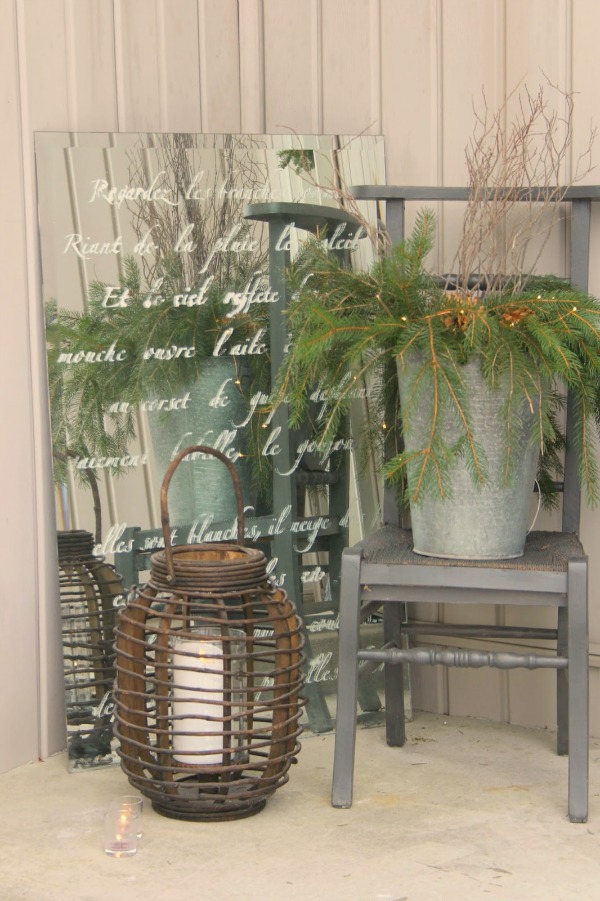 Vintage Whites
Even my favorite vintage kitchenware is hushed blue and white! The holidays for me are about baking deliciousness, and I am excited to begin baking my famous Christmas cookies, gingerbread, and family favorites including cinnamon bread.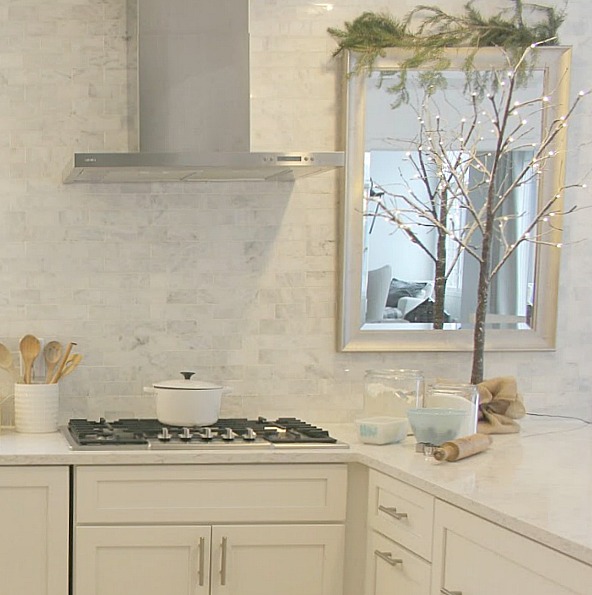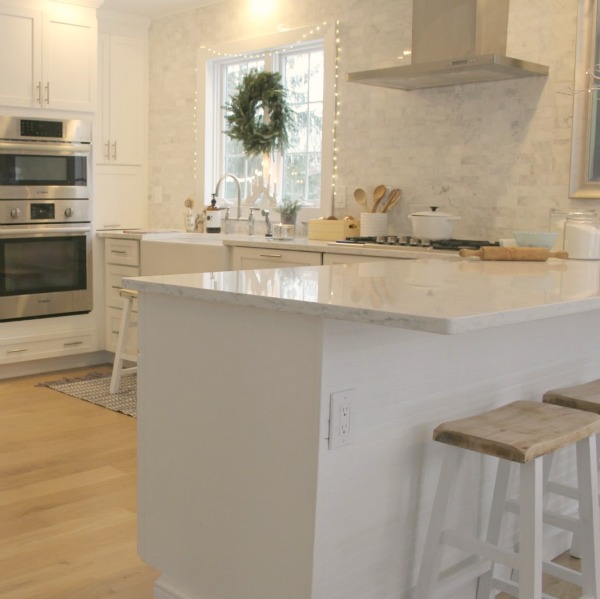 Twinkly White Lights
They make everything prettier and magical.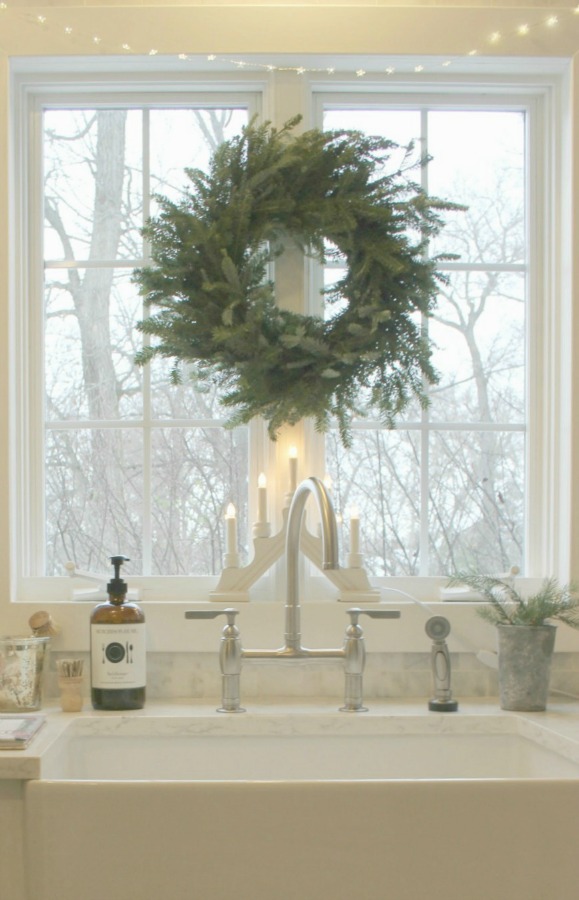 Time for this fairy to get cooking!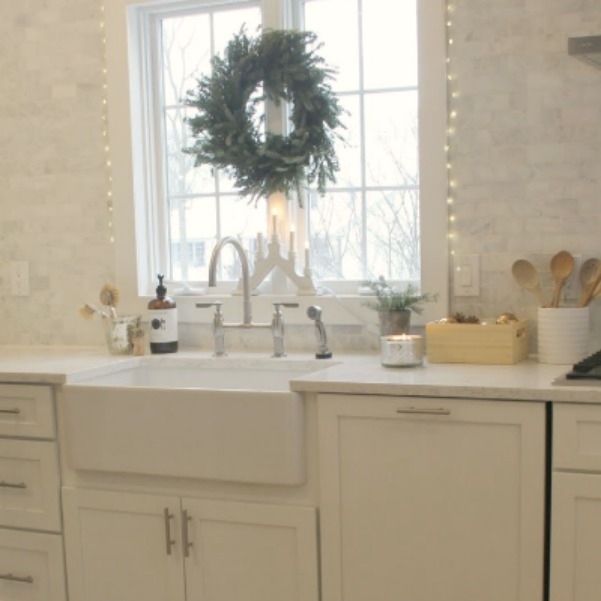 Thank you, friends, for visiting me each day and journeying together.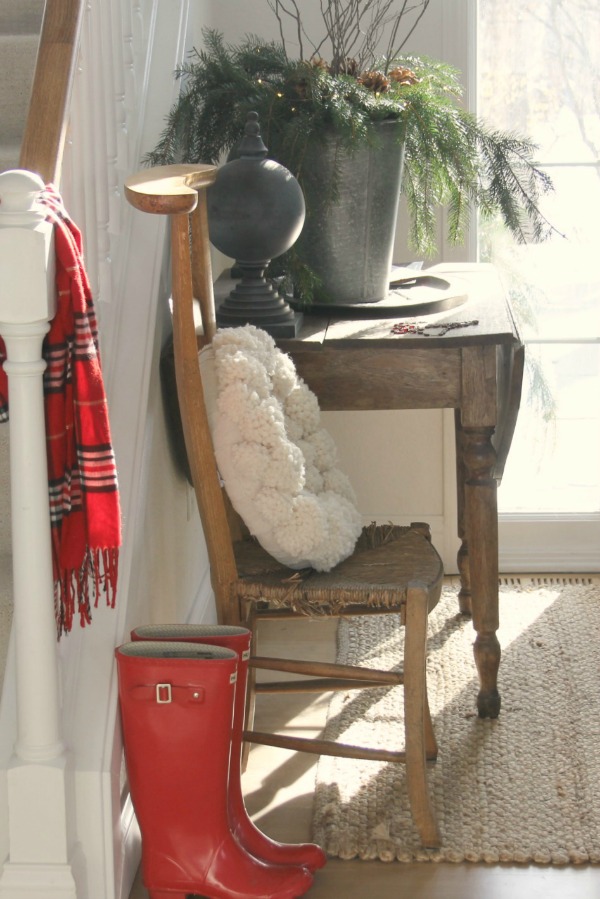 I am so thankful for all the ways this blog has shrunk the world, and I marvel at the friendships possible when hearts connect.
Please drop me a line and let me know what you are up to this Thanksgiving. I would love a chance to encourage you and pray if there are needs you care to express.
See these holiday posts if you missed them:
Encouragement for Holiday Blues
I independently selected products in this post—if you buy from one of my links, I may earn a commission.
Peace to you right where you are.
-michele
Shop for items you already intended to buy on Amazon RIGHT HERE, and also find home decor here to keep decor inspiration flowing on Hello Lovely!
Hello Lovely is a participant in the Amazon Services LLC Associates Program, an affiliate advertising program designed to provide a means for sites to earn fees by linking to Amazon.com and affiliated sites.