What a contrast this will be from my last post with bold, delicious color from my cheese boards which are always a festive option for Thanksgiving, Christmas, or any holiday at all. Understated Holiday Decorating & Finds will simply point to a few examples of the more effortless, pale, and simple side of cottage style and country Christmas decor.
Understated Holiday Decorating & Finds
Simple Wreath on Front Door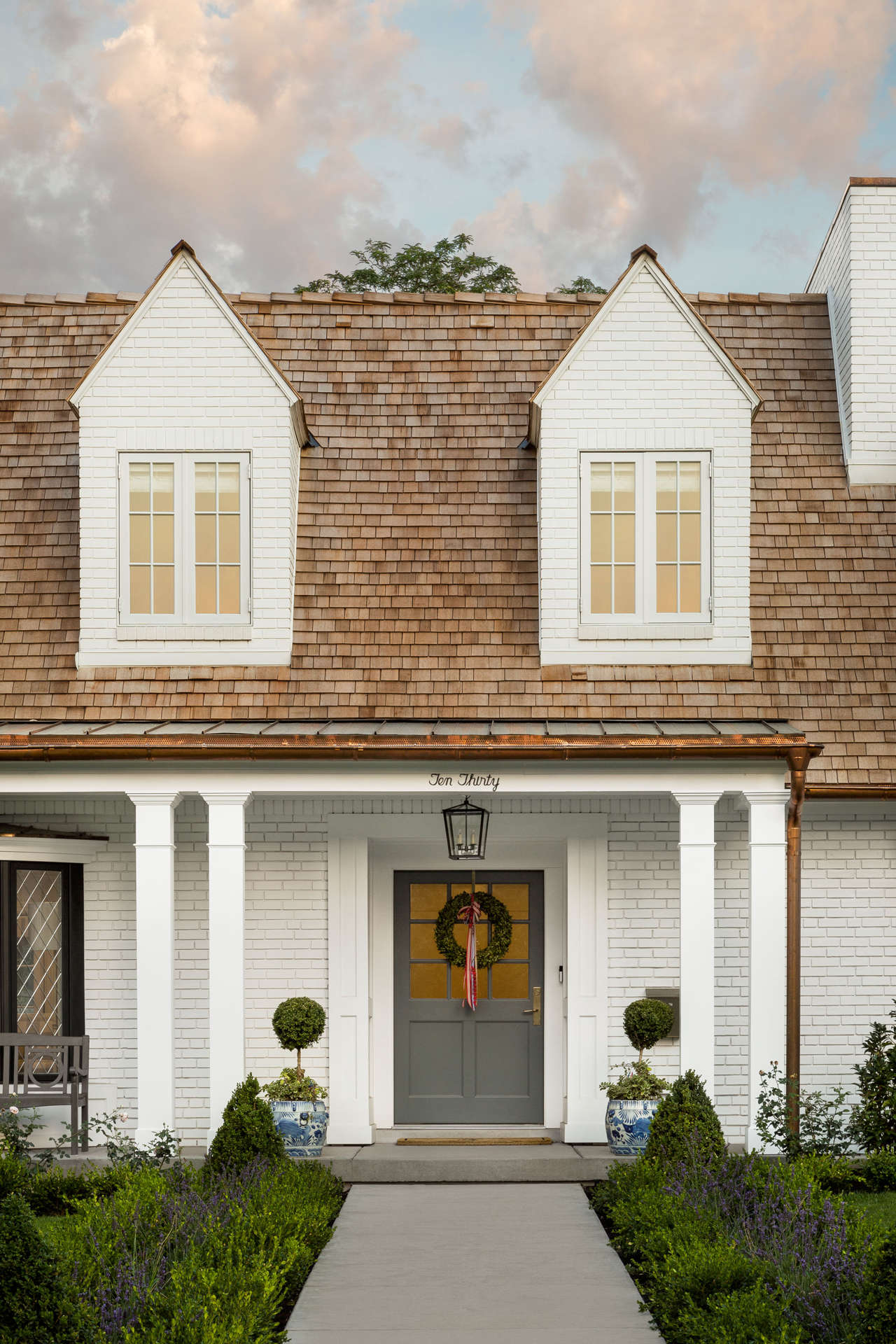 Nordic French Christmas Decor Inspiration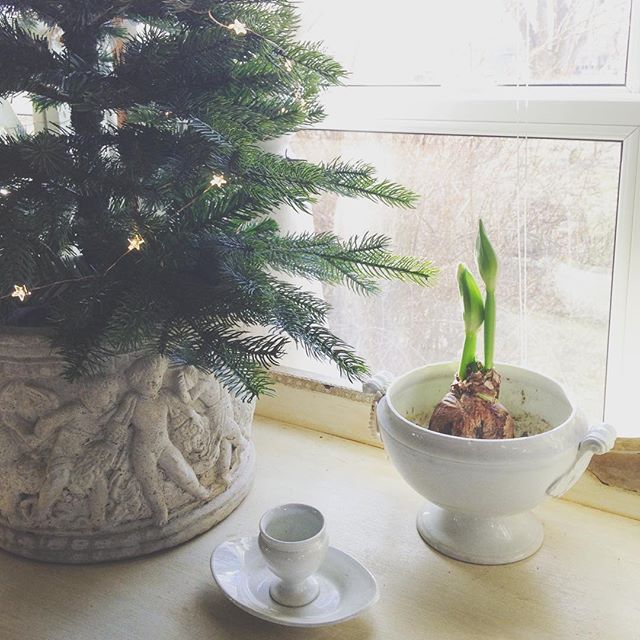 French Cottage Christmas Decor Inspiration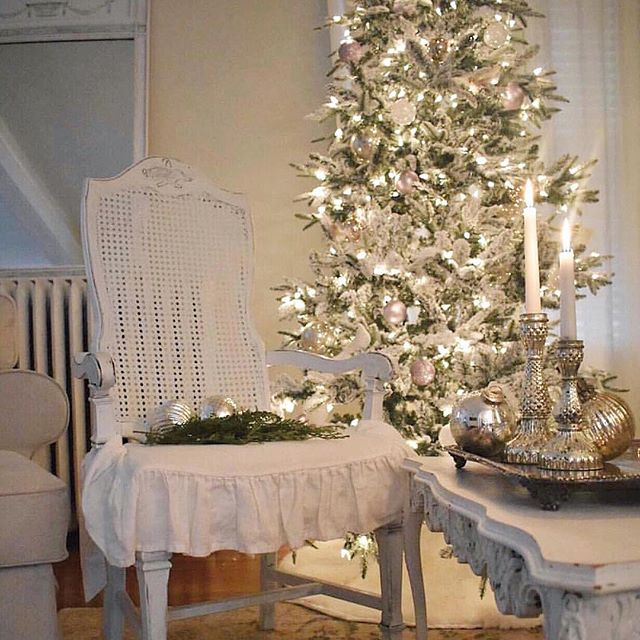 Tone on Tone Tablescape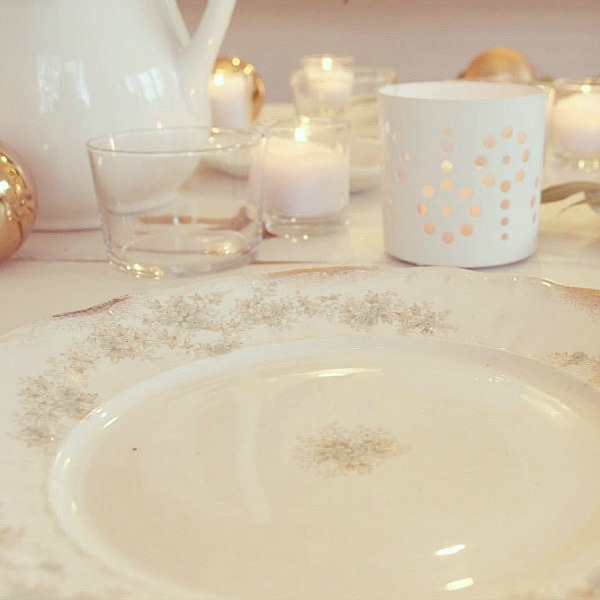 Shabby Chic Christmas Dining Room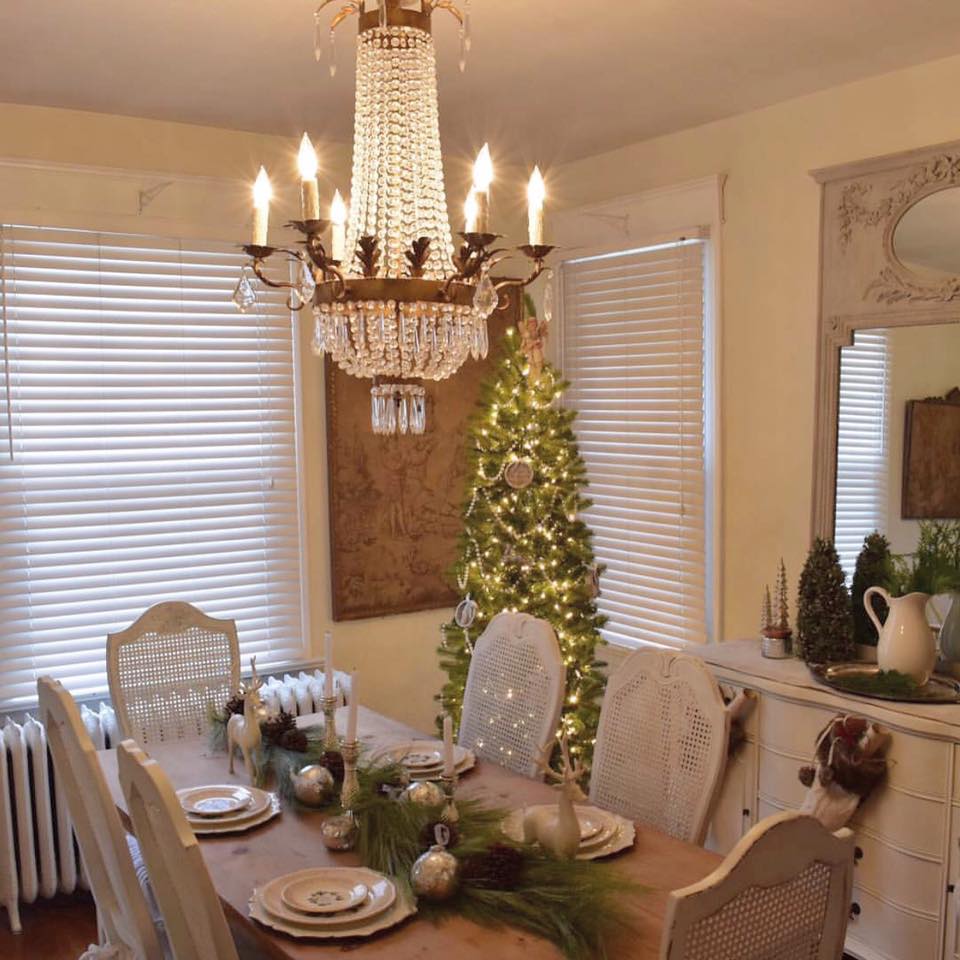 Swedish Style Christmas Decor Inspiration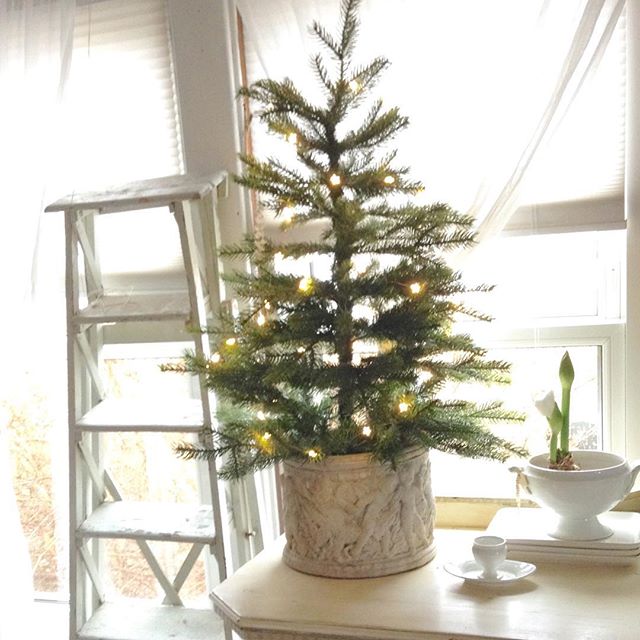 Right Where I Am
I just snapped these images (below) minutes ago – the snow has been gently falling this morning, and enjoying a few quiet moments of stillness and complete quiet in my kitchen feels like a treasure. Usually I begin my day with meditation and devotions upstairs in the bedroom, but today, I sat at the kitchen counter, nearly breathless with the beauty of the wintry light (if you are sensitive to the quality of light, I know you understand!).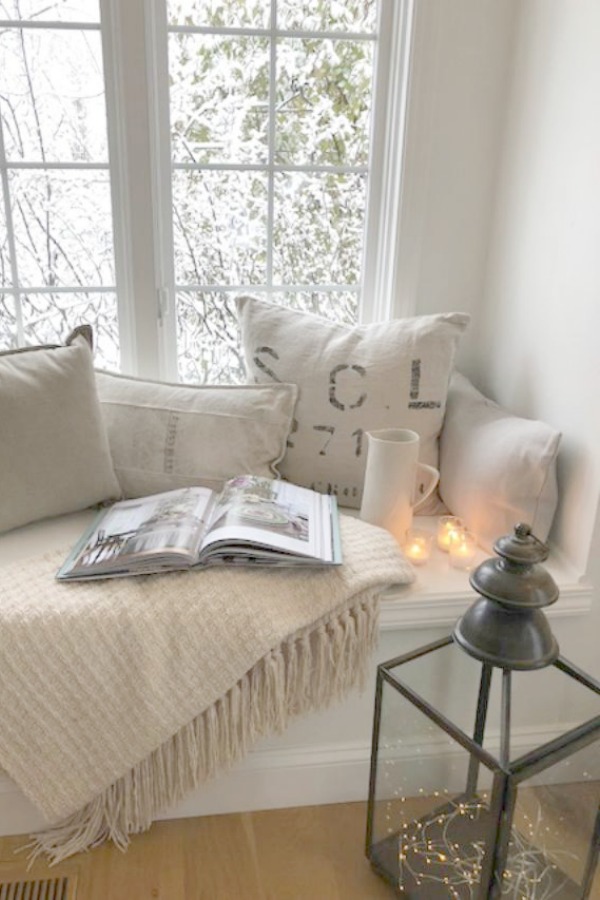 I shared a few personal thoughts in my last post about abundance (it's so natural for our thoughts to turn to the topic during Thanksgiving time), and yesterday shined as another example for my heart. My husband and I drove to a cozy home in a rural area to meet some sweet shihtzus looking for a new forever home – dozens of furry angel eyes in that living room turned their gaze toward us. There was this surplus of unconditional love swirling all around. What a contrast to my quiet house where it has been years since any muddy paws pitterpattered.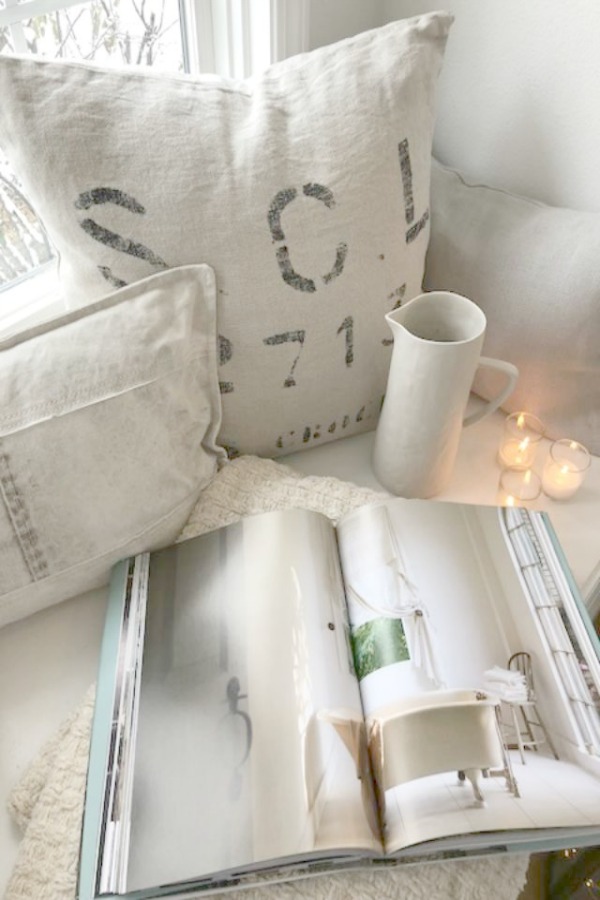 Yesterday was the first time we entertained the idea of a pet since Bella Luna left us three years ago. There was only one contender who demanded to be cradled by me (a young adult, petite and chocolate-y hued), and he may not even be available to adopt at least for awhile. So no new member of our family yet, but an overwhelming sense of the abundance of life-giving goodness which awaits.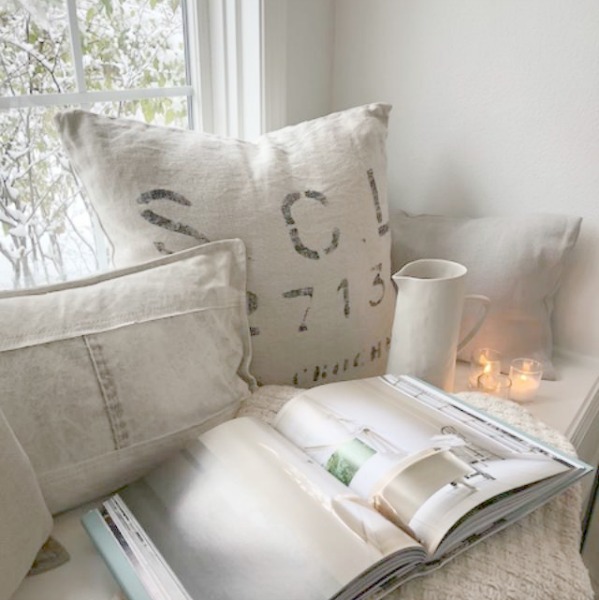 This morning, I read about a spiritual practice suggested by author Elizabeth Lesser. She recommends becoming an "I don't know it all" and entertaining the possibility for a few minutes each day that we cannot see the full picture and do not NEED to understand it all. We can begin to relax into the mystery of all we do not know. Isn't this powerfully lovely and stirring?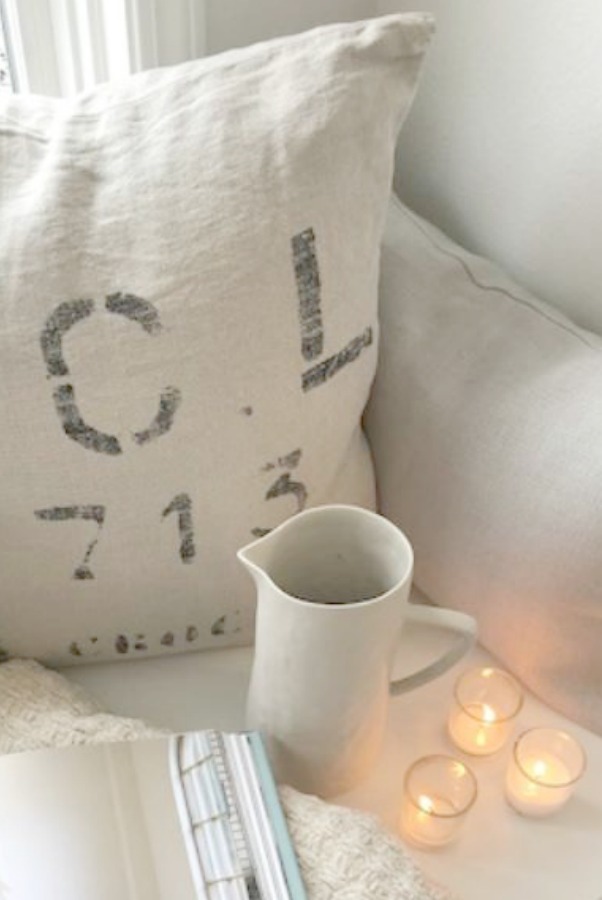 I'm Michele. And I'm an I DON'T KNOW IT ALL. Right where I am, I am right at home in such an identity.
Feel free to join the I-Don't-Know-It-All on the window seat in our kitchen where snow frosted trees teach and enchant while flickering flames encourage lingering.
In the video I just posted to IG (follow me, please!), it's Nora Murphy's Country Style book that is open to the beauty of Maison Decor. Find the book here, and my review of it here.
Understated Holiday Decor in My Kitchen
I'm a participant in the Amazon Services LLC Associates Program, an affiliate advertising program designed to provide a means for me to earn fees by linking to Amazon.com and affiliated sites. Affiliate links follow and may earn me a small commission when used for purchases (though you'll not pay a penny more!).
Beautiful Understated Holiday Decorating Finds
Here's the candelabra in my own kitchen window:
Lovely Magnolia Leaf Wreath
Need a Fireplace Mantel?
For inspiring fireplace ideas, SEE THIS.
Please visit my PINTEREST BOARDS to re-PIN pretty things to spread the magic – I am saving Christmas decorating ideas at the moment!
CHARMED OR INSPIRED BY THE MORE UNDERSTATED SIDE OF CHRISTMAS DECOR?
I independently selected products in this post—if you buy from one of my links, I may earn a commission.
Peace to you right where you are.
-michele
Shop for items you already intended to buy on Amazon RIGHT HERE, and also find home decor here to keep decor inspiration flowing on Hello Lovely!
Hello Lovely is a participant in the Amazon Services LLC Associates Program, an affiliate advertising program designed to provide a means for sites to earn fees by linking to Amazon.com and affiliated sites.