I took one glance at this Classic English Cotswold Kitchen on deVOL Kitchens' instagram feed, and it was all over. If I could have my way, THIS is the sophisticated, rustic, high-end yet approachable, blissful, bespoke, luxury kitchen design that would be mine.
deVOL has been a favorite of Hello Lovely forever and for good reason. The taste factor, craftsmanship, thoughtfulness, artful soul, and handmade goodness so lacking in the marketplace is alive and breathing in the UK.
Timeless, tranquil, and lovely have always been my favorite design language, and indeed, deVOL speaks it fluently.
Holy lofty and church-like sacred symphony of a kitchen design, Batman!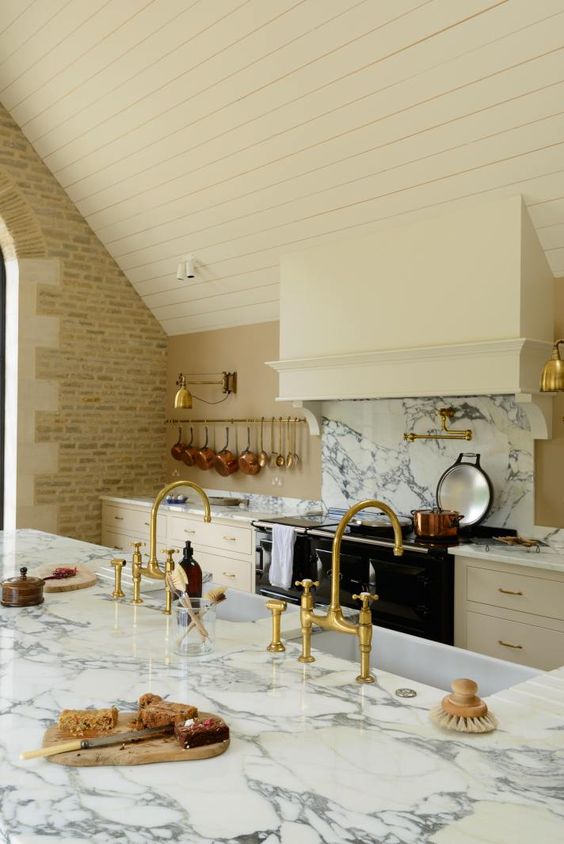 Classic English Cotswold Kitchen!
The Dream Team
Bespoke Kitchen Design: deVOL Kitchens. Project: Cotswold Barn. Interior Design: Susie Atkinson Design.
Classic English Cotswold Kitchen: Bespoke Design Details
Crittall doors and windows
Brick/stone wall
White painted wood ceiling
Concrete Flooring
Arabescato Corchia marble counters, backsplash, and island
AGA range
Pot filler
Classic English drawer cupboards flanking range
Brass swing arm wall lighting
Brass Classic Pull hardware
Full height pantry cupboards
Sub Zero refrigeration
Aged Brass Hanging Rails in cooking area
Copper pans
Beverage frig
Secondary or Bar Sink
Open wood shelves with Shaker style pegs
Bum Stools at island
Blue painted island
Side by side farm sinks
Brass bridge faucets
Two dishwashers
Rustic dining table
Wicker pendant lights over table
Custom paint color for cabinetry
Wall paint color: Leather V (Paint & Paper Library)
Classic English Cotswold Kitchen Tour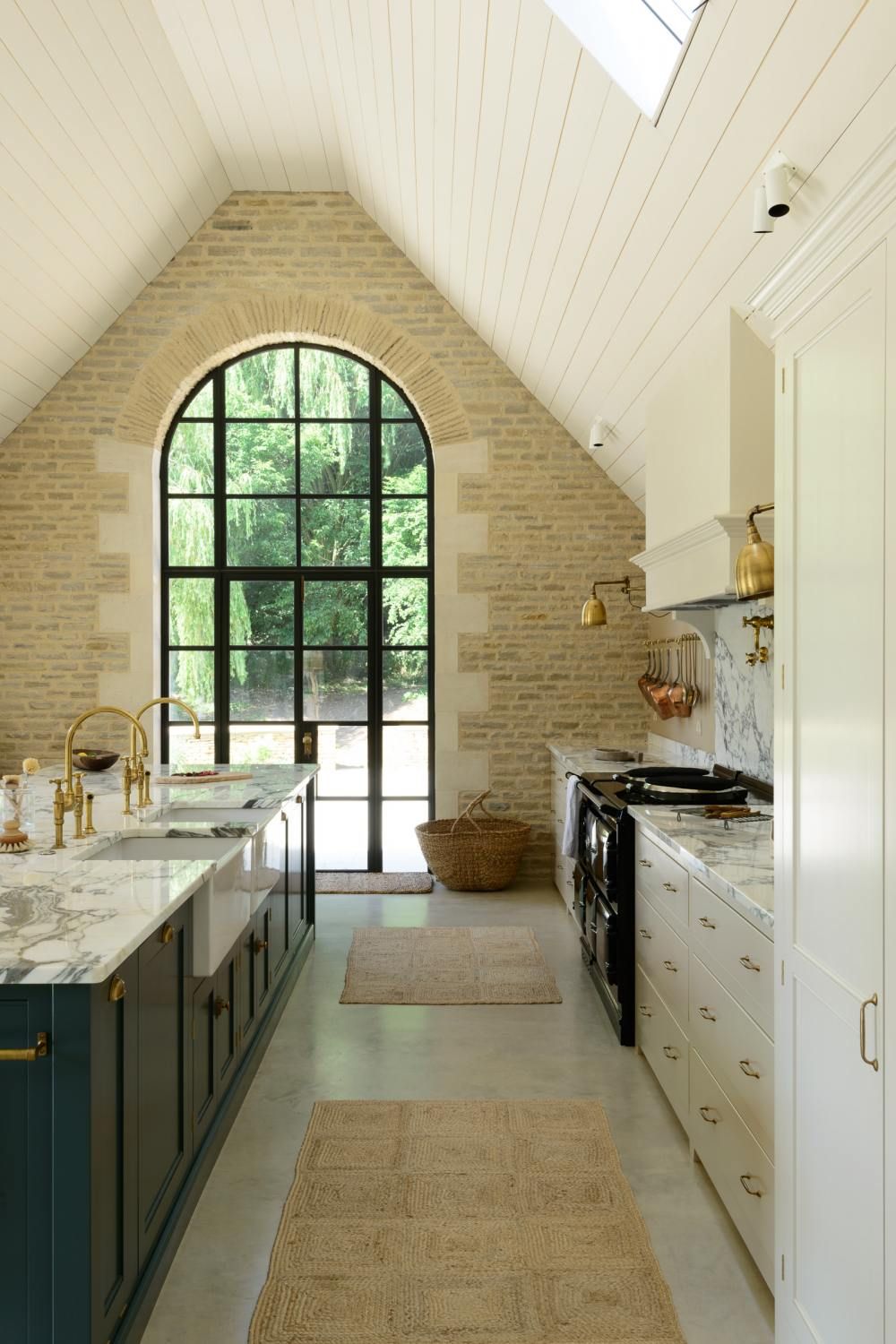 Try Not to Stare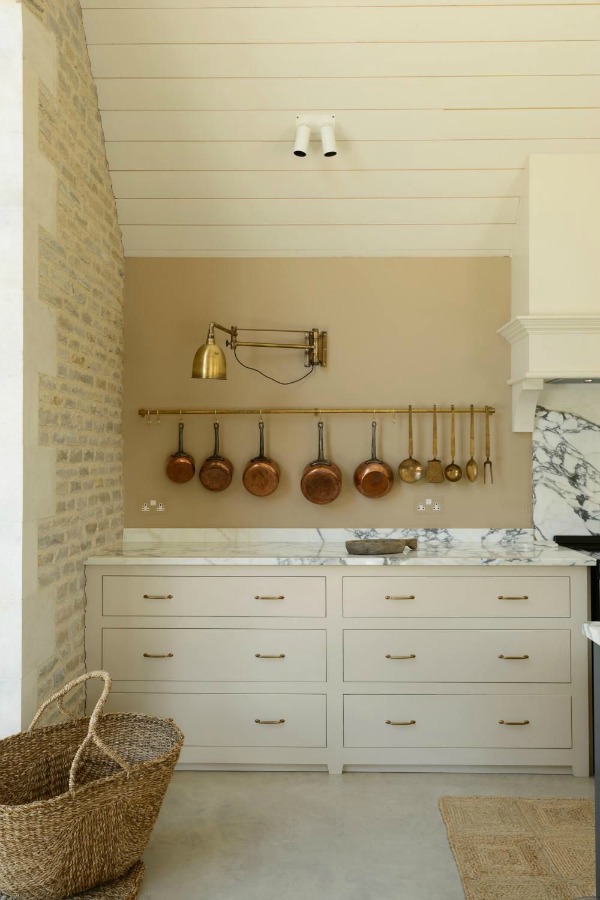 Paint Color for Walls
I had to do some serious detective work to find this for you, friends. But I love you that much.
Wall Paint: PAINT & PAPER LIBRARY Leather V
A Mix of Metallics Harmonize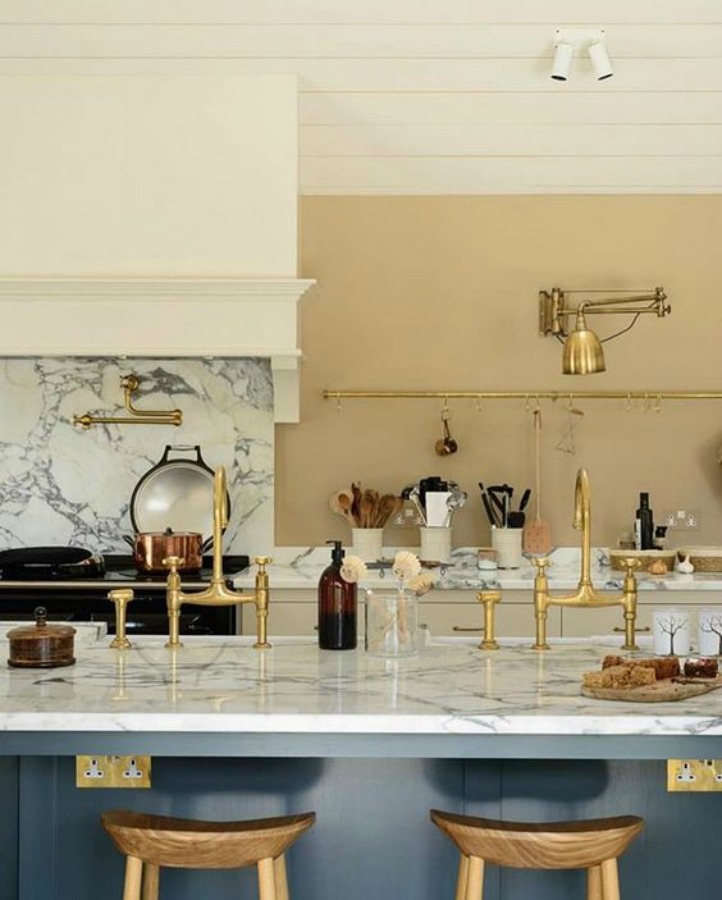 Arabescato Corchia Marble
One of my favorite sources in the USA for Arabescato Corchia marble is Aria Stone Gallery.
About that AGA…
If you have an AGA in your own kitchen, please do comment and share your opinion too!
If you're new to AGA, it may appear that this AGA range cooker sports 6 ovens. Actually, it offers 5 ovens plus a control panel. On the top of the range are insulated covers and hot plates, and below are simmering, baking, and roasting ovens.
The AGA is indeed a triumph as a cooker, and to understand how it operates…
AGA offers a brilliant explanation of how their cooker works right here below (watch it – I hung on to every word and was not bored for a nanosecond)!
The price tag on a 5 oven AGA like this one may be in the $30K range.
But take heart!
We can own our own AGA in the $30 range:
Ha!
Um. Pardon me, mates.
But have I just discovered the ultimate stocking stuffer for every Anglophile and home chef on the planet??????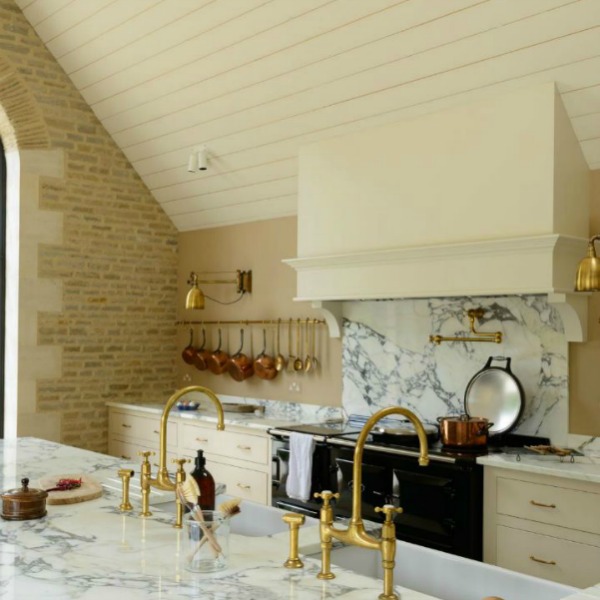 The Classic English Cotswold Kitchen in Progress
Genius Work Zones in a Classic English Cotswold Kitchen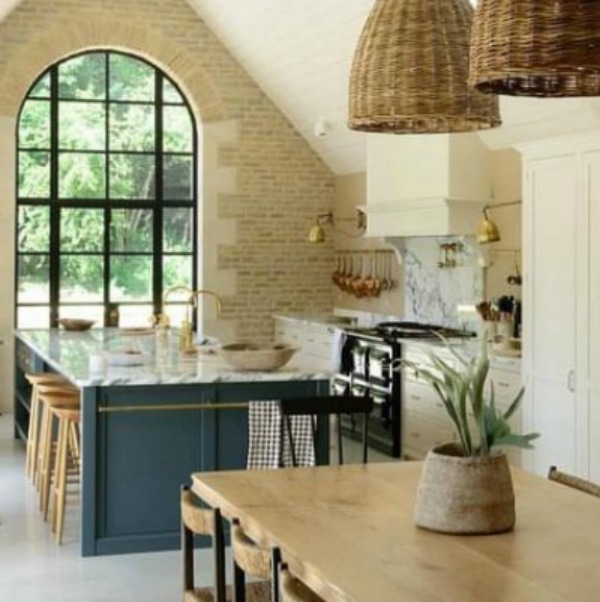 Aged Brass Kitchen Faucets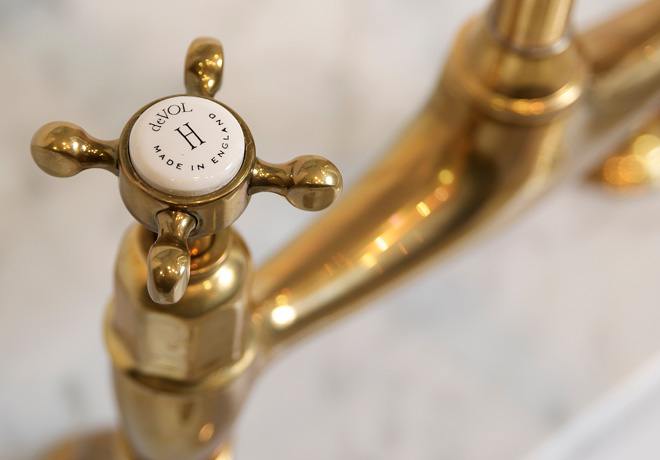 Rustic Design Elements & Texture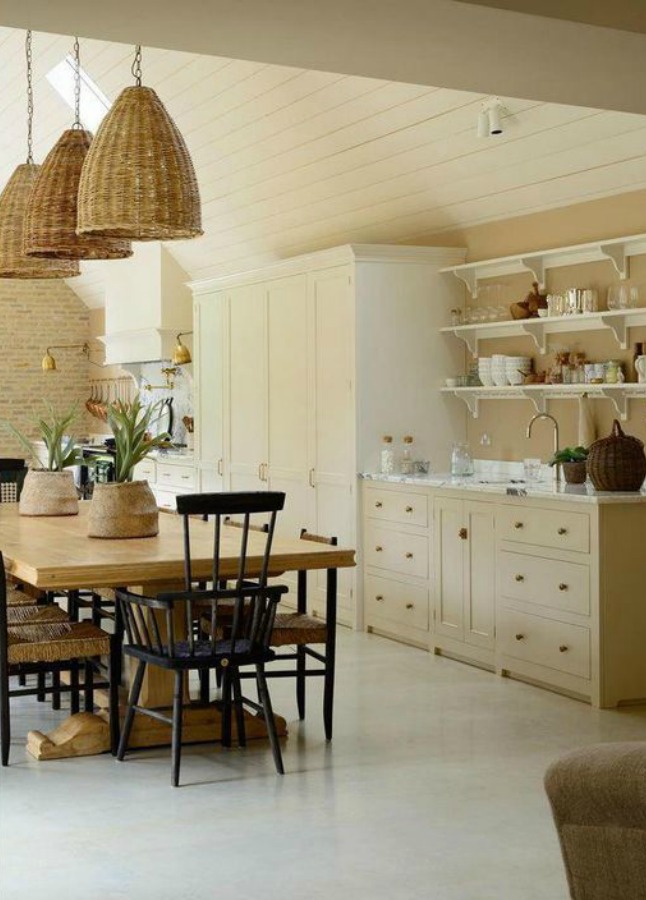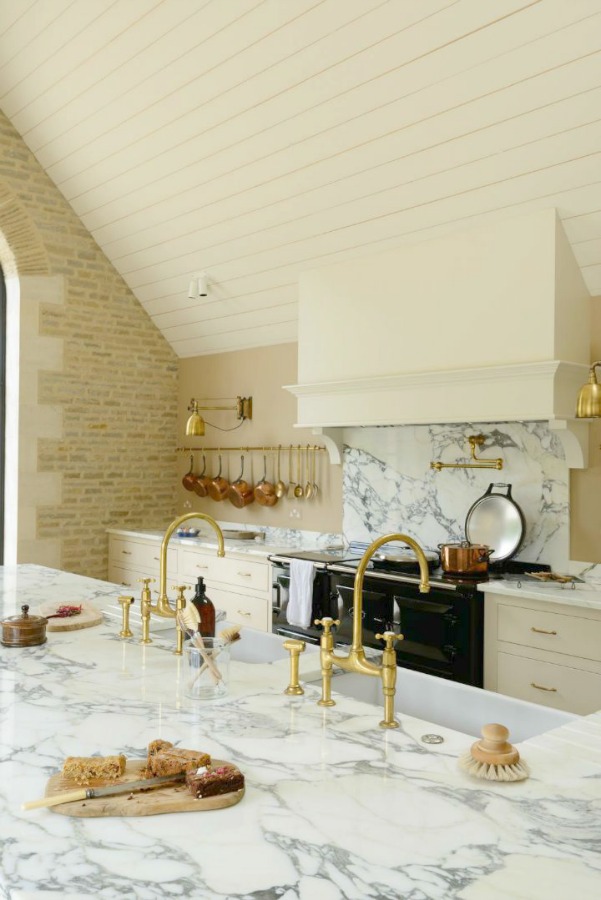 But. That. Window. Tho.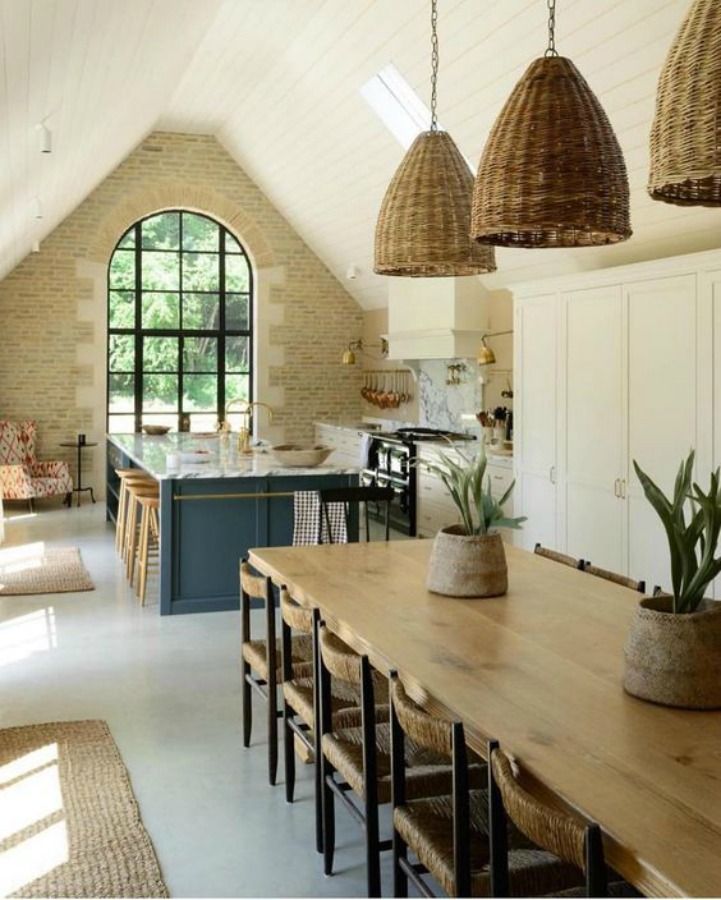 Secondary/Bar Sink & Open Shelves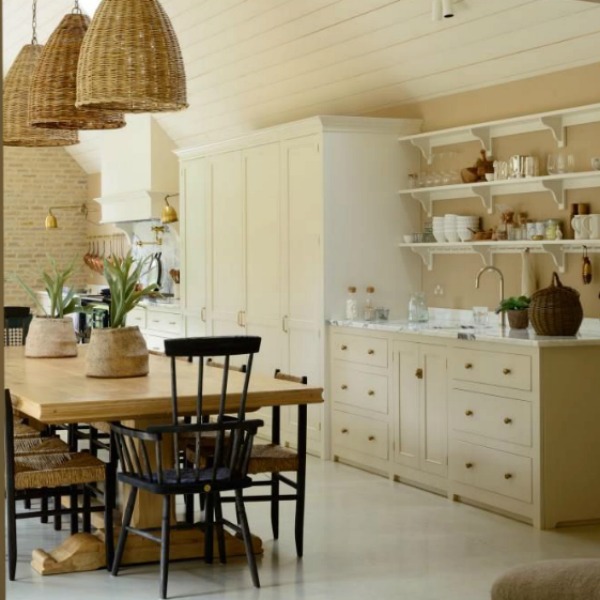 Black AGA in a Classic English Cotswold Kitchen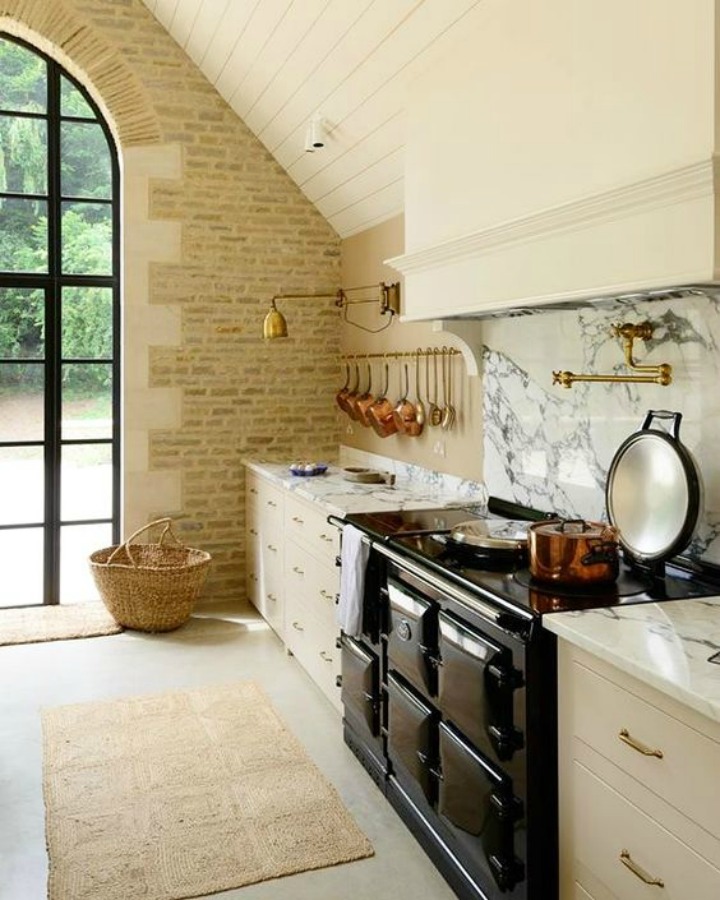 Breathtaking Bespoke Kitchen of Dreams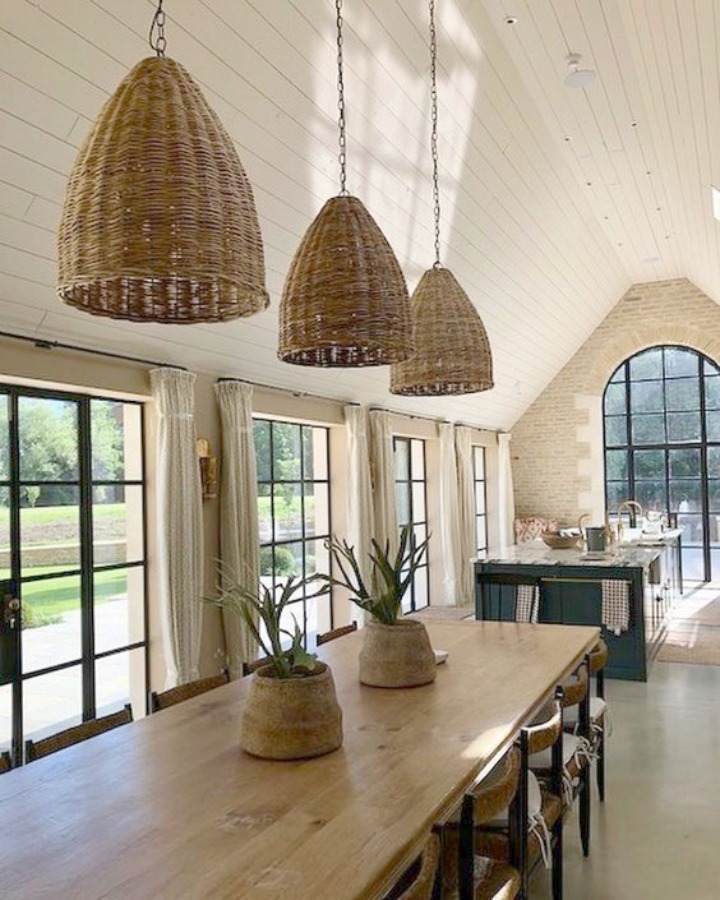 ALSO RATHER LOVELY Decor in the Same Spirit
This showstopping kitchen was created with careful, thoughtful design for every detail and could never be duplicated.
Yet if you allow your imagination to float free in order to soak up some of the broader strokes of genius, you may be able to capture a bit of its spirit without selling the children a second mortgage.
For example, perhaps you have considered a brass bridge style kitchen faucet? I provided the source for the exact exquisite ones in this kitchen above. Find a few rather lovely alternative examples here.
Resources for Getting the Look
Need ideas for a brass swing arm wall light too? RATHER LOVELY OPTIONS ARE HERE.
If you MUST have those exact rush seat custom dining chairs or the table made in France, you'll certainly want to be in touch with the designer Susie Atkinson.
For glorious, rustic, woven, large market baskets, SEE THESE LOVELY FINDS and also visit our friend Vivi et Margot whose amazing French farmhouse we toured HERE!
IS YOUR MIND EXPLODING FROM undeniably lovely English country glory?
More deVOL Kitchen Glory
If you must see a bit more from deVOL – see THIS.
I love sharing beautiful interiors as well as design ideas to inspire. Thank you so much for sharing your days with me, taking time to: comment, dream, shop, and slow down to soak up the peaceful decor. Your presence here is the loveliest thing about this blog.
I wish you gentle kindnesses, healing mercies, and…
Peace to you right where you are.
-michele
Shop for items you already intended to buy on Amazon RIGHT HERE, and also find home decor here to keep decor inspiration flowing on Hello Lovely!
Hello Lovely is a participant in the Amazon Services LLC Associates Program, an affiliate advertising program designed to provide a means for sites to earn fees by linking to Amazon.com and affiliated sites.