Recent posts spotlighting Belgian, French country, and French farmhouse styles have heightened my desire to put a trip to Europe on the calendar. What is it about Old World style, antiques, architecture, and European design details that feel so welcoming, rich, and beautiful? We'll peek here at a few Parisian Design Details and French Decor Finds.
A few of the decor finds might be at home in a Parisian style interior, while the rest are more rustic and ready for country spaces.
Recently, I organized more photos from a trip to France to once again study what all the fuss is about. Many of you will have more expertise in this area, and I would love to hear your input on the topic.
Parisian Design Details and French Decor Finds
I snapped this (above) of apartment rooftops seen just outside the kitchen window of a Paris apartment we rented near Notre Dame. Can you even fathom all of the detail, texture, age, and interest spied through one narrow French window?
Back inside, the paneled doors in the apartment were so lovely, and the egg shaped door knobs influenced me enough that I used them in our own home on all the interior wood doors.
Paris Apartment Dining Room
Of course, the classic Louis style dining chairs are also a silhouette we don't seem to tire of!
Here's a friendly priced set of 2…
For a modern acrylic Louis chair…these are the exact ones I own, and they are both comfy and stackable.
Parisian Design Details
The iron scroll Juliet balcony railings are such a romantic detail and one I would love to incorporate in a French style new build (in my dreams). Until then, I have a couple of architectural iron gate fragments from France which I have used in the garden and even on the walls.
Parisian bistro tables and chairs are such iconic eye candy. I saw the little recycled blue yogurt pots used as vases everywhere, and I brought home as many as would fit in my suitcase. It's interesting that I snapped this photo below in 2012, when succulents were not yet EVERYWHERE in the USA.
Curves. I love the femininity and romance a curvy leg suggests.
Psst. Before more of the Parisian goodness thrills you…a favor.
Would you be willing to click a box to cast a vote for me?
I'm nominated for Amara's Best Written Blog…do you like my writing style? I'd be ever so grateful for the vote.
Windows in Paris
I could not get enough of the architectural interest of the windows. Oh, my goodness. Where do I begin with the French windows in our hotel room? Gold leaf, delicate gold silk curtains on sashes, solid bronze sculptural hardware, ivy window boxes. To say that my senses were nearly overwhelmed by beauty is an understatement.
In this next shot you can see the gossamer-like silk and Rosaline Granet bronze window hardware.
The quiet beauty of the architecture was intoxicating.
Steel Windows in Paris
Another gorgeous window and completely different…industrial steel windows that feel modern and work so well with any design style. If you read my post highlighting Chateau Domingue the other day, you'll know I mentioned they offer these custom made thin steel beauties.
Window Hardware
Is there anything quite like old hardware – functional art work to enjoy everyday?
This window was in the dressing area of our hotel room's bathroom, and you will note the richness of the gold-leafed wood.
Ivy in Window Boxes
If I get around to adding window boxes on a few of our windows, this idea of planting just one specimen…ivy…is one I will consider.
Luxurious Marble Bathroom
In our hotel room's bath, there were so many elegant design details to note! Creamy honed marble, gold plated hardware, and no subway tile in sight.
Mahogany and Gold
More gold leaf on the woodwork, mahogany panels, velvet pillows, and simple delicate sconces spotlighting more Rosaline Granet sculptures flanking the bed.
Here is wood floor pattern that blew my mind.
Garden Details
   French garden design details? I wouldn't know where to begin. Everywhere I turned was a moment of perfection.
Architecturally Magnificent Doors
The grand scale of these doors in Paris!
You can see here just HOW grand next to a human.
Old Stone
The beauty of old stone…is there anything with such ethereal beauty?
Thanks for taking this little walk down memory lane with me.
Paris Inspired Decor Finds
French Country & European Country Inspired: Some Favorites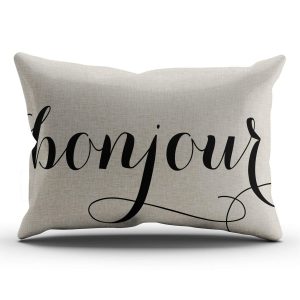 In case a French accent on the patio floats your boat. Bonjour Pillow: FIND HERE.
French Country Chandeliers: Various Price Points
Budget Friendly Wall Sconces Under $50: Farmhouse Style
Rustic Decor
Thanks for peeking at all the Parisian and French-y goodness!
Peace to you right where you are.
michele
p.s.
Don't miss the exceptionally beautiful TIMELESS EUROPEAN COUNTRY HOUSE TOUR of Chateau Domingue's founder, Ruth Gay!
p.s.s.
Super easy ways to support to this blog? Pin images. USE THIS LINK to begin shopping for items (anything at all – not just products mentioned here!) on Amazon to buy what you already intended to buy…it won't cost a dime extra yet may earn Hello Lovely a few pennies if my link is the first you click! Find friendly priced home decor and furniture RIGHT HERE.
I love helping you add style and function to your home with thoughtfully selected product recommendations. Thanks so much for your support as you use independently chosen links, many of which earn me a commission.