What I view as "modern farmhouse" style could very well be different than what comes to mind for you. But let's not get hung up on semantics or the inadequacies of language to capture a design style so many folks find easy to love. And easy to live with! We will explore 9 Modern Farmhouse Interior Design Ideas, see pretty examples of it, score home decor and furniture suggestions, and begin a discussion of the topic.
9 Modern Farmhouse Interior Design Ideas
No. 1: Modern Life Involves Less STUFF.
Modern farmhouse from my perspective is not limited to episodic FIXER UPPER trends on television nor a decor section of Wayfair. It is a mix of traditional country style (rustic, casual, unfussy, vintage, aged, simple) with modern design elements (lighting, art, furniture, finishes). Why not just call the design style modern country or minimal country? I think we often associate country style with STUFF and collections, and modern farmhouse style typically is more airy and spare.
Kitchen Backsplash: Walker Zanger Jasmine Field Tile in Mezzanotte: FIND HERE.
Modern life has seen a lot of us downsizing, living with less stuff, and clearing the clutter. I mean there are television shows now devoted to Tiny House living! All you have to do is think back to the days we all had shelves of books we moved around with us. Bins of cds, dvds, photo albums, etc were everywhere.
In fact, modern farmhouse admirers often take advantage of vertical space and opt for floating shelves or open shelving without the bulky frames and weight. As we continue to rely more on digital sources in this modern age, all of the stuff formerly gathering dust in entertainment centers frequently disappears with the giant cabinetry.
I love a gorgeous vintage clawfoot tub! For new, there are beautiful alternatives like these.
No. 2: White Modern Farmhouse Kitchens = Hot.
There are all sorts of modern kitchens with stained wood cabinets or cabinetry painted a color other than white. But it does seem white modern farmhouse kitchens are still quite a popular design choice.
No. 3: Modern Farmhouse Style is Flexible.
But why are there so many interpretations of modern farmhouse style that trigger readers of this blog to roll their eyes?
Because the designers and design lovers designing are a diverse group of lovely people with eclectic tastes. I have been a huge fan of designer and author Mary Emmerling forever, and maybe you are too. Do you recall her staying true to her love for country style even as she decorated her New York apartment many years ago?
I am aware such design freedom irritates certain purists who insist on a singular approach to the design of an urban environment. But interior design must serve people and their lifestyles, not buildings. Beautiful architecture matters. People inside the structures matter more.
No. 4: There's an Ease to Riffing On It.
Modern farmhouse interpretations seem endless. Can you successfully mix Mid-century modern pieces into a modern farmhouse design? Yep. Antiques? If they are country style with simple lines and not fussy…probably.
Here is why I think the popularity of modern farmhouse surged and has enduring appeal: (1) it reminds a lot of folks of a simpler time without feeling like an uncool Granny house, and (2) it is consistent with a more informal approach to daily living which often does not require a formal dining or living room.
No. 5: Just Barn Beautiful.
Modern farmhouse more often incorporates barn-style design elements such as lanterns, barn doors, reclaimed barn wood, and rustic beams.
No. 6: Shiplap Became Cool.
As soon as folks started noticing how good it felt to live with the warmth and texture of shiplap walls, it picked up in popularity. Will everyone be ripping it out soon like brass everything felt dated after a season? Maybe. But probably not until a bunch more shiplapped walls appear.
No. 7: It's Less Precious than Shabby Chic.
Shabby chic lovers tend to prefer romantic, feminine, and delicate design features while modern farmhouse fans seem more likely to honor a balance of the stereotypical "masculine" and "feminine." A brown leather sofa works just fine for modern farmhouse Mel's pad but may present a big ol' headache for shabby chic Shawn.
I have used these metal chairs as desk chairs, for entertaining, and outside. They stack, which is a bonus!
Find a set of 2 metal French bistro chairs RIGHT HERE.
No. 8: Modern Farmhouse Rarely Shows Off.
Even when you spend liberally on furniture, fixtures, finishes, and architecture in a modern farmhouse interior, it typically remains approachable and humble.
No. 9: Farm Sinks Seem Synonymous With Modern Farmhouse.
I could write poetry and love letters to my own apron front fireclay farm sink. It functions beautifully and is my favorite color. You can give a baby or a pet a nice bubble bath. The farm sink is durable yet lends softness with its polished finish. It often works design-wise just as well in a traditionally classic kitchen. I could keep going.
My friend's modern farmhouse living room (above) is just as beautiful in person, and I have been cozy on that beautiful tufted sofa from RH plenty of times. The RH industrial farmhouse coffee table? We have had the exact RH reclaimed wood one (ours is rectangular, not square) for many years, and we never tire of it. What I do not own is that gorgeous leaner mirror!
Let's explore beautiful modern farmhouse style decor elements:
The beautiful headboard above is custom and made for this guest bedroom by the owner. There are some well-priced alternatives if you are not so much a DIYer like this one…
One More Thing…a Cool Video With Pretty Design
And also a reminder from yer cake obsessed friend…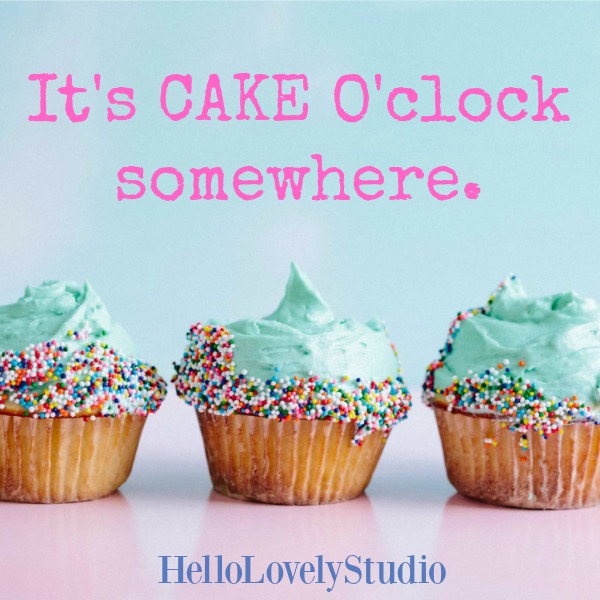 I always love hearing from you – have your own definition of modern farmhouse style and philosophy about why it is so hot?
If you missed my house tour, SEE IT HERE. And don't neglect this coastal cottage I am big time crushing on.
Peace to you right where you are.
-michele
This post contains affiliate links which I hope you will use since they won't cost you a penny extra yet may earn this blog a small commission.
Support Hello Lovely by shopping Amazon RIGHT HERE for anything (not just products mentioned here) to keep the inspiration flowing!
I'm a participant in the Amazon Services LLC Associates Program, an affiliate advertising program designed to provide a means for me to earn fees by linking to Amazon.com and affiliated sites.
Click HERE to find cost conscious furniture and decor for your home too!