The first thing you probably notice about the office in Drew's Honeymoon House (Property Brothers) is the Hague Blue paint color (Farrow and Ball), and you'll find a shopping guide with links to the exact furniture and home decor from this space in this post!
Have you seen these episodes from the Property Brothers where they tackle a whole house renovation in 12 weeks, this time for Drew and Linda's honeymoon house? It's a charming 1920 mansion in LA, and I have been keeping up with the before/afters and all the interior design choices for you.
The office/den in Drew and Linda's home is a masculine, chic space layered with velvet, leather, and rich painted paneling suggesting age and adding cozy factor. Here's how Farrow & Ball characterizes this rich hue: "Hague Blue takes its name from the fantastically coloured woodwork much used by the Dutch, and still works wonderfully to ground baseboards or as an accent colour on the walls when teamed with Borrowed Light. The green undertones of this timeless, deep and dramatic blue means it sits as happily outside as it does in small dark rooms. Pair with our Dark Tones Primer & Undercoat."
My favorite design elements in this den/office? The rich color on the wall paired with that sumptuous green velvet, those incredible wall sconces (at an excellent price point!), and the chic etagere. The pocket doors aren't too shabby either. People reports about the space: "Nods to the brothers' dad Jim's office in their childhood home — like the tufted leather chair and wood desk — add a personal touch to the chic space.
The room is dramatic for sure, and when you see the before photo with its peachy walls and partially destroyed drapes…
…you can truly appreciate what some imagination and interior design help can do for a room. Right?
(Think those beautiful windows we see are the original ones hiding behind those drapes?)
OFFICE RESOURCE GUIDE
Hardwood Flooring; Monarch Plank – Boulevard Collection (Jourdan) Herringbone 1516 Galleher
Paint – Walls/Trim: Hague Blue No. 30 Farrow & Ball
Paint – Ceilings: Shaded White No.201 Farrow & Ball
Trim, Base & Case Various: Anderson Moulding
Built-in Hardware: Brixton Ridged Knob 1 1/4″ (Honey Bronze) TK881HB Top Knobs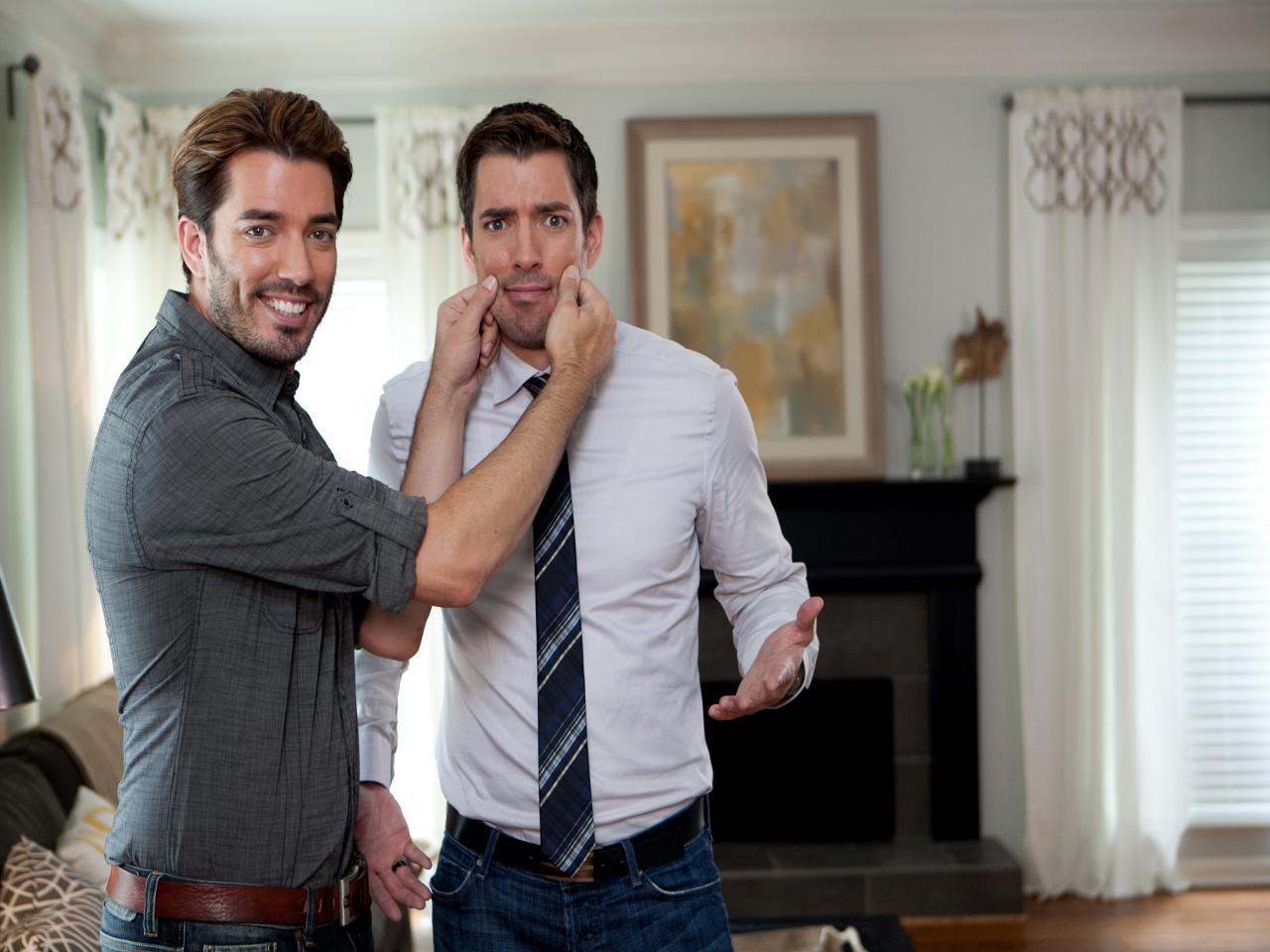 Do you watch the Property Brothers on HGTV? They poke fun at each other all the time with some version of "Jonathan does all the work while Drew just shows houses," yet they never really divulge what Drew's role is beyond writing up offers and conducting tours. I'm guessing he runs the office since their brand is pretty major now. Some fun trivia about Drew Scott (whose full name is Andrew Alfred Scott):
"He was born on April 28, 1978 in Vancouver, British Columbia, the youngest of brothers James Daniel (by two years) and his identical twin brother, Jonathan (by four minutes). THAT MEANS THE BROTHERS WILL TURN 40 THIS YEAR! His birth was a surprise to his parents—Jim and Joanne Scott—who had thought she was giving birth to a single child.[2] James had emigrated from Scotland as a teenager with dreams of being the kind of cowboy he had seen on television. He worked in the film industry as an actor, stuntman, and assistant director until the late 1970s. It was around that time when he decided to focus on raising his family, and they moved to a horse farm in the nearby town of Maple Ridge. He worked as a youth counselor while Joanne continued her career as a paralegal in downtown Vancouver. On the twins' seventh birthday, their father encouraged them to get jobs, so they started their first business (called JAM), making nylon covered hangers. According to them, they sold them from door to door until a woman who sold American paraphernalia in Japan ordered thousands.
James would commonly renovate their properties, and would pay the boys from as young as eight years old to build and repair fences, decks, and barns. Even as children, the twins would often rearrange the furniture in their family home. As teens, they attended Thomas Haney Secondary School, and Drew excelled in sports, both coaching and playing on the basketball and volleyball teams. After graduation, the family moved into their new home in Alberta, just as the twins were leaving for Calgary to go to university."
What do you think of Drew's Hague Blue office in his newly remodeled home above?
For more shopping and resource guides for Drew's Honeymoon House, visit:
Shop Drew's Honeymoon House Kitchen
Shop Drew's Honeymoon House Master Suite
Shop Drew's Honeymoon House – Living Room & Entry
Shop Drew's Honeymoon House – Guest Bedrooms
Shop Drew's Honeymoon House – Jonathan's Guest Suite
Shop Drew's Honeymoon House – Craft Room
Peace to you right where you are.
~michele