Just spied an amazing Palmetto Bluff  house tour where modern farmhouse style meets coastal cottage decorating ideas over on Homebunch!
Talk about a barefoot lakehouse beauty.
Since this design project has my name written all over it, I was compelled to dig deeper, and I hope you'll be thrilled to hear that this inspiring property is on the market.
Yep. It's for sale. And should you decide to become the new owner of this award-winning lakefront home located in South Carolina, pretty please let Sotheby's know you saw it here! (And invite me for a visit, yes?)
This beautiful home is owned by Lisa Furey, who is also the talented designer of the property.
Why I Thought You'd Love It
If you love a classic cottage, slightly beachy, mostly white with blue accents, minimal modern farmhouse-y kind of vibe, then today's house tour is bound TO  ROCK YER WORLD!
Here's a snippet from the real estate listing: "Expertly sited to take advantage of the views of lake, park and conservation area, this charming compound was created with special attention to all details…A separate carriage house includes a second floor bunk room, kitchenette, and a deck overlooking the lake."
I am intrigued by the idea of three separate small structures adding up to 3,000 square feet, aren't you? You can live in the main cottage in the middle, allow your adult children or aging parents to reside in the guest cottage, and still have the carriage house for guests! The project proves you truly can create a masterful private enclave with just one half of an acre.
Coastal cottage details: 5 bedrooms, 4 bathrooms, 3,100 square feet, .5 acre
 All of the light fixtures were handcrafted in New Orleans by Bevolo Gas & Electric Lights!
Architect: Court Atkins Interior Design: Lisa Furey Interiors
Modern Farmhouse Style Meets Coastal Cottage
Need some advice for choosing a white paint color? See this helpful post.
Coastal Cottage Video
To get the most out of this post, WATCH THIS GORGEOUS VIDEO OF THE PROPERTY BEFORE OR AFTER YOU READ THE POST to get a feel for the interior design and see up close and personal glimpses of some of the design elements highlighted below.
Now on to the amazing tour where I'll supply sources for the exact decor and a few similar picks.
Front Porch/Entry
Front Porch: Pretty Decor
Entry
Blue cabinet color: Benjamin Moore CSP 600 Andes Summit.
Pretty Decor in Entry
Barn Door Hardware is Rustica: Find here.
Living Room
Living Room: Pretty Decor
Not the exact flooring, but a pretty similar engineered flooring.
Staircase
Staircase Light Fixture
Coastal Cottage Paint Colors
Here are paint colors designer Lisa Furey shared about her home.
The exterior white paint color, interior walls, cabinetry, and trim are all the same color. It just happens to be the exact paint color we chose for all of our interior walls, trim, ceilings, and anything we could touch with our paintbrushes here at the fixer upper back in 2015.
Yep. Designer Lisa Furey obviously is a kindred spirit!
Interior and Exterior Paint Color: BENJAMIN MOORE White
Master Bathroom Vanity Paint: SHERWIN WILLIAMS Tinsmith.
Grey Kitchen Island Paint Color: BENJAMIN MOORE Pashmina AF-100
Blue cabinet in entry color: BENJAMIN MOORE Andes Summit.
Dining Room
Here is a more cost friendly alternative to the other pendants.
Deck Possibilities
While these aren't the chairs on the deck, I love them and think they might feel at home here.
Modern Farmhouse Meets Coastal Cottage Decorating Ideas: Kitchen
Kitchen Backsplash: Walker Zanger Jasmine Field Tile in Mezzanotte: FIND HERE.
Small Blue Bedroom
Modern Farmhouse Style Meets Coastal Cottage: Guest Bathroom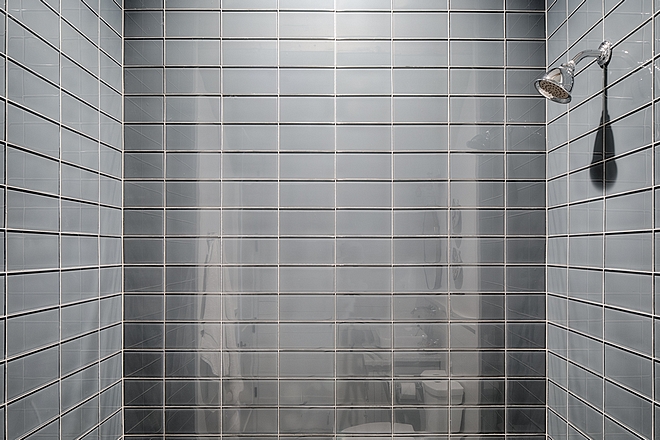 Master Bedroom
Master Bedroom Porch
Modern Farmhouse Style Meets Coastal Cottage Decorating Ideas: Master Bathroom
Guest Cottage Interiors
Garage and Carriage House
Outdoors
Now pour yourself something yummy and then go back and watch the video at the top if you haven't already! YOUR TURN TO DISH ABOUT THIS PROPERTY AND WHETHER YOU ARE READY TO MOVE INT!
Thank you so much for reading and joining in the fun of discovering timeless and tranquil inspiring interior design.
More lovely!
Peace to you right where you are.
~michele
An easy way to contribute support to this blog? USE THIS LINK to begin shopping for items (anything at all – not just products mentioned here!) on Amazon to buy what you already intended to buy…it won't cost a dime extra yet may earn Hello Lovely a few pennies if my link is the first you click!!! Additionally, my go-to source for the best priced items for home is RIGHT HERE, and I love helping you add style and function to your home with thoughtfully selected product recommendations. Thanks so much for your support as you use independently chosen links, many of which earn me a commission.