I posted about my affection for knotty alder another day and our decision to upgrade doors here at the fixer upper to a rustic door style. Now I'll share a few details about why these beautiful doors from Pacific Entries stand out from the pack. After all, you have a multitude of wood interior door options whether you are in the market to renovate, upgrade, or build. Knotty Alder Doors in Hello Lovely's Fixer Upper is comin' at ya!
Knotty Alder Doors in Hello Lovely's Fixer Upper
Disclosure: Pacific Entries partnered with me, supplying wood doors for our fixer upper in exchange for my honest review. All of these opinions are my own.
Why Upgrade Interior Doors?
Me: Your white doors looked fine…why did you decide to replace the existing interior doors at the fixer upper?
Me: They were awful even if they looked okay. We grew annoyed as we lived here more than a year with papery doors which were not properly hung, did not function well, did not match, and appeared to belong on a Hollywood set rather than a real home.
We knew the upgrade would add value to the property as well as enhance everyday living…which is worth a million bucks.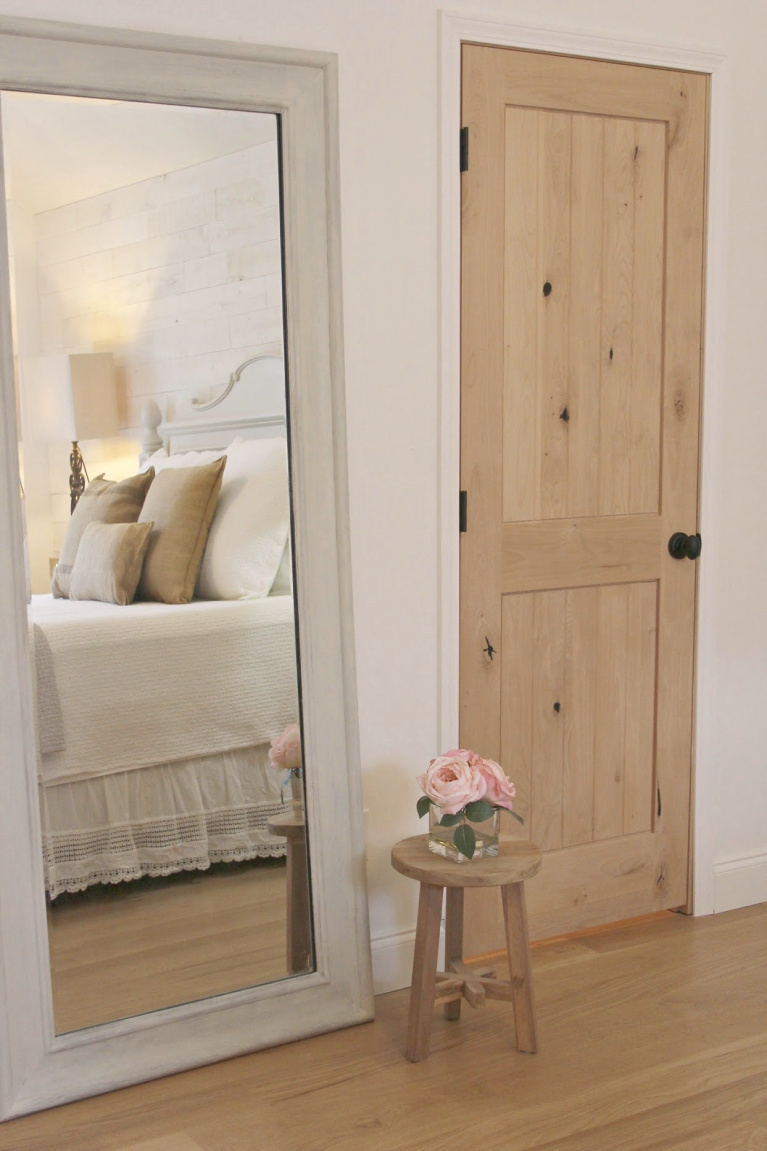 Since I love timeless and tranquil style, I knew bringing in solid wood doors that could stand the test of time and improve with age would be a great investment! Our home was a hodgepodge of colonial, modern, European, and disco, and I have tried to unify features to bring it closer to a modern European inspired farmhouse.
Benefits of This Door's Rustic Plank Style?
Me: How did you decide on this particular unfinished knotty alder 2-panel plank door style?
Me: I have been enamored with vintage wood doors since moving into our first home, a charming 1920's Chicago bungalow with gorgeous original doors, knobs, woodwork. Yet I quickly realized it would take too long to hunt down the umber of matching doors we required.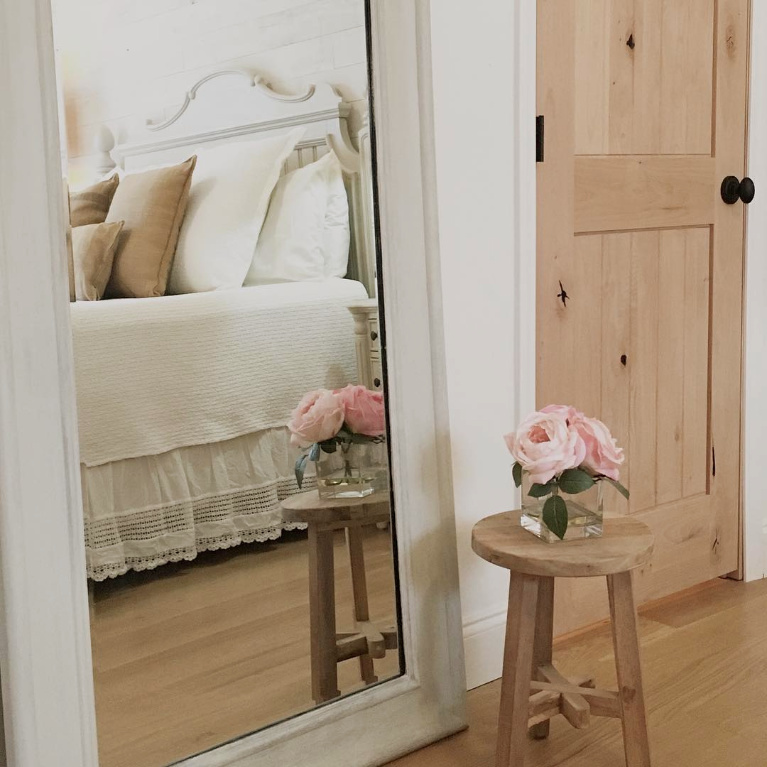 I wanted an informal style, and this planked door has it. Its rusticity works well juxtaposed with contrasting elegant finishes and furnishings.
I also knew I wanted a sliding barn door for the lower level (where there was no door at all). A pre-made one made things easier on my husband this time around since he built two huge custom barn doors for the media room in our prior home.
How Doors Can Add Identity
I also wanted farmhouse charm. This alder door is perfect for modern farmhouse decor and was my top choice for our prior Euro-style home. For that project, I picked out a pre-finished white painted door, but when the contractor goofed and ordered a style without planking, we went ahead and installed the wrong one to stay on schedule. (Boo – we are definitely more comfortable as control freaky DIYers!)
Finally, I really liked its versatility for finishing since I knew I could take my time deciding on a finish for the doors. The alder wood is great for stain AND paint. Since I knew I might paint some doors and stain others, it made sense to order unfinished doors.
Why This Brand of Door?
Me: Why choose Pacific Entries doors?
Me: They're beautiful. The minute these doors arrived, we loved their velvety goodness, and not just because they look remarkably better than our old doors…they look and feel solid, timeless, and crafted with care.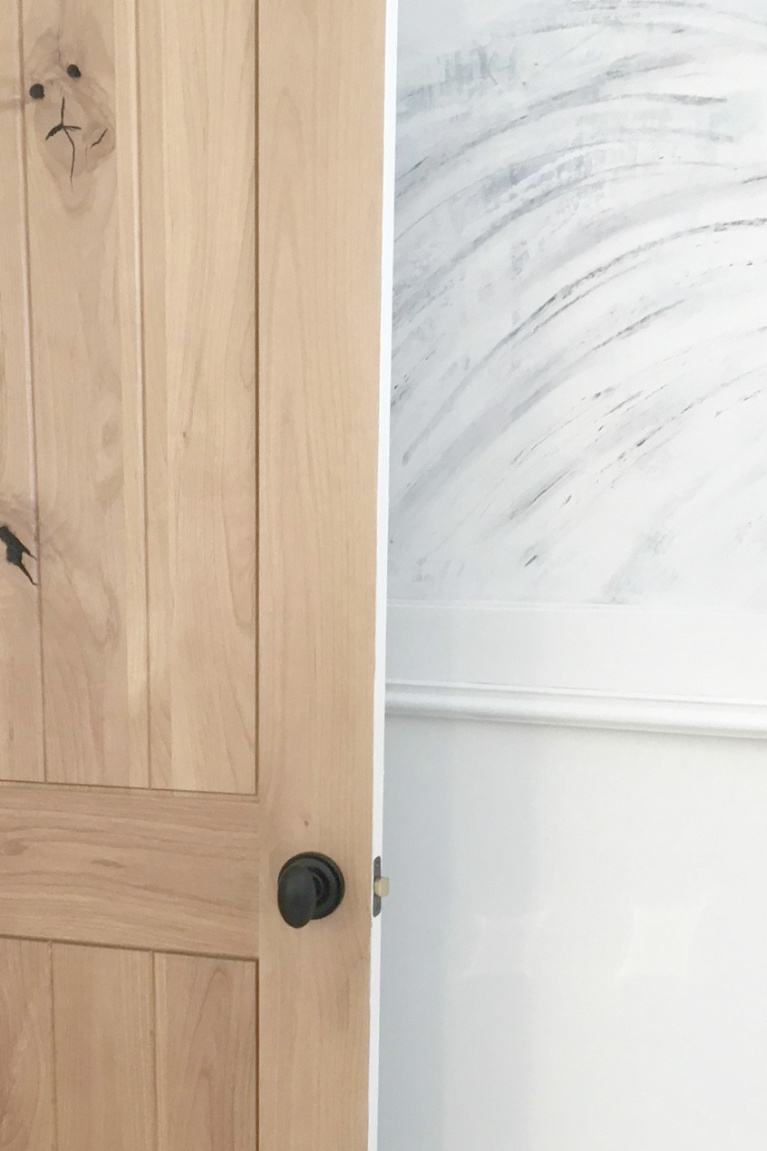 The V-grooves (or planking) is more than simply a minor rustic farmhouse detail, it truly does add to the beauty with its texture, interest, and depth.
I know it can be daunting to shop online for big ticket items for your home, so it's such a pleasure to report that the knotty alder doors are even better than they appear in images online!
Combining Wood With White Trim
In fact, we're not just contrasting the wood door with white walls, we've gone with wood jambs and white painted trim. (You have the option of choosing white jambs in the kit though.) I'm not the only one who likes the look of contrast with door and trim, here's what a designer told HGTV: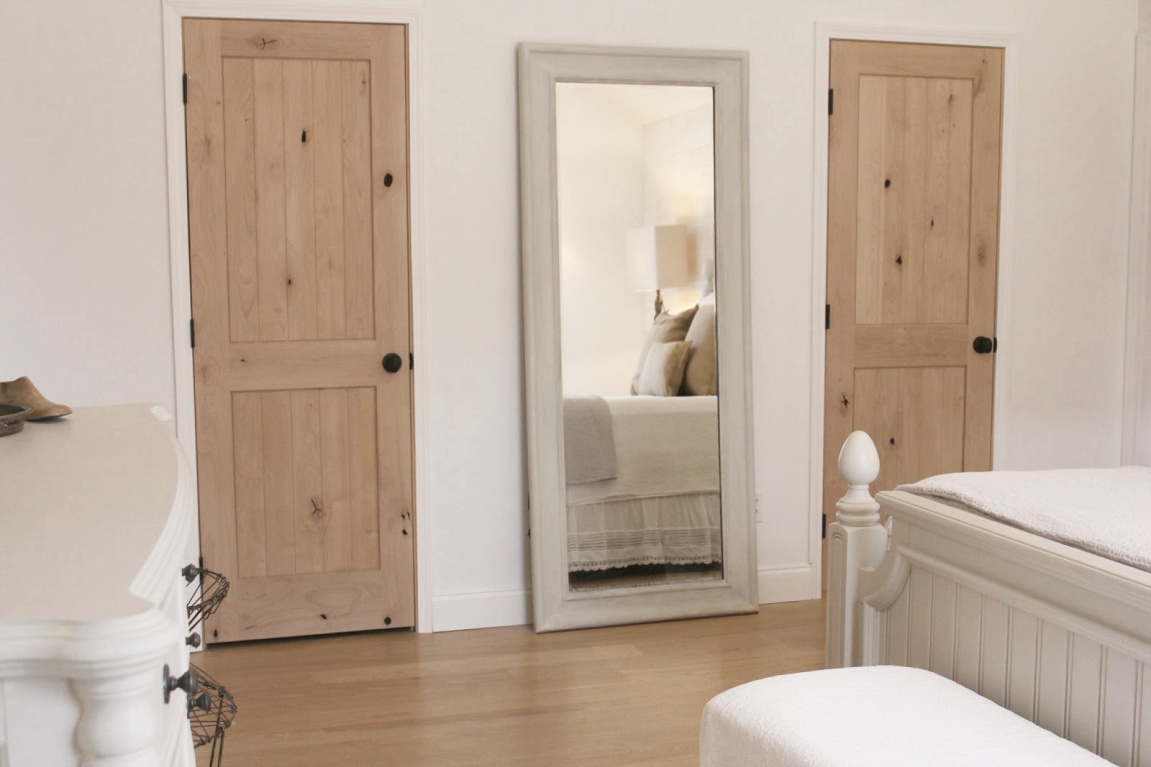 What is the Quality Like?
Me: Tell us about the quality of the doors.
Me: It really shows. Pacific Entries is a company with more than 75 cumulative years of experience building, designing, and engineering wood doors, and their attention to detail is apparent.
Even though you and I might not realize the importance of insisting on exact tolerances, the moisture level of wood components, or the importance of hand selecting each piece of wood which will become part of a door, THEY DO. It's what sets them apart and results in quality craftsmanship.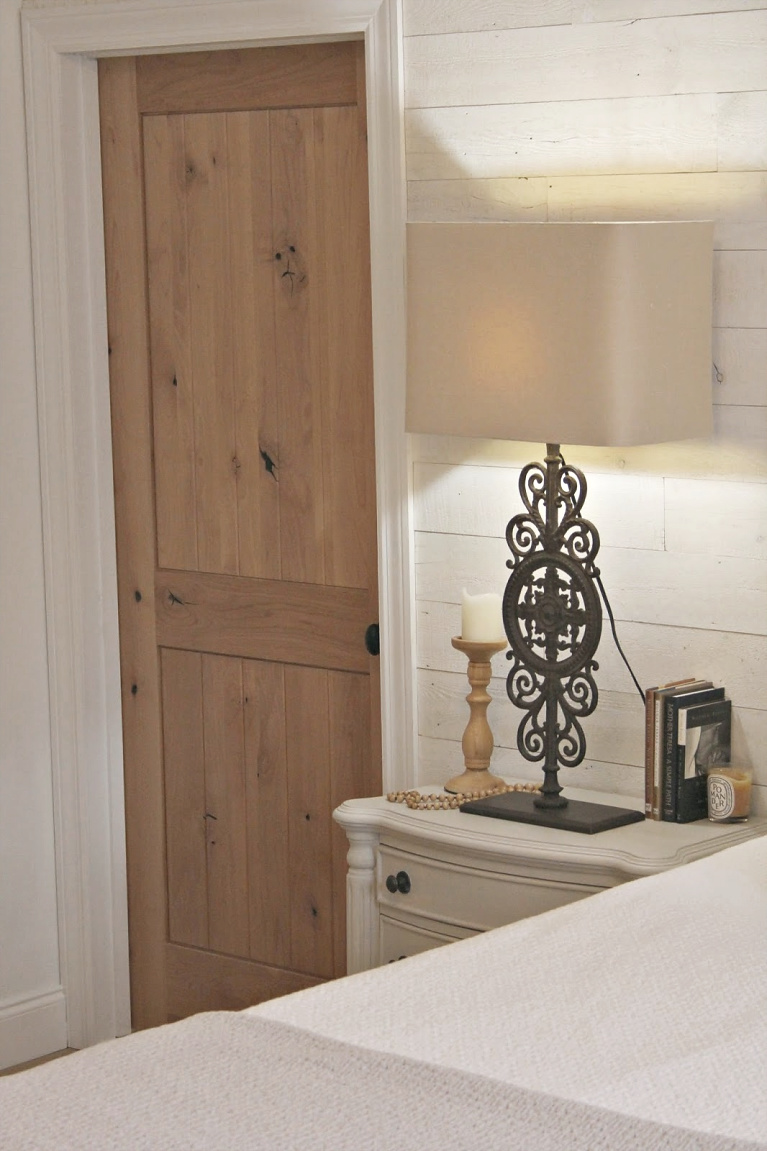 We have been renovating and updating homes for ourselves and family for more than 20 years so we have seen our share of the good, bad, and the ugly when it comes to doors. These knotty alder ones are our favorite because of the quality.
Is This a DIY Project?
Me: Were the alder doors easy to install?
Me: They were. My husband did the installation himself and repeatedly called out "Tell that company they did a great job with this design–makes it so easy!" The design to which he referred is Pacific Entries' Patented Goof Proof Jamb System.
Video for Installation
Why the Patented Design is ALL THAT!
For anyone who has shopped online or at a big box store or lumber supply to buy a door, you may know you need to know the door's dimensions and handing.
And if ever you goofed on the handing…
It is no fun at all to have to turn around and return (or ship!) a heavy door that is likely around seven feet tall and three feet wide!
We are grateful to have found a company that decided to respond to that frustration and created a fool-proof way to get around that headache.
Pacific Entries Takes Away the Headache
Here's the lowdown: Pacific Entries offers something no one else can:
a patented door with a reversible jamb kit so that handing can be determined at installation.
No More Handing "Oops!"
Never worry about LH or RH mistakes.
A Stronger, Cleaner System.
Installing frame through the jamb stop channel allows for installation adjustments and no nail or screw holes to repair or putty!
Less Damage.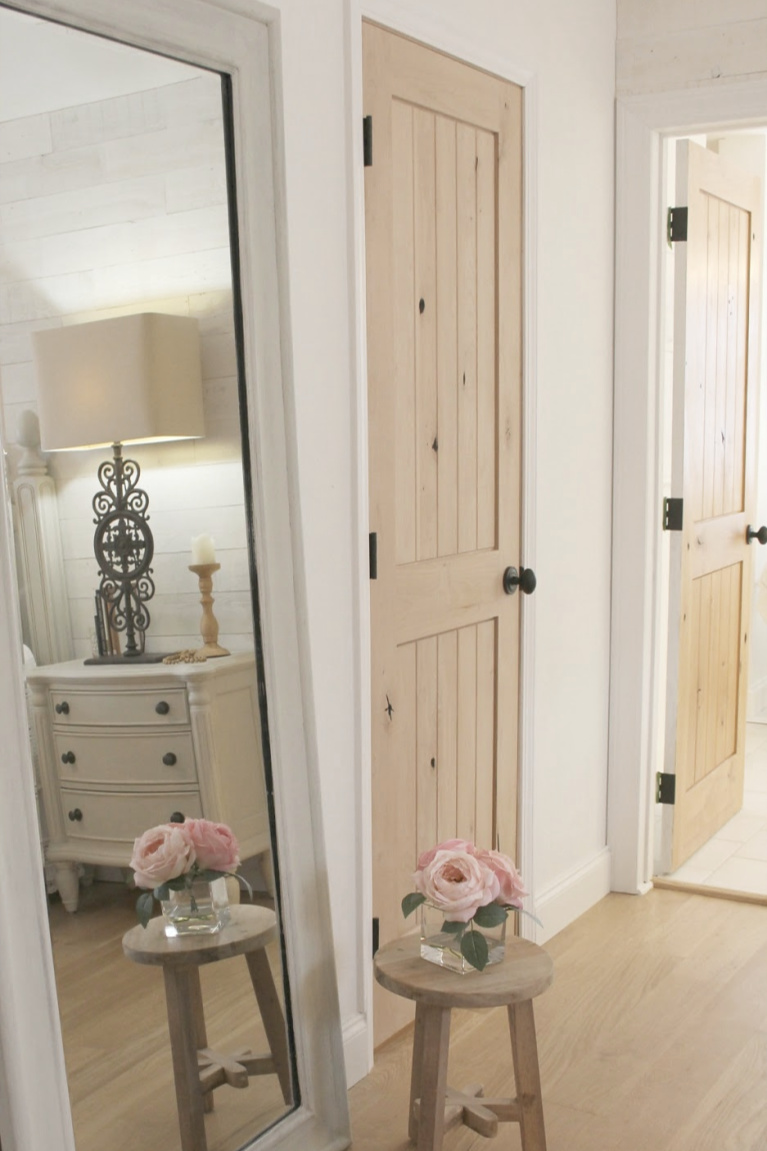 Reducing inventory means less space required, less handling needed and ultimately less damage caused.
You no longer need to spend time checking whether the door you need has right or left handing because either installation is possible with this system which comes with everything you need.
Patented Reversible Jam System
Pacific Entries created a video to illustrate the benefits of this reversible jamb system works for easily installing their doors…and a youTube is so much friendlier than pages of fine print!
Me: But what if I'm hiring a contractor or installer?
Me: It's still an important feature since professional tradespeople and contractors order the wrong product all the time too! If you have ever been involved in a reno or construction project, you know how important timing is, and when the wrong product or damaged product arrives, delays can add up to hundreds of dollars quickly.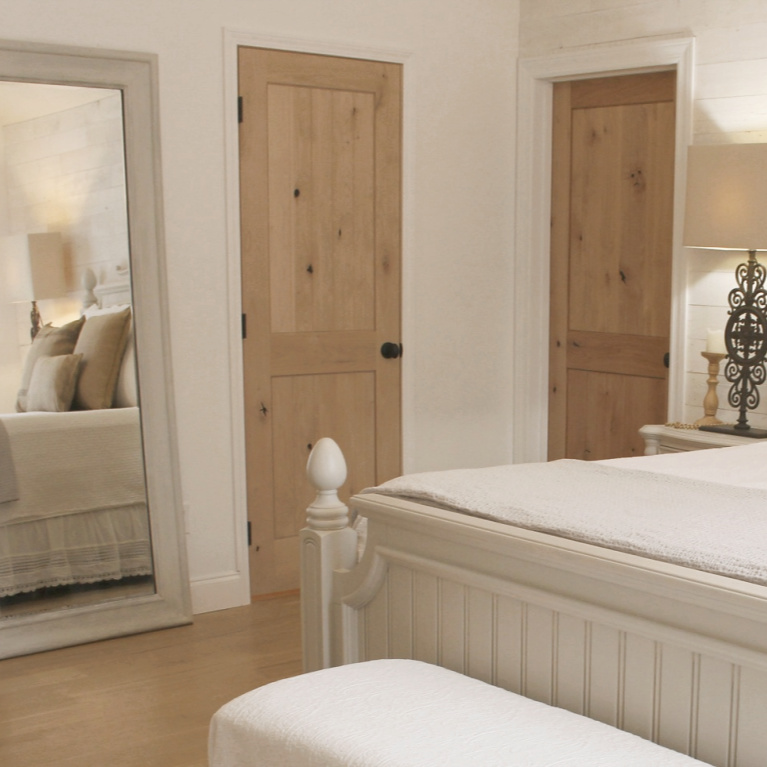 It's not just the handing feature, the whole kit is designed with the installer in mind, to save time and headache for a smooth installation. Whether it's you personally or your contractor installing the door, as long as you have the right size door (which is super easy since you just measure the old door!), the handing is going to be right!
Customer Service to Ease Your Worry
Me: What if I'm nervous about the whole process?
Me: Since Pacific Entries is a sponsor of this fixer upper project on Hello Lovely, I have had the pleasure of working closely with the company, and they are fabulous with customer service.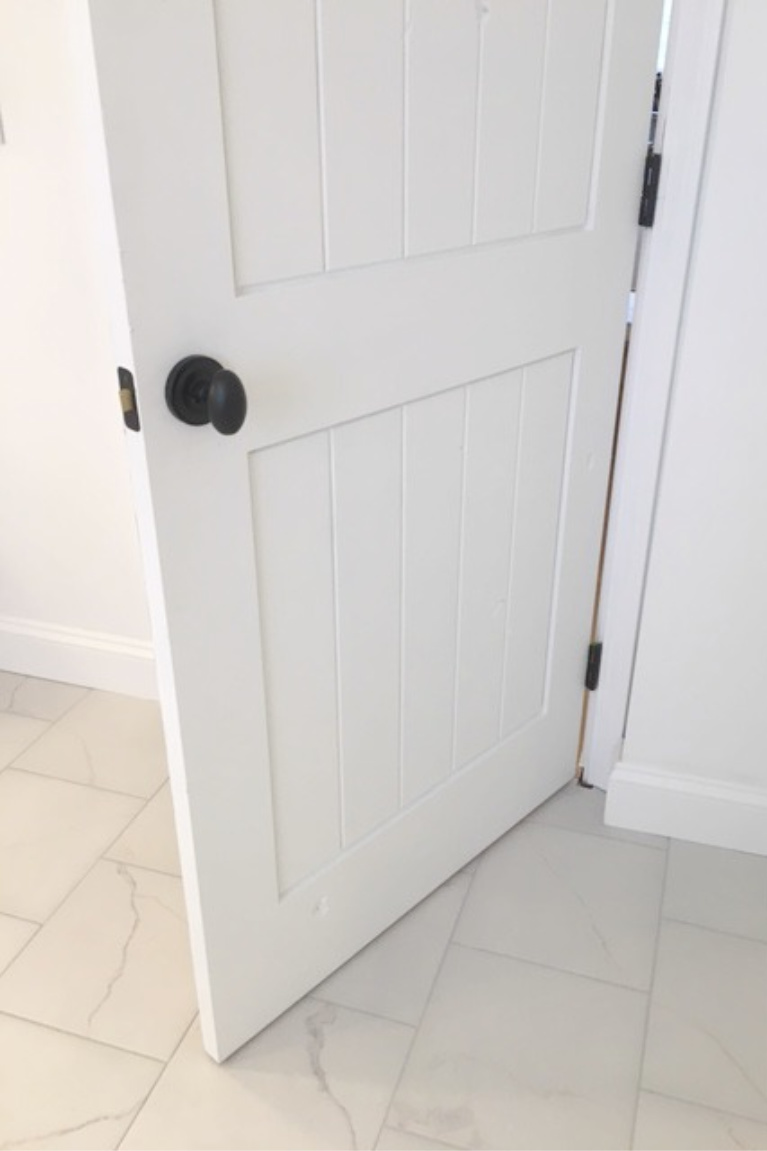 If the rest of our renovation projects had come with this sort of friendly, down to earth, knowledgeable support and quality, I would have a lot less grey hair and dark circles under my eyes.
Pacific Entries stands behind their craftsmanship enough to offer a five year warranty on their doors to give customers peace of mind.
Expense of New Solid Wood Interior Doors
Me: Was it an expensive part of the renovation?
Me: Let's talk value. Solid wood doors are going to cost more now but it's not likely they will ever need to be replaced They include solid wood jambs and oil rubbed bronze hinges. Another wood door with v-grooves I had my eye on costs three times even without the jambs what these Pacific Entries doors cost.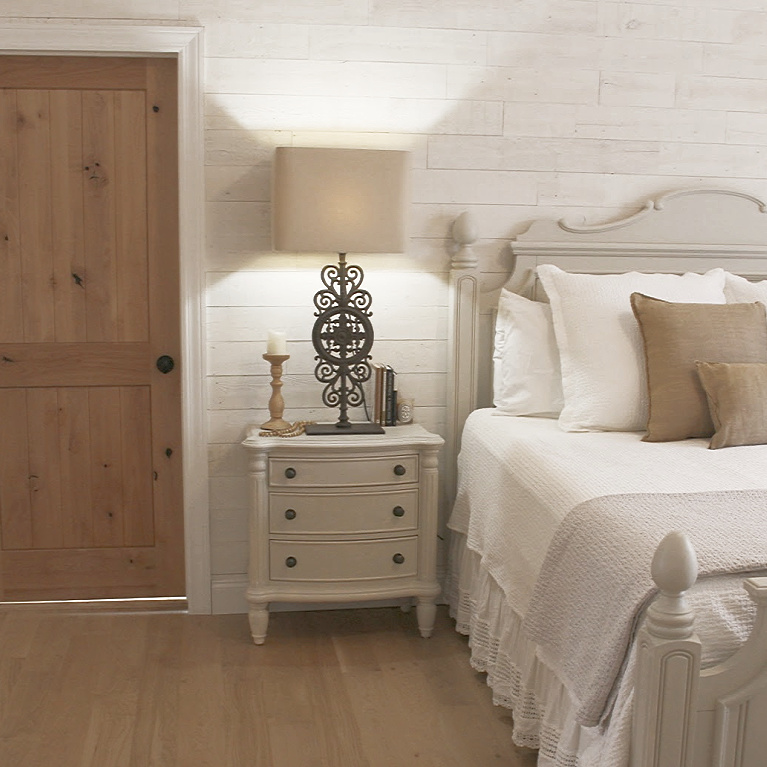 Apparently lightweight, hollow doors constructed cheaply with a core of honeycomb paper come with a much lighter price tag for good reason. They aren't built to last or do what only a solid core door can do.
Stretching the budget for new construction and home improvement projects is everything. But doors…
Now That the Doors are Installed…
Oh my Lord, I love them almost as much as chairs. They're so hardworking and honest. There are so many door metaphors, songs, and quotes about them…including more than 39 million links on Google.
Me: Do you really think nice doors will boost the property's value?
Me: Yes, m'am. If it's at all possible, spend your dollars on good ones that will stand the test of time and endure daily abuse for decades.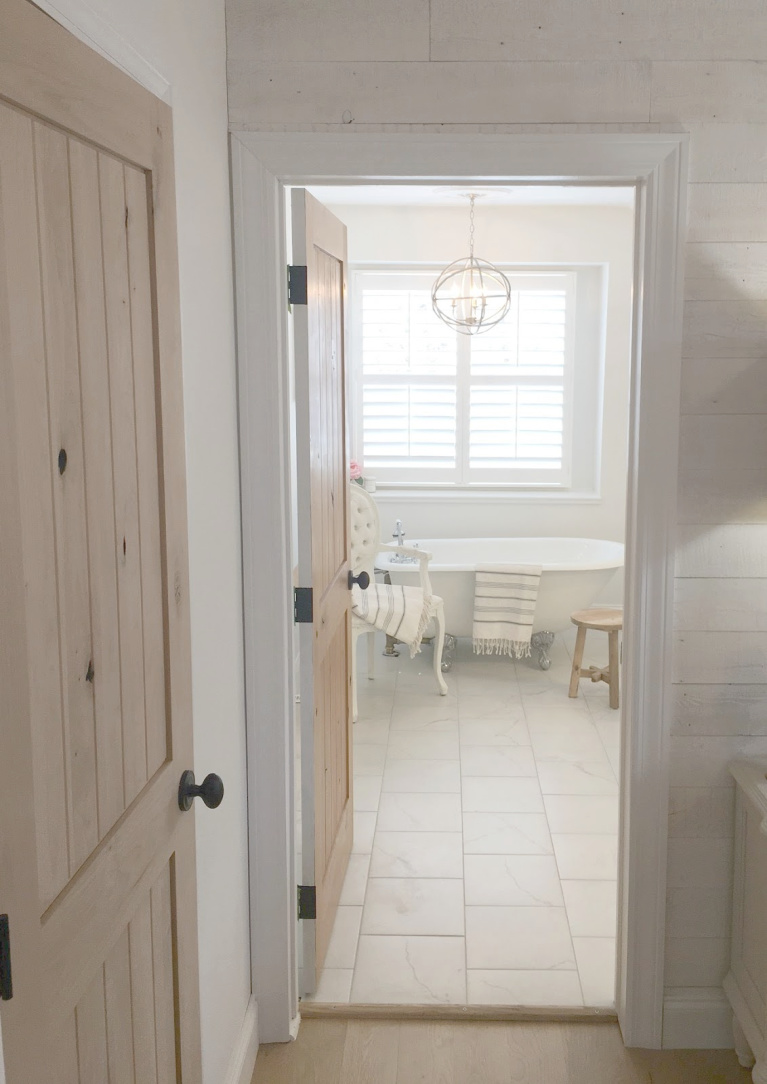 Upgrading Doors for Property Value & Resale
We bought a custom home a few years back that was new construction, and even though the floorplan wasn't perfect for us, it had these expensive and unusual 2-panel tiger oak doors that just blew our minds and totally charmed us into buying the place!
While we lived there, we designed and built our Nordic-French big house and used custom arched South American walnut doors with speakeasies for the front entrance. Those doors alone may have sold the place for us since they charmed everyone. We aren't design gurus at all…lots of high-end homes have doors like that, but in this neighborhood, no one had an unusual front door.
So what I'm saying, and I don't hear too many folks talking about this, is that you may be able to set your home apart on the market with some smart timeless interior doors (without turning it into a white elephant) if the balance of homes in its price range has ho-hum doors and trim.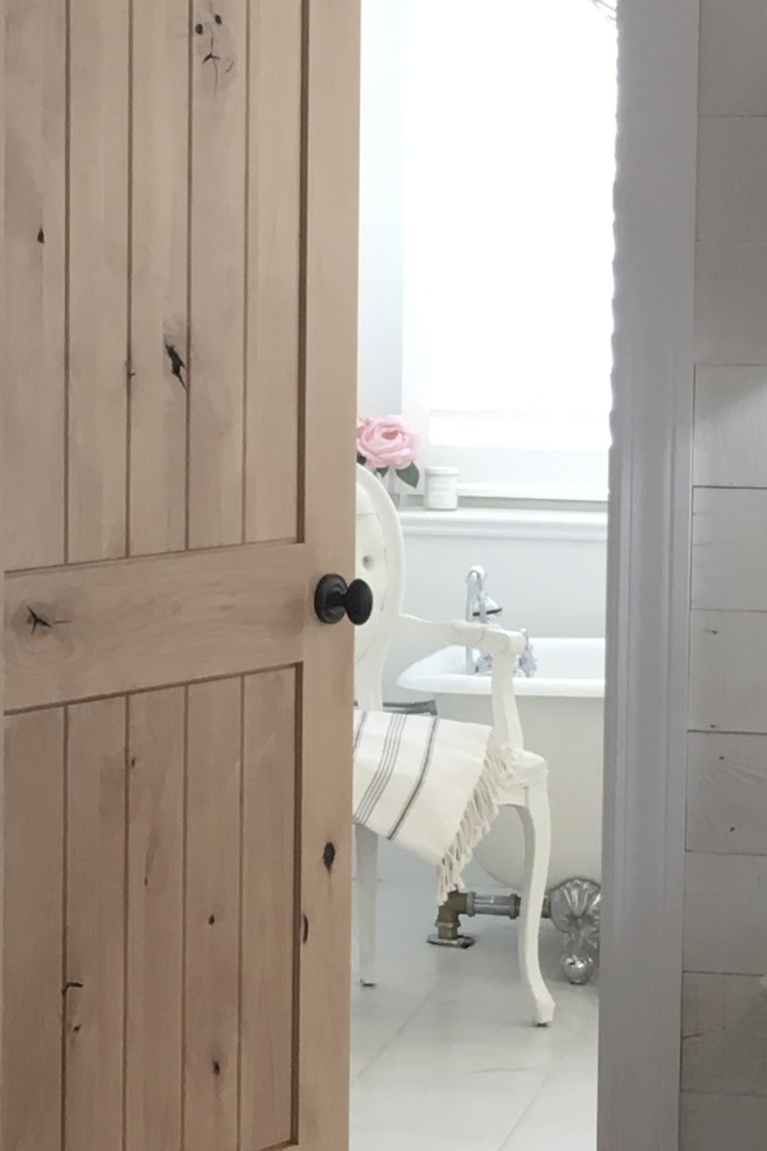 More Than Just a Pretty Accent
Investing in good doors amounts to much more than an interior design statement. Doors are used constantly every single day for years and years, work hard insulating and reducing sound transmission, and add property value to your investment.
Let's face it, although some cheap doors may get recycled, many crappy ones pile up in the garbage after getting used up and discarded.
Here are some images from yesterday of three doors being installed by my husband…three doors installed in an afternoon is not too shabby. These gorgeous oval knobs in oil rubbed bronze (they are a black color) will go on after we seal them.
How Much of a Difference Does it Make Daily Beyond Aesthetics?
Me: What do you think now that your paper doors are gone?
Me: I am so thrilled with the decision to upgrade our doors and partner with Pacific Entries to use these doors!!! They look even better than we imagined. There's nothing to get used to because they look as though they have always been here…doesn't that just sort of say it all?
Even though we have to finish sealing them and installing the beautiful oval knob hardware, they look absolutely incredible. Beautiful, high quality, functional, solid doors that will last a lifetime or two. We initially planned to paint the wood jambs white like the trim, but after seeing them installed, we love how the natural wood looks next to the white so I'm so glad we took our sweet time.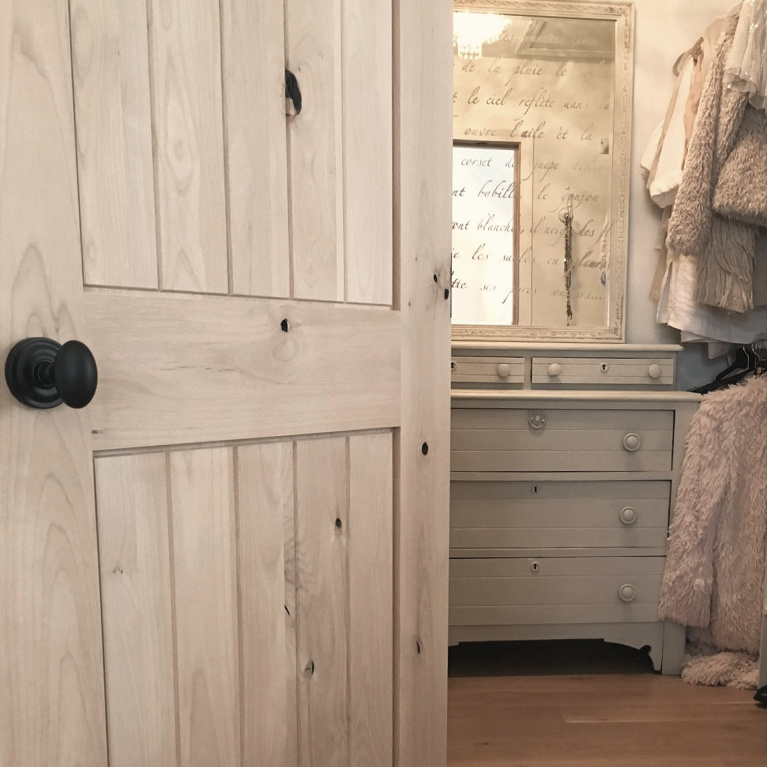 Another Knotty Alder Door is Going In!
Me: What's next for the fixer upper?
Me: Since all the interior doors are in, it's time to address the front door which is also from Pacific Entries and part of the sponsorship…
This handleset will be a huge upgrade from what we have now which is so ridiculous I won't even waste room here showing you.
Need more rustic door inspiration for your own project?
Very soon this fixer upper will be a wrap, and I will share reveal photos of these beautiful knotty alder doors and more.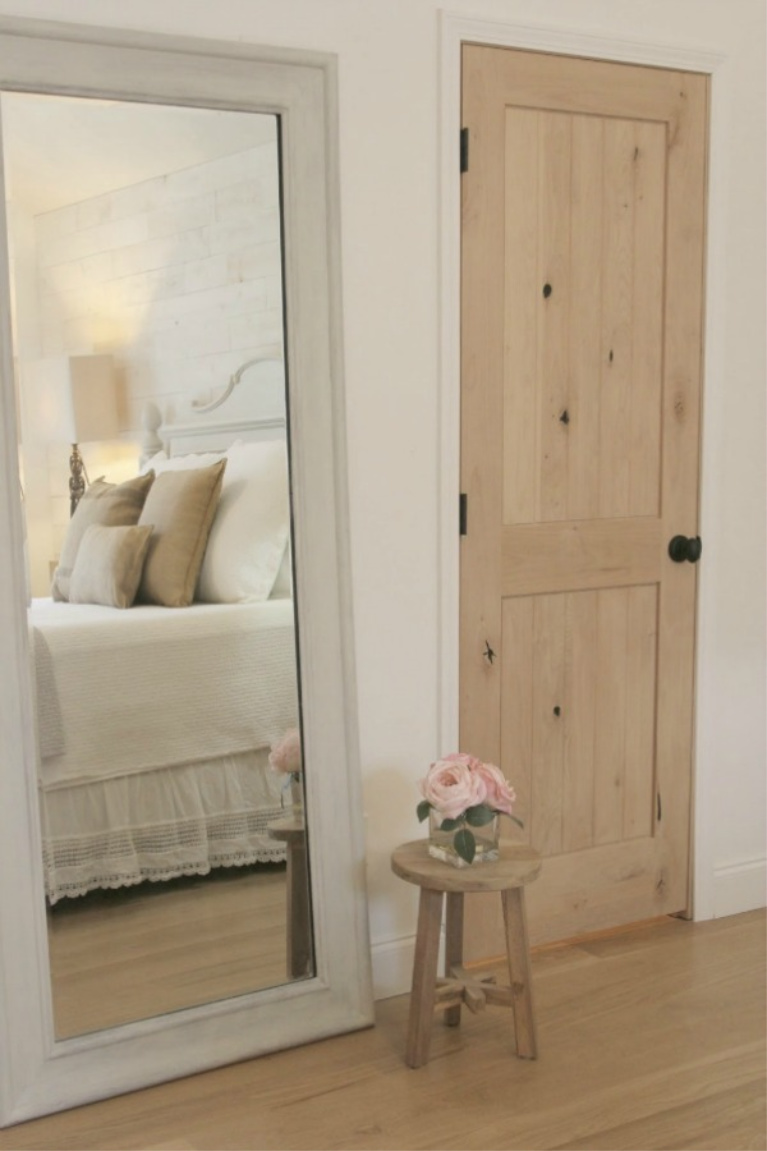 I independently selected products in this post—if you buy from one of my links, I may earn a commission.
Peace to you right where you are.
-michele
Shop for items you already intended to buy on Amazon RIGHT HERE, and also find home decor here to keep decor inspiration flowing on Hello Lovely!
Hello Lovely is a participant in the Amazon Services LLC Associates Program, an affiliate advertising program designed to provide a means for sites to earn fees by linking to Amazon.com and affiliated sites.