I bet you're seeing your fair share of AI generated images of home exteriors and interiors these days. So at first blush, this one might cause you to wonder: wait, does this really exist? Oui, it certainly does. And if your budget stretches wide, it is available for purchase in Houston. Behold a fantasy home tour of a French chateau in Houston dripping with luxurious European inspired finishes and bespoke wonder.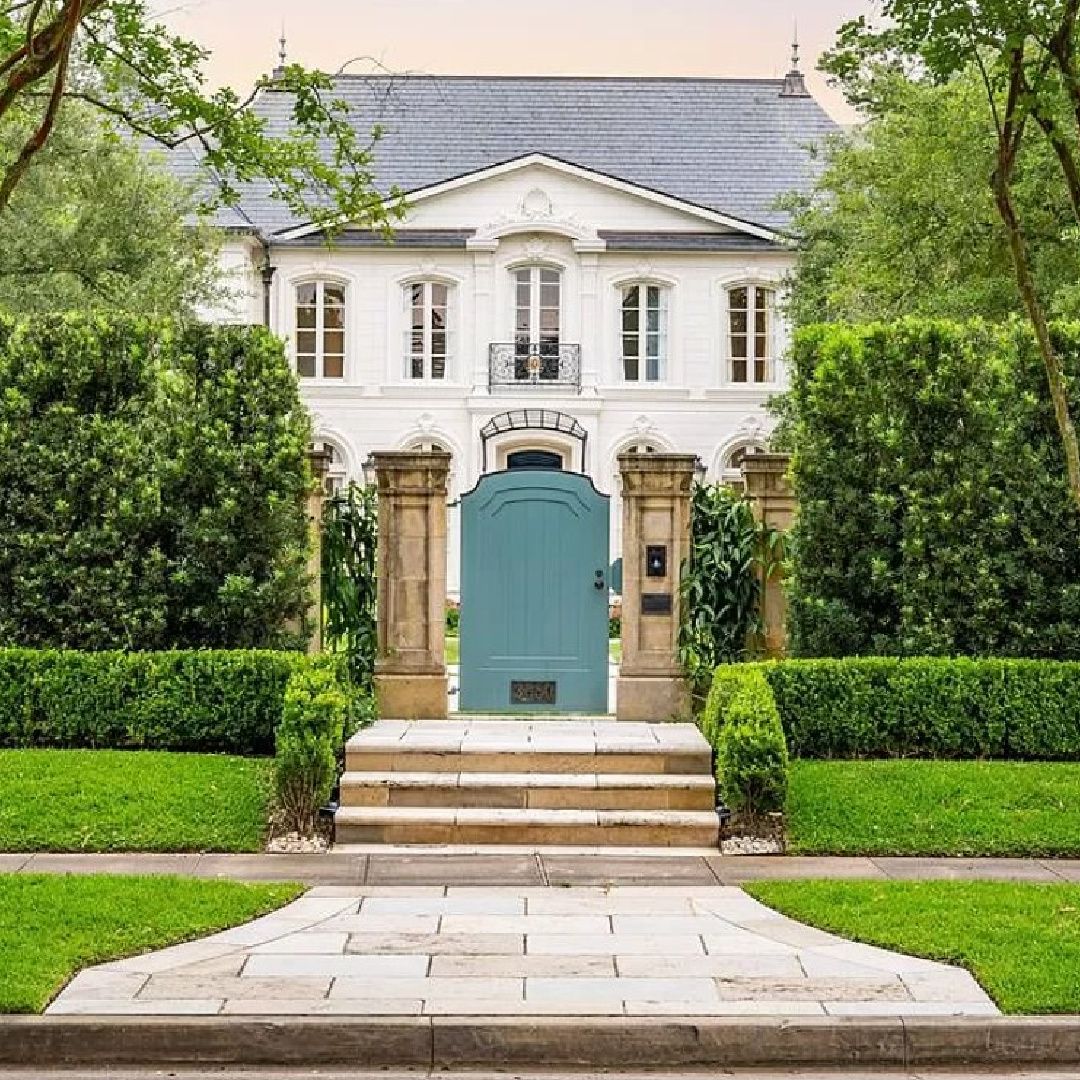 Find the Martha Turner Sotheby International Realty listing on Willowick HERE
French Chateau Fantasy in Houston
Exterior Photos of a Houston Chateau
Should you require a Texas-sized 5 bedroom, 11 bath, 15k square foot manse in Houston, here's an imitable work of art built in 1994.
I'm sorry, but is this the prettiest garage facade your eyes have ever adored?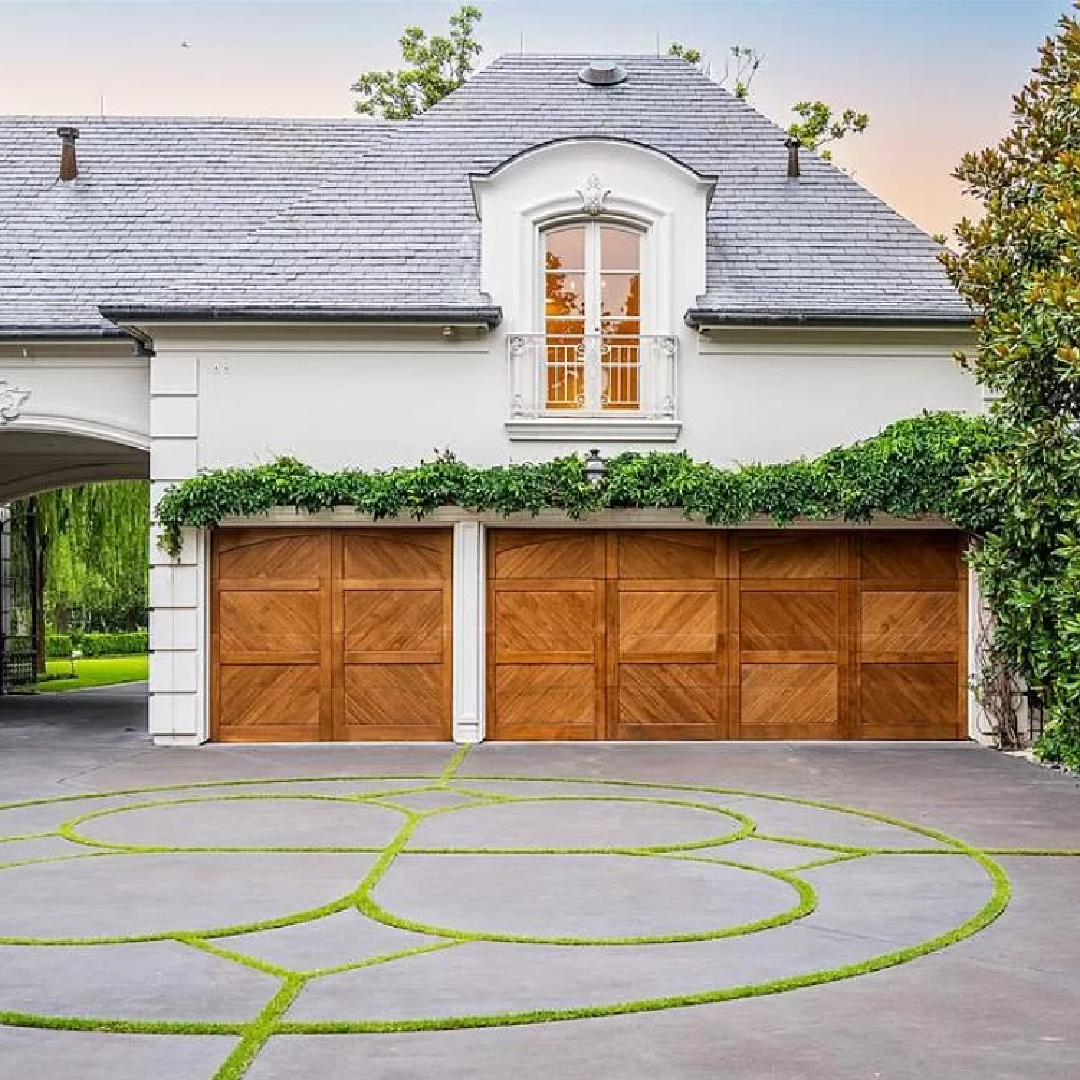 This is what is possible I suppose with the removal of all budgetary constraint.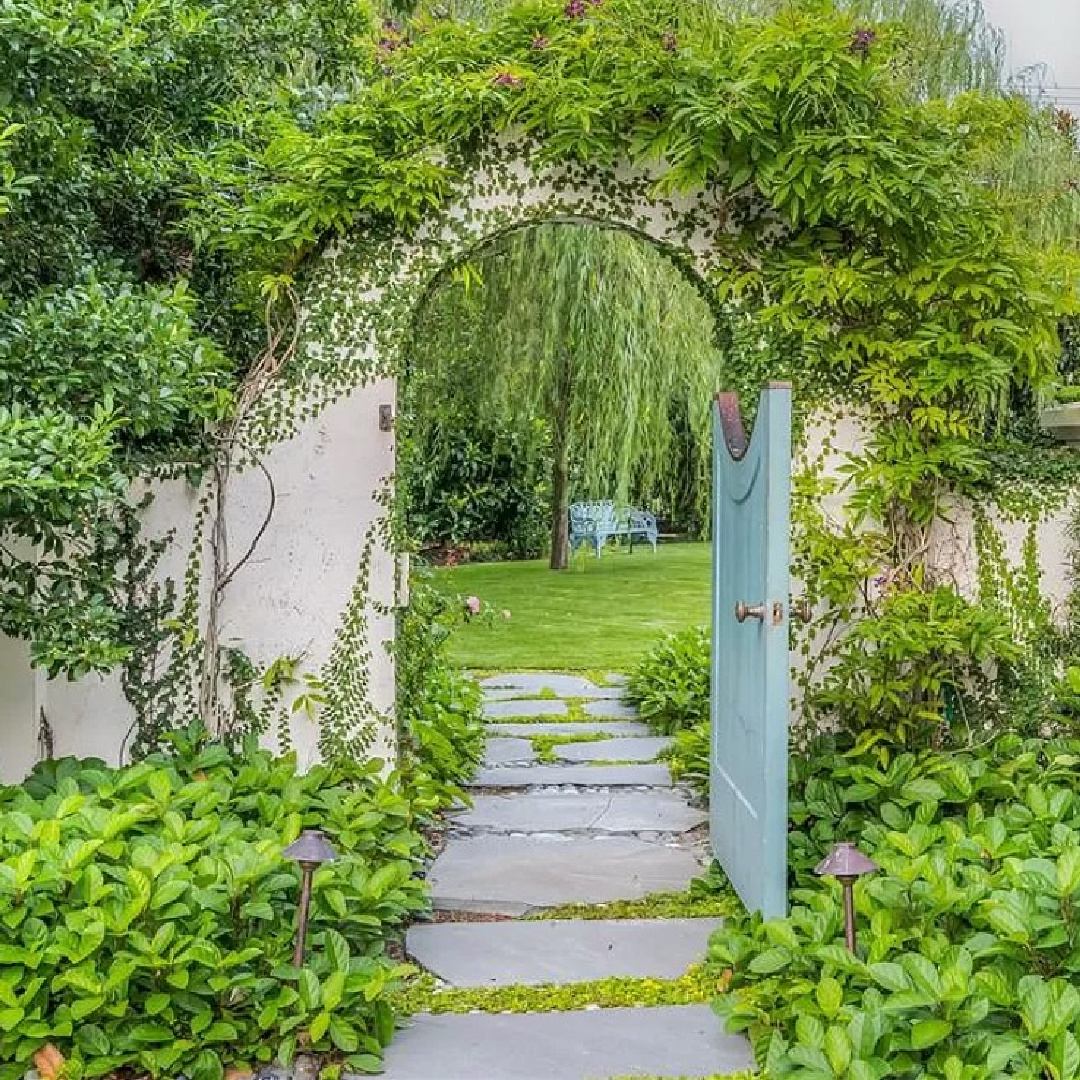 Don't you love an arched entrance and gate to a garden!?!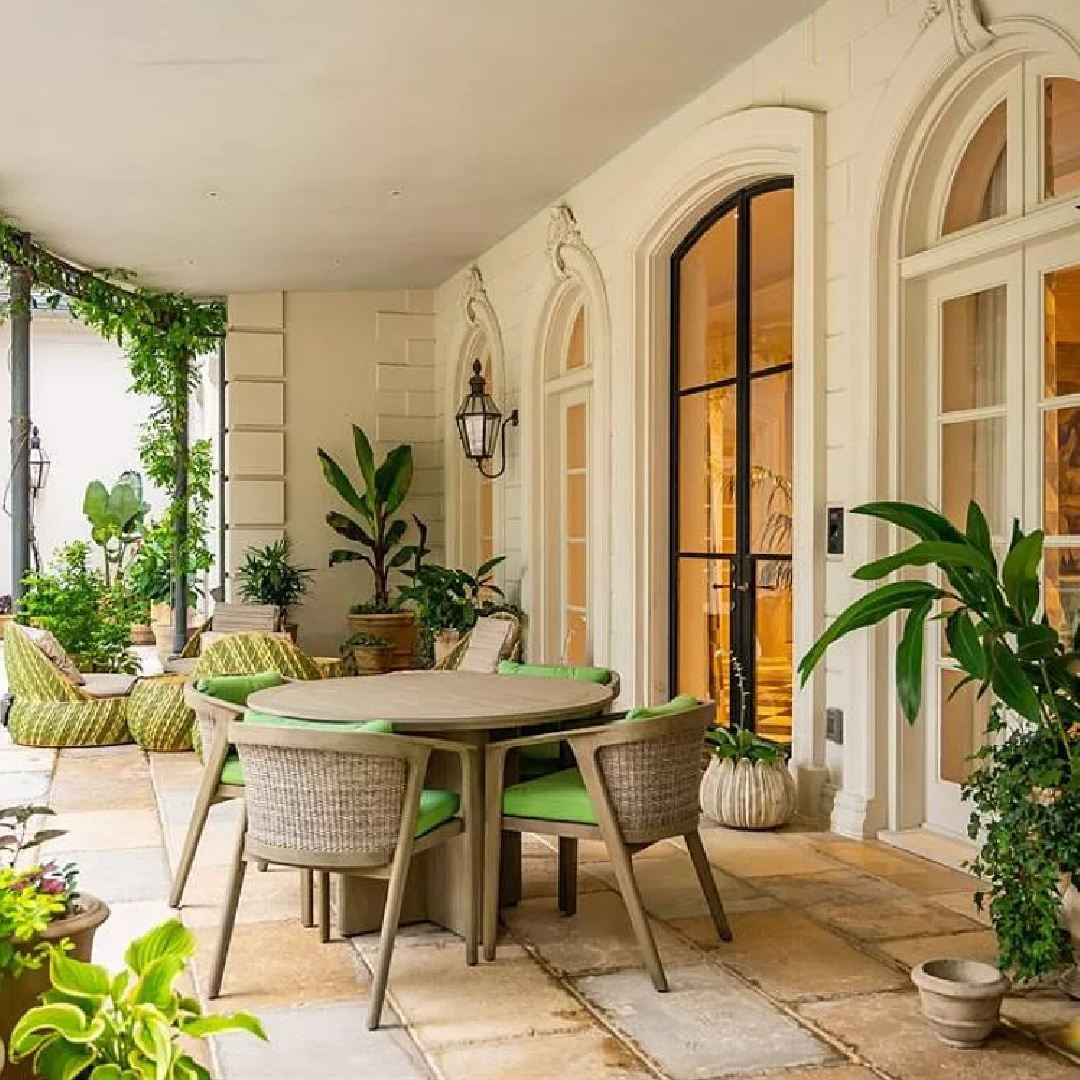 You just know the stone on the loggia is going to age even more beautifully as the patina develops with the years.
Fantasy Tour of a French Chateau in Houston
While these aren't the sort of interiors to collect sources for decorative items and furniture, you can still study them for color story ideas and timeless design clues.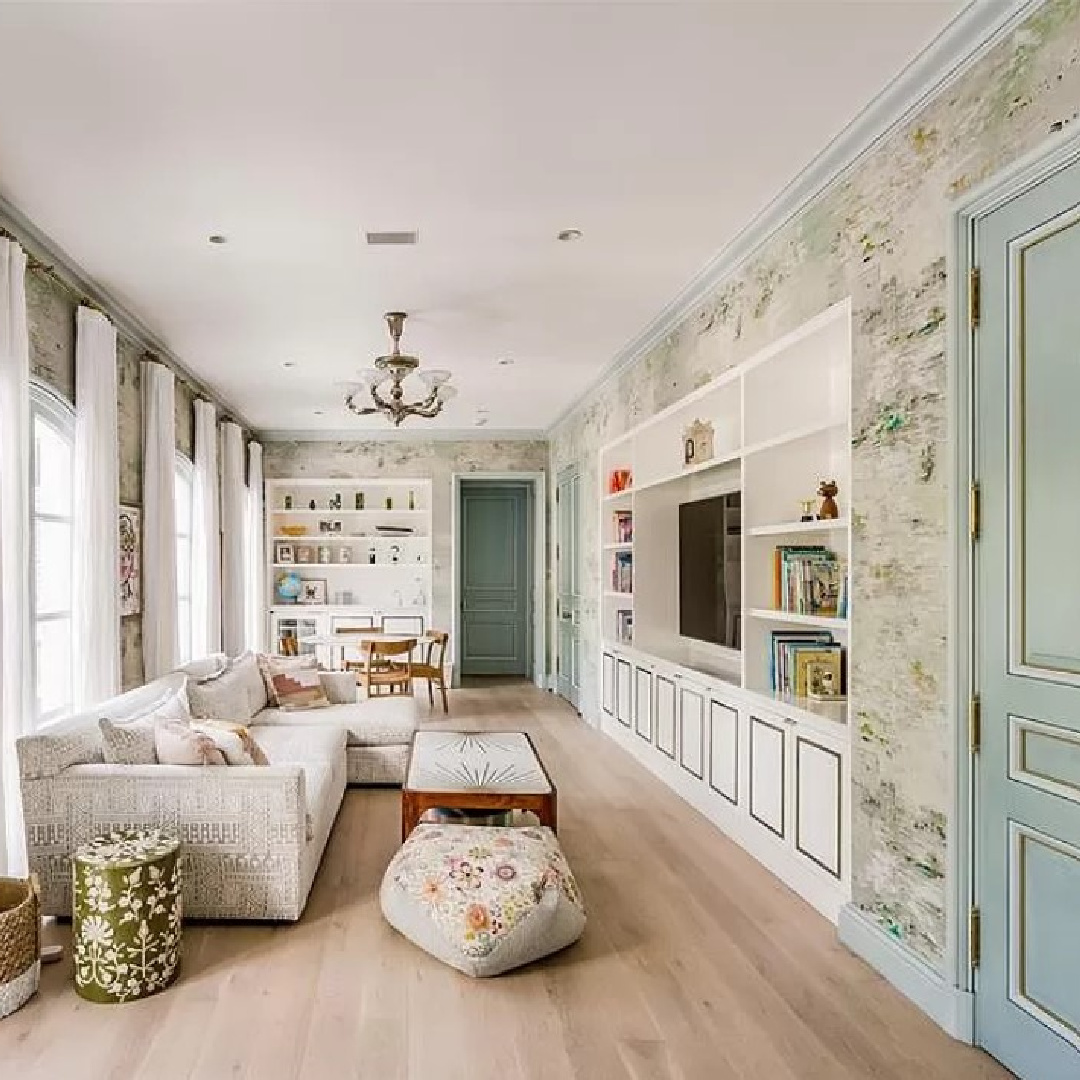 While the architecture is very French and formal, you get a sense that these spaces are quite livable.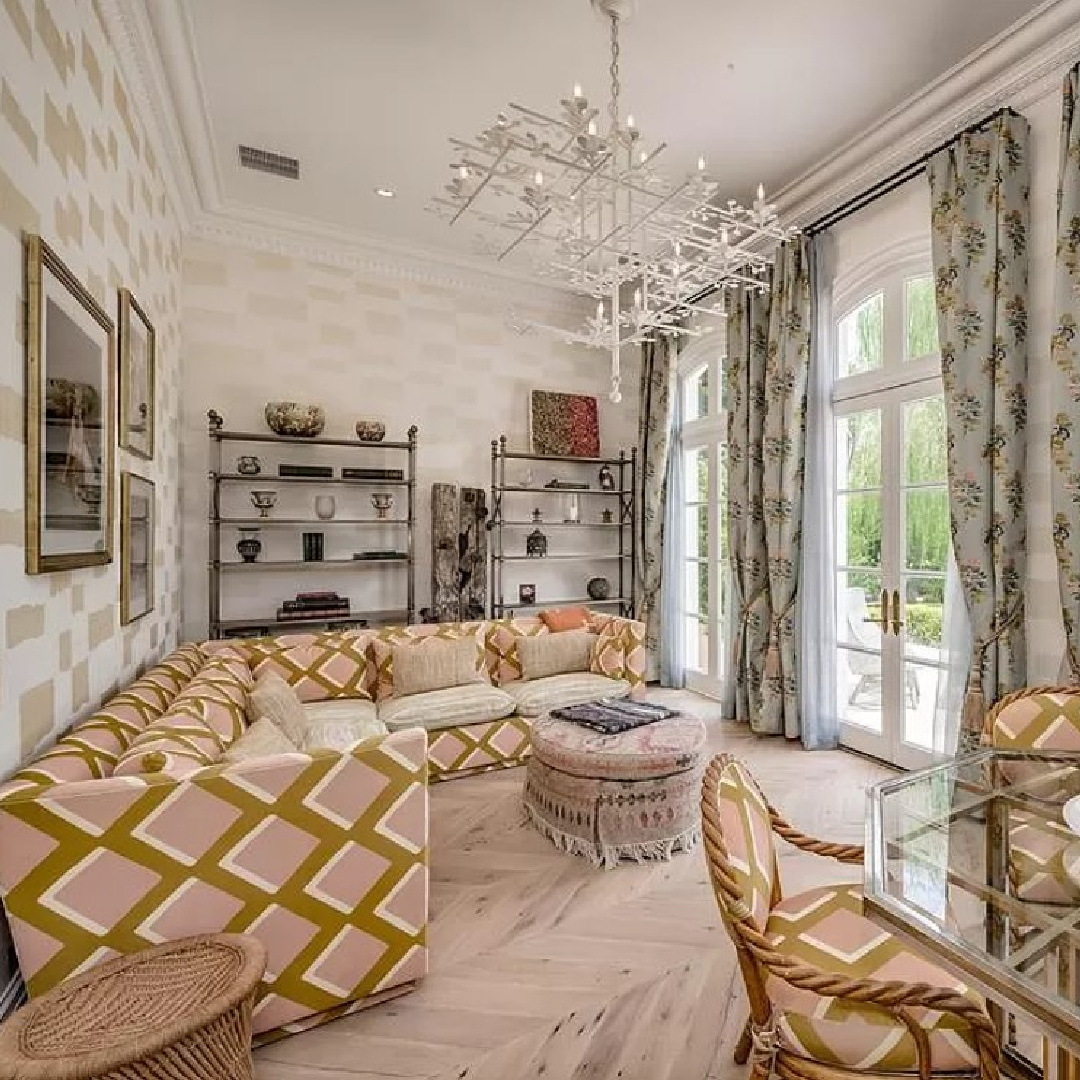 They are cheerful and airy thanks to modern fabrics and fresh takes on tradition.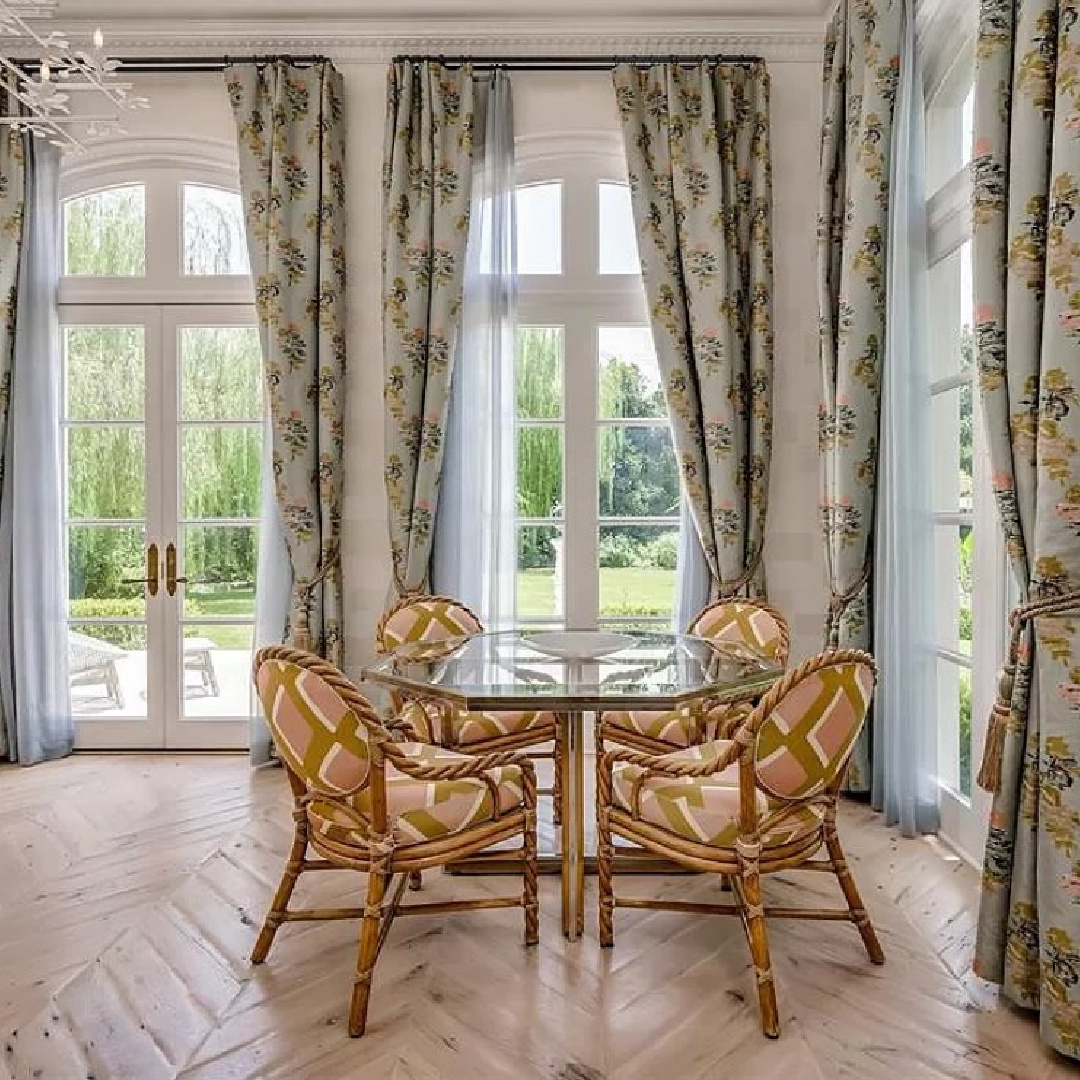 What is wonderful about Old World style applied to more contemporary builds (this one is 1994), is how adding more sources of natural light makes all the difference.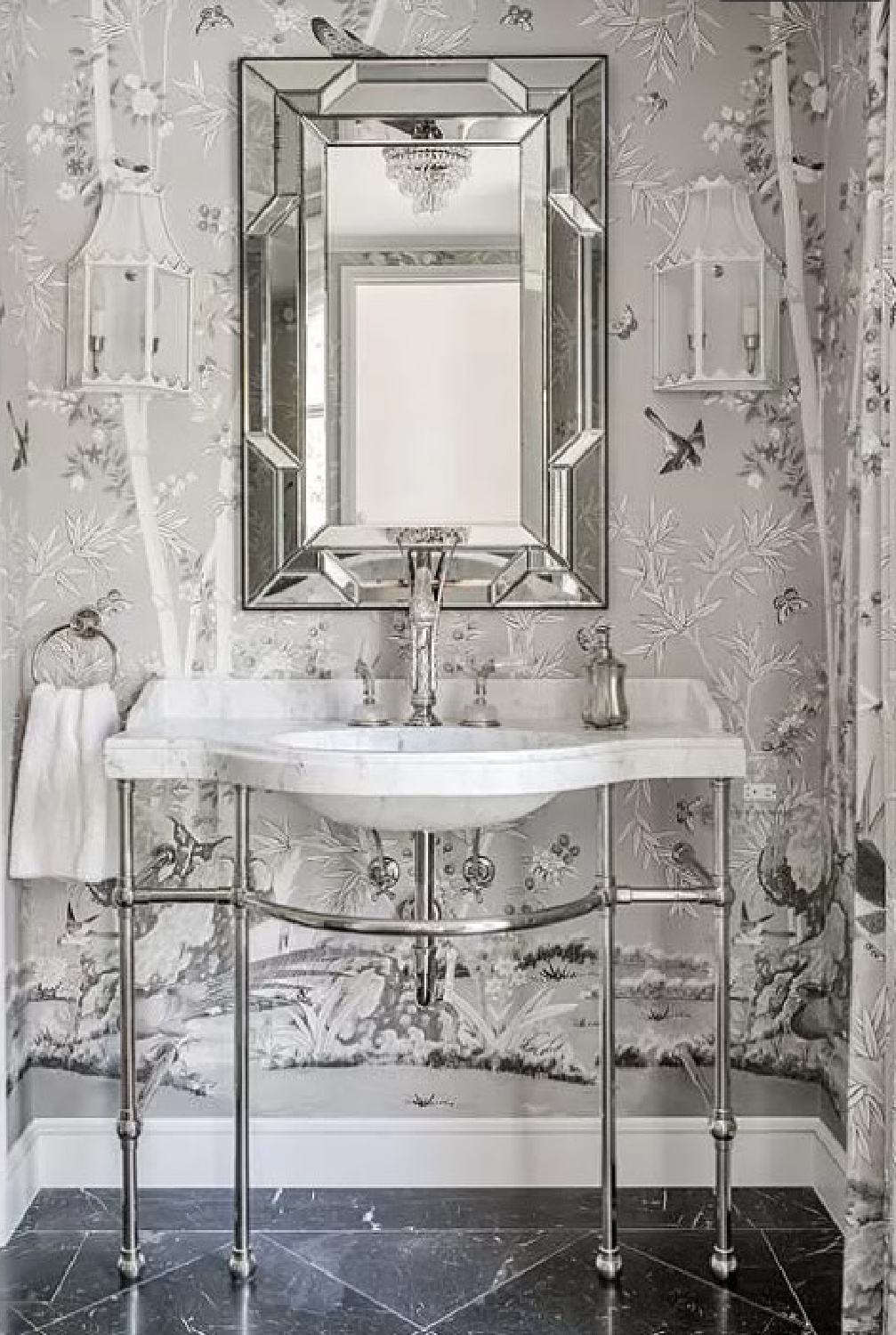 And getting it right at the design stage means that generations will be able to enjoy the benefits of such light.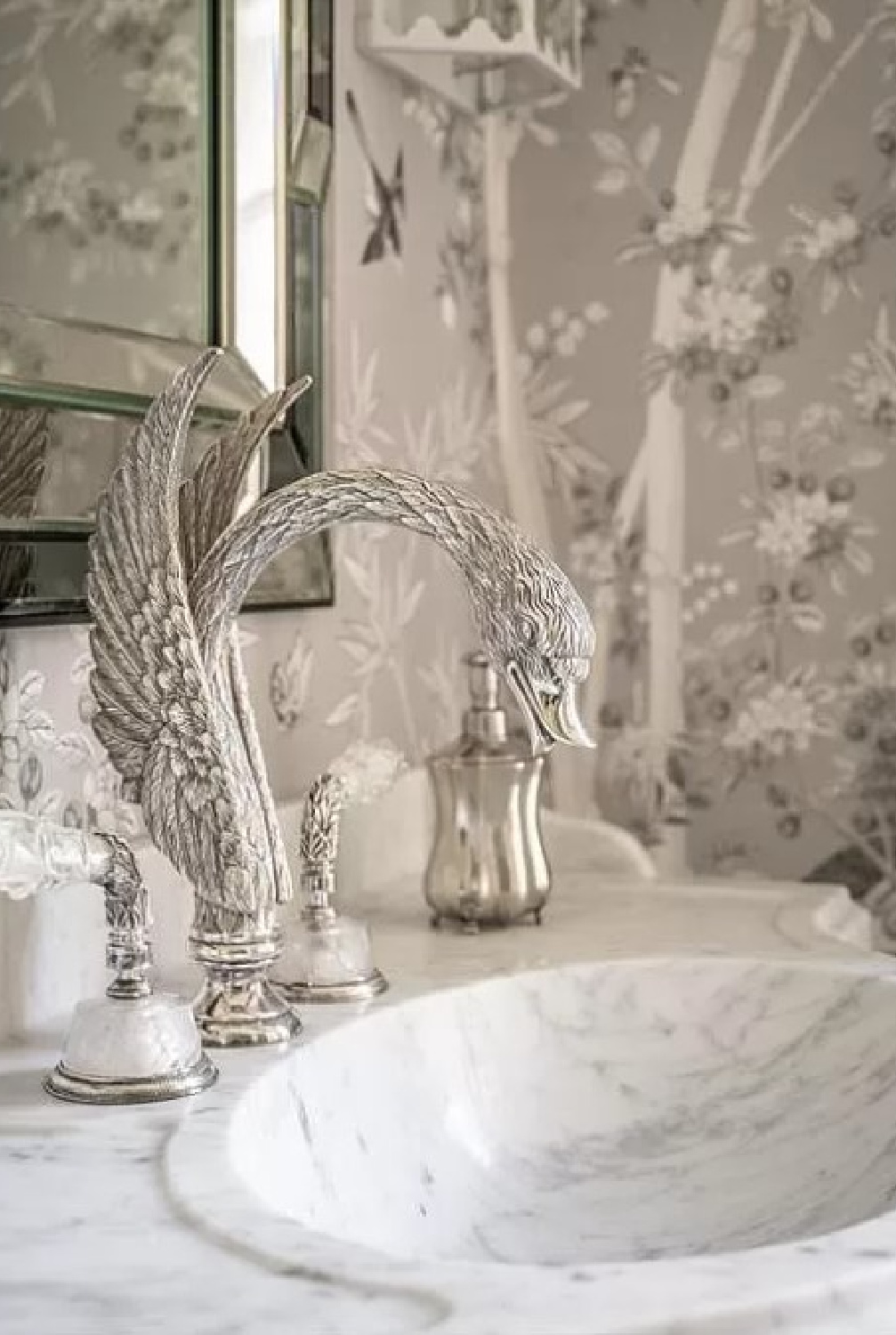 Fanciful Wall Murals Throughout a Breathtaking Home
You can't miss the attention to detail in these spaces with timeless motifs rendered artfully on the walls.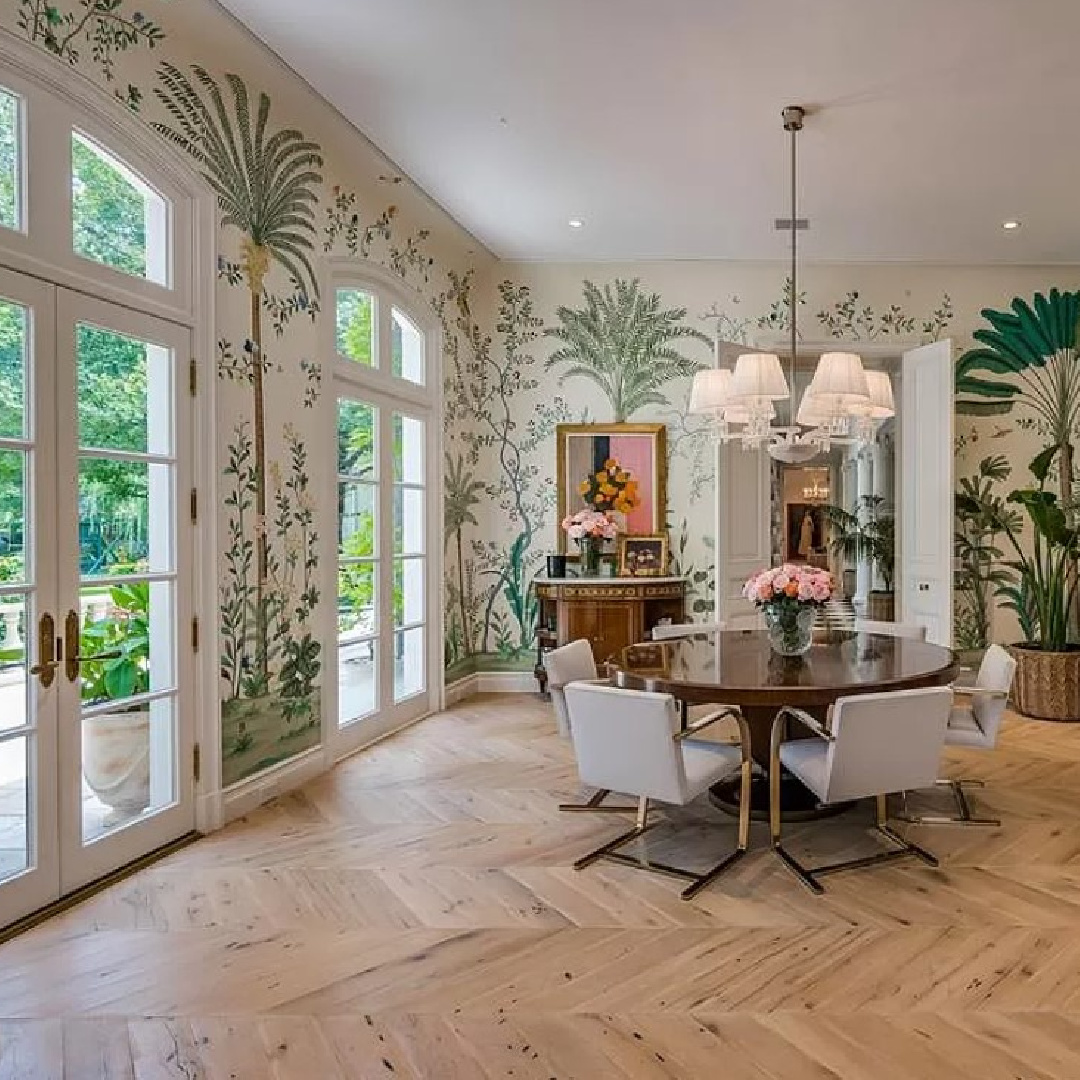 Imagine waking up to this delightful pattern in the breakfast area: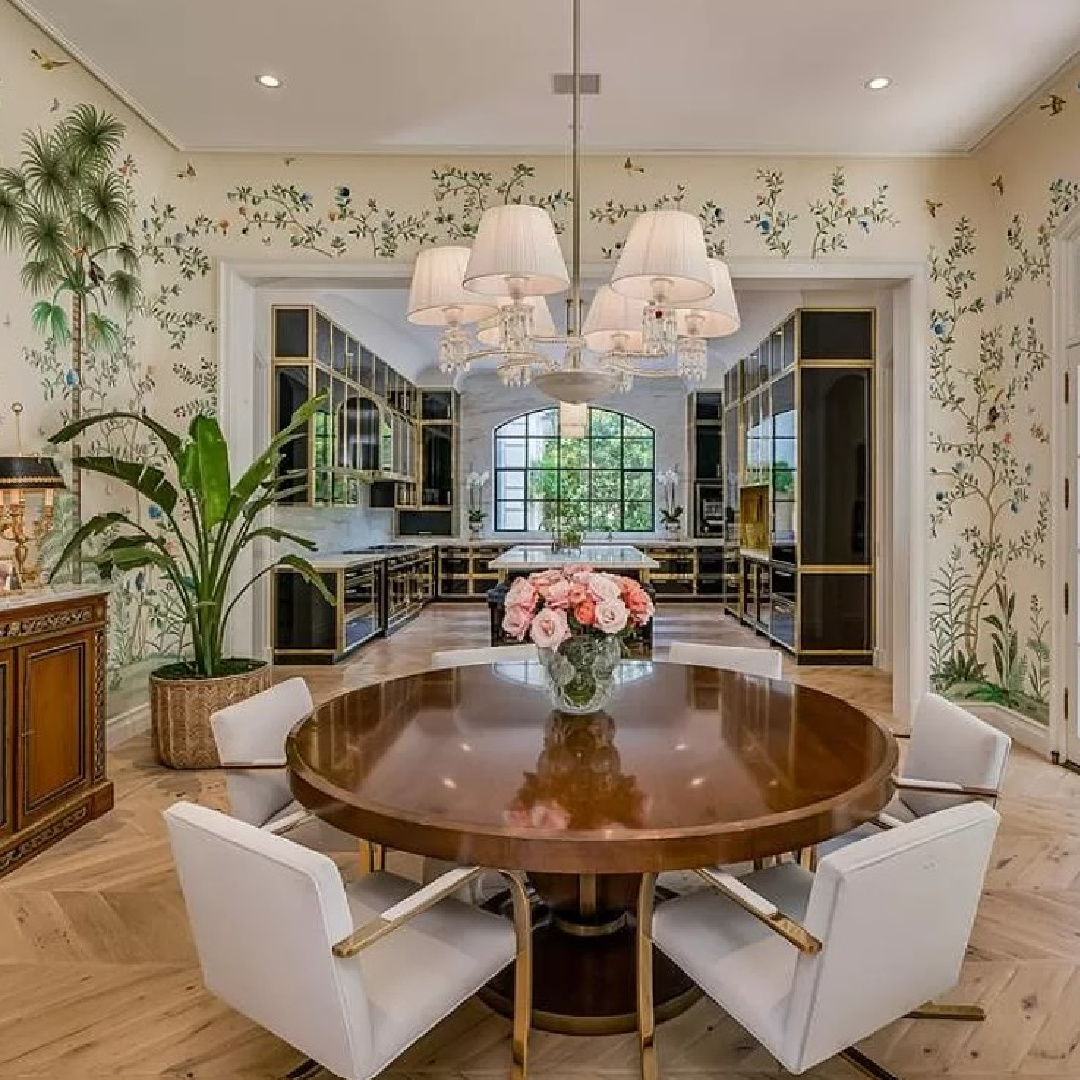 The kitchen is showstopping for sure.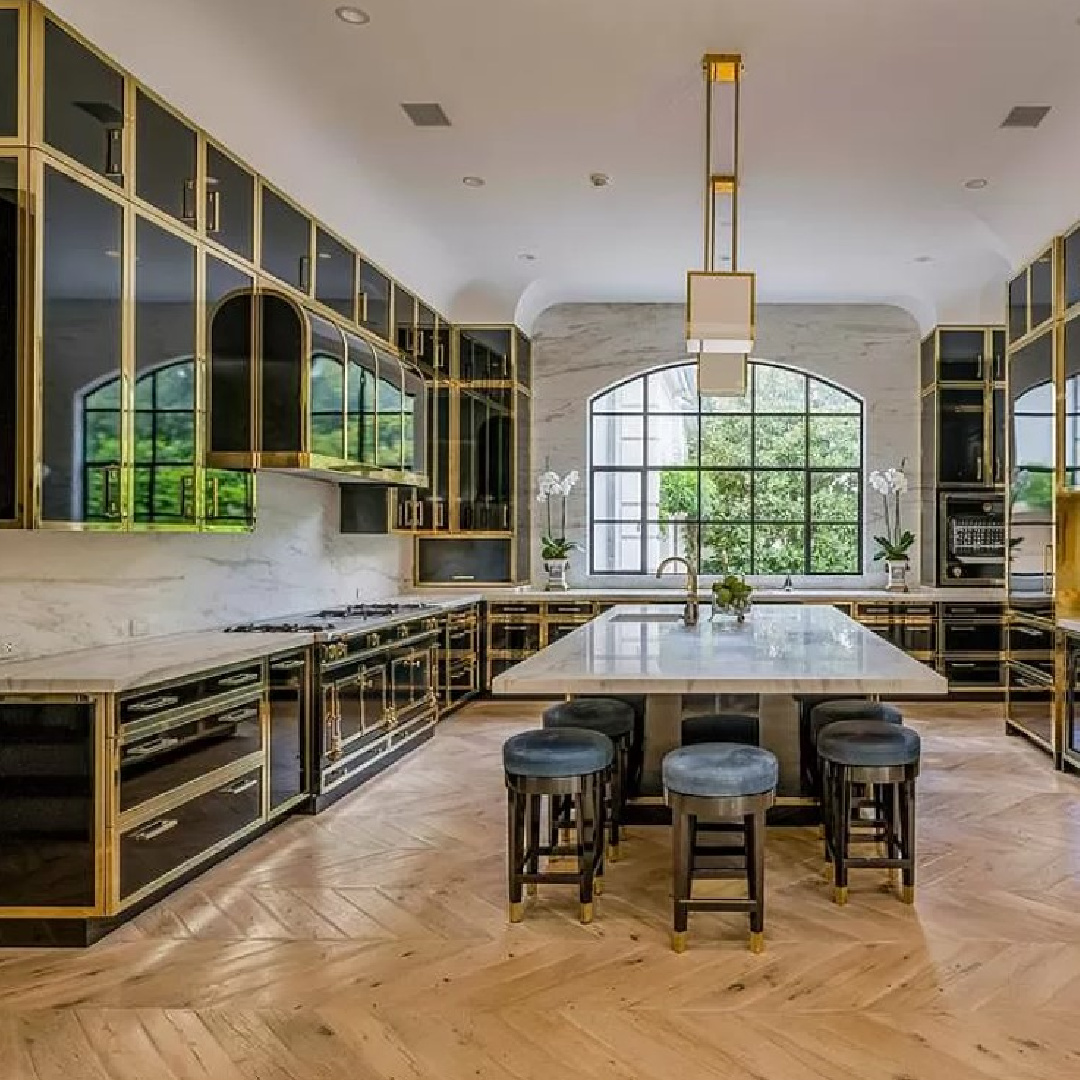 Straight out of a Parisian palace!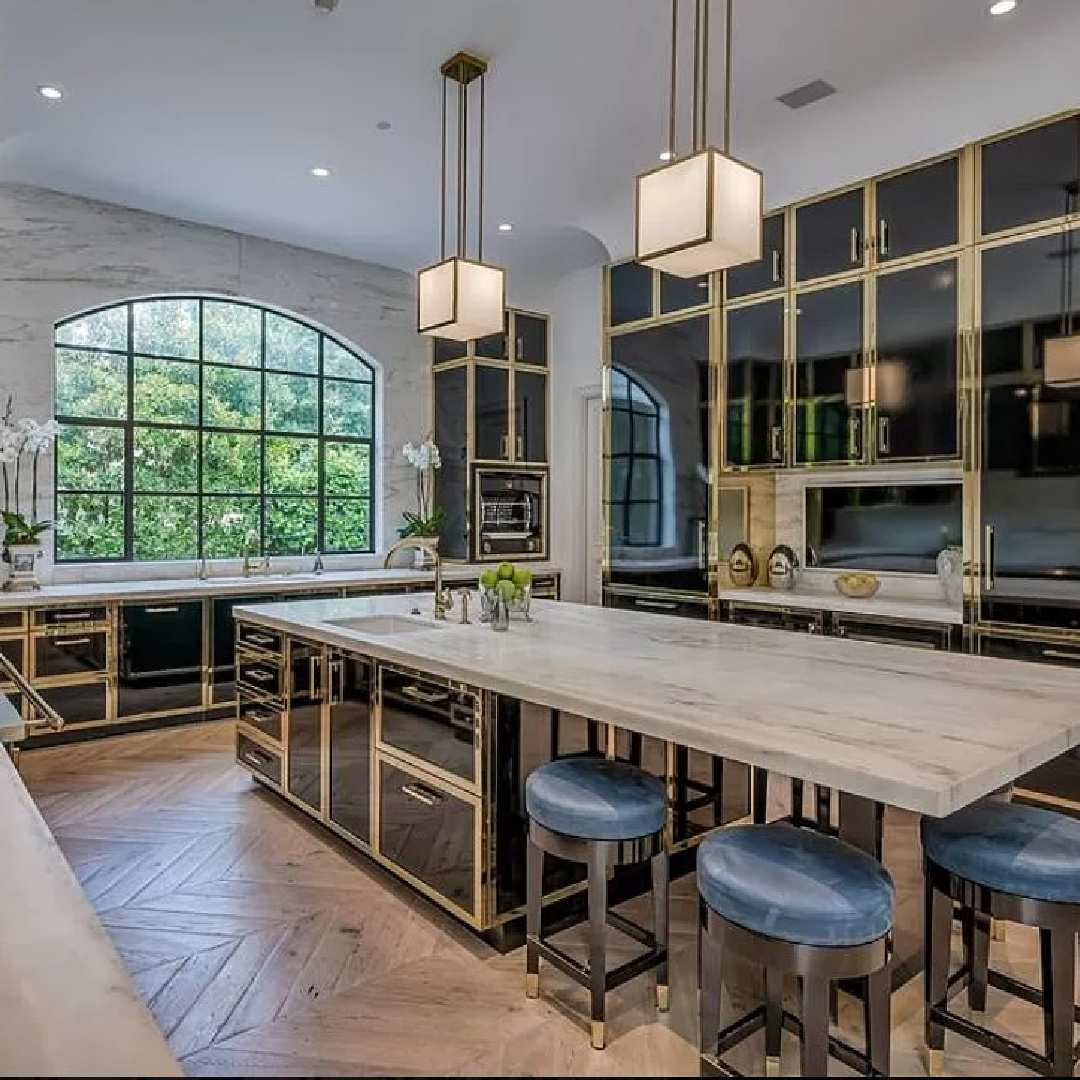 It certainly gets the imagination churning.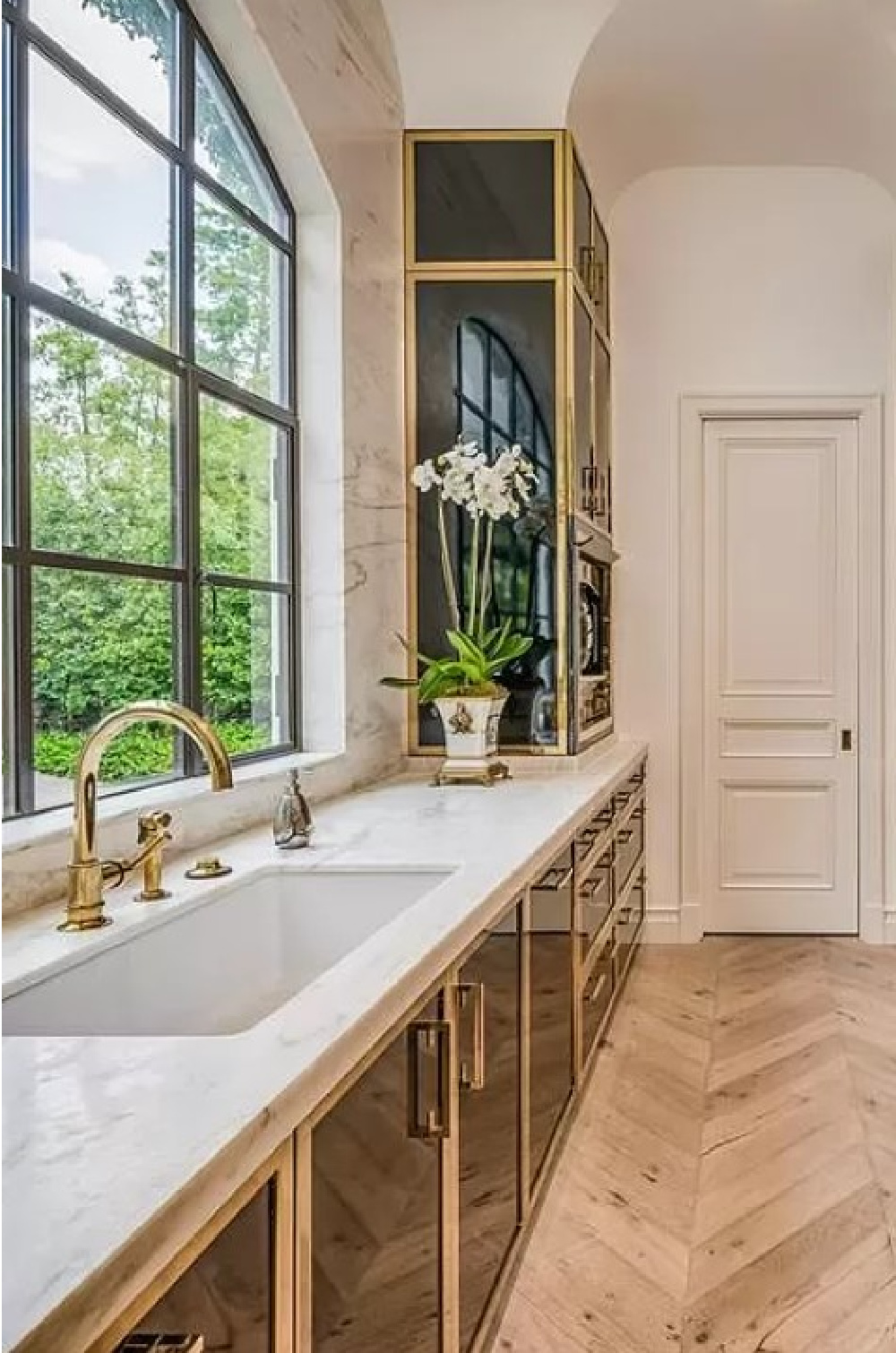 Not so much about creating something similar as much as who will call this space home?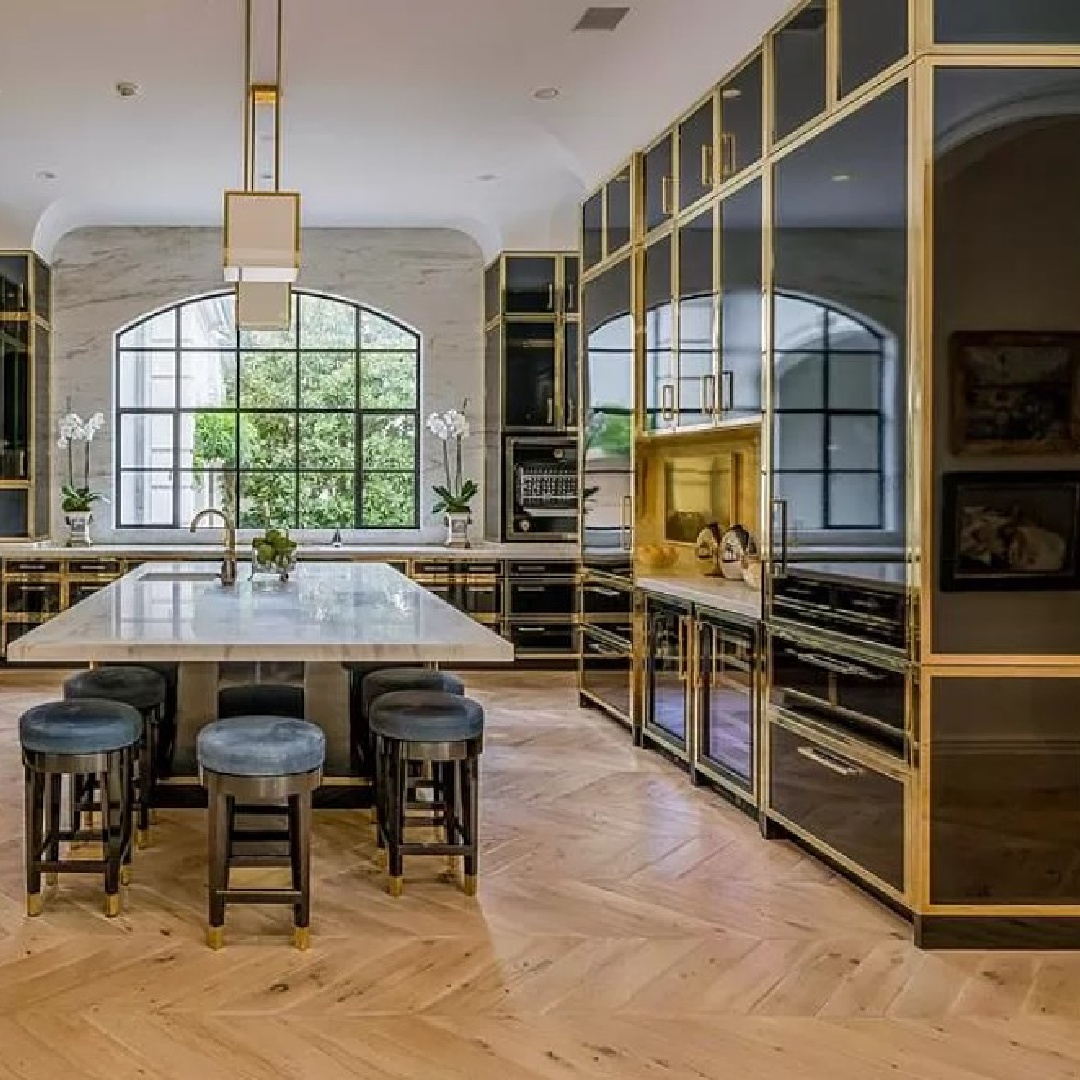 Who will be placing their tea in this pantry and opening these cabinet doors?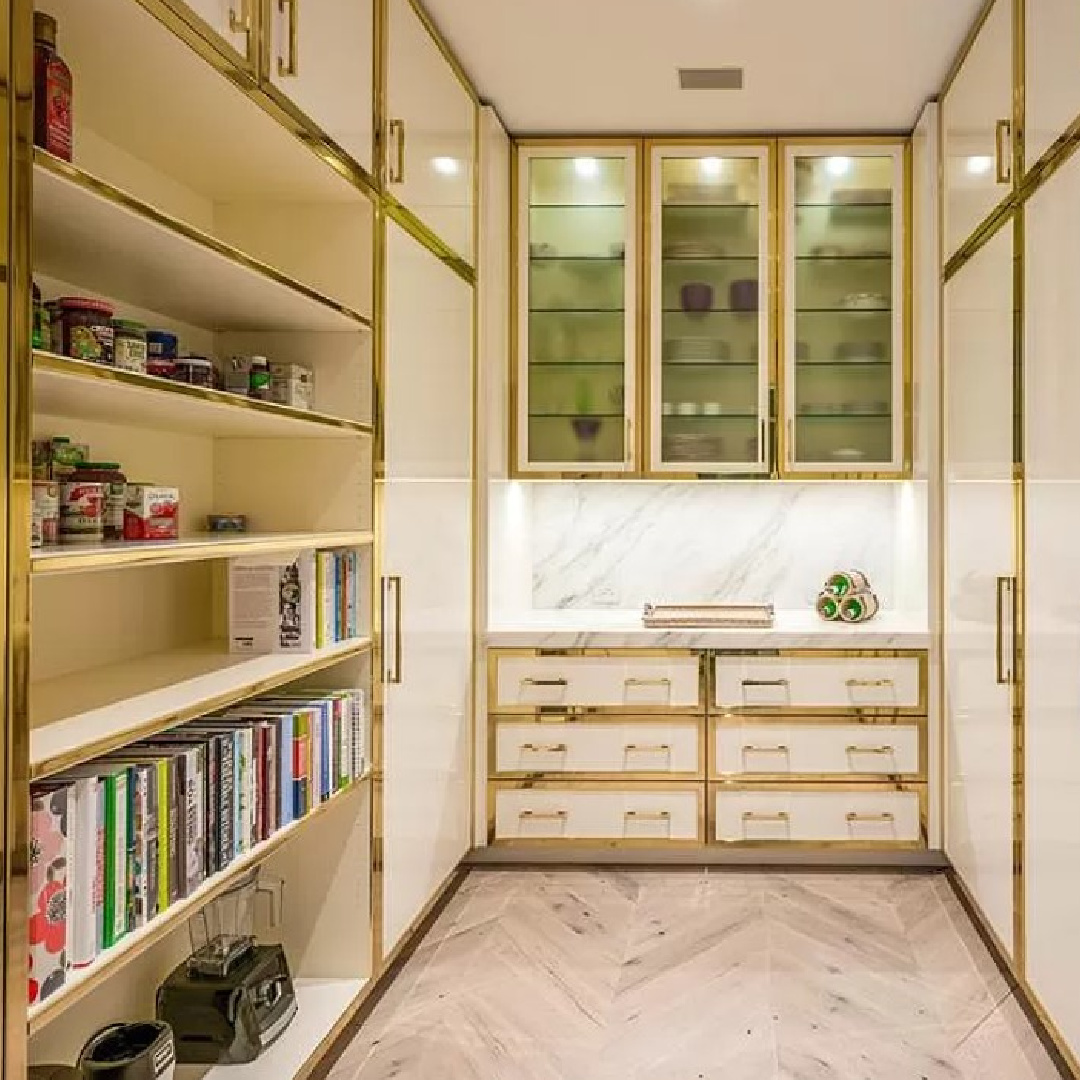 Blue Throughout a French Inspired Home
You can't miss the owner's love for blues and greens throughout this unforgettable home.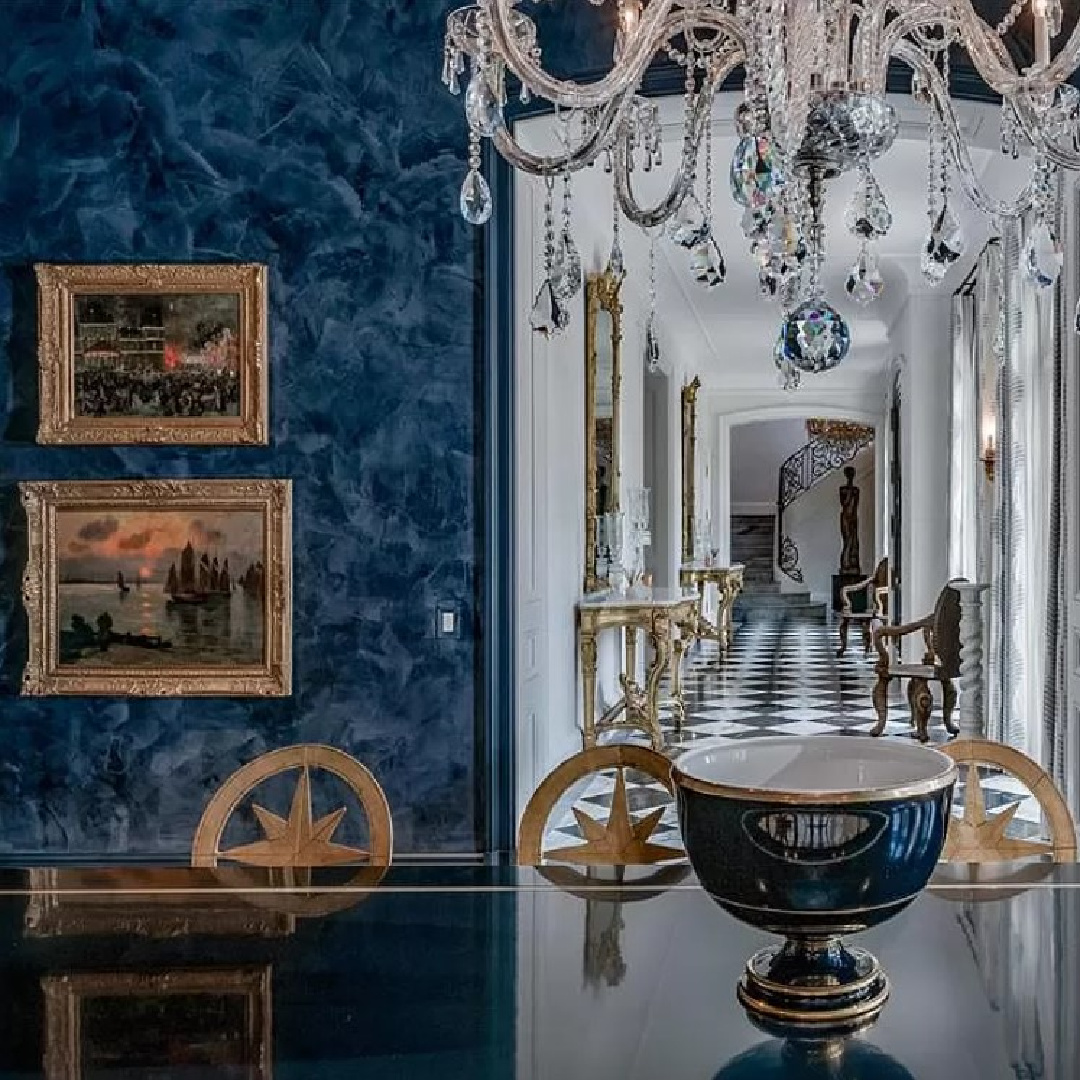 Isn't the royal blue in the dining room glorious?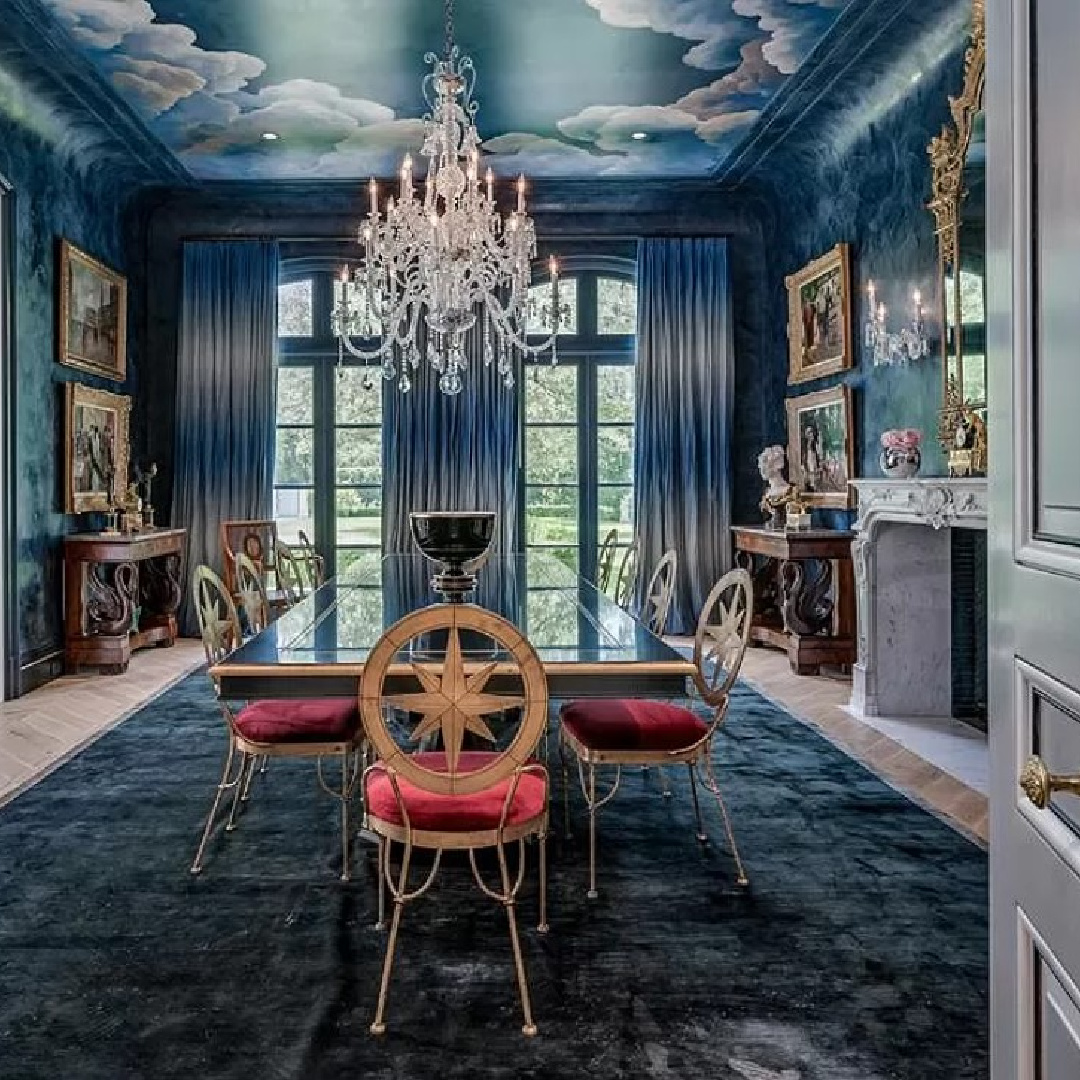 Royal is probably not the best description. Celestial? Starry? Inky? Midnight?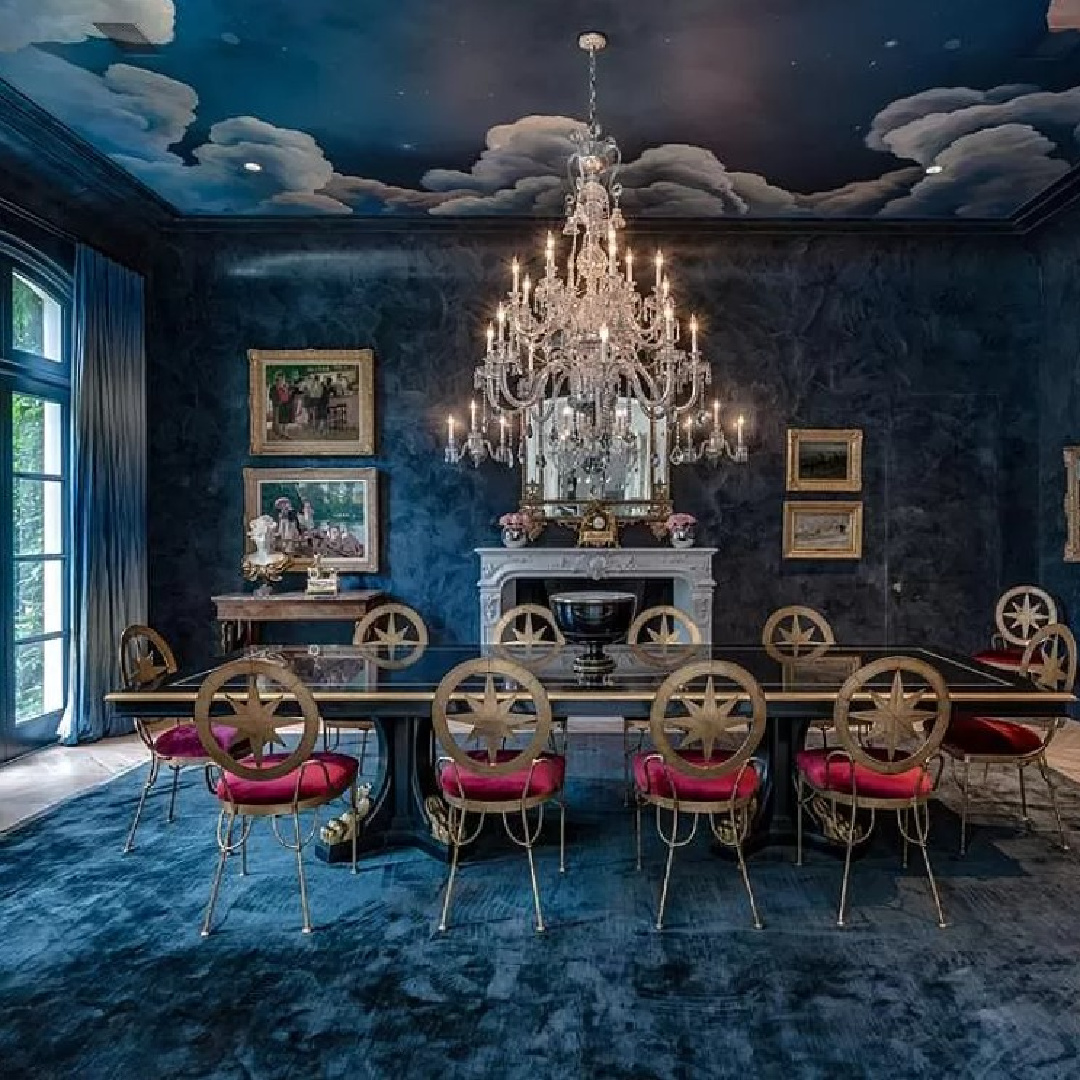 Notice how the blue draws you from the hall: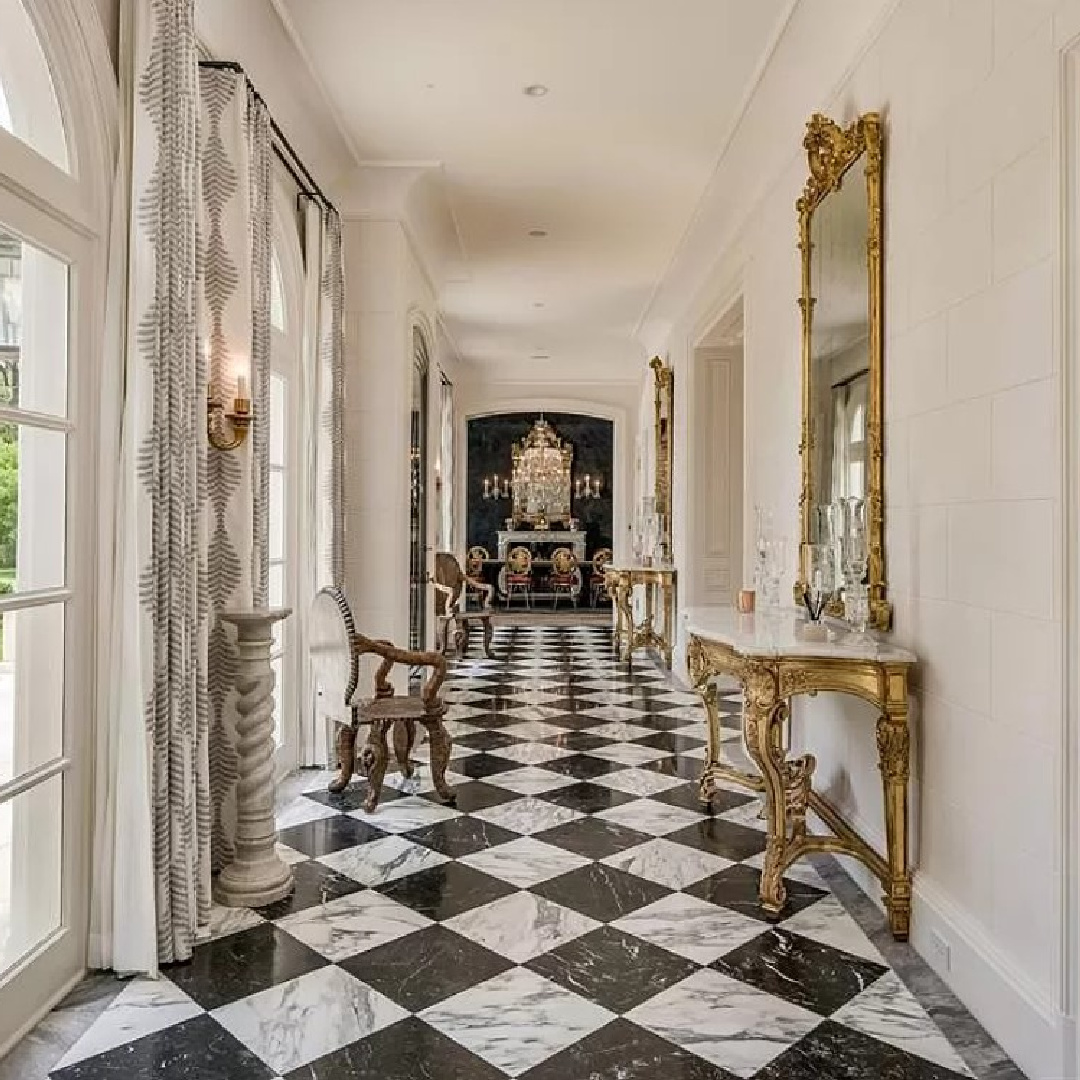 Fantasy time for sure!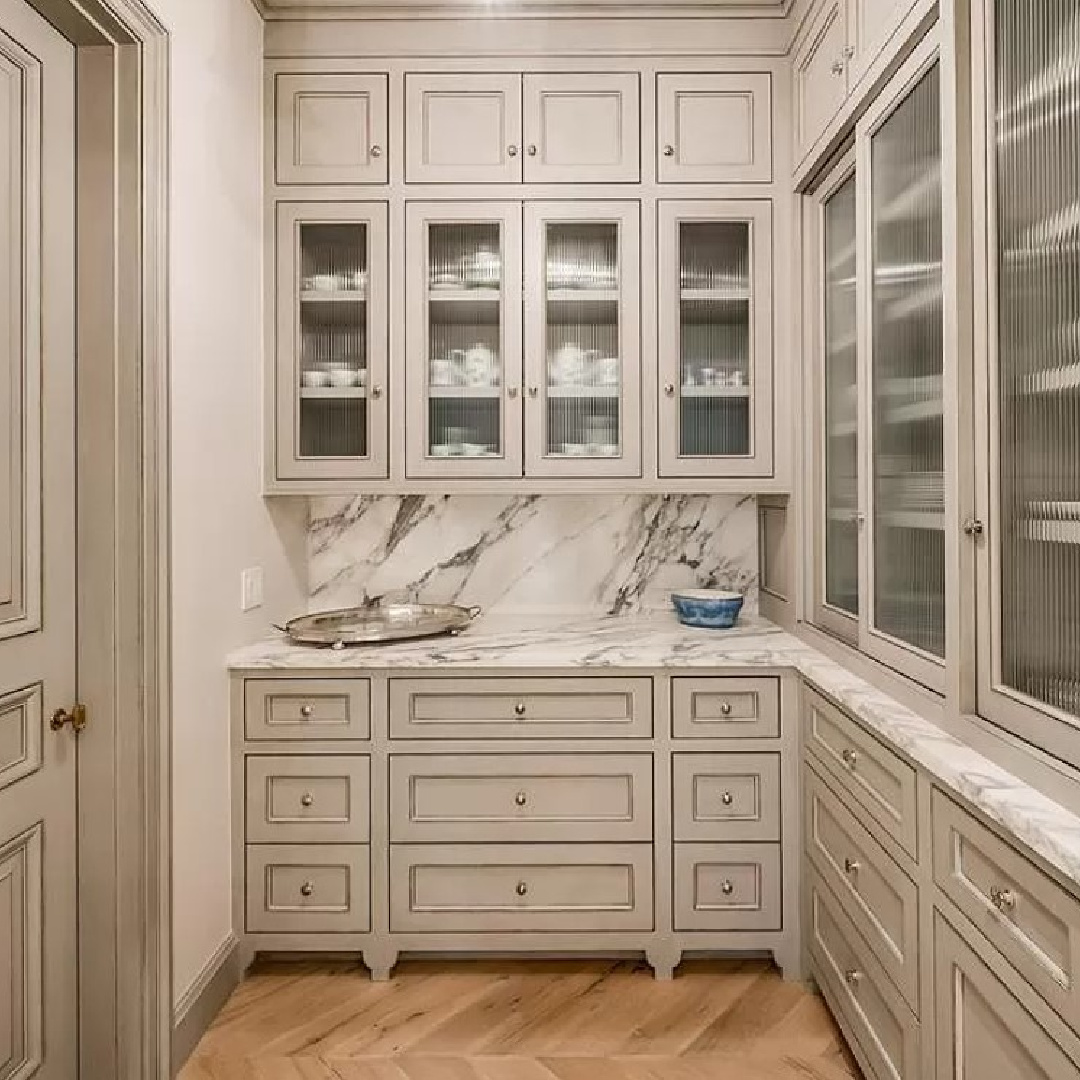 In a media room, there's a softer blue with grey undertones…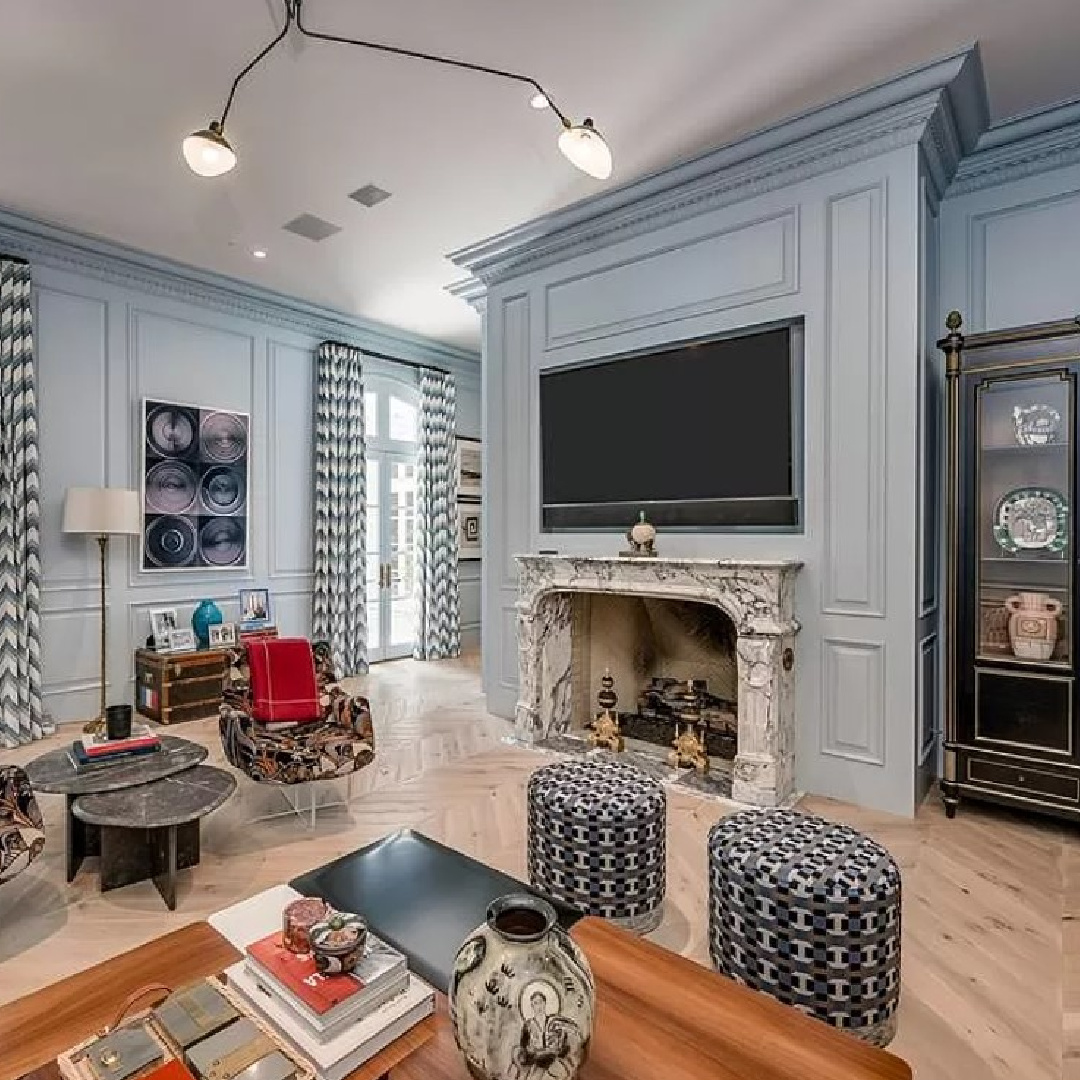 And what a gem of a blue in an elegant pantry: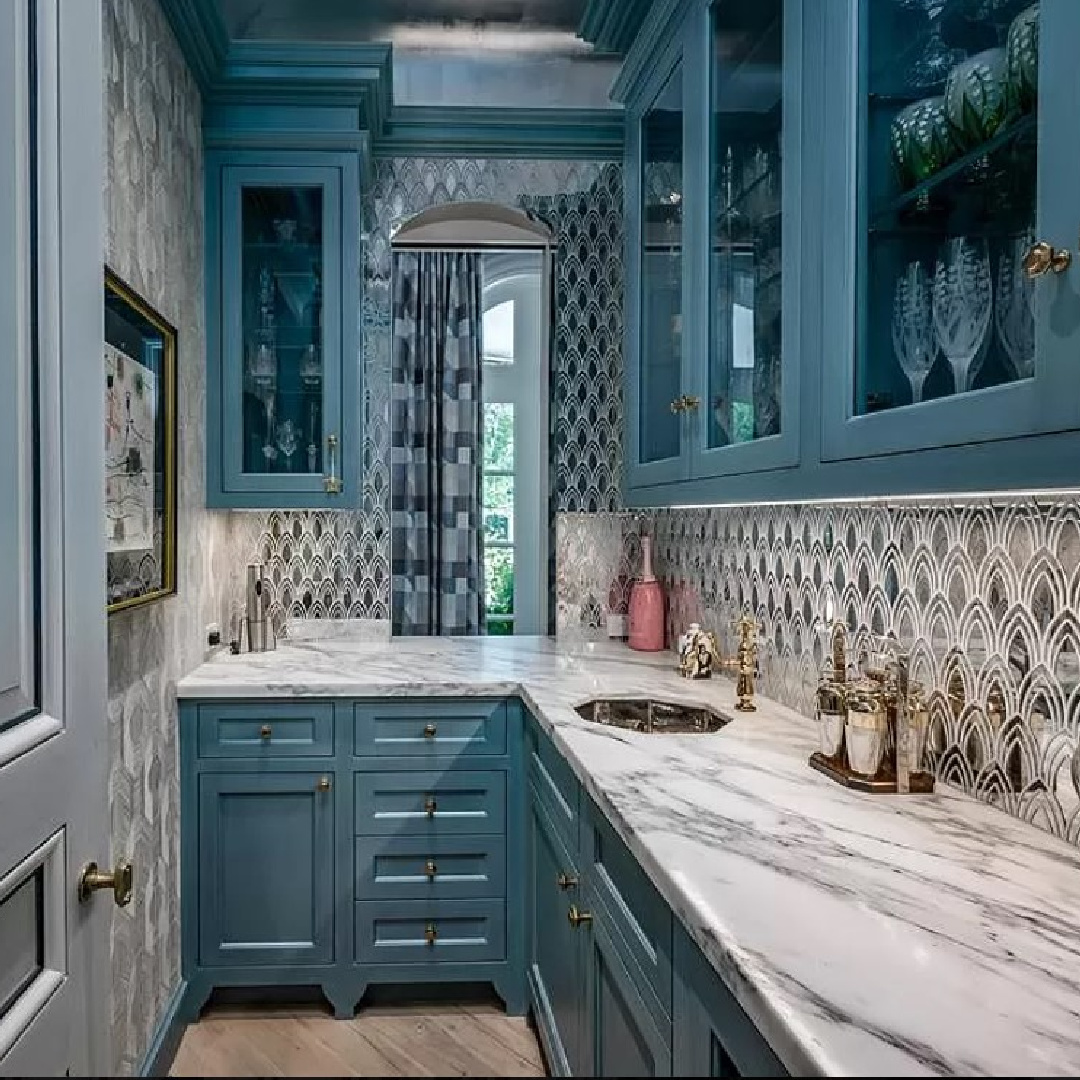 If ornate ironwork, limestone, custom boiserie and millwork, chevron-patterned parquetry, trompe l'oeil and tracery ceilings, and antique ceilings are calling…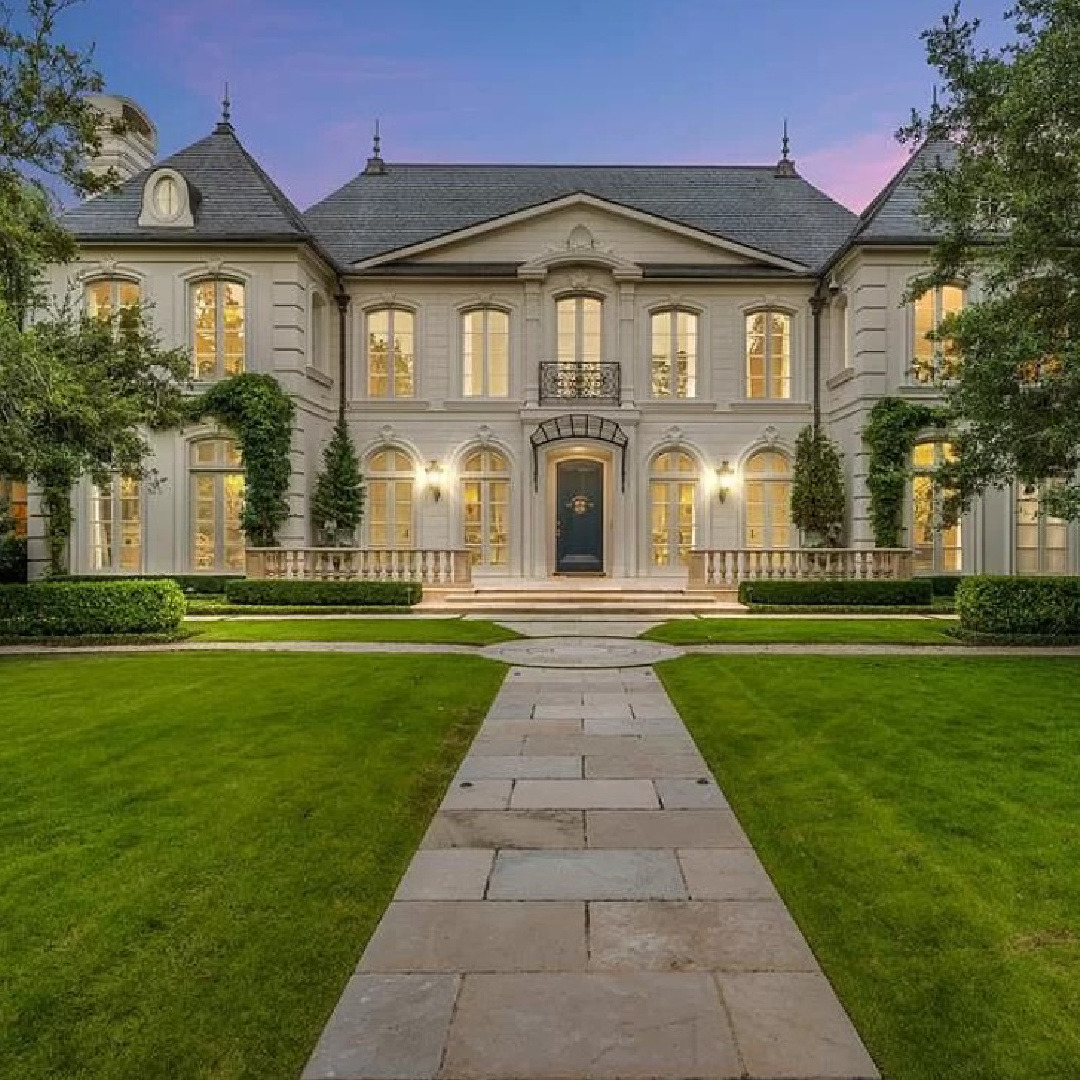 at least we can virtually drink them in here!
I independently selected products in this post—if you buy from one of my links, I may earn a commission.
Peace to you right where you are.
-michele
Thanks for shopping RIGHT HERE to keep decor inspiration flowing on Hello Lovely!
Hello Lovely is a participant in the Amazon Services LLC Associates Program, an affiliate advertising program designed to provide a means for sites to earn fees by linking to Amazon.com and affiliated sites.