The inspiring, ethereal, and timeless blue kitchen in the 2017 Southeastern Designer Showhouse left an indelible impression on Hello Lovely readers. Followers keep clamoring for the design elements in the showstopping timeless blue kitchen and dining area designed by Matthew Quinn of Design Galleria and decorated by Lauren DeLoach Interiors. So here we go again! You get the inside scoop, and I wonder who will be designing a pretty blue kitchen in our midst?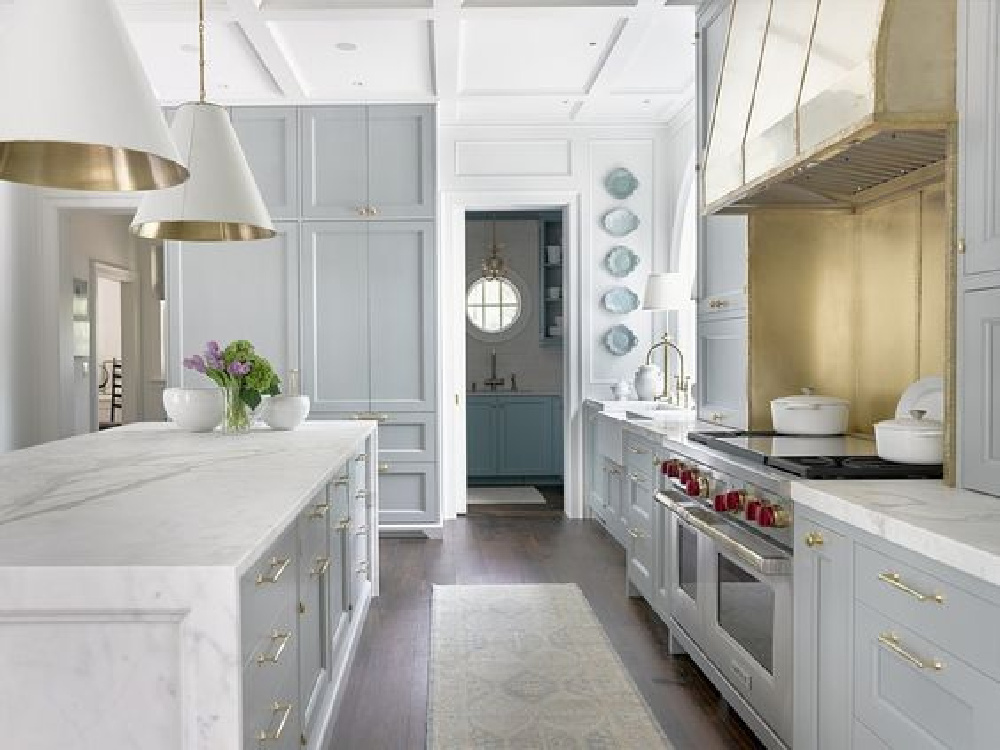 Timeless Silvery Blue Kitchen Designer Secrets
Project: Kitchen in 2017 Southeastern Designer Showhouse & Gardens
Design: Design Galleria Kitchen & Bath Studio
Lauren DeLoach Interiors
Images: Atlanta Homes, Design Indulgence
BONUS #1!!!! A beautiful video as well as short interview here: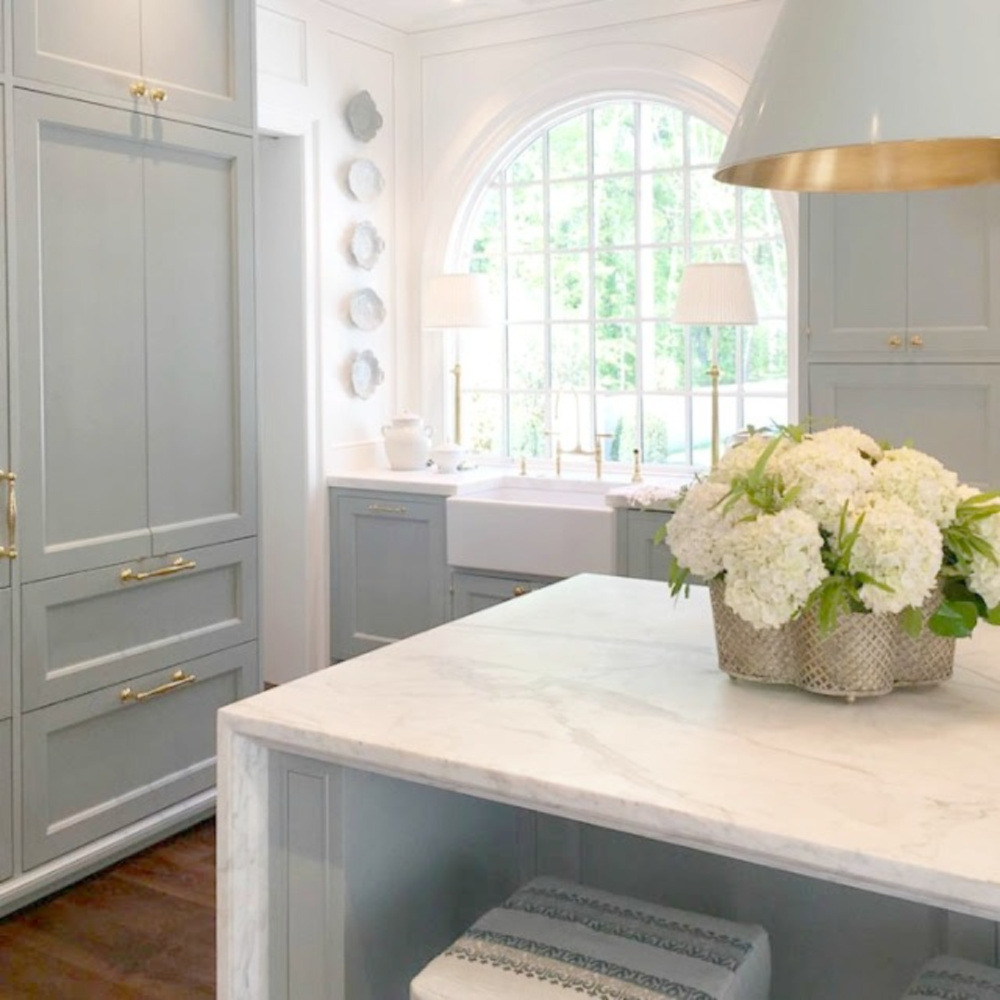 Interview With Lauren DeLoach
Interior designer Lauren DeLoach, graciously shared essential decor SECRETS behind this project as well as key design ingredients.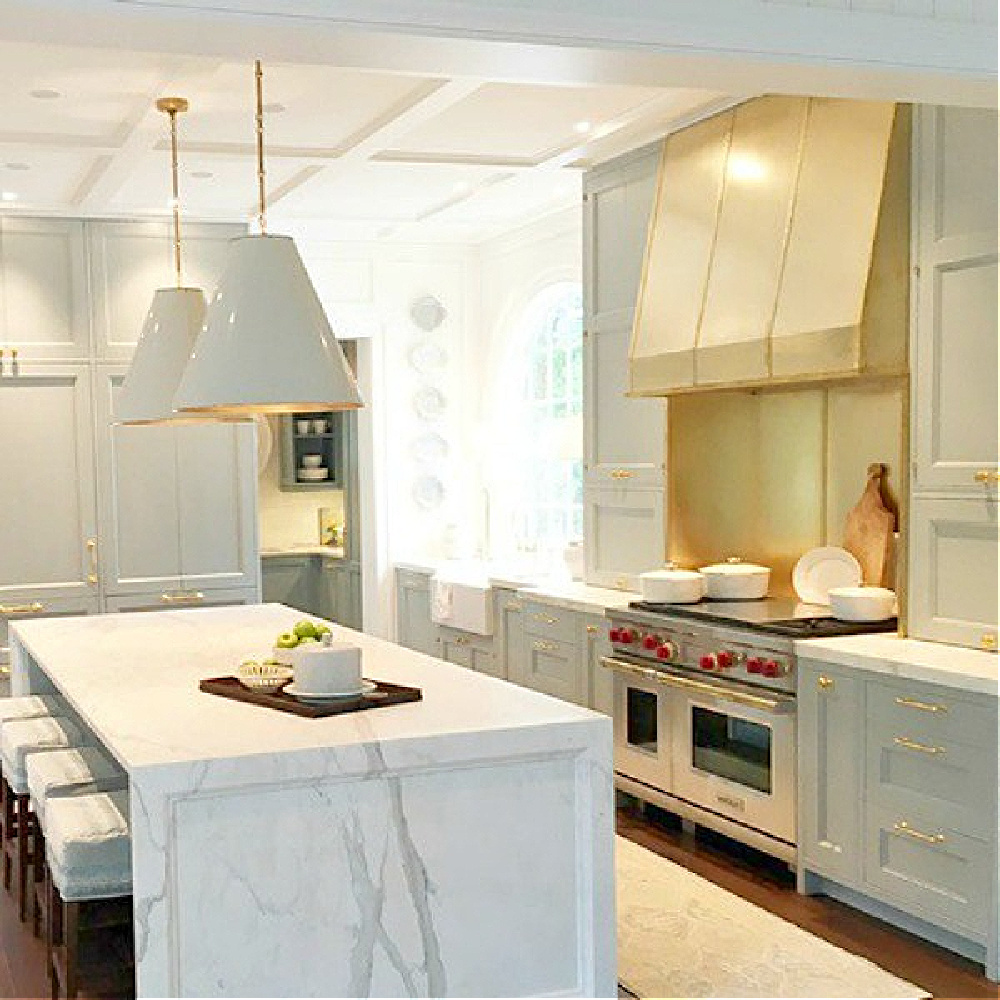 What design objectives guided the kitchen and pantry design?
We wanted to create a cozy, proportional kitchen, and this home has a ton of old character and also classic details. The kitchen needed to fit in without standing out in scale.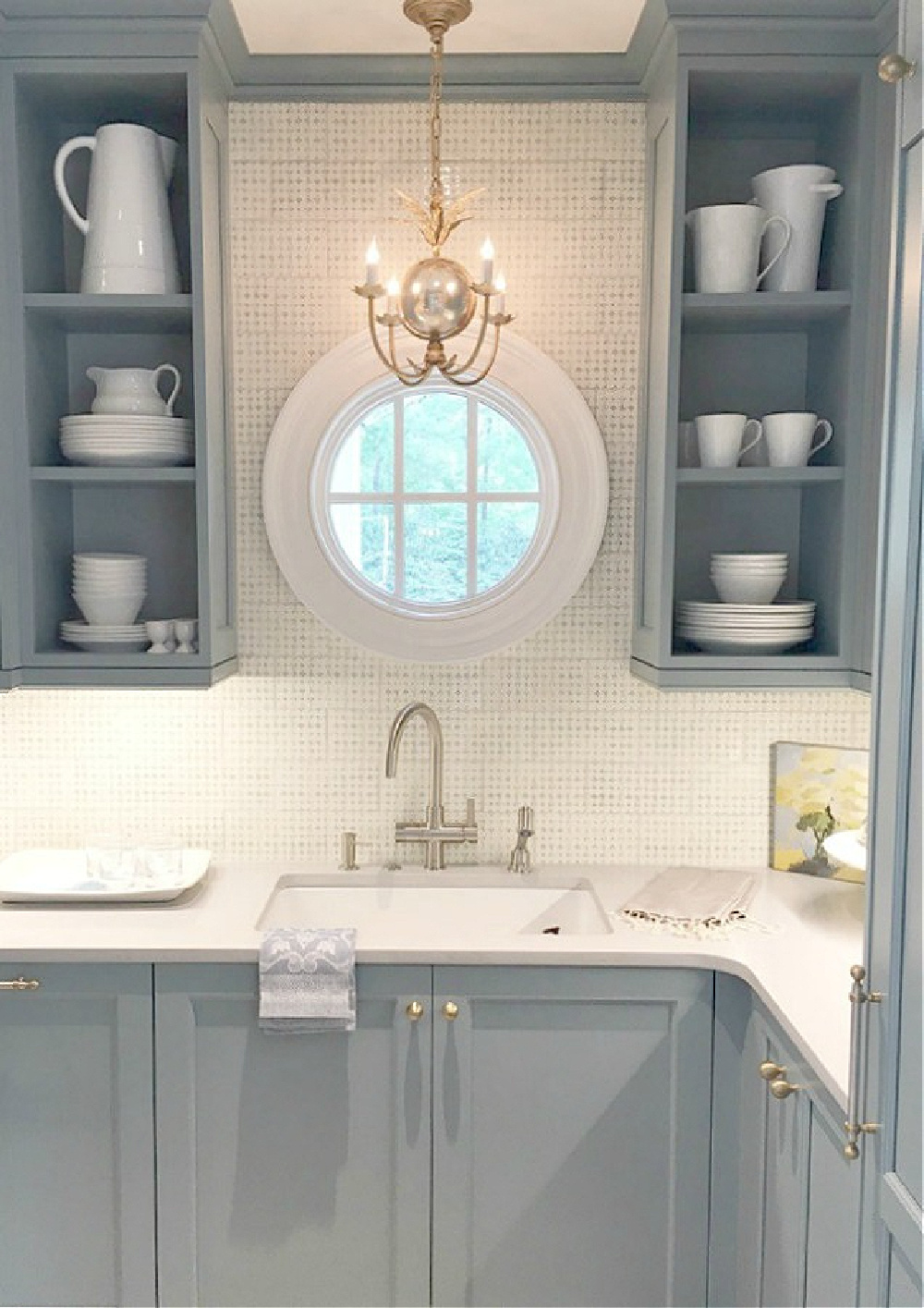 Boring as it may sound, functionality was our main objective, and Matthew is the master at making a place for everything.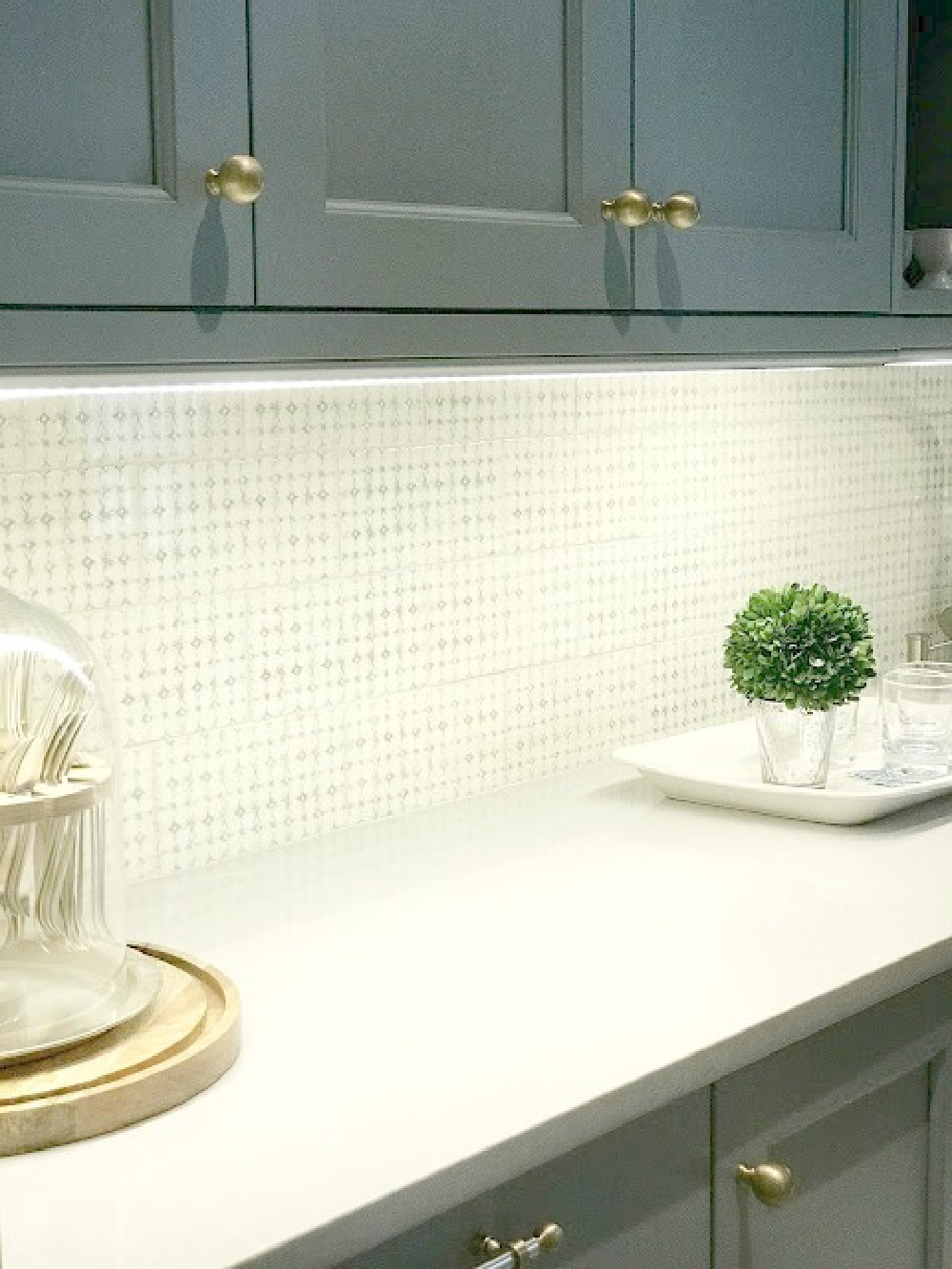 The butlers' pantry has lots of storage as well as a full size freezer and dishwasher.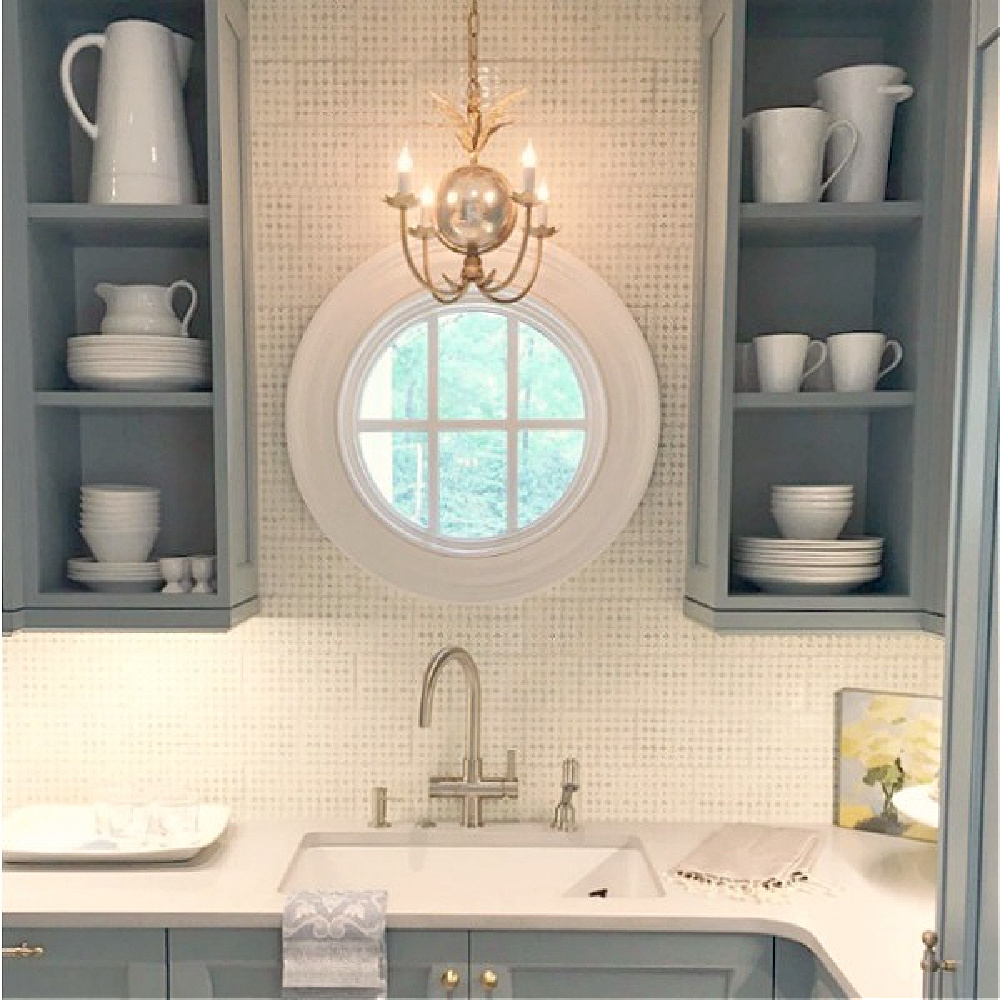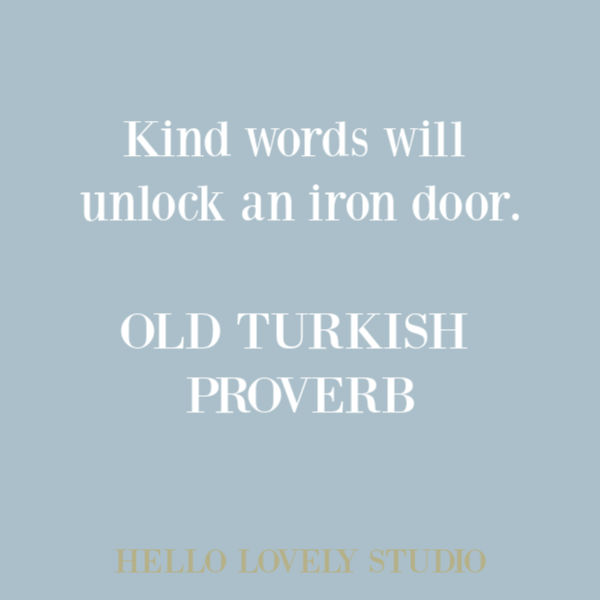 Breathtaking & Timeless Blue Color Palette in an Elegant Kitchen
What inspired the divine color palette?
We preferred a color other than white, and blue is the homeowner's favorite color.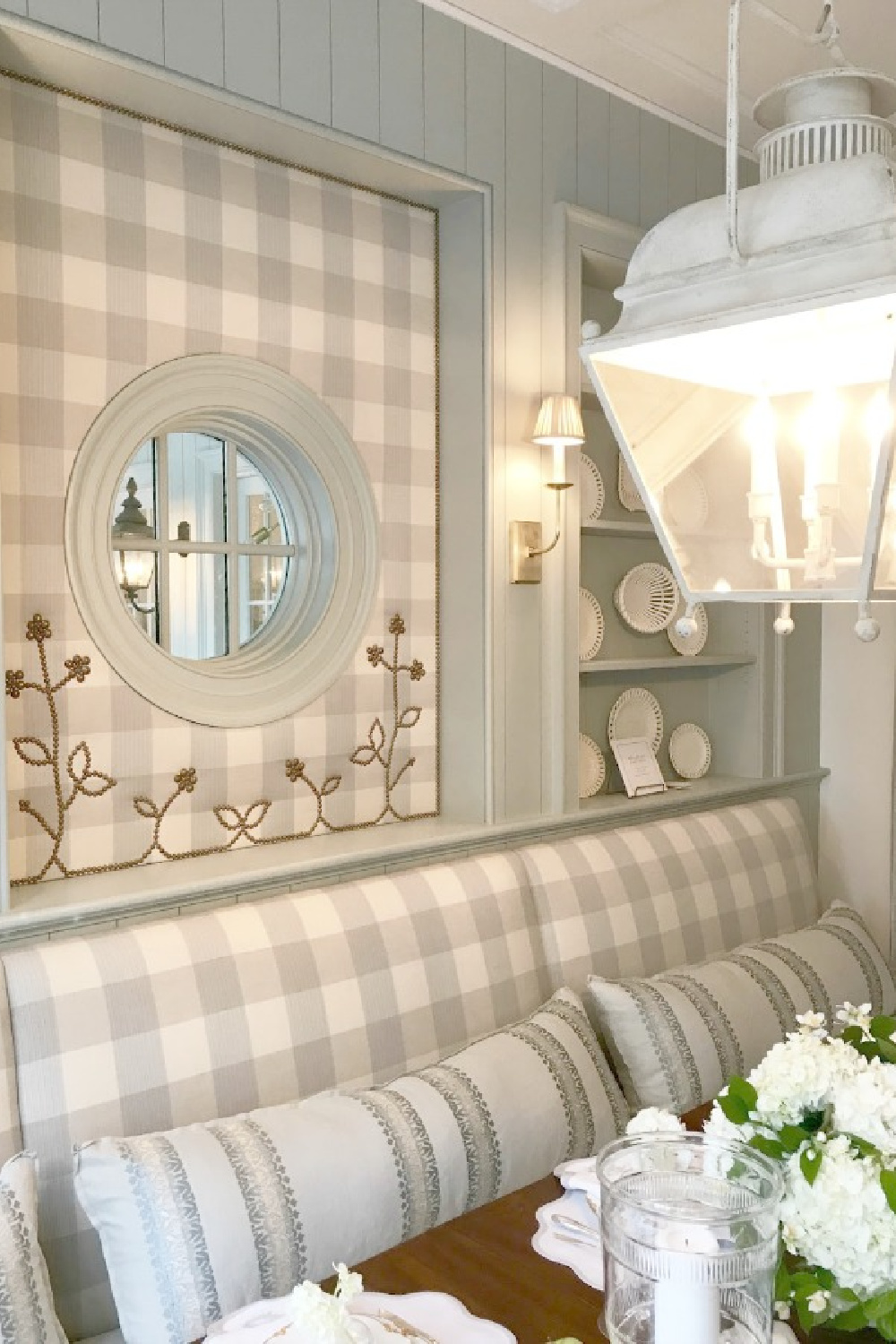 Farrow & Ball Light Blue No. 22 works almost as a neutral in the space, and Matthew Quinn and I loved the idea of using brass accents with the light blue.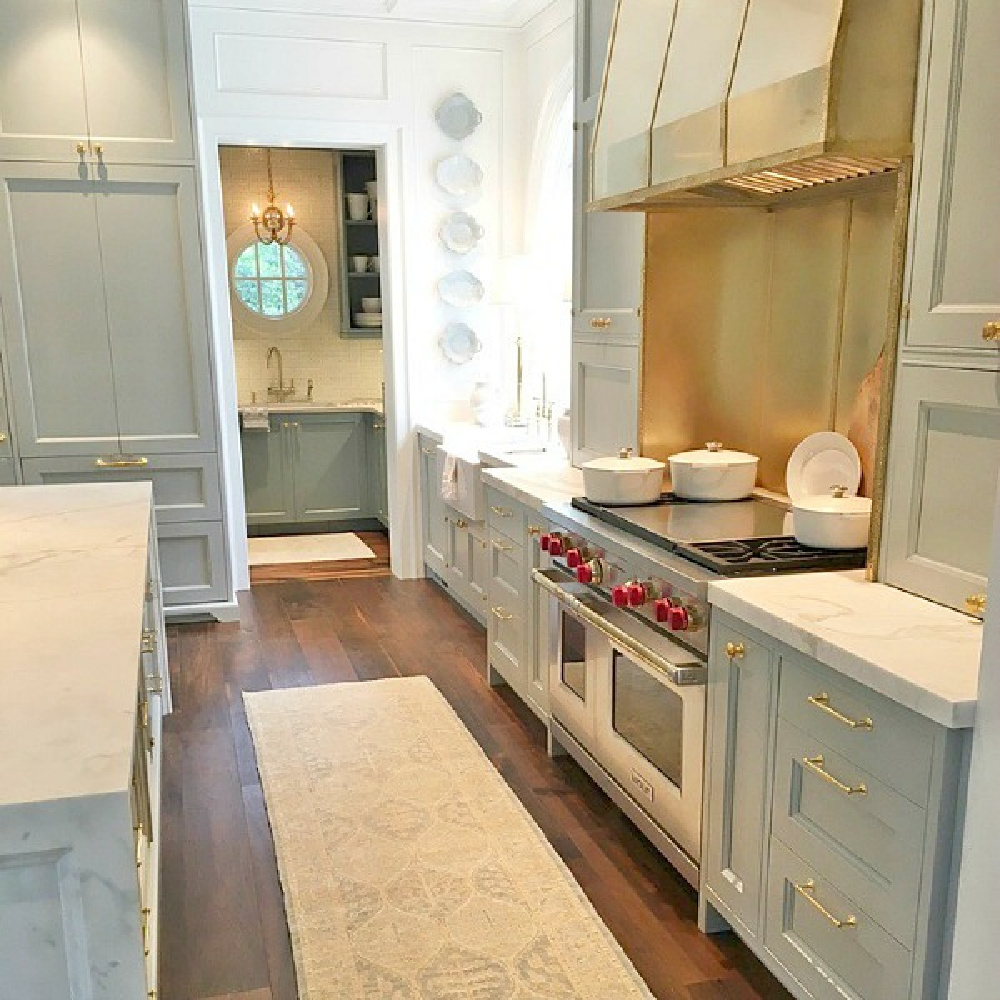 Something you may not be able to see from photos is how the paint is brushed on the cabinets. We all felt this made the kitchen feel more a part of the original house…as though the cabinetry had been painted many times over the years!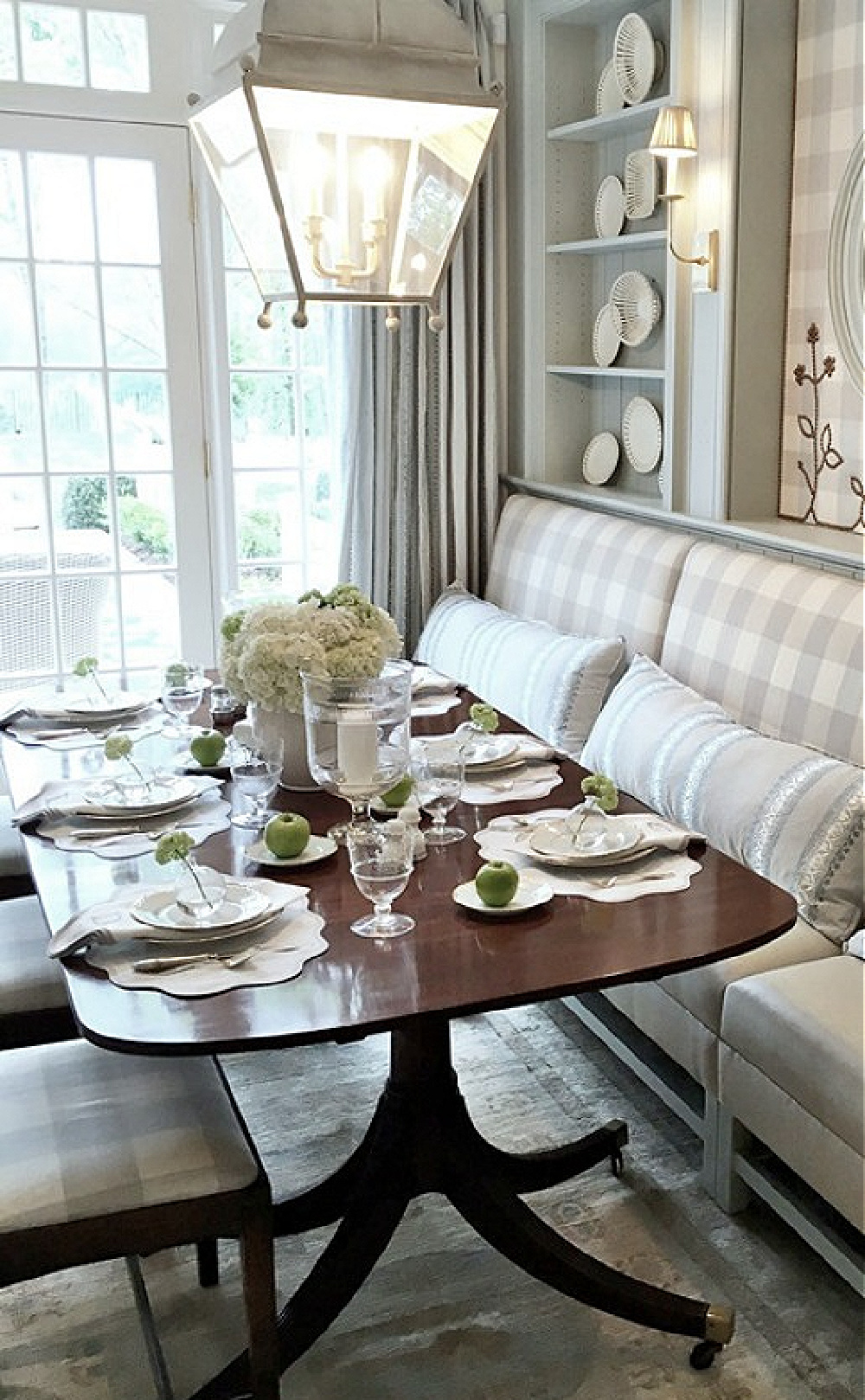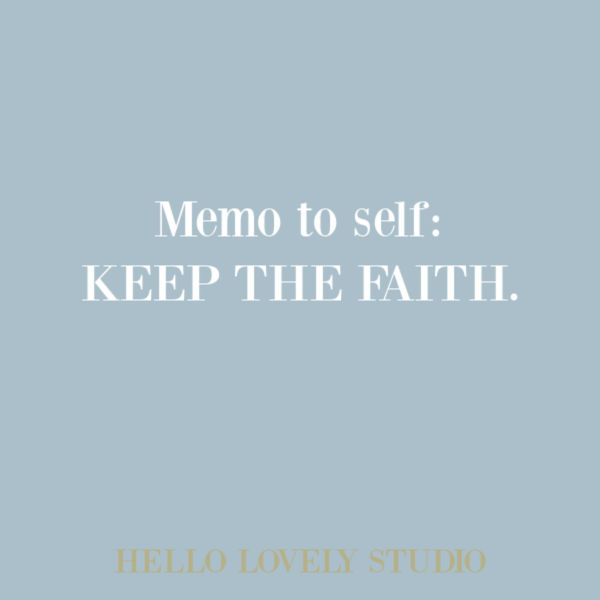 Paint Colors in This Timeless Kitchen
Can you supply the insider scoop about more details?
>PAINT COLORS – Sherwin-Williams ALABASTER on walls; Farrow & Ball LIGHT BLUE on cabinetry.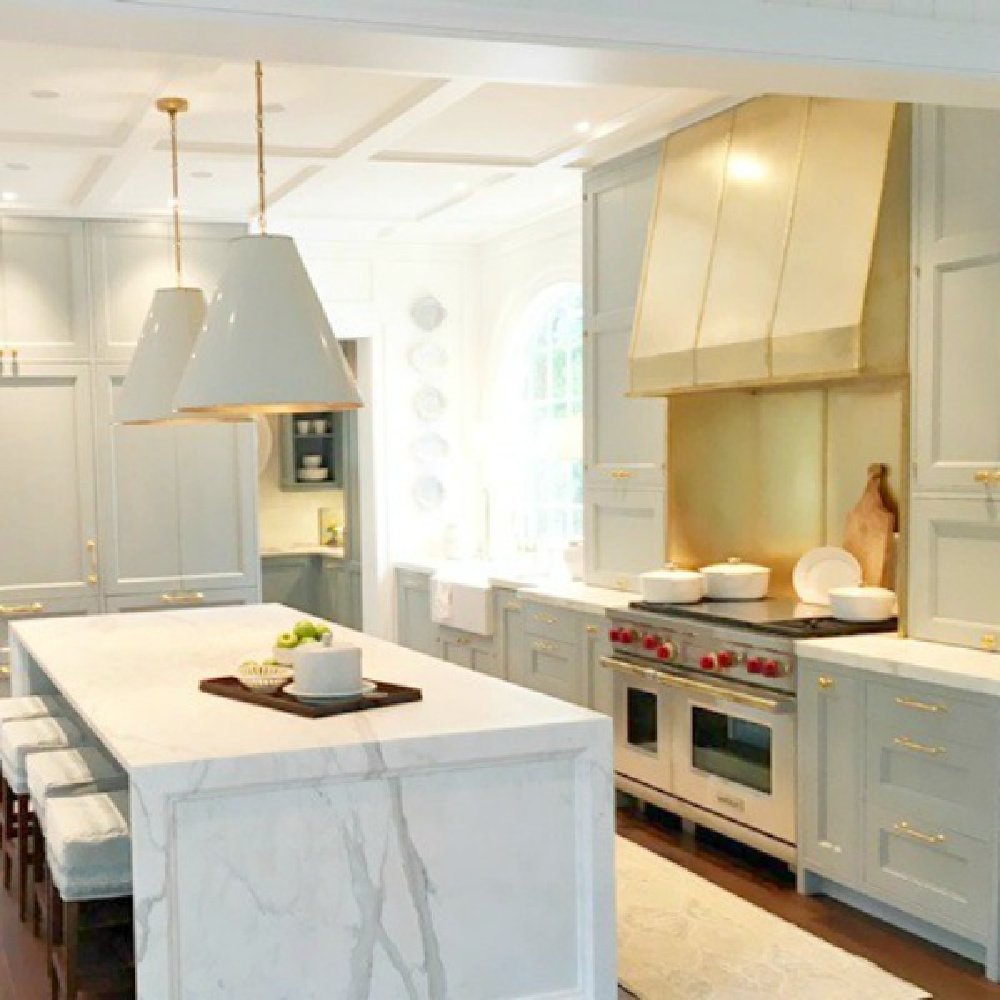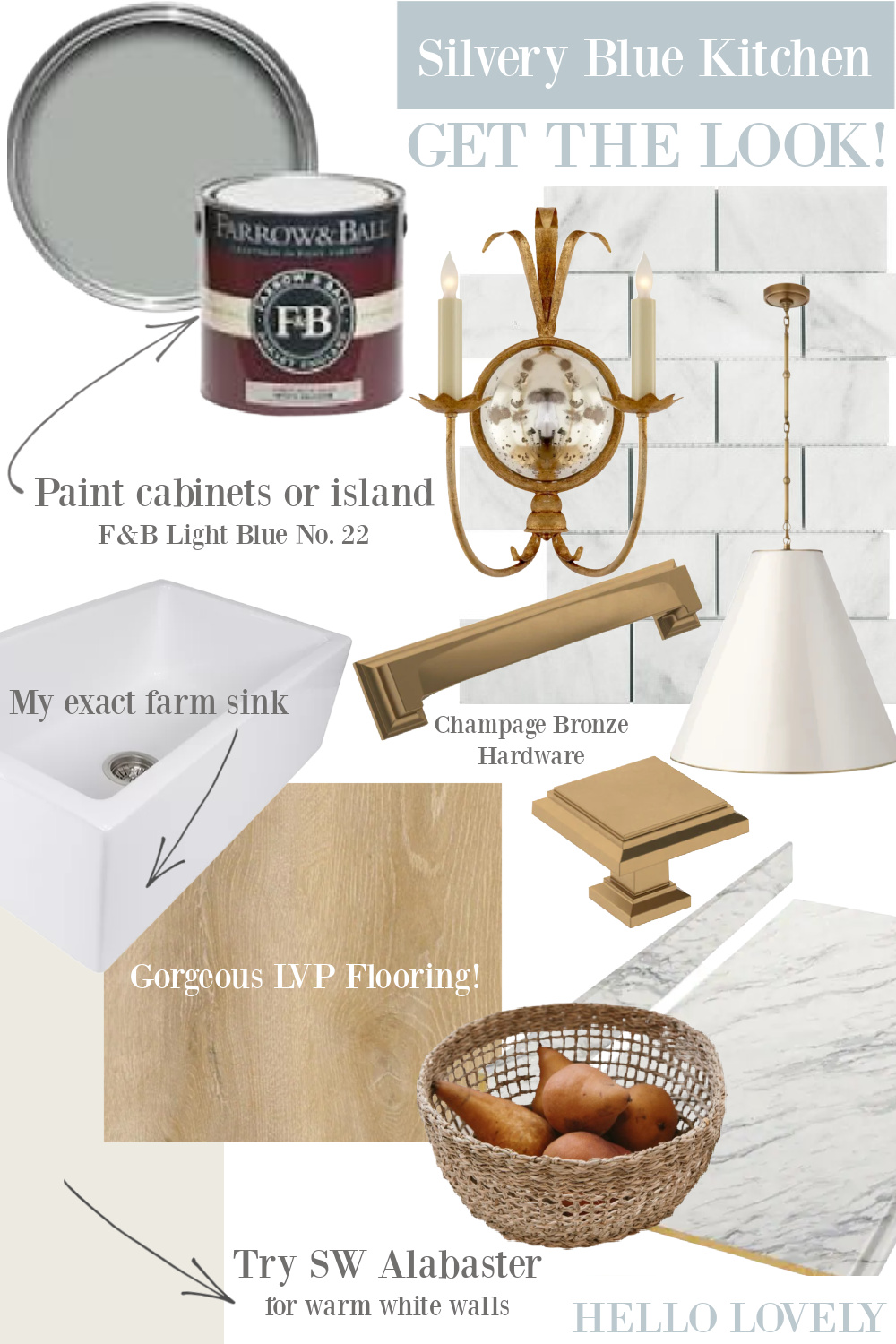 Kitchen Appliances in a Luxurious Showhouse
>RANGE HOOD – isn't it dreamy…the main material is a burnished brass, and the strapping is hammered polished brass.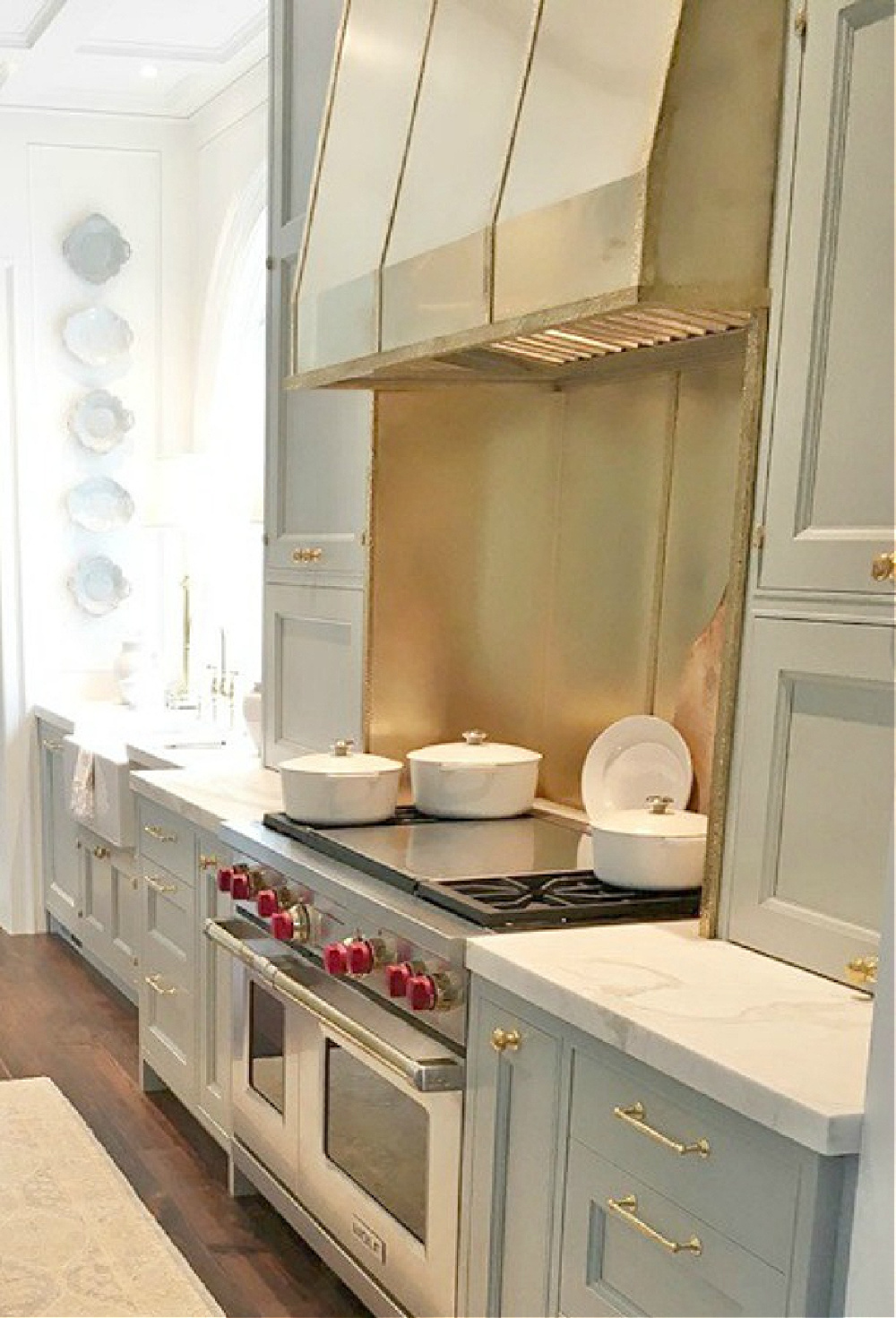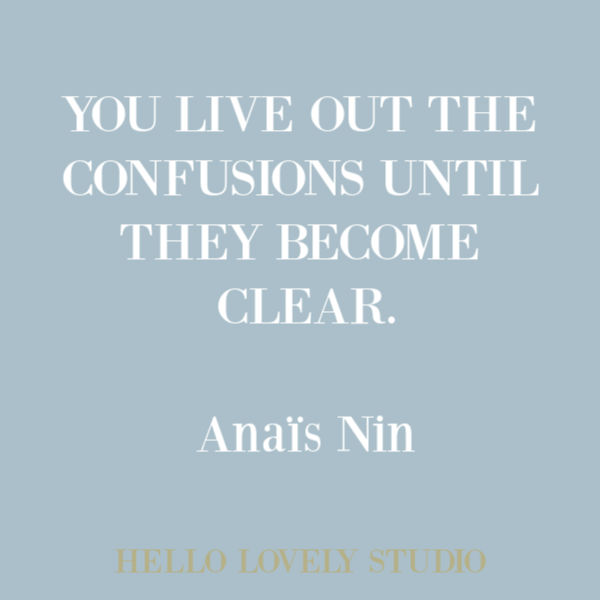 Designer Spills Secrets Behind Those Plates Near Farm Sink!
>PLATES ON WALL NEAR THE FARM SINK are antique Ridgeway plates I found at Interiors Market in Atlanta.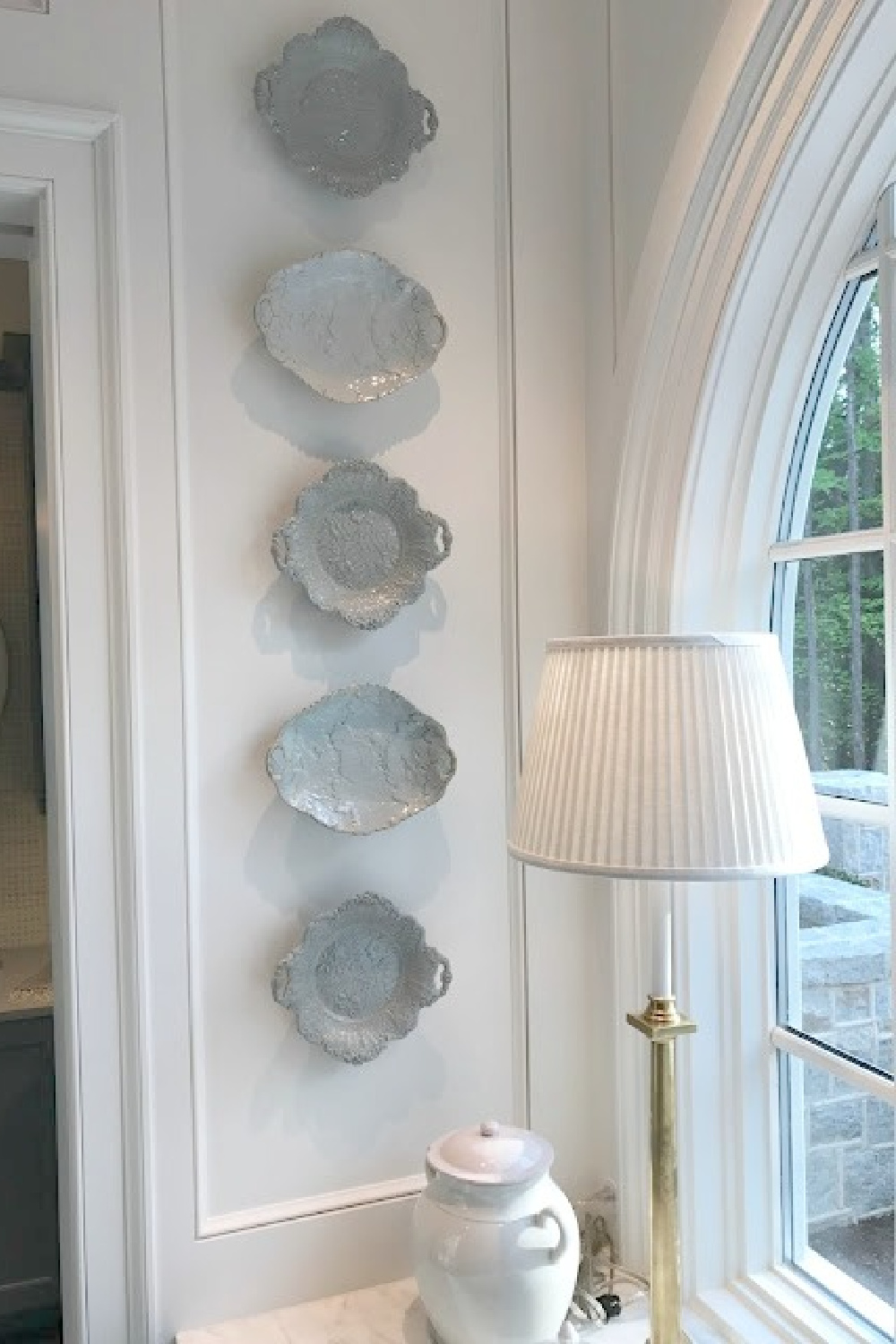 I have never seen any like them, and I'm constantly shopping antique china.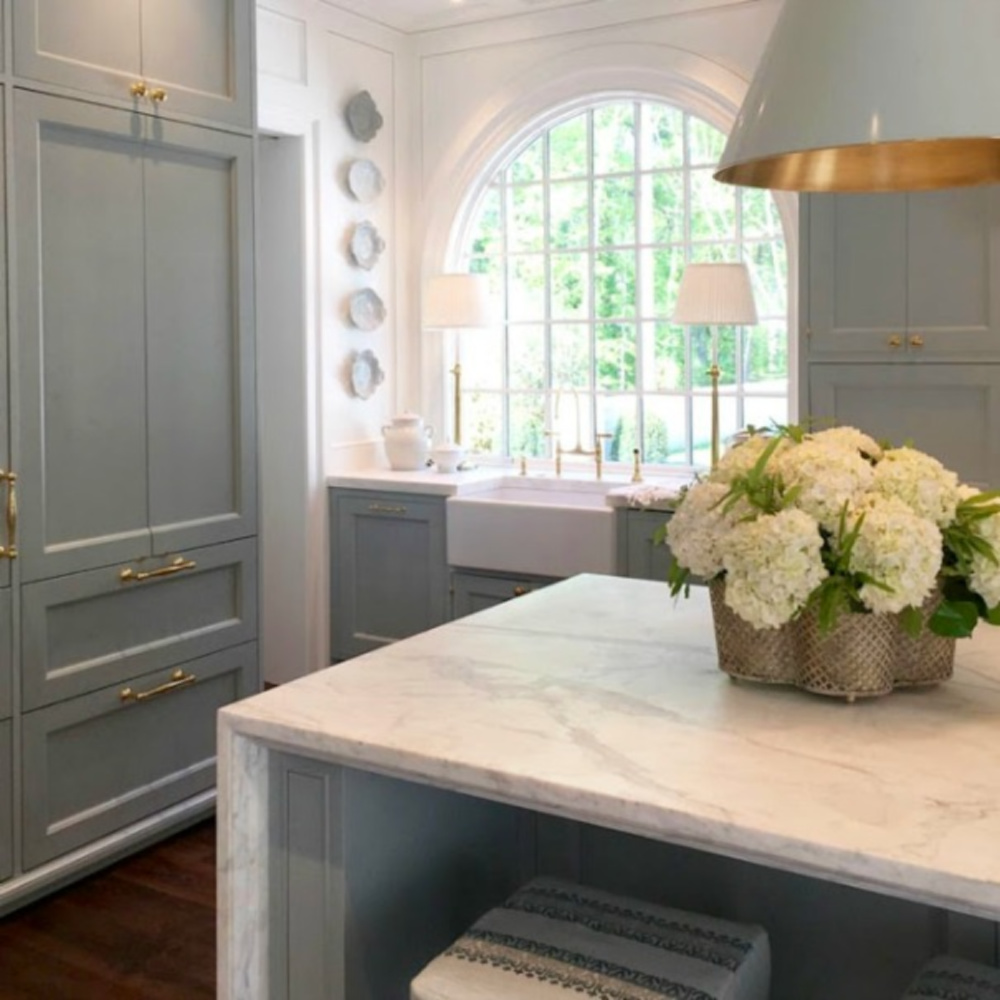 They were the exact shade of the cabinet color so I think they were meant to be there. Fortunately, the homeowner purchased them and they still hang next to the sink.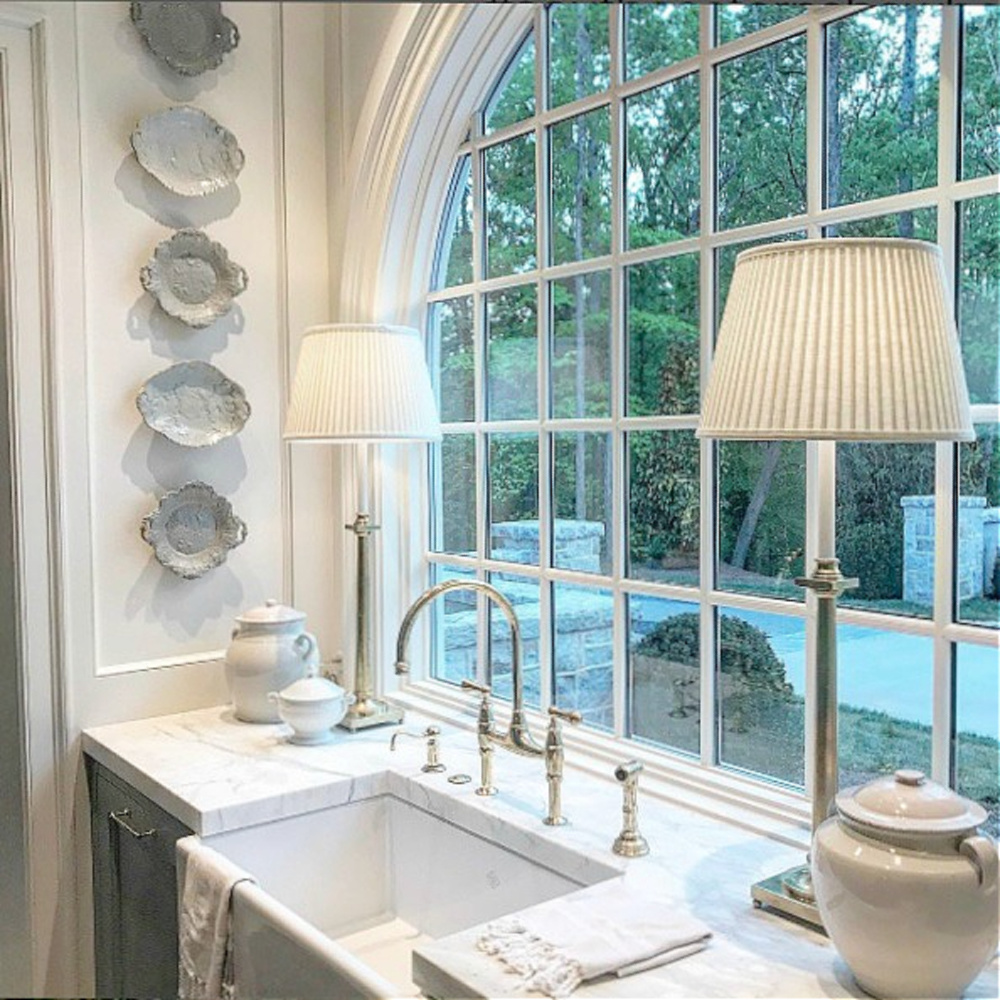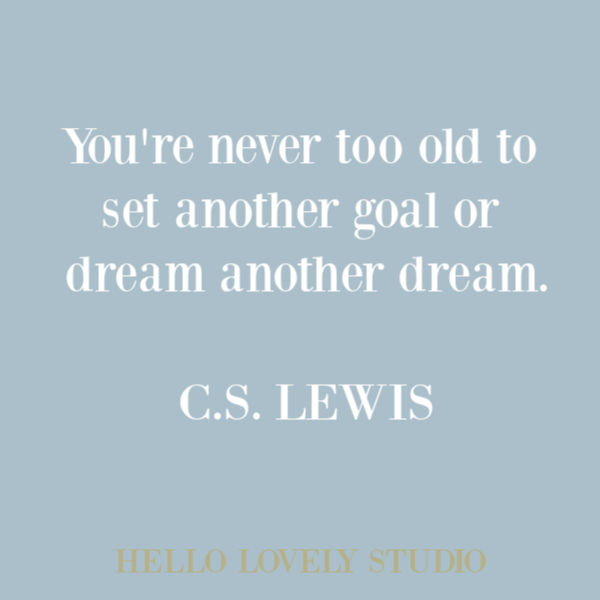 Amazing Handmade Tile in Butler Pantry
>TILE IN THE BUTLERS PANTRY was custom through Renaissance Tile, and we loved the handmade quality.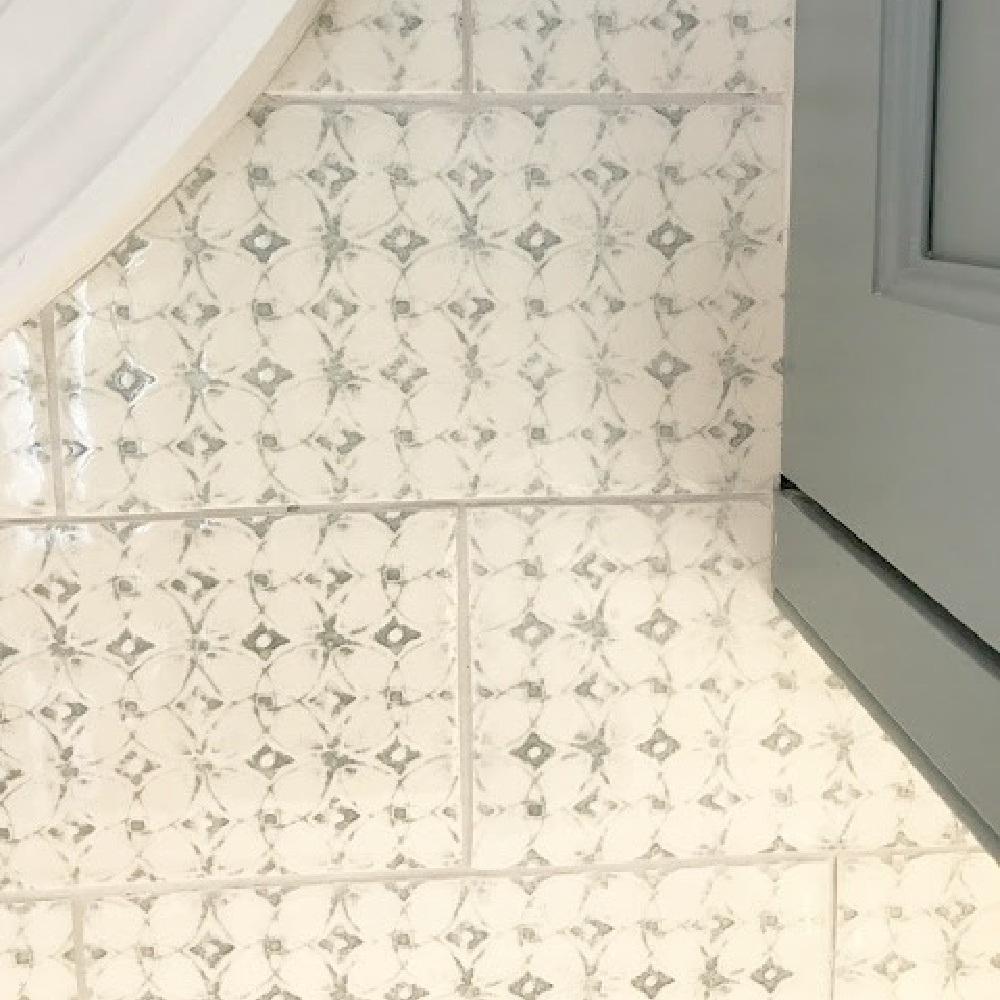 Tying the light blue and cream together with the darker blue color of those cabinets made it a very cozy space.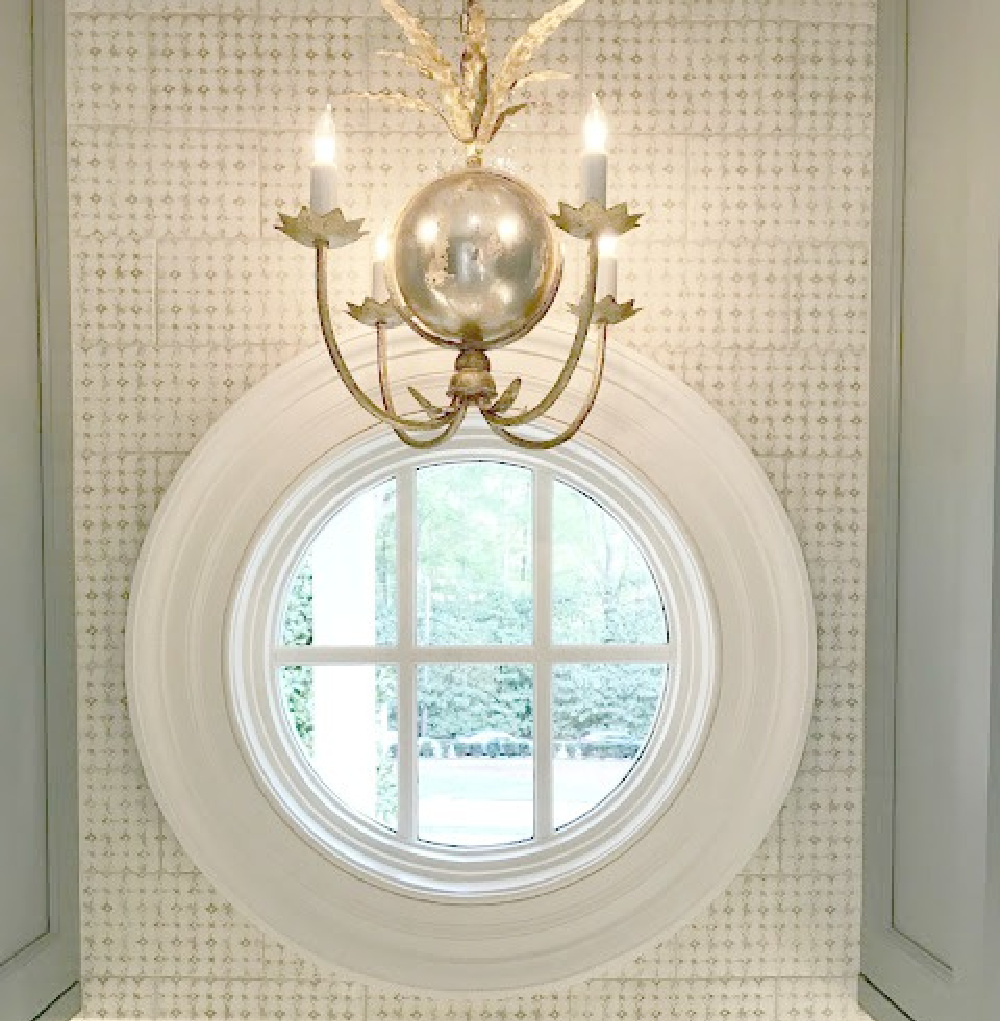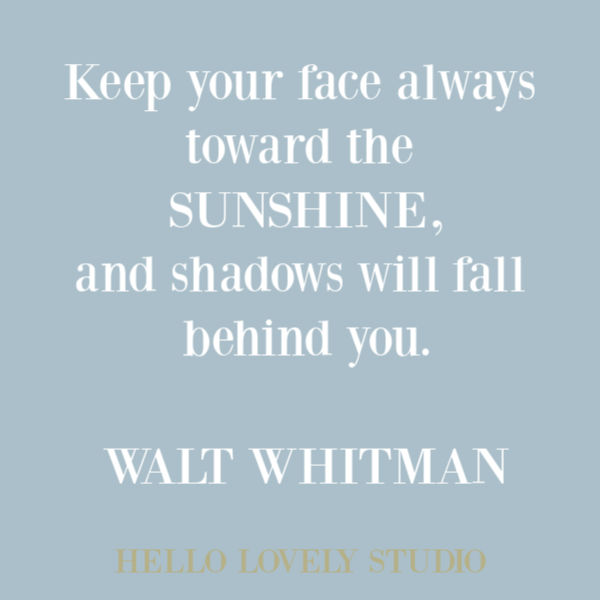 Traditional & Serene Breakfast Room
>BREAKFAST ROOM – Yong Pak, the architect, drew those lovely niches with plate ledges, and I'm a sucker for plates on the wall! I decided painting the back wall the same color as the kitchen would really unify the two spaces.
>BANQUETTE – I worked with a local company to design the banquette using recycled leather for the seat and a fabulous Cowtan & Tout buffalo check for the back.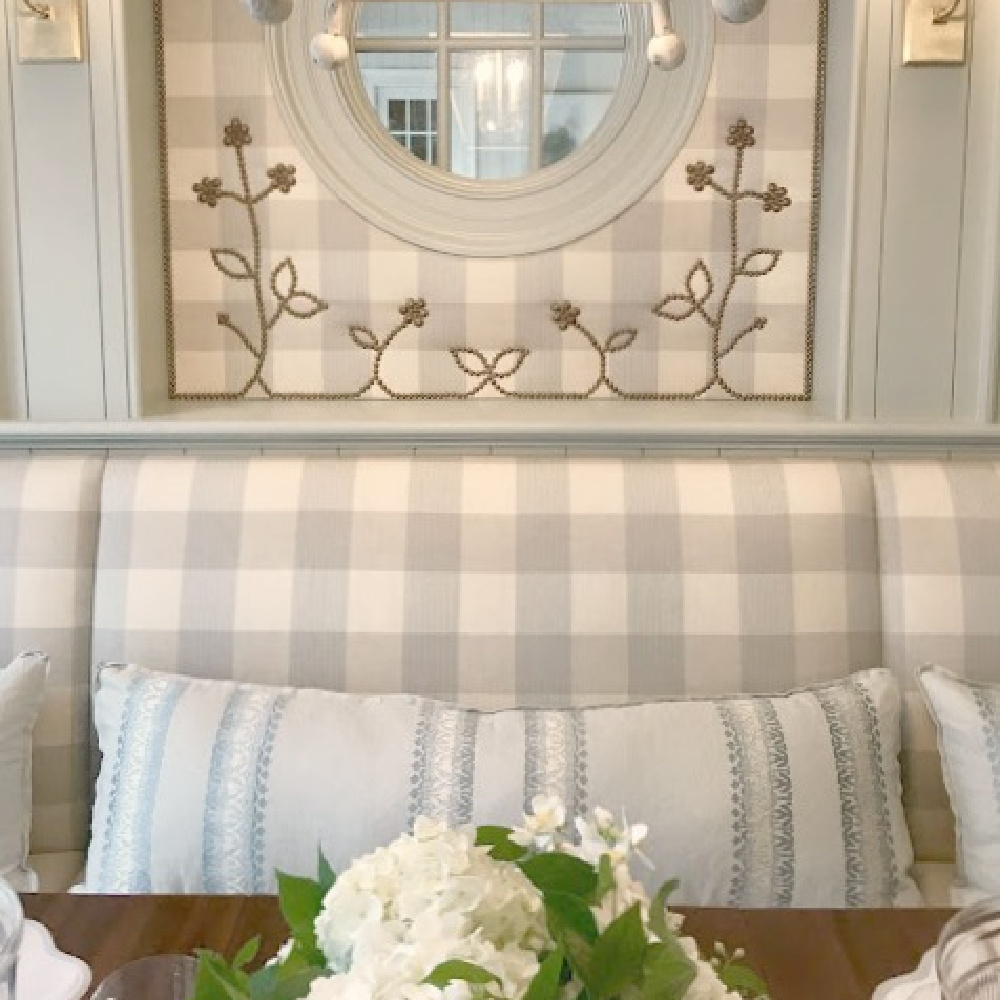 >BRASS NAILHEAD DETAIL – During a meeting with them, the fabric panel around the round window just popped into my head and that wonderful flower brass nailhead detail was born!
I love how this detail pulls the brass elements from the kitchen subtly into the space.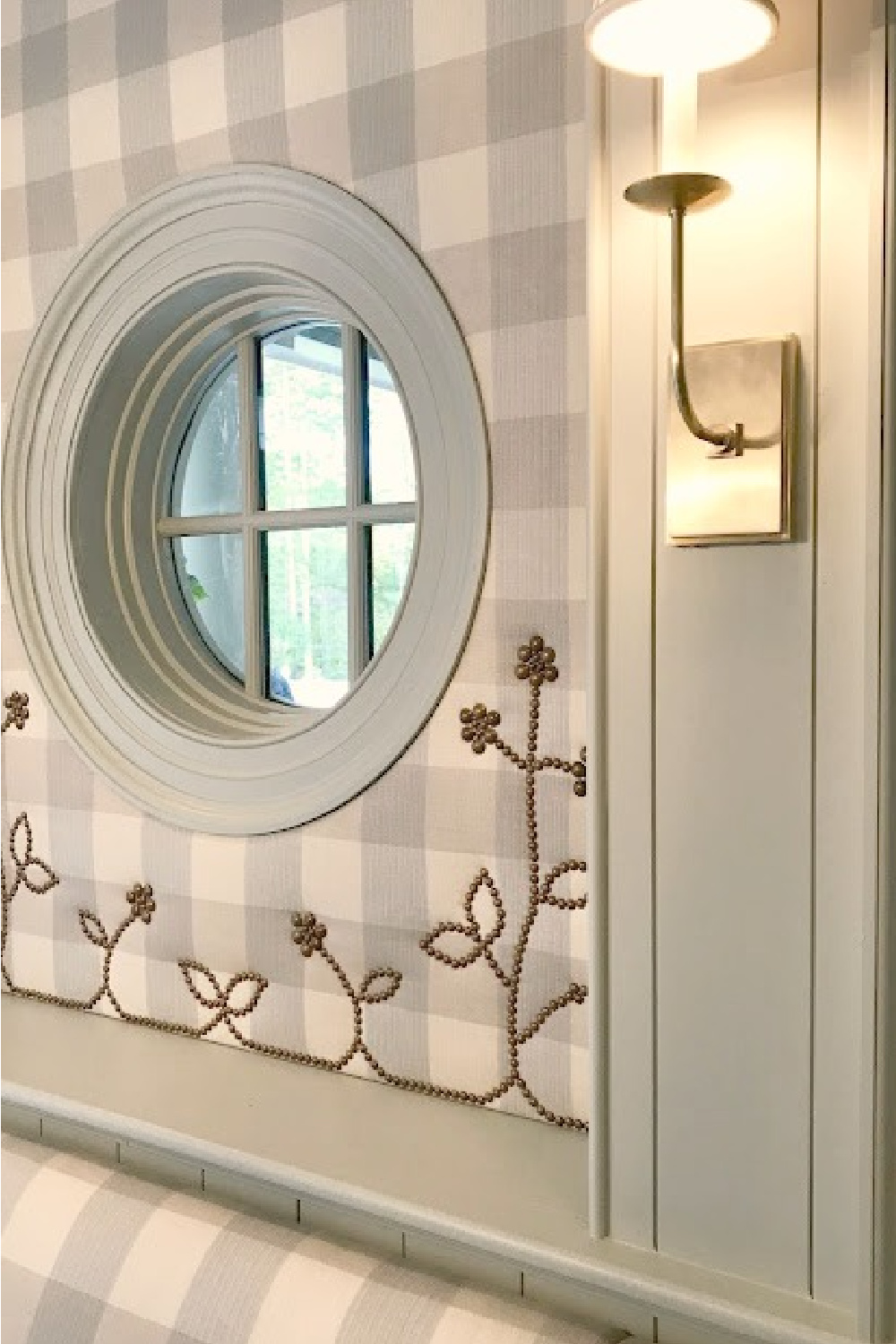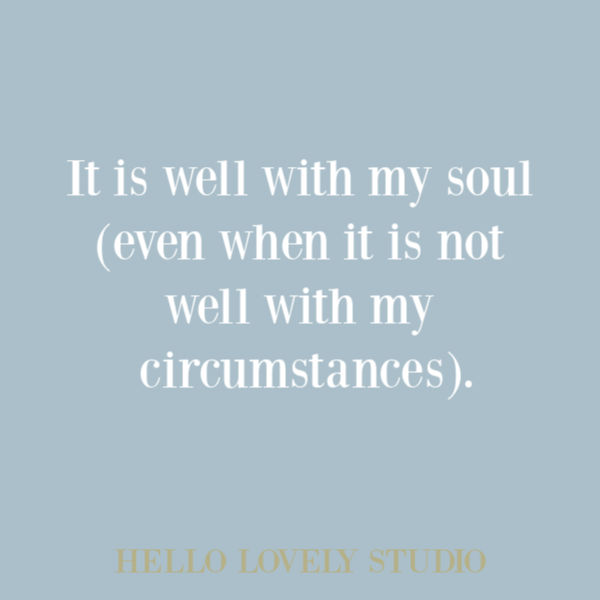 Fabrics in This Bespoke Dining Room
>DRAPES – I used more Cowtan & Tout fabric for the draperies on both the French doors outside as well as the cased opening opposite, so the breakfast area is also flanked by fabric. I'm also a big believer that drapes make the space!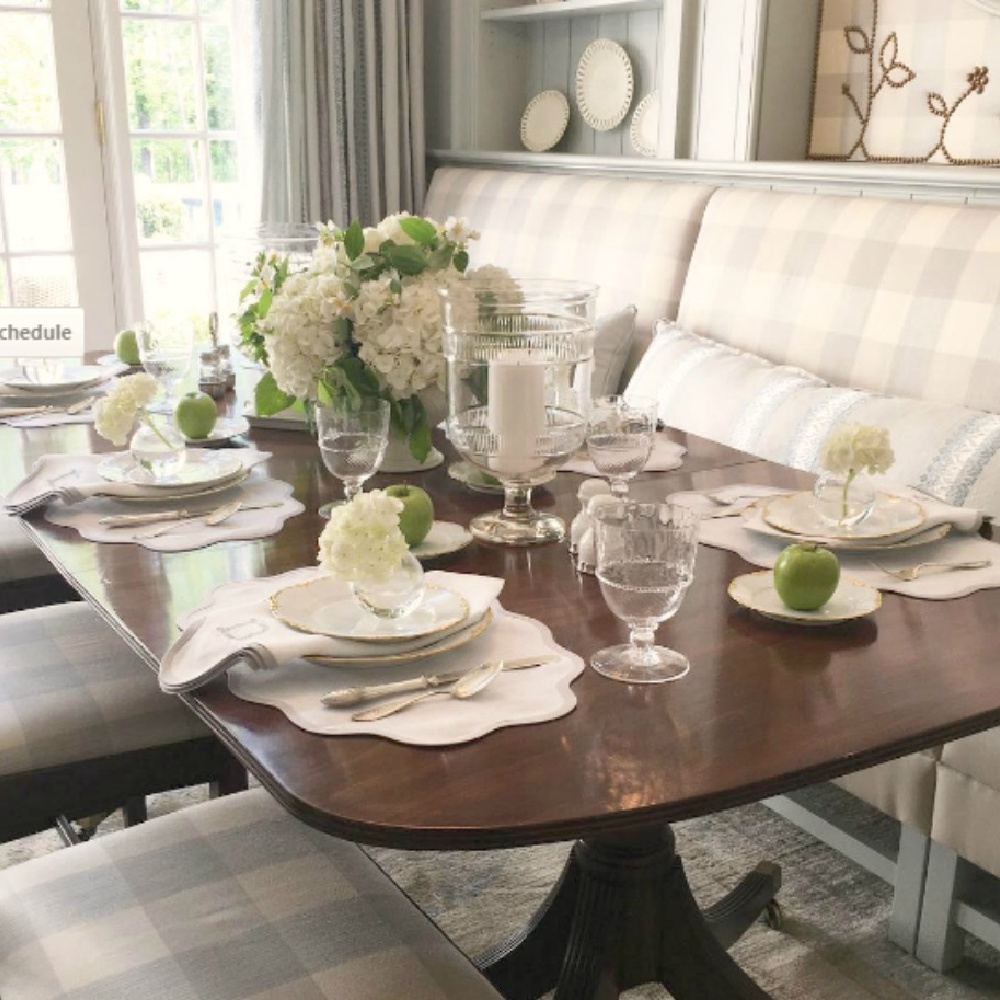 Antiques in the Breakfast Room
>ANTIQUE CREAMWARE was loaned to me from Interiors Market. Since I personally collect reticulated basketweave creamware like the pieces I used, I thought it seemed graphic against the blue wall. I just love it and was so fortunate to be able to use so many fine pieces!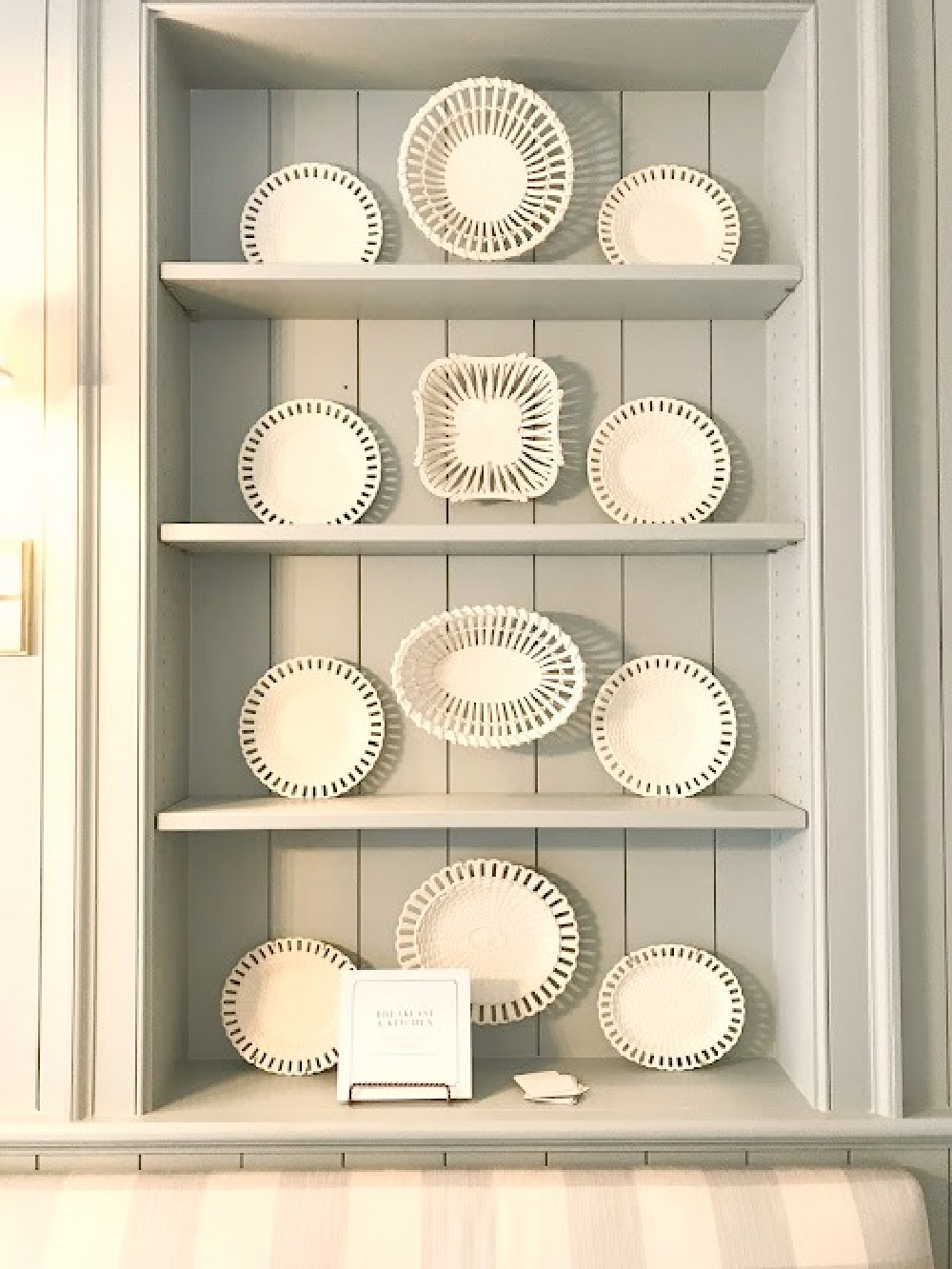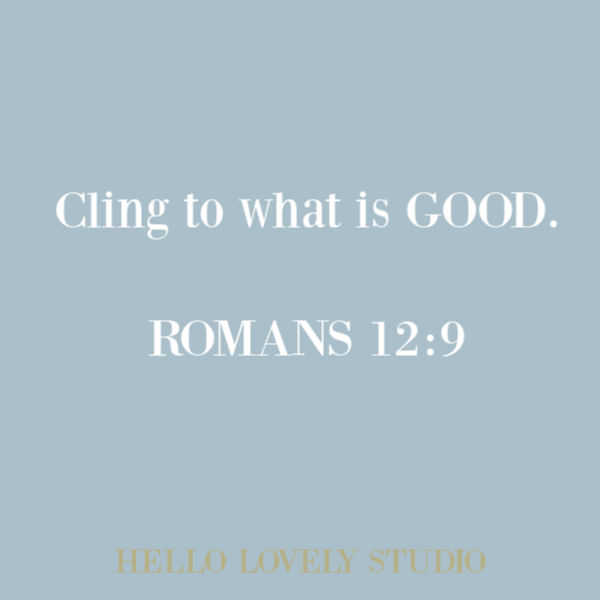 Traditional Style Dining Furniture
>DINING FURNITURE – The antique table and chairs just suited the space. I prefer to use antiques as much as possible in my designs for the sense of history they bring to a space.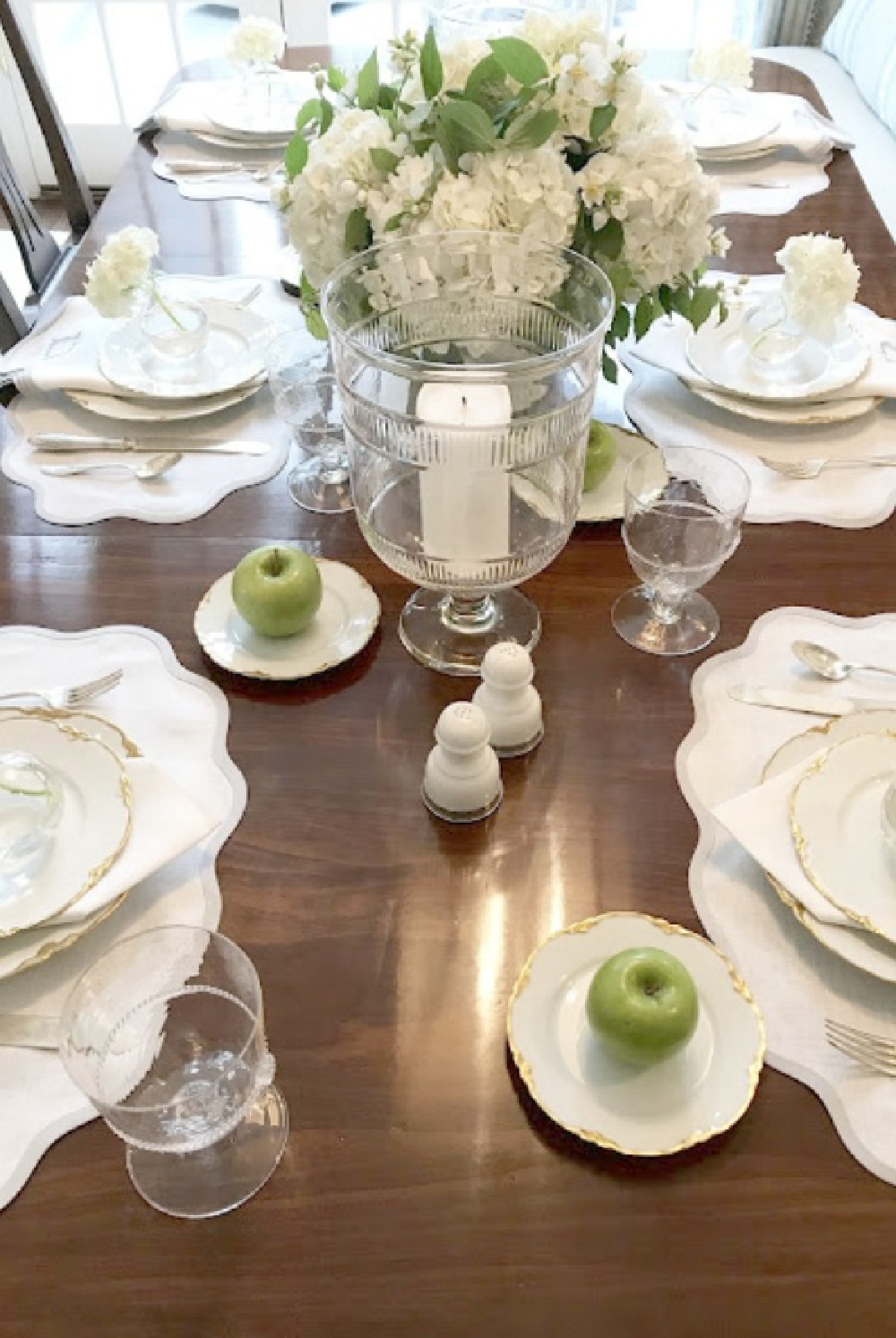 The table felt as though it could have been a family piece passed from generation to generation.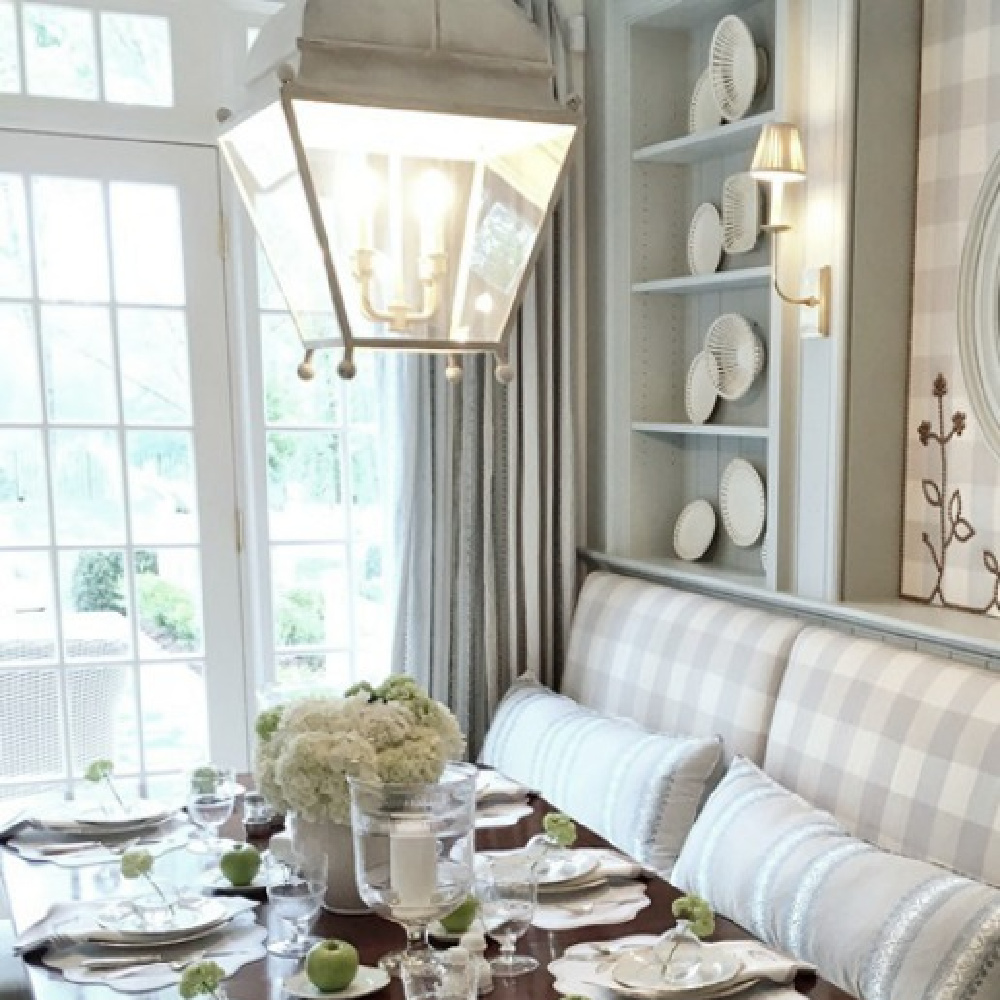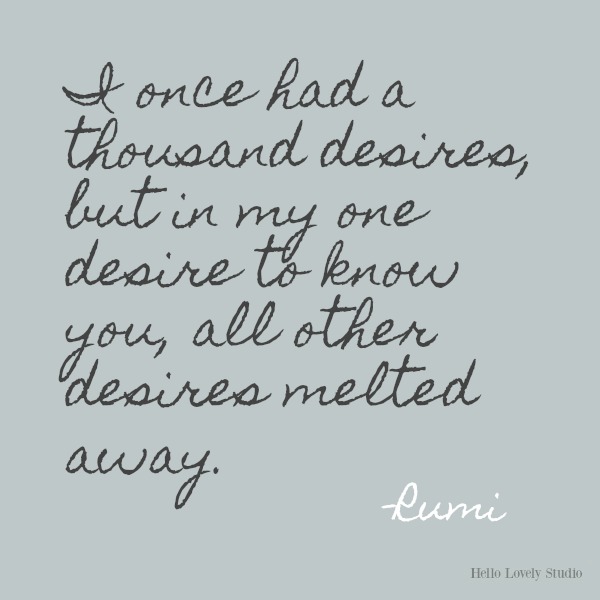 Airy & Elegant Kitchen Mood
How would you describe the mood of the kitchen experienced in person?
The mood of the space is light yet elegant and feels refined without feeling stuffy, and I love that balance! This kitchen makes everyone feel comfortable in the space and you just want to linger.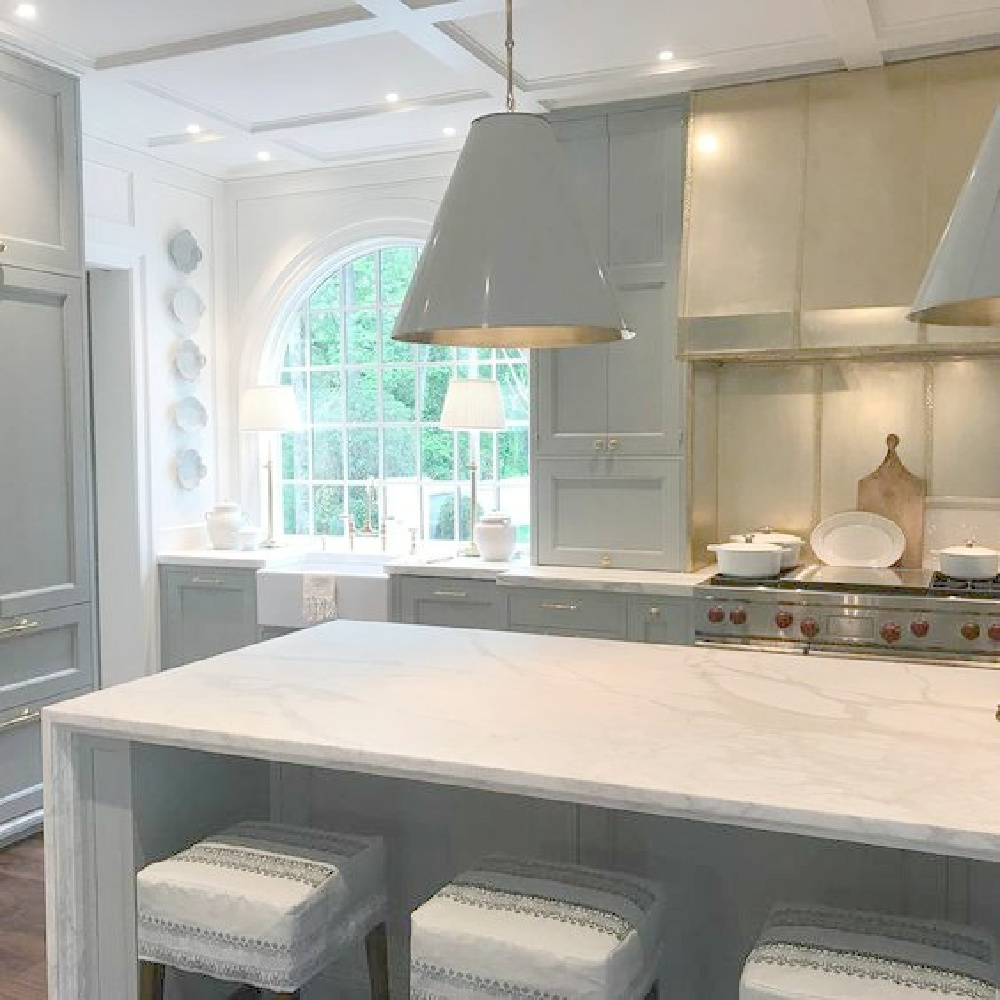 Design Principles for a Timeless Kitchen
What guiding principles for creating a timeless space informed the project?
-Cross-reference particular elements of your design; repeat a color or pattern or metal finish.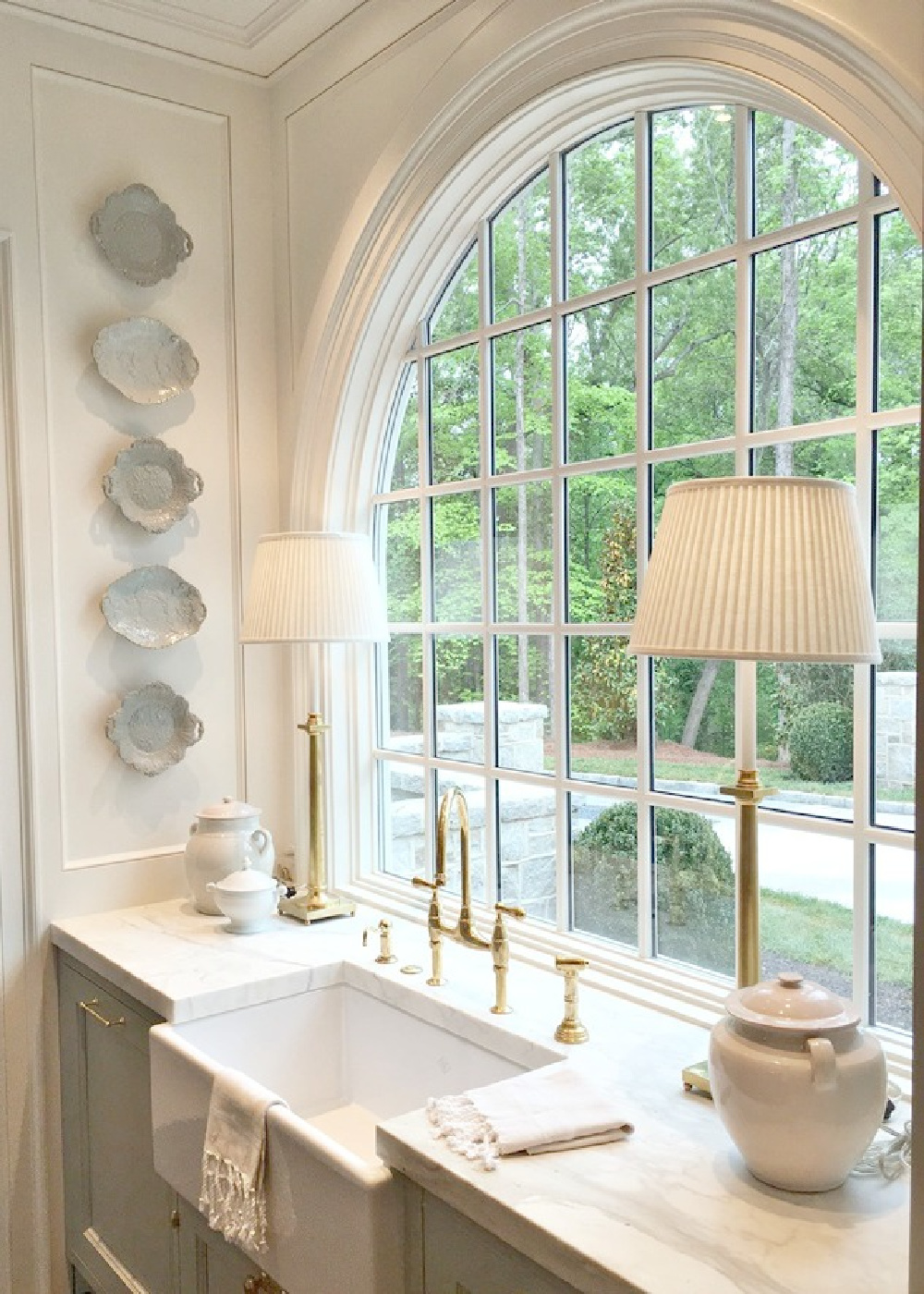 -More is more when it comes to fabric in a room; drapes and pillows make the space!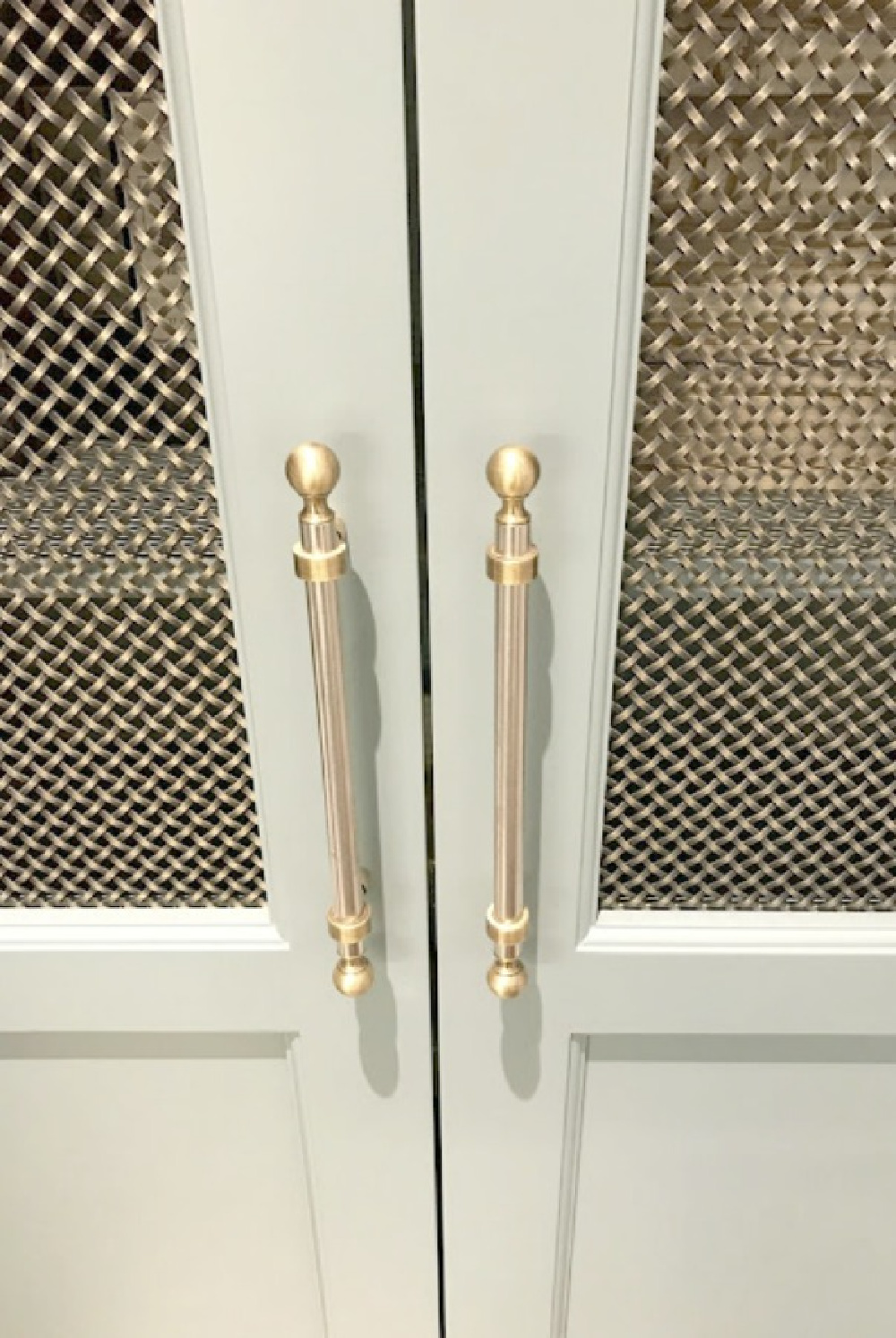 -Antiques–always and forever–don't be afraid to use them! Your grandmother would want you to!!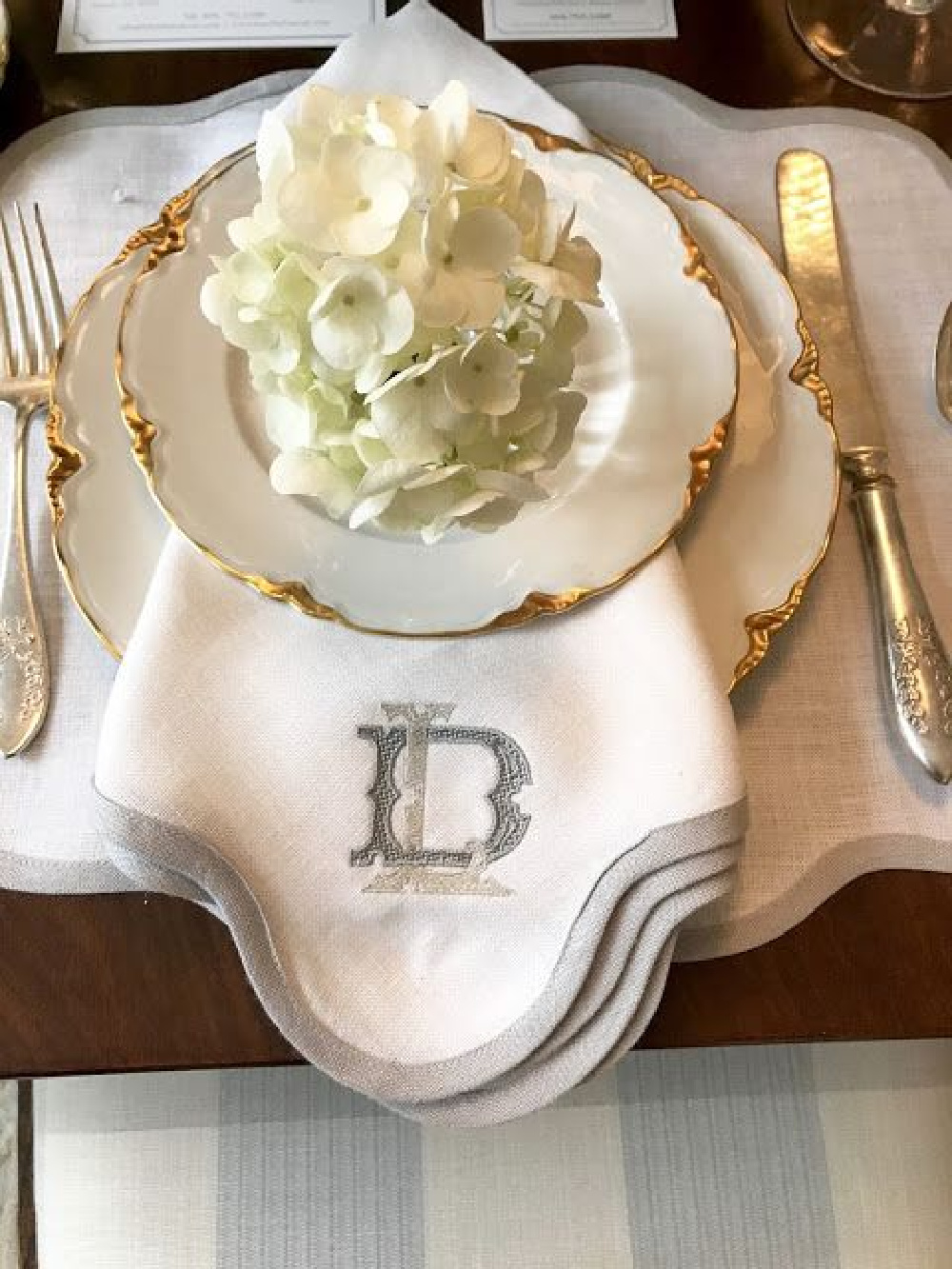 Thank you ever so much for the inside scoop, Lauren!!
KITCHEN RESOURCE LIST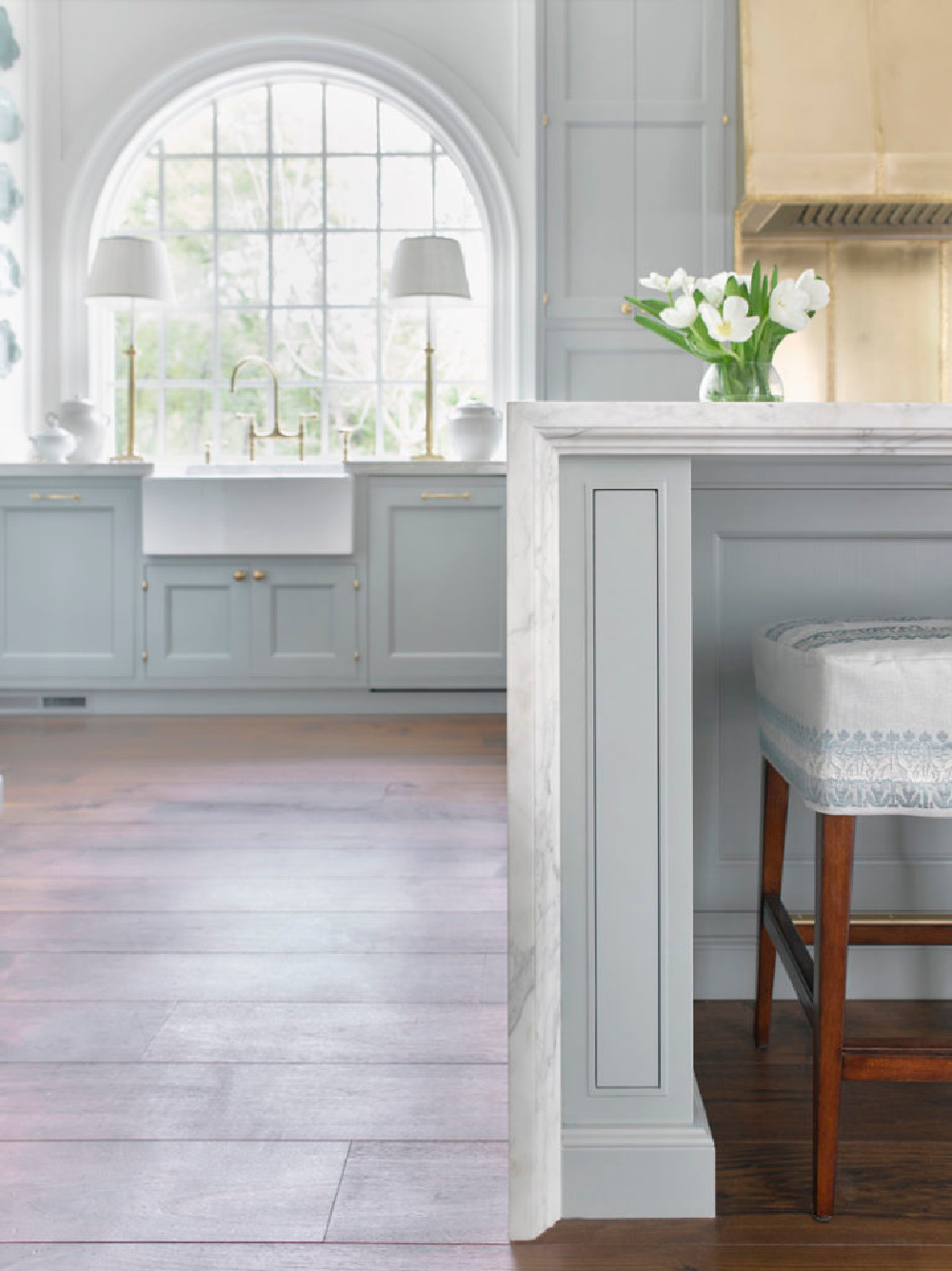 BONUS #2: Get the Book!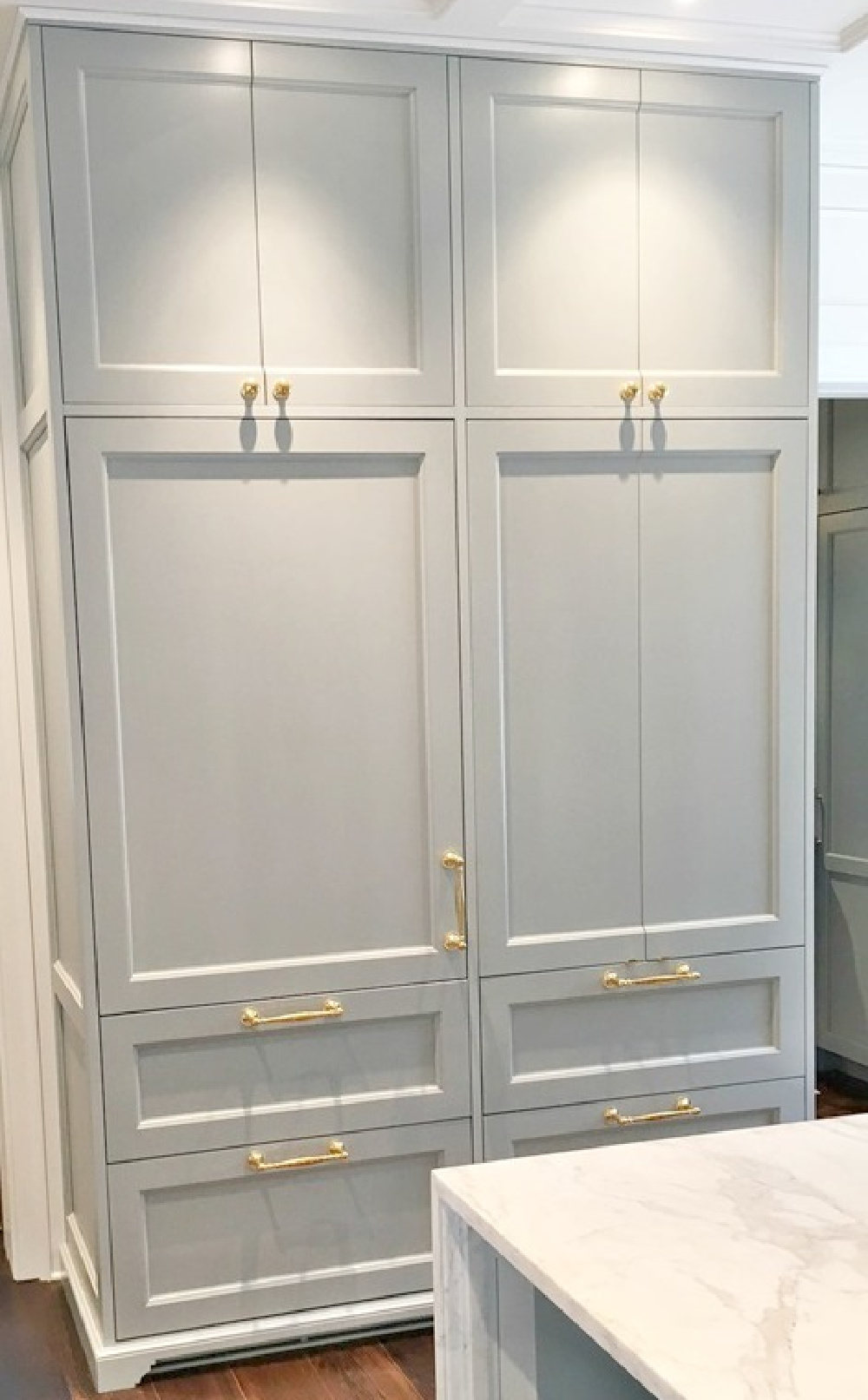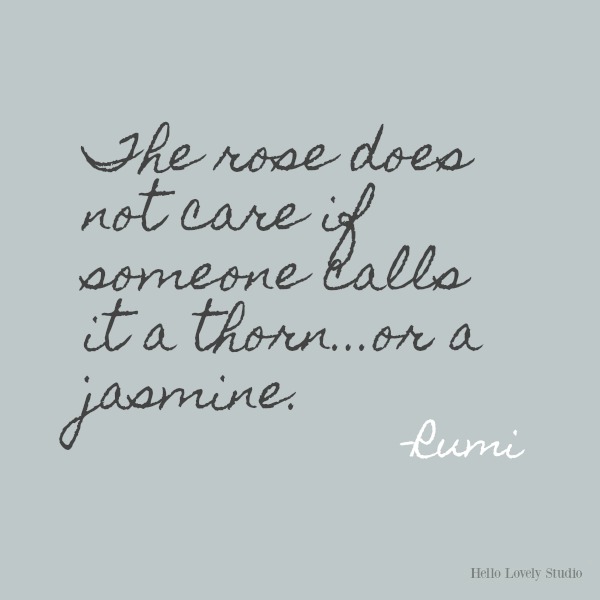 Paint Color Info
Designer Showhouse Kitchen Resources: CABINET PAINT COLOR Farrow & Ball Light Blue/WALL COLOR Sherwin-Williams Alabaster.
Kitchen Designer Info
CABINETRY AND KITCHEN BACKSPLASH Design Galleria Kitchen and Bath Studio/HARDWARE Matthew Quinn Collection.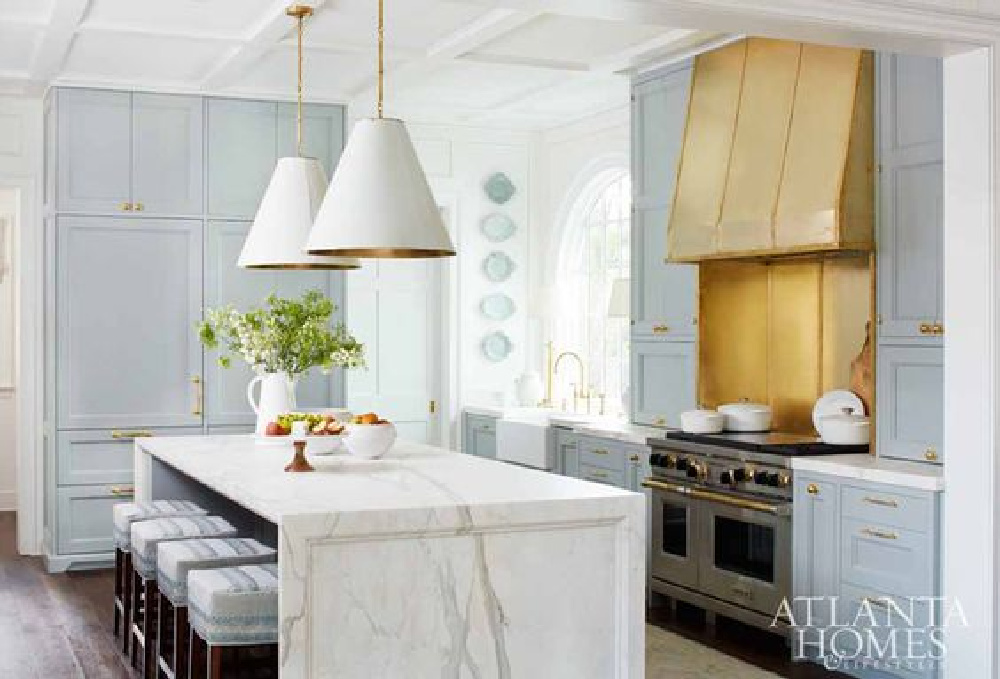 Sinks, Counters, Faucets & Tile
COUNTERTOPS Levantina, fabricated by Construction Resources/SINKS & FAUCETS Rohl/TILE Renaissance Tile & Bath.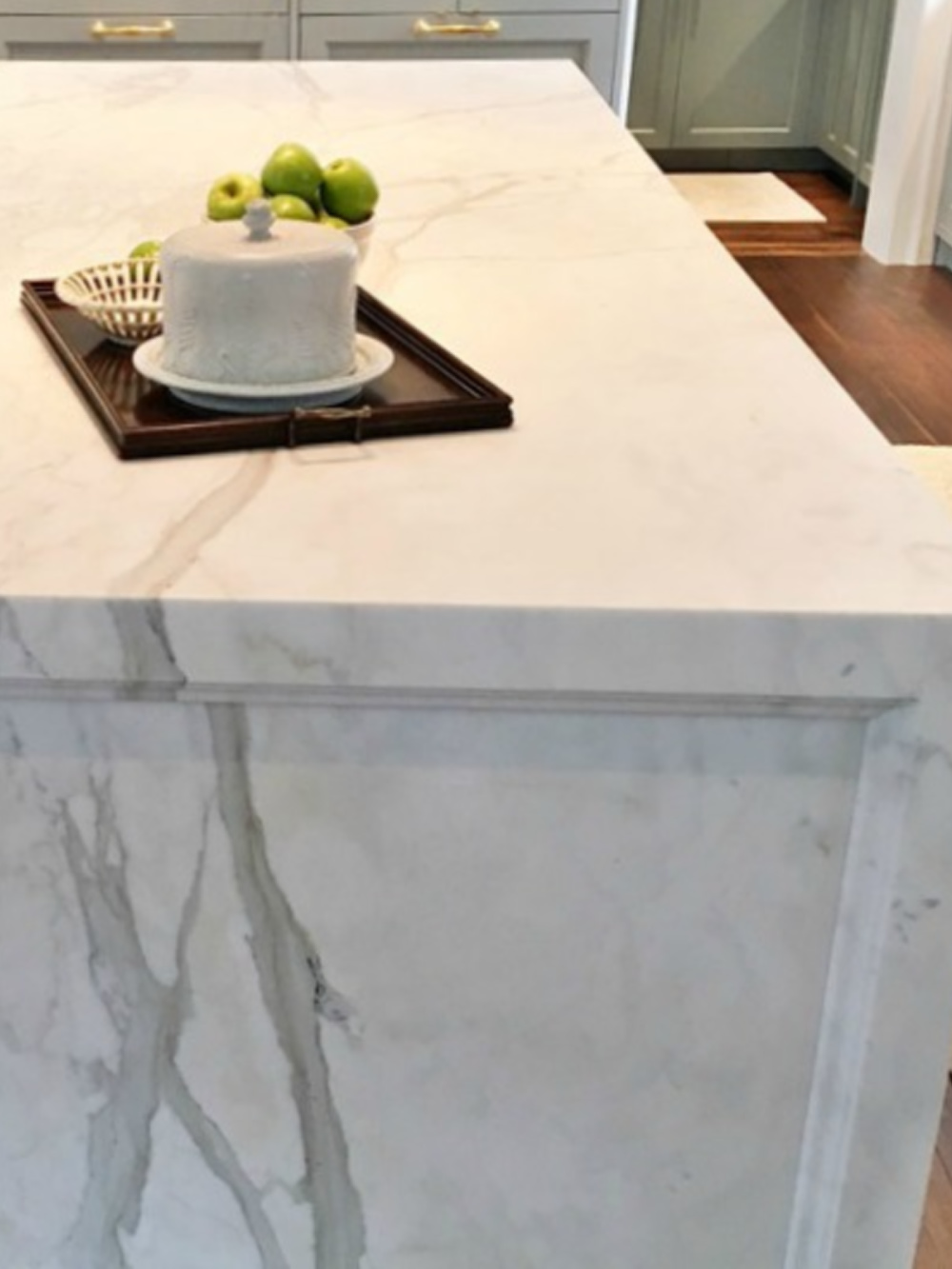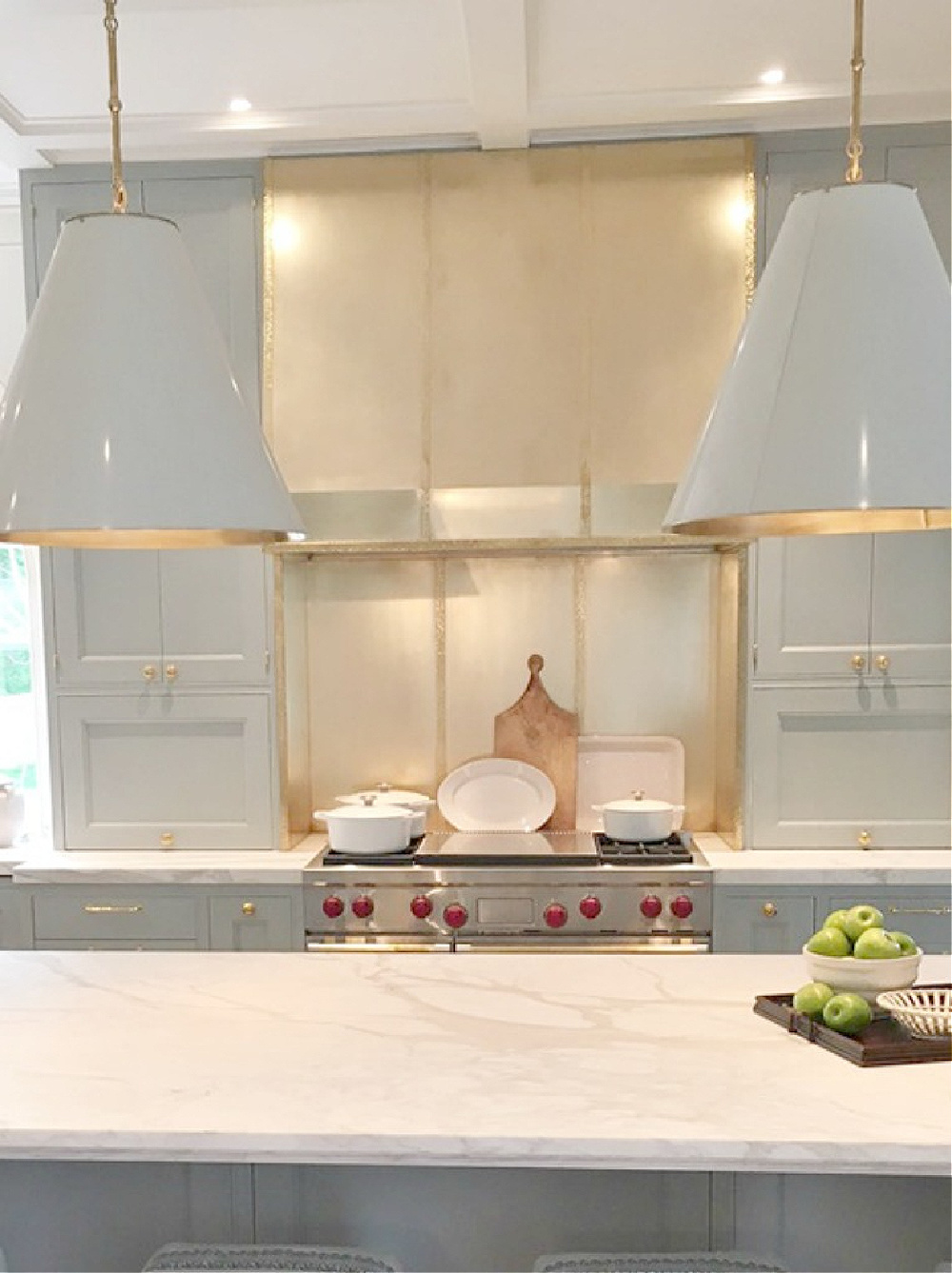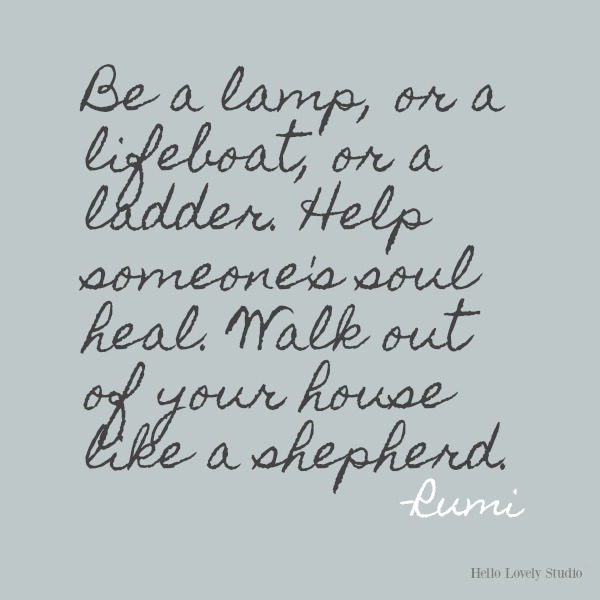 Kitchen Appliances & Lighting
RANGE, WARMING DRAWER, STEAM OVEN & HOOD Wolf/ REFRIGERATOR Sub-Zero/DISHWASHER Asko/LIGHTING Circa/RUG Moattar/INSERTS Rev-a-Shelf.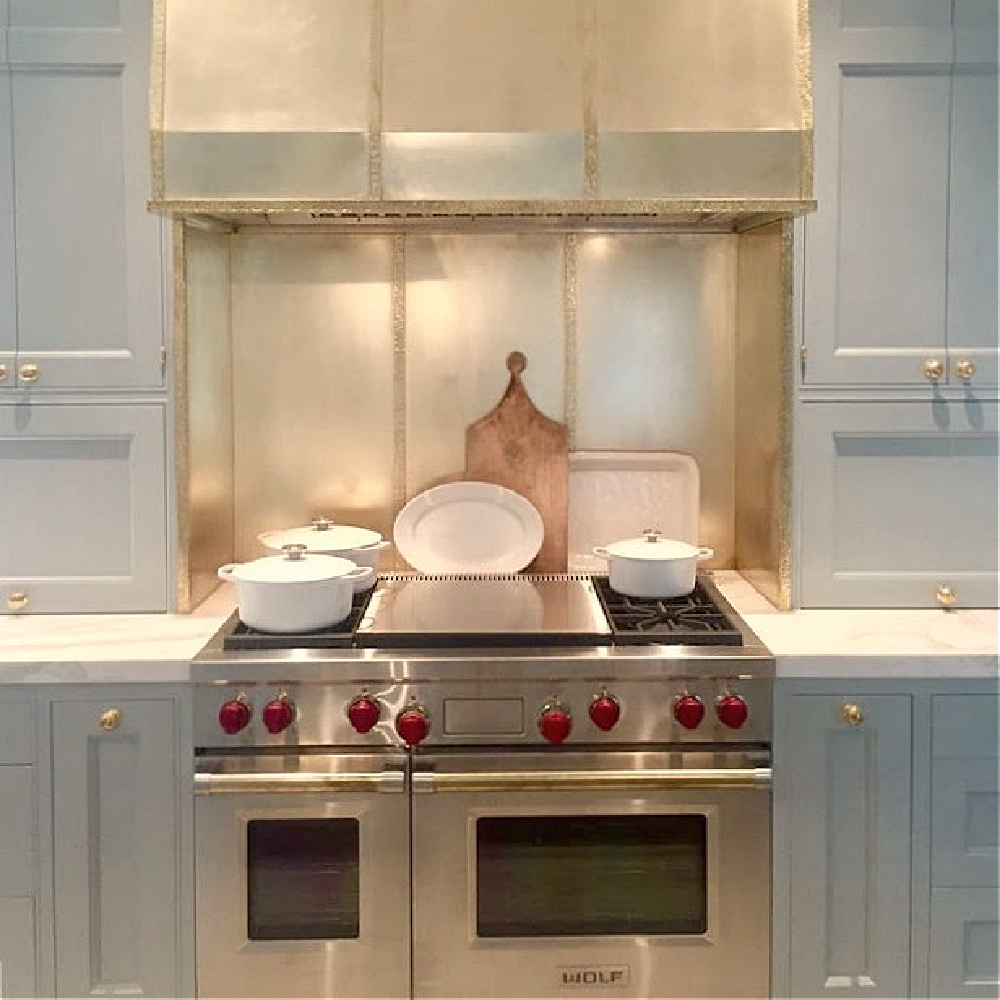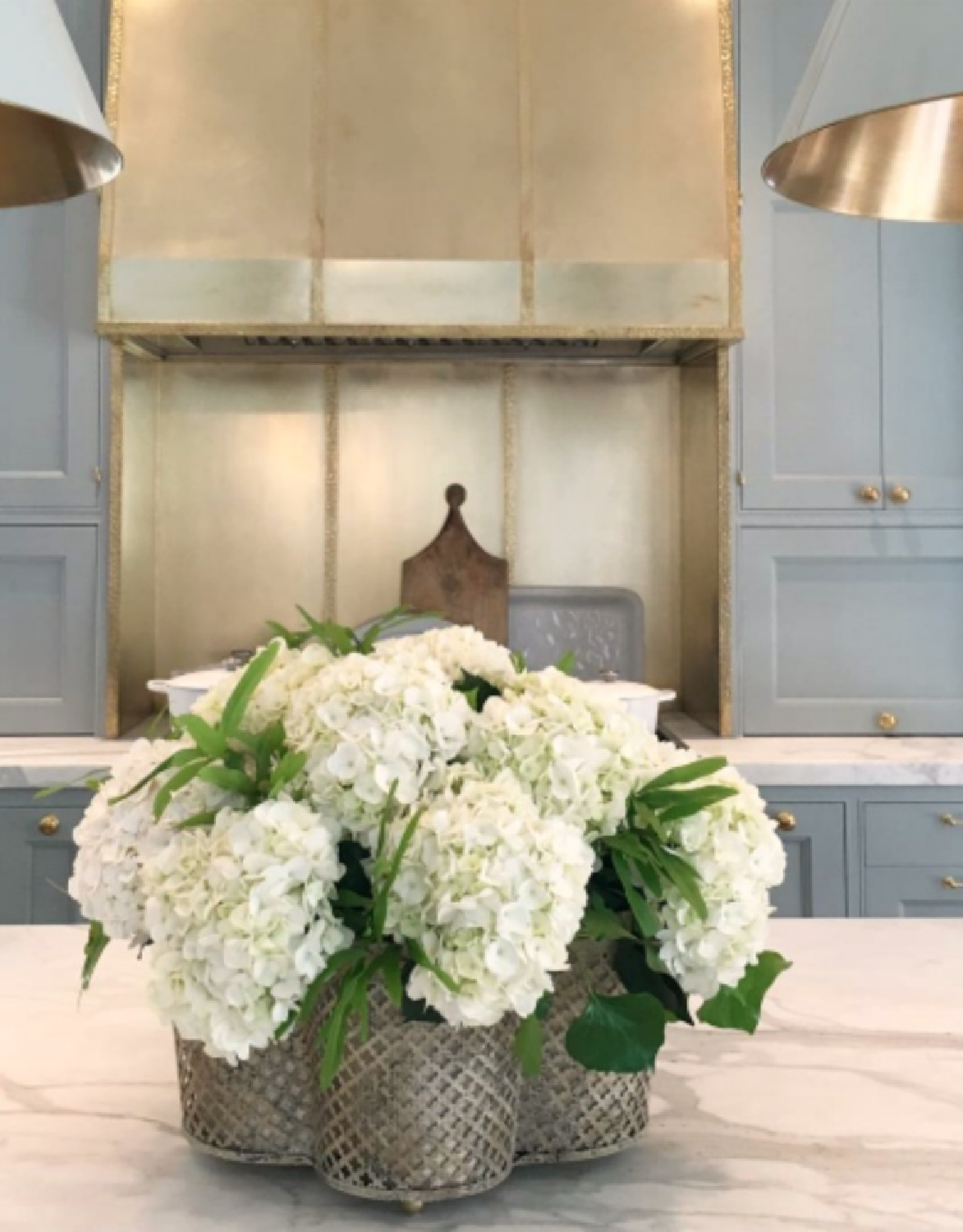 Shopping Resources for Dining Room
Dining Area Resources: RUG Moattar/CREAMWARE Interiors Market/MONOGRAMMED LINENS Custom through Gramercy Home.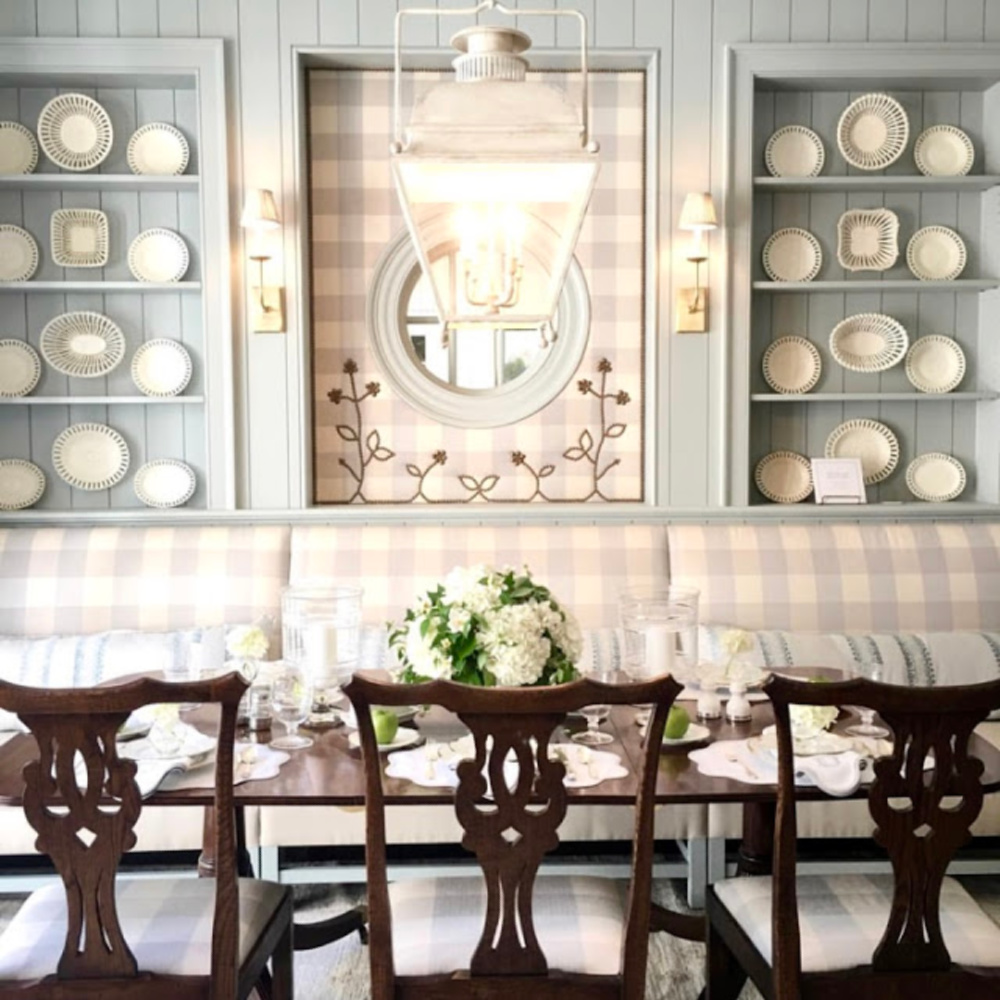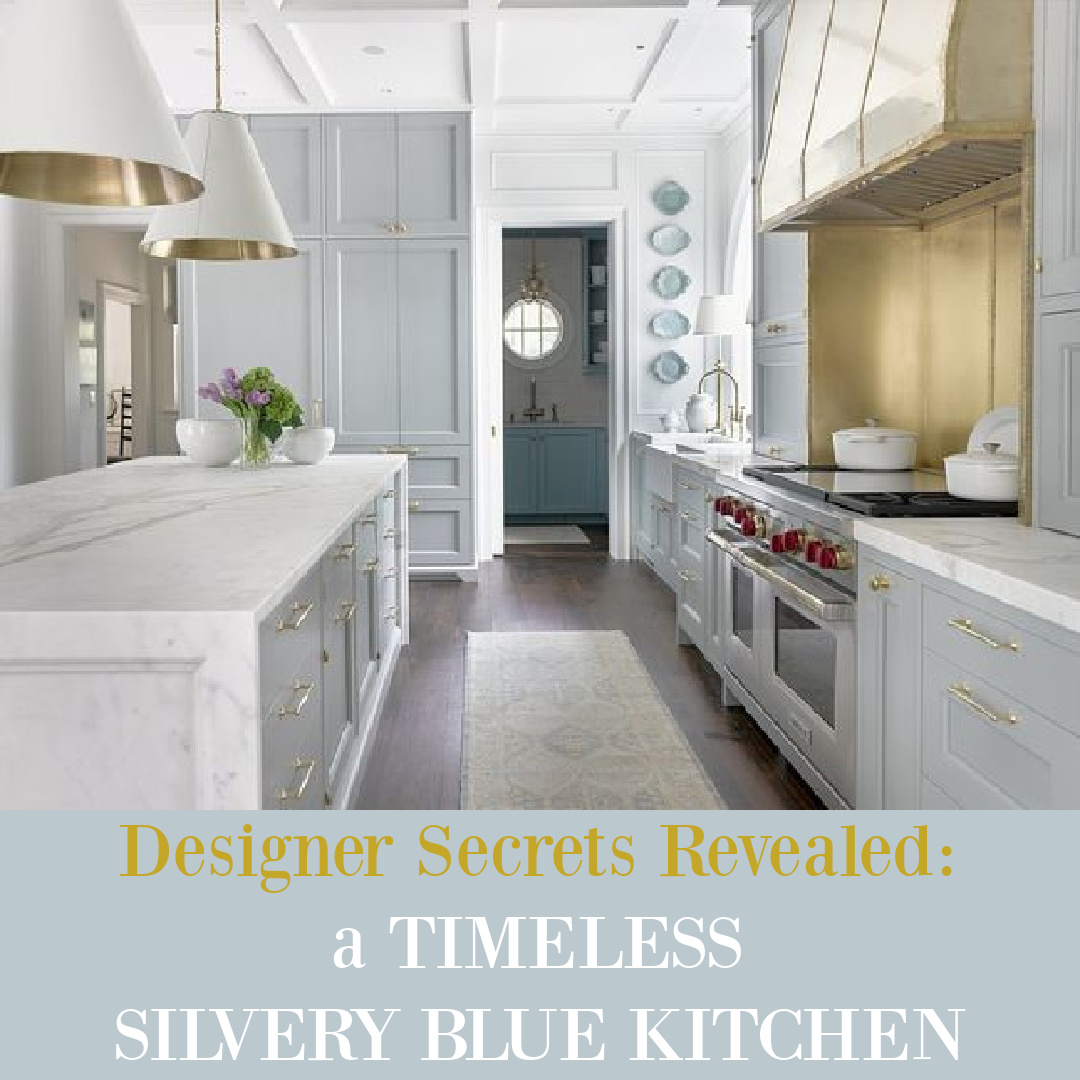 GOBLETS AND BUD VASES Erika Reade Ltd/CUSTOM BANQUETTE AND WINDOW WALL Bjork Studio/ALL FABRICS Cowtan & Tout/LIGHTING Circa Lighting.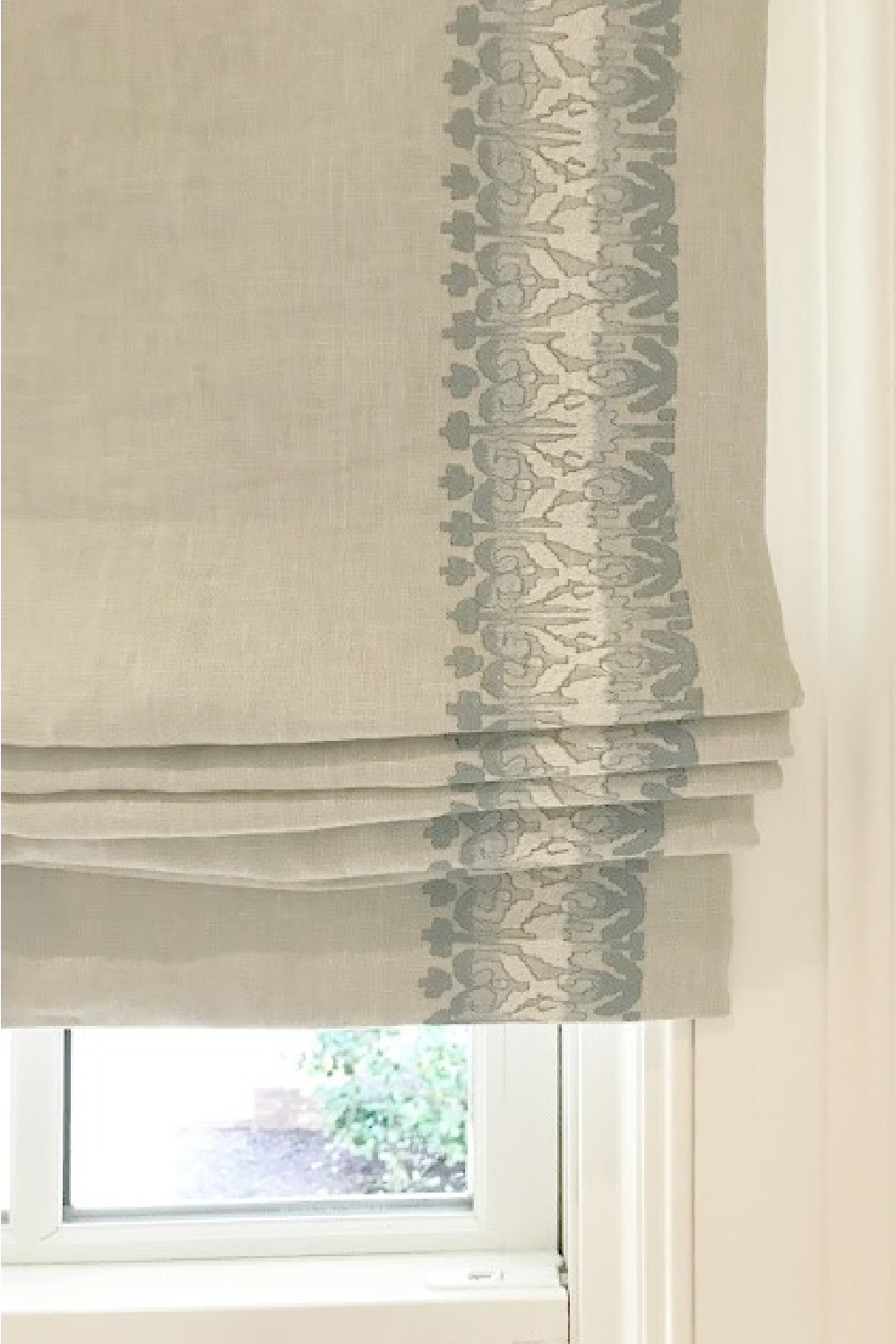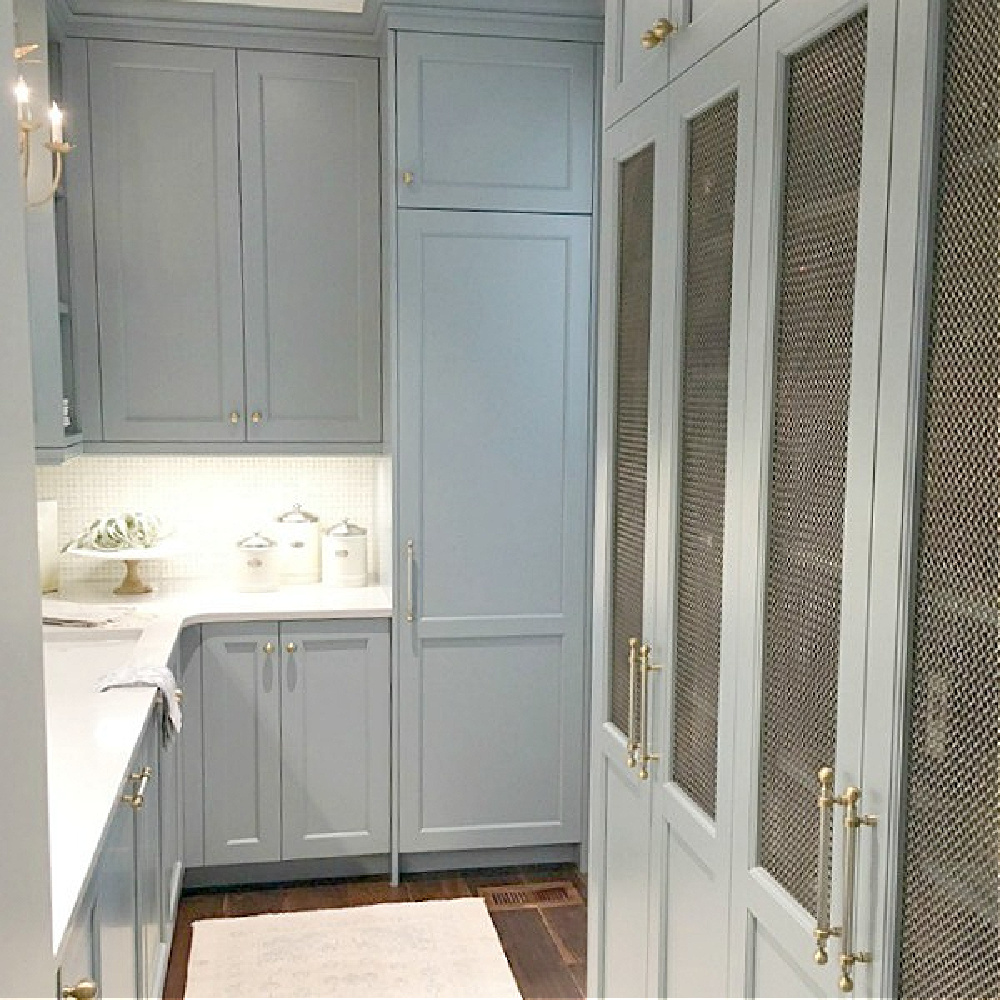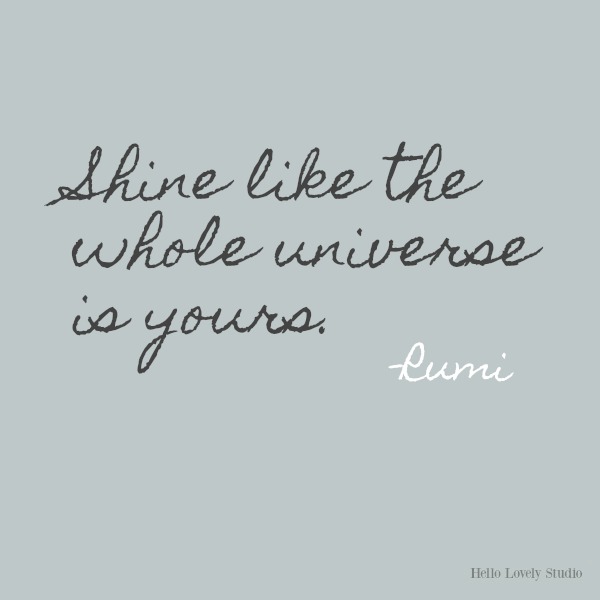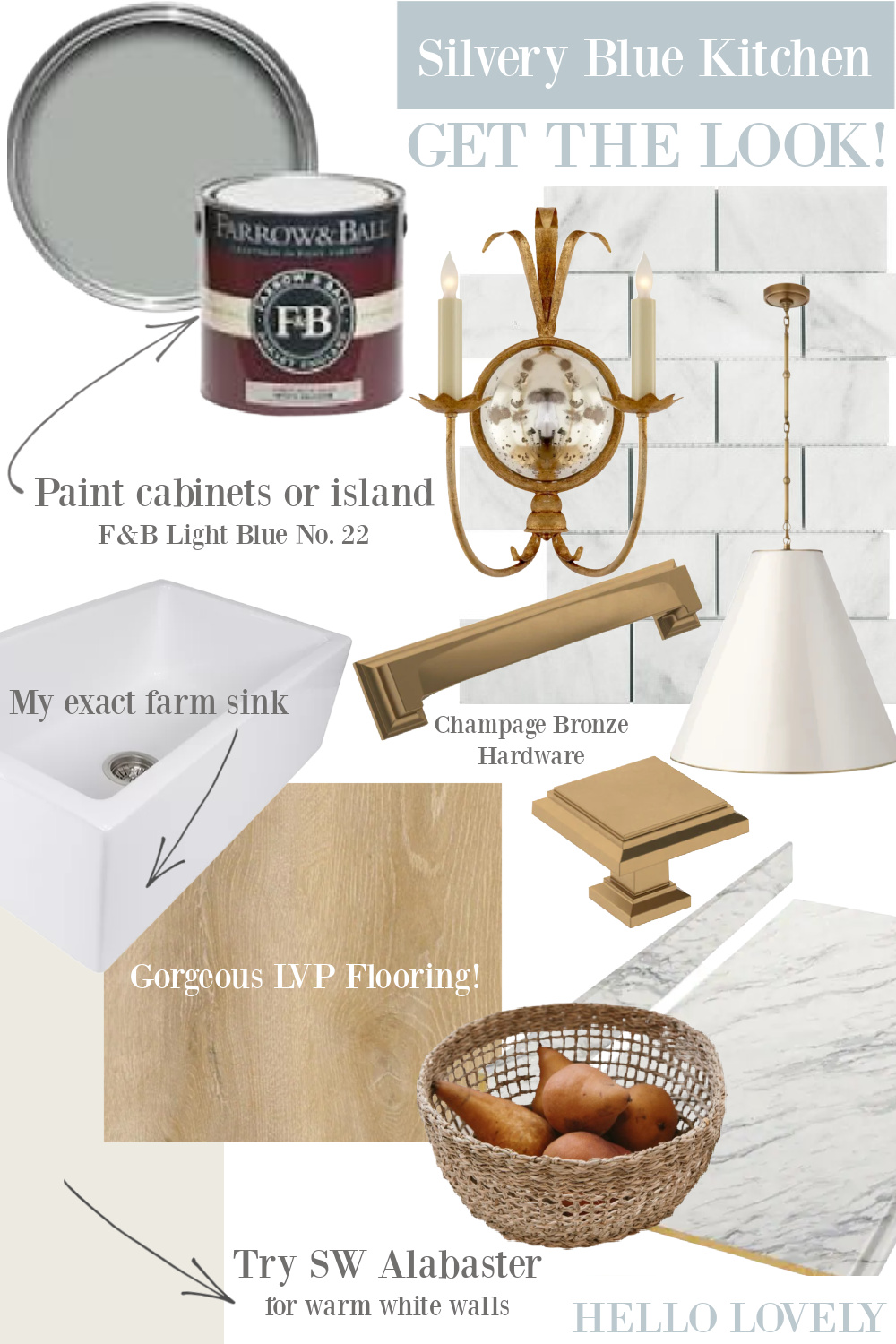 Who is Inspired?
Inspiring me in this traditional kitchen design:
Lauren DeLoach!
Farrow & Ball Light Blue paint
Brushed on paint for the cabinetry
Hammered brass cabinet hardware
Farm sink
Arched window above sink
Banquette with built-in shelves
Buffalo check upholstery and lace creamware plates
Nailhead detail at round window in dining area
Waterfall style marble island
Brass range hood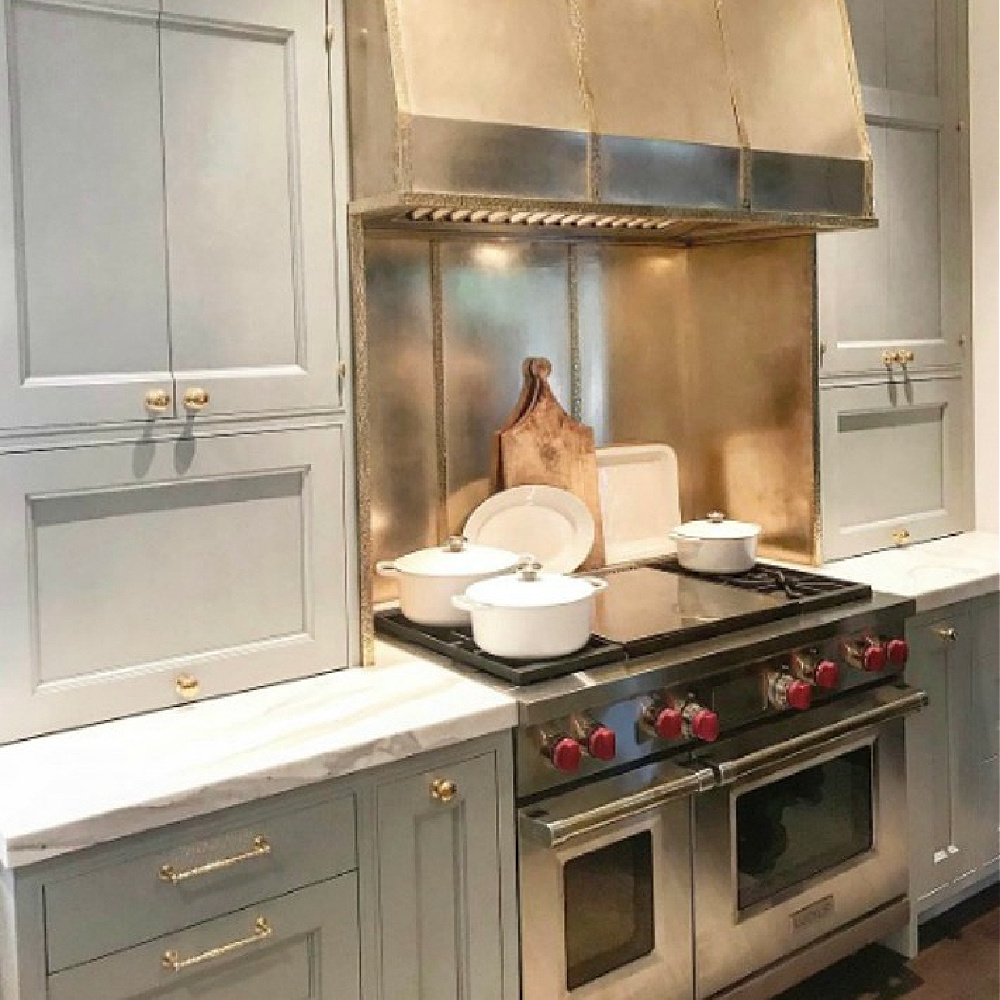 I independently selected products in this post—if you buy from one of my links, I may earn a commission.
Peace to you right where you are.
-michele
Shop for items you already intended to buy on Amazon RIGHT HERE, and also find home decor here to keep decor inspiration flowing on Hello Lovely!
Hello Lovely is a participant in the Amazon Services LLC Associates Program, an affiliate advertising program designed to provide a means for sites to earn fees by linking to Amazon.com and affiliated sites.