Just the sound of "small simple sanctuary moments" calms my spirit. Let's face it. Keeping design simple can involve a multitude of complex layers since sophisticated simplicity requires thought, attention to detail, and restraint. Which is why I'm suggesting small moments. A peaceful outdoor dining spot. Or a cozy reading nook. Even a comfy chaise on a screen porch can offer leisurely afternoons of wellth and relaxation, can welcome a productive nap.
Small Simple Sanctuary Moments at Home
Most of us have busy lives and budgets so the thought of making an entire home a simple sanctuary inspires exhaustion. But a small moment or a couple of moments? The pressure's off.
Why Go Small?
I'm an intuitive sort of designer and stylist. I'm allergic to imposed parameters and styling rules.
Also not a fan of making a bunch of decor changes after the fact.
Maybe a refresh after a couple of years, but the beauty of refusal to adopt a feverish pace?
The creation of small simple sanctuary moments customized for YOU eliminates the need to reimagine them anytime soon.
A Simple Sanctuary Bistro Corner
Since I'm drawn to European country inspired sanctuaries, this moment begins with an inexpensive white bistro dining set (if it's out of stock, this one is almost identical, and this one is on sale!).
These patio sets sell out fast so hopefully there will be inventory! Is shopping Wayfair new for you? The television commercials can be so cheesy so you may be surprised at the quality and reputable brands on the site.
There is such an awesome selection of outdoor dining pieces at Wayfair, you may have trouble deciding…here's a sampling of the loveliness:
Affordable Bistro Sets at Wayfair
Even a $40 rusty old bicycle planter (snagged at a garage sale and didn't even come with tires but included the basket!) can be one of the ingredients for a moment.
A shabby used up bicycle may not be appropriate for your own garden, but the bistro set? It really feels at home across a variety of settings.
Decks, Patios, Porches and Even Kitchens
The round folding table is 23.6″ and as far as I'm concerned, just the right size. Folding chairs measure just 16.5″ when folded…so it's a cinch to store them.
Love the look of a pea gravel courtyard or dining area in the garden? There's more about the one I created RIGHT HERE.
While we have moved on from this home, the secondhand wood outdoor furniture (above) still has some life and is on our current patio at the Georgian. No styled photos yet as I'm busy sprucing up the deck this week.
If French country style and laid back farmhouse vibes are calling, collect more ideas HERE and HERE.
Will This Inexpensive Set Fall Apart?
I wondered about quality and weight since the bistro set is inexpensive. But no worries. Constructed with a sturdy steel frame and coated with a durable powder coat for rust and fade resistance, it's on the deck here at the Georgian. (Also, chair corners have antiskid foot pads to reduce floor damage.)
Sanctuary Simplicity With a French Café Look
It would be dreamy to jet to Paris or Provence for summer vacation, but maybe a consolation is to skip travel woes of the 2020s. Why not bring a little South of France to your corner of the universe?
But what if you lack outdoor space? The emphasis is on simple. In fact, I set up my little Frenchy small simple sanctuary away from the courtyard in a private, sheltered by trees, corner on the side of our home. (Have you noticed how side yards in America are often overlooked for their sanctuary potential?
Look at the possibilities for privacy and quiet. The beauty of bistro sets is their small scale…they can work on the smallest of apartment balconies or patios.
Want to dress up the look with outdoor friendly plates and gorgeous gingham napkins? I shared a few lovely options on this mood board:
Sweet Blooming Sanctuaries
Is your thing puttering in the garden and tending plants and flowers? Have a corner that could use a little pretty help to welcome a living collection of joy?
Of course, an indoor sunny sanctuary moment for smiles will also do.
The terrarium is on sale for less than $50 right now, and it's extra helpful if you are short on space. The scale of it is petite, and it would be amazing on a three season or screened porch too.
Inside it is a little copper tray which would look darling massed with succulents or any number of terrarium lovin options.
Here are some items I personally own that look even better in person than on the mood board below.
It's versatile enough that I have moved it around, creating different sanctuary moments in various rooms.
The baskets hold plants (and include a plastic insert to protect the woven material) but I have also used them for wastebaskets and pretty storage. Of the two styles, I think I like the water hyacinth ones best, but the scale of the large rattan one was perfect for a holiday tree last year.
Even the shelf on the bottom of the terrarium is handy. I can imagine this piece in a sunny bathroom with a basket or tray of toiletries upon the shelf.
Porch Sitting Sanctuary Simplicity
I think for a lot of design freaks, a new house is a great excuse to clear the decks and shop for new furniture and accessories.
That has never been how the more sensible me rolls. (Marketers would call me a "bad blogger" rather than practical.) When you invest in pieces that last, there isn't a need to keep reinventing and replacing. These comfy patio chairs are still going strong.
They have lived on our prior patio and porch, in a den through the winter, and now on our front porch at the Georgian. And maybe you recognize the French stripe baskets on the mood boards above and below which were in my dressing room closet:
and also in our bedroom closet…
BTW. Our DIY custom closet project qualifies as a "small simple sanctuary" despite how it is an intermediate DIY. Order can be blissful. Not sure my husband believed how a closet could become a very Zen moment of daily calm until he got one. In our former home with his and hers bedroom closets, mine was larger, and we transformed it into this little sanctuary of a world for me. In this home, HE gets one too, and now he's a believer!
If these baskets happen to be in stock, snag them! They fly off the shelves of every vendor to which I link!
Cozy Corner to Read
There's something powerful about taking time to rest and enjoy simple pleasures in a culture that wants us constantly consuming and producing. But rest is productive. It's not a lazy act to recharge and recover from all the things.
I chose to use the same tree wallpaper mural installed as an accent wall in the bedroom above in our entry here at the Georgian. There were a thousand other patterns I could have chosen, but this one was what I associated with peaceful moments and rest. I saw no need to reinvent.
Just lighting a candle can be the gateway to a moment, to an afternoon spent relaxing. Outdoor reading is awesome too, and a basket of Milieu magazine past issues is hard to beat for this girl.
When a Simple Sanctuary Spot Calls for Snacks
Whether you call it charcuterie, jarcuterie, cheese eating or something else, summer afternoons are perfect for little impromptu picnics that require very little effort.
Jarcuterie = Charcuterie in a Glass Jar
I hope you'll pin this image below so the idea will be ready when you need it! It is basically portioning individual cheeseboards and skipping the board. So simple. Layer graze board friendly snacks, skewer a few with toothpicks, and don't overthink it.
You could use small mason jars, cute recycled glass French yogurt jars, or plain glass tumblers like mine.
Storebought Baguettes Mean No Baking or Cooking Required
Bet you could imagine a hundred ways to riff on this menu idea for an easy lunch…
…cater in your favorite roast chicken, salad, or croque monsieur. Keep the mood simple yet special.
Simple Serene Table Decor
The French know their way around effortless simplicity so definitely do NOT overthink decorating the table.
For my French cafe look, the Turkish beach towel keenly contrasts with all the white, a simple planter holds potted rosemary, and pastel napkins soften the understated look.
Don't forget to address all of the senses. The simplicity of fragrant potted rosemary or lavender? Hard to beat for a casual mix like this one.
A Sanctuary Moment Inside?
I had fun when I bought this bistro set and styled it within a guest bedroom as well. It was surprising how it instantly brought a European country vibe to that room!
Have a kitchen corner or space in a bedroom or office to help it feel more inviting?
Why Bother to Create Pretty Moments at All?
I think it's worth mentioning that I don't find introducing beauty to the everyday to be frivolous, unnecessary, or superficial.
Often, beauty sparks joy, and when you consider how joy and delight relate to living fully and purposefully…well that is beautiful pondering.
Taking a moment for delight, for joy, is not escaping from your problems or cares or work.
It is entering into relationship with beauty and what it means to be here now, to be alive, at this moment in time.
If you are prone to joyful living and joyful thinking, maybe this discussion strikes you as silly since you're well aware you don't require permission or reminders.
But some of us are prone to despair (ahem), and such deeper reflection is helpful to unlearn or learn for the very first time that joy awaits, is ours for the taking. That there are obstacles to joy of which we may be unaware…
And that joy is hidden in the fabric of our ordinary lives.
Lately I have been collecting delights. If you were here with me this very moment, I would tell you about a couple of mine, but I would begin to weep, and you would need to remind me to have a glass of water. One of them happened a couple days back when our youngest son facetimed so I could see how Pony Boy (we love this cat so much) is recovering from a condition and a lifesaving procedure at the hospital.
Our son had made a comfy nest for him to rest in front of the screen door through which he gazed. I felt this awful pang of heartache because the sight of his lethargic state of recovery triggered memories of Snoopy (our other son's blind rescue passed just weeks ago.) Sadness washed over me as the rain fell, and I imagined Pony longing to be outdoors. Suddenly two ducks happily waddled right down the street through the puddles. A parade of delight JUST FOR PONY is how the spectacle felt. What joy! Oh what beauty entering my heart, opening it to the realm of angels, to the realm of blind pets who left us too soon yet continue to help us see.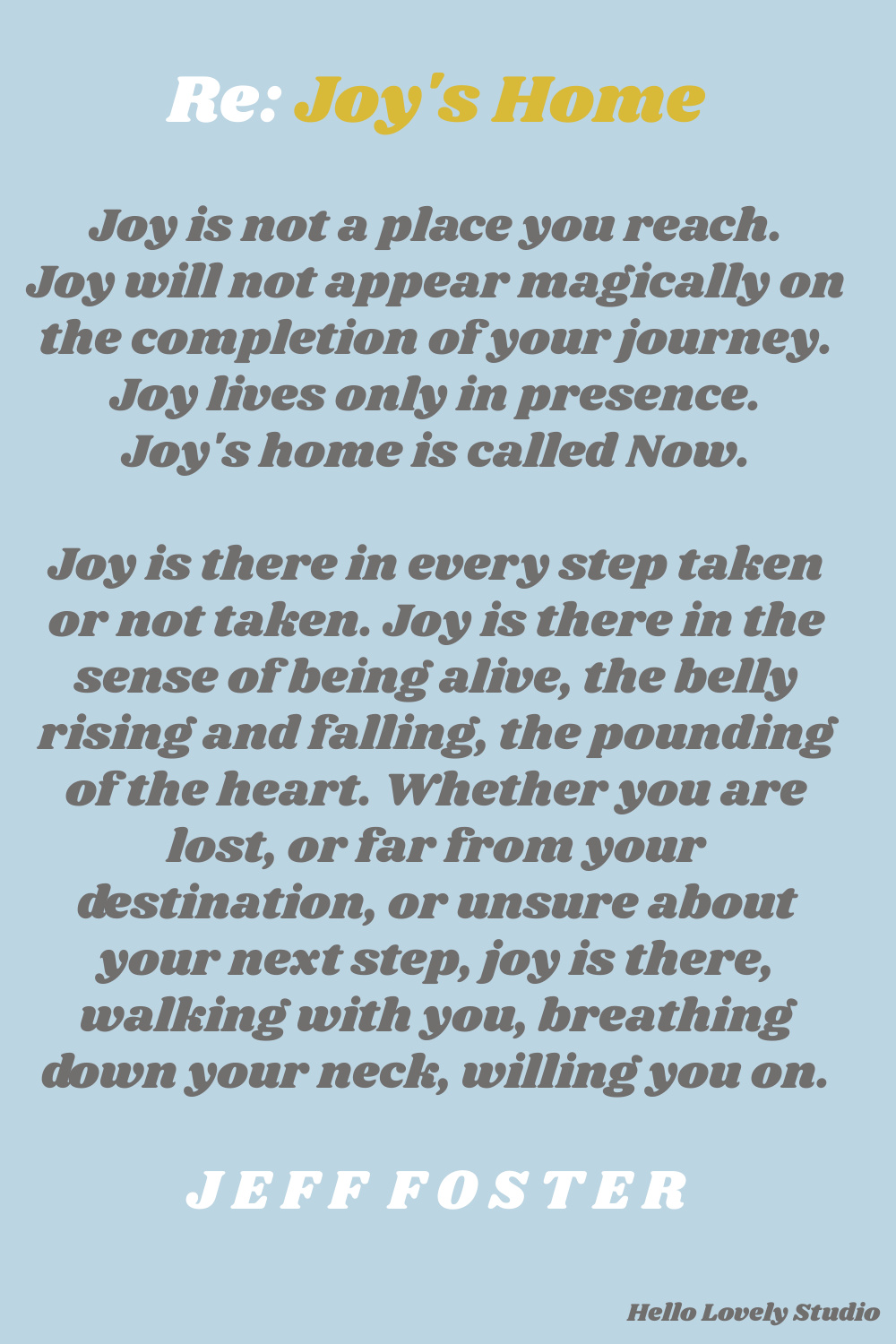 I am thinking of you this very moment. About how joy is walking with you, no matter the circumstance, no matter the prognosis, no matter the grief or loss. Bless you for opening your heart to delight while it is still broken. And bless you for defiantly giving your YES to joy. Bless you for connecting with unknown blessings already on their way, simply by noticing delight.
I independently selected products in this post—if you buy from one of my links, I may earn a commission.
Peace to you right where you are.
-michele
Thanks for shopping RIGHT HERE to keep decor inspiration flowing on Hello Lovely!
Hello Lovely is a participant in the Amazon Services LLC Associates Program, an affiliate advertising program designed to provide a means for sites to earn fees by linking to Amazon.com and affiliated sites.