How is June treating you, friends? As long as I don't watch the news, it is a lovely one here. Outdoor Living Ideas: 11 Easy Tips for Pretty Patios & Gardens brings simple summery yum as we turn our attention to garden inspiration, patios, decks, and porches. Since I live in Northern Illinois, it always takes time before our gardens are lush, and since I am still busy inside with projects, this post reflects our former courtyard. (My next courtyard will be just as private, and someday I'll get to spruce it up!)
Pssst. The quotes and poetry excerpts here mostly fall under an umbrella of 'self-care' (albeit 'spiritual' or 'contemplative' self-care quotes). I wonder if there are seeds of hope, discovery, or soulfulness planted here?
11 Easy Ideas for Pretty Patios, Gardens & Outdoor Living
I independently selected products in this post—if you buy from one of my links, I may earn a commission.
1. Rustic Stools & Side Tables
You can bet that all of my own outdoor living tips are going to be extra easy because as a more indoorsy soul, easy is what I know.
If you'll recall, our Frenchy former courtyard was kept ultra simple with rustic seating and a rotation of petite wooden side tables/stools for drinks.
Whether used for extra seating or as a perch for flowers, herbs, citronella candles, or lanterns, they just make good sense.
These particular stools from Wayfair come in a lovely unfinished, scrubbed state I left alone.
However, you could paint or stain to your taste.
I love how these look good in a variety of different spots.
2. Small Space? Hang a Planter!
Here's an easy way to make any outdoor space a little happier…a simple and organic hanging planter like this affordable one:
Isn't it darling? I love the design of the branch-like hook so much and will be adding at least one to my own space:
The ease and price are hard to beat!
3. Incorporate Galvanized Metal into a Casual Scheme
Whether you collect vintage galvanized watering cans and buckets as I do or buy inexpensive examples, these pieces weather well and match everything.
The vintage examples are getting pricey these days, and many of them leak anyway! So there's always an aged example that won't leak:
I love collecting pieces for the garden that aren't just sitting around lookin' pretty but actually get used!
A few vintage watering cans on display will likely move to a shelf or bench. Find new galvanized watering cans here.
4. Bring the Inside Out
Don't be afraid to bring pieces that live inside out to the garden for entertaining. Something magical happens when you go to that extra effort!
While there's nothing fancy about schlepping a rustic indoor farm table outdoors for a special occasion (or an ordinary Tuesday!), it feels romantic and sweet.
Even if the occasion is simply cupcakes and cocktails for a few pals, go to the extra trouble of creating a mood.
I found the pretty runner and cloth napkins HERE.
5. Add a Firepit to Create Intimacy
So often we forget that the whole point of prettying a patio or outdoor project is for the everyday, not just for curb appeal or occasions.
Creating for the everyday means simply adding lovely opportunities to gather, relax, and enjoy nature.
In our former courtyard, even without a firepit, things felt intimate and cozy. But adding a simple fire bowl elevated it to a place to whisper stories as fireflies dance.
Pssst. No room for a firepit on your balcony or small patio?
Do you know about tabletop mini firepits? My exact one is below in this gift guide (top right), and you simply add isopropyl alcohol for a flameless, no mess fire for s'mores and ambiance:
6. French Farmhouse Charm
For a French inspired scheme, bistro sets are swell for small spaces, and they instantly create a peaceful pocket of sanctuary for reading and sipping.
Vintage Bicycle With Basket as Planter
I snagged the rusty old white bicycle at a yard sale, and it adds to the Frenchy feel with its simple florals in the shabby basket.
Sometimes you'll have a corner in need of softening, and it's okay to be lazy like me…add an old bike!
A curvy chair might also do the trick:
7. Perk Up Inexpensive Hand Me Down Furniture With Paint
My wood chairs and benches are yard sale finds painted in a 50/50 combination of these grey-whites: Farrow & Ball Cornforth White and Hardwick White.
I like how the paint has weathered and the pieces have an aged look after a few years outside.
8. Instant Garden Accent Gate
We wanted a custom wood garden gate for our former courtyard, but we were short on time with so many renovation projects going on inside.
So we visited a local big box store and found a decorative gate that works just fine! You can find these inexpensive garden accent gates everywhere now.
Budget Friendly Wood Patio or Courtyard Furniture
9. Bring in a Garden Accent Like My DIY French Poem Stenciled Mirror
Here's the French stencil used to quickly create an etched look on an old beveled mirror we salvaged from a bathroom renovation:
It takes no time to stencil a mirror when the stencil is large like this one! It attracts the birds who love to admire themselves, and contrary to what you may think, they don't crash into it.
10. Consider Pea Gravel
Think beyond mulch – I'm a huge fan of the look of pea gravel and how easy it is to live with.
Here's a close-up of the colors in the gravel:
If you have a few hours on a weekend, you could have a heap of pea gravel delivered and place this on it for…BOOM…instant Frenchy moment:
Here's a gorgeous idea when you want to inject color: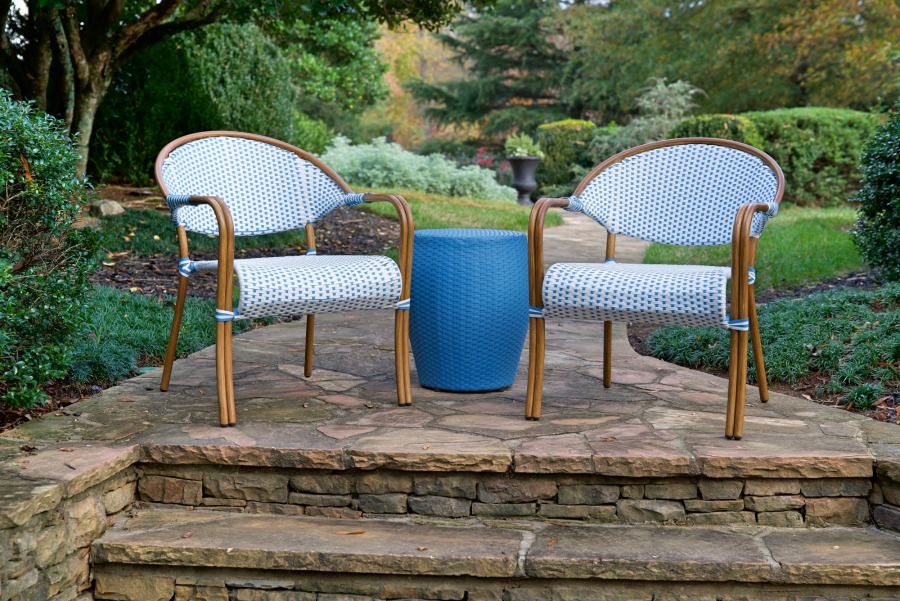 Ornate Metal Bistro Set Under $200
We Pause for an Inspiring French Garden
11. Invest in Planters That Will Serve You for Years
These planters have stood up to the elements and look just as nice as when I bought them!
You may recall we have moved on from this home, but the tall planters are on my new front porch, and one day soon I'll show you!
Thanks so much for taking these ideas for a spin, and happy summer, friends!
Peace to you right where you are.
-michele
Shop for items you already intended to buy on Amazon RIGHT HERE, and also find home decor here to keep decor inspiration flowing on Hello Lovely!
Hello Lovely is a participant in the Amazon Services LLC Associates Program, an affiliate advertising program designed to provide a means for sites to earn fees by linking to Amazon.com and affiliated sites.