Whether you're a boomer or a Gen Xer, there's a fair chance you're crushing on traditional style (#coastalgrandmother, anyone?). Today we'll revisit loveliness within Classic Interiors & Timeless Paint Color Inspo. You'll be inspired by classic and traditional interiors where some of the exact paint colors were graciously shared by the designer. Also discover educated suggestions when the precise color is unknown. Additionally, explore lighting, furniture and decor finds in the same classic spirit.
This post contains affiliate links which I hope you will use since they won't cost you a penny extra yet may earn this blog a small commission.
Classic Interiors & Timeless Paint Color Inspo
Classic Design Idea No. 1: Classic White Bathroom
What makes this bathroom timeless?
The construction materials will stand the test of time, both functionally and aesthetically.
Also, you can't miss (a) the va va voom luxury of dual benches and shower heads and (b) the architectural splendor of the shower surround itself…a work of art!
Calacatta Tile
To see a range of Calacatta marble tile and gorgeous porcelain tile options which resemble Calacatta and cost 1/4 the price? FIND THEM HERE (the bonus for DIYers is they require no special installation or sealers). Gorgeous freestanding tubs await RIGHT HERE.
Timeless Design Idea No. 2: Moravian Starry Light
Who says you need to go all Swiss cheesy on your hallway ceiling…reach for the stars!
For the fine folk who care to get design-geeky about the history of Moravian stars…Moravian refers to a small group of Germanic protestants who fled to America in the 18th century.
A professor at a Moravian school created a Moravian star to teach a geometry lesson, and this led to its rising as a symbol of the Star of Bethlehem.
Traditional Moravian stars have 26 points.
Pendant Light Ideas
I'm smitten with this idea of lining up Moravian Star Pendants in a hall…find beautiful examples HERE.
No. 3: Timeless Paint Colors for an Understated Serene Palette
Even without any dining tabletop decor or styling, this whispery lovely dining room radiates serenity and peace. The check patterned roman blinds harmonize nicely with the ruffled seat French Bergeres, classic chandelier, and drop dead gorgeous ceiling.
Find a Gramercy Gilded Iron Chandelier HERE.
Do you admire atmospheric, impossible to describe paint colors in spaces that feel utterly timeless? Is it pale blue, light grey, or a faded aqua grey-green? Visit the story below for ideas:
Those neutral tones which are so difficult to pin down are frequently the best options for timeless, non-trendy, sophisticated style.
Classic Design Detail No. 4: Old World Style Pendants
These lanterns! Aren't they showstoppers?
To see a collection of my favorites… FIND it HERE!
Timeless Paint Colors: Simply White
Admire this combination of white oak hardwood flooring with BENJAMIN MOORE Simply White, and the gray paint color on the door? Keep reading to find blue-grey paint color suggestions to approach the one here.
Isn't herringbone a classic choice too? It's a pattern suggestive of history, and hence, contributes a greater sense of timelessness.
Benjamin Moore Simply White Paint Color
The Fox Group shared the cabinet paint color is BENJAMIN MOORE Simply White. Antiqued brass lights on sink wall: Visual Comfort library lights – FIND THEM HERE. Fireclay apron front farm sink options RIGHT HERE and HERE. Exact handsome and simple kitchen faucet/sprayer is RIGHT HERE.
More Ideas for a Classic Palette
No. 6 Timeless Paint Colors: BM Cheating Heart
If you love those atmospheric charcoal tones that can look deep navy, soft black, or even espresso, here's a keeper.
Isn't Cheating Heart stunning with gold-toned hardware?
Classic Design Element No. 7: Subway Tile
It honestly looks good in any room of the house!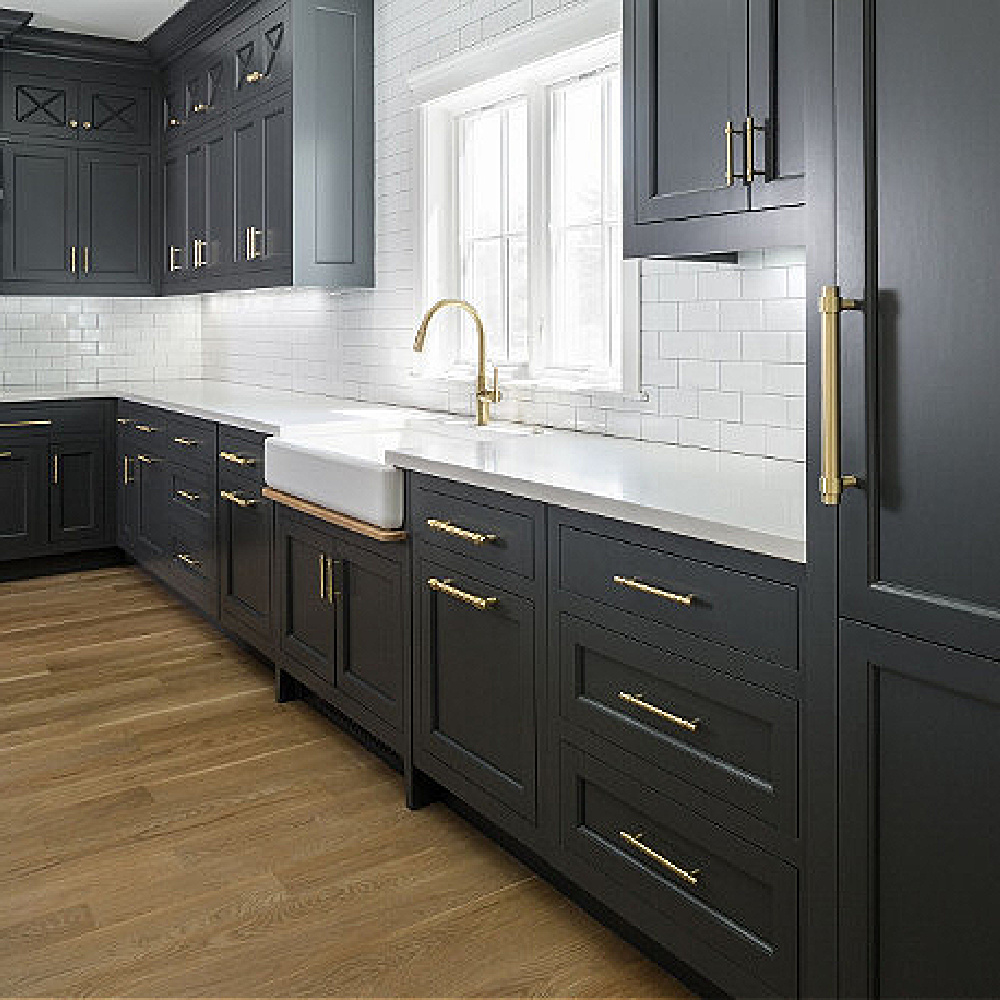 I have always loved this clever riff on traditional white subway tile in a shower (below) from The Fox Group.
A subtle, contrasting narrow tile is used creates interest with a stripe effect.
Is it a nod to Mid-century modern's love affair with geometry? Slightly art-deco? Steeped in classicism? All of the above?
No. 8 Timeless Kitchen Mood: High Contrast
When you're investing in a kitchen design that feels fresh, traditional, and smart for re-sale, keep the materials, palette, and design as classically simple and timeless as this one.
Benjamin Moore Cheating Heart Paint Color
Wouldn't this deep grey paint color make a great statement on a front door?
Classic Paint Color to Try: No. 9
But first. What makes a built-in banquette so timeless?
They are reminiscent of a bygone era when quality craftsmanship reigned and breakfast rooms were on the smaller size.
Try Benjamin Moore White Dove for a similar look for your space. It is one of those whites that works well in traditional spaces and especially in old homes.
Benjamin Moore White Dove Paint Color
Timeless Paint Colors No. 10: A Strong Blue-Grey
The Fox Group renders such amazing craftsmanship with regards to detailed millwork, and in this space, the paint color color elevates the whole look.
Benjamin Moore Galveston Gray Paint Color
Need a few more ideas?
Here's an inspiring front door with Galveston Gray paint color:
Classic Paint Color Idea No. 11: A Rich Navy Blue
How handsome is this media room!?!
And how classic is the plaid floor covering? I'm crazy about this stair runner too:
Blue and white are such best friends! Even when it's just the accessories where you pick up the blue:
You can't go wrong with blue and white chinoiserie pieces when you're after a richly traditional and classic timeless look.
Find a variety of blue and white chinoiserie pieces RIGHT HERE.
Classic Paint Color Idea No. 12: Grey-Black
Benjamin Moore Iron Mountain Front Door Paint Color
Similar antique brass handleset: FIND HERE; and also find a similar English farmhouse style outdoor wall sconce: HERE. Brass wall mounted mailbox ideas: FIND HERE; and cedar planks for porch ceiling: FIND HERE. Exterior siding: 8″ Artisan Hardieboard planks; copper gutter downspouts and downpipes. Windows: Pella (custom); paint color for front door: BENAMIN MOORE Iron Mountain.
Easiest way to see if a paint color will work? Order samples with Samplize and have them delivered straight to your door.
Timeless Interior Design Idea No. 13: Symmetry
This mud room is clad in the somehow still trending (albeit steeped in tradition) shiplap. However, it takes on a freshened classic feel with traditional style cabinetry and the x pattern on cabinet doors.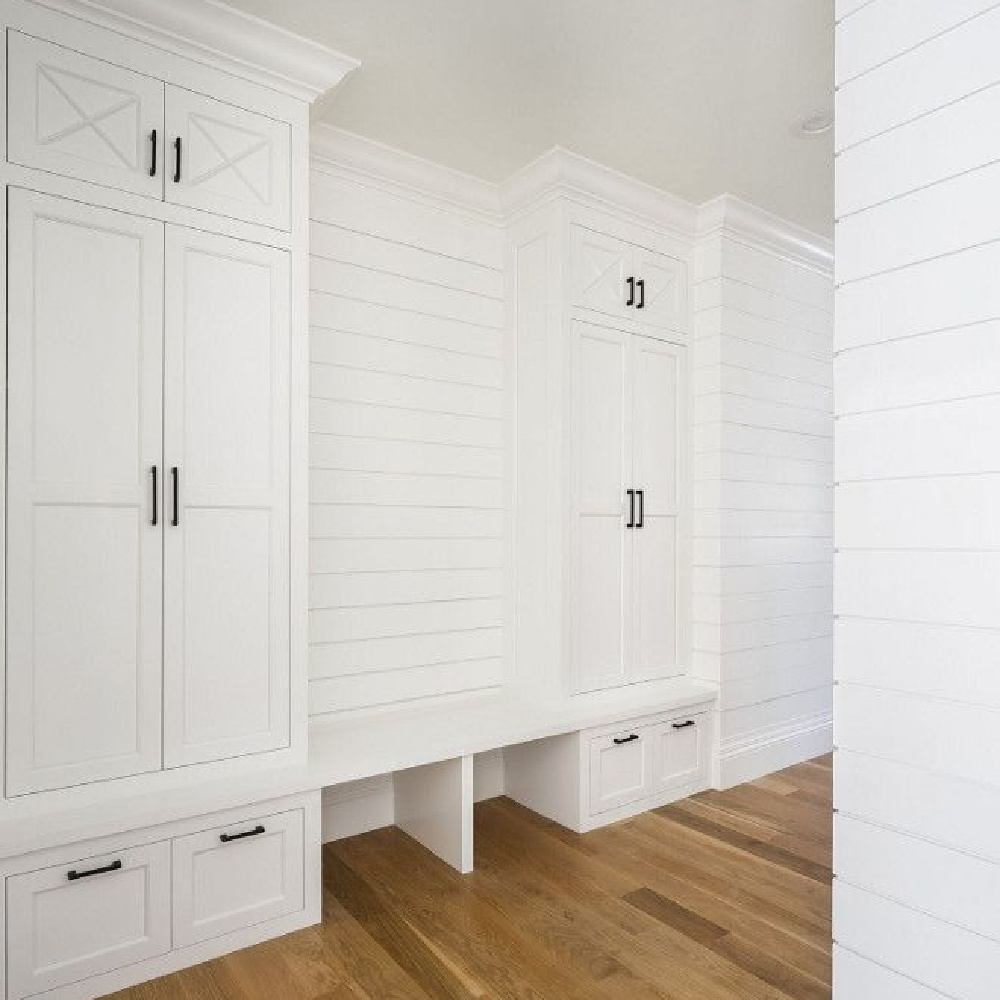 More classic symmetry here with these breathtakingly beautiful skinny French doors flanking the magnificent shower in this luxurious fantasy bathroom by The Fox Group!
Timeless White Paint Idea No. 14: BM Simply White & Trout Gray
The gorgeous charcoal grey you see in the mud room beyond the kitchen above is BENJAMIN MOORE Trout Gray.
Timeless Paint Guess No. 15: Dramatic Saturated Blue/Grey
What is that amazing paint color anyway? Try samples of these three for a similar look:
Benjamin Moore Normandy is sort of a showstopper!
Debonair from Sherwin-Williams is also a contender:
If you're after a sophisticated blue, try Bracing Blue:
About The Fox Group
With over 25 years of combined experience Tom and Cara Fox have a true passion for creating beautiful, timeless homes and spaces, specializing in classic design, millwork and wainscoting. Based in Salt Lake City, they offer complete architectural plans and design (as well as furnishings and styling) and build or renovations of custom homes.
I independently selected products in this post—if you buy from one of my links, I may earn a commission.
Beautifully Timeless Furniture Finds
Linen Dining & Accent Chairs
Love a classic wing back chair for a variety of decor settings including traditional, French country, coastal, transitional, or modern farmhouse?
For a splurge, here is a beauty to behold…
And here's a more budget friendly option:
If you appreciate the convenience of shopping Amazon, you may be happy to discover this gorgeous chair set (the subtle nailhead trim on the skirt is a nice touch.)
Four Lovely Lighting Possibilities
Timeless Blue Hue
If you have a moment, take a tour of this MODERN TUDOR home which has all sorts of timeless design details to file away:
I independently selected products in this post—if you buy from one of my links, I may earn a commission.
Peace to you right where you are.
-michele
Thanks for shopping RIGHT HERE to keep decor inspiration flowing on Hello Lovely!
Hello Lovely is a participant in the Amazon Services LLC Associates Program, an affiliate advertising program designed to provide a means for sites to earn fees by linking to Amazon.com and affiliated sites.