If mild weather, dreams of long summer days ahead, and the itch to create more ways to enjoy the outdoors have you dreaming of she sheds…this may entice. Folks are using them for working from home, potting sheds, reading nooks, slumber parties, at home camping, and relaxing. Me? I'm mostly dreaming and scheming about indoorsy ventures, but I do miss having a screen porch and wonder if a screened she shed is in my future. She Sheds: Dreaming Inspiration is comin right up.
She Sheds: Dreaming Inspiration
Whether we're reviewing a fantasy she shed or a simple structure, I bet you'll find this gallery inspiring.
Fantasy Garden Studio Shed
(Above) Converted from a former one-car garage, this garden studio by Mar Jennings boasts a Dutch door, floor to ceiling shelves, and center island for flower arranging and planting. The studio's once bare cement floor was painted in black and white checks. More windows were installed to invite more light, and a plain garage door upgraded with a charming carriage door.
Sweet Homestead Shed of Simplicity
Isn't this cozy den and summer sleeping space by Simply the Nest inviting and slightly mysterious?
Pssst. If you find yourself without a yard, shed dreams, or interest in forts for grownups, mosey over to shop sales HERE. (And if livable luxe is your jam, do peek at any sales happening at Jenni Kayne where sales are indeed rare.)
A few JK bestsellers are on this mood board:
The only waterfront near me is a river, but that won't keep me from going coastal in my mind…if you're also in the mood, see this.
And should this change of seasons leave you itching to travel, this nostalgic 1972 performance may be in order. There aren't many things that make me feel young again, but the fact that John Denver wrote this the year I was born? That'll do it:
Backyard she sheds count as a 'someday' dreamy notion for a lot of us, not unlike tripping out a vintage camper. Collecting pretty inspiration and designing the perfect she sheds if only in your imagination is sweet relief from so many cares in modern life.
I independently selected products in this post—if you buy from one of my links, I may earn a commission.
Aren't greenhouse kits an amazing prospect?
Did you spot the sink just outside the structure above!?!
Beautiful Shed Possibilities Online
If you're handy or know someone who is the DIY type, shed kits, sheds and even pre-assembled greenhouses can be snagged online.
There are so many choices, plain and simple:
teeny tiny:
and more elaborate:
And don't think that she sheds are only for farm girls or master gardeners.
Because a mini-getaway is highly customizable and can be tailored to your taste and whims.
I sort of like the idea of she shed as a way of spending a summer afternoon (since we can't take afternoons with us – we may as well spend them!).
Sophisticated She Sheds
She sheds can be an excuse to shoot the moon. The garden studio mentioned earlier in this post keeps getting better and better (as if it were not already out of this world gorgeous!). I can't wait to see what Mar Jennings has up his sleeve for the next incarnation inside this dazzling fantasy!
High style is always a good idea, and maybe the shed can function as a tiny guest cottage or home office?
For example, have you seen the magical fantasy of a sophisticated potting shed with it stunning good looks outside AND inside designed by Loi of Tone on Tone?
You know it's a timeless dreamy dream build of a potting shed when it appears to have existed forever!
DIY Sheds from Kits
With such a cozy little footprint, every square inch of a backyard shelter must be considered. But there are so many ways of customizing these structures!
Whether you hire a builder, order a DIY kit, or buy something ready to paint, the possibilities for creative customization are endless.
Hmmmmm. Is it a she shed you need or just a fabulous outdoor fort?
Imagine how you could add custom curtains to the above daybed, surround it with blooming containers, and maybe add a couple of these nearby:
Fantasy Treehouse Backyard Shed
Made from reclaimed windows, doors, and lumber, the tree house was thoughtfully constructed so that it moves with the natural movement and growth of the trees. To understand what that means, this is a must watch below!
Less elaborate, but still fantasy territory for sure:
She Shed Art Studio
This nearly 500 sf she shed in Alabama boasts a picturesque setting, and its owner (an antiques dealer) describes the design as "Victorian greenhouse meets Alabama farmhouse."
She sheds are a reminder of how living small can also mean living beautifully. Whitney Leigh Morris is a wonderful teacher about this. Here is her own home in Venice Beach:
and here is her book Small Space Style:
Potting She Sheds
Known as The Hobby House, this Sharpsville, Indiana backyard oasis potting shed has been graced with dreamy robin's egg blue paint and superb styling by its creator, Donna Jenkins.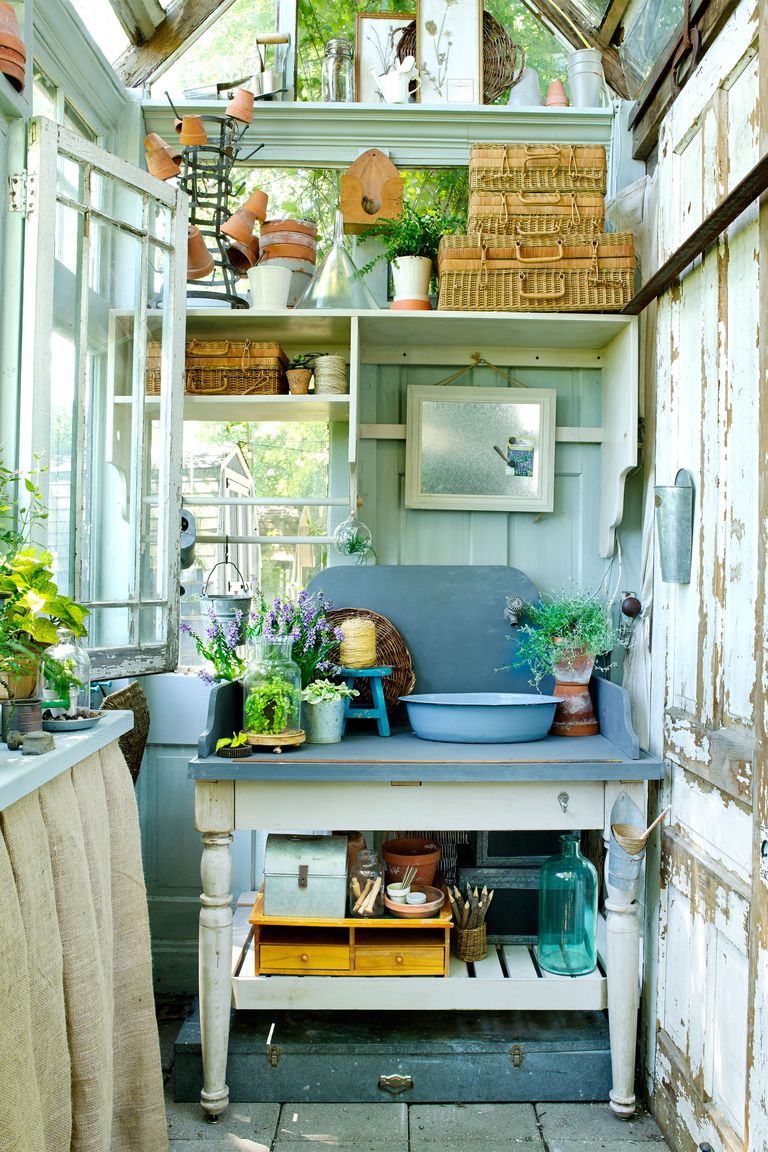 Oh, these colors! If you too admire pretty blues and greens, ideas from these coastal accents may charm you.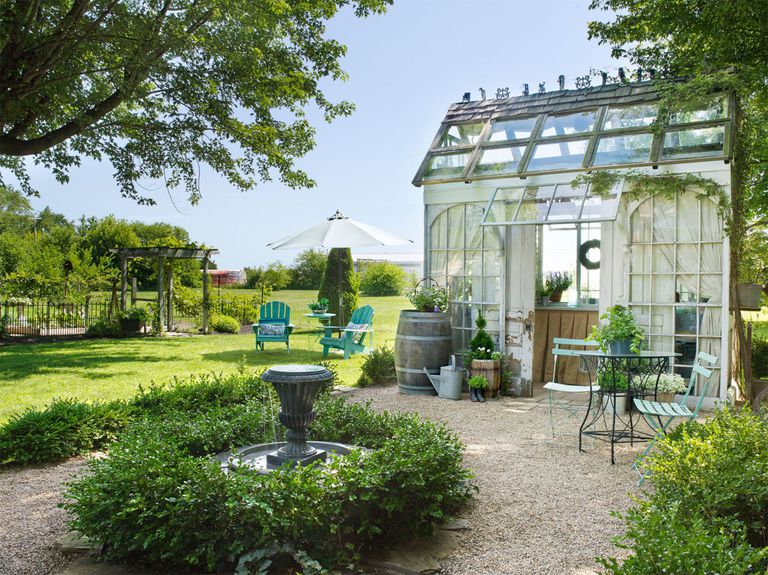 Country Style Writer's Retreat She Shed
Shelter for a French Farmhouse
I'll never forget when Brooke and Steve Giannetti were designing outdoor structures at Patina Farm and came up with a creative solution for a little barn shed for these guys:
When the estimate to build the original design dreamed up by Steve Giannetti came back on the astronomical side, they found this alternative:
The beautiful creatures at Patina Farm are indeed living a charmed existence in Ojai, California. Remember the chicken coop which is accessed through the greenhouse?
Customizing Inspiration for Cedar Sheds
DIY Backyard Greenhouse
A young couple who bought a 100 year old home in Nashville reimagined the old broken down garage that came with it as a functional backyard greenhouse…utilizing their collection of vintage windows and help from The Home Depot!
Work & Play Garden House
Built from recycled wood pallets and architectural salvage, Alice Collyer's rustic backyard garden storage she shed has evolved with the times and lived many lives. Currently, it serves as both a work and play space for her children
Rustic Luxe She Shed for Relaxation
High Style & Architecturally ShedTacular Good Looks
Glass Garden Shed Palace
139 windows plus five French doors and a glorious imagination add up to 600 square feet of backyard garden bliss in Georgia.
See this post for more info about Tarrytown Green, and PIN THIS lovely PAINT SWATCH for future reference!
Chic Shed with Stunning Spanish Style
She Sheds, Garden Sheds, Potting Sheds, and Shed Kits to Consider
Find a collection of shed kit ideas in a collection HERE.
Watch This Smart Rendering of a Shed Taking Shape!
No dangerous cuts to make when you use a kit like this.
Perfect for a Rustic Elegant She Shed
If you have a moment to visit slightly more spacious she sheds, see this story with tiny cottages!
I independently selected products in this post—if you buy from one of my links, I may earn a commission.
Peace to you right where you are.
-michele
Shop for items you already intended to buy on Amazon RIGHT HERE, and also find home decor here to keep decor inspiration flowing on Hello Lovely!
Hello Lovely is a participant in the Amazon Services LLC Associates Program, an affiliate advertising program designed to provide a means for sites to earn fees by linking to Amazon.com and affiliated sites.