First things first. The joy you see embodied above? That's my friend's driveway last Thursday night. Yep. Some of us feel Saturdays have monopolized FUN far too long. And frankly, with my age, North Korea, and a genetic inability to suppress cancerous tumor growth, Sweet Brown and I simply do not have that kind of time…ya know?
A pop-up art party ("Free Up Follies") rolled into town by way of a surfer's dreamride, carrying only the cutest vintage-inspired cargo: handmade wearables and whimsical work by artists Jenny Sweeney, Melissa James, and Maddie Reasoner. If we must say bonvoyage to summer, this is my kinda send-off.
You may be familiar with artist Melissa's amazing photography and abstract paintings spotlighted on Hello Lovely. Melissa was as colorful and comedic as ever, self-deprecating about her inability to wear Yves Saint Laurent lipstick (makes her feel too Carol Burnett…you maybe had to be there).
Maddie and I share a passion for baking, and we talked forever about: her process for growing sourdough starters, the brilliance of shipping container homes, and how gratifying it is to grow your own vegetables. Years ago, I taught this creative to make baby chocolate brioche and country sourdough in the big French Country kitchen I especially miss on baking days, which is to say, daily.
What a delight to meet Jenny Sweeney, whose signature style is as colorful, beachy, and boho happy chic as it gets. It was my pleasure to chat with Jenny about her success in the stationery industry and flight from corporate life to creative liberation (with room for the freedom and folly her soul needs). The heartwarming creatures she paints don't just exist in her imagination–some of them breathe the air on her mother's farm! Her authenticity sparkles and shines as brightly as the psychedelic-saucy colors in her favored happy palette…thank you, Jenny, for sharing your heart, your 4-legged blanc d'ivoire baby Mick, and for not hightailing your bitchen bus outta Dodge when this blogger unapologetically lapsed into blogspeak* and enlightened you about the term 'monetize.' Oy.
*for non-bloggers, blogspeak is the auditory equivalent of speaking in tongues…I am a repeat offender (and still weird but nice).
Here's what I took away from this pop-up art show with kindred spirits:
Art heals if we let it.
We truly are…all of us…just walking each other home.
Happy colors can wake up and illuminate weary souls.
It's good to let your heart be light, even on a Thursday.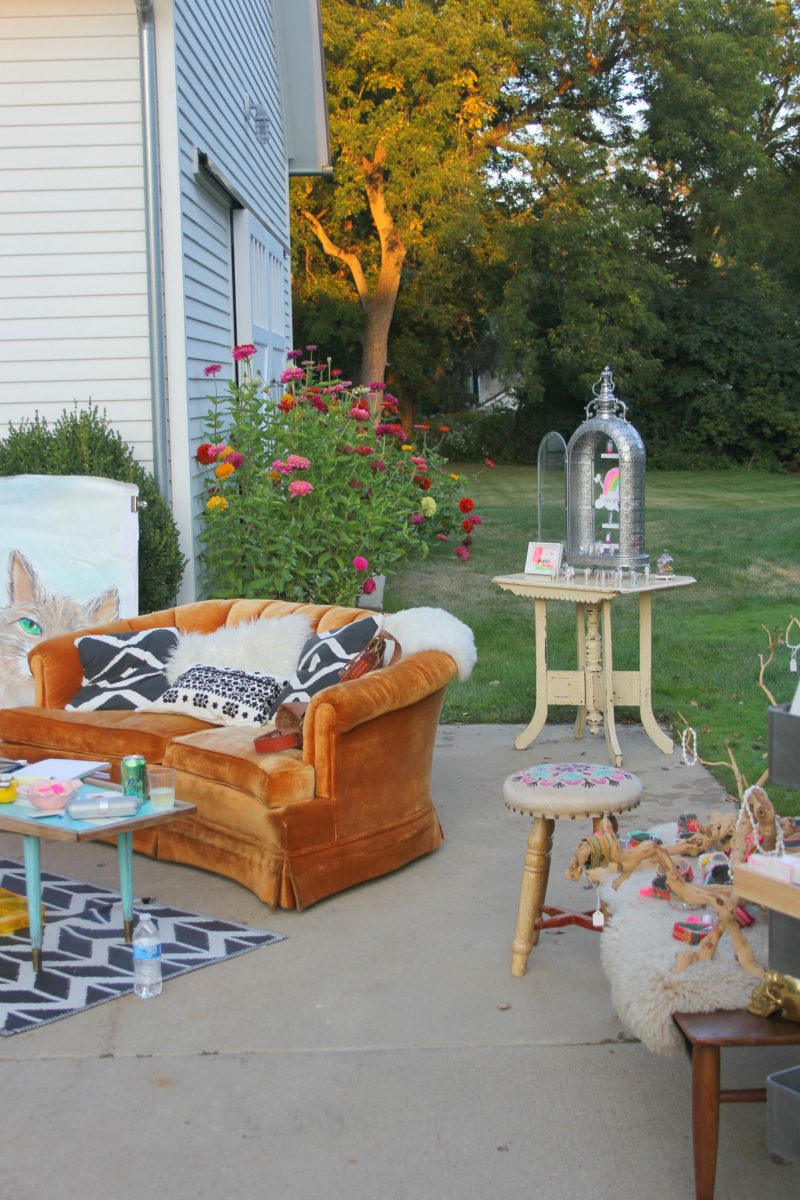 Enjoy these images from the art show and Jenny's home and do visit
Jenny Sweeney Designs and Melissa James Studio!
Are we surprised that this is what Jenny Sweeney's studio looks like?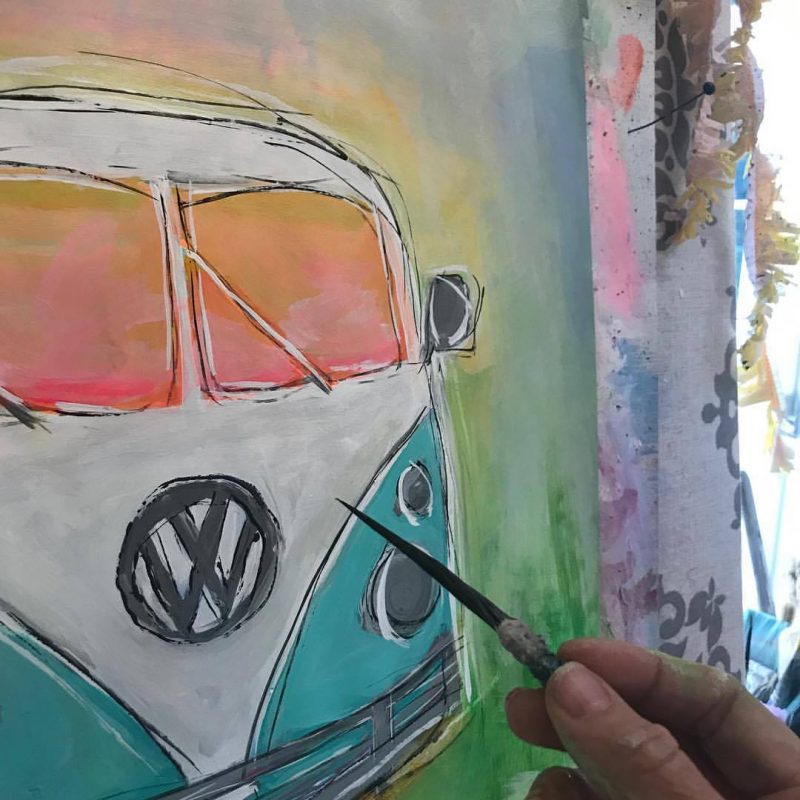 Can you feel the love in the work and from the hearts creating it?
p.s.
This should squash any rumors Hello Lovely can't tolerate color, oui?
Peace to you right where you are.
-michele
This post contains affiliate links which I hope you will use since they won't cost you a penny extra yet may earn this blog a small commission.
Support Hello Lovely by shopping Amazon RIGHT HERE for anything (not just products mentioned here) to keep the inspiration flowing!
I'm a participant in the Amazon Services LLC Associates Program, an affiliate advertising program designed to provide a means for me to earn fees by linking to Amazon.com and affiliated sites.
Click HERE to find cost conscious furniture and decor for your home too!