Time to celebrate inspiring outdoor living spaces as we explore outdoor spots for relaxing, dining, meditating, reading, and connecting. We won't be concerned with perfectly manicured lawns, bountiful gardens, or even slick pool houses ahead. Instead, unfussy and rustic yet elegant spaces for deep breaths are in the spotlight. While I favor a French inspired or European Country style, there's plenty of overlap with country/cottage/modern farmhouse that it seems silly to apply labels to everything! Outdoor Oasis Inspiration is comin at ya!
Inspiring Outdoor Living Spaces With Actionable Ideas to Try
Full disclosure: the only outdoor oasis I have created thus far at the new house? Placing these comfy, good looking chairs (below, on our former patio) on the front porch for porch sitting. Which brings us to our first ACTIONABLE IDEA to try.
1. Mindful Designing: Adopt a Fresh Perspective of "Wellth"
I plan to measure "wellth" this spring and summer in part by the amount of time spent sitting on the porch in a comfy chair.
I won't pressure myself to engage in productive activities (creating content on a laptop, reading, listening to an inspiring podcast, or even journaling). Rather, breathing deeply and listening to birdsong and just being present are the idea.
In our former home, I hung out in the French country inspired courtyard with its potted lavender, boxwood, and seasonal blooms. There are things I miss about that lovely area we customized just for ourselves and a few things I don't.
Believe it or not, my peace was consistently disrupted in that courtyard, and I don't mean by deer and wild turkeys. This brings me to our next actionable idea inspired by beautiful outdoor oasis living areas.
2. Create & Protect Privacy & Seclusion
I can't tell you how many times I was startled by solicitors, scam artists, and strangers who showed up unannounced. In some cases, they were simply insensitive to my personal space EVEN during the height of the pandemic. But in other cases, there was aggressive behavior where I had to leave, lock the door, and call the authorities.
It happened so many times in our "sleepy, safe, suburban neighborhood" that I nearly gave up on the prospect of peacefully settling in my own yard. Not even a gate prevented the trespassing, and there were too many paths to access my little sanctuary.
Ring cameras help to alert us on our iPhones, but I don't like being tethered to my phone. I dreamed of designing our outdoor area with better protection from uninvited company, and if we had not moved, it would have been a priority.
So do think about privacy panels, locked gates, security cameras, and fences to preserve your patio privacy. You would never suspect that in our former neighborhood, such serial trespassing and theft threats would be issues.
In fact, I had to become very aggressive in several instances where folks tried to physically enter that home! I am not the type who worries about home invasion or frets about neighborhood crime so these experiences were extra startling and wake up calls to be more intentional about home security.
3. Think Green for Your Oasis
There's something so calming, lifegiving, and natural about soft sages and French green in the garden.
Sometimes just the color story from inspiring images can spark your creativity. In this moment from Vivi et Margot below, French green, grey stone, and pops of lavender set a glorious tone. See THIS for serene paint color ideas to get the look.
Muted sunny golds and aged terracotta can also be magic with green:
Sometimes you can find that warm sunny stone right here in the USA:
4. Spare Outdoor Spaces Can Be Soothing Too
Gardens and lush vegetation can take time to grow, but airy outdoor living spaces can still be soothing and elegant. I love Erin Fetherston's style, and her lovely California home's outdoor dining space has that minimal luxe look that feels understated and easy to maintain.
Even a big rustic bowl of succulents for a small balcony, little patio, or wee porch space can be beautiful. Window boxes and gardens blooming with flowers are wonderful for gardening types. But even a few containers that are easily cared for may be enough for non-gardening types.
Jenni Kayne also knows her way around spare yet beautiful minimal luxe simplicity. Here's a taste of what you can expect from her gorgeous book PACIFIC NATURAL:
I love container gardening since I can move things around creatively depending on the mood!
5. Outdoor Sheds
No matter how you feel about shabby chic, backyard storage shed that morph into potting stations, reading nooks, or hideaways can be magical.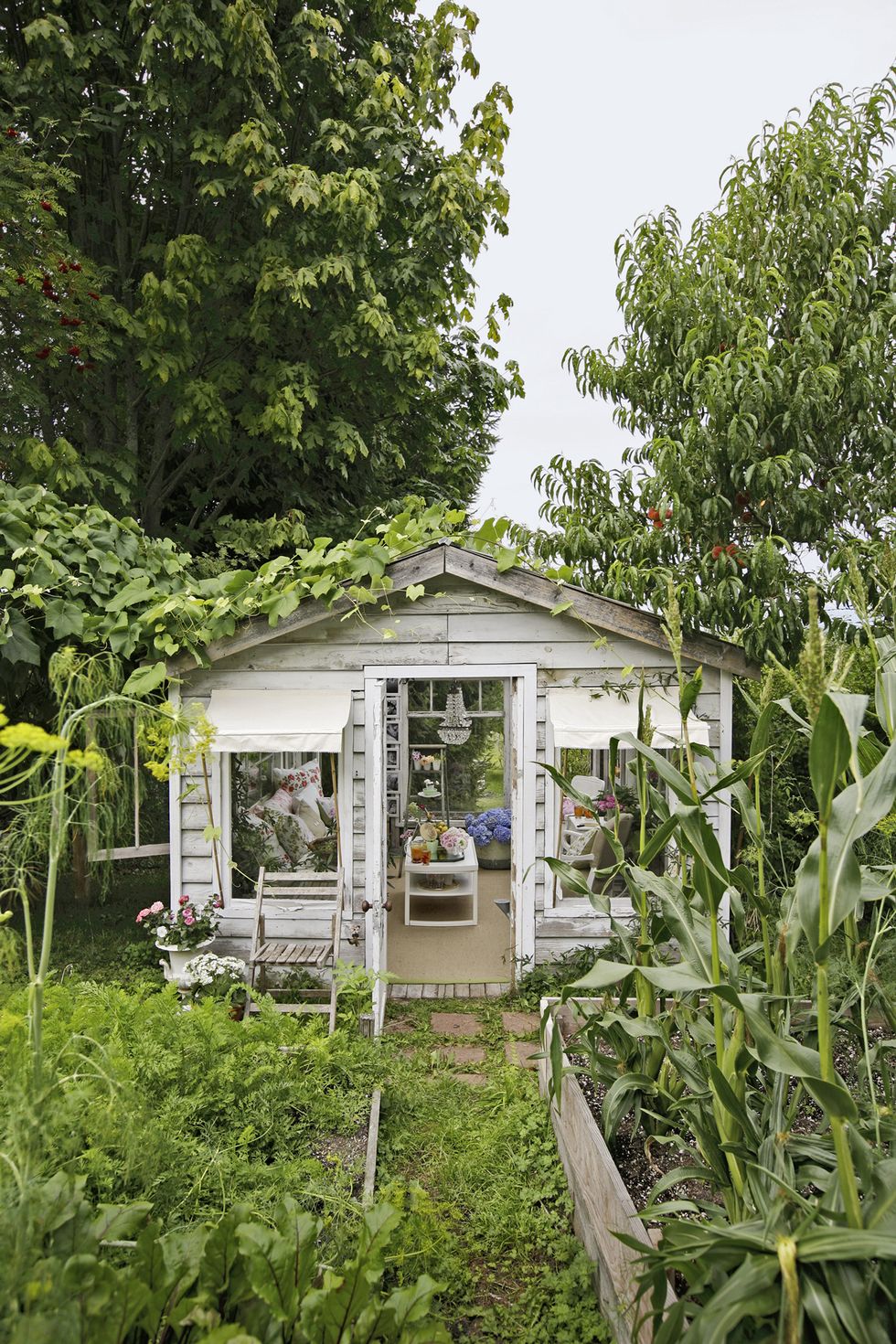 No room for a she shed? Maybe there's a spot for a party maker like this:
See more she sheds in THIS.
Perhaps the actionable part of this idea is investing in a good book about creating a she-shed or tiny guest cottage…start HERE.
6. Spruce Up Your Planters
Maybe your "oasis" can begin with helping a few potted plants or flower baskets live larger in pretty containers. Here are a few I own, and while they aren't pieces I can leave outdoors across the seasons, I have found ways to use them indoors as well.
And do get creative about your conception of "container." I picked up this old non-functional vintage bicycle at a yard sale, knowing I would use it as a garden sculpture and for its basket to hold flowers.
Keep your eyes peeled at estate sales and local yard sales for vintage and Old World style containers that have aged to perfection like these:
7. Inspiring Books to Help
If you are familiar with Patina Farm (a dream property imagined and created by Brooke and Steve Giannetti), then you know!
That property has too many outdoor oasis moments to name!
Take a peek at the indoor and outdoor moments of inspiration:
I independently selected products in this post—if you buy from one of my links, I may earn a commission.
8. Get the Look of a Modern French Bistro
Is it possible to create an oasis moment outside in one fell swoop without spending a fortune? Oui, madame. Imagine yourself bringing Paris to your balcony, terrace, deck, or even indoors.
Here's an idea for a splurge in the dreamiest of blues:
I love the modern black containers on our front porch which flank the front door and look awesome year-round. Whether its ferns, trailing blooms, or evergreens at Christmas, these planters elevate the ordinary.
Sometimes just a simple addition can get your gears moving.
I have seen these distressed rustic barrels styled in countless ways by designers for porches, decks, patios, mud rooms, and beyond.
Here's a simple set which includes cushions and could be customized in any number of ways. I can see it on a deck, in a courtyard, on a screen porch, or on a simple concrete patio.
These charming handcrafted metal outdoor hurricane lanterns would work in any number of outdoor locations where you care to add some glow. I often put battery operated fairy lights in mine.
If you love minimal design and softer colors, this friendly-priced slightly coastal arrangement may appeal – the aqua stripes are so soothing, and I have the Malta lanterns myself and have purchased them as gifts – folks love em!
Outdoor Oasis Look 3: Modern Rustic Dining
What I admire about modern rustic design is its simplicity with clean lines and minimal fussiness as well as the zen mood it often imparts.
View a Lovely Backyard Makeover!
Remember, you don't have to leave comments or questions publicly below…if you subscribe here, posts come to your inbox, and you'll simply hit 'reply' to the email, and it's me (a real person) on the other end, ready to respond.
p.s.
Peace to you right where you are.
-michele
Shop for items you already intended to buy on Amazon RIGHT HERE, and also find home decor here to keep decor inspiration flowing on Hello Lovely!
Hello Lovely is a participant in the Amazon Services LLC Associates Program, an affiliate advertising program designed to provide a means for sites to earn fees by linking to Amazon.com and affiliated sites.