While the architecture, elegance, and grandeur of a French château like Château Mireille may be impossible to emulate, perhaps the interior color story is. Country French Paint Color Ideas Inspired by Château Mireille will appeal if you favor dreamy South of France vibes and French inspired hues reminiscent of the sunny countryside. (BTW, this home is a vacation property and may be available for vacation rentals via Haven In).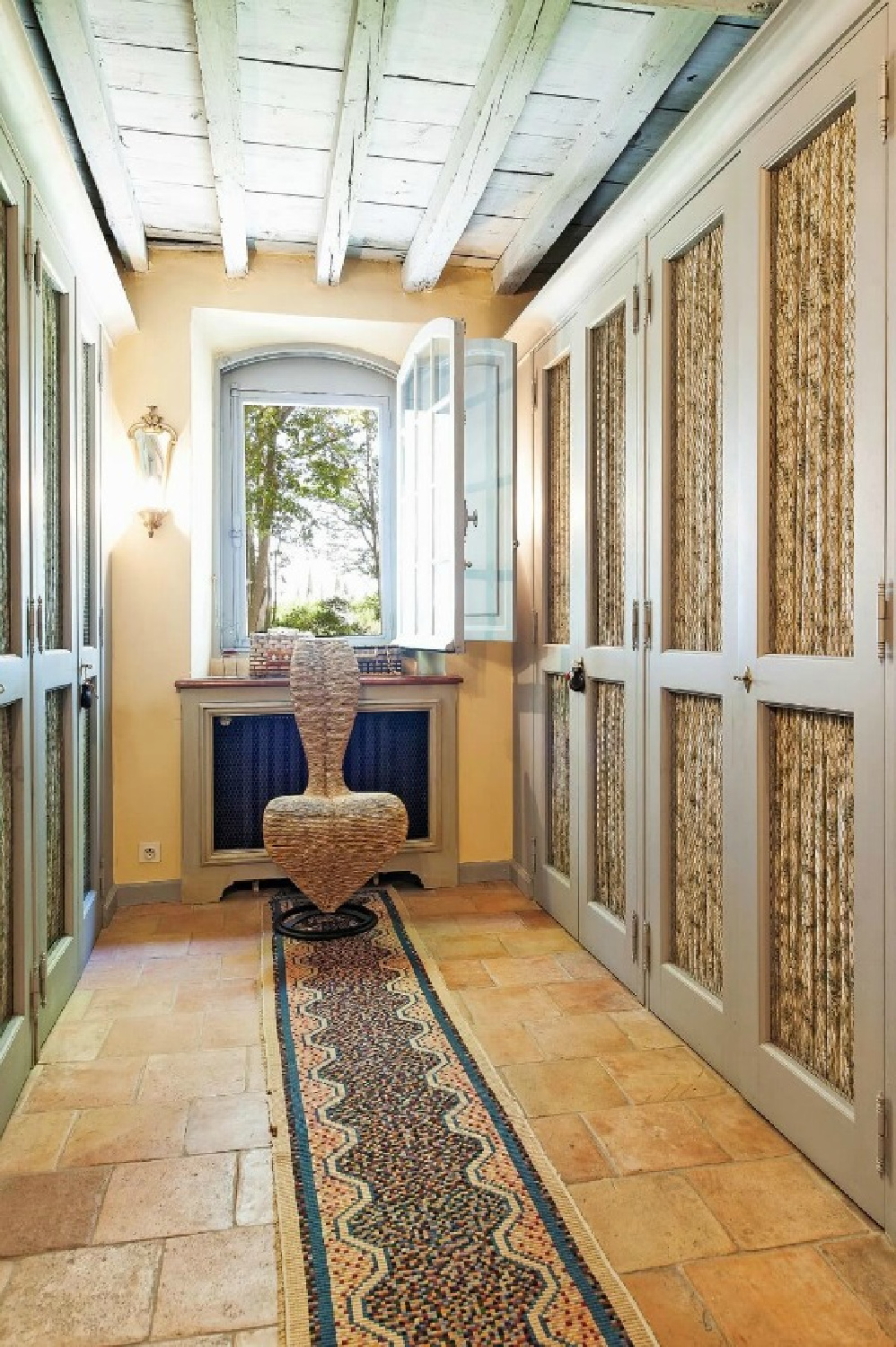 Country French Paint Color Ideas Inspired by Château Mireille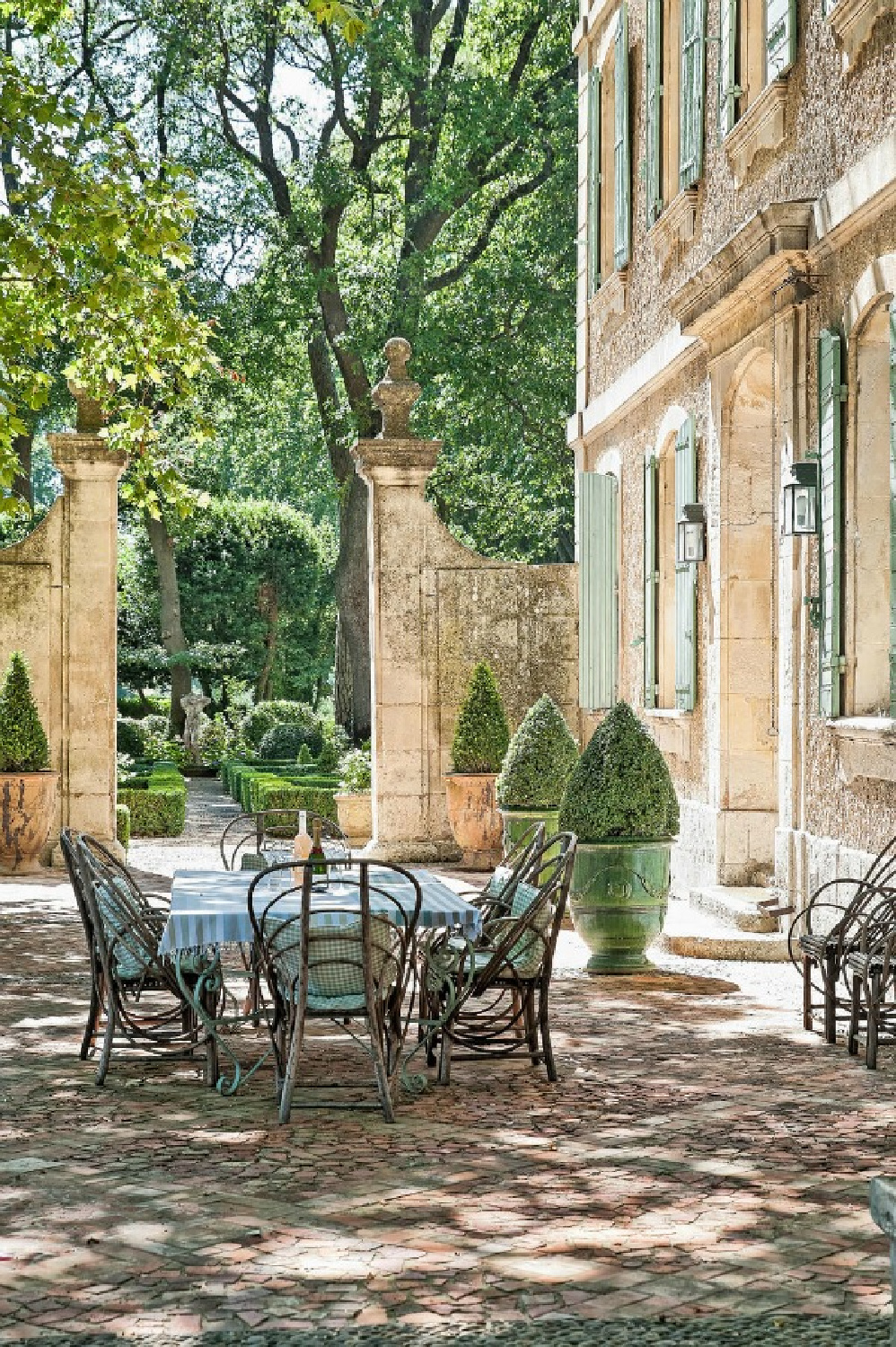 Where is this French home?
This luxurious and elegant 18th-century Provence manor (or bastide) is a villa just a 10 minute stroll from the charming village of St-Rémy-de-Provence.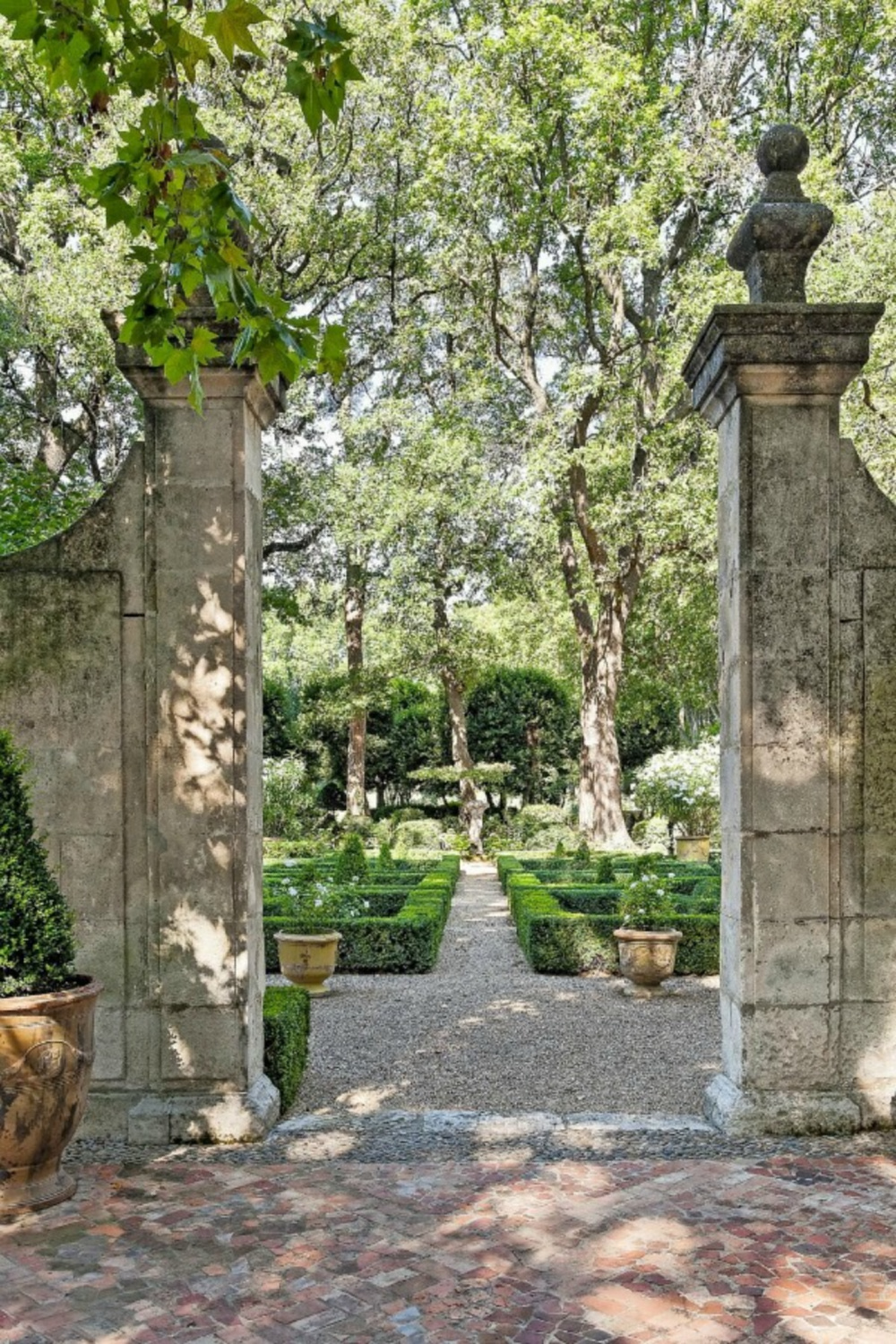 Inside and out, find French tradition and style.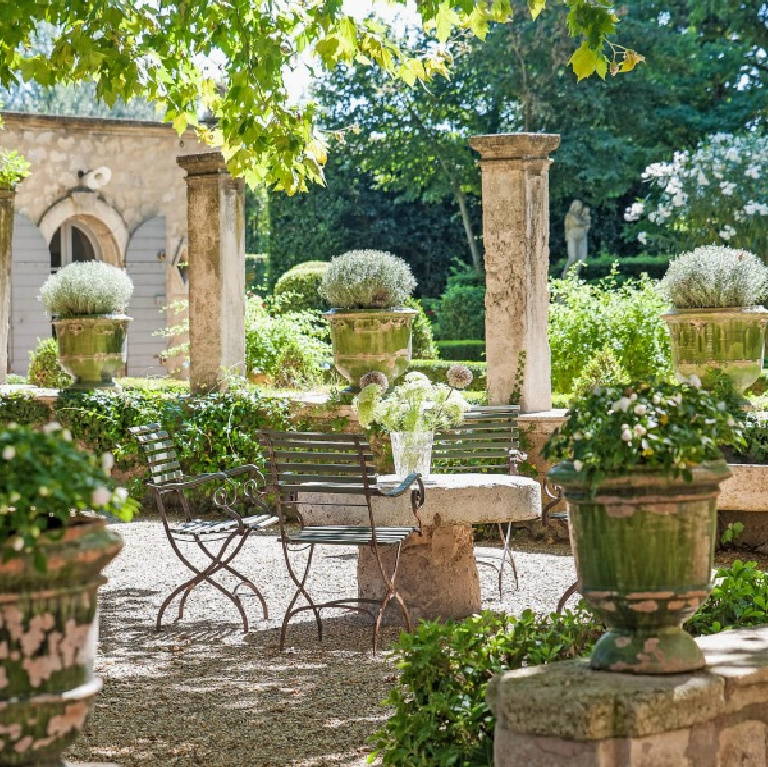 With seven breathtaking bedrooms, three floors, extensive grounds, and a live-in housekeeper, Château Mireille inspires with Old World and timeless Provençal charm in the South of France.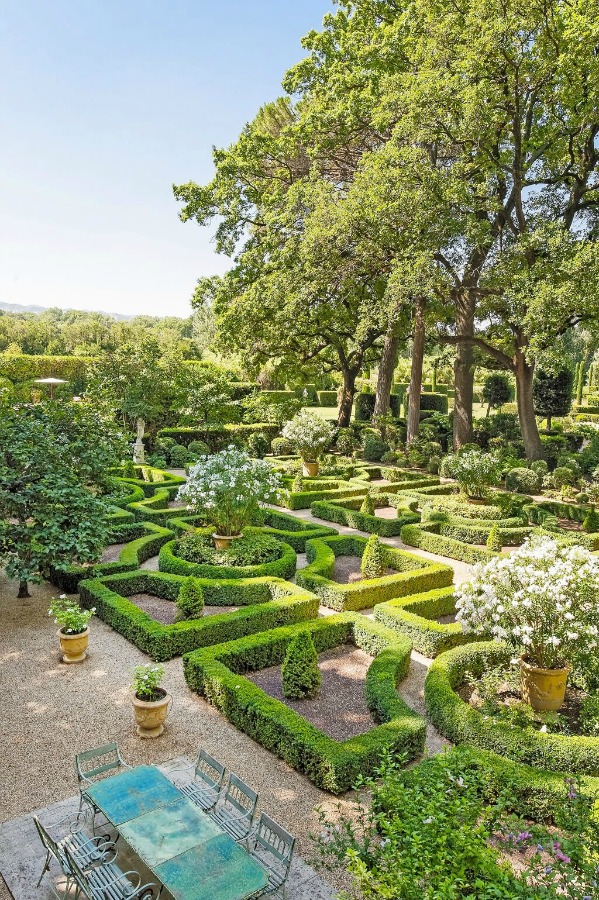 French Green: What's that Popular Green for Shutters?
If you are smitten with the shade of green on the chateau's shutters, you are not alone. It can be tricky to try to pin down the exact shade since lighting and photography editing influence how the true color is perceived.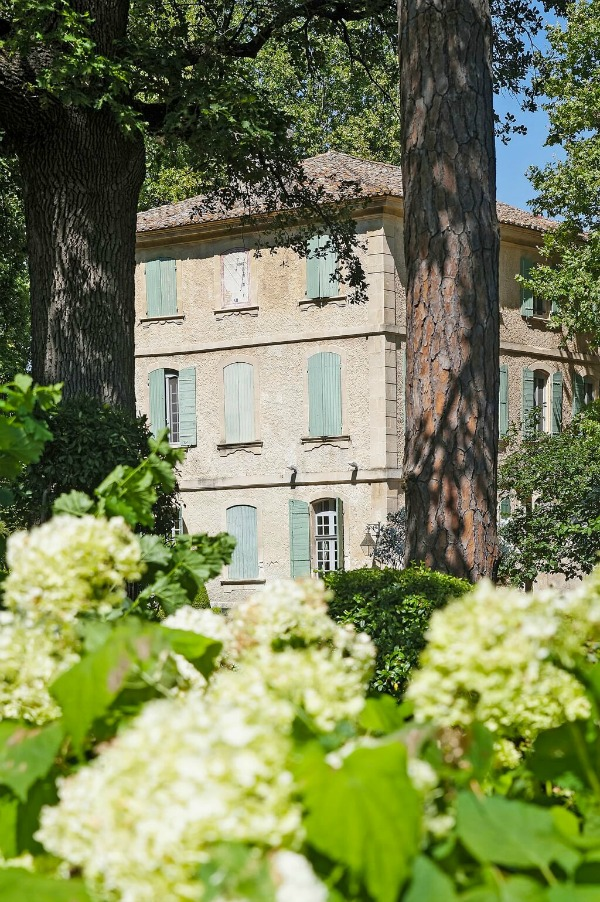 However, if we look to a soft natural jade green color wildly popular in France, there's a good chance the exact green is TOLLENS Vert Olivier from Castorama.

Vert Olivier is bolder than what you might expect, and for good reason. On an exterior, it will appear lighter and more washed out so bear that in mind. Here are some ideas for similar green paint colors in the same spirit offered in the USA:
Frosted Jade (Behr) is very similar, if not with a touch more grey in the formula.
PPG Frosty Pine is also a gorgeous Frenchy green contender, and it's a bit more on the sage side than the Tollens Vert Olivier.
Another option from Sherwin-Williams is Rainwashed, a sophisticated and popular color with interior designers.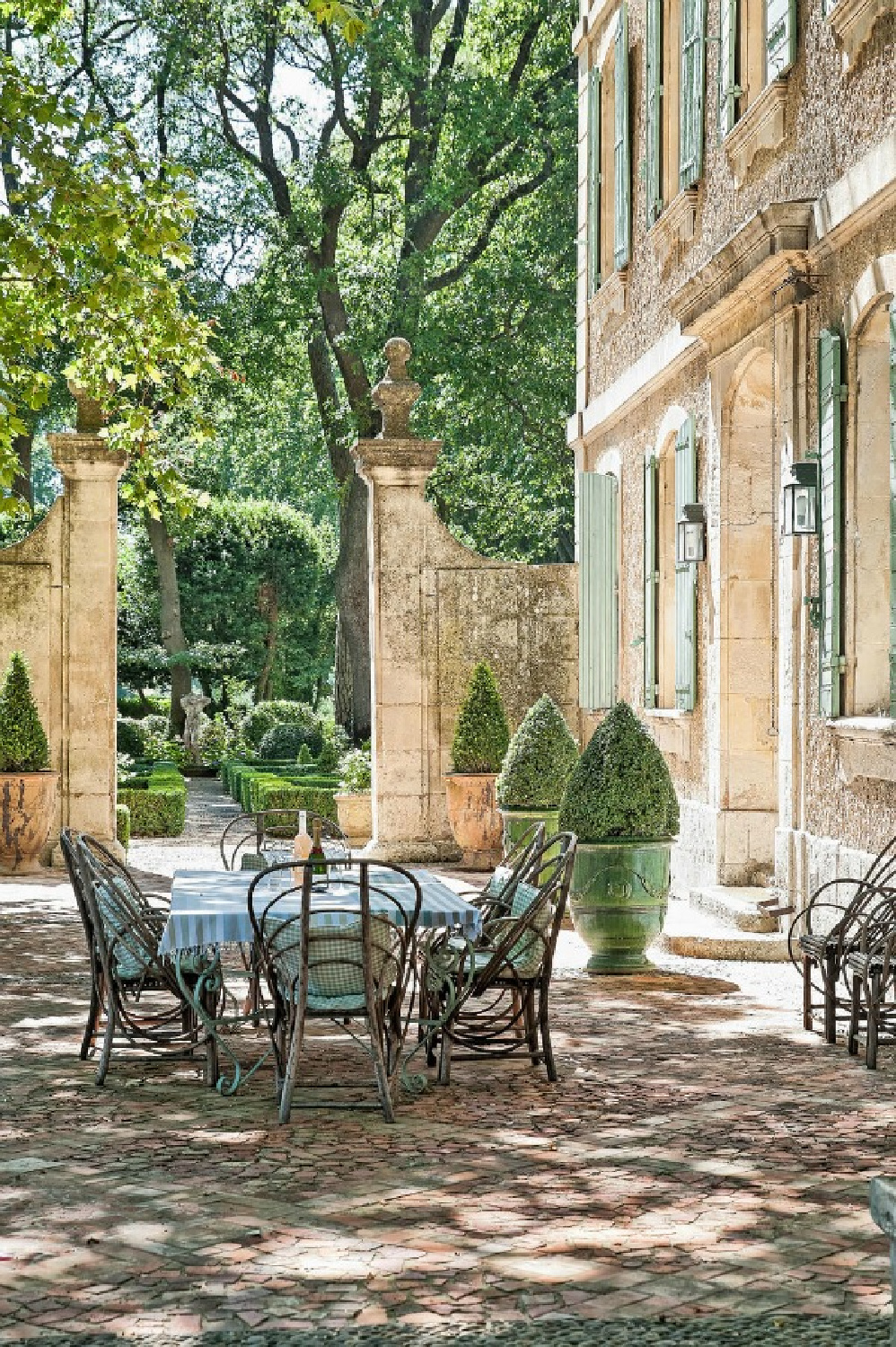 You will definitely want to sample a few of these greens as you'll note differences in your unique lighting and because each color has varying undertones.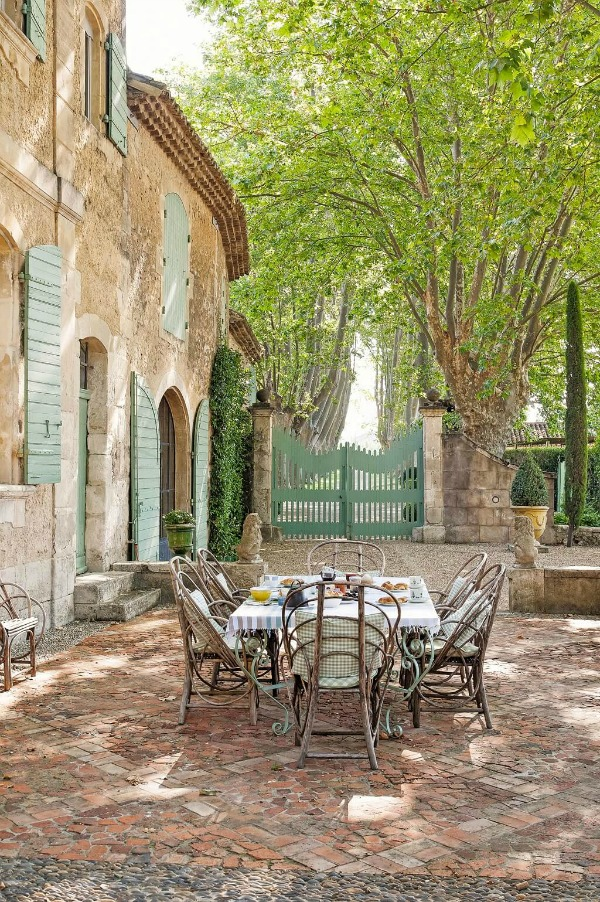 For more ideas for French greens, SEE THIS. And to see sage green options, SEE THIS.
Sherwin-Williams Breathtaking SW 6814
Here's a French-inspired blue reminiscent of periwinkle blue, hyacinth blue, and even sky blue.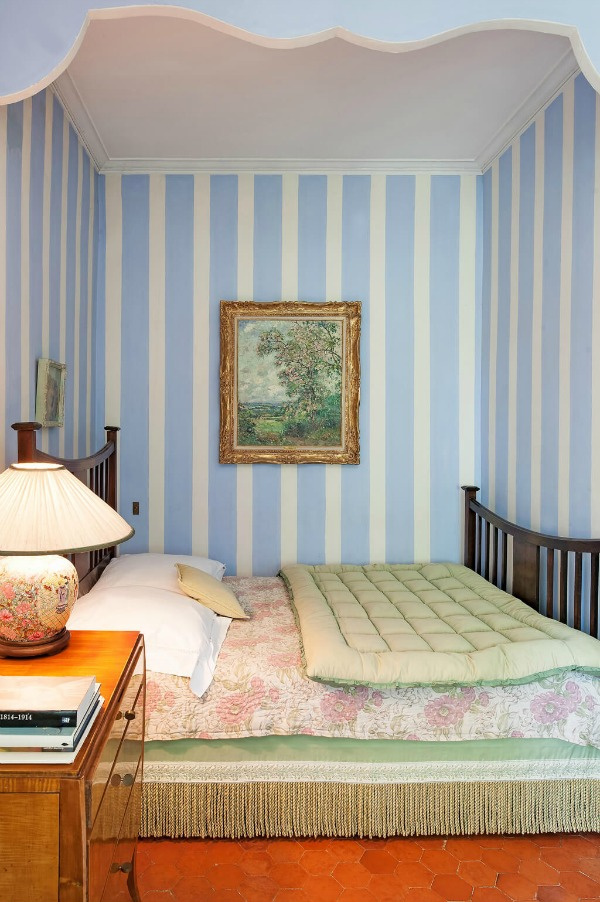 Sherwin-Williams Breathtaking SW 6814 is similar to the blue stripes in this bedroom in the chateau.
Here's how the blue color looks painted solidly on the walls of a bedroom, and isn't it fresh and surprisingly chic when surrounded by the warm red-brown tones?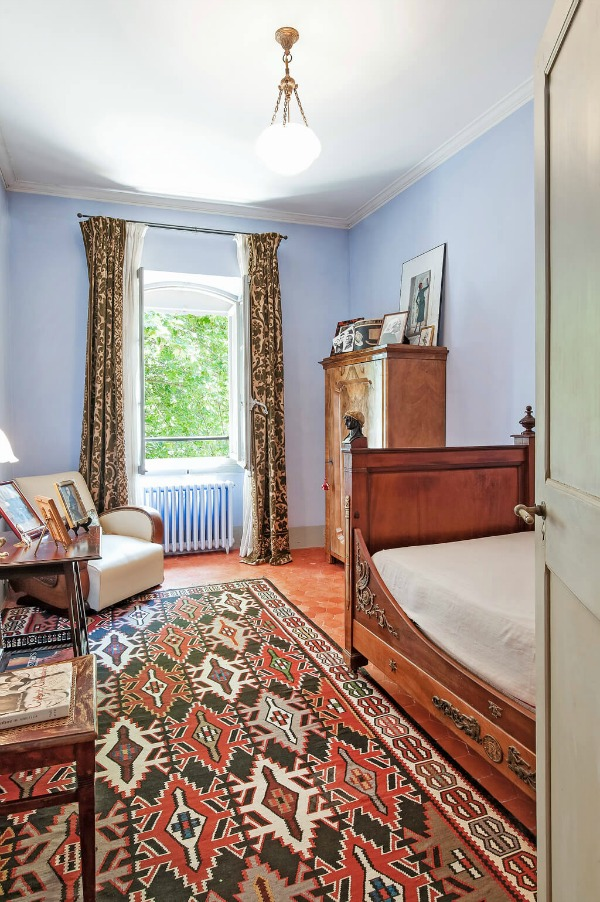 Breathtaking would be gorgeous in a bedroom or even a laundry room where there is limited or no natural light.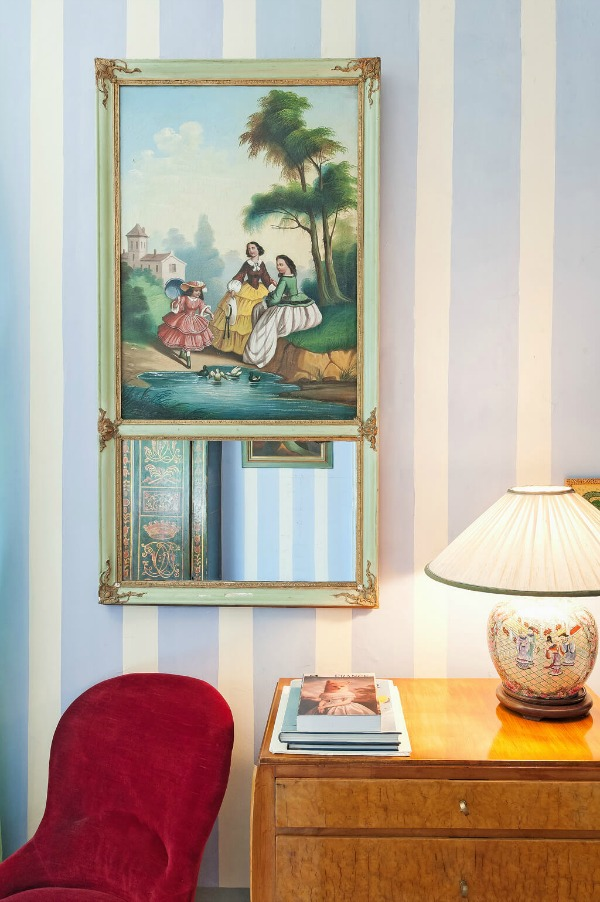 Cheerful blue paint colors are often overlooked for grownup bedrooms, but a guest bedroom may be the perfect opportunity to experiment with such a cool tone.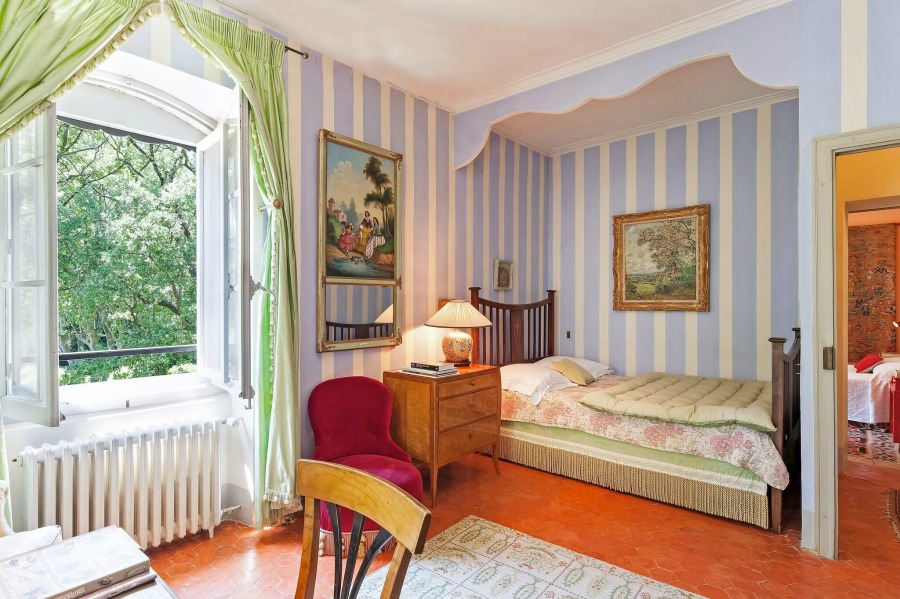 Sherwin-Williams Stardew SW 9138
Here's a gorgeous muted warm gray color with blue undertones in a bath, and here's a similar paint color you could try: Stardew.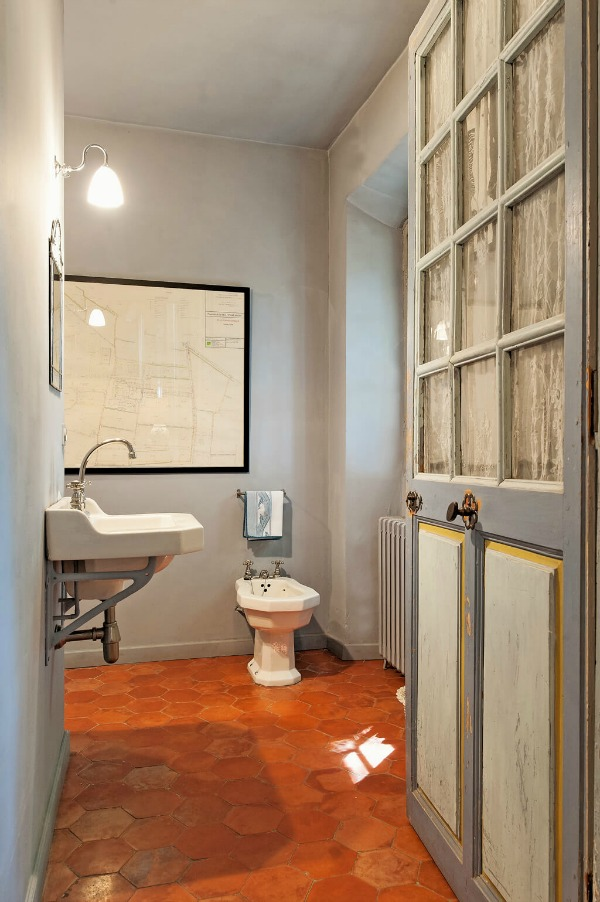 If you are using SW 9138 in a space that doesn't get much sun, you may want to have it mixed at a lower saturation to get the effect you see above. (For example, have it mixed at 70%.)
If this color will be used in a space where a lot of natural light streams in, be prepared for the color to appear more blue or blue-green. Sampling a few colors is always a great idea.
Sherwin-Williams Ivoire SW 6127
Yellow paint colors are tricky, and while I have painted several rooms sunny yellow over the years, I tire of it rather quickly. I find straw-colored yellows easier to live with, and they can feel like sunshine.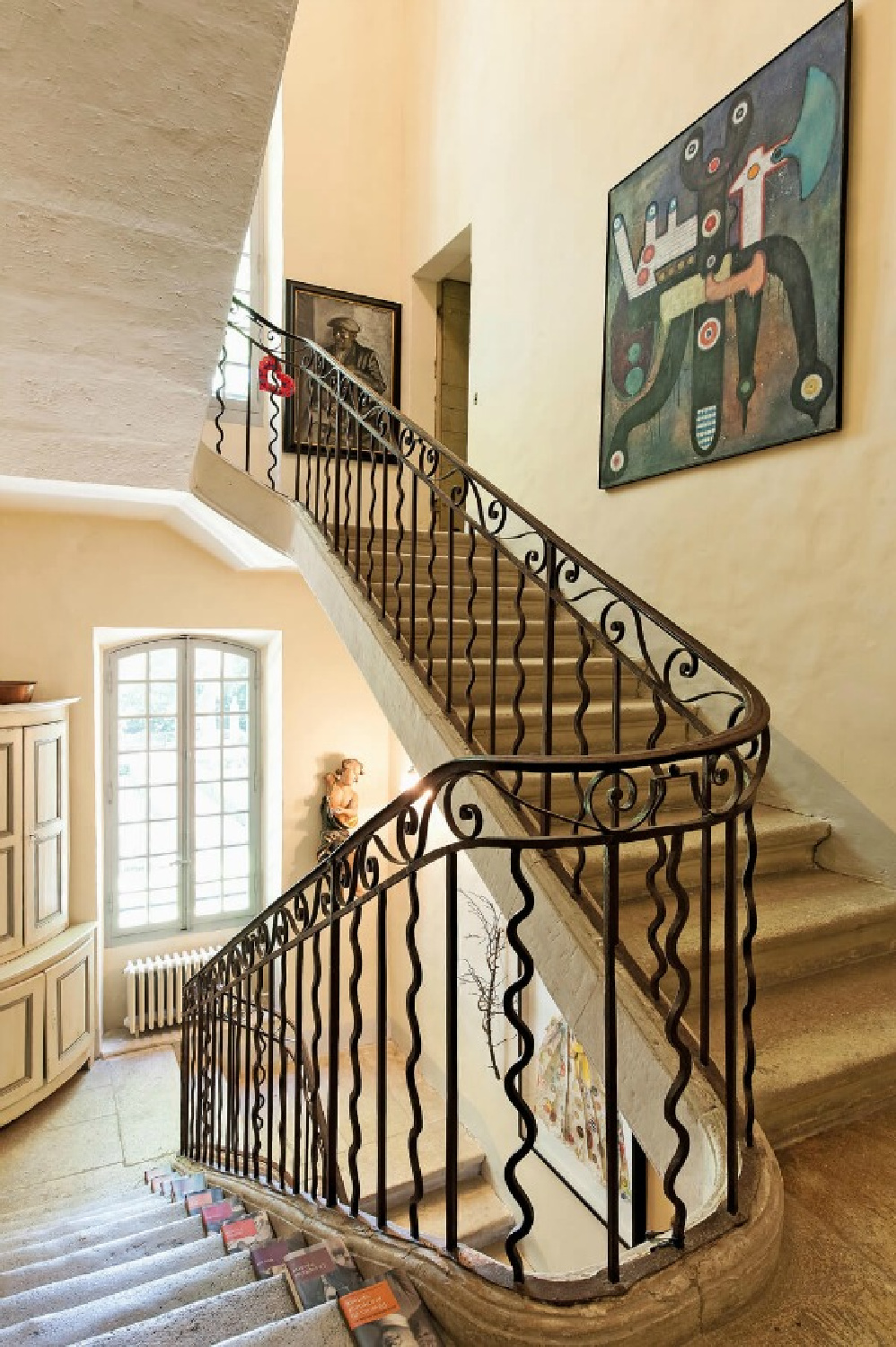 SW Ivoire is a beautiful, natural, warm gold that feels similar to the golden pigments we see throughout this home.
Ivoire feels suggestive of stone and the outdoors.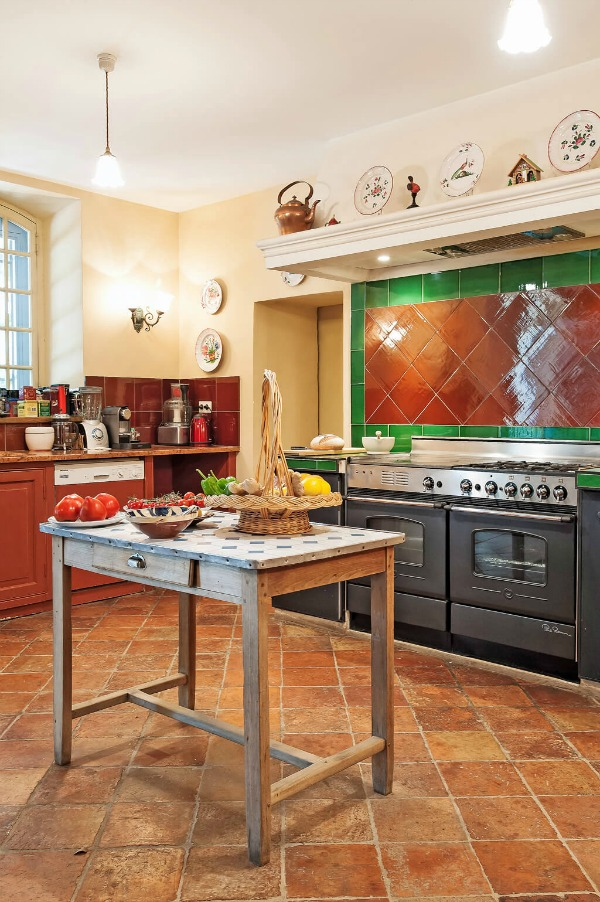 It feels very neutral in the chateau kitchen where a mix of terracotta, green, red, and warm browns converge.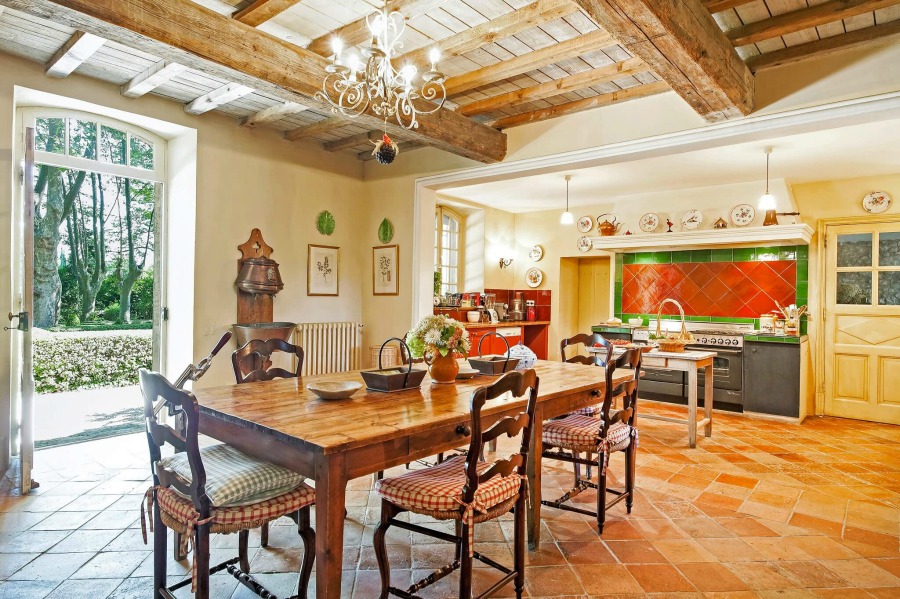 Notice how in the next photo, the walls appear pale lemony yellow on the right of the image where the sun is hitting them as opposed to the goldenrod yellow color on the far left of the image.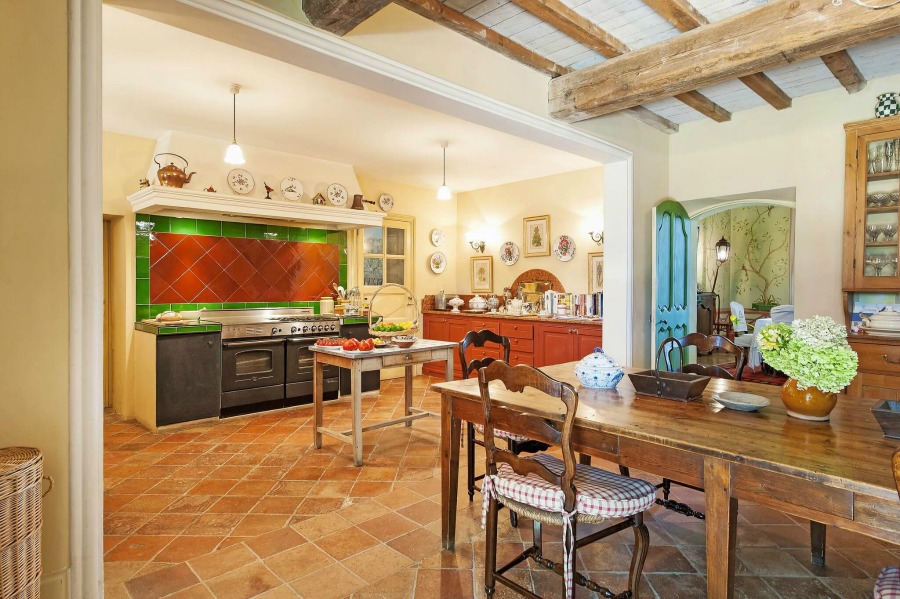 In a bedroom, three different golden colors plus what appears to be an ivory color adorn the walls. This method of adding architectural interest or a faux paneled look can be so charming.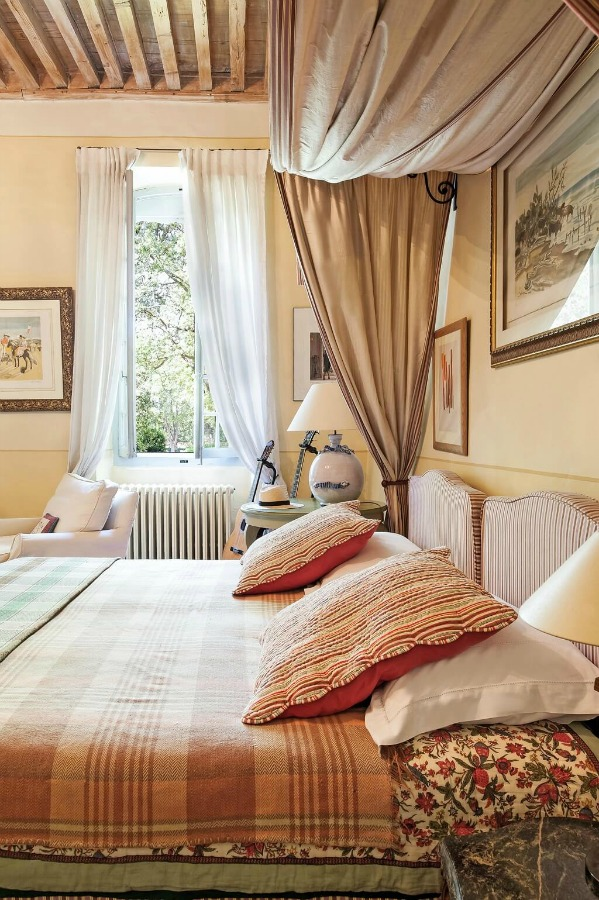 But you can see how peaceful things feel when the whole wall is solidly painted gold.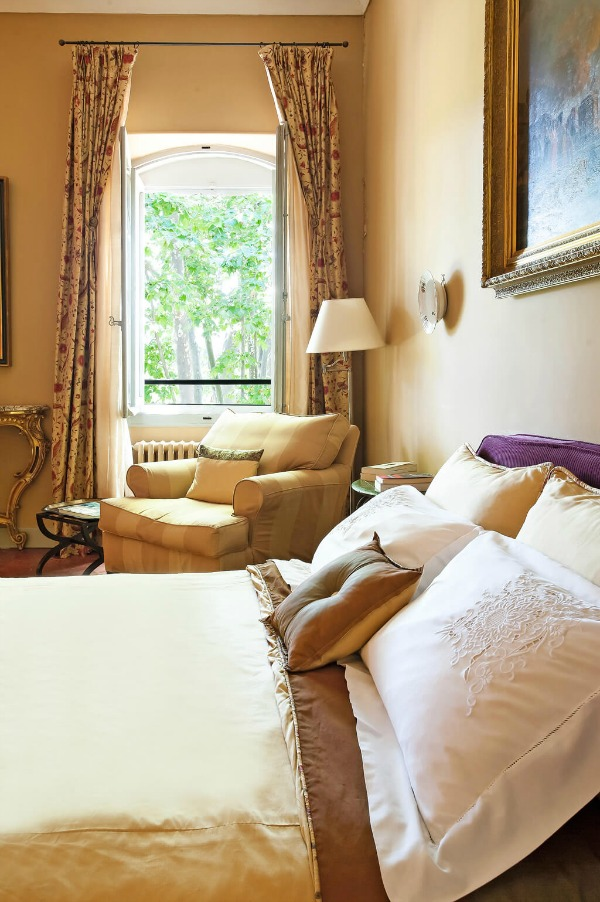 And isn't the warm yellow-gold magnificent with the terracotta floors?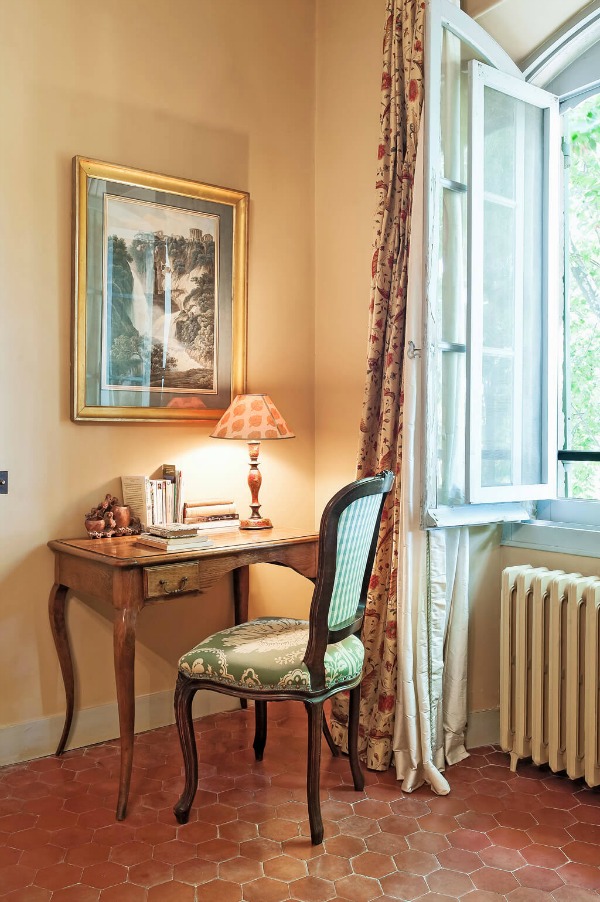 I love how those brown undertones in the golden color work with the brown-reds of the tile.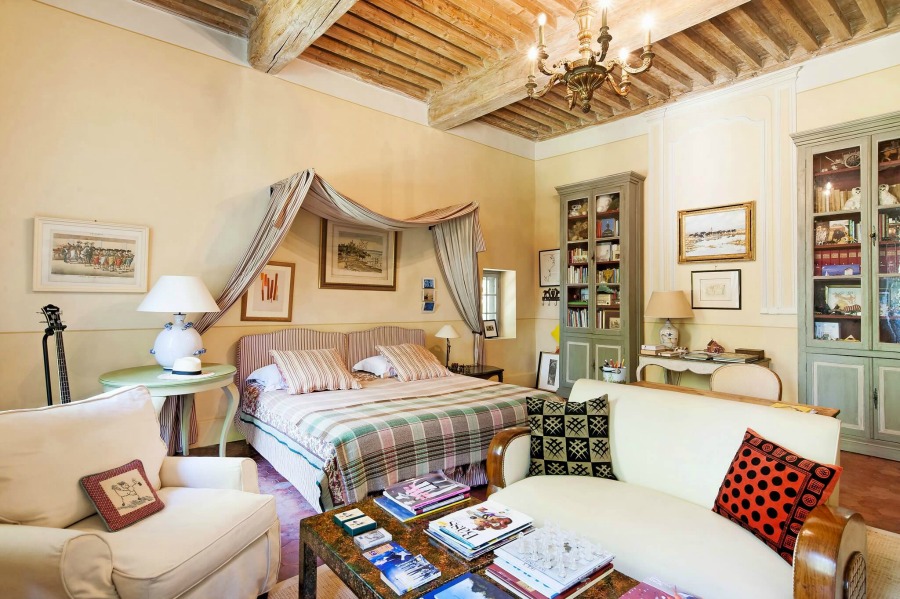 Green painted built-in cabinets also look stunning with the yellow washed walls.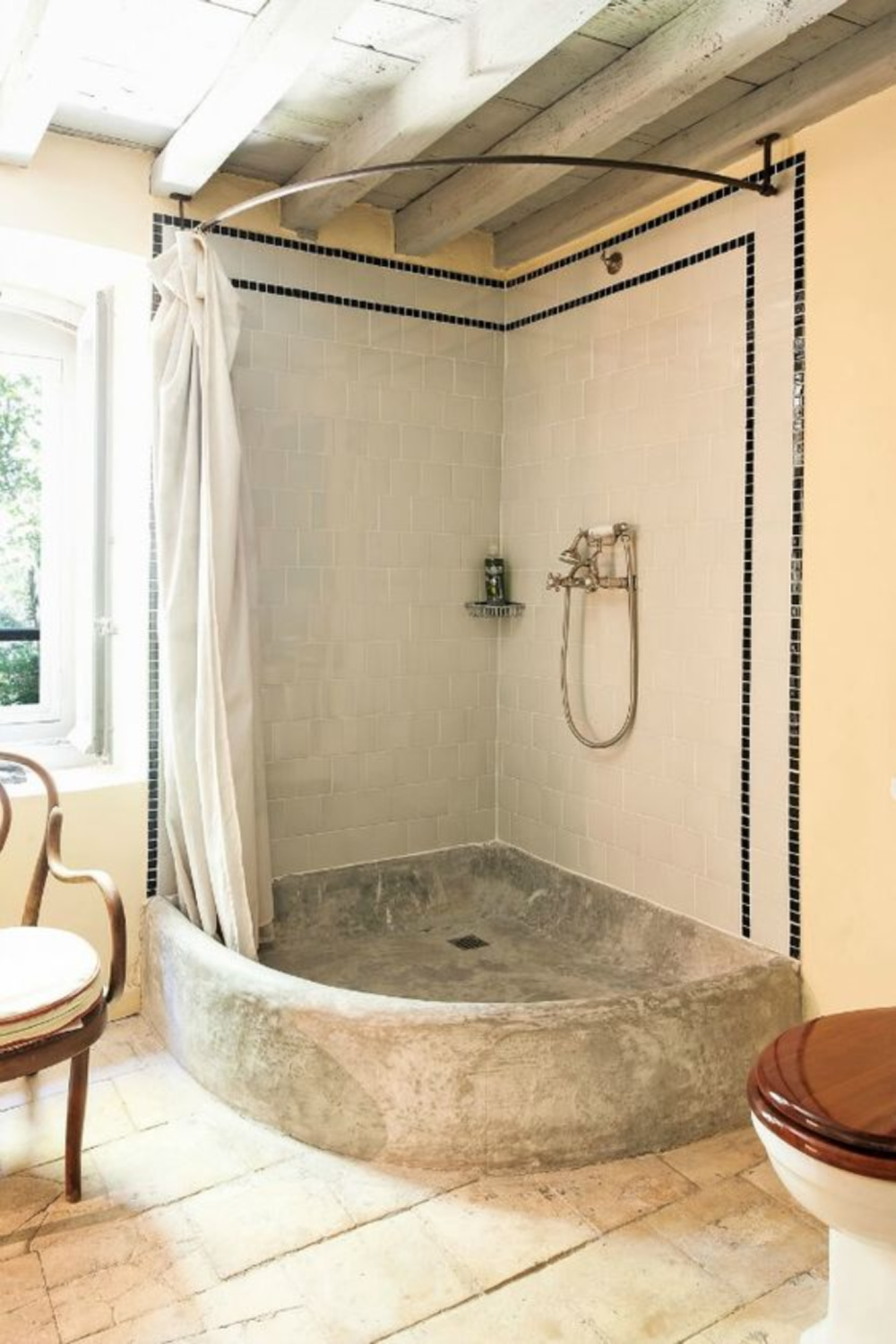 The gold walls in a bath feel like a subtle neutral with the other pale neutrals in the space.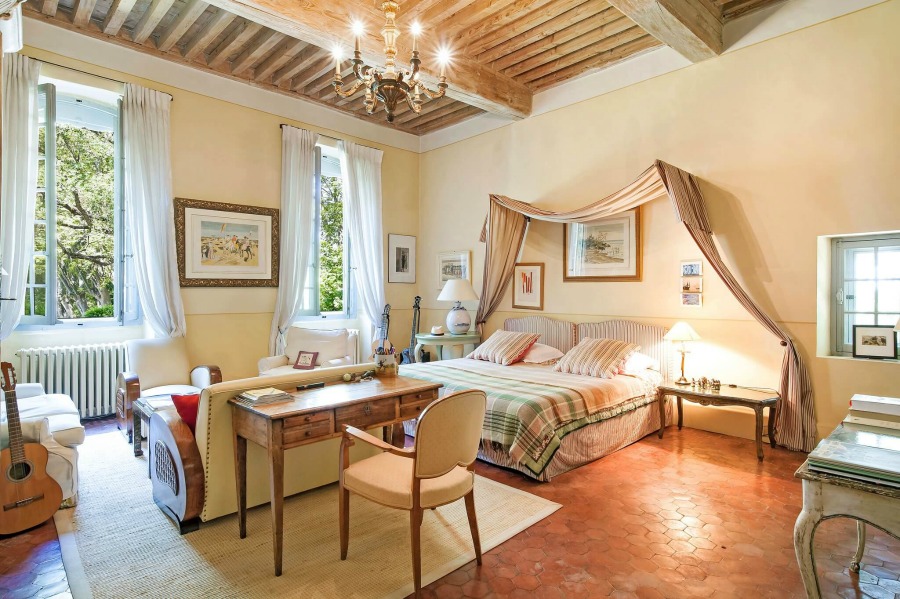 And I almost didn't notice the blue or blue-green painted windows in this spacious bedroom above. There truly are many colors represented in this room!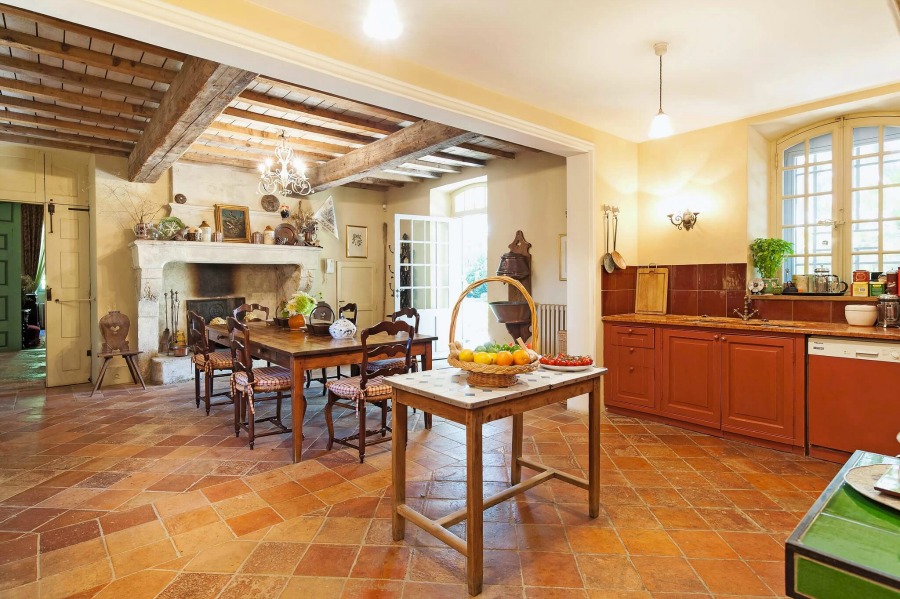 That goes for the kitchen too! Notice the terracotta painted cabinets and touches of green.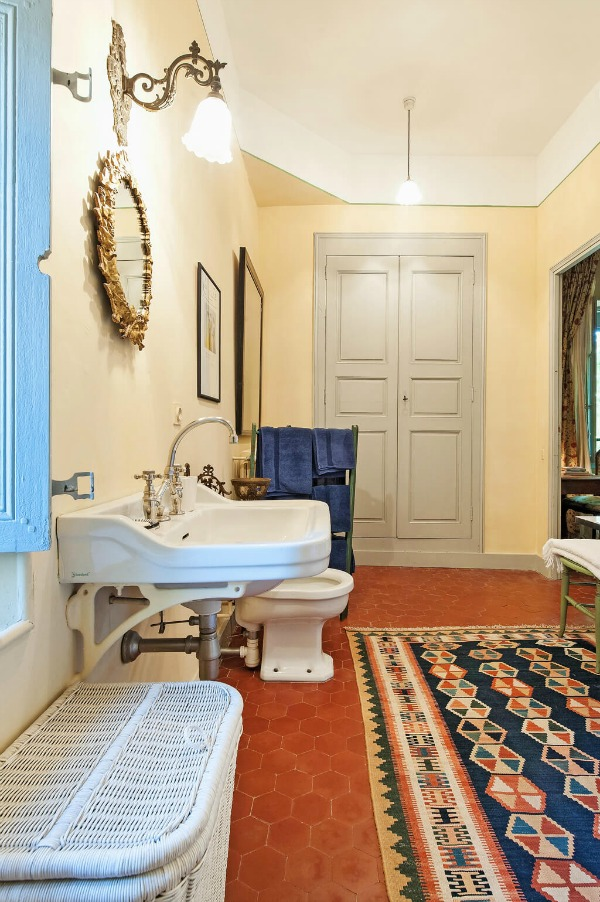 Benjamin Moore Natural Wicker BM 950
If you prefer less sunny and more putty tones (see THIS for ideas for putty colors for kitchen cabinets), you might like Natural Wicker BM 950.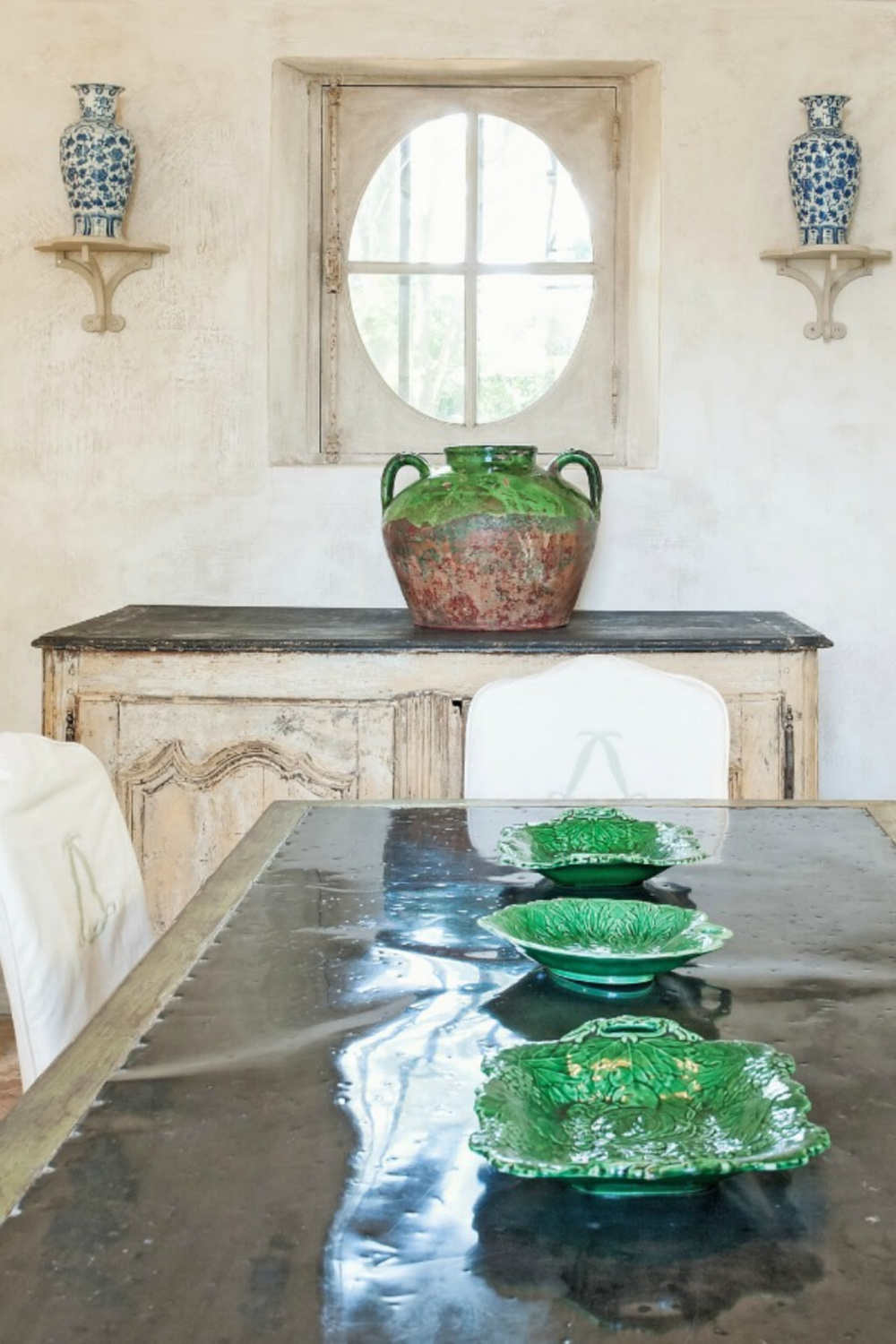 It can be tricky to find a natural, neutral, stone color for a painted surface that feels organic and not showroom beige.
Again, you'll want to sample a handful of colors before landing on the perfect one for your project. Even when colors appear close or nearly identical online, they can vary in their undertones, light reflectance value (LRV…which is the percentage of light they reflect off the walls), and brightness.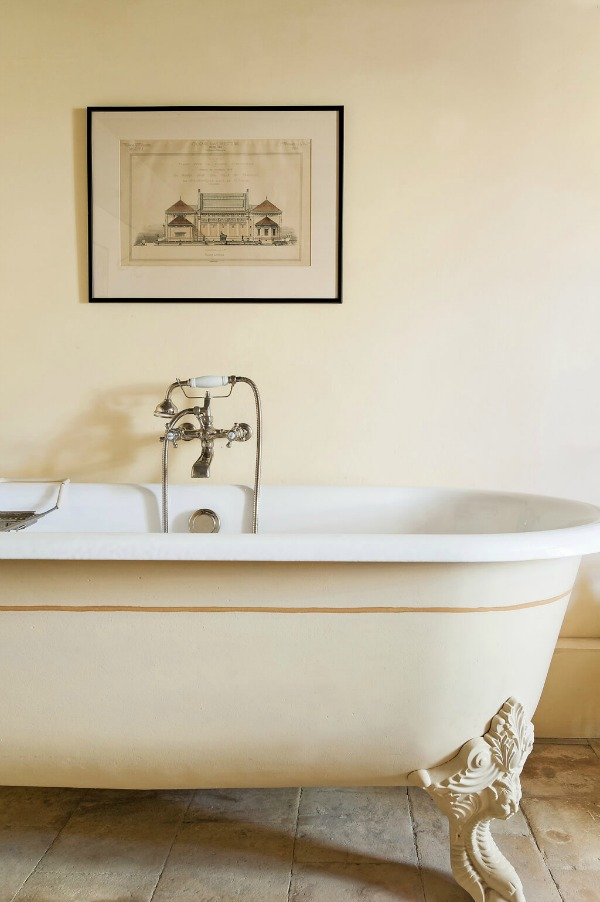 Similar to Natural Wicker, Benjamin Moore Limestone BM 513 may be a good choice if you're drawn to all of the gorgeous, ancient French limestone throughout this beautiful historic chateau.
I love Limestone, and if it's a bit too saturated for your needs, you could also look at BM White Sand which I used for the French country home we built in the early 2000s. Here's a rustic bath with stone: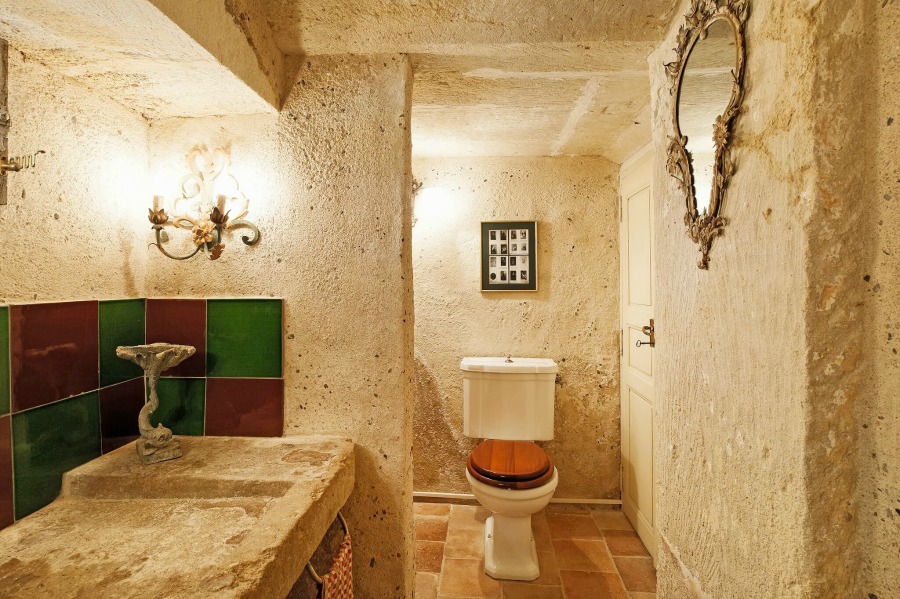 and here are glimpses of stone structures on the property amid the breathtaking gardens.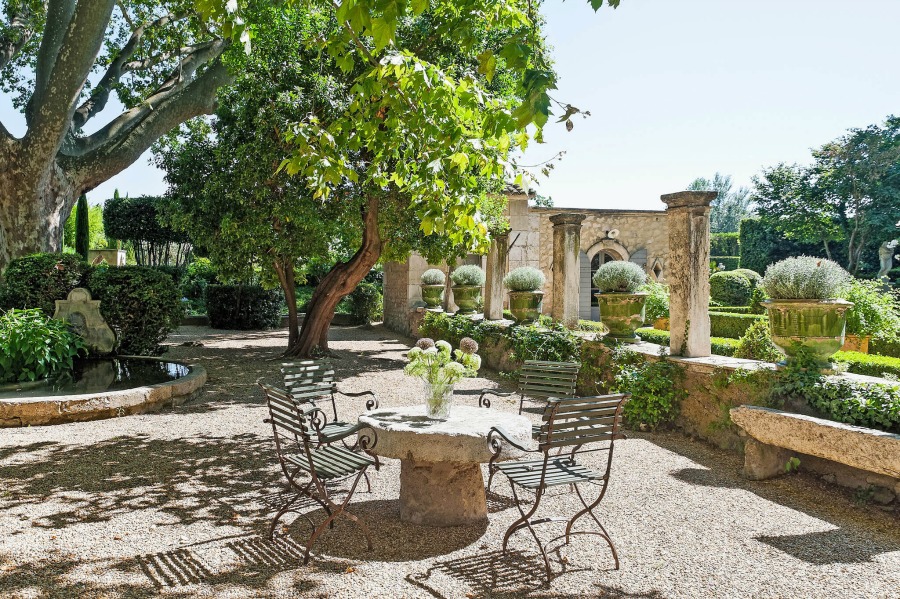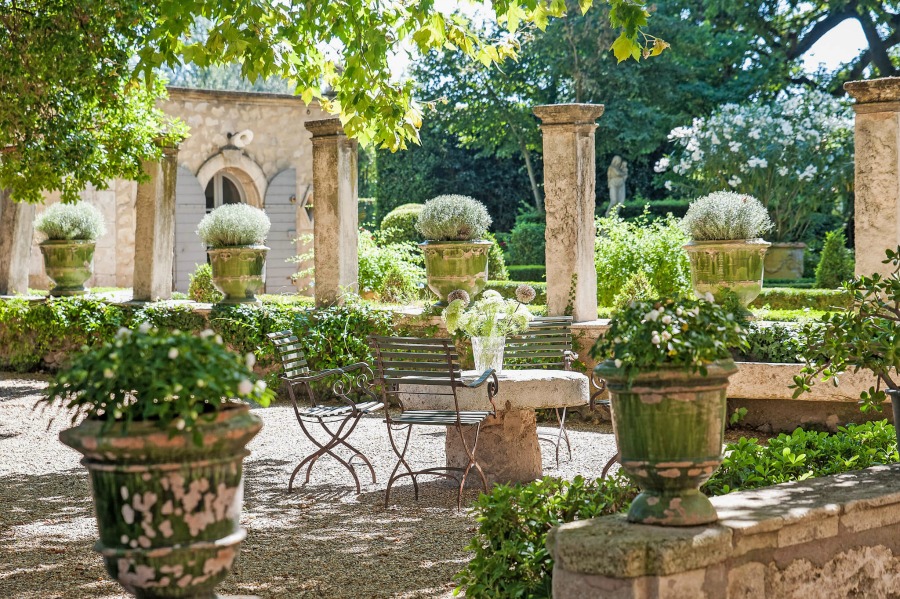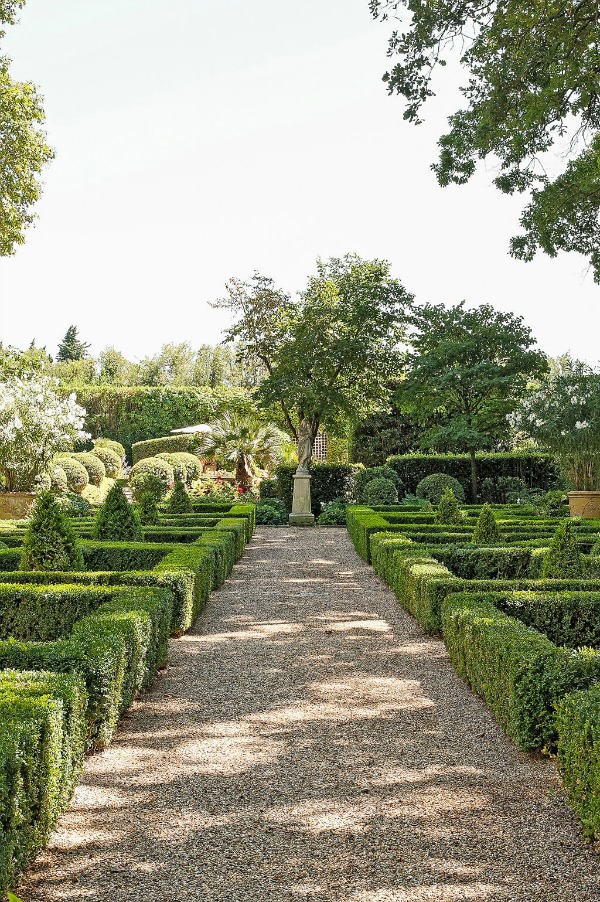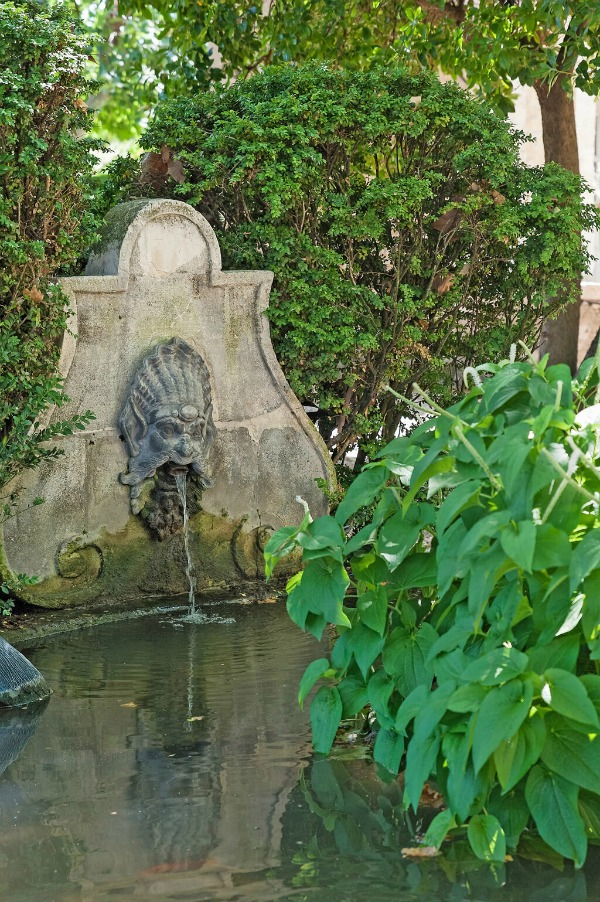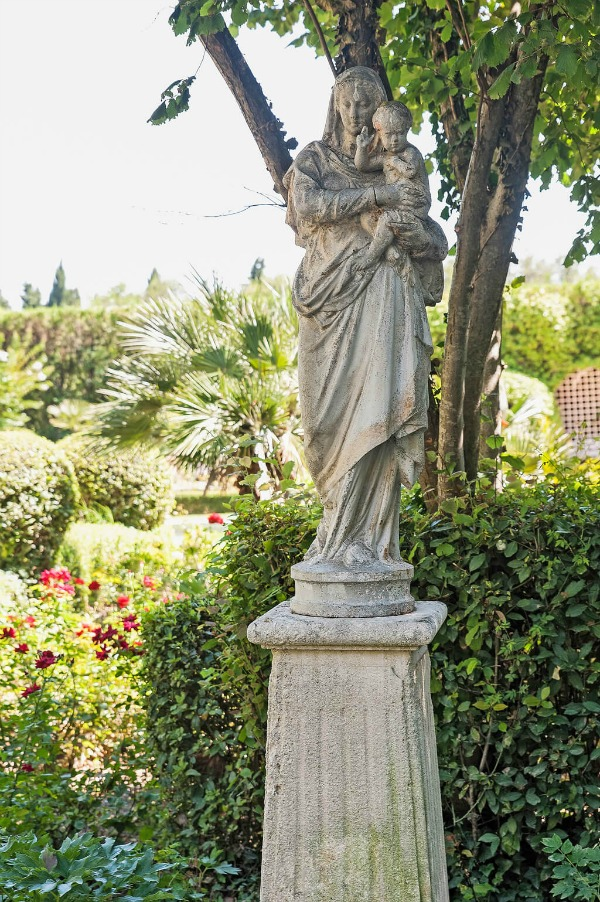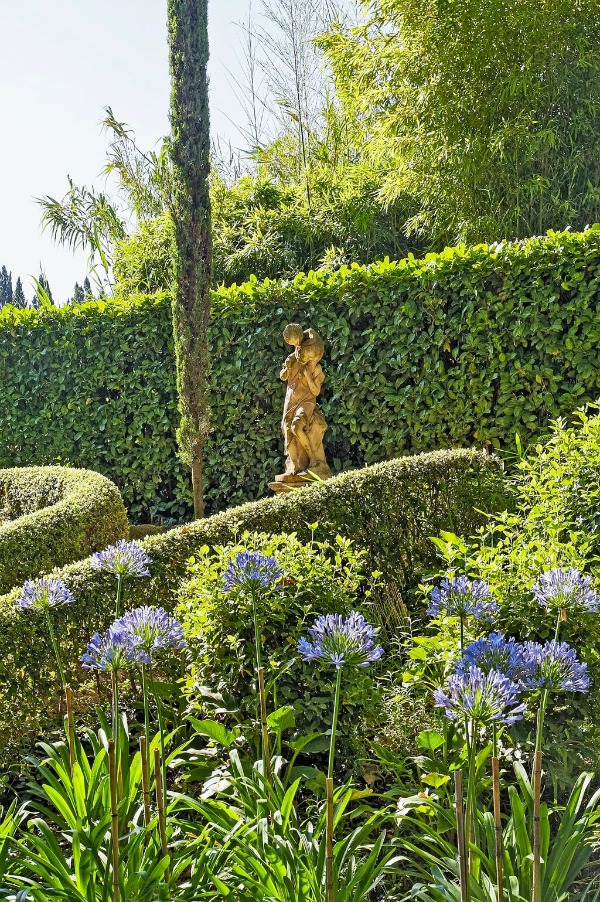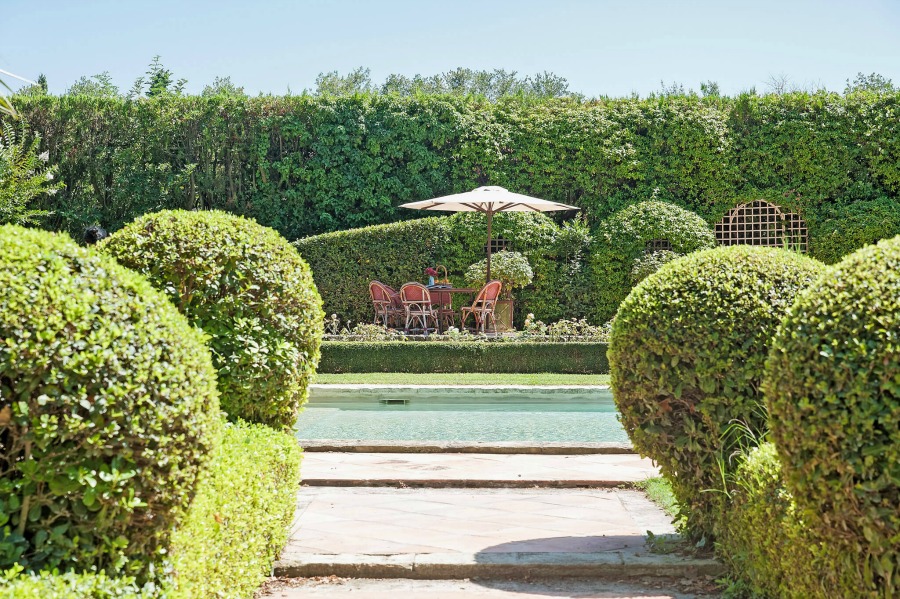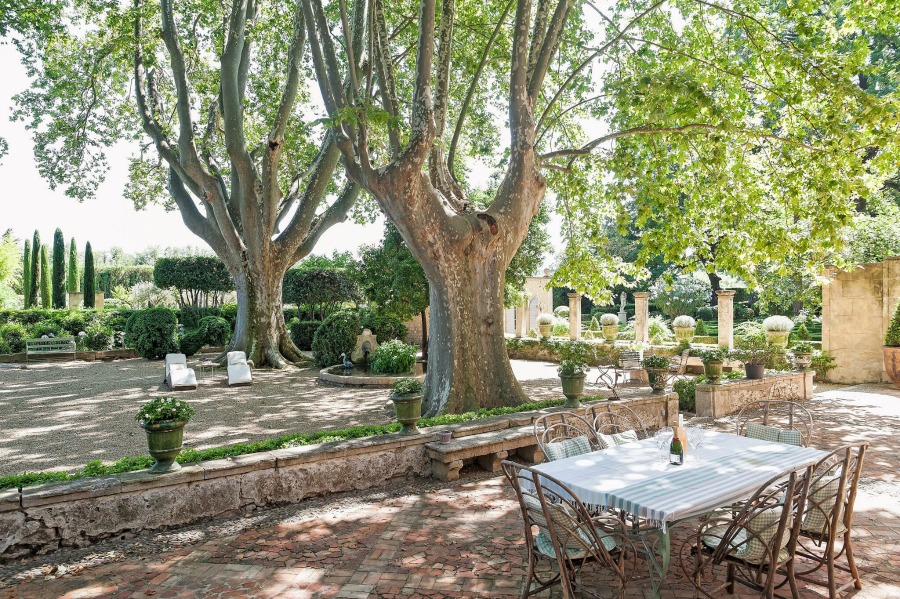 This one image below may inspire a whole French inspired color palette with its blue sky, lush green foliage, cool aqua water and glass, and pale stone.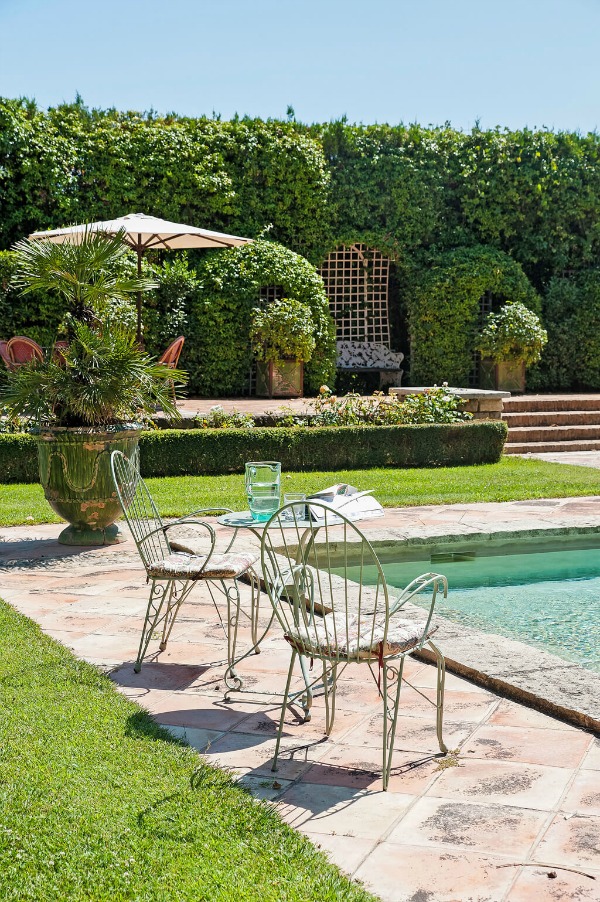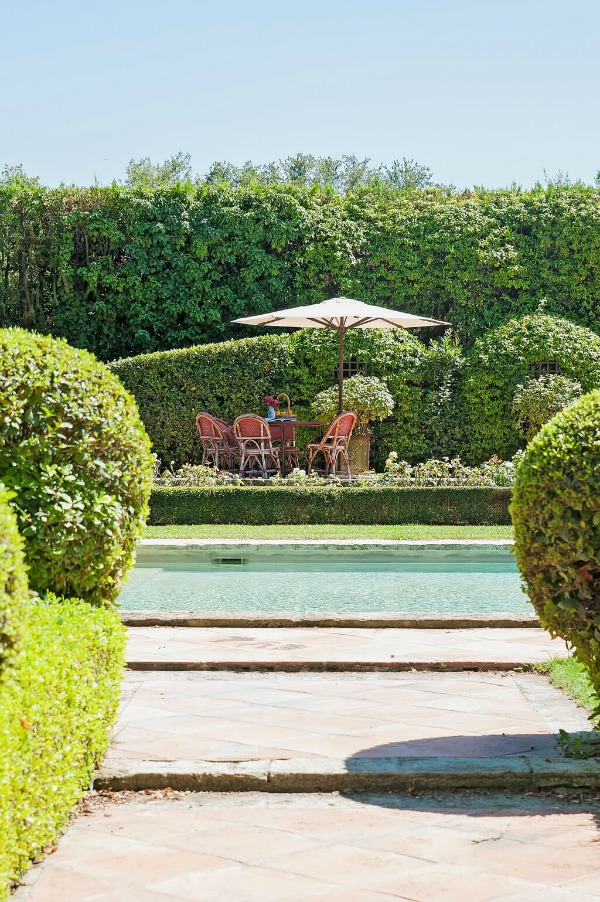 BM Mint Chocolate Chip
In a dining room, a whimsical and sweet painted mural with birds and branches sets a tone of relaxed country French charm.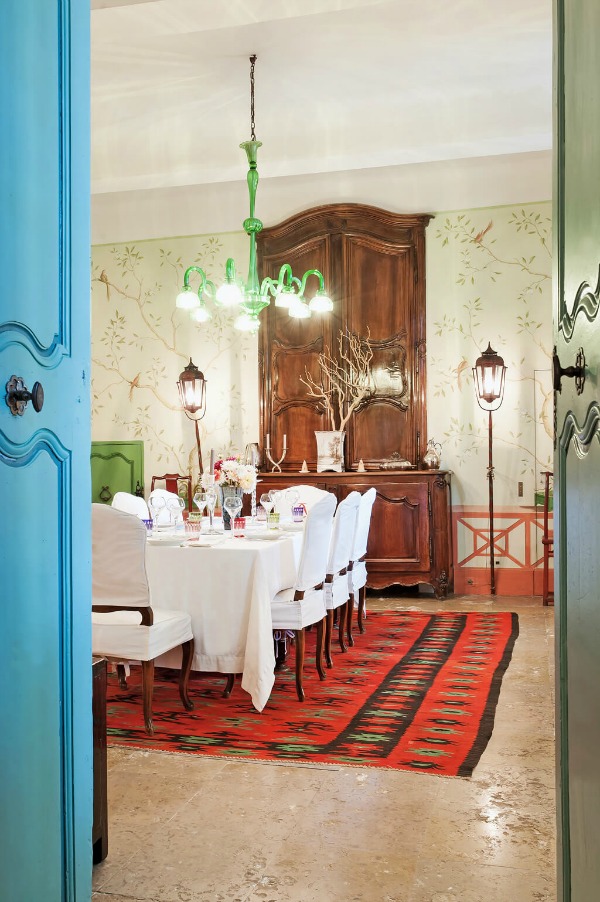 If you admire the muted minty green which is the main color in the mural, I have a suggestion for you to sample.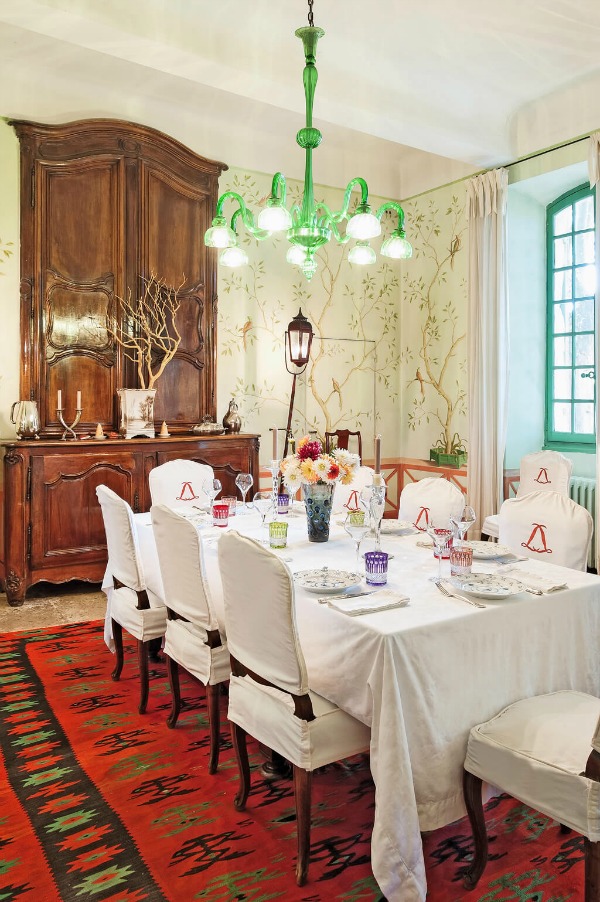 While BM Mint Chocolate Chip 436 may appear to have less yellow than the light green color in the mural, natural light is likely to add that bit of yellow.
There are other reds and greens in this dining room as well.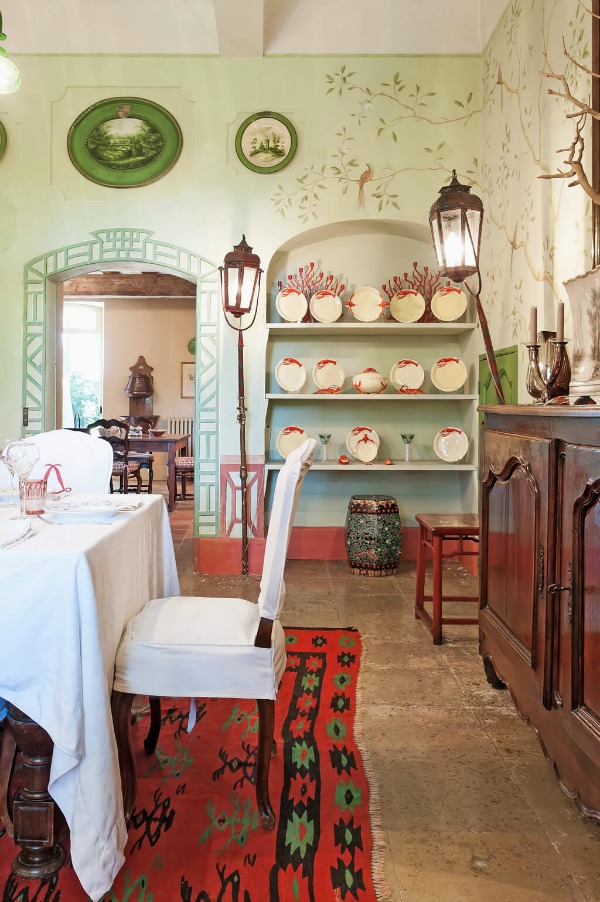 The reds are more coral as you can see on the baseboard molding: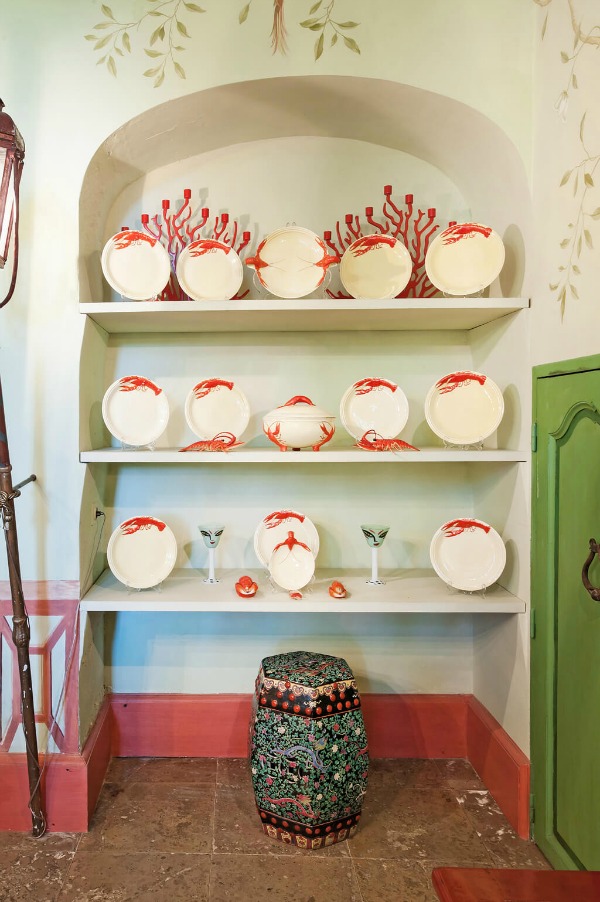 And as for that bold green on the doors and wall accents? Here's a lime green you may want to consider:
While bold, it's one of those appetizing colors, yes?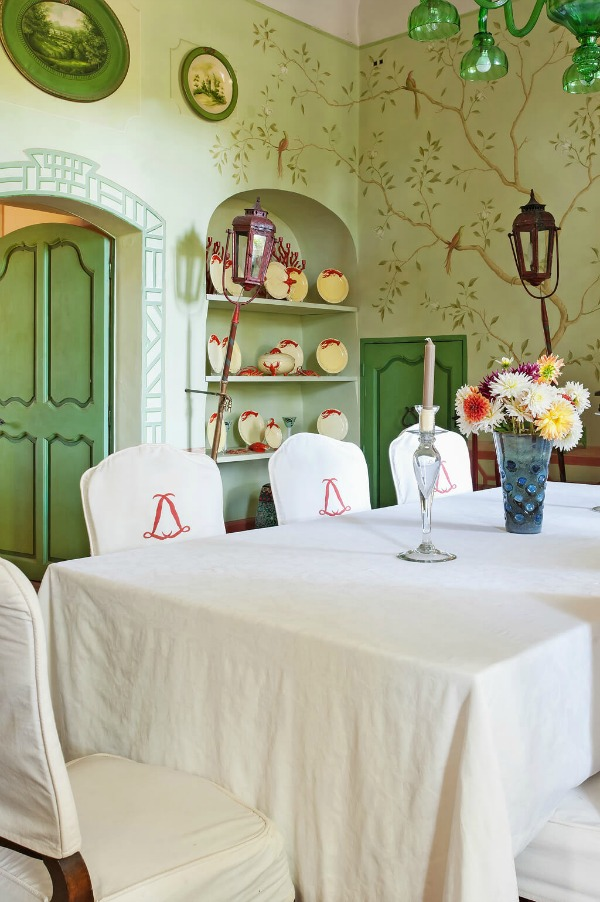 Psst. Do visit and follow my FRENCH COUNTRY board HERE!
Here's another moment where a bold lime green joins terracotta: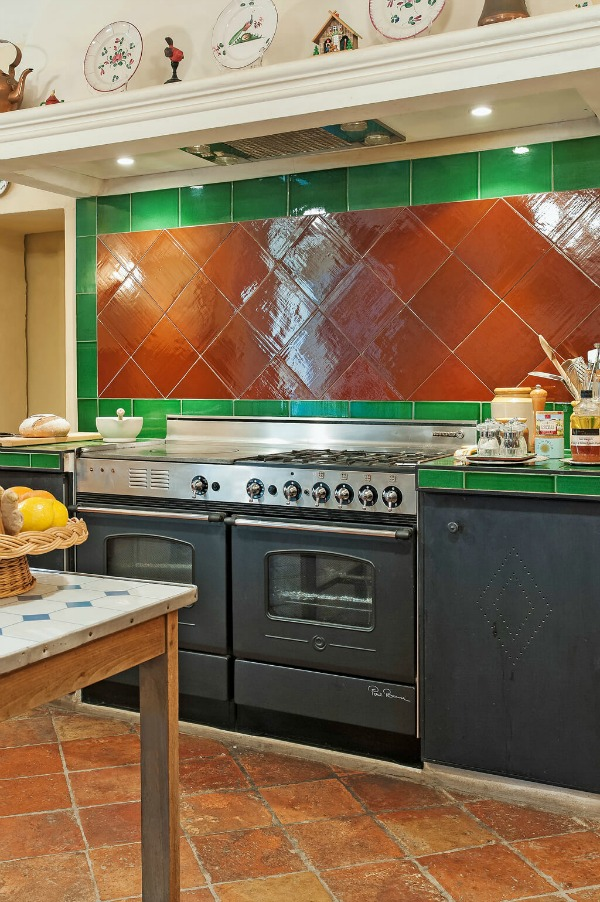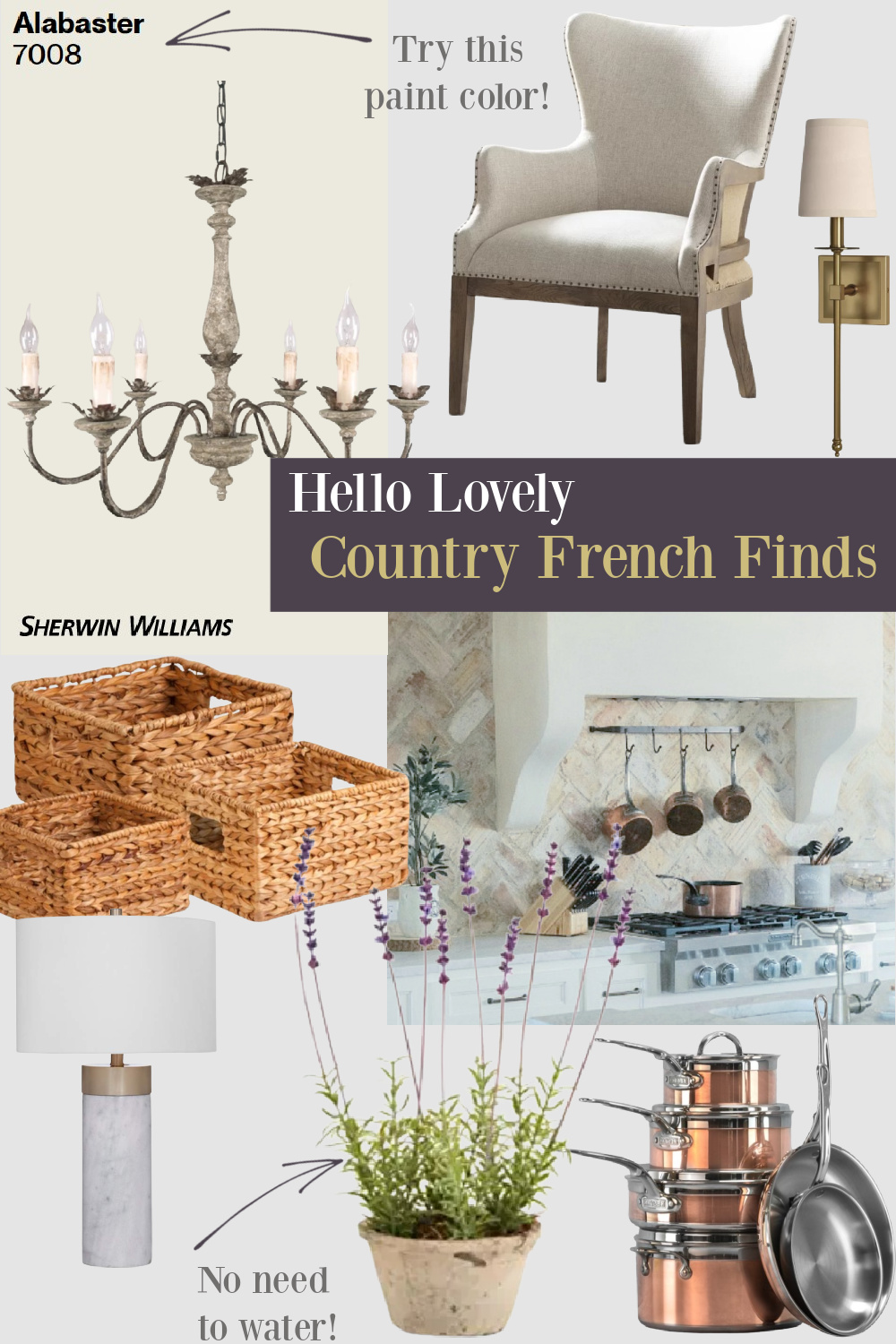 And here are a few more moments in this Provence chateau where patterns and color add personality, energy, and interest.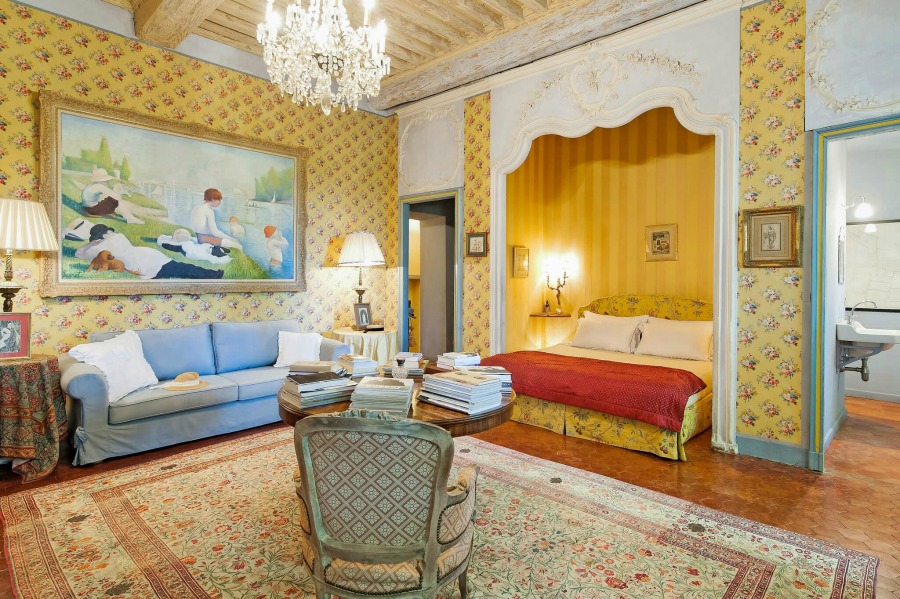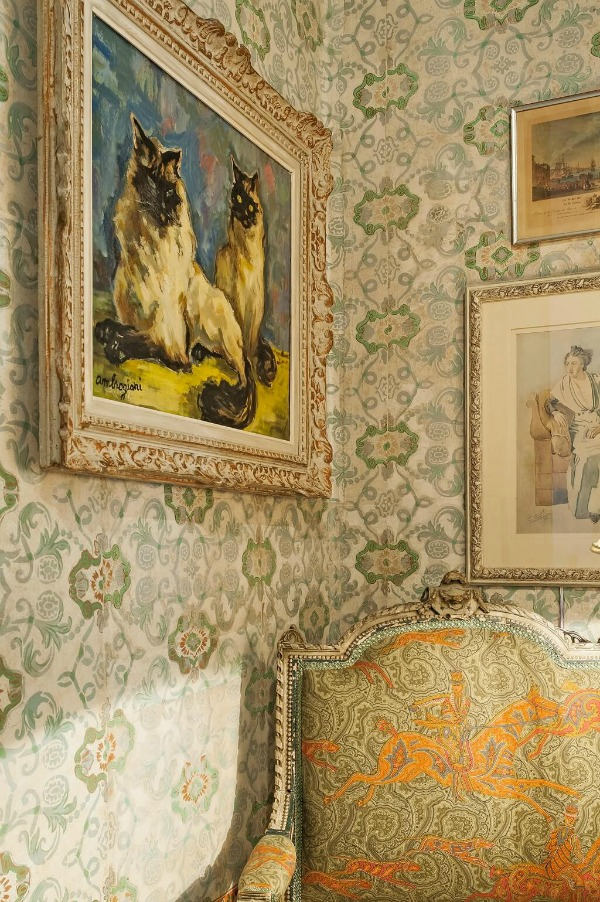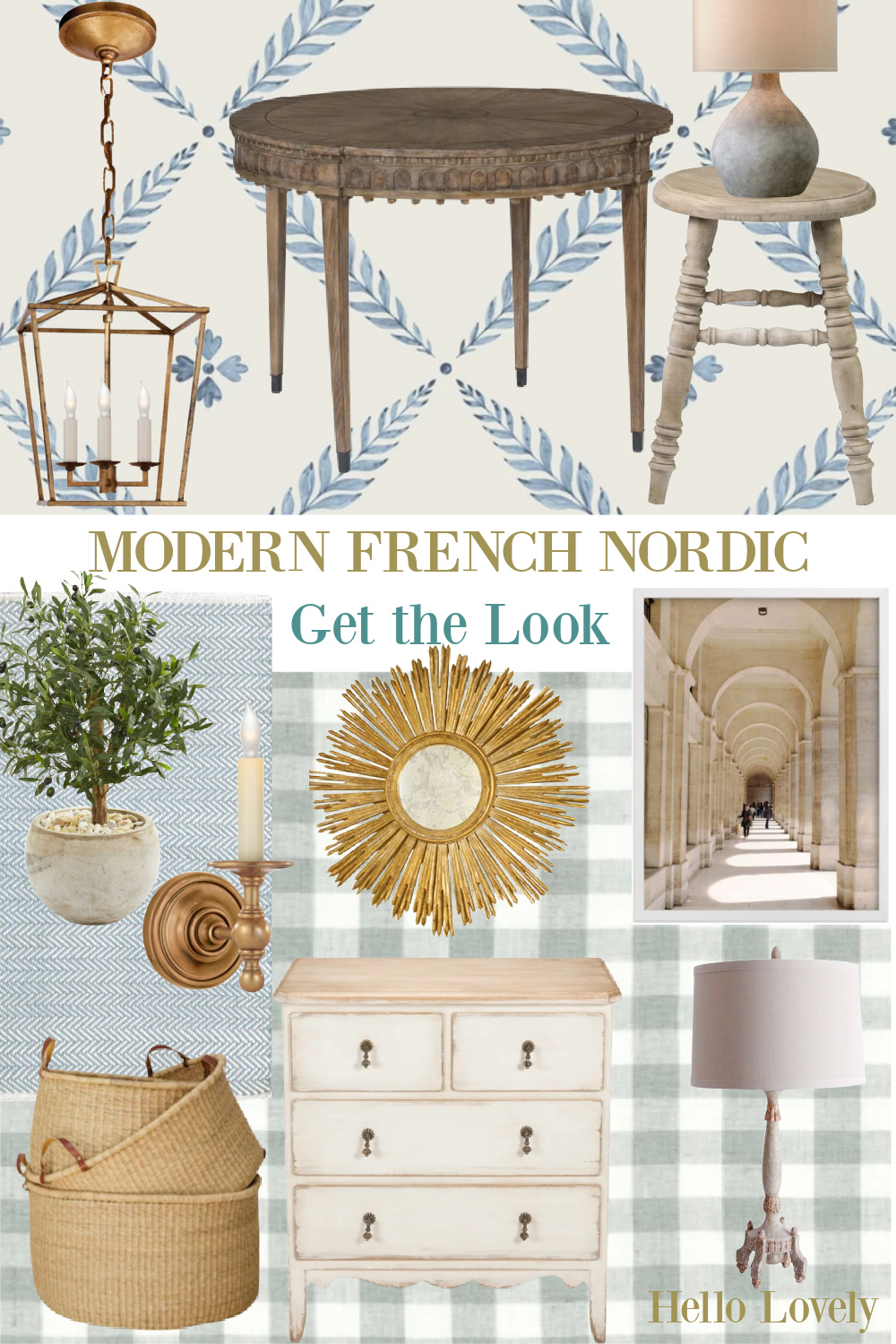 If you still have an appetite for more fantasy French interiors, do see this tour!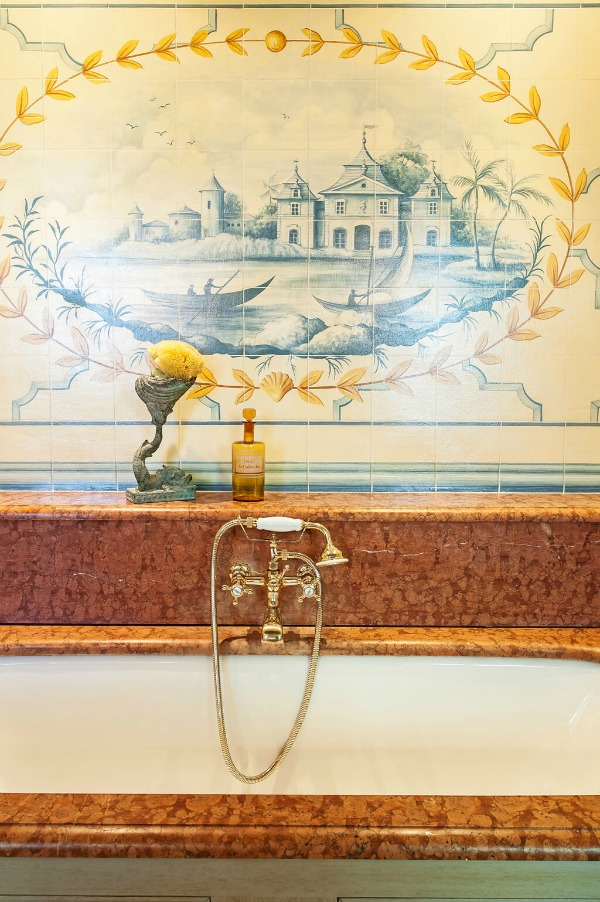 I independently selected products in this post—if you buy from one of my links, I may earn a commission.
Peace to you right where you are.
-michele
Shop for items you already intended to buy on Amazon RIGHT HERE, and also find home decor here to keep decor inspiration flowing on Hello Lovely!
Hello Lovely is a participant in the Amazon Services LLC Associates Program, an affiliate advertising program designed to provide a means for sites to earn fees by linking to Amazon.com and affiliated sites.