Card carrying frugalista and proud bargain shopper here, and there were simply too many clearance-priced impossible to believe low priced finds to tell you about in that first installment HERE! You'll find even more stories, thrifty strategies, and amazing finds for home that only look like high end splurges in this post.
More Bargains That Appear to be Splurges!
I independently selected products in this post—if you buy from one of my links, I may earn a commission.
1. Vintage French Doors
While it may not occur to most folks to head to the antique mall for high quality doors, there is so much potential for value there! This pair of French doors above and below are vintage and solid wood and purchased for $35. Yep. They were perfect to separate the dining area from the kitchen we renovated.
If you're new to the blog, we renovated our last home from top to bottom, and before the French doors went in, there was a narrow opening. We widened the opening to accommodate the doors, welcome more light into the kitchen, and bring architectural interest and balance to not one, but two rooms!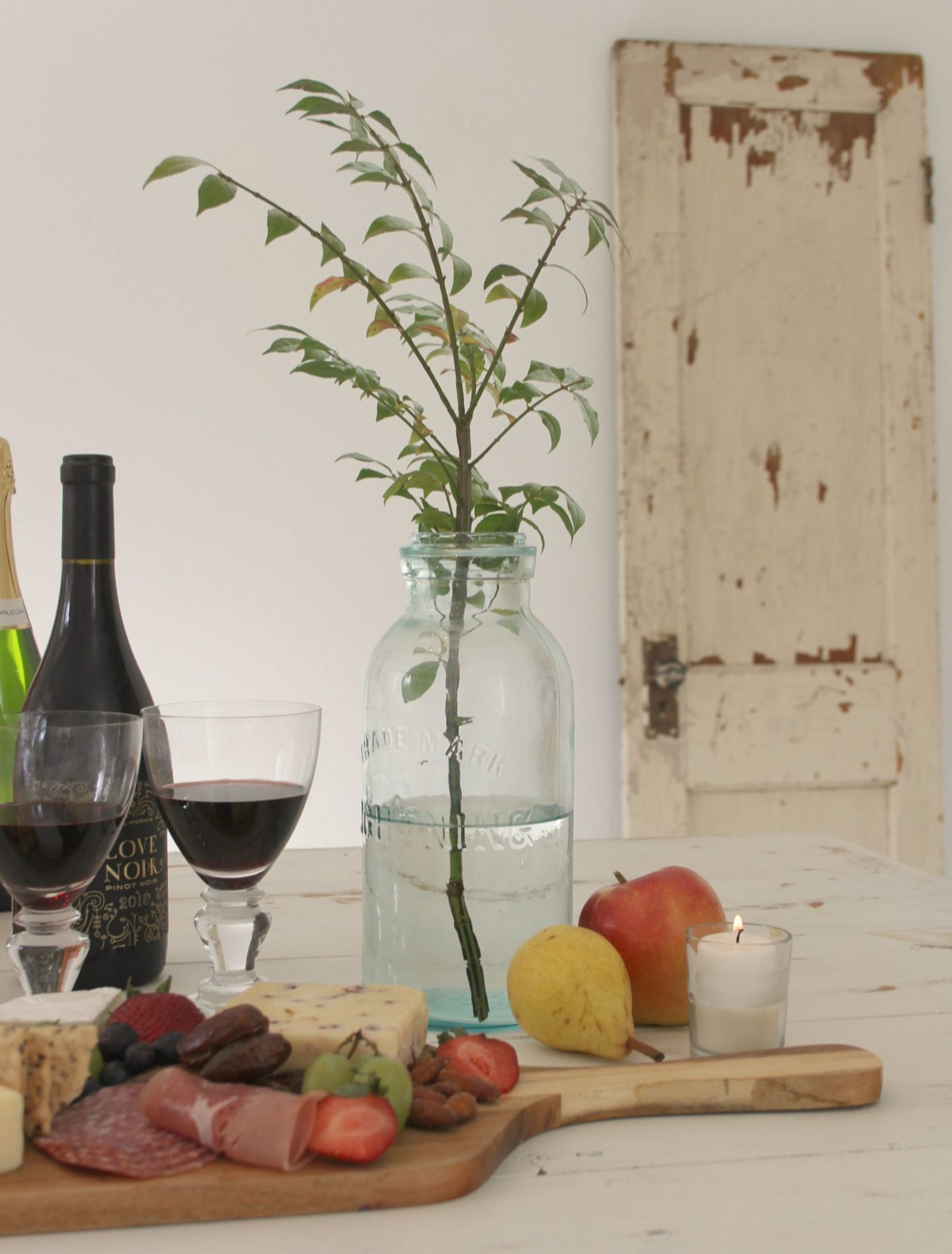 Even if you don't need a vintage door to use as a door, they can be found cheaply and used as decor like my $10 chippy one with original hardware above (from a moving sale) which came out of an old home.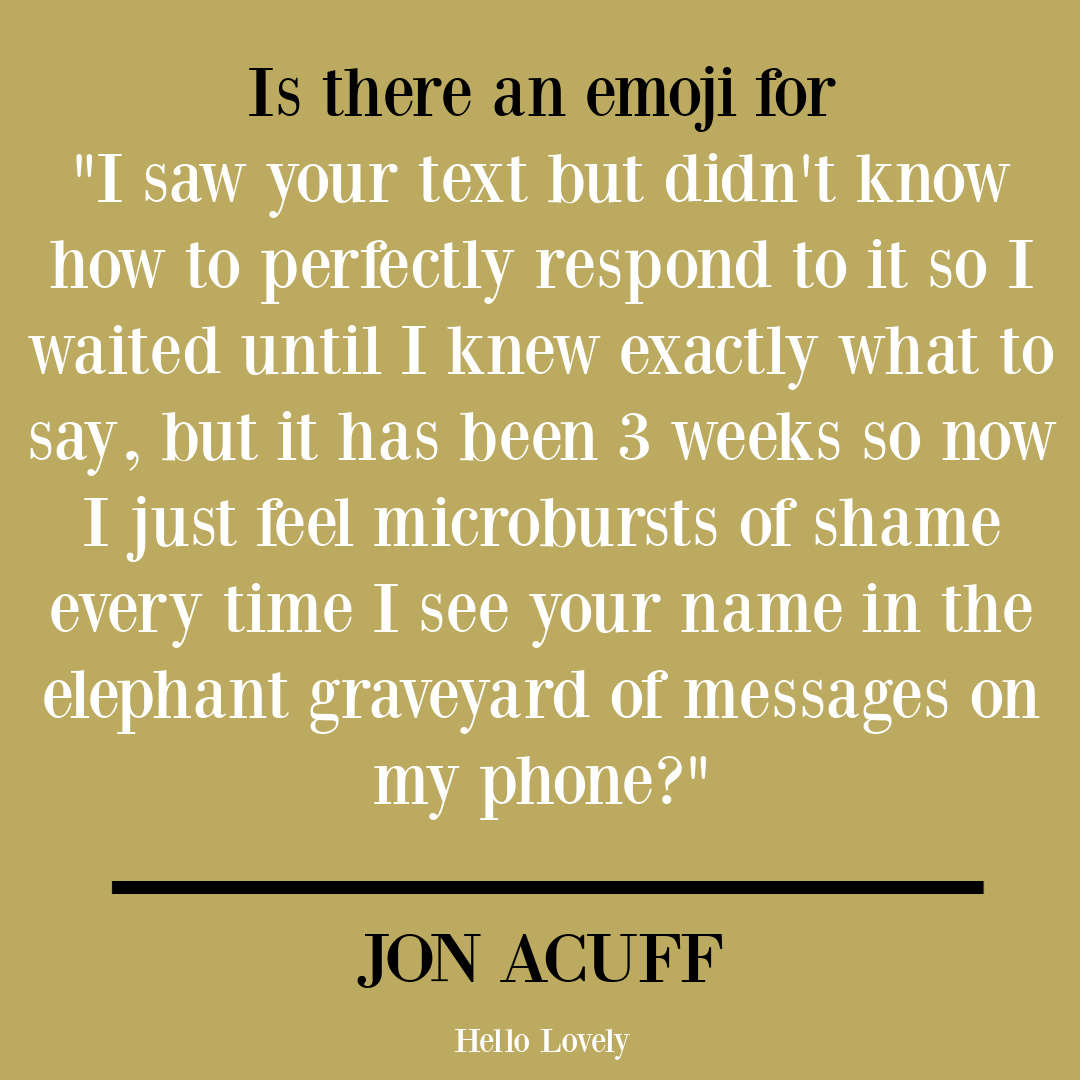 2. Traditional Mirror With Fluted Detail
I added the mirror to pair with my childhood piano almost 30 years ago! This is one of my favorite bargains because: it was FREE and something a neighbor threw in the garbage! Free curbside finds are great since you can save them from a landfill, but they are AWESOME when they become useful and beautiful for decades as they become future heirlooms!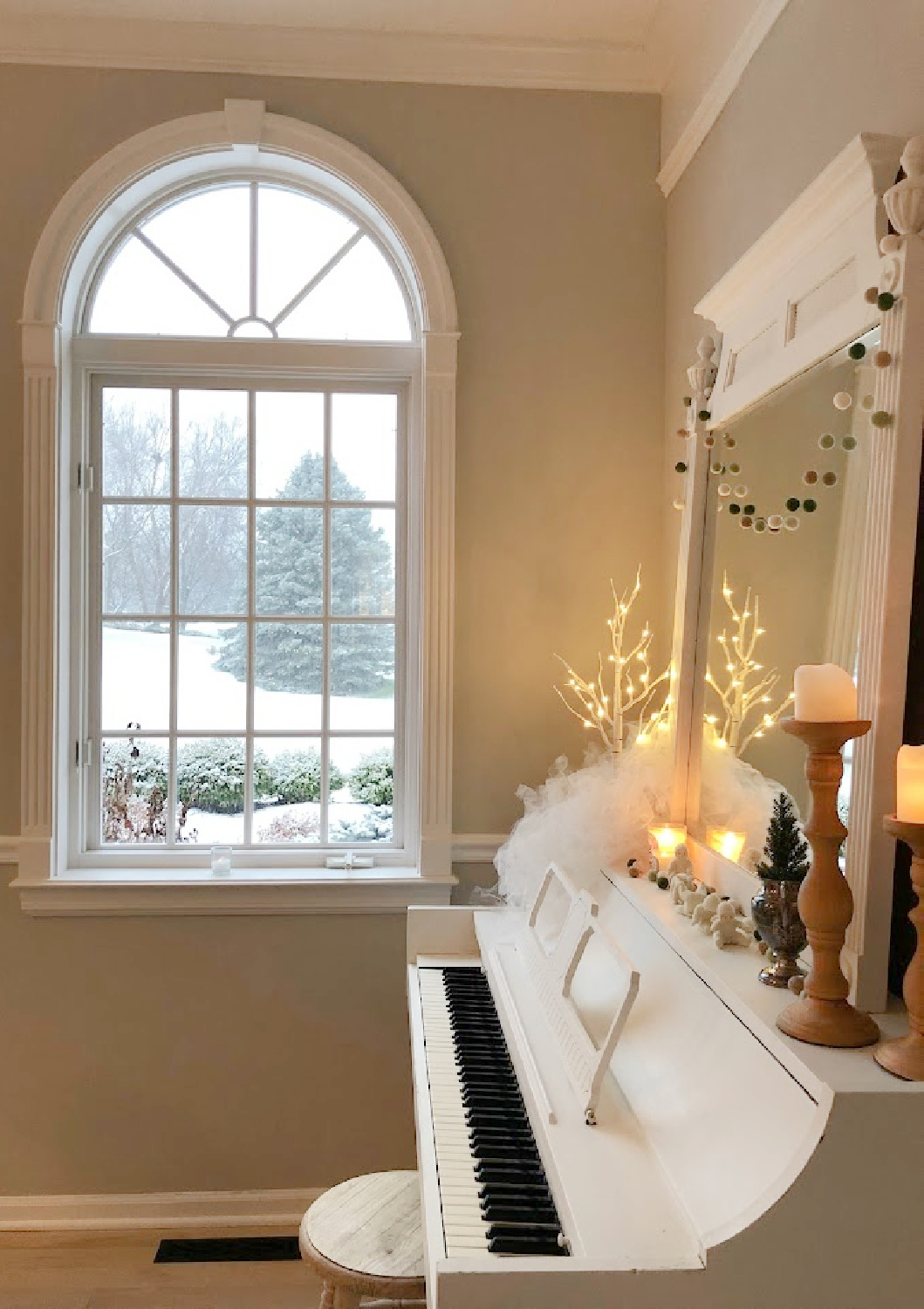 Here's another bargain-priced leaner mirror found years ago at Home Depot for $80. It was great quality, but warped…warped in the best way because it makes everything reflected appear taller and thinner! Hahahaha.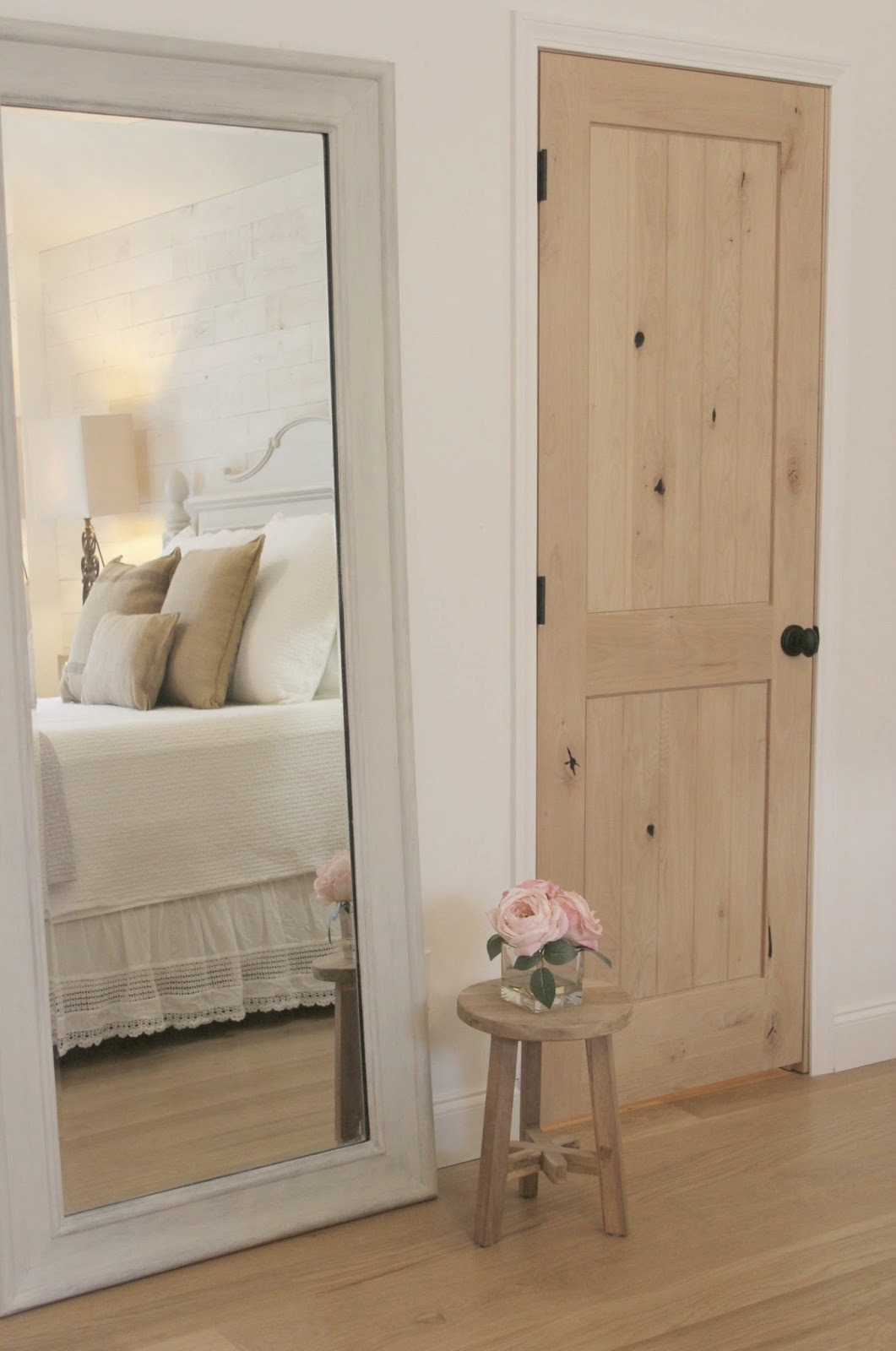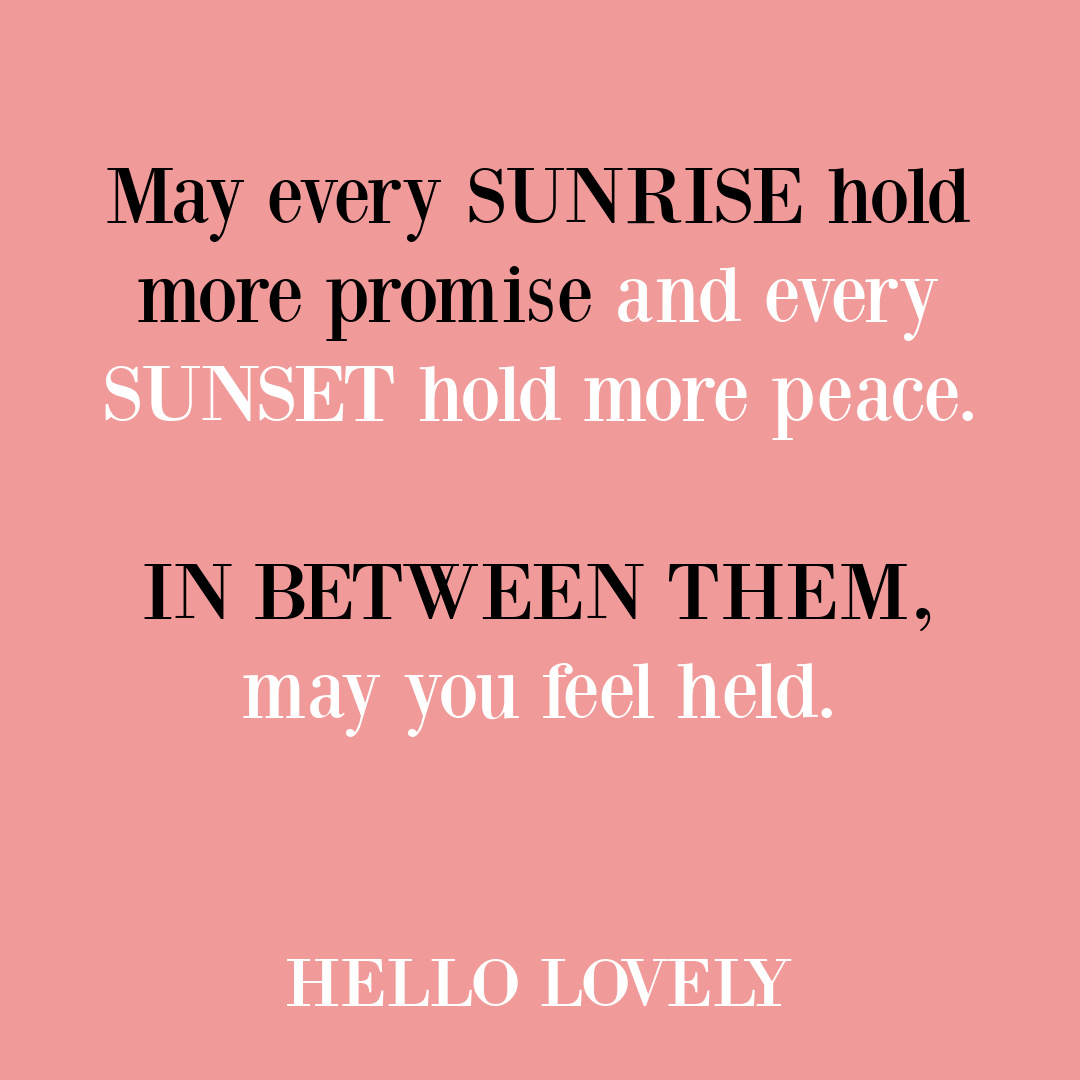 3. Modern Stainless Range Hood
I know there is risk when you buy appliances from non-traditional sources, but I have had only positive experiences. Whether new or used, you can often snag valuable fixtures at significant savings.
This stainless modern range hood was brand new on eBay for $150 and normally costs around $500.
Another bargain in our former kitchen? That bulkhead ceiling light from Home Depot was intended to be just a temporary placeholder light, and it was $12 at the time (inflation has increased the price, but it's still a great value).
We have always loved coastal guard style simplicity for sconces so don't overlook the hardware store for lighting bargains where you can also find exterior lanterns under $100 such as the one above which are low cost and can be used indoors.
You can also score inexpensive lighting at big box stores when a lighting collection is being discontinued. The petite chandelier above was $10 on clearance at Lowe's in 2008 when I had a ton of chandeliers to buy for the spacious French country home we built. (It went in a pantry in that home, then I brought it with me for the breakfast nook in the next home we renovated.)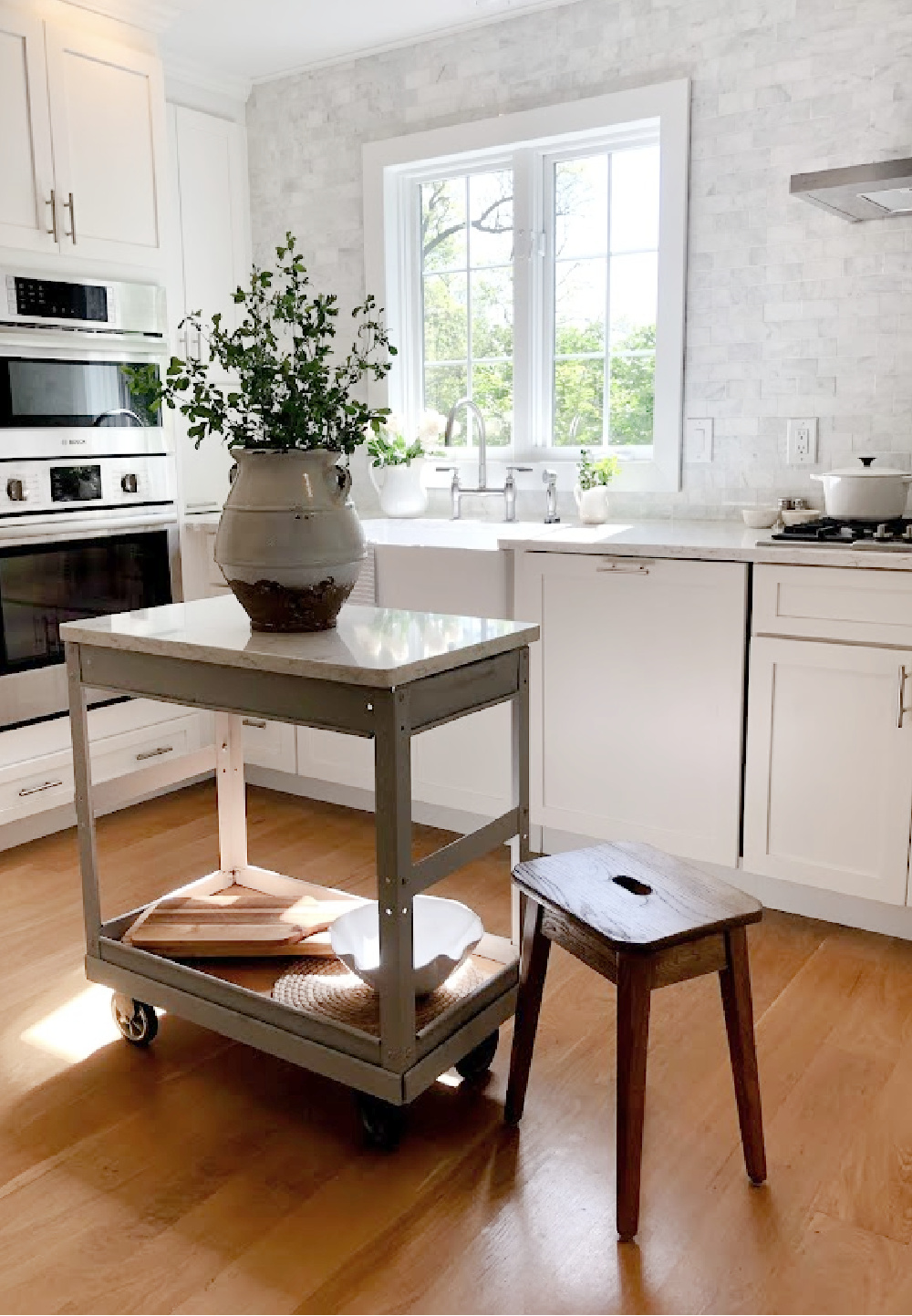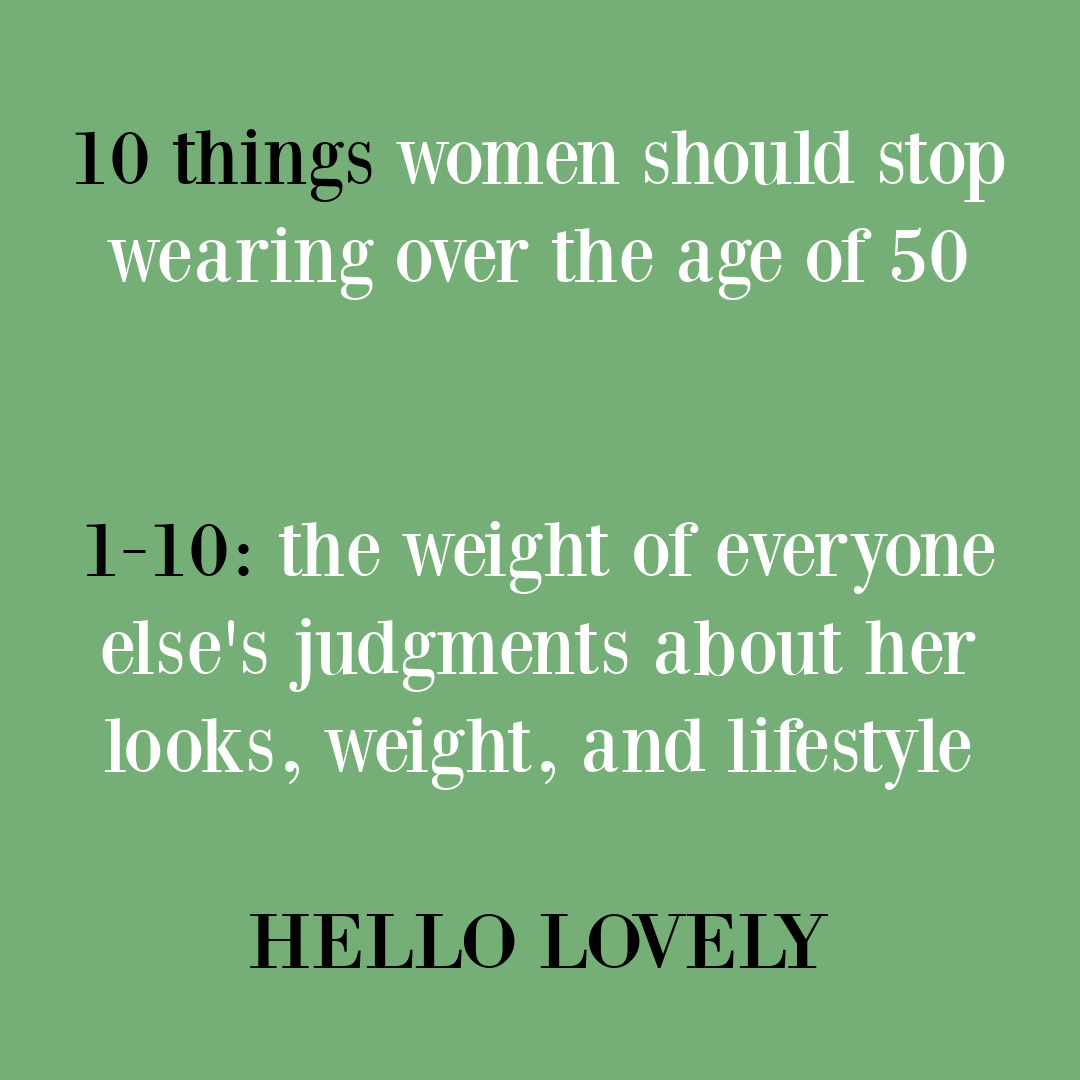 4. Pedestal Dining Table
It seems that a common denominator in this installment of bargains is how it's only a fantastic high end bargain if your find stands the test of time. This 48″ pedestal dining table cost $50 at a department store outlet near our home back in 2008. We're still using the table four homes later!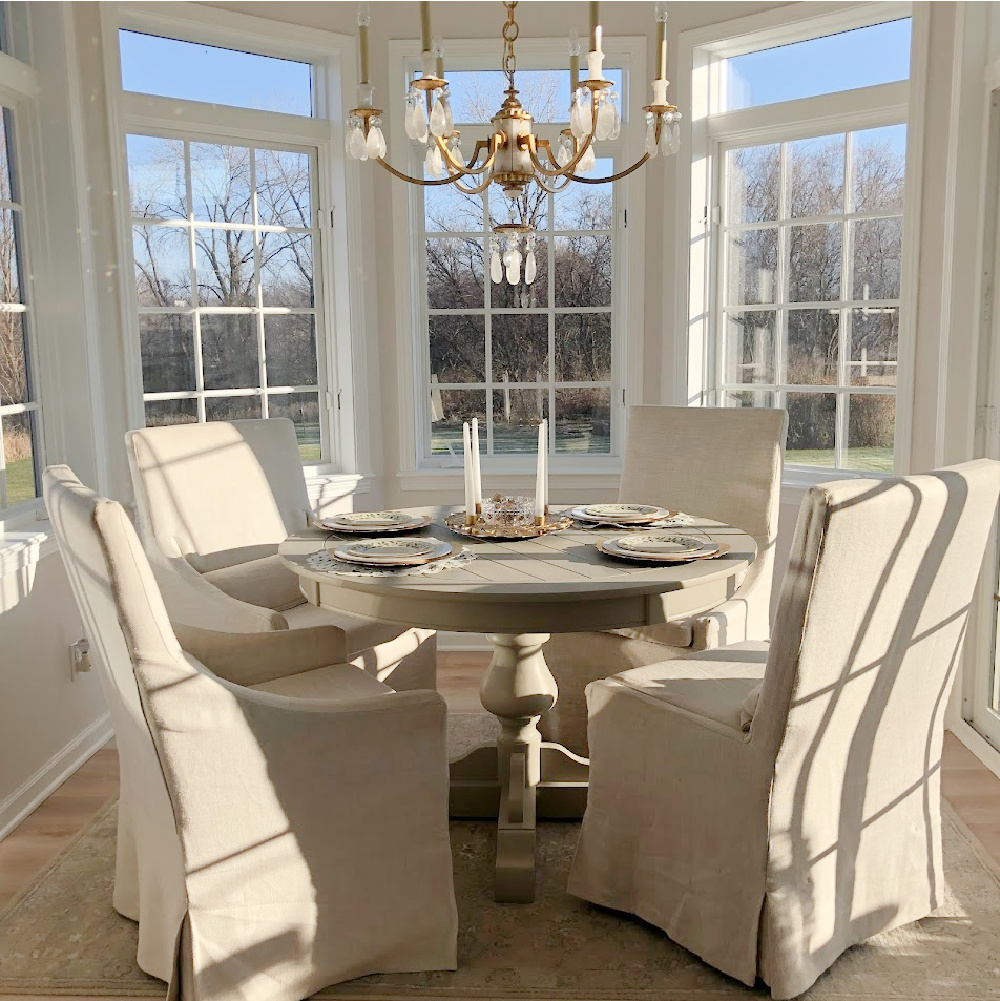 About eight years ago, I painted the table Behr Garden Wall, a neutral stone color. When I bought the table, it was black. Here's the table black: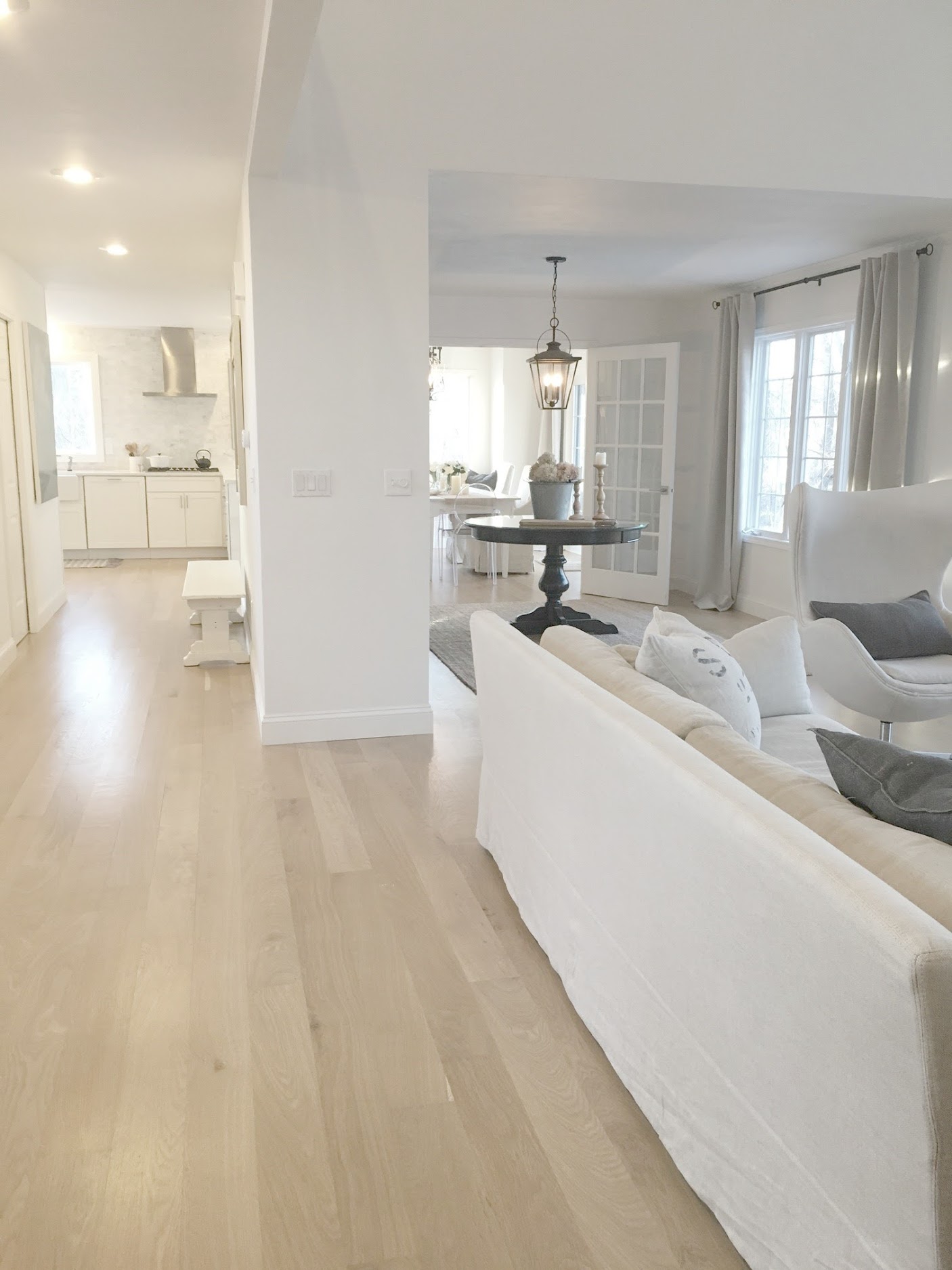 Don't pass up a bargain if the shape and size are right, but the color is all wrong. Paint transforms everything!
5. $1,200 Bargain
Not all high end bargains are $5 garage sale finds. This Stikwood (Hamptons White) reclaimed wood material is a value I can't not mention. Why?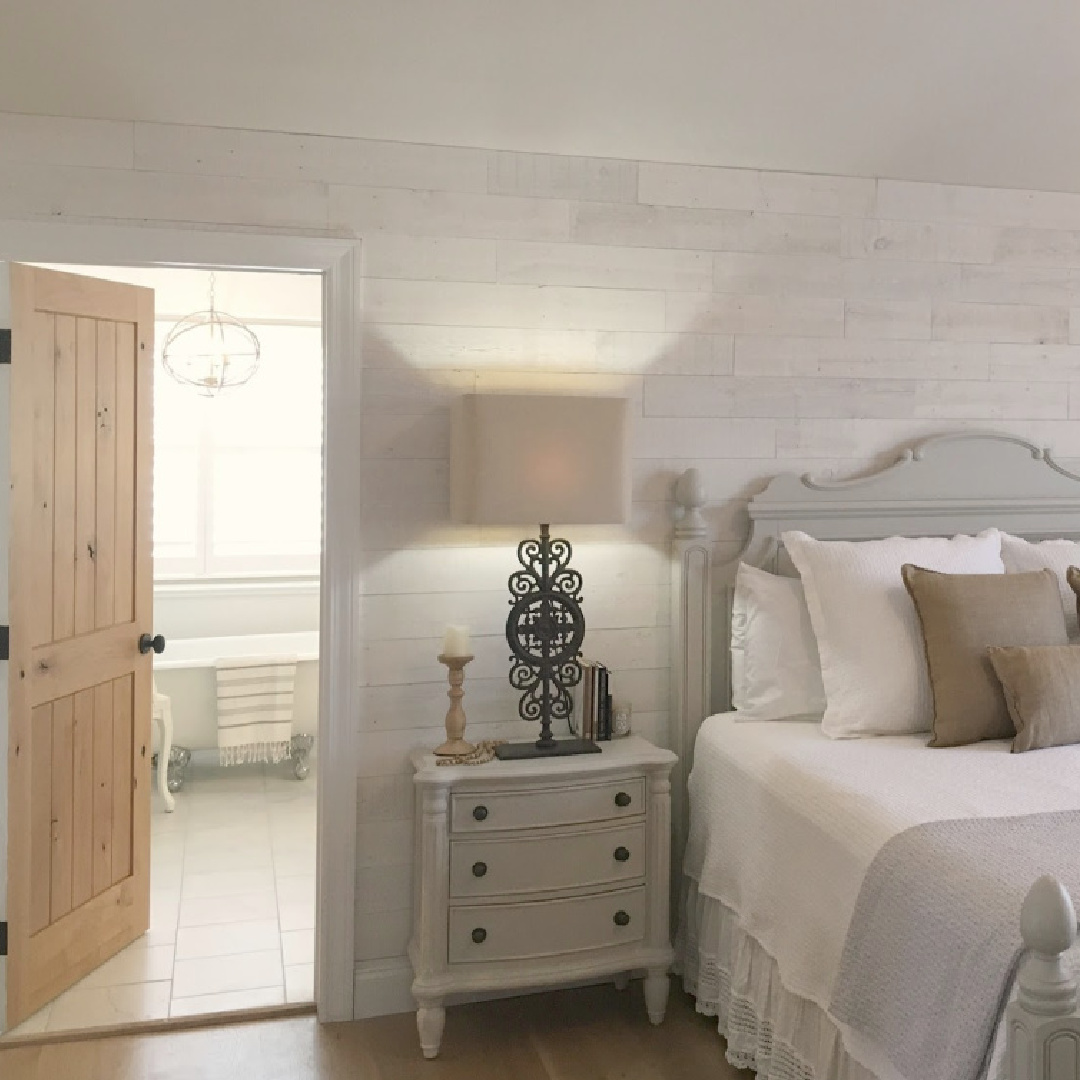 It's a wonderful DIY project so you'll be able to save labor costs, AND it's the sort of addition to a room that makes the room feel solidly new. Remember, this material is real wood, and adding natural material with such a broad stroke brings nature inside!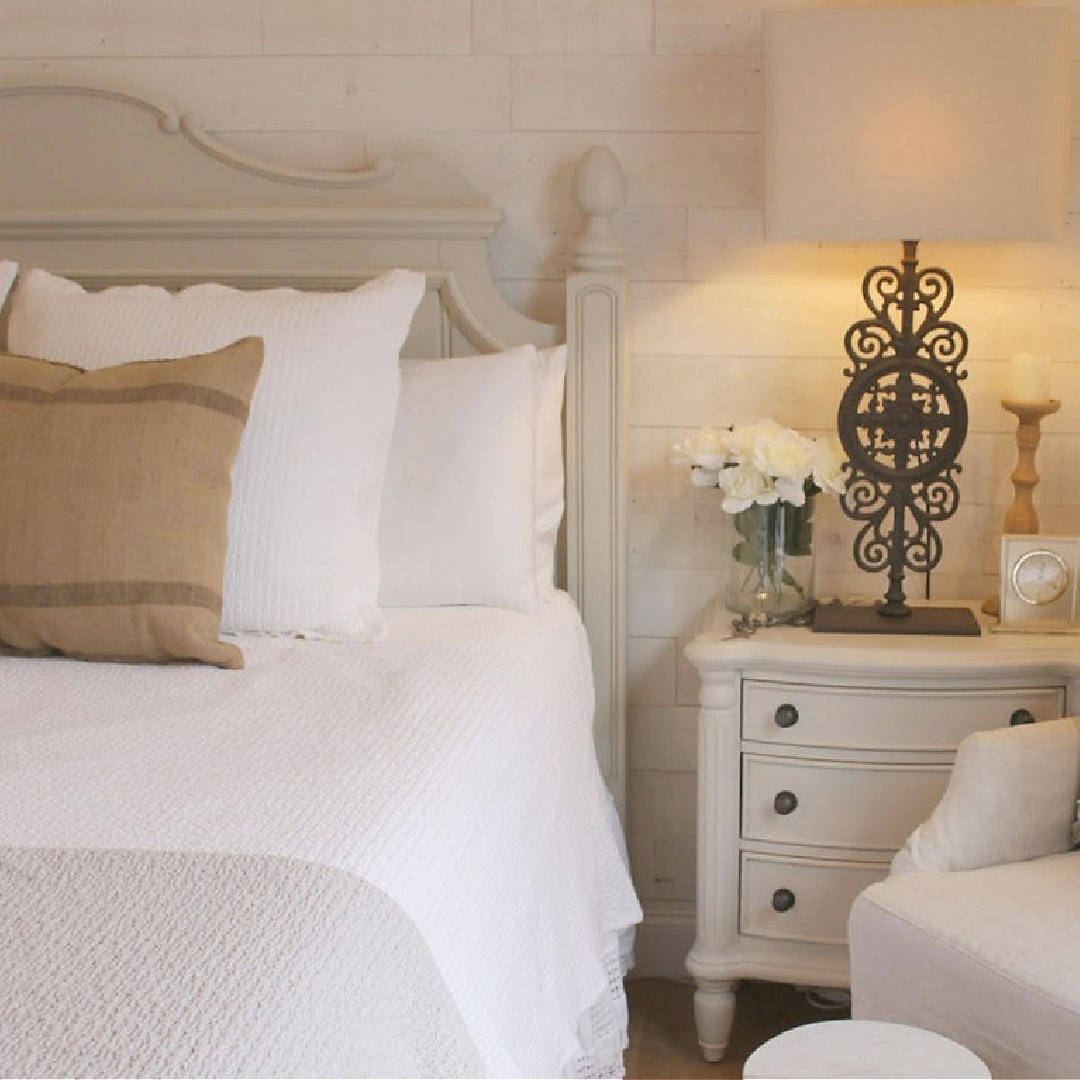 You could easily spend $1,200 on a piece of art or furniture, but is it truly going to have such a solid impact?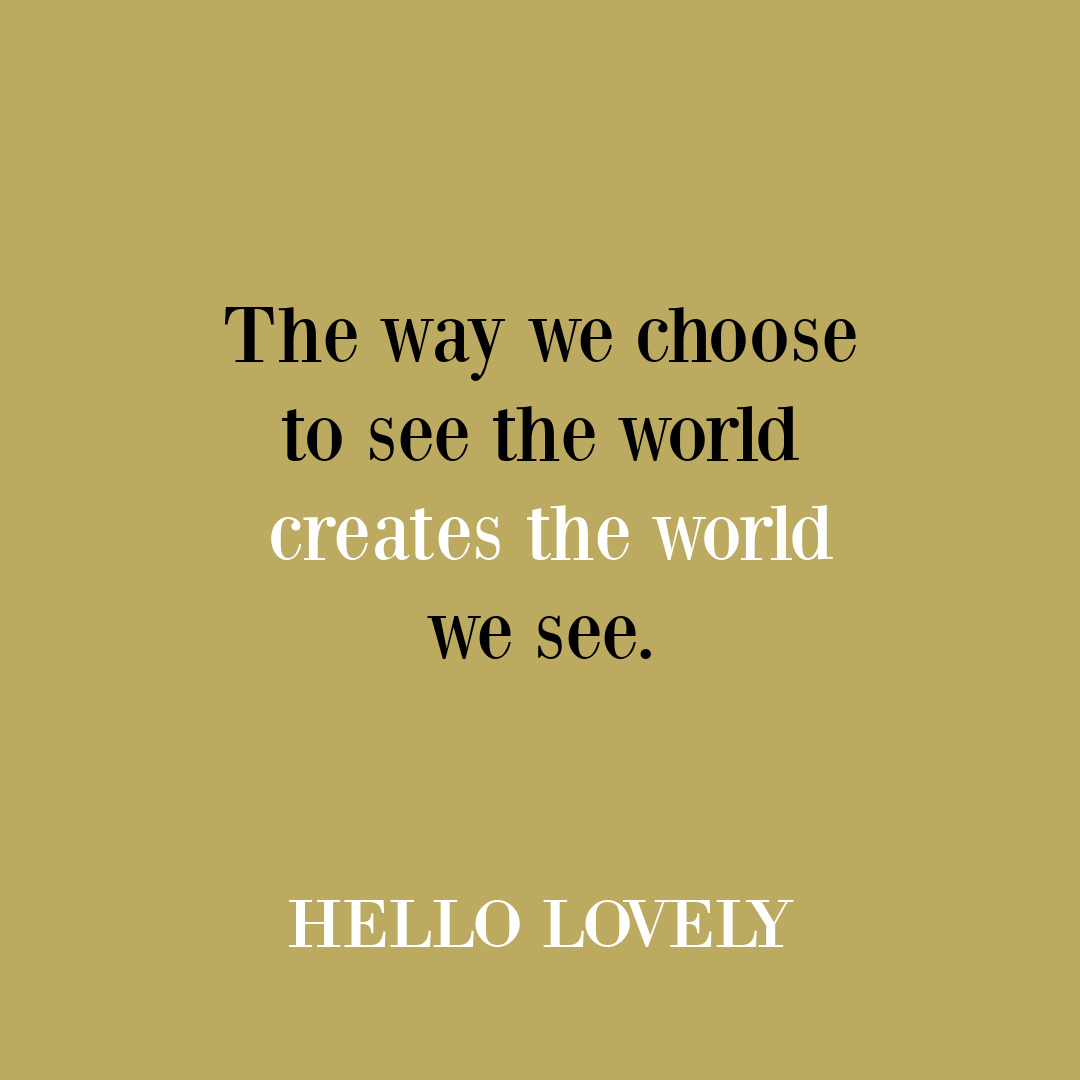 6. Not Quite Right Earthenware
If you have shopped for vintage or antique earthenware, terracotta urns, French pots, or beautifully patina-ed pottery, then you know they can be pricey. And they are often worth the price! However, if those prices are not in the budget, shop with a different eye. This pot on my counter with hydrangea was $5 from a thrift store.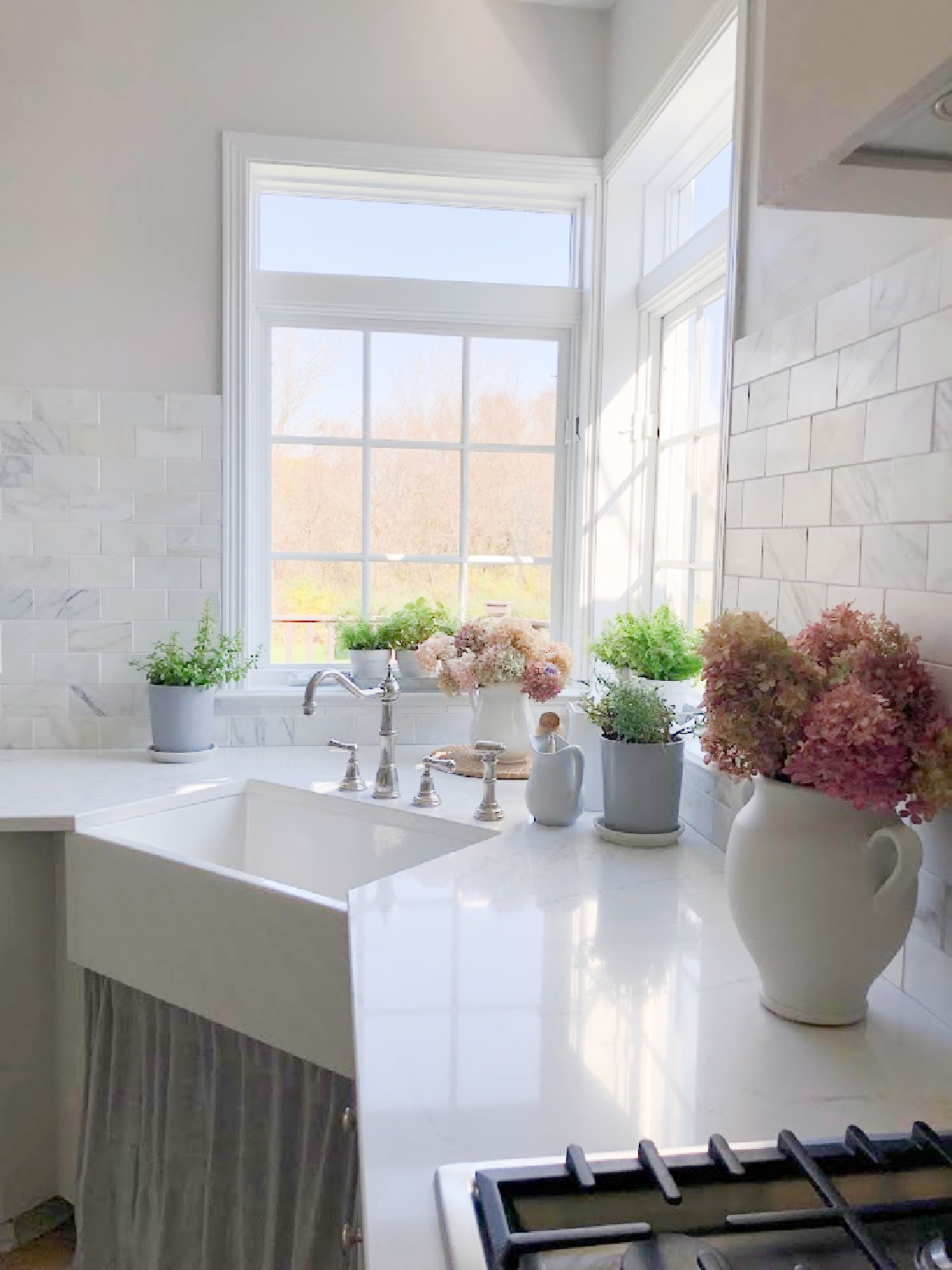 It was painted with a horrible floral design in awful colors, but I could see the shape was beautiful. A little latex paint dry-brushed on the pot instantly aged and calmed the piece.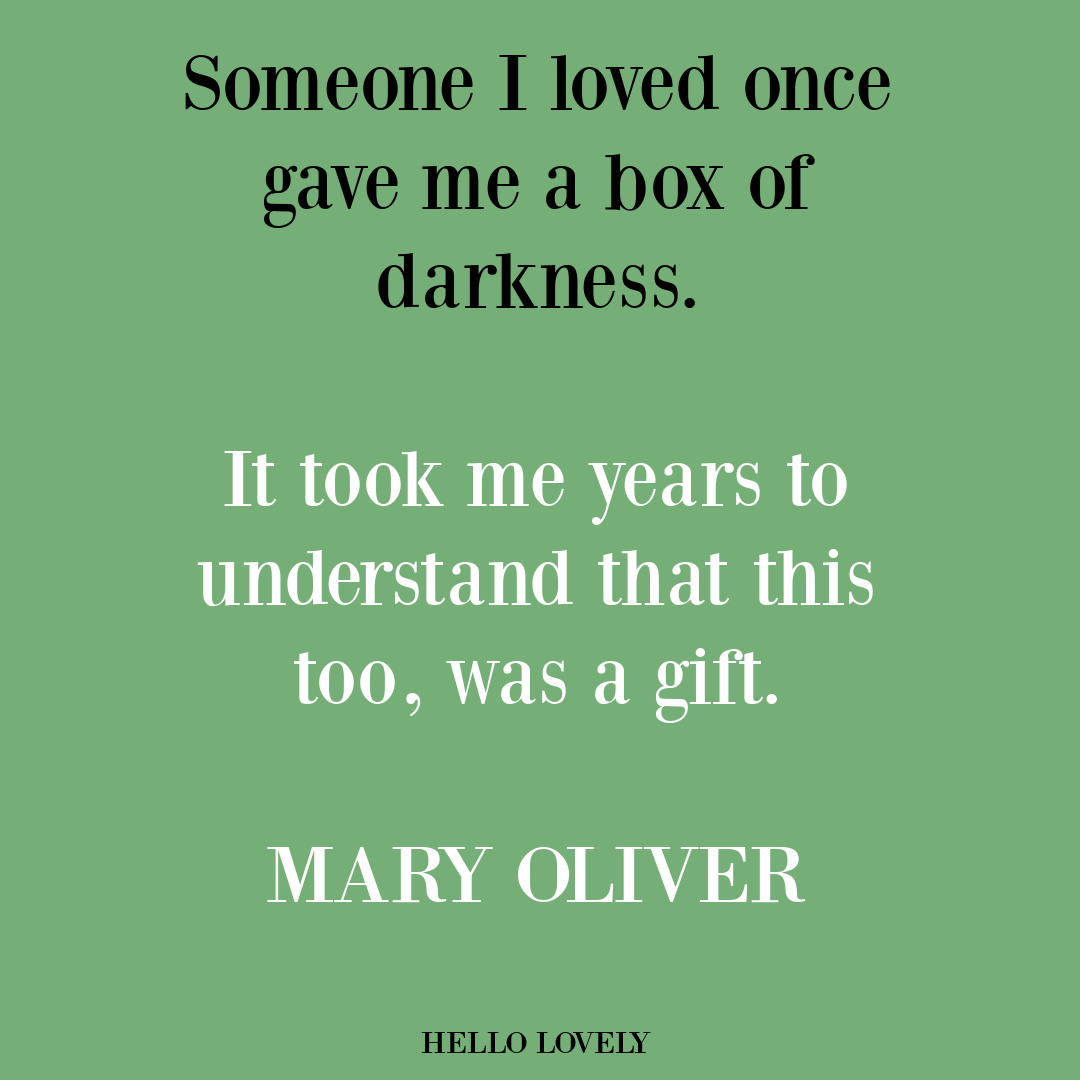 7. Heavy, Well-Made, Highly Useful Low Cost Furniture
If you haven't browsed FB Marketplace, you may not realize that one of the common items offered up for low prices (or FREE!) is entertainment centers or large wardrobes. The Lexington made oak wardrobe I bought for our renovated kitchen below only cost $50! It is one of the best crafted pieces of furniture we have ever owned, and I can't overstate the quality inside and outside of this incredible piece. I wanted a tall storage cabinet to hold a TV and kitchen items, and the trickiest part was transport.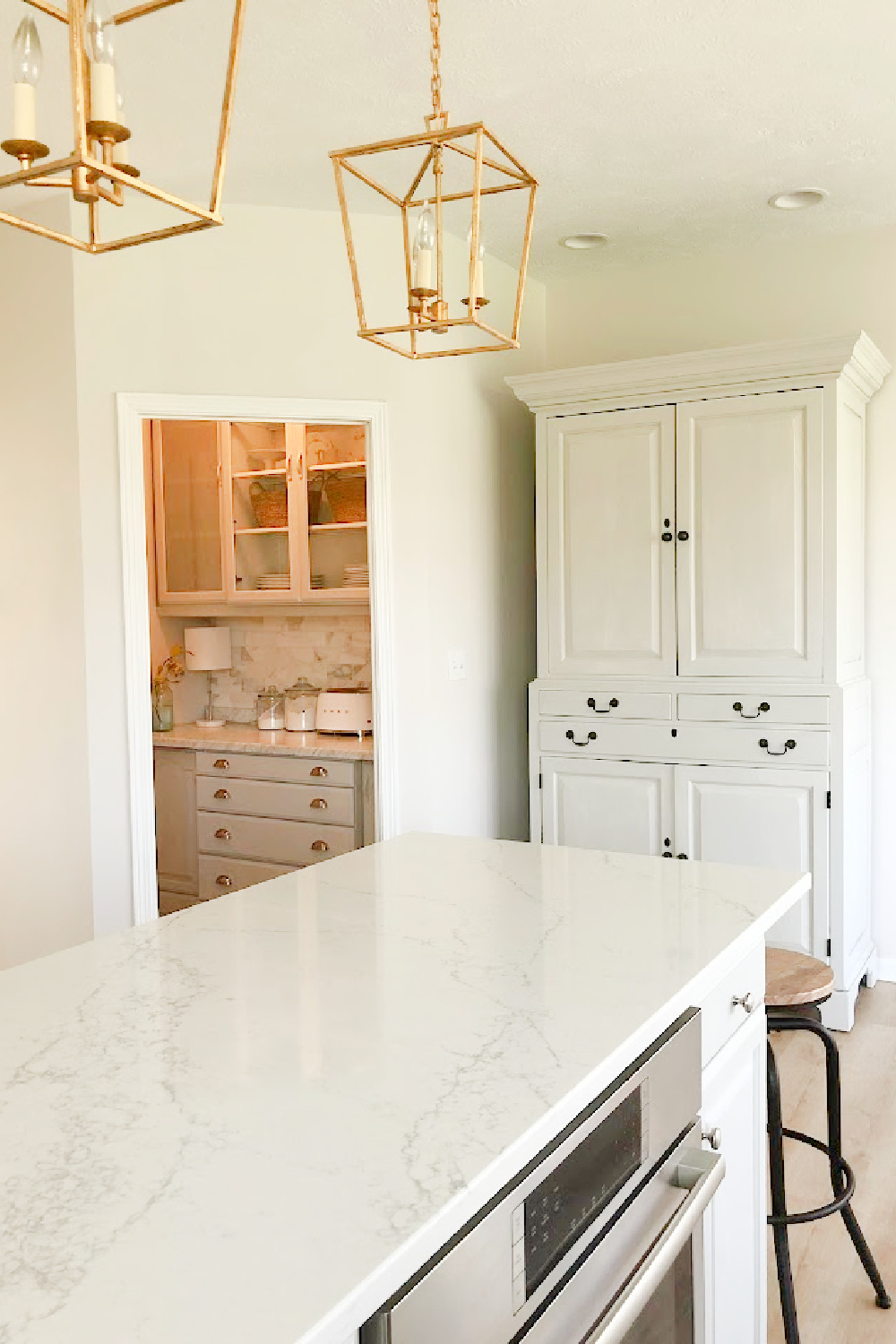 Of course, the headache of moving them is why pieces of this scale are often free of charge. When folks are moving, it is often more cost effective to leave it behind…YOUR GAIN! Here's another oversized piece scored at a bargain price:
This 5-foot wide, reclaimed elm, heavy iron Dutch etagere shelving piece from RH may not even be in production any longer, and retailed for around $6,000 when we found it in 2008. We snagged it at the RH outlet for $400, and the beauty is heavier than I can say!!!
We offered to sell it to the buyer of our home to avoid moving it and because it was so perfect for the wall in that dining room. However, they passed, and I'm sooooooo glad because I love the exquisitely made piece as much as ever, and we're using it for storage at the moment. Eventually it will go in our lower level when we create a media room.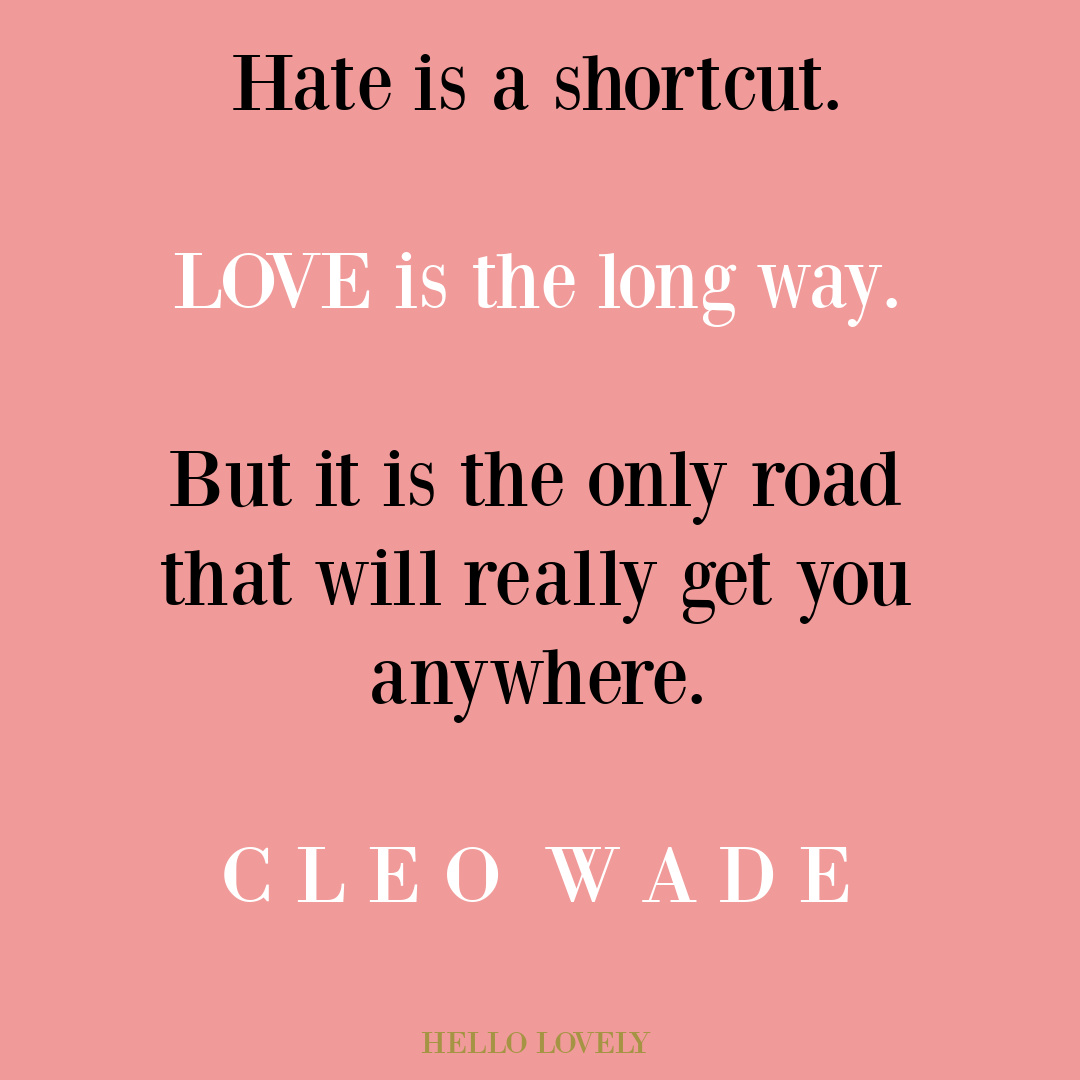 8. Bargain Placeholders That Move in for Good
It's smart to shop with a firm idea of what you're looking for, budget, and proper dimensions, but there's a joy that also arises from allowing yourself to be surprised. When I saw a small handmade stool/plant stand/industrial style mystery at a garage sale for $1, I didn't instantly see its value.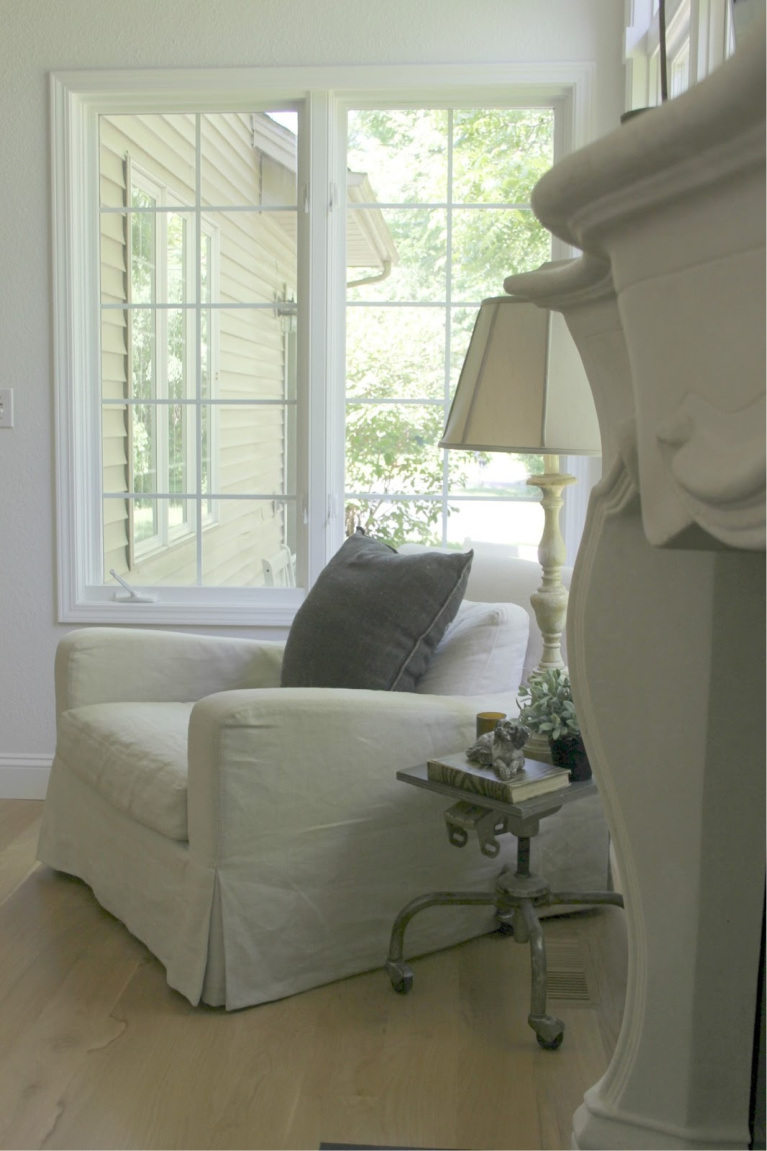 When I brought it home, I decided it would make a nice temporary side table for the living room until I could find "the right table." At the time, I was painting abstracts as a side hustle so my paints were always easily accessible, and I layered on a zinc faux paint finish to help the top blend more with the base.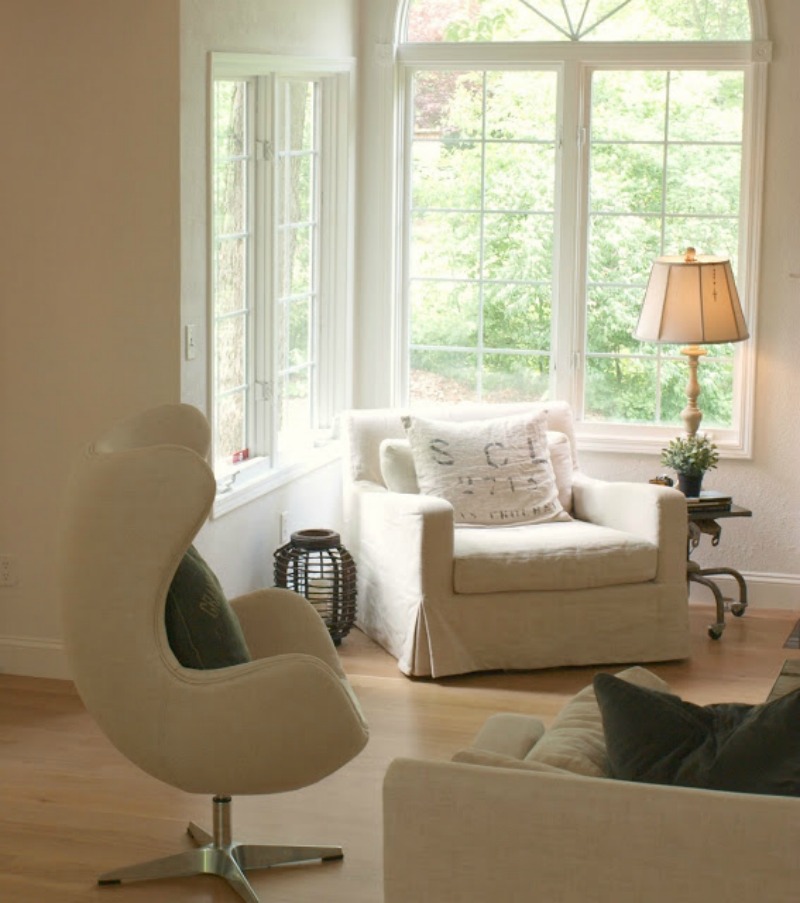 Boom. Still haven't found a suitable table we like more than this one.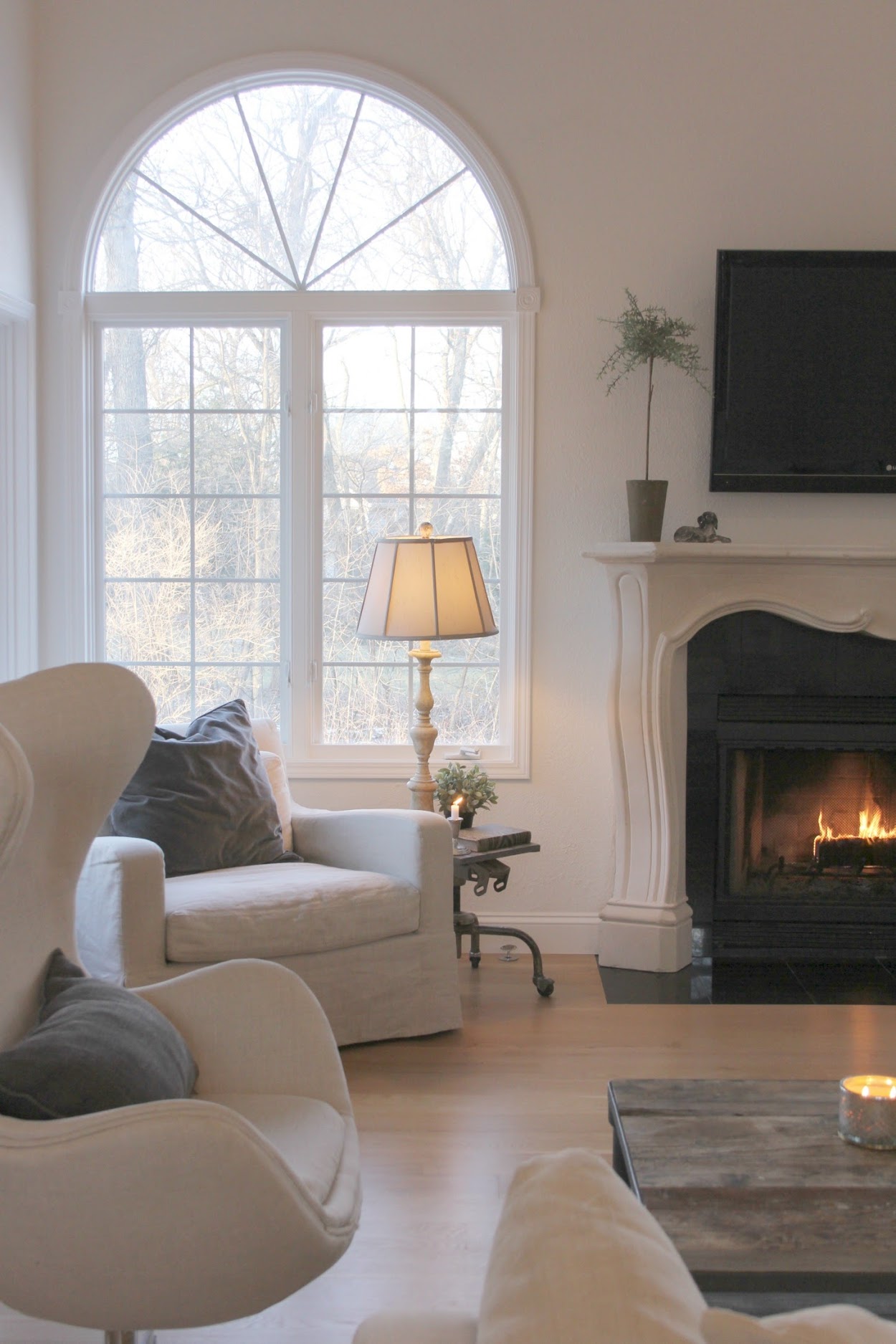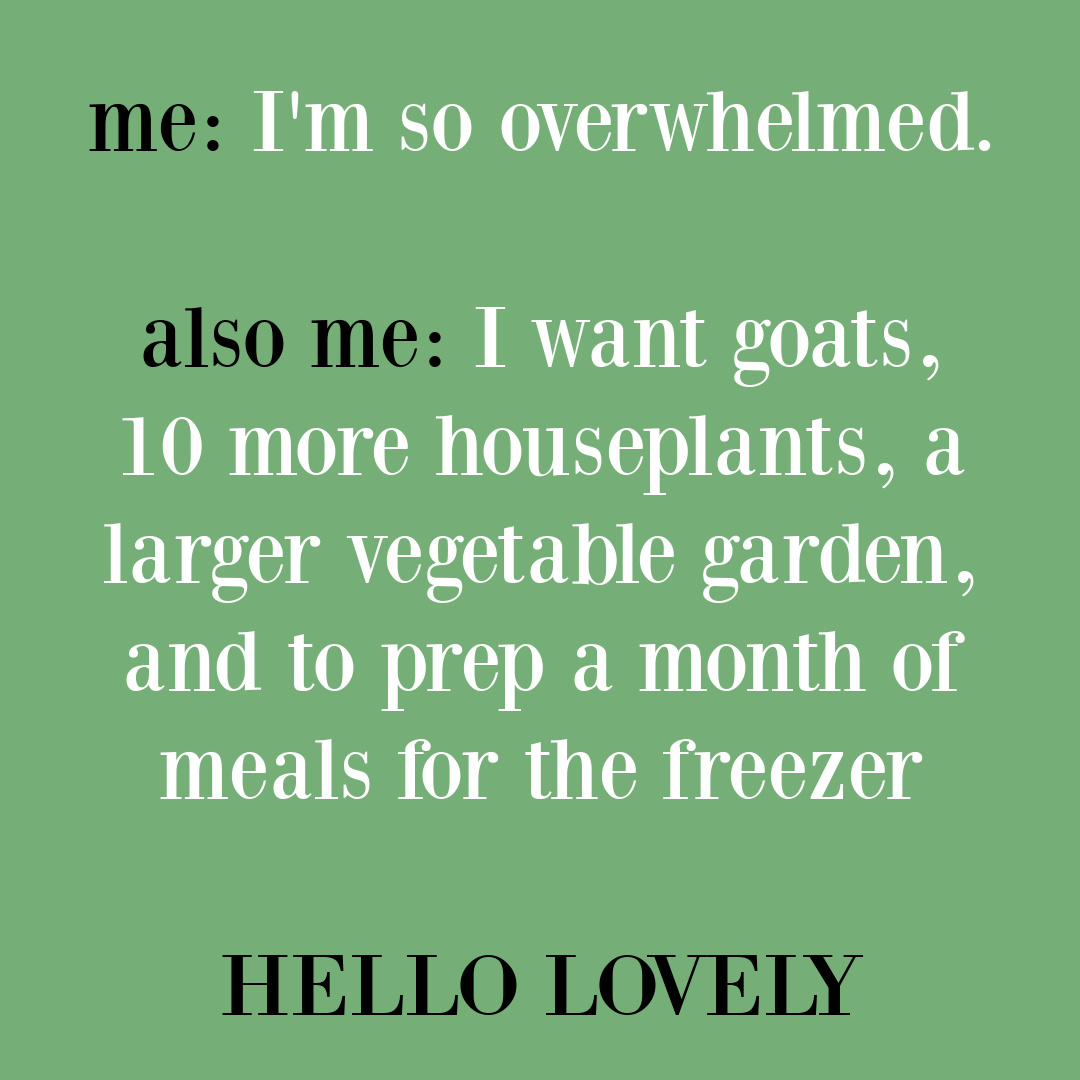 9. Vintage Portrait Paintings
If you're just shopping for them online or at the fleamarket, their prices may annoy you. But if you keep your eyes open at tag sales, rummage sales, and the thrift store, you just never know. $5 is all it cost to bring this sweet girl with a bob home to live with us.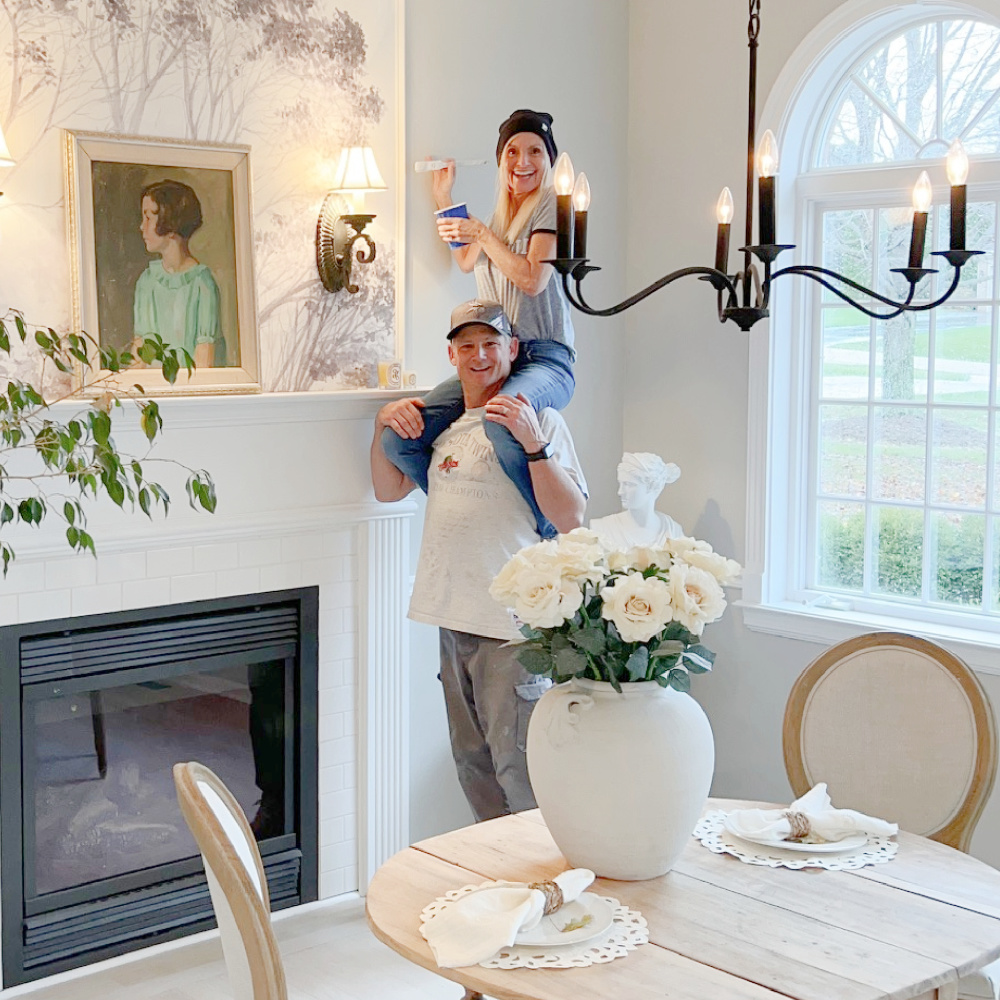 Even the frame with linen matting is gorgeous.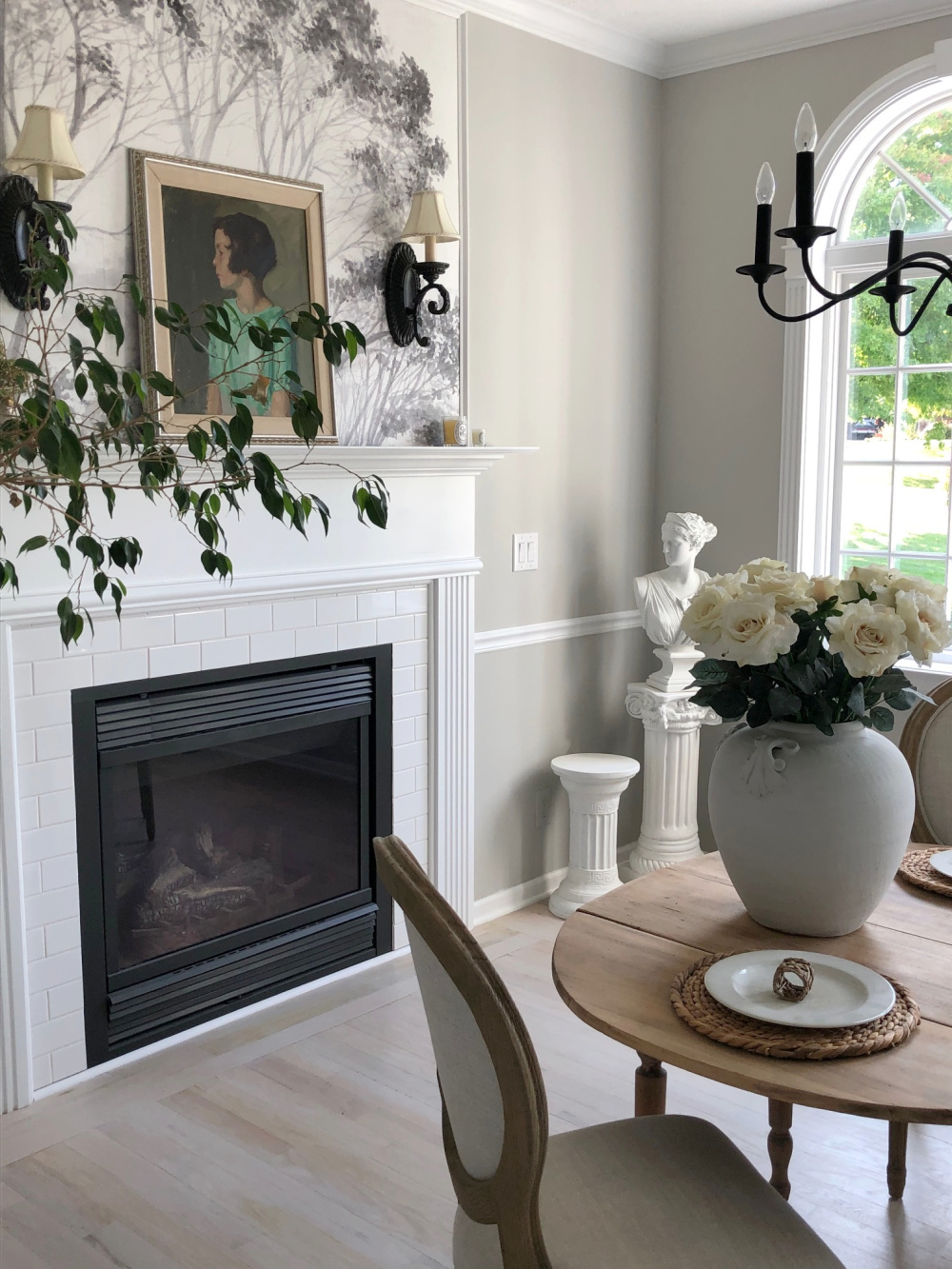 The Diana bust on the pedestal near the fireplace was also a great bargain for $40 at the antique mall. She has a crack, and that price included the pedestal!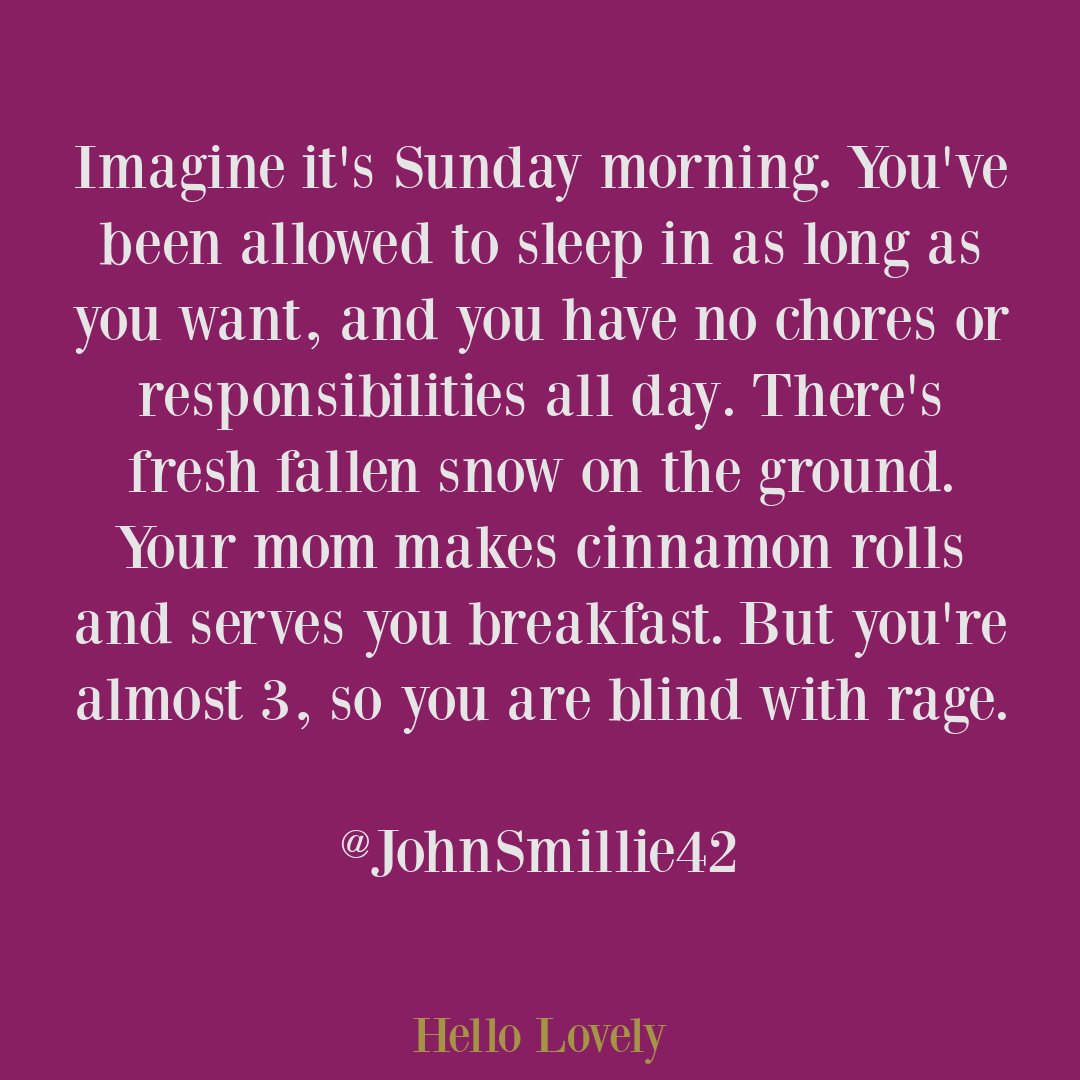 10. Bargain Finds for the Bath
One of my favorite low-cost resources is IKEA where there are endless thrifty options. Their Molger collection includes (or included) this slatted bench which comes unassembled. We paid around $40 and bought multiples because they're so useful and good looking.
The light blonde finish on the Molger pieces was pretty, but to calm the bench in our former bath, I painted it with light grey chalk paint.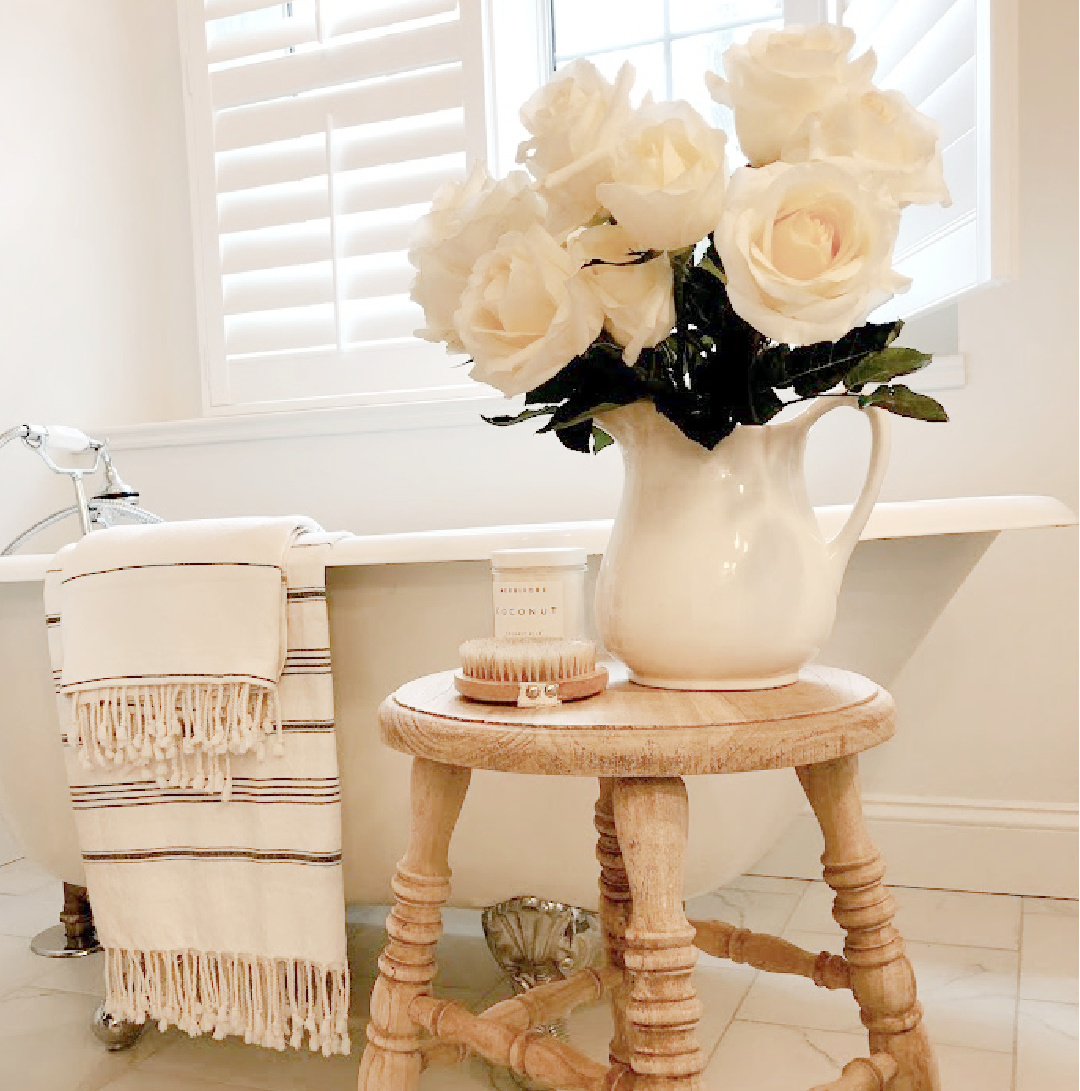 Venetian etched mirrors can be pricey when you see them at Anthropologie or department stores.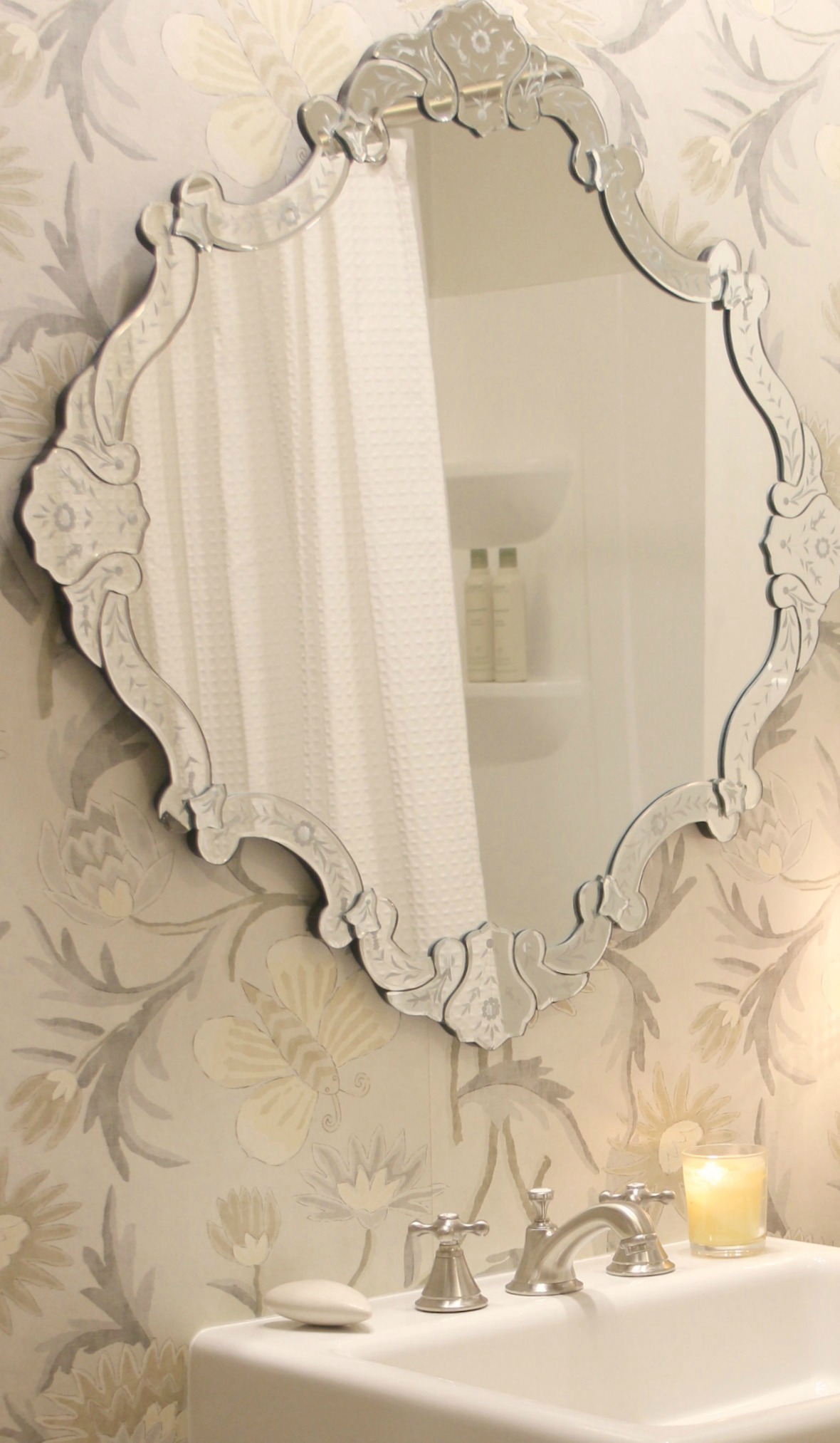 However, this one snagged at an outlet cost $35! I found it years ago, and I think it has a little chip somewhere, but I can't even remember since it isn't an obvious flaw.
Here's a mirror with a similar shape that may give you a similar look if you can't hunt down a bargain:
Doesn't the wallpaper in this bath we created above appear expensive?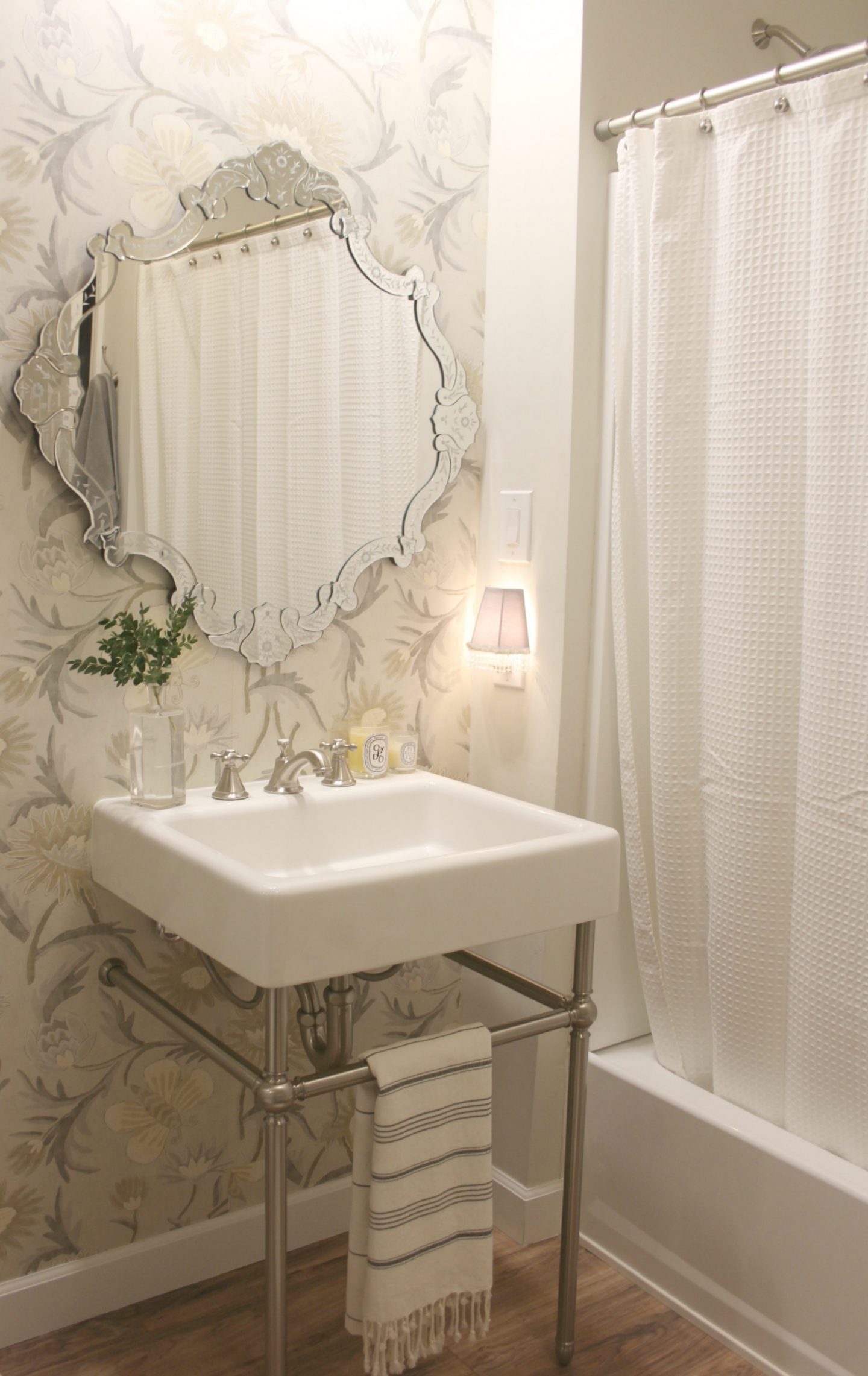 It is one of those high end Thibaut wallcoverings that I love. Yet I found a partial double roll at a local garage sale for $1. Yes. We papered that bath wall with $1 of product.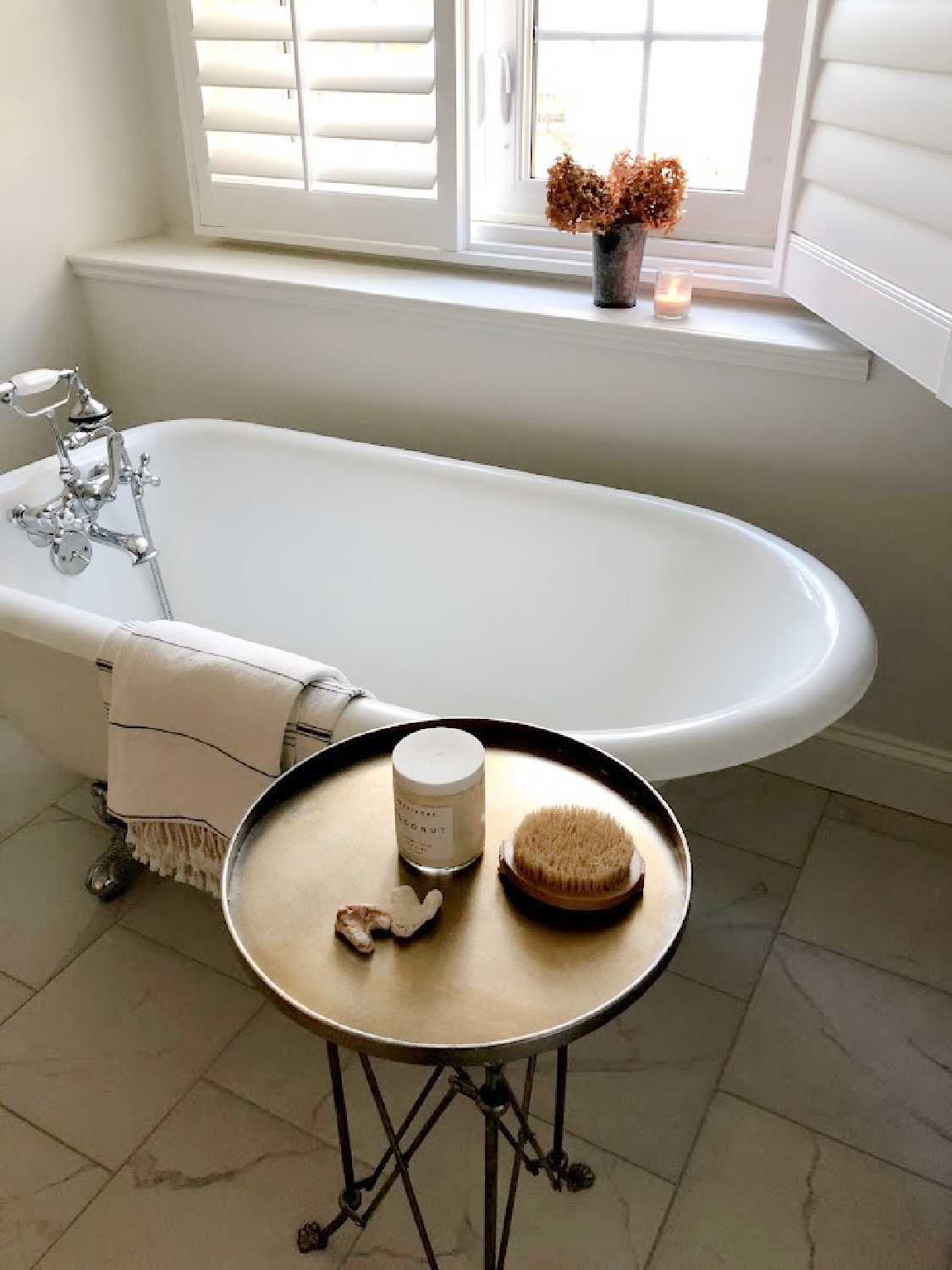 Porcelain tile is one of those underrated materials that no one even recognizes as a high end bargain, yet it IS! This calacatta-look porcelain from Lowe's was under $2 per square foot. I loved it enough to pay five times that price yet didn't have to!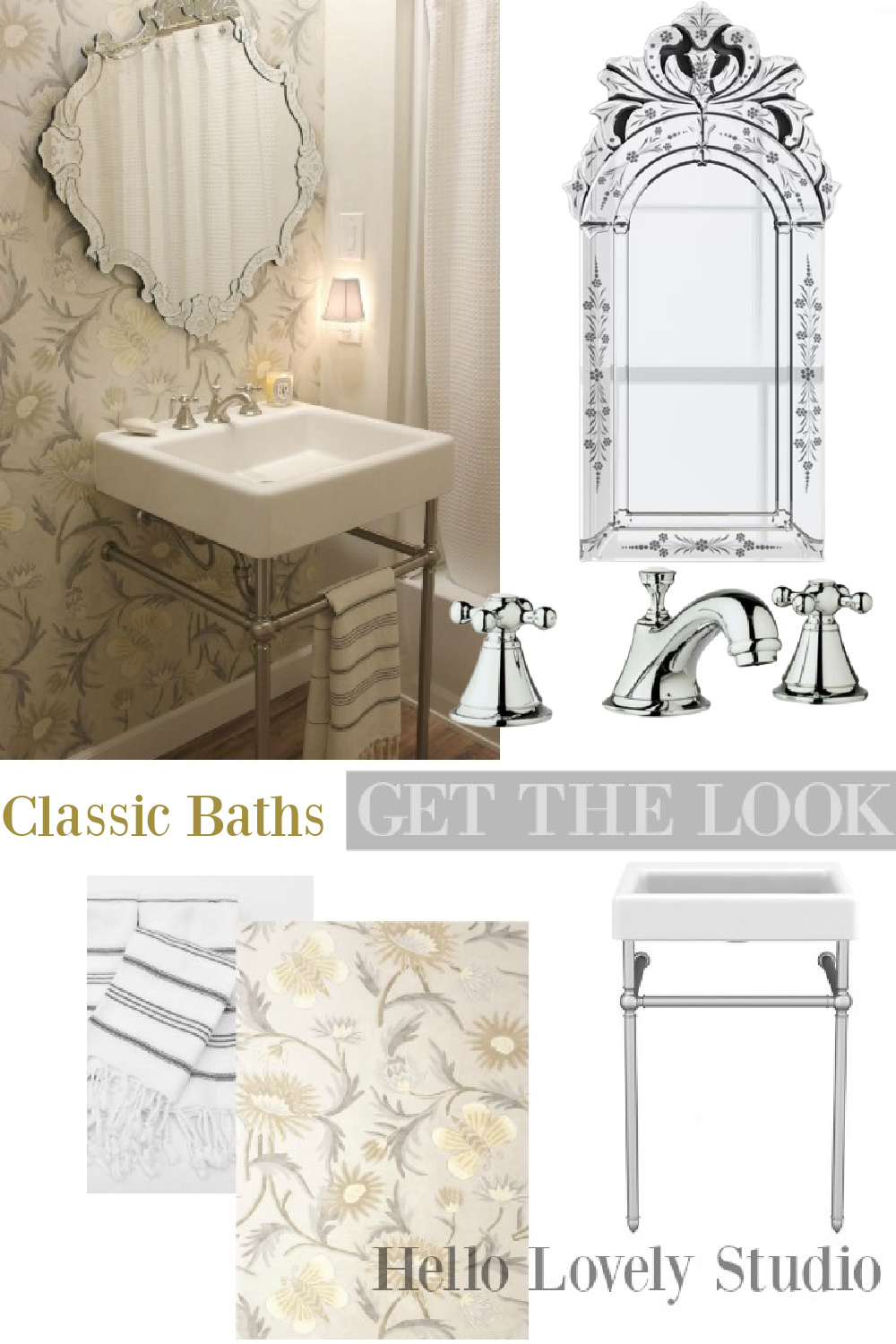 No Cost Design Help
Whether you are just beginning to narrow down your design style or are collecting ideas for your well established signature style…
Follow HELLO LOVELY! Also, remember to peruse decor inspiration and interior design from the archives here on Hello Lovely.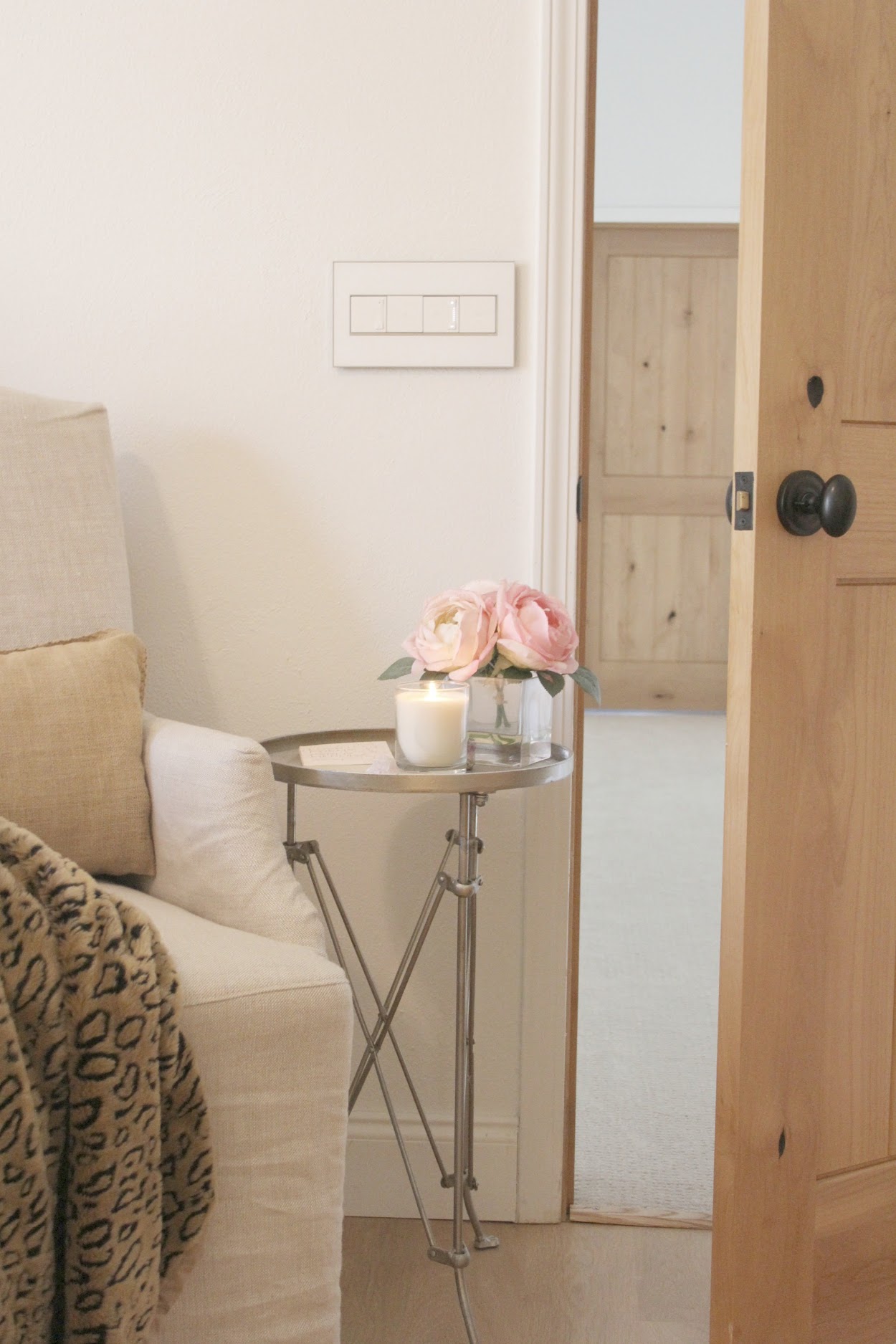 11. Chippy Ironstone & Antique Jars
There's something to be said about collecting for quality, but when the priority is keeping costs low, don't overlook chippy ironstone and old jars with chips when the flaws aren't obvious and don't interfere with function.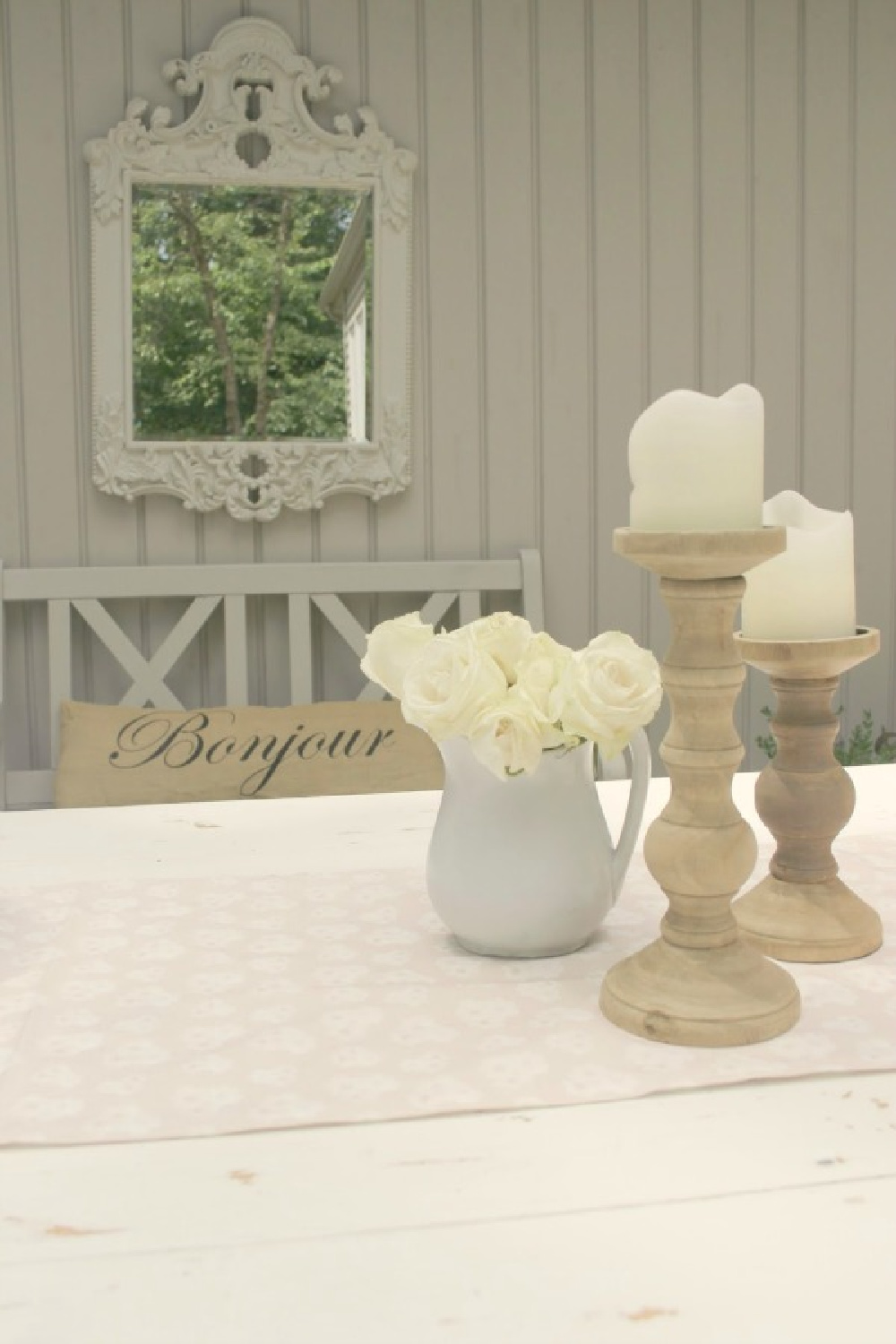 Who can resist a sweet, very old, imperfect ironstone little pitcher for $5? Not me!
The ironstone, made in Belgium, compote above was less than 20 bucks because of a little chip. And the antique jar below has a chip that doesn't affect its usefulness as a vase or beautiful color.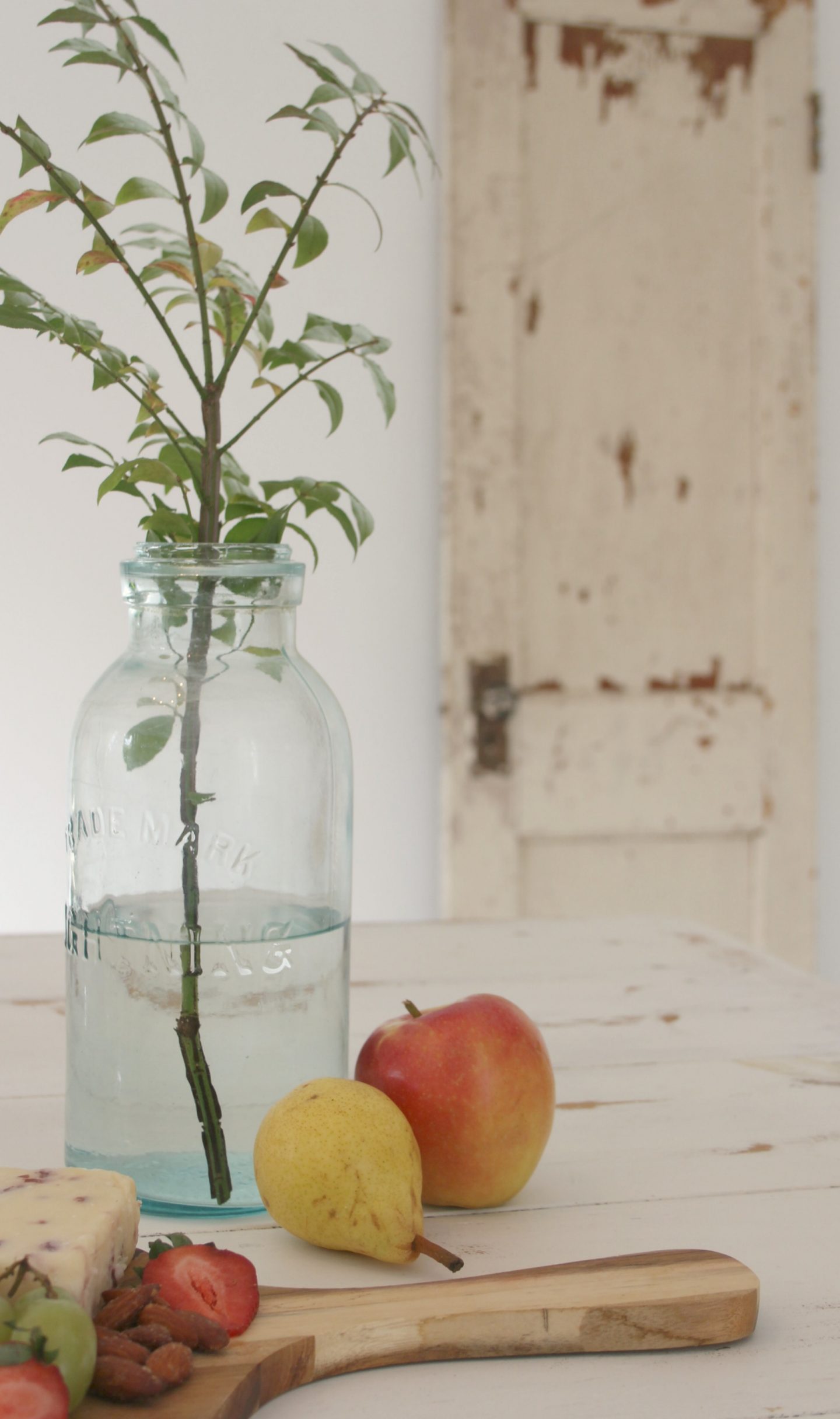 Pretty sure it was the beyond talented stylist Tricia Foley who inspired me to begin collecting white ironstone many years ago. I sold most of my collection a few moves ago, but I still keep my eyes peeled and occasionally pick up more since you can still find well-priced examples everywhere.
You may also score ideas for displaying your bargains from this cottage style home tour:
Make sure to visit the first installment with even more bargains HERE.
Peace to you right where you are.
-michele
Shop for items you already intended to buy on Amazon RIGHT HERE, and also find home decor here to keep decor inspiration flowing on Hello Lovely!
Hello Lovely is a participant in the Amazon Services LLC Associates Program, an affiliate advertising program designed to provide a means for sites to earn fees by linking to Amazon.com and affiliated sites.