These curated and clever DIY decor hacks have been floating around in my noggin for days. You'll definitely notice they have crafty, frugal souls in mind, yet even if you don't consider yourself handy, you're bound to feel empowered. Also find a collection of design advice which has taken me years to amass.
I independently selected products in this post—if you buy from one of my links, I may earn a commission.
Clever DIY Decor Hacks You'll Love!
1. Easily Transform a Vase or Pot
Did you know it's easy to make an inexpensive glass vase, urn, or pot look organic, expensive, and rustic? Yep. I have used this hack lots and lots of times with chalk paint. And I typically make my own chalk paint with plaster. But did you know you can make chalk paint with regular old baking soda and latex/house paint? Yep.
Think about the dollar store finds that could be transformed with leftover paint! Or don't spend a dollar, and try this hack by using an old jar (I'm like my grannies and can't throw away a good pickle, olive, or pasta sauce jar!).
2. For Pennies, Create a Piece of Textured Art that Appears High End
If you have never worked with joint compound, spackle, or a simple mix of plaster and water, no worries! I bet you will absolutely love this DIY because the result is so sophisticated.
From the video, you'll be inspired and perhaps think of more creative ideas using simple materials like cardboard and drywall mud!
I bet you have a steady supply of cardboard from Amazon boxes if you're a prime user! Just imagine what you could create!
And even if you have no use for this type of wall art, I find it so relaxing to watch and listen to Tina make hers! Yes, we can consume news about war, corruption, and political ridiculousness with all our spare time…OR…we can create and consume beauty that doesn't increase the production of stress hormones.
3. Remember Decoupage Crafts in the '70s?
Who says we can't turn back time? If you're a certain age, I bet you remember decoupage art, macrame plant hangers, and terrarium making! Here's a brilliant idea! Skip to 7:47 in this video to learn how to make a free or inexpensive but gorgeous vintage print look like an oil painting with simple MODGE PODGE.
Even if you skip the texture step with modge podge, you can still remove the glass in an inexpensive frame to help a print look more like an original painting! Need ideas for super cheap but gorgeous prints? Etsy sellers like the one linked below have lovely ones to download or send to a printer (I like MPix) if you don't feel like searching for free vintage art from museum archives online.
You'll also notice from that entryway makeover above by Evelyn Hernandez that she gives a plain wall in her home architectural interest with simple frame molding purchased from the hardware store. (Watch the whole video to see what I mean).
Tip for Adding DIY Architectural Interest
When you paint the applied moldings the same color as the wall, you get a very serene, minimal, understated look that reminds me of Athena Calderone style.
If you love the minimal modern, organic, chic and textured look of the art Athena favors, you can buy it…
commission a piece from an artist…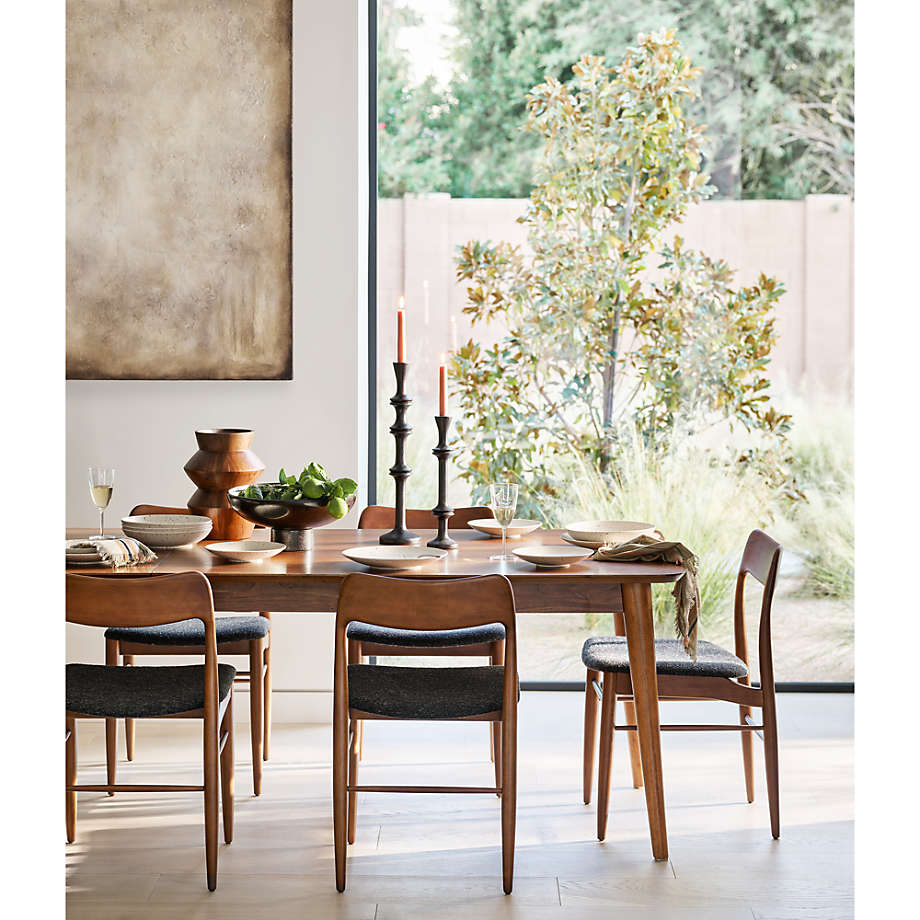 or try it yourself!
You don't even need to purchase a big canvas.
Start with a cardboard box or even paint over a framed thrift store painting that was donated because it is so darn ugly.
What do you have to lose?
4. Oven Cleaner Will Transform a Pretty Piece With an Ugly Finish
I'm anxious to try this DIY! When I encounter a yucky orange finish on vintage wood furniture, I usually ask my husband to sand it off. Then I white wash it, wax it, or leave it be.
It's how I gave a fresh scrubbed look to the antique table in our dining room below.
However, lots of folks use oven cleaner outside as a stripper. Check it out:
Have fun hunting down an ugly piece on FB Marketplace to transform!
Simple Design Ideas Learned Over the Years
1. Purge & Carefully Edit
This tip is not about decorating as it is creating a calm mood by viewing your space with new eyes.
Remove all accessories from the space (and if possible, furniture too) so you can re-imagine the possibilities. Starting fresh with a spare look allows you to begin layering.
Quite often, you don't need MORE decorations…you need LESS!
Reconsider the Meaning of Simplicity
2. Shop for Vintage in the Basement, Garage, and Garden Sheds
While rustic accessories don't work for every home, in our former one, they did the trick. While the marketplace is full of options for "modern rustic" or "farmhouse decor," you'll get a better result if you search for vintage.
Start by shopping your own house. This galvanized bucket I brought inside lived life for decades outside in the garden before I filled it with dried hydrangea.
3. Let Your Inner Pillow Freak Flag Fly High
Moving is always a very humbling experience if only because one must confront all of their stuff and see what has been deemed worthy enough to save and store.
Some of us cannot have enough pillows around to soften the hard edges of daily life and stress.
While I donated a few, I won't apologize for the dozens that made the cut and are in rotation round these parts. If you think I need to begin attending meetings in a church basement, I'll listen and I'll maybe consider a bit more moderation, but complete pillow sobriety?
Girrrrl, I'm not ready! I love this rug-inspired pillow to add instant vintage charm, and at first, I thought "what a great inspiration for a DIY." But sewing fragments of an old rug? Not at all worth the hassle when the price is this friendly:
I never tire of tone on tone pillows made from: linen, nubby vintage French sheets, velvet, and reclaimed canvas as well as grainsacks from Europe.
3. Pretty Lighting is a Gamechanger
Chandeliers (especially candle-style) add so much romance. I have used them in every room of the house and especially favor vintage ones.
Here is a chandelier very similar to one in our kitchen:
If you love the look of an antiqued silver finish but can only find standard silver or chrome versions, keep in mind you may be able to buff on metallic silver leaf products like THIS to add age.
Here are a few low-cost chandeliers I love as well:
4. Candles & Dimmable Lighting
DIMMER SWITCHES (find here) ARE THE UNSUNG HEROES OF THE DESIGN WORLD! You could live without them, but why!?!
4. Welcome Sparkly Clean
Even if a thorough deep cleaning of your space does not seem to align with how you conceptualize decorating, trust! A sparkling freshly scrubbed interior improves your outlook and mental health.
5. Tweak That Wall Color
Is there anything that delivers more bang for the buck than a fresh coat of paint? You'll be hard pressed to find anything that will change the mood, enliven the decor, and breathe new life into an interior like paint!
Considerations for Neutral Paint Colors
If you decide to re-paint your room in a shade of white, no need to close your eyes and point for a random white. Start here to choose the right white paint for ideas to sample that will suit you well.
6. Be a DIYer
Occasionally I forget that not everyone reading this blog is a designer or fellow blogger. Even if you have not tackled home DIY before, it is never too late to begin doing so.
Watch youTubes (like the one below which walks you through the steps of painting…get ready for it…fabric!) Do you have a castoff item of furniture on which you might practice?
7. Accent Walls Can Be Awesome
Don't worry about headlines you read in social media feeds about what is in or out as far as accent walls or statement walls. Very often, a little paint in a contrasting hue or a textured wall will add interest with very little effort.
One of the things I love about painted accent walls? It's a great way to introduce yourself to a new color. There's limited commitment so you get to test drive it. Worst case scenario is you're bored with it and paint over it. You can also add texture to a single wall like we did in our former bedroom:
Oh that lumpy bumpy wall in our bedroom was ugly before we covered it. No paint could make that baby look acceptable.
While it costs more than a couple hundred dollars for a reclaimed wood statement wall (covering a wall this size with Stikwood Hamptons is in the $1,200 neighborhood), it packs a big bang for the buck.
8. Don't Rush
I like spending a lot of time thinking thoughtfully about making changes that will be in place for many years.
It makes me a really really bad influencer because I'm not seasonally decorating, doing spruce ups, doing "refreshes," and creating those "out with the old, in with the new" type posts.
I'm too frugal, sensible, and too worried about landfills to be able to become that blogger even though it would increase my income significantly.
When you slowly collect the things you love, it's not that they have to remain in the same place forever. They can be rotated and re-imagined and enjoyed in fresh ways.
Even though we moved into a completely different kind of house last year (it's much more elegant than the last one and is allergic to "rustic"), all of my favorite things are working here.
I think it's because I collected high quality, neutral, classic pieces that I knew would last. It was the 'buy once, cry once' formula that continues to reap benefits for me!
Do I love living through the "incomplete" chapters of a room and a home's evolution?
Apparently!
When they start to feel done and less "underbaked," it seems I'm ready to move on to the next adventure!
Thanks so much for entertaining all of these ideas!
BONUS Decorating TWEAKS: Pinterest Organization
PIN images in POSTS (start by tapping HERE to pin this one!) and then click over to my Pinterest to repin inspo that moves you. (Your pinning spreads the word and supports this blog's free content!)
You may also collect ideas from youTube, where you'll find a variety of home tours like this one of an English inspired cottage:
Thanks so much for entertaining these simple ideas!
If you have a moment, mosey on over HERE for 10 more decor ideas. 🙂
I independently selected products in this post—if you buy from one of my links, I may earn a commission.
Peace to you right where you are.
-michele
Shop for items you already intended to buy on Amazon RIGHT HERE, and also find home decor here to keep decor inspiration flowing on Hello Lovely!
Hello Lovely is a participant in the Amazon Services LLC Associates Program, an affiliate advertising program designed to provide a means for sites to earn fees by linking to Amazon.com and affiliated sites.