You'll definitely read blurbs about modern farmhouse style being over, but thousands of its fans will tell you it aint. Why? While plenty of other design trends are here, the 2020s have stressed us thoroughly. We crave comfort and warmth from home. A casual approach, incorporating freshened traditional country aesthetic with modern amenities is both livable and welcoming. So we'll revisit this beautiful old yet new home with modern farmhouse interiors (find the exterior details here). Our 1875 Modern Farmhouse Interior Design Tour explores minimal luxe industrial farmhouse interiors of a house restored and built by my close friends in Barrington, IL. We'll peek at their rustic living spaces, dining area, and unique kitchen with its bespoke and timeless design.
Modern Industrial Farmhouse Interior Details
This modern farmhouse underwent a complete restoration and expansion in 2008 to become the treasure it is today. With quality craftsmanship and thoughtful classic design, the home seems destined to outlast generations. Refurbished and doubled in size, no modern amenity or detail has been overlooked.
Overview: Chicagoland Modern Farmhouse
Location…609 South Grove in beautiful Barrington, IL, is surrounded by well-cared for historical homes with so much charm. Each shines with a unique identity and point of view. I love how this rustic restored farmhouse is within walking distance of charming downtown Barrington. Walk to wonderful schools, family restaurants, boutiques, and thriving businesses.
Building & Renovating The Historic Farmhouse
Four Years of Perseverance…Nearly two years of deliberations with Barrington's Architectural Review Committee marked the beginning of the lengthy process to bring this vintage modern farmhouse back to life. Another two years were required to finish the architectural work of art. Worth the wait, indeed!
High Quality Finishes…From the exceptional quality of the architectural design (Glen Ellyn architect, Jamie Simoneit, of Z+O architecture + interiors) to the discerning choice of rich textures and construction materials, the bar was set high for this restoration and new build. With an eye to the future, the homeowners invested in durable, long lasting design elements.
How Would You Decorate the Interiors?
When this post initially aired, this 1875 farmhouse was on the market. If it were yours, how might you decorate these spaces? Would you opt for a more traditionally farmhouse color palette? (This home began with historical yellow walls throughout.) A tranquil neutral palette of quiet grey-blues? Would you head in a modern crisp white direction and add pops of color with art?
It hardly matters what trend you love. Because from modern rustic to Mid-century modern to minimal luxe, all would all work within these walls. Each room is so rich with textures and architectural interest that its good bones would suit any number of interpretations.
Design elements throughout the cozy mix work beautifully together as a whole. And you may be surprised about accents that are NOT here…shiplap!
High Quality Classic Design Elements
White cedar siding.
Galvalume metal roofing.
Heavy Amish custom woodworking and trim.
Industrial farmhouse trend.
White Carrera marble.
Dusty red brick.
Ebony stained wood floors.
Expanses of windows and glass allowing for maximum light.
Modern Farmhouse Interiors
A Modern Farmhouse Favorite…This modern farmhouse belonged to longtime besties of mine,whom are family. My friends painstakingly sacrificed and persevered for years to give the almost 150-year old beauty a second life. They downsized so there's a new family enjoying it now. A whole bunch of sweet gatherings happened here, and I'm grateful for the special memories.
Find similar tufted leather Chesterfield sofas here and here. Rustic leaner mirrors are here.
Let's begin with an important design choice you may be happy to learn:
Paint Colors for Interiors
The homeowners chose two different grays for the first floor.
1. Paint color: BM Stonington Gray
2. Paint color: BENJAMIN MOORE Platinum Gray
Modern Farmhouse Living Room
This was always a calm place to hang out and where more intimate gatherings during a party happen. Speaking of parties…see the adjacent office? It easily converted into a bar space. For my 50th birthday party here a few years back, the homeowners built a custom industrial farmhouse bar counter. Worked like a dream! The living room was also home to a piano in a sunny bay.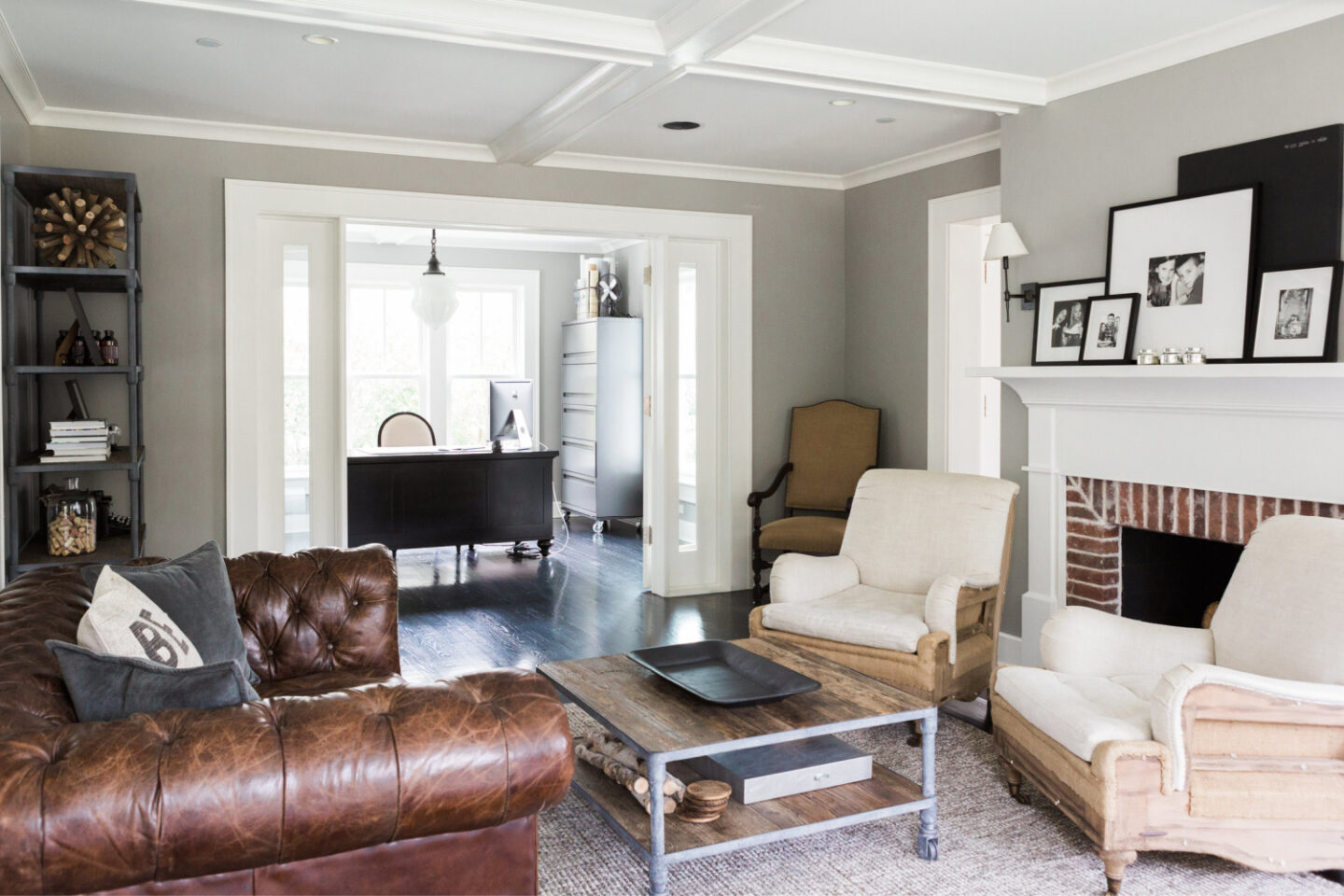 A mix of antique pieces with Restoration Hardware and Pottery Barn furnishings share space. The homeowner is a talented photographer, and her work is displayed throughout the home.
If you expand the photo above, you'll see one of my mixed media collages on the coffee table. My friend requested it as a gift for the lovely Maggie Gobran. (I chose a butterfly motif for the art which has a transformation theme.)
The art was hand-delivered by my friend on her trip to Cairo where she brought supplies, taught, and gave of her time to help impoverished children at Stephen's Children.
Sunny Bay for a Piano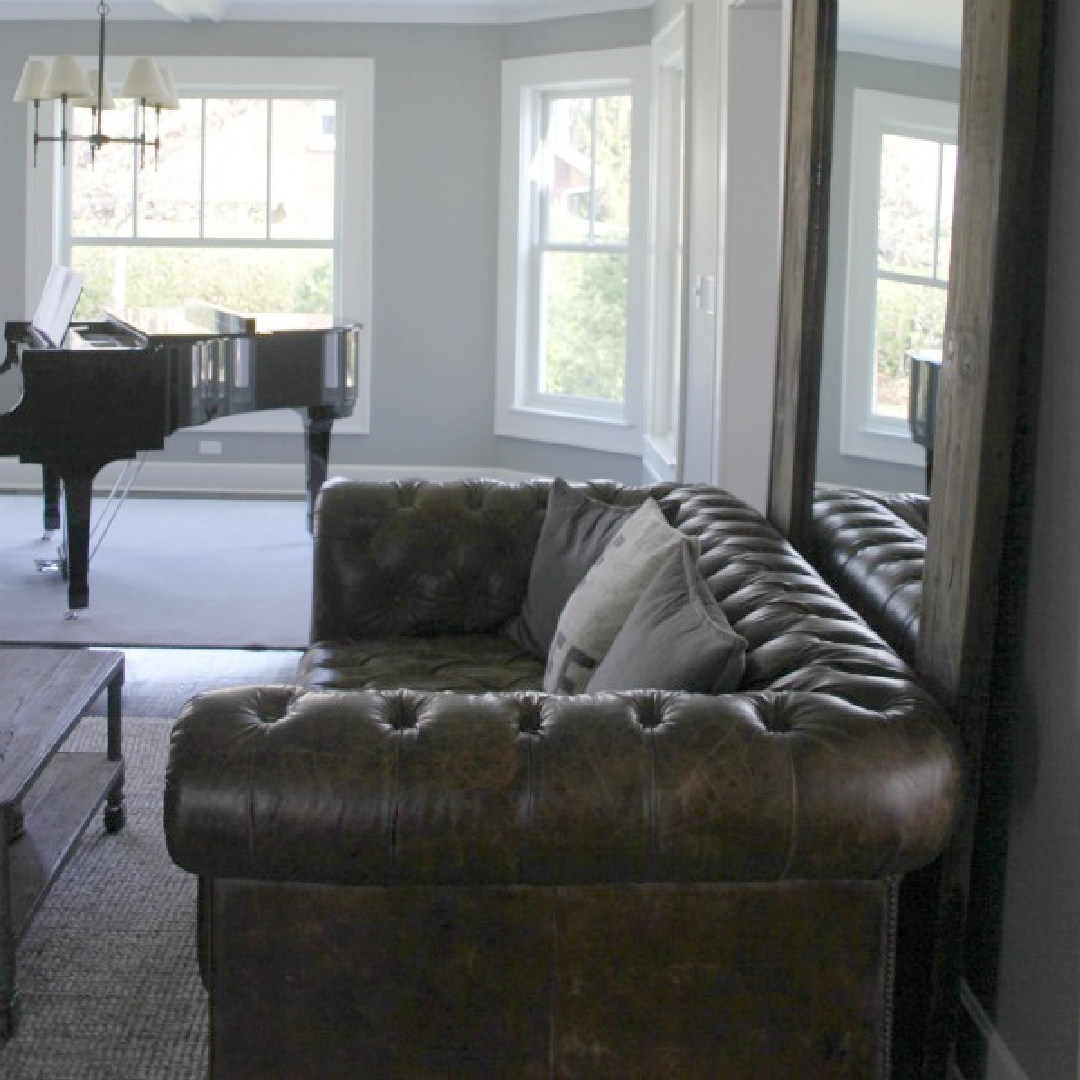 Below is the hallway with plenty of gorgeous schoolhouse pendant lights connecting the antique original traditional farmhouse to the new. Note reflective ebonized wood floors and light fixtures which lend such age.
But maybe you noticed a lack of barn doors! I love the departure in this classic home from overused elements in modern farmhouse interiors such as barn doors. A bank of windows ensures the modern farmhouse style passage never feels dreary or cut off. Another brilliant architectural move from this modern farmhouse interior design? From the entryway, you can see straight through to the backyard.
Signature Scent for This Home
Modern Farmhouse Interior: Dining
While most of the living occurs in the kitchen and family room, the dining room is used mostly for entertaining. This table gets prettily layered with candlelight, fresh flowers, and if we're lucky…bundt cakes (yum!).
Modern Farmhouse Scullery
One of the savvy additions? A collection of dishwashers (yep, three) with stainless steel appliances since they entertain large groups of people often. This gorgeous scullery off the dining room is also the perfect place to arrange flowers and store seasonal items.
Modern Farmhouse Kitchen
It's quite a kitchen! You can't miss the industrial farmhouse elements…hello, stainless steel appliances and countertops! Historic light green on the cabinets? Traditional yet feels unique.
I remember when we were designing our first home (the French country manor one) at the time this modern farmhouse kitchen was under construction. Comparing notes with my friend, I asked about the kitchen cabinet color. When she said green…I asked, "wait, green..like, mint green?" And she was all, "nope." I thought they were brave and possibly nuts (as in PISTACHIO nuts!). Yet it was ME who was ultimately the nutty one (they are beautiful).
Pistachio green adds an appetizing mood (we need that in recent years!), personality, and history. A Spring-like organic mood offsets the coolness of steel.
Design Elements in the Classic Farmhouse Style Kitchen
Stove and Hood – Wolf.
Refrigerators – Sub Zero.
Industrial Sprayer – Elkay.
Gooseneck Faucet – Waterworks.
Cabinets – Custom – Amish – Yost Miller.
Countertops – Black Honed Granite/Carrera Marble.
Stainless Steel Island – Custom.
(Above) Hall between the kitchen and a pantry. The art pieces on the walls here are by me, and the room with the window at the end of the hall is the mud room.
Do you love the row of square spice drawers to the right of the refrigerator? A custom stainless island serves as a buffet for entertaining. Open underneath, it is stocked with plates and essentials.
Handsome Industrial Kitchen Design Elements
An industrial sprayer lets you know you're not in granny's country kitchen. (Below) Also note the breakfast bar, sited between the kitchen and family room.
Even the ceilings are magnificent!
"Nutty" enough to bring pistachio green to your kitchen too?
Additionally, get that industrial farmhouse look with stainless steel kitchen possibilities here.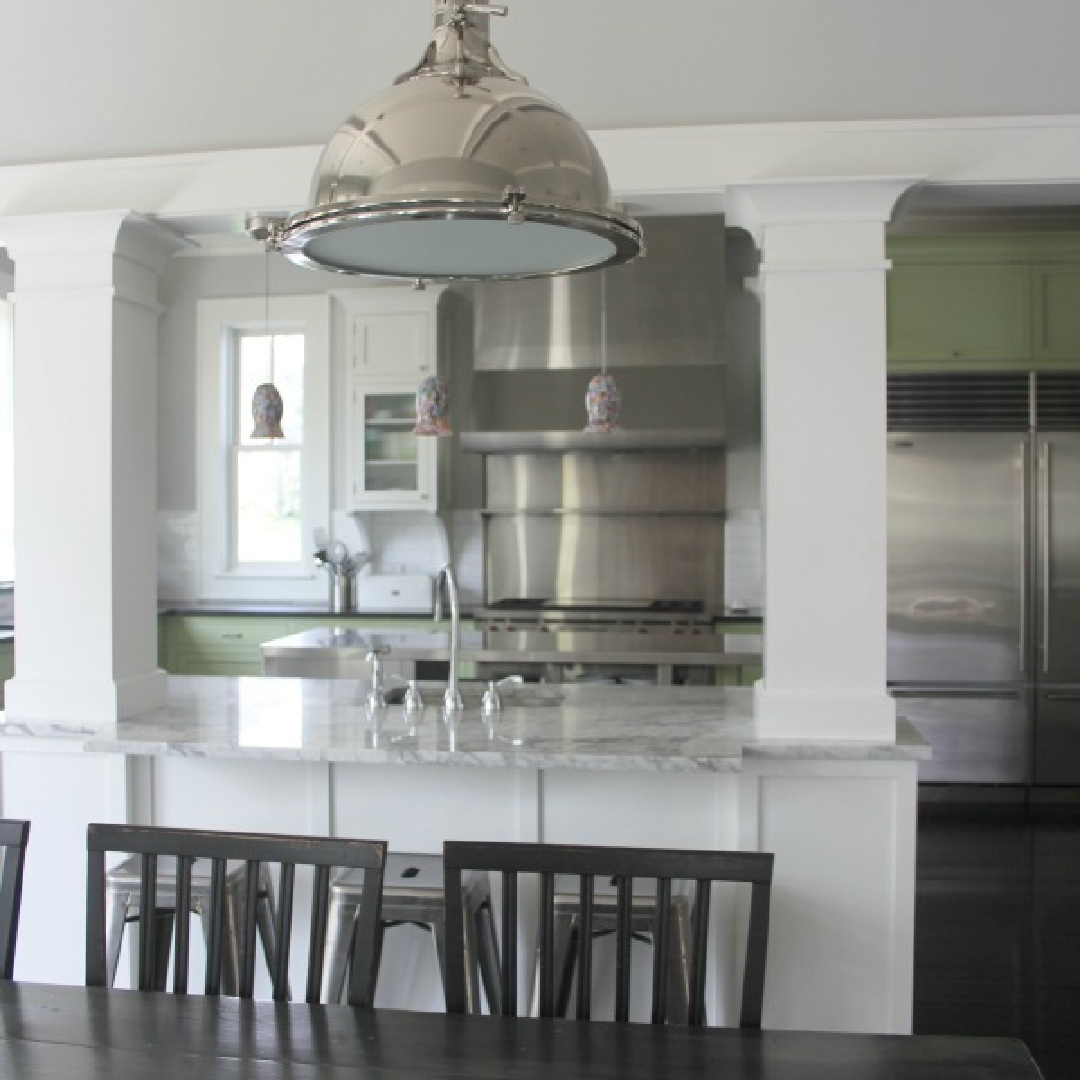 Breakfast Room
If you want to know where lots of living happens, it's right here:
(Below) See one of my quote panels commissioned for the hall. The family's favorite getaway? Mexico…so I hand-lettered James Taylor lyrics from a beloved song.
Modern Industrial Farmhouse Interior Design: Mud Room
Easiest way to see if a color is right? Order samples with Samplize and have them delivered straight to your door.
Butler Pantry: Modern Farmhouse Interior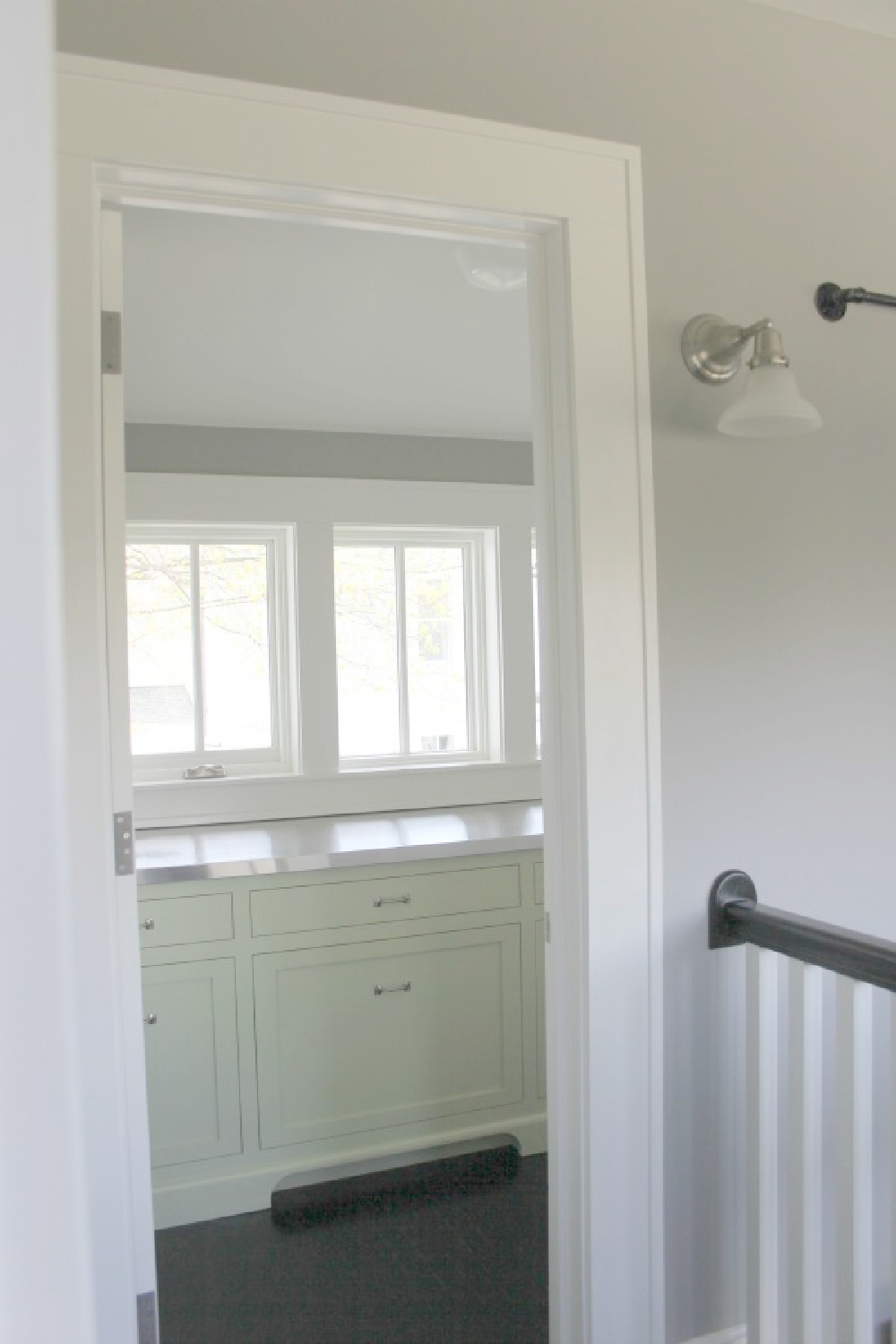 Modern Industrial Farmhouse Interior Design: Family Room
By the way, my friends didn't just tidy up for this photo shoot or to stage their home. What you see is how they live: minimal and highly organized. How cute are those glass canisters we typically see in the kitchen with bits and bobs?
See this home's exterior here.
To learn more about this home's architect, visit: Jamie Simoneit, of Z+O architecture + interiors
I independently selected products in this post—if you buy from one of my links, I may earn a commission.
Peace to you right where you are.
-michele
Thanks for shopping RIGHT HERE to keep decor inspiration flowing on Hello Lovely!
Hello Lovely is a participant in the Amazon Services LLC Associates Program, an affiliate advertising program designed to provide a means for sites to earn fees by linking to Amazon.com and affiliated sites.