After a day or two of living in an ethereal snow globe here in the heartland, my whole spirit is awash in its delicate, otherworldly, serene beauty. If you love the look of white interiors, sophisticated simplicity, restraint, and beautiful balance, work from these designers and ethereal minimal luxe tastemakers will inspire.
I independently selected products in this post—if you buy from one of my links, I may earn a commission.
Interiors With Ethereal Luxe Style
Amber Interiors
Should you require your ethereal room to also feel as cozy as a hug? Well, then you'll either want to emulate or hire Amber Lewis who imbues California eclectic cool into her stunning work.
Amber says her style is ever-evolving, which is such a gorgeous description. Why should a design style remain stagnant when life, learning, and growth are such fluid matters?
Ethereal and luxe need not be uptight or severe. Cozy, eclectic, warm, livable luxury is within reach in her world.
Since she designs a wide range of rugs, textiles, and things for home now, it's easier than ever to lean into this look.
And we need not move to California to live with this influence!
Brooke Giannetti
Another California-influenced designer followers of this blog likely follow already is Brooke Giannetti.
With her husband and architect Steve Giannetti, Brooke creates the most gorgeous designs for clients. In her own bedroom (above) in a log cabin at Patina Meadow (with items from Patina Home (Leipers Fork, TN), European antiques mingle with sumptuous linen and velvet.
While collections, art, and accessories often have their place in rooms by Brooke, there's a light and truly natural approach to styling.
When the design and materials start out looking this beautifully ethereal, who needs excess:
Jenni Kayne Home
Let's keep the California influence going just a bit longer!
Because I am crazy for Jenni Kayne's interiors.
Light toned woods, pale upholstery, nods to MCM, and a laid back casual aesthetic contribute to the livability of her luxe style.
Lately I have been studying the brand's approach to built-in shelving and shelf styling (we have yet to address our built-ins in the family room). It's an art and a vibe and a balancing act that truly requires intention when you're leaning toward minimalism.
Noa Santos
NAINOA Architecture and Interiors are dedicated to crafting atmospheres that don't just illuminate aesthetic preferences, but guide clients as to how they want to live.
I would imagine the lucky homeowners who claim this kitchen (above) or bath (below) have a passion for living with quiet, understated, breathtaking beauty!
Ahhhhhhh – this bath reminds me of Axel Vervoordt who in under five minutes beautifully articulates why he loves living with art, mixing old and new and living with imperfect objects:
Paige Pettit Design
Based in Manhattan, Paige Pettit describes her aesthetic as timeless, yet modern.
Pleasingly soft neutrals with a mix of traditional and modern furnishings feel tranquil and romantic. The designer sources unique vintage items you can purchase on her site as well.
Phoebe Nicol Interiors
A Sydney-based Interior Architect, specializing in the design of high-end residences and boutique commercial spaces, I fell in love with this residential interior:
and this commercial space by the designer:
Louise Hjorth Design
Her work is romantic, minimal, luxurious, elegant, and oh so timeless!
Perhaps because this designer is so young, there is also a youthful wonder and optimism inherent in the work.
Rose Uniacke
Who could translate her exquisite work any better than this (from her site):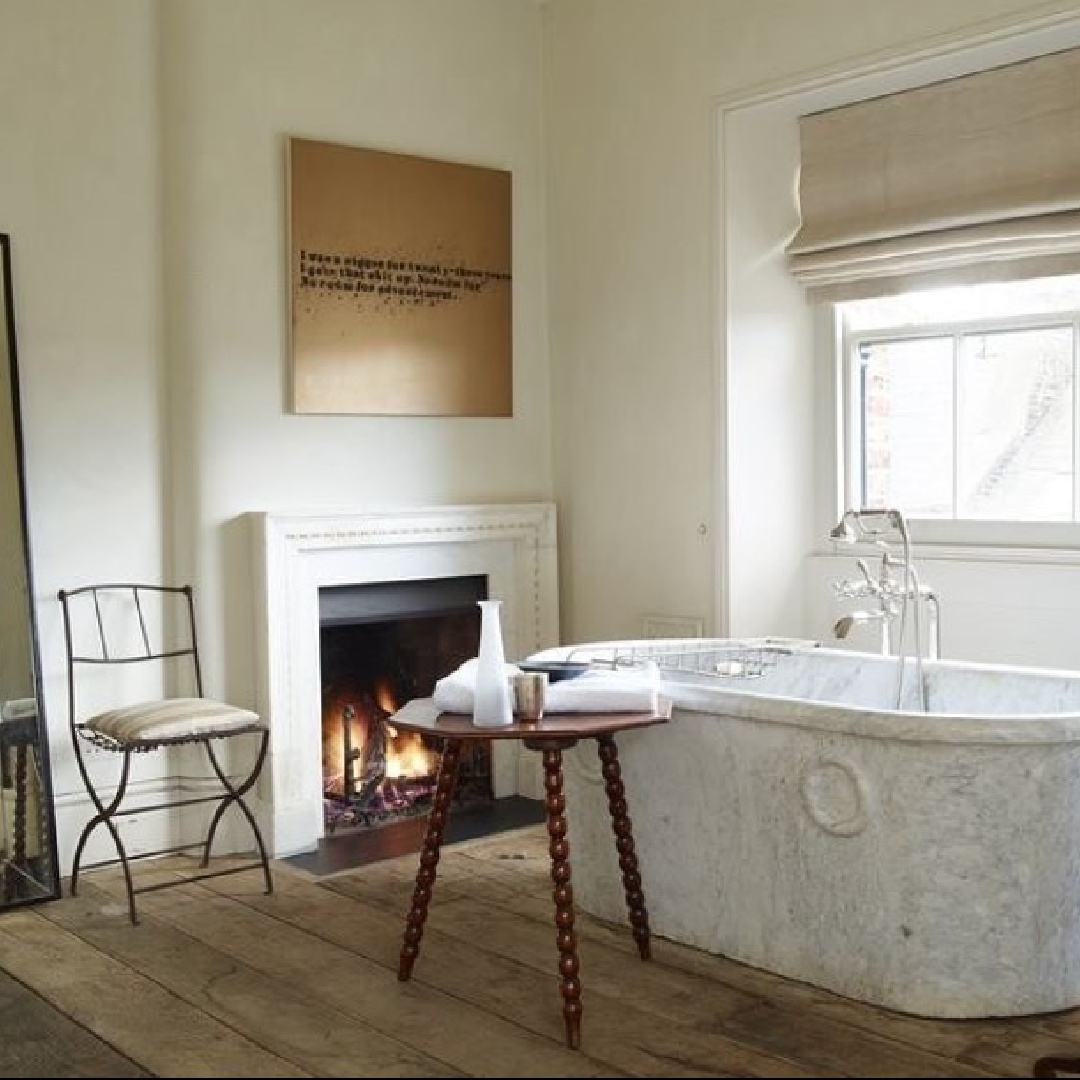 "Interiors matter: They change the way we think and feel…that's why Rose Uniacke works as hard as she does to design harmonious interiors that are at once reassuring and uplifting. That's why her furniture, lighting and fabric designs are not simply beautiful but also beautifully made. That's why, as a dealer in antique, modern and contemporary furniture, she specialises in pieces of real quality with the power, however subtly, to balance, complete or transform an interior."
Christian Bense
The designer describes his process here:
"My passion has always been creating liveable spaces, which centre around thoughtfulness and combine a strong aesthetic with practical living. The studio's style reflecting a cross pollination of contemporary and traditional. Mixing the blank slate thinking of my South African roots, with a distinct nod to the more traditional homes and interiors of the UK. The homes we create are well rounded and full of depth."
Aren't these inspiring examples as we approach a new year and perhaps begin to organize at home? With fresh eyes, I plan to turn my attention toward what I will let go and what I will allow to guide me going forward.
I independently selected products in this post—if you buy from one of my links, I may earn a commission.
Peace to you right where you are.
-michele
Thanks for shopping RIGHT HERE to keep decor inspiration flowing on Hello Lovely!
Hello Lovely is a participant in the Amazon Services LLC Associates Program, an affiliate advertising program designed to provide a means for sites to earn fees by linking to Amazon.com and affiliated sites.