White French Nordic Decorating & French Interiors is Francophile daydreaming for romantics who admire painted furniture, Gustavian style, country French furniture and Old World rustic elegance. Also find pretty and practical finds to consider if you love living with white.
Photos: Autemps des Cerises and Victoria magazine with photos by Louis Gaillard
White French Nordic Decorating & French Interiors
Sophie Lambert's "Bronze Horse Stable" Home in France
If you are a fan of Victoria magazine, you probably found yourself breathless back in 2015 when Sophie Lambert's amazing interiors were featured.
Gustavian style furnishings with original paint, antiques, luxurious linens, and rustic architectural details combine to create a timeless expression of elegance.
Since Sophie owns the antique shop Autemps des Cerises near Paris, the decorations and furniture in her Old World home often change.
I wonder if it is bittersweet to see images with objects that have made their way to other homes? Do you suppose? Aren't the chandeliers amazing? I thought I understood the beauty of these old fixtures from images online and in magazines, but when I viewed examples up close recently in Franklin (City Farmhouse's shop), I was speechless!
Isn't the color story here magical? There is warmth from stone floors, stone fireplaces, painted beams, and sun-streaked walls along with faded and chalky blues and greens the Scandinavians are so fond of.
Can you say contented?
Beauty & Purpose in an Old World Home
There are so many sacrifices to be made when the choice is made to live in an ancient property, but I imagine that adapting is so very good for the soul.
Nothing sterile or clinical about bathing in this space!
Isn't it refreshing to see a room opening to the outdoors with beautiful French doors rather than the highly trending modern accordion glass doors that disappear? I love a minimal look and understand the ease of those, but here's the Old School way to nurture that relationship with the garden…
With all the rusticity, there are also plenty of soft touches such as the fabric gathered in cupboard doors with chickenwire.
Nubby textiles mingle with chalky painted finishes and delicate accents.
Though faux finishers often succeed, only time can deliver patina and beauty like this:
So many charming moments in this French home which does not at all feel decorated as much as layered with loved things.
When the halls are as lovely as this, who is complaining about creaky floors or drafts? 🙂
French and Nordic Charm in a Lovely Country House
I can imagine the magic of growing up with rustic bunks like these:
Are you feeling as relaxed as these serene interiors yet?
I loved the artful whimsy of these hanging pendants – cords showing and all!
When can I move in?
Swedish Style & White in a Cozy Cottage
Another seller of antiques with a lovely home for staging them is Tracie of My Petite Maison.
She has a way with ethereality and celebrating natural light that always inspires me.
The detail of that bedskirt above! Her sweet beautiful Bechet rests in heaven now, and what a gift to all of us that she snapped his photo so often.
Keep checking My Petite Maison's Etsy shop for new arrivals – you never know what you will find!
Anyone else have the itch to paint old suitcases white? (Always doing what I can to stimulate the economy for sellers of vintage wares and thrift stores everywhere!)
I independently selected products in this post—if you buy from one of my links, I may earn a commission.
French Nordic Resources & Ideas to Get the Look
Books to Learn from the Look
Pretty White French Farmhouse Chairs
Living with white has been the most natural thing since I was a teen and styled my first home. There was a shortage of dorm rooms my freshman year of college so my best friend and I moved into an apartment off campus, furnishing it with cast-offs. (Being poor will shape your aesthetic and character in profound ways!)
Many of the white decor pieces you see here do not scream "French farmhouse" or "Gustavian style," and I think that's what I love about customizing and personalizing a space at home. Mixing what you love is almost always going to work, and training your eye is pure pleasure.
Luxurious Rustic Elegant Dining Chair
Some pieces just strike the proper balance between casual and dressy or rustic and elegant.
White Angel Wings
An antique set of angel wings for the wall would be swell, but while you're hunting…
In Case You Love Modern French
I am still crushing on this chair and think it would instantly create a vibe in a den or home office.
Tulip Table
Here's another item I don't own but know I would love in a breakfast nook or game room:
Inexpensive Modern French Accent Table
Don't you love those pieces which can move around the house for a variety of functions? Is it a side table? A nightstand for a tiny bedroom? Or a pedestal for a plant? Maybe it could hold bath products near the tub?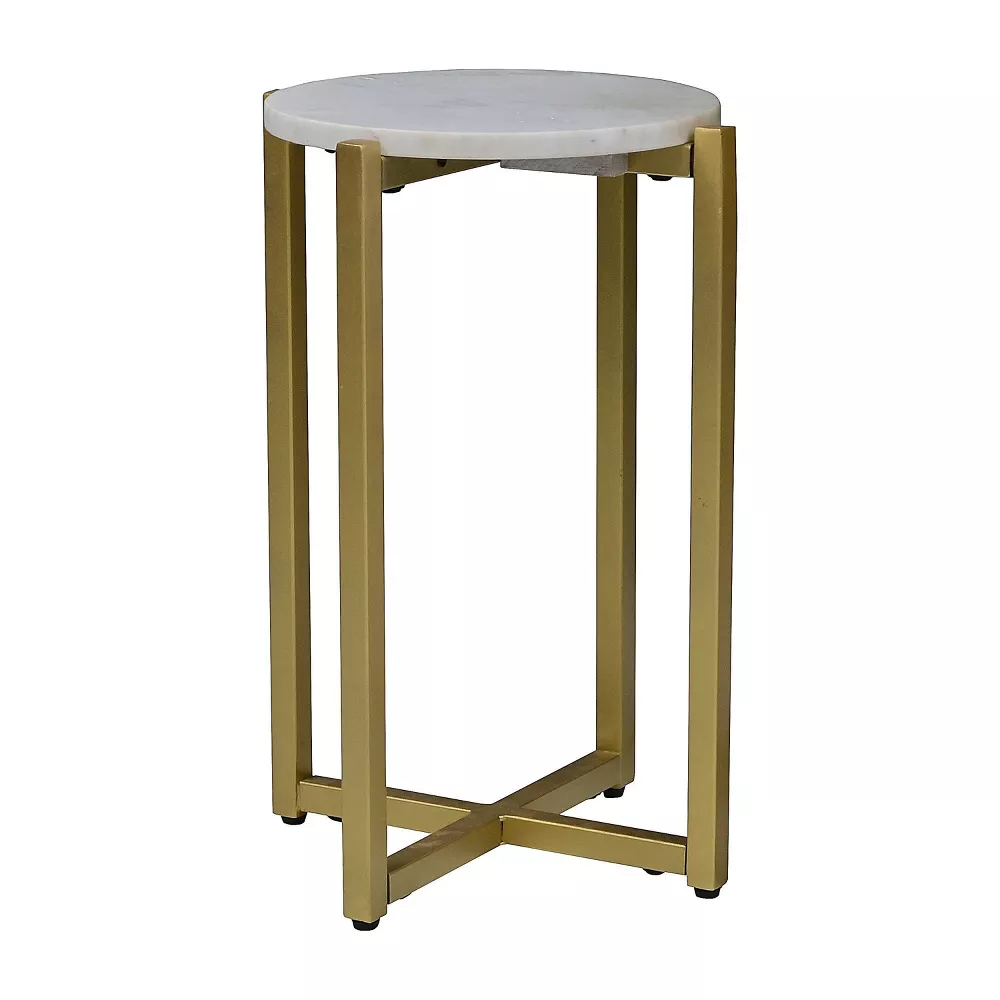 Paint Color Ideas When You Love a Nordic French Mood
I love the power of white paint as well. Read this for guidance in choosing the right white. And here's a charming little white cottage from a decor blogger who explains how she lives with white:
White Decorating Accents
See also THIS POST for a round up of gorgeous white sofas.
In terms of slipcovers and furniture, I have never found mine needed more than spot cleaning, but I know living with white among pets and small children is another matter.
Unfussy Country Dining Room Table
White Marble Everyday Essential
Here's a piece I have on my kitchen counter which I presently use for utensils. During the holidays, I tucked a beautiful live, lemony cypress inside, and it was the perfect size for the pot.
White Marbel Bistro Table
There's something irresistible about a petite bistro table to tuck into almost any corner for intimate conversation, sipping wine, and dining in French style.
White French Farmhouse: Get the Look
This next image just has French farmhouse kitchen all over it for me with the copper and white marble. Don't you love the idea of a chunky shelf like this over a warm wood countertop?
Pretty White Classic Chair
Easy Breezy White Serving Pieces
White kitchens are timeless, classic, and so perfect in French homes. I learned many years ago that as long as I collected white serving pieces, my tablescapes and entertaining spreads would be a breeze to pull off.
The French are masters at the little details and taking time to make dining experiences truly experiential and special. We're often in a rush here in the states and don't often slow down enough to think about serving eggs like this anymore.
Tabletop Ideas
I'm crazy about this scent from Williams Sonoma, and it is SOOOOOOO not new to me. I have been living with this essential oil collection for decades!
I haven't met a scented dish soap or candle from Williams Sonoma I haven't loved yet.
That's it. I need to begin drinking espresso.
When hardworking kitchen essentials look this good – no need to tuck them away in a cupboard!
Dishtowels
I may or may not have a hoarding issue with pretty dishtowels. At this very moment there are at least half a dozen with the tags on ready for their rotation.
White Porcelain Dinnerware
If you have seen these pieces in person, then you know how incredible they are since they look hand thrown. Each piece is wavy, wonky and wonderful.
Weathered White
Is weathered and white your cup o' tea? Then, one of these girlies may have your name on her.
And wouldn't this be right at home in any white French farmhouse?
If you have a moment to visit my White Pinterest board dedicated to all white decor (PLEASE RE-PIN AWAY!), it will help more than you know by attracting more readers to Hello Lovely!
I independently selected products in this post—if you buy from one of my links, I may earn a commission.
Peace to you right where you are.
-michele
Thanks for shopping RIGHT HERE to keep decor inspiration flowing on Hello Lovely!
Hello Lovely is a participant in the Amazon Services LLC Associates Program, an affiliate advertising program designed to provide a means for sites to earn fees by linking to Amazon.com and affiliated sites.