Work from home? Since home offices are in high demand these days, they may as well be smartly designed and beautiful. My current home office? Essentially an ultra-thin, light laptop which allows me to work anywhere. I typically move around. We have a cozy sitting area streaming with sunlight in our bedroom which works well for inspiration from nature. I also have a cloffice which works well when I don't want to disturb my husband. Folks are getting so creative with "cloffices," niches and laundry room flex spaces. Home Office Design Inspiration: How to Elevate Your Workspace spotlights a variety of designs plus offers comic relief with funny work-from-home tweets!
Home Office Design Inspiration: How to Elevate Your Workspace!
I'm a big fan of everything designer Sherry Hart dreams up, and I always know I'm going to love her color choices.
Architectural Digest and Country Living shared amazing inspiration and wisdom for thoughtfully designed home offices so do visit those sites to soak up more inspiration.
If you have worked from home for years as I have, you may already be clear about what you require to stay focused and productive.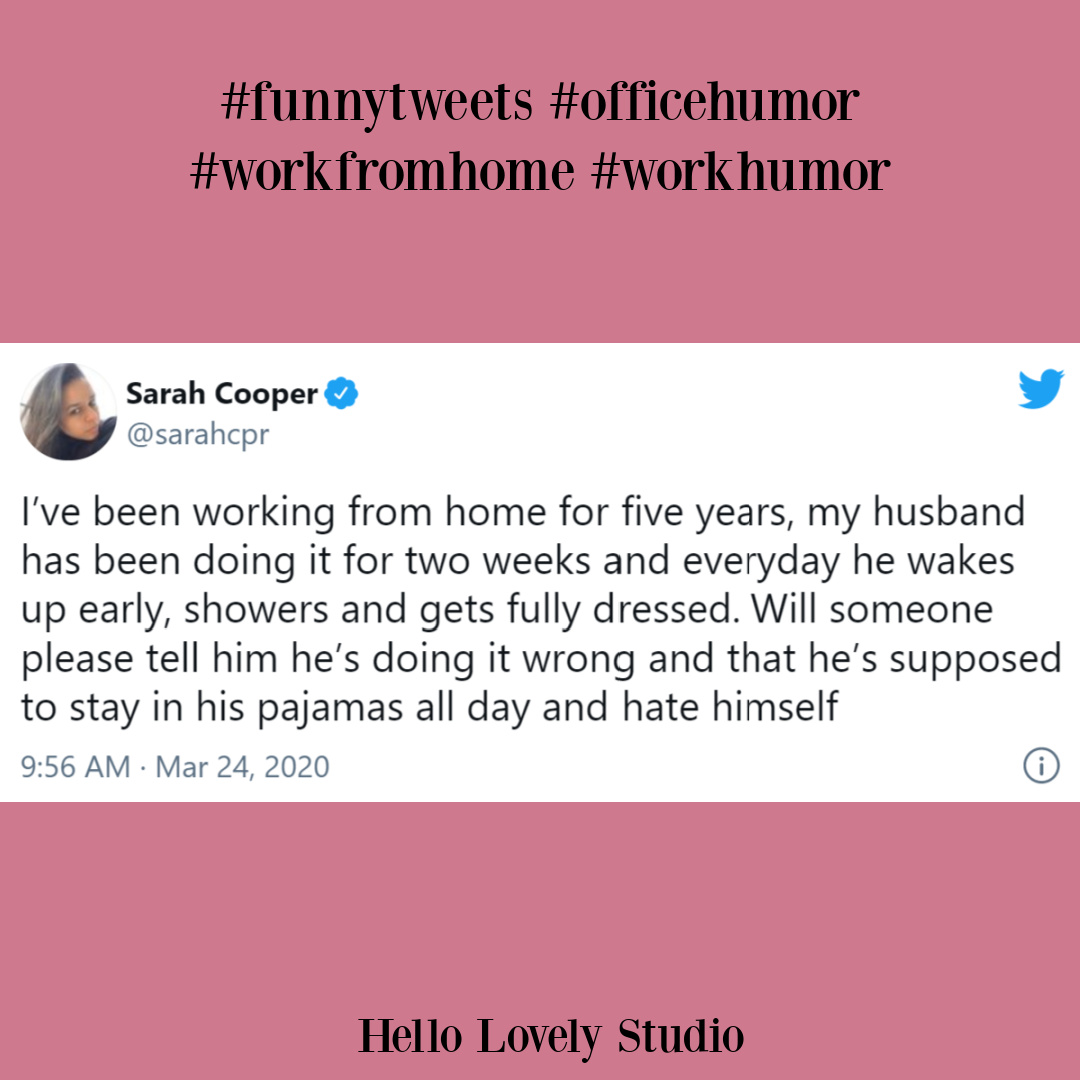 However, if working from home is brand new, it may take you a few tries to clarify your needs.
Let's explore examples of beautiful home offices and maybe get inspired to improve our own.
Work Table or Desk?
There's no reason your office furniture must include a desk.
Sometimes a work table makes more sense since it can provide more surface area. Work tables can also lend an airier feel to an office than a clunky desk.
No Office? No Worries…Transform a Corner
This Ellwood-Lomax drop front desk is genius in its ability to disappear when the work day is over.
Consider the View
Situating your work area near a window may do wonders for your mood and productivity if you enjoy the view.
Modern, Vintage or a Mix?
There's something so serenely beautiful about this next home office with its custom millwork and pale charm. Need more ideas for light grey paint colors?
Connect to Nature
A quiet, minimal, sanctuary of a spot for your desk may be just the ticket when you require calm to get business done.
Office Nook
I love how this home office nook is just wide enough to accommodate the desk. The monochromatic blue is also so calm and comforting.
Colorful or Calm?
We all know how color affects us psychologically, and if you're the type who needs to feel high energy for work, do go for it!
Where to Hide Clutter?
Depending on your comfort level with clutter and your organization style, it is sometimes beneficial to hide it all away. The storage in this home office (below) is enviable! Read this helpful piece to uncover your idiosyncratic organizational style.
Make it Mobile
If you work in a living space rather than a room devoted exclusively for an office, it's helpful when your work table is mobile.
This beautifully designed study below does not feel 'office-y' at all, and the work area blends seamlessly.
When You Work in Digital Media
I tend to move around and am comfy working just about anywhere since my work doesn't require file cabinets or office supplies. I decided I'm going to get one of those standing desks so stay tuned to see what I choose!
I enjoy changing it up and working wherever the view is inspiring.
So sometimes I'll get cozy in the kitchen and enjoy watching woodland creatures or snow fall outside.
You can see my good looking desk chair on this mood board, and it is even better in person and only appears expensive:
If you're fond of Old World and European inspired style, you might enjoy these resources (please pin the goodness to help this blog!) for an elegant, tonal office that feels anything but office-y:
Ideas for a French Inspired Home Office
Tour Sarah Richardson Designed Home Offices
I independently selected products in this post—if you buy from one of my links, I may earn a commission.
Peace to you right where you are.
-michele
Shop for items you already intended to buy on Amazon RIGHT HERE, and also find home decor here to keep decor inspiration flowing on Hello Lovely!
Hello Lovely is a participant in the Amazon Services LLC Associates Program, an affiliate advertising program designed to provide a means for sites to earn fees by linking to Amazon.com and affiliated sites.