If you have been out and about shopping lately, maybe you noticed folks are VERY busy feathering their outdoor spaces! In the 2020s, sanctuary at home is VERY much in the forefront of our awareness. In this post, you'll see how it is truly possible to create outdoor oasis while maintaining simplicity. The key to my Frenchy moment is a bistro set from Wayfair to create this charming outdoor French café look, and I'm thrilled to report it is a keeper! Keep reading to see why it appeals and also to learn an easy recipe you'll see in images for JARCUTERIE!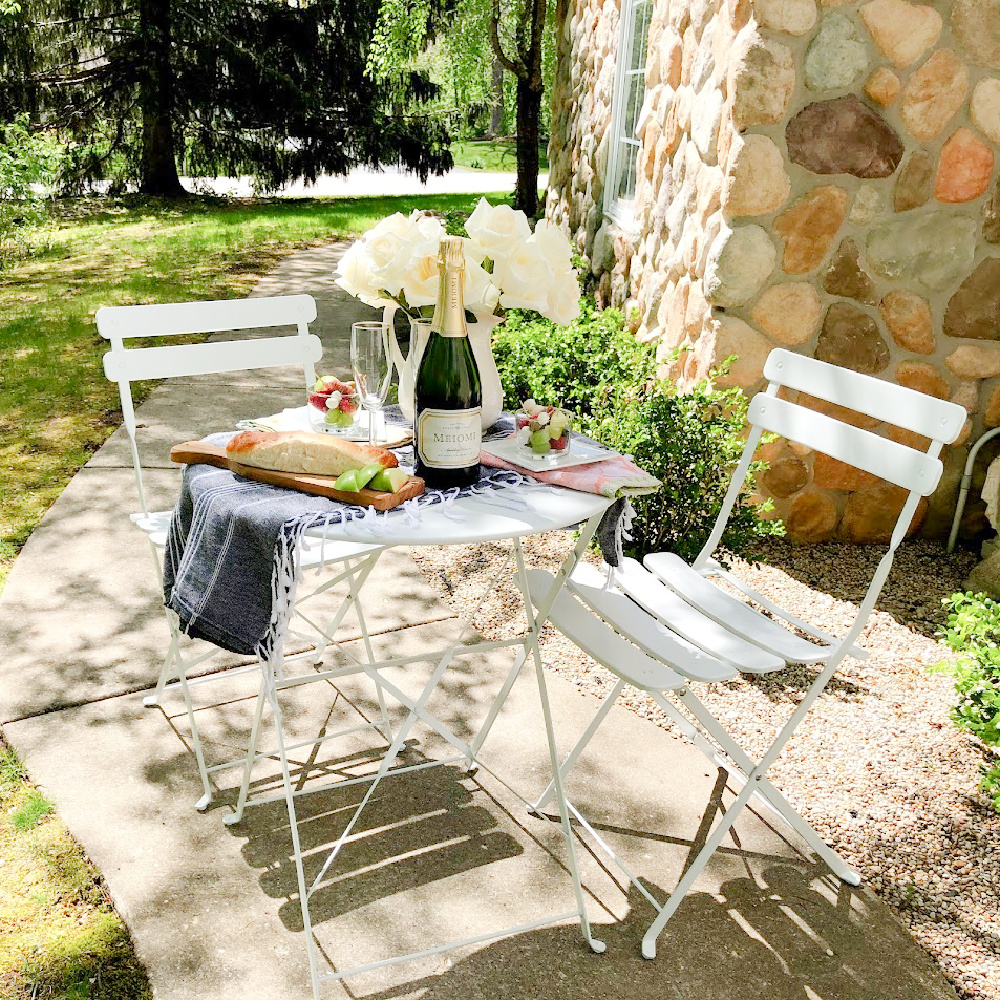 How to Create a Charming Outdoor French Café Look!
I'll get right to the star of this OUTDOOR OASIS with a French accent look…GO HERE for my White Bistro Set (if it's out of stock, this one is almost identical, and this one is on sale!). These patio sets sell out fast so I hope if you're in the market, you snag one! Not sure if shopping Wayfair is new for you. If so, you may be very surprised at the brands represented on the site!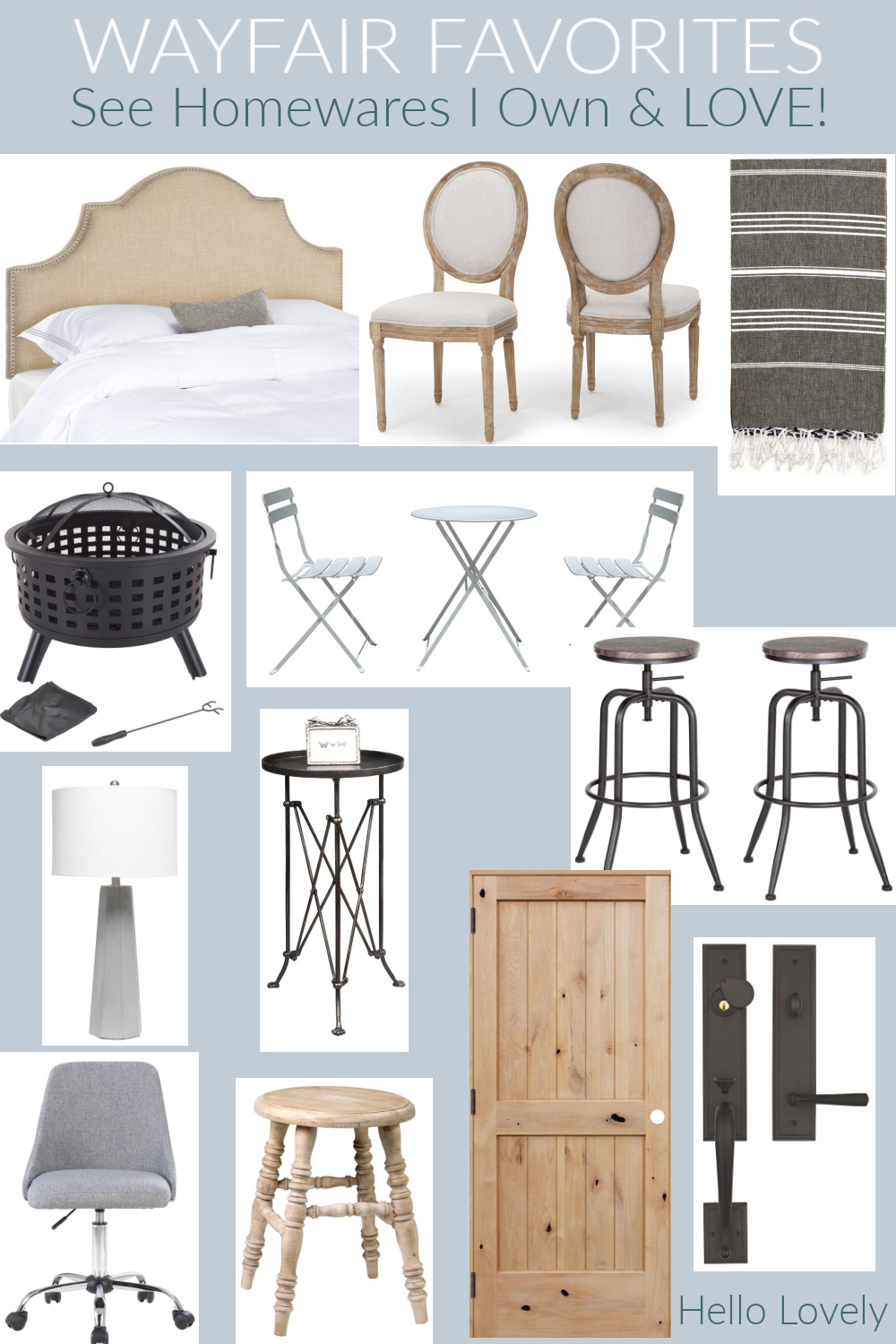 There is such an awesome selection of outdoor dining pieces at Wayfair, you may have trouble deciding…here's a sampling of the loveliness:
Affordable Bistro Sets at Wayfair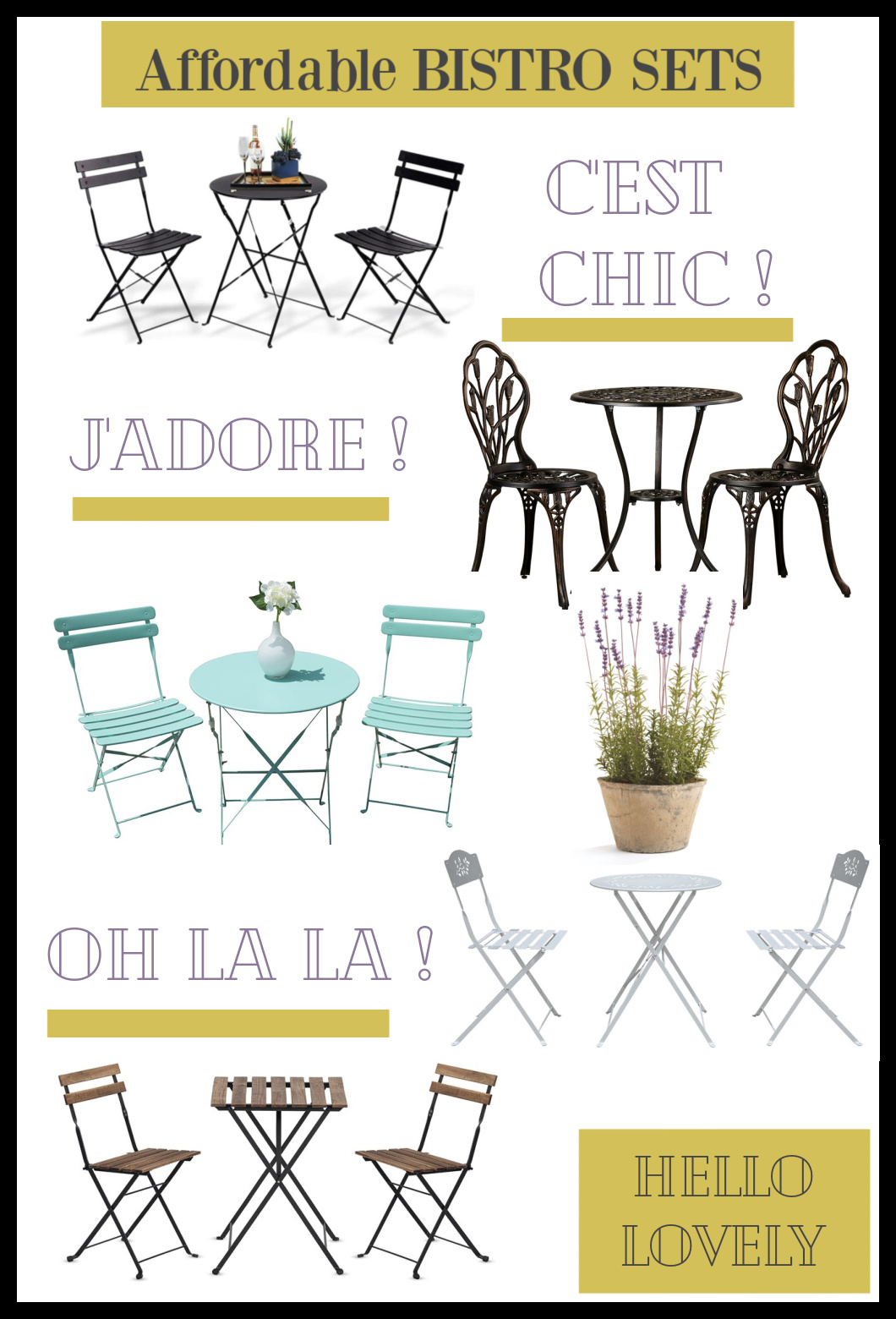 If you have followed this blog, you know I appreciate the romance of all things modern French and European country…
However, even if your decorating style is different, there are plenty of reasons you might like a bistro set with folding table and folding chairs for your own space.
Let's count the ways!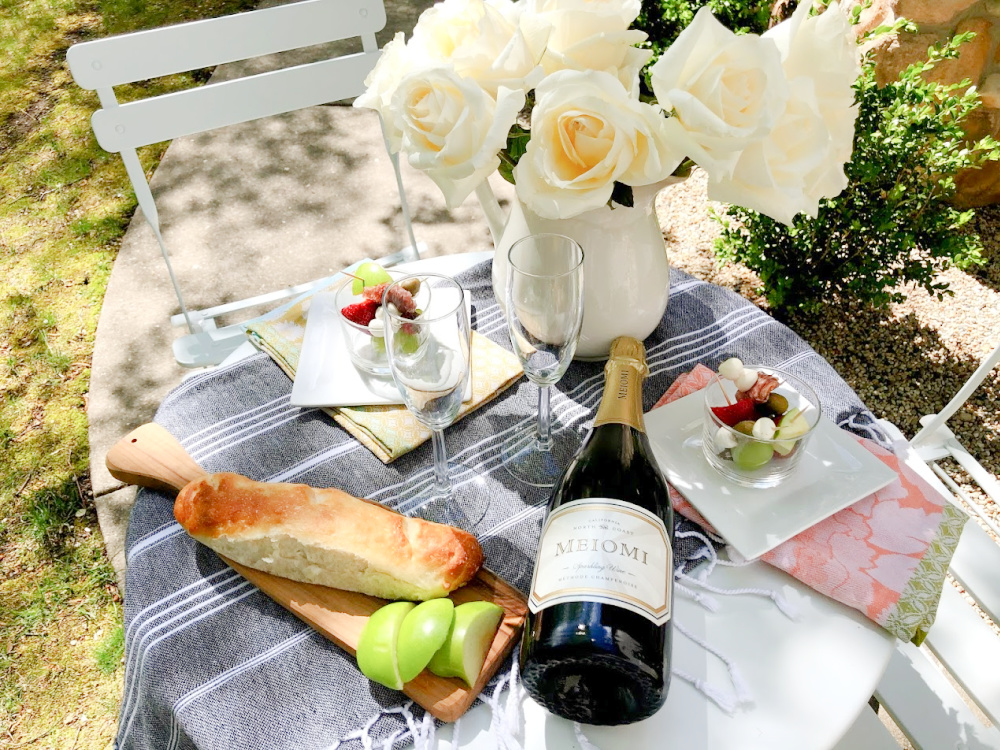 Perfectly Sized for Decks, Patios, Porches and Kitchens
The round folding table is 23.6″ and as far as I'm concerned, not too teeny and certainly not too big. The chairs are folding chairs that measure just 16.5″ when folded…so they're easy to store in a small space.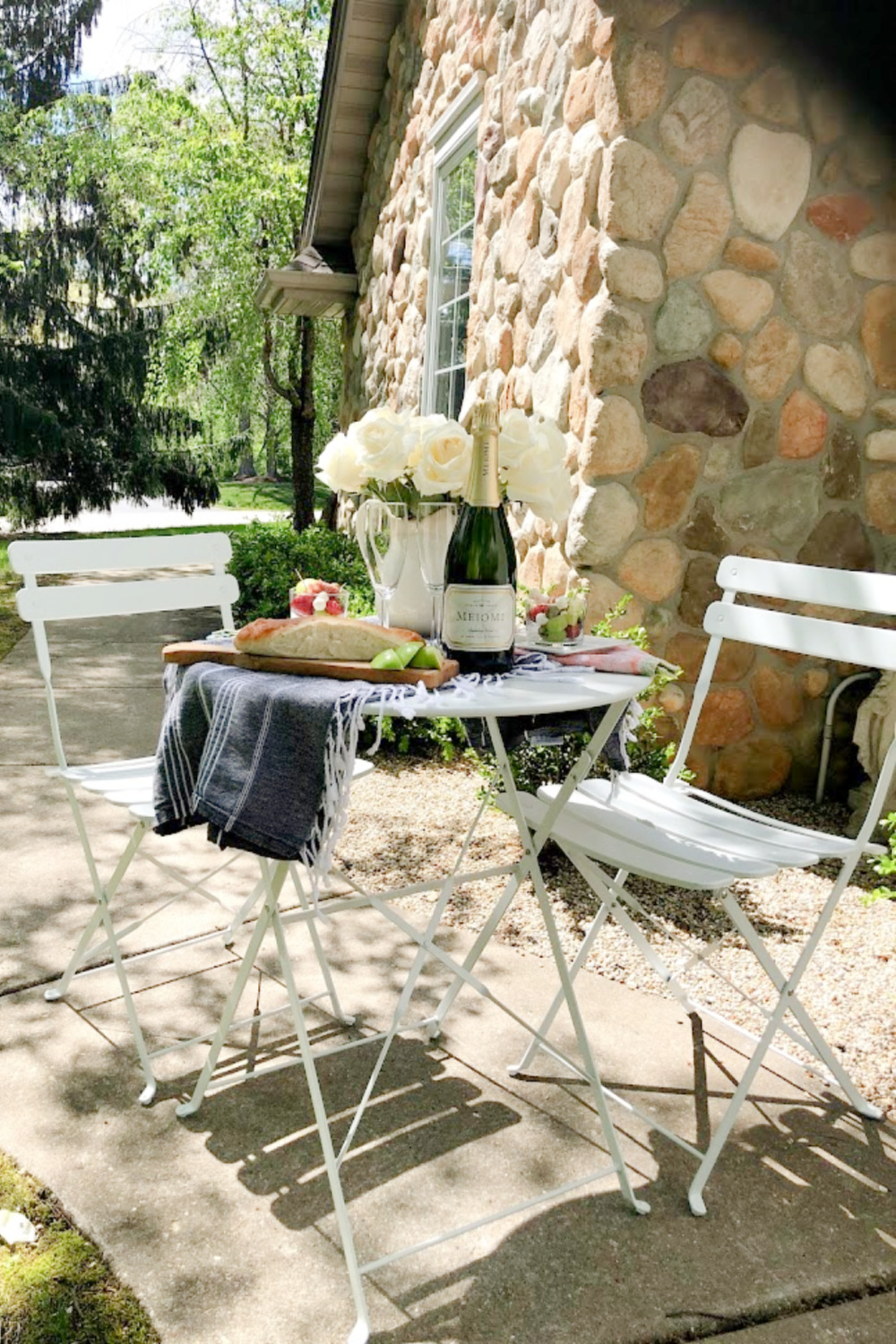 If you love the look of a pea gravel courtyard or dining area, I have shared about the one we created HERE.
Here is a peek at it dressed minimally and casually in autumn: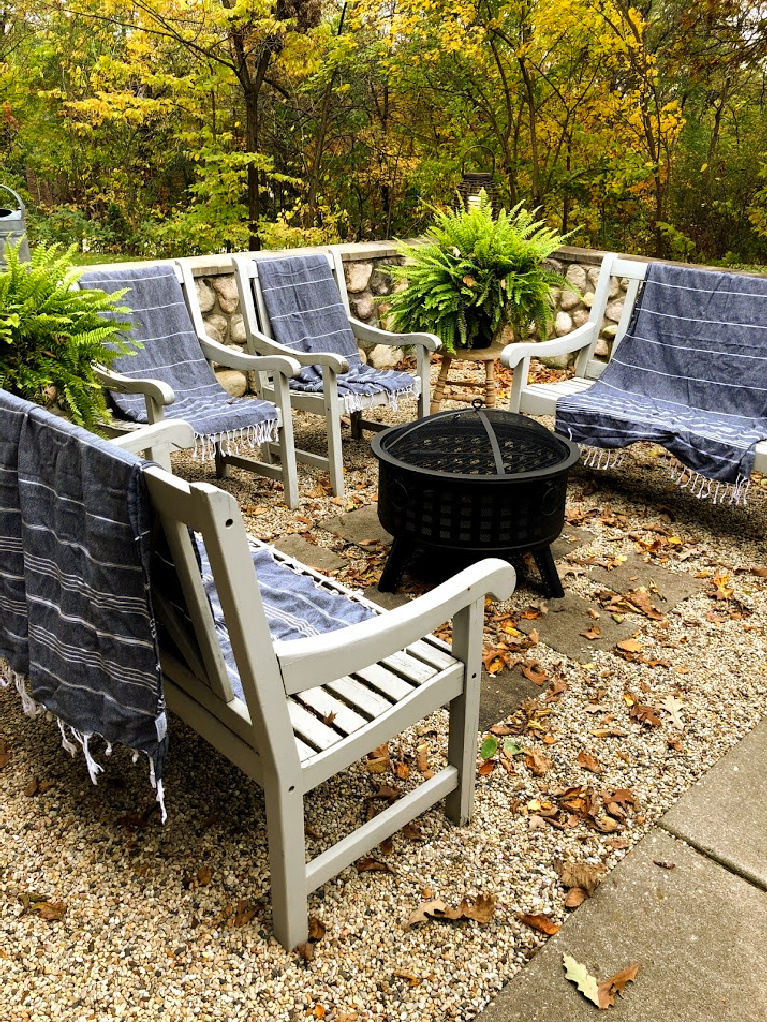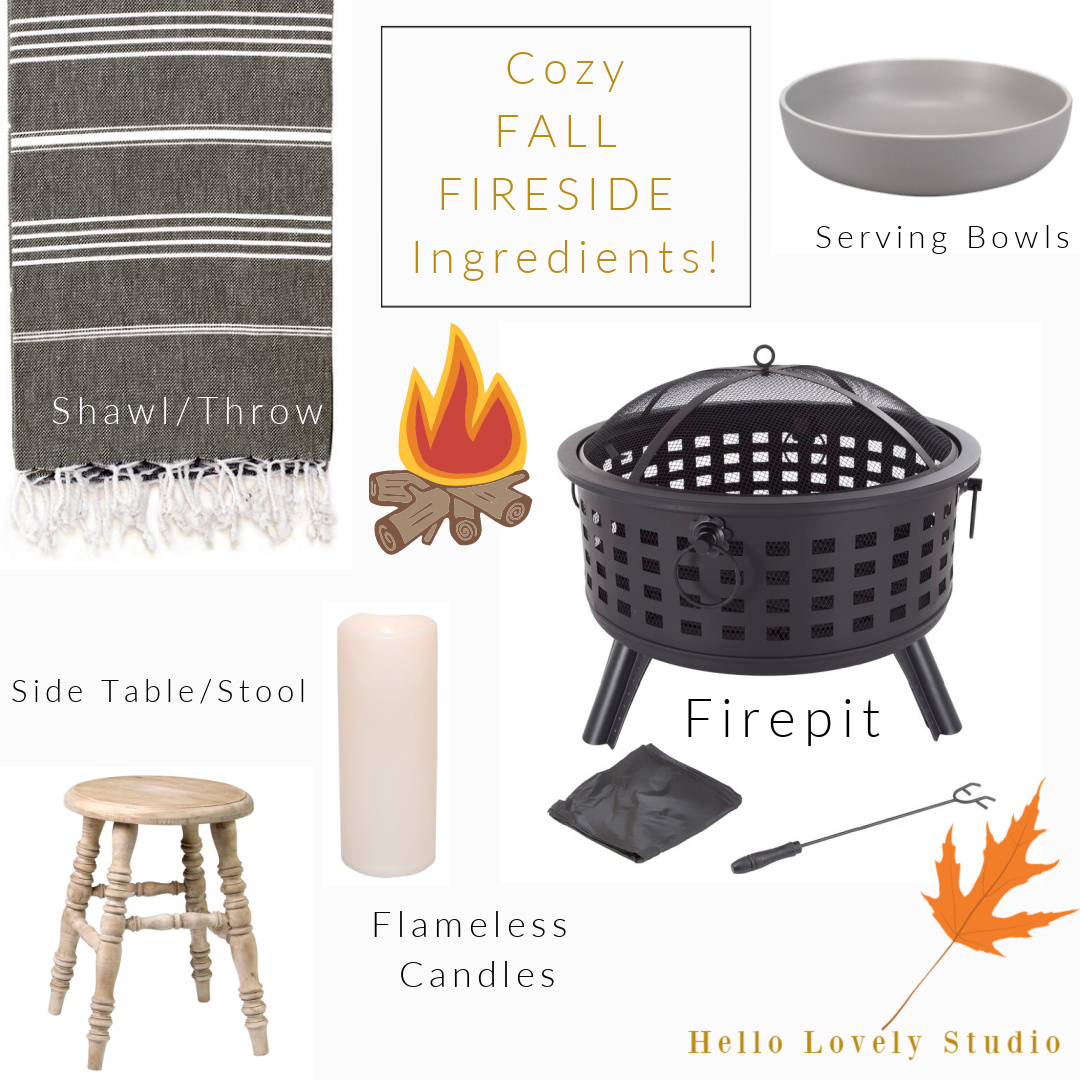 Should French country style be beckoning, make sure to go HERE and HERE.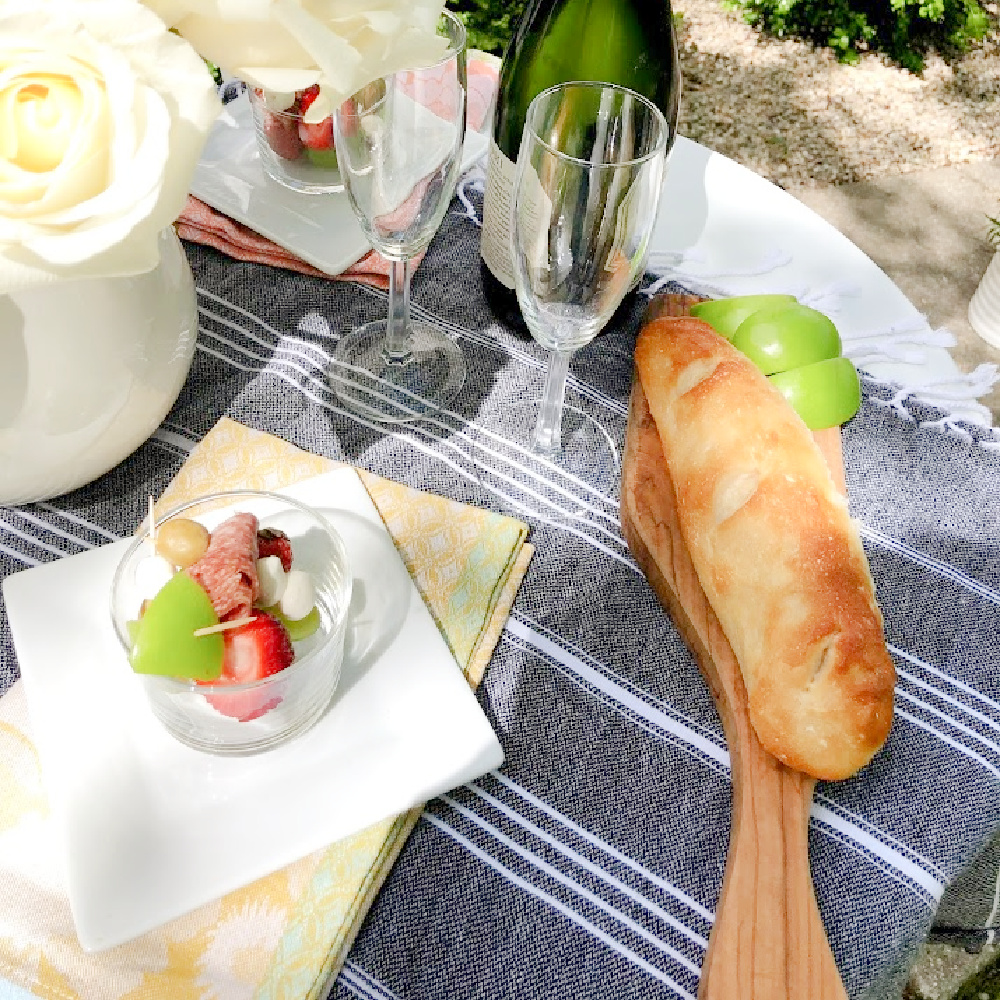 Heavy and Durable Construction
I wondered about quality and weight since the dining set is not expensive. However, this bistro set is constructed with a sturdy steel frame and coated with a durable powder coat for rust and fade resistance. Additionally, each chair corner is equipped with an antiskid foot pad to reduce floor damage.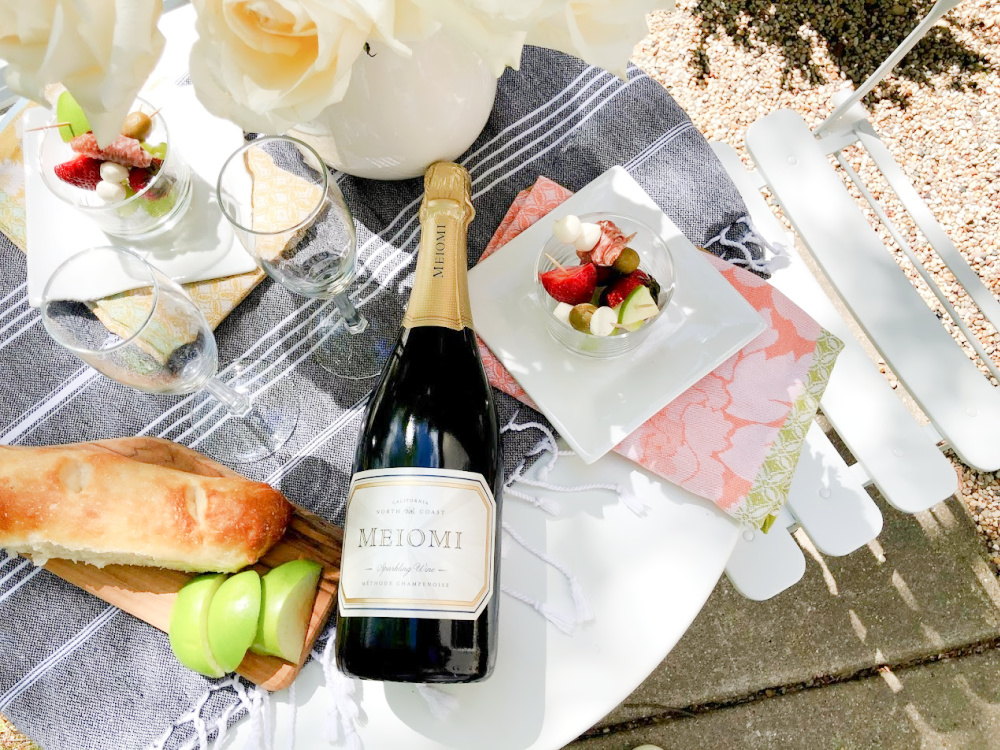 Snag This Pretty French Café Look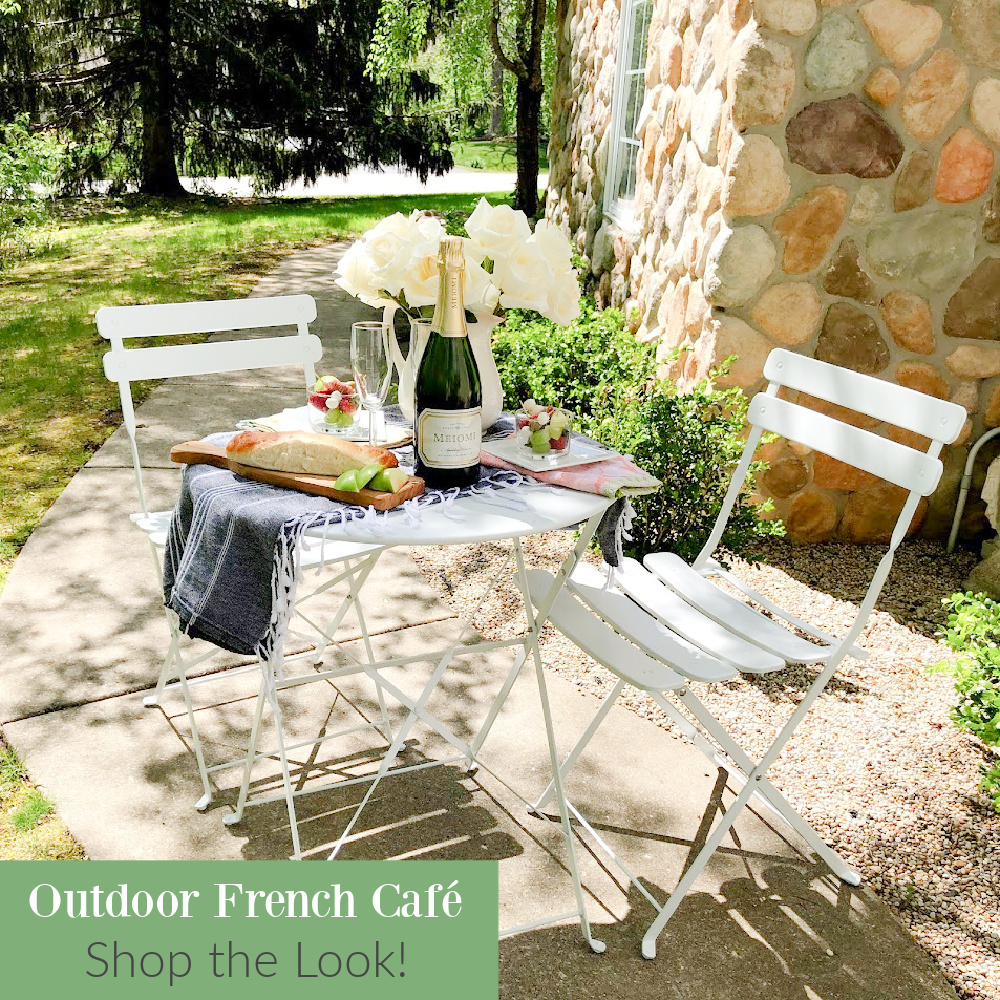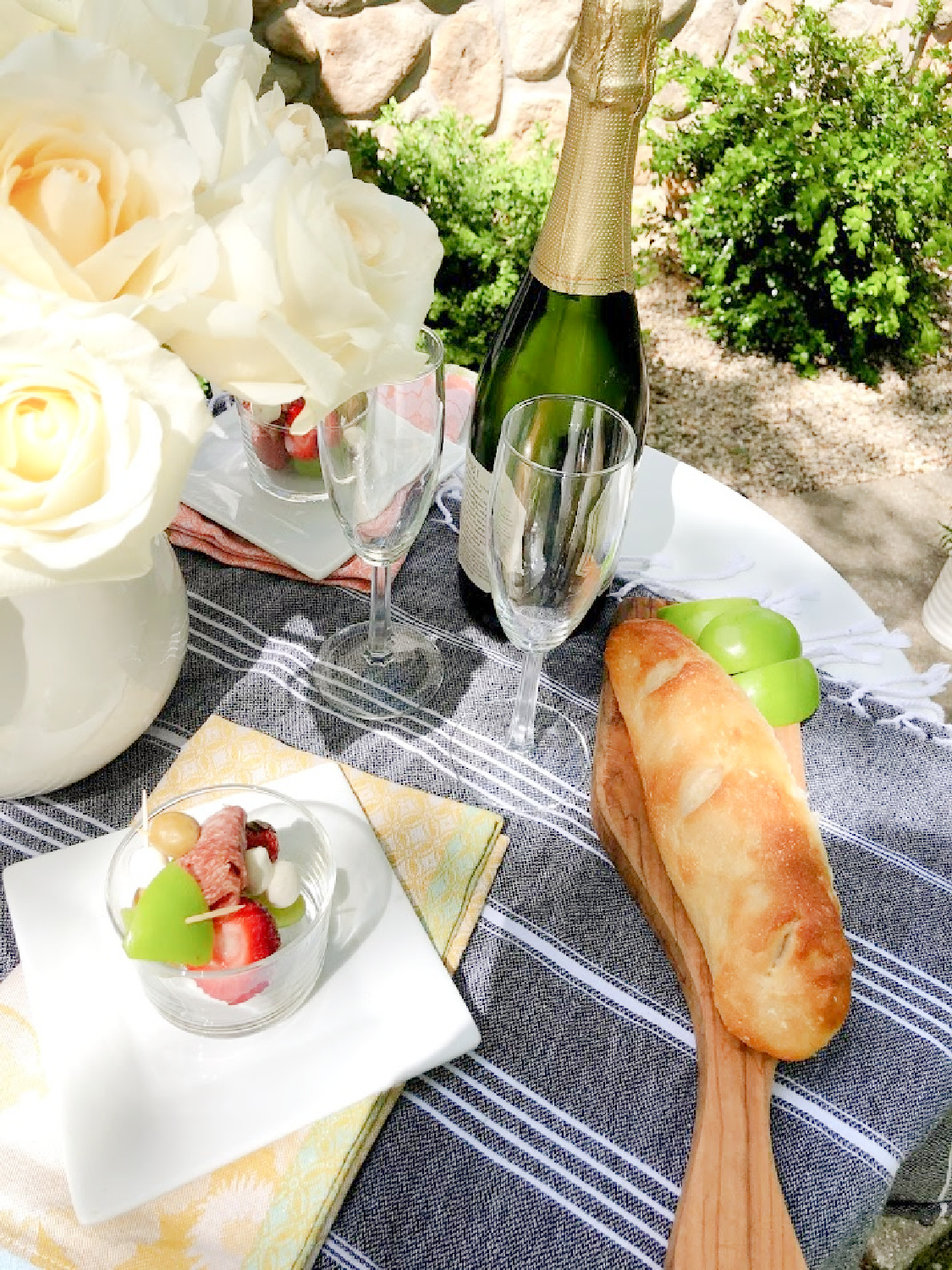 Perfect for a Charming Outdoor French Café Look
Until we can get to Paris or the French countryside, here's a lovely way to create a moment at home. Also, you'll notice, my set is not even placed within my pea gravel courtyard or on a patio.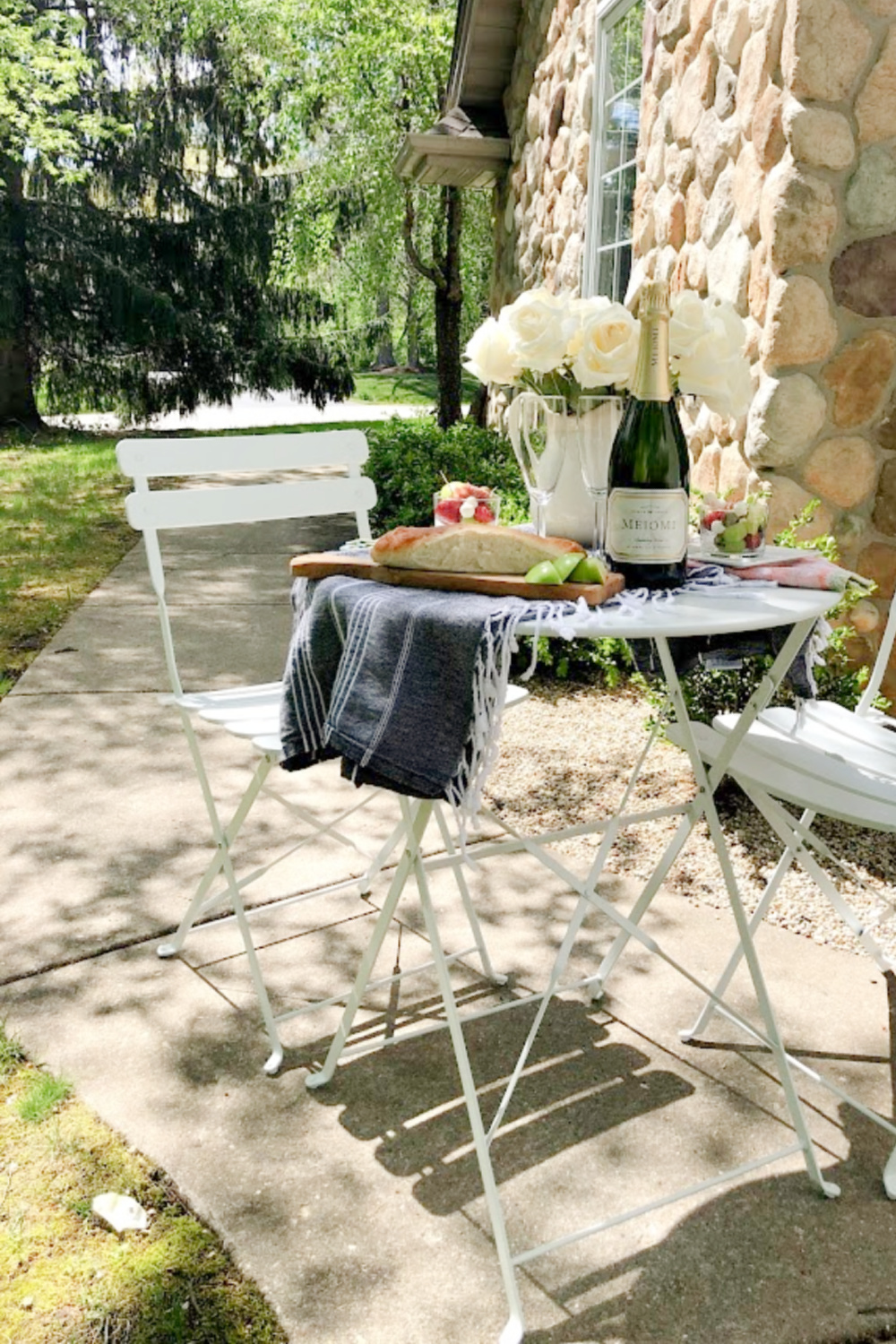 In our former home, a sweet, winding path leads from the side of the house to the front door. I love this inviting path because it's sheltered by mature evergreens and so very private and shaded.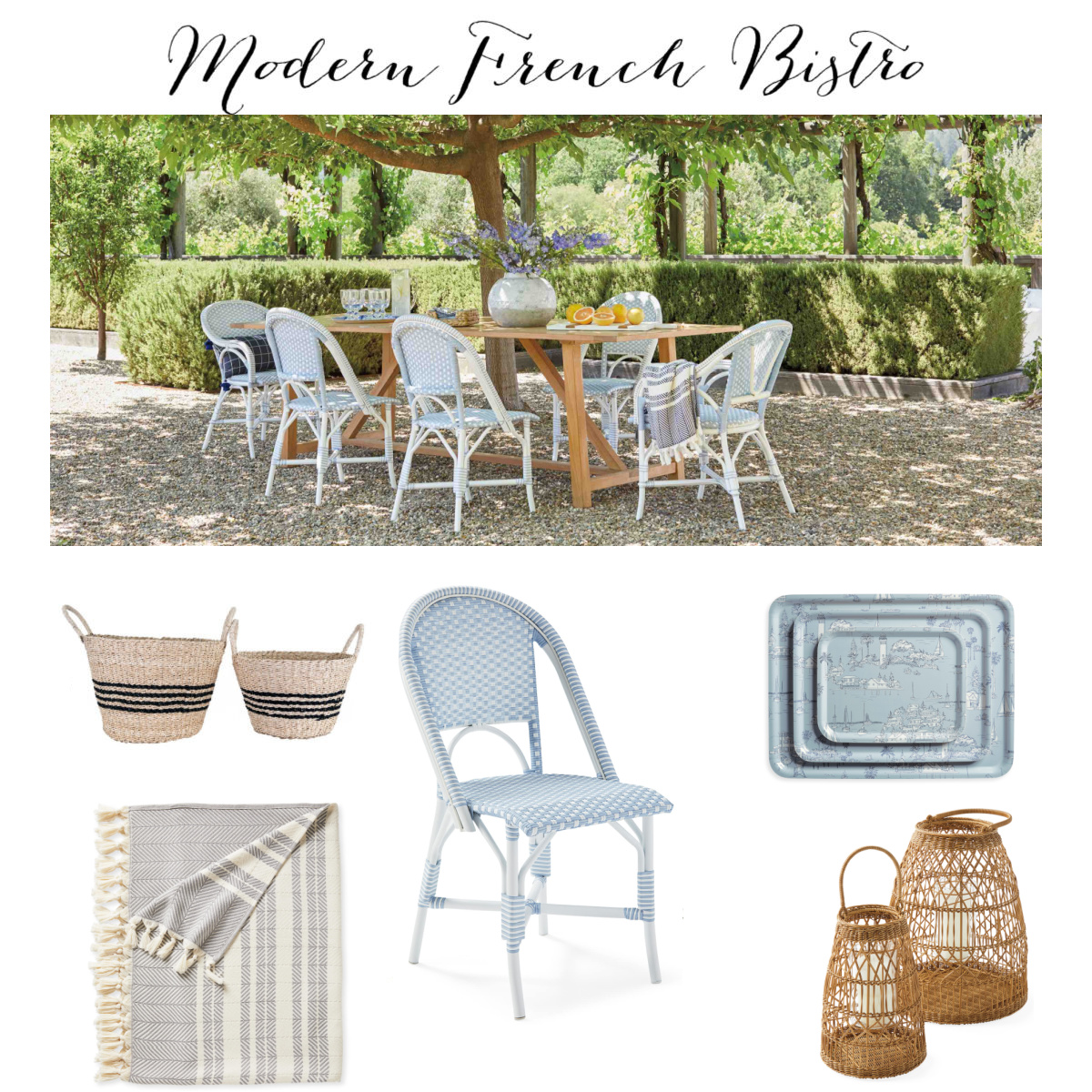 Even a narrow expanse of concrete can be transformed with a few Frenchie ingredients.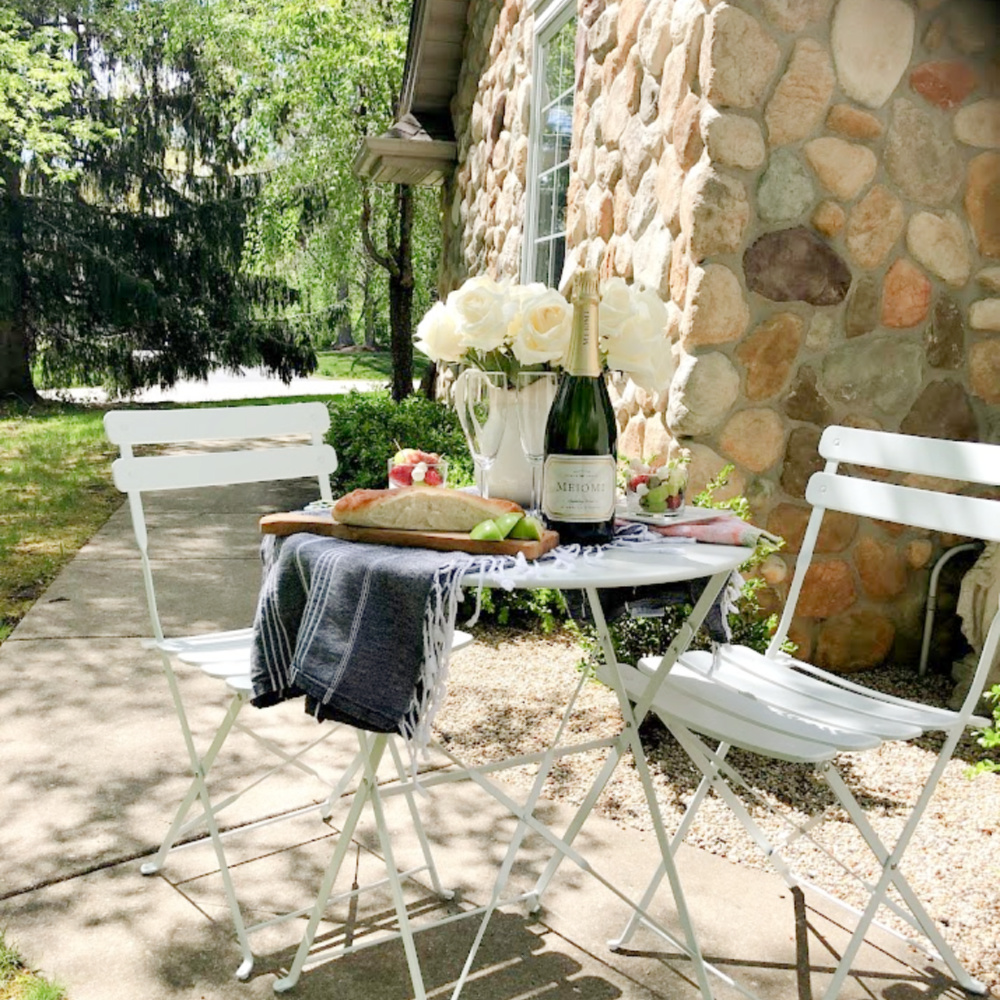 Create a Simple Sanctuary Spot for Snacks
It took no time at all to throw together this look! Here's what was brought to the mix:
White Bistro Set
Black Turkish Cotton Beach Towel for Table Covering
Vintage Ironstone Pitcher with Garden Roses (in some images, I have a pot of rosemary)
Cloth Napkins
"Jarcuterie" (glass jars or tumblers holding individual charcuterie goodness as an alternative to a wood board)
Champagne and Baguette (mine's homemade since I bake them weekly)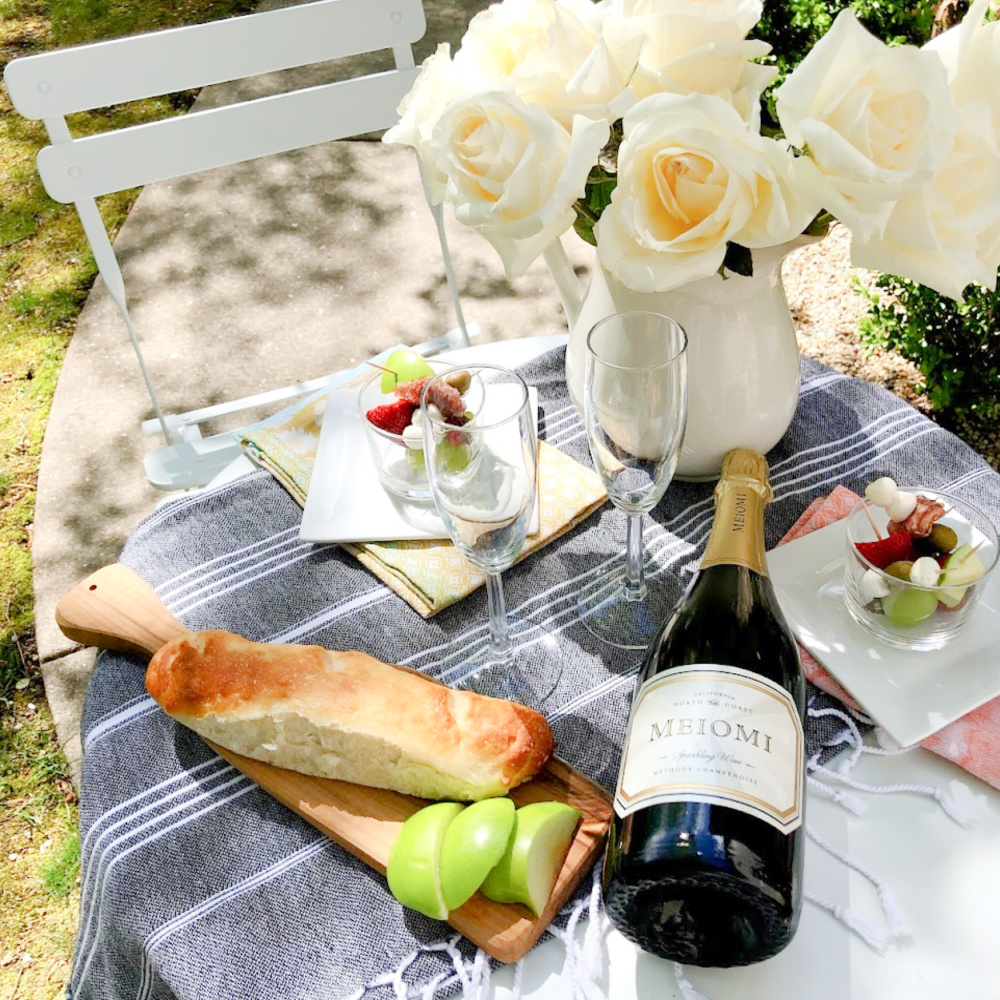 Keep reading for the recipe for the SUPER EASY JARCUTERIE!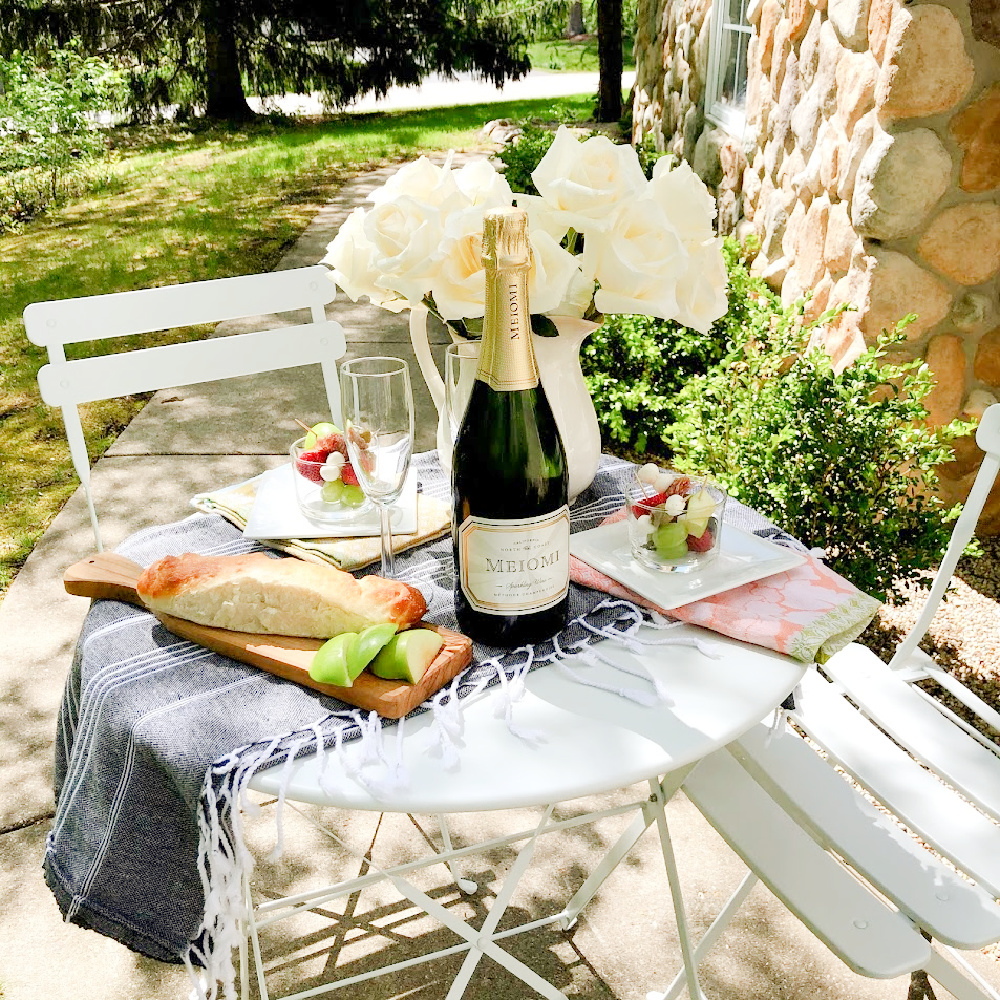 Easy Peasy Jarcuterie (Charcuterie in a Glass Jar!)
Pin this image below so you'll have the idea ready when you need it! The idea is individual cheeseboards without the board and in a jar! I simply layered yummy grazeboard snacks, skewering a few of them with toothpicks for ease and to add interest to the presentation.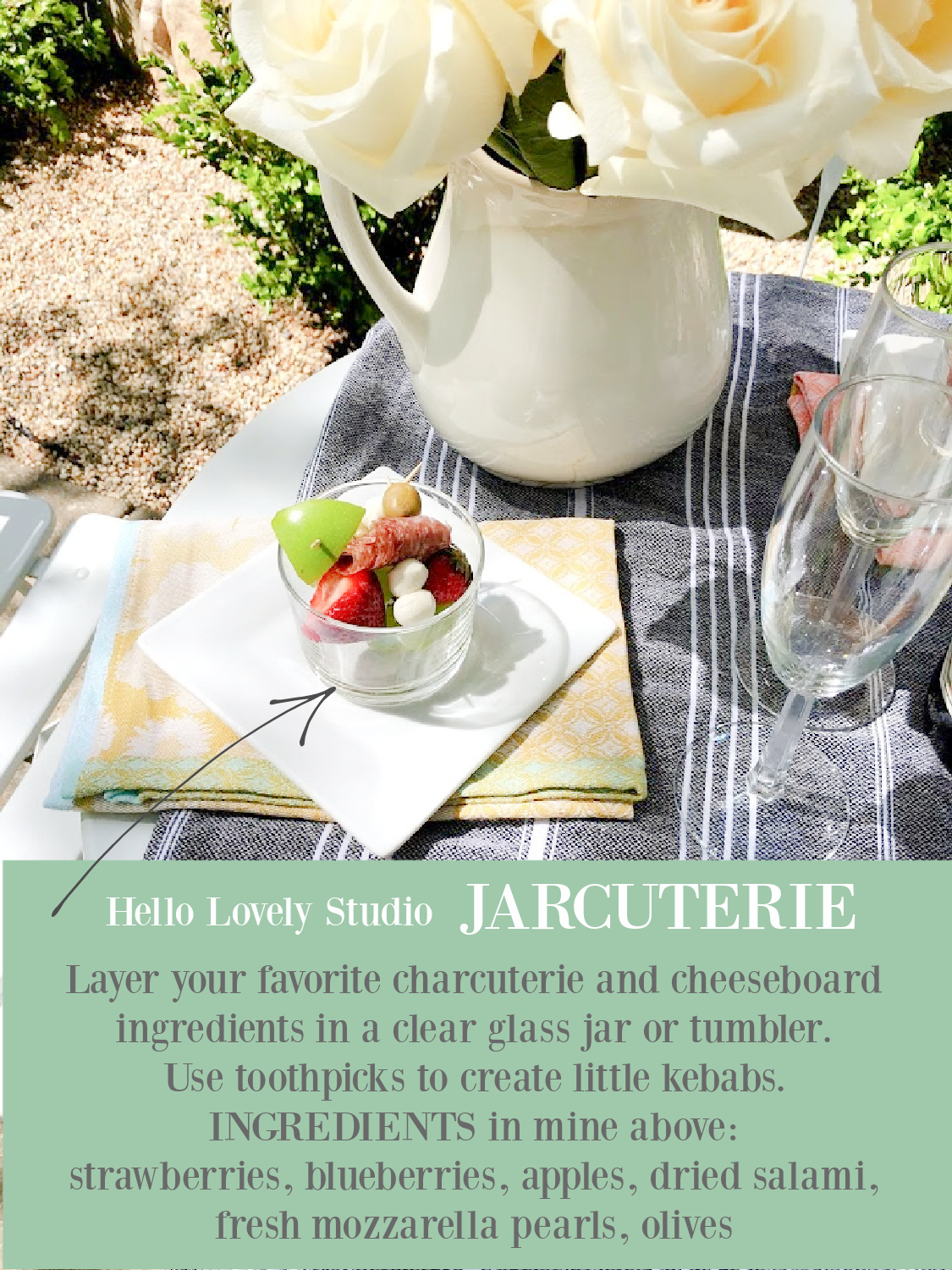 You can use small mason jars, those cute recycled glass French yogurt jars or plain glass tumblers like mine found HERE.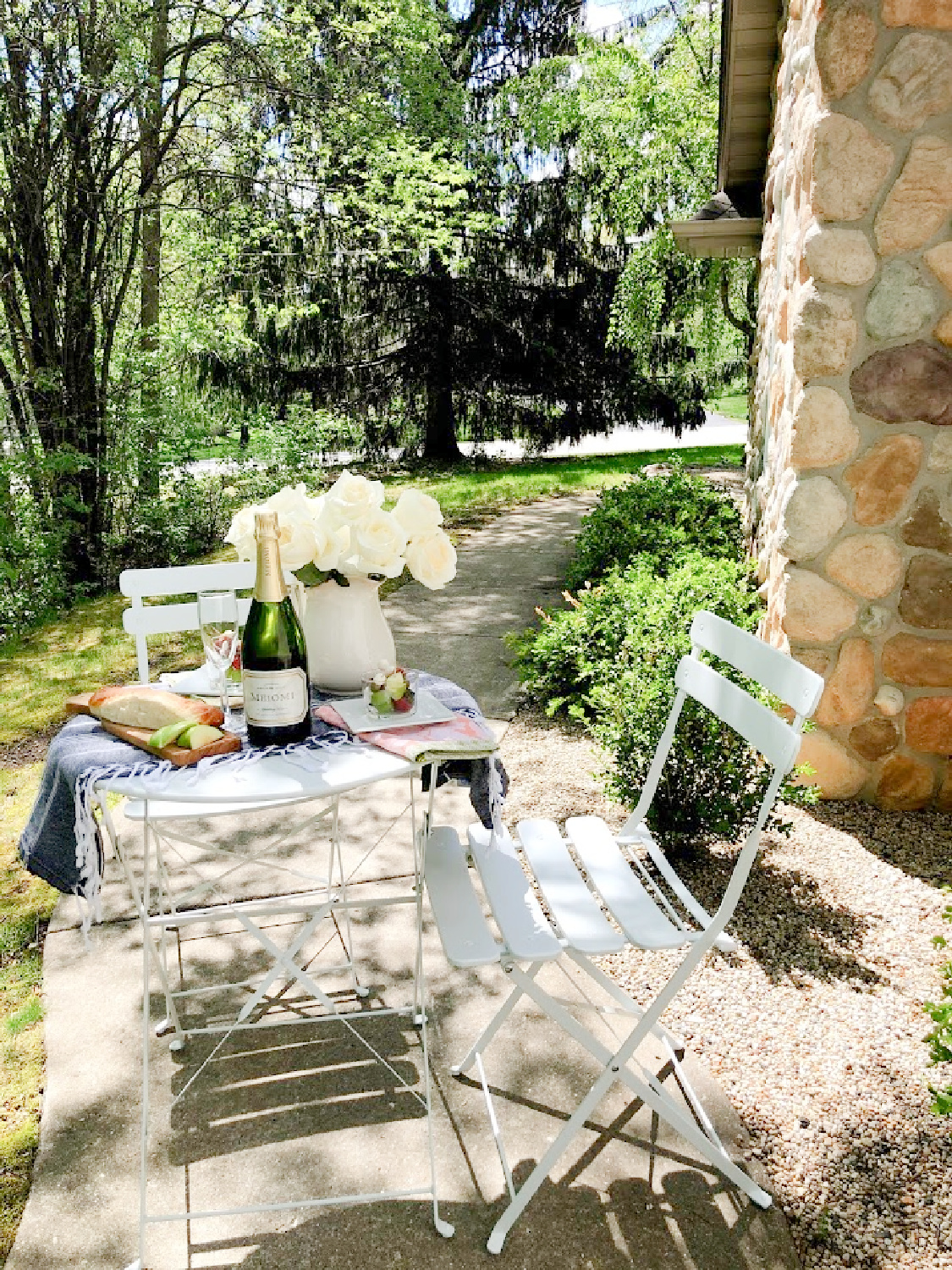 Buy the Baguettes if You Don't Bake & No Cooking Required!!!
I'm sure you are already brainstorming a hundred ways to expand this menu for an easy lunch…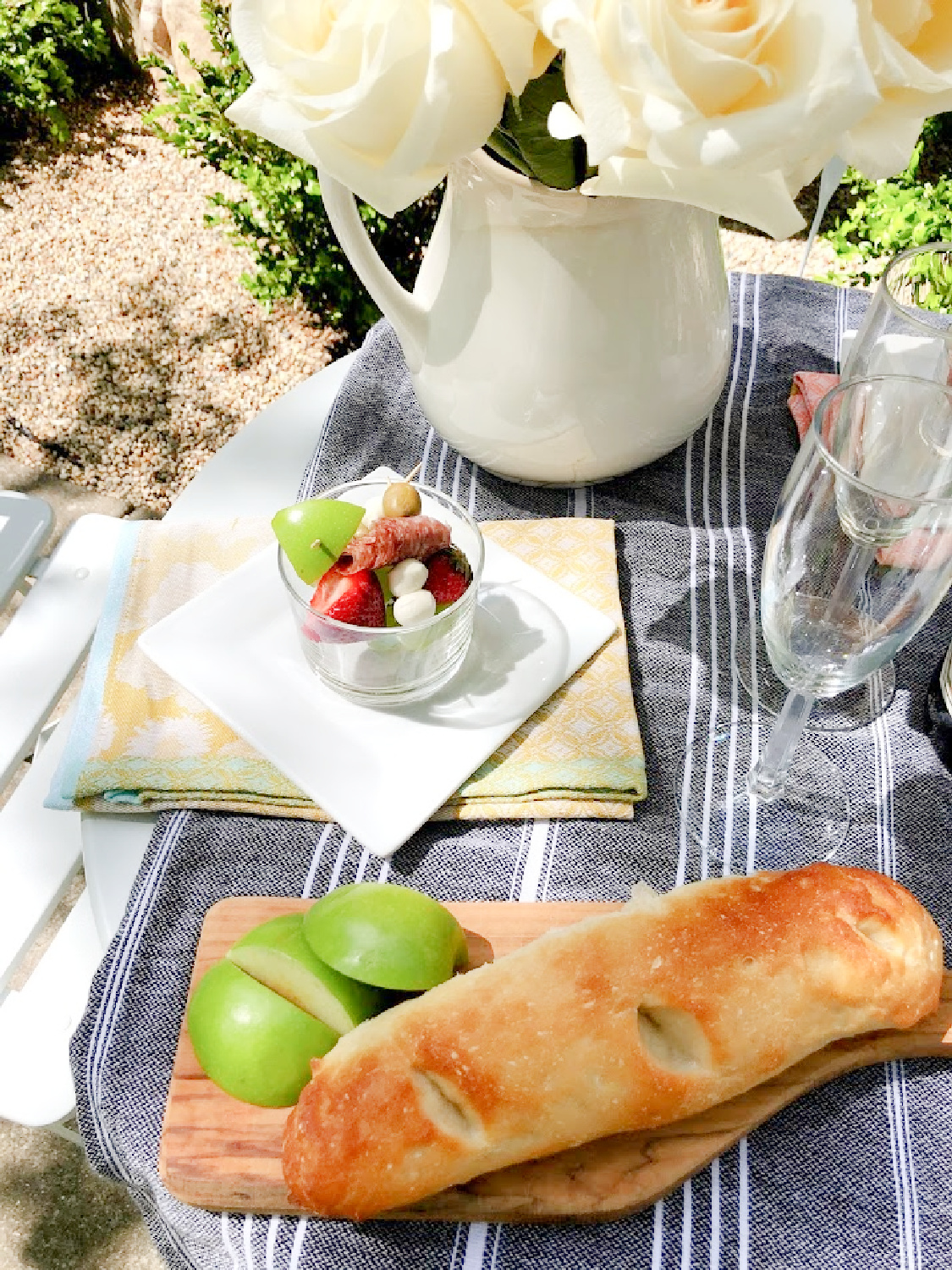 …cater in your favorite roast chicken or onion soup or croque monsieur…serve a delicious tuna Niçoise salad…is your mouth watering!?!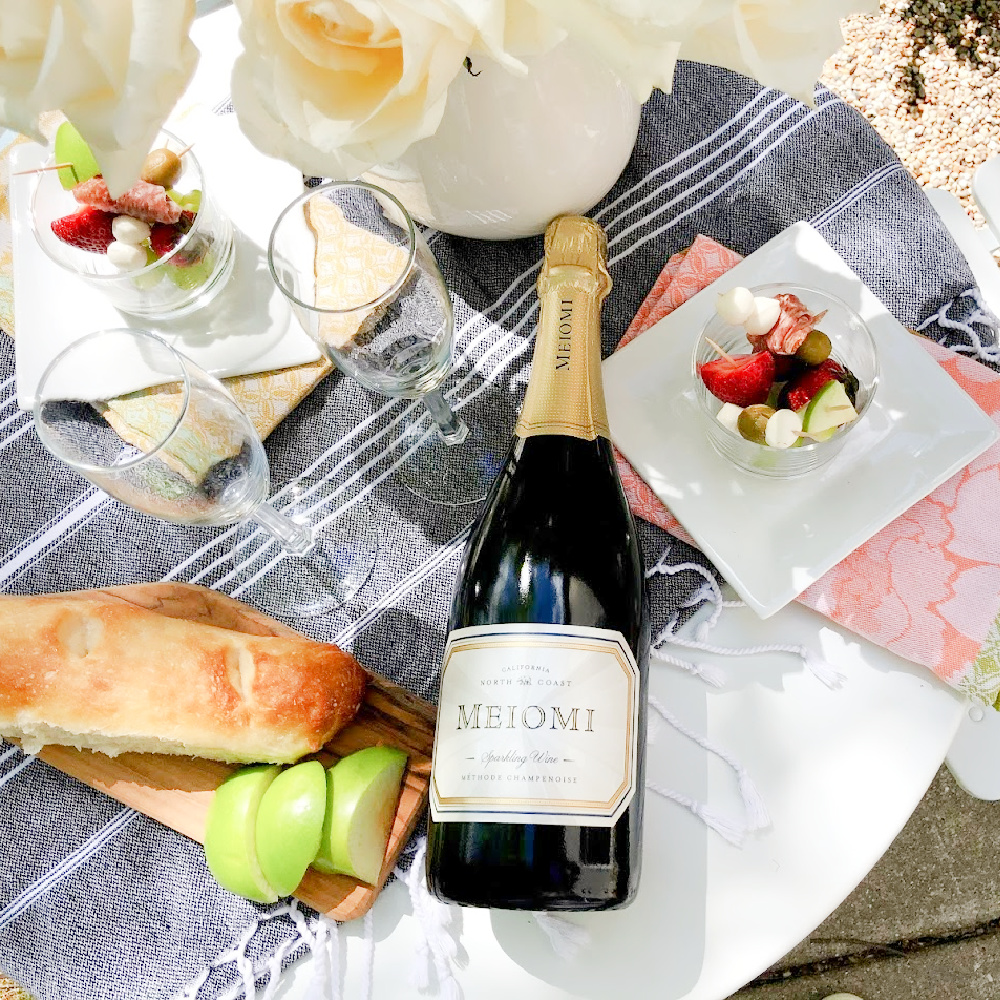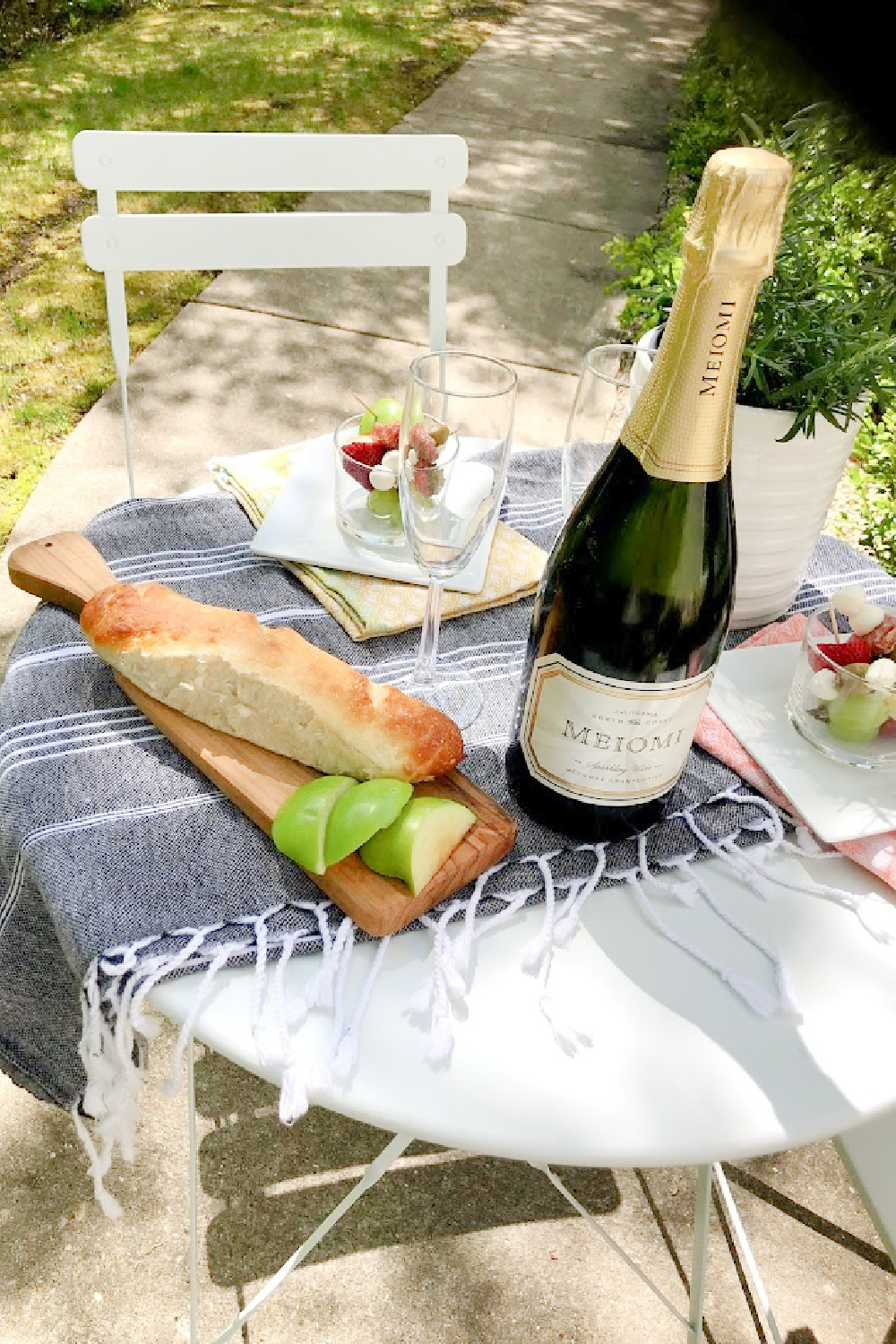 Have a favorite sparkling wine you are enjoying? Let us know!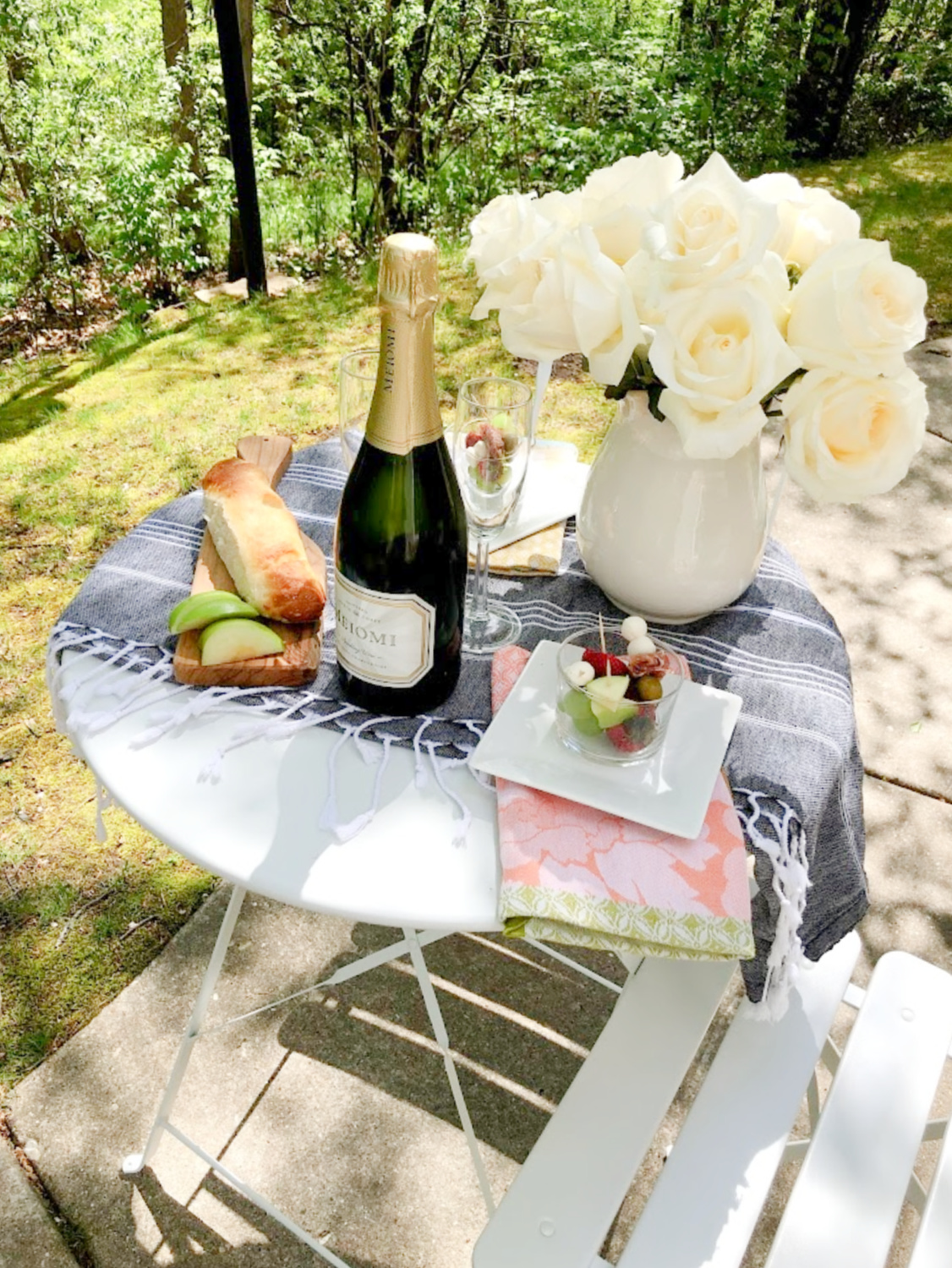 Simple Unfussy Table Decor
The French know their way around elegant simplicity so definitely do NOT overthink decorating the table.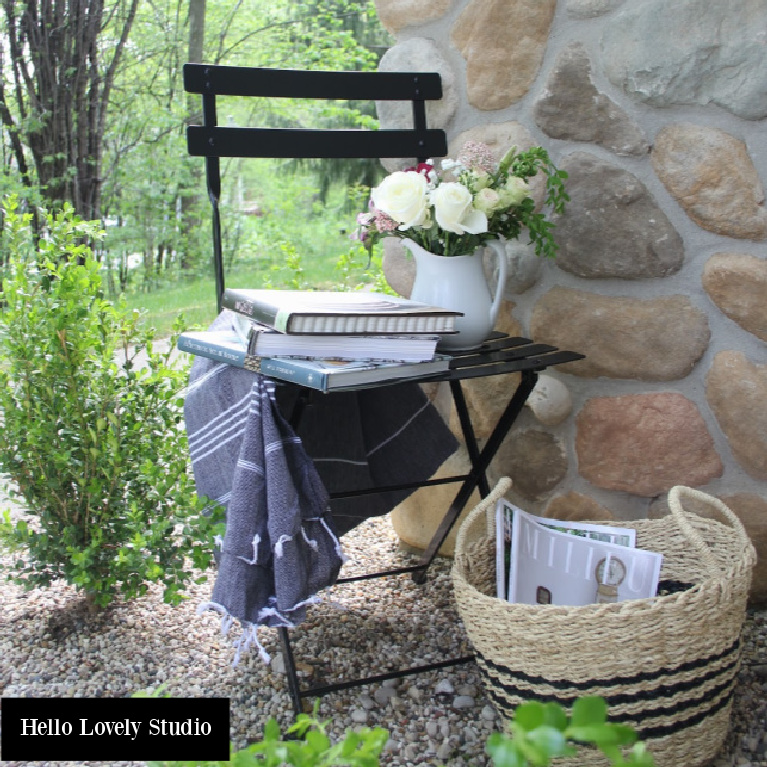 For my French cafe look, the Turkish beach towel contrasts nicely with all the white, a simple planter holds potted rosemary, and pastel cloth napkins are understated and soften the mix.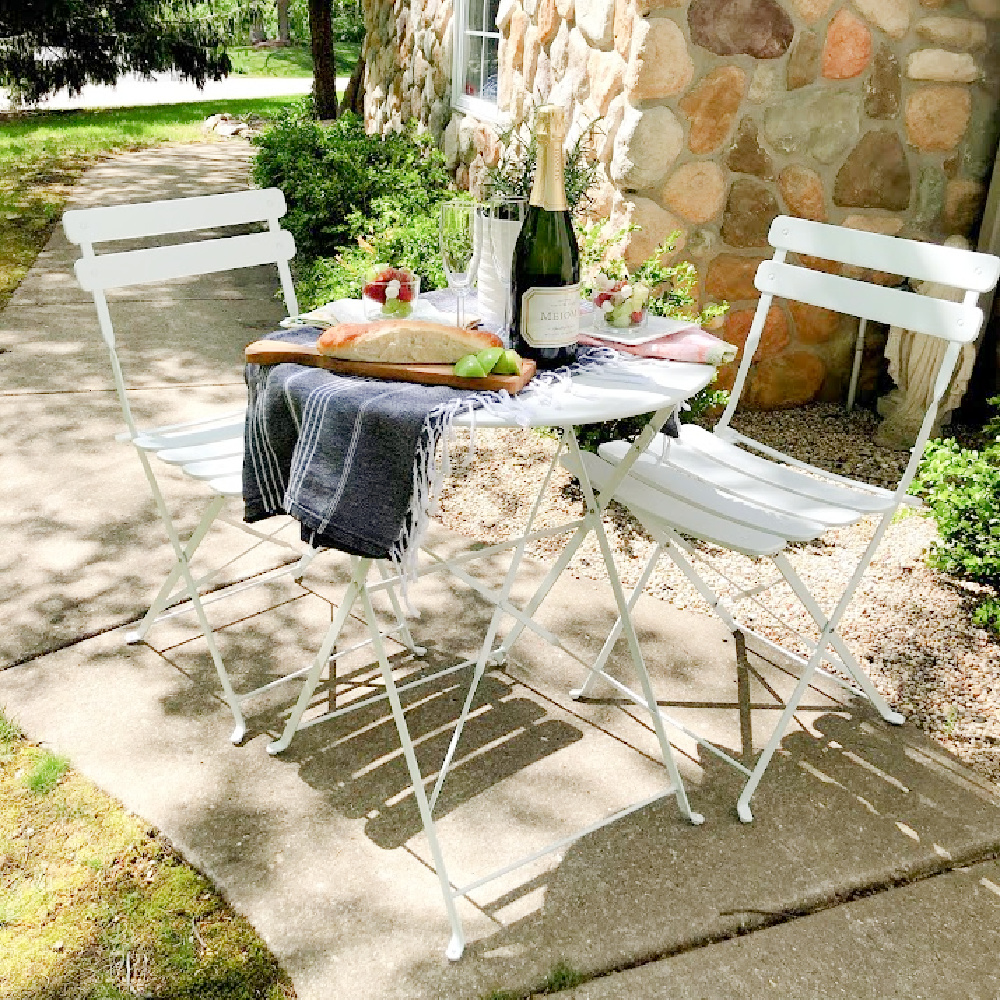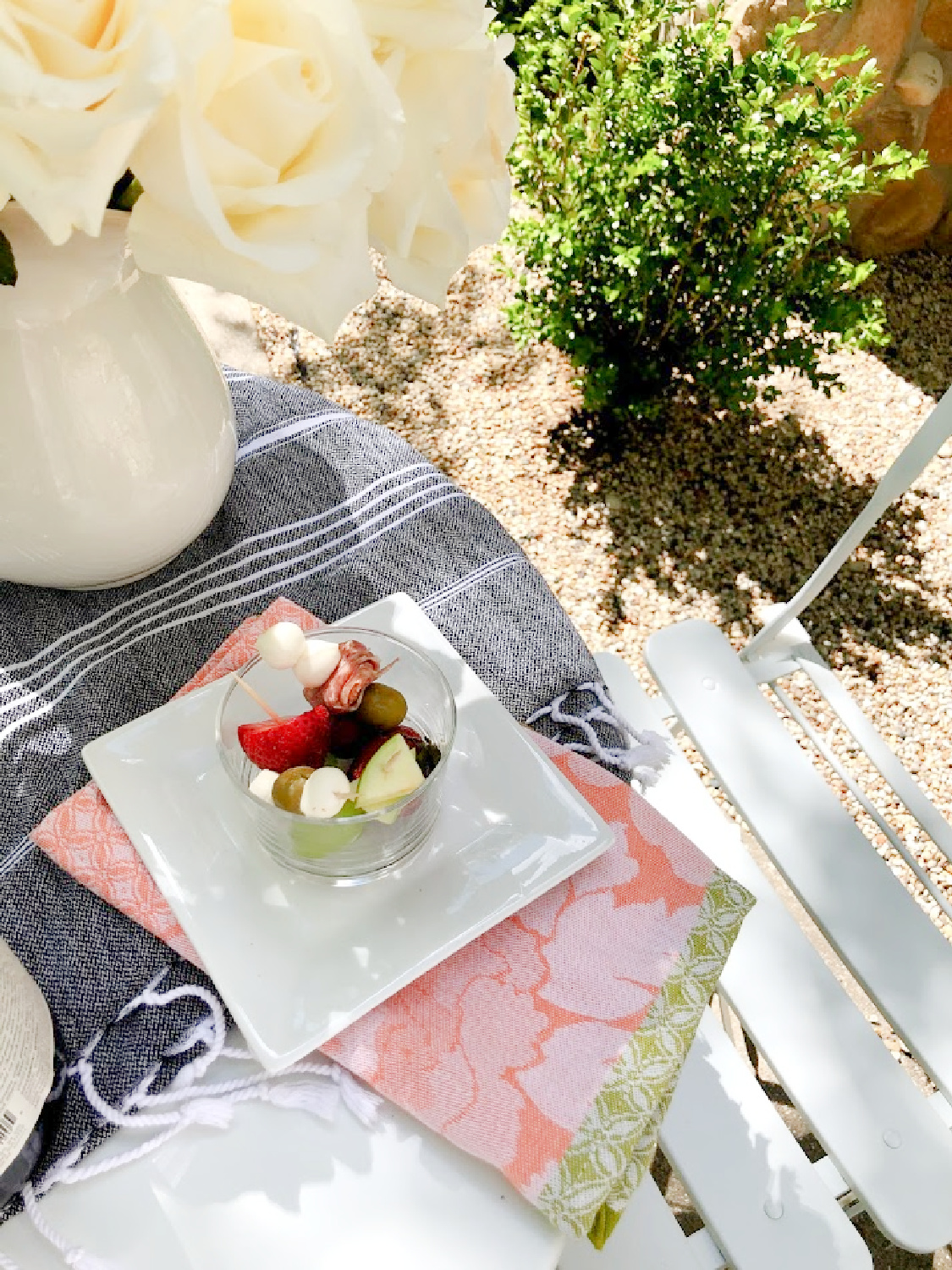 There is something so lovely about simple and fragrant potted rosemary with the simplicity of a menu like this.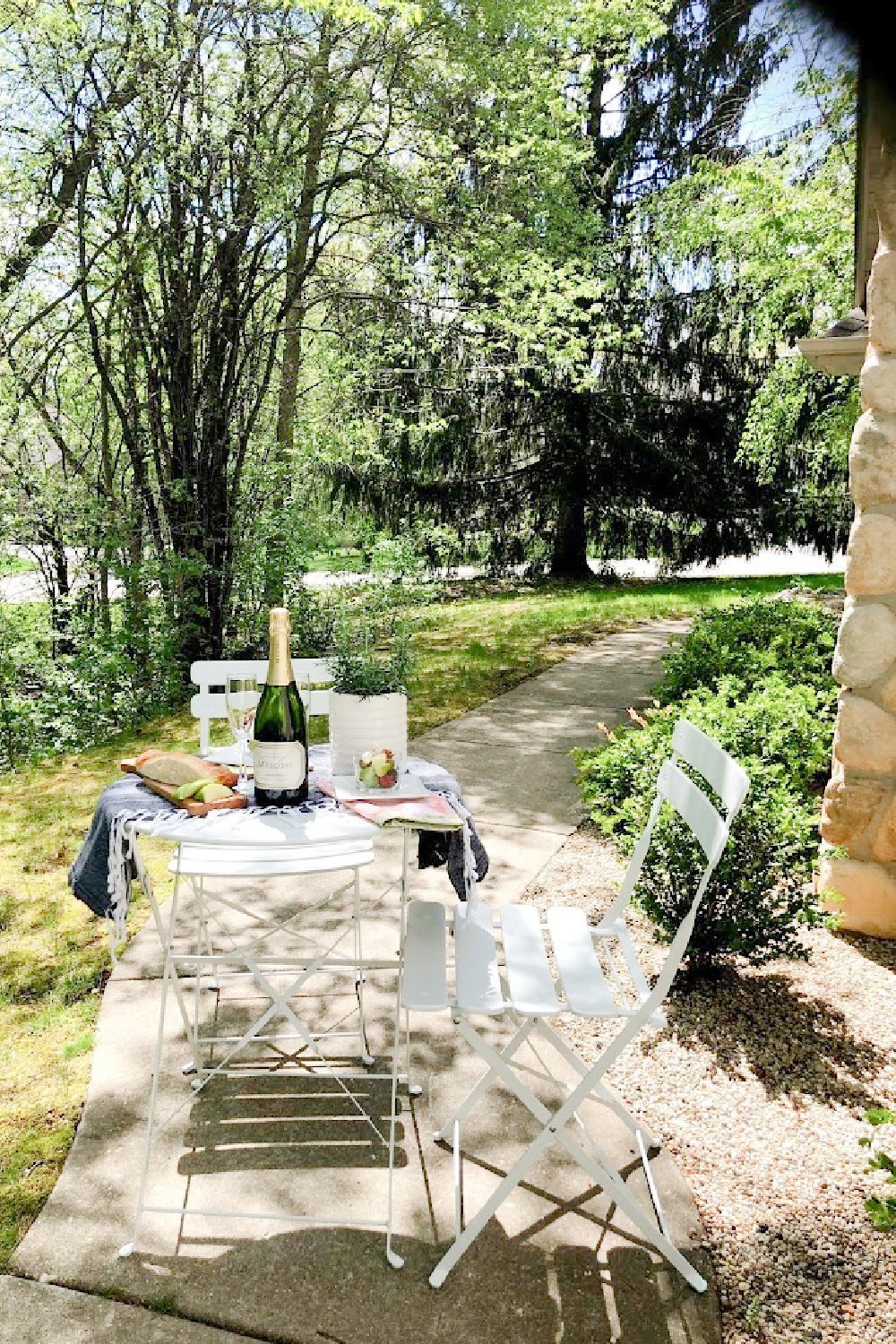 Even the simple fringe on the Turkish towel adds interest to the tablescape.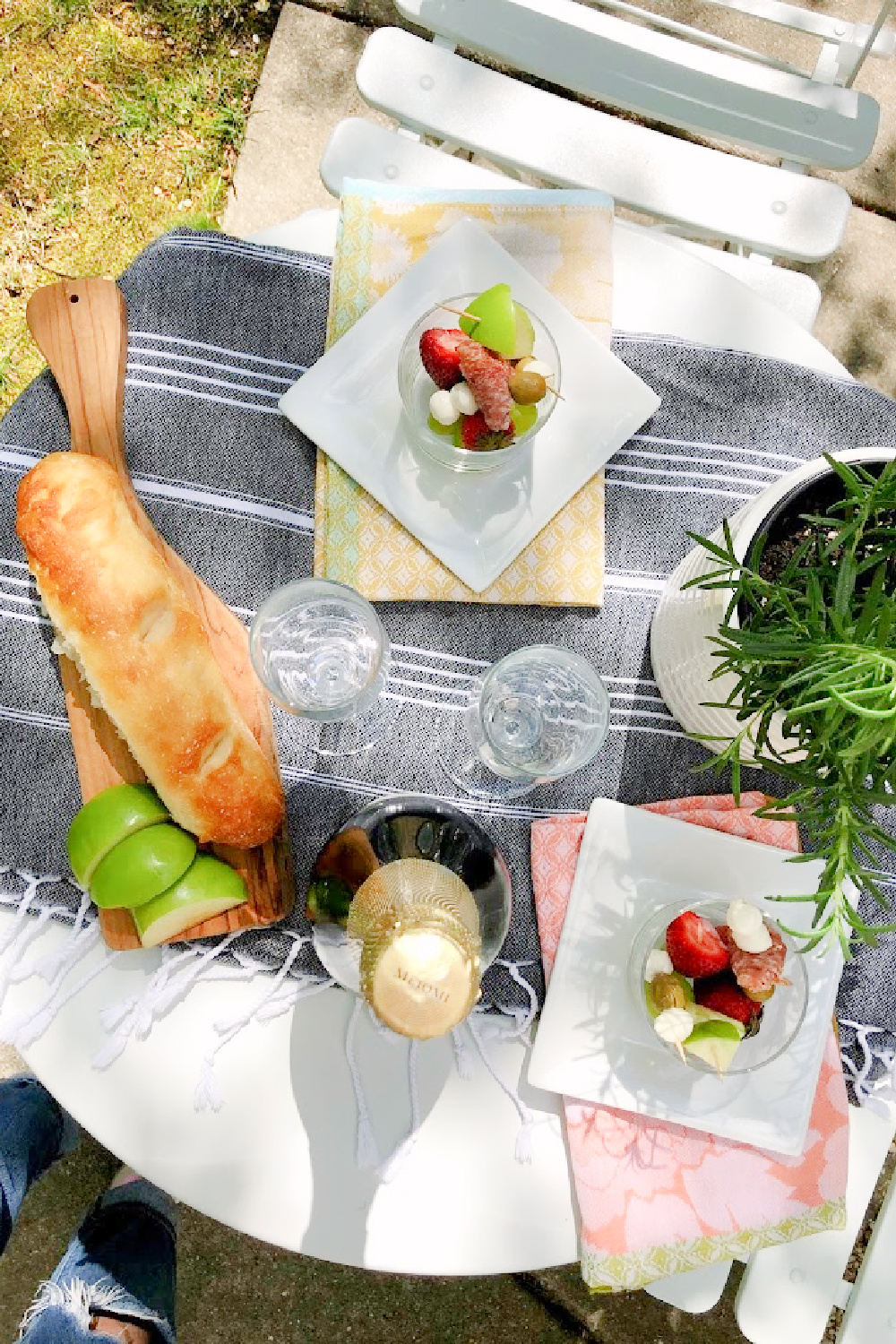 Easily Bring This Charming French Look Inside
I couldn't wait to style and use my new little bistro set inside in a guest bedroom as well. I was shocked by how it instantly brought European vibes to the room!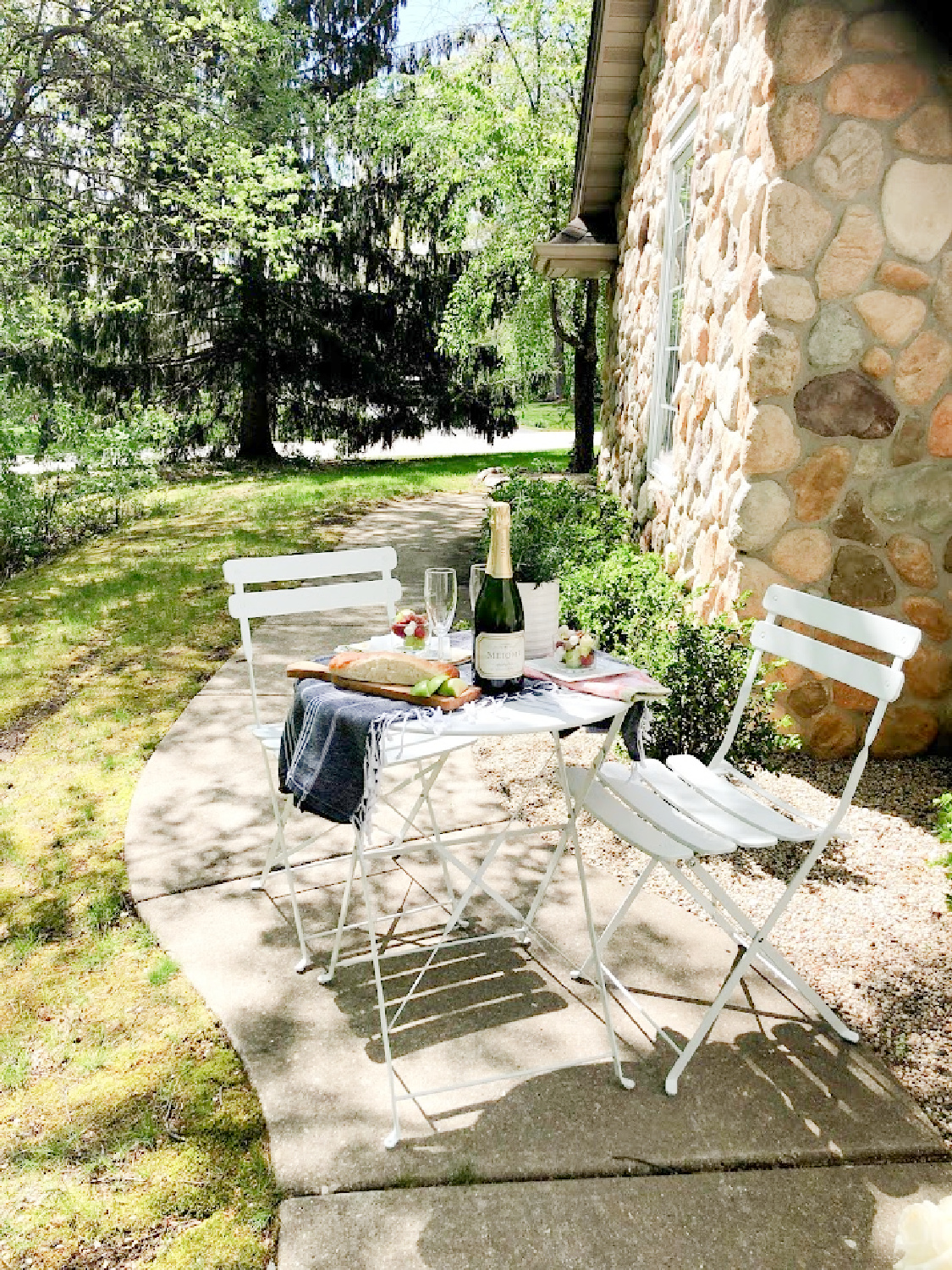 Do you have a kitchen corner or space in a bedroom or office in need of refreshing?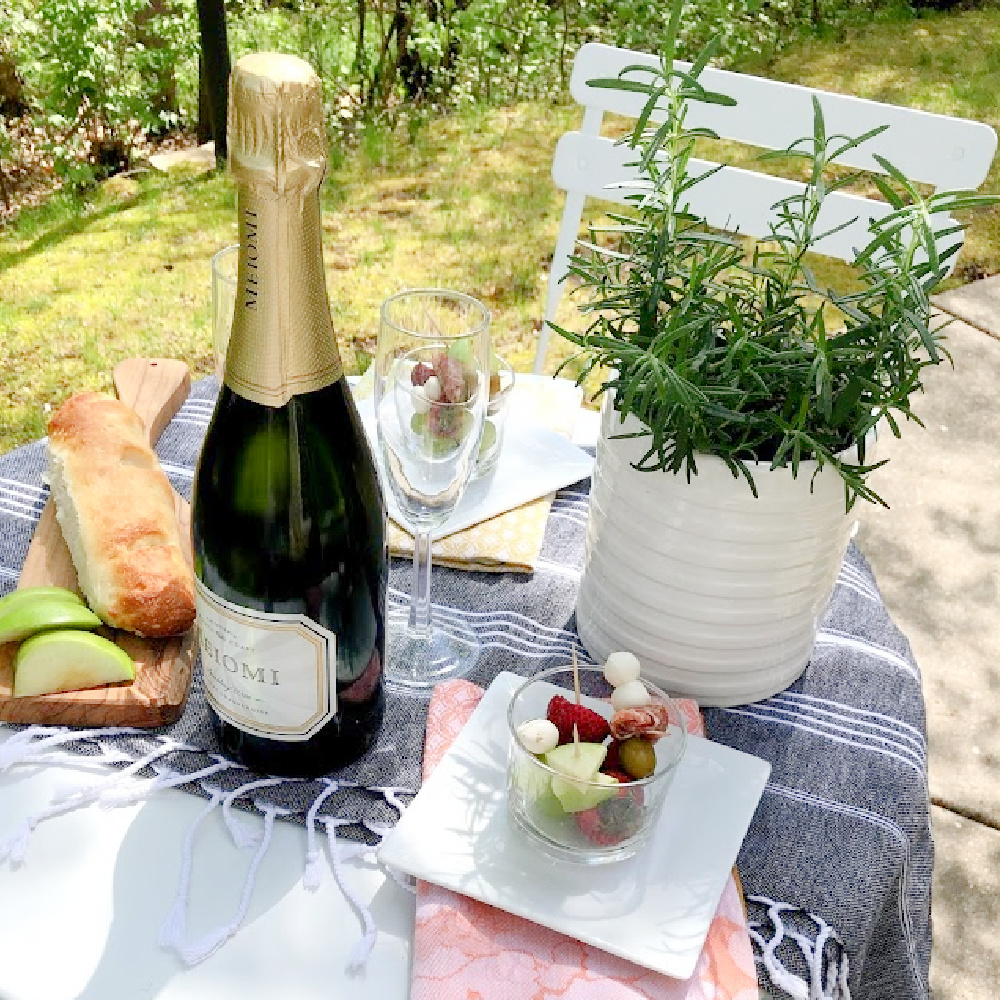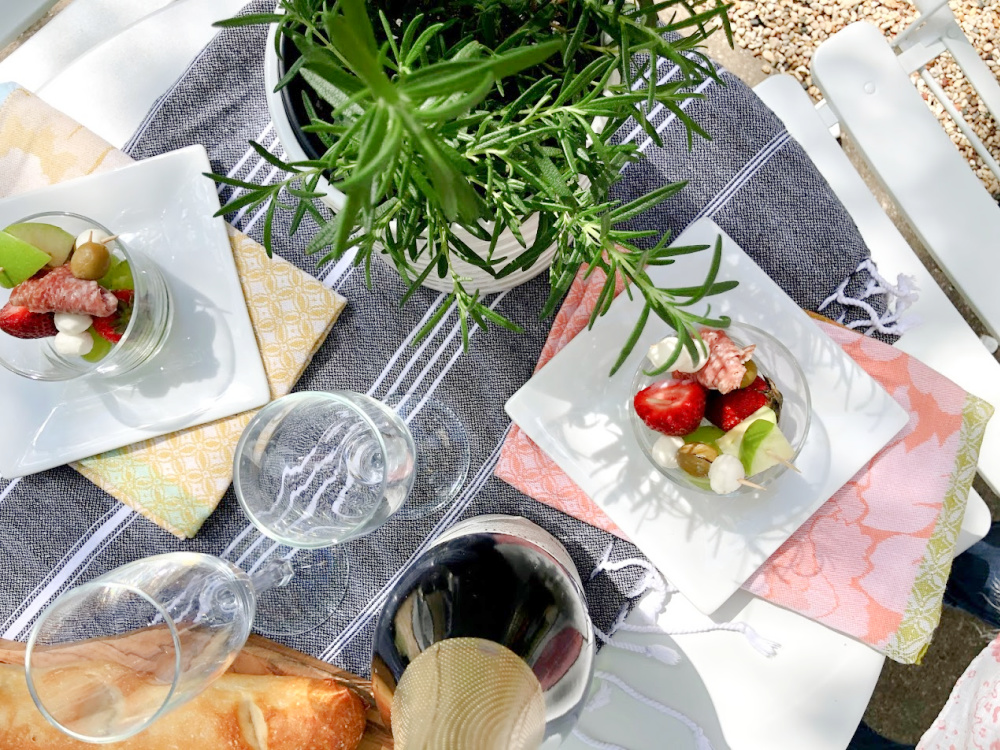 Me and French Baguettes
As I mentioned above, I happily bake baguettes weekly…but I'm not eating them these days. Because of my Crohn's and autoimmune illness, I often struggle to digest gluten, and my husband is completely gluten-intolerant. So I gift the bread to sons and friends.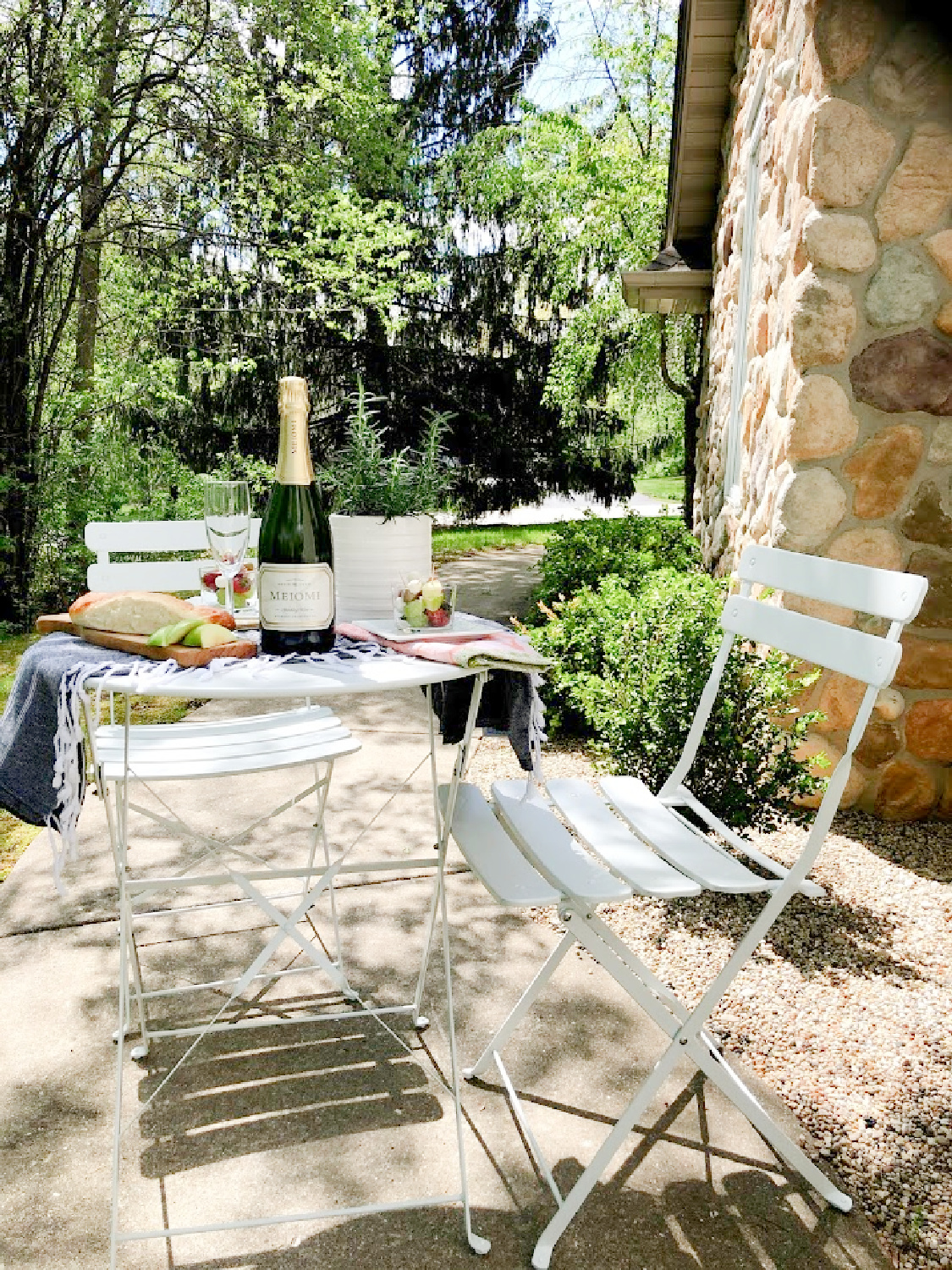 I'm still experimenting with gluten-free bread recipes, but truly there is nothing like a yeasty baguette made from a starter that I have been feeding for decades! My sons appreciate them so much.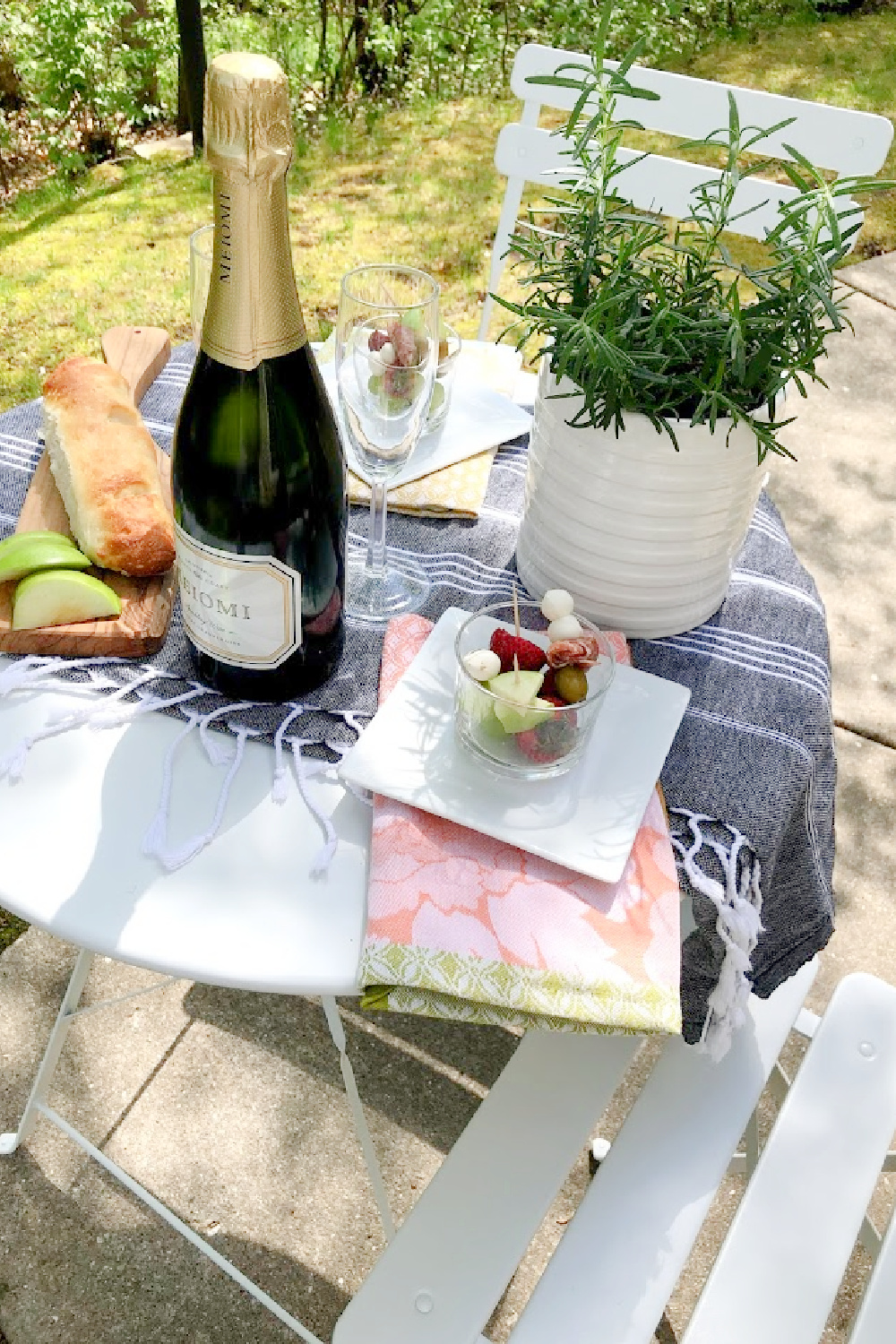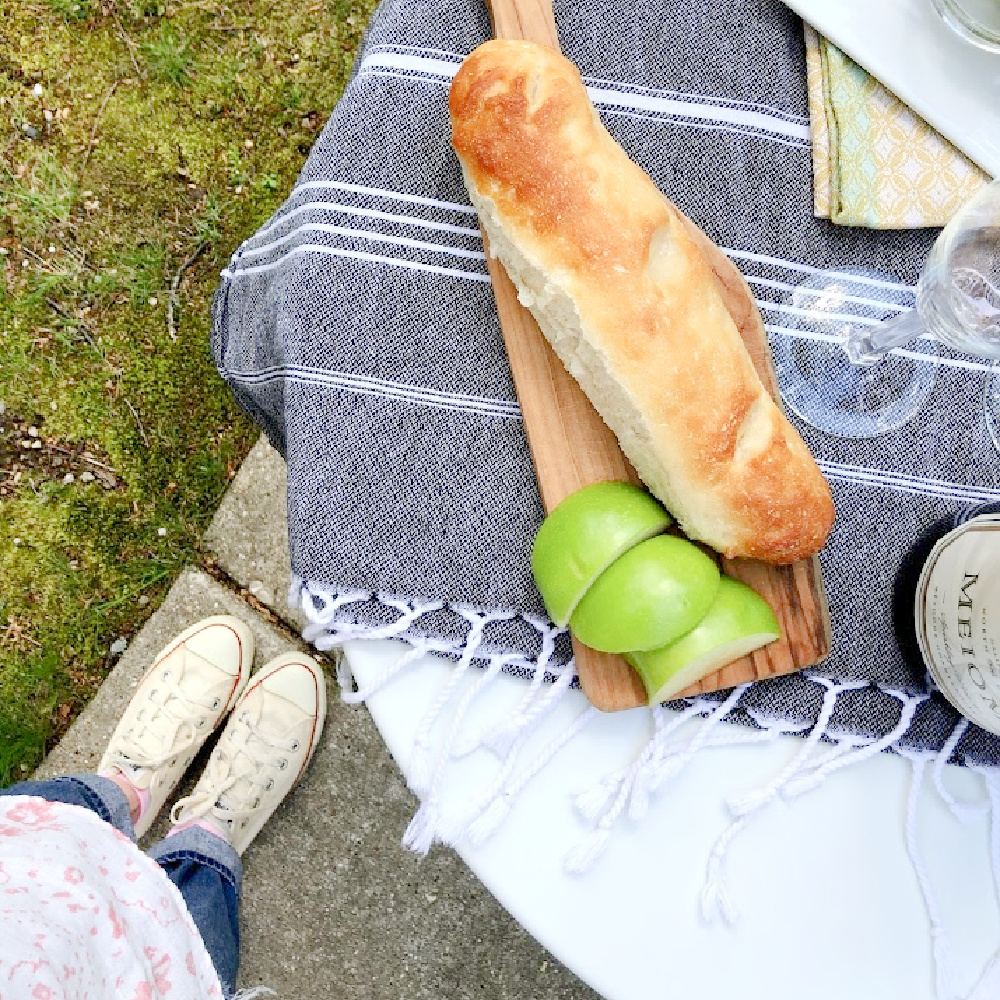 Outdoor Oasis That Won't Break the Bank
I loved choosing a few things at Wayfair to create a backdrop for casual relaxing, entertaining, and memories with people I enjoy. An outdoor oasis doesn't have to mean hours of labor, yards of new sod, a new deck, or spending thousands of dollars.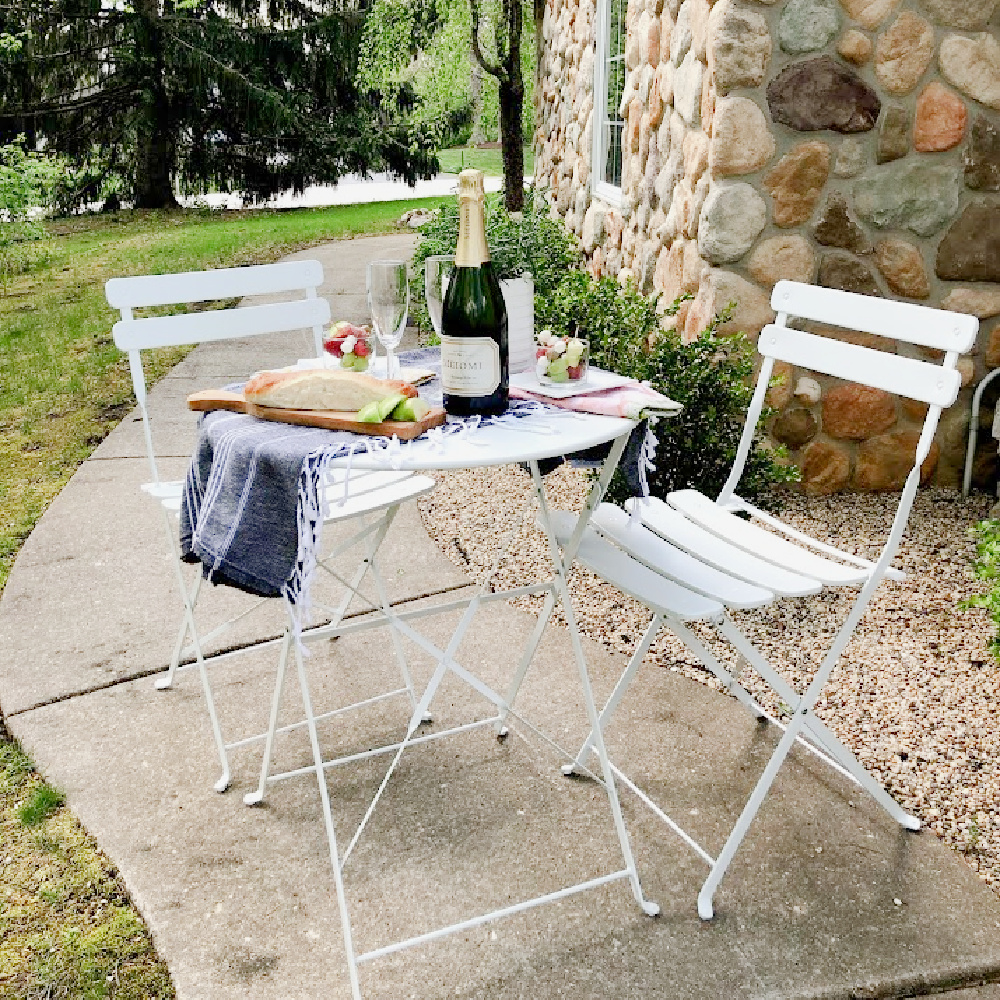 I'm always surprised by how even the smallest strokes and little updates can usher in joie de vivre.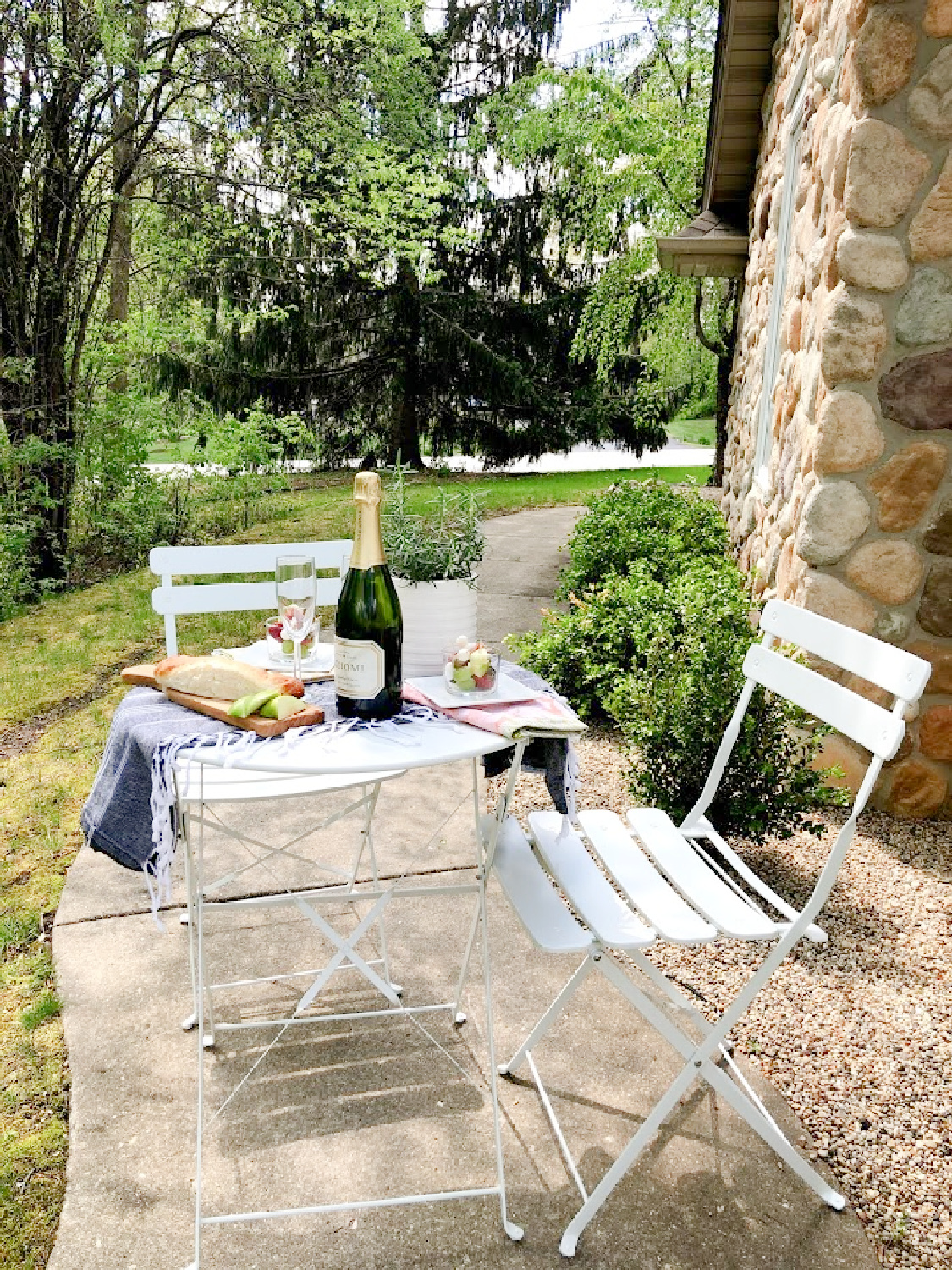 I independently selected products in this post—if you buy from one of my links, I may earn a commission.
Peace to you right where you are.
-michele
Shop for items you already intended to buy on Amazon RIGHT HERE, and also find home decor here to keep decor inspiration flowing on Hello Lovely!
Hello Lovely is a participant in the Amazon Services LLC Associates Program, an affiliate advertising program designed to provide a means for sites to earn fees by linking to Amazon.com and affiliated sites.