HOW HOW HOW is it even June? I'll require a couple of days for this development to sink in. Pea Gravel Courtyard, Quotes, Bistro Sets & Garden Deliciousness brings peaceful outdoor living ideas as we turn our attention to garden inspiration, patios, decks, and porches. My garden and courtyard is always a bit forlorn and spare this time of year. In Northern Illinois, we're just getting started with planting. I plan to spend as much time in our sweet little front entrance sanctuary as possible. (Last year, I happily added French cafe chair charm, and you'll soon see how another little trio joined the current one!)
The quotes and poetry excerpts mostly fall under an umbrella I might call 'self-care' but that you might call 'spiritual' or 'contemplative.' I wonder if there are seeds of hope, of discovery, of deeper soulfulness planted here?
Pea Gravel Courtyard, Quotes, Bistro Sets & Garden Finds
I am tired, but a good tired. Working on the yard and courtyard this week produced sore muscles, droopy eyes (allergy meds), and swollen bumpy arms inflamed with insect bites.
I weeded and raked leaves, but I'm nowhere near done, but I'm taking my own sweet time.
These images reflect different stages in the progress so there are obvious gaps and areas in need of TLC! I need to add: pillows, a potting bench or rustic table, and side tables or tree stumps.
Unfortunately, our towering burning bush (the only shrub we did not erase from the courtyard when we bought the place!) did not survive the heavy rains experienced in 2019.
What a job to dig up decades of deeply rooted growth and haul it away to make room for a young burning bush which is thriving.
In Other Seasons…
Let's have a look.
Vintage galvanized buckets bring a rustic and tumbledown look, and I like the contrast with the fancy mirror.
The little metal gate was supposed to simply be a placeholder since we intend to build a custom gate from wood…yet we still have not addressed it!
I independently selected products in this post—if you buy from one of my links, I may earn a commission.
Vintage Galvanized Metal Watering Cans
A few vintage watering cans on display will likely move to a shelf or bench. Find new galvanized watering cans here.
Vintage Bicycle With Basket as Planter
Inexpensive Hand Me Down Painted Wood Benches & Chairs
The furniture are yard sale finds painted in a 50/50 combination of greyed-down whites (Farrow & Ball Cornforth White and Hardwick White).
I like how the paint has weathered and the pieces have an aged look after a few years here.
Rustic Unfussy Rose Corner
No fancy rose garden growing here – I have yet to commit to gardening so it's just a few containers of kordanas for now and knockout roses on the other side of the wall.
Stoneware as Planters
My stoneware jars are from Target, and I didn't see them online so they may be available only in store. They are similar to Farmhouse Pottery pieces which are high quality, handmade, and investment pieces.
Target has some great inexpensive stoneware pieces, and their Smith & Hawken pieces are fabulous!
Galvanized Metal Buckets, Tubs & Containers
Old vintage metal buckets have risen in price but new ones are reasonable. I have several of this exact one (below) which I use for open storage on shelves and for entertaining.
Tall Planters on Porch
Garden Accent Gate
You can find these little inexpensive garden accent gates everywhere now.
They sometimes come with fancy arbors…
Pea Gravel Colors
Here is a close-up of the gravel in the courtyard.
DIY French Poem Stenciled Mirror
Here's the French stencil used to quickly create an etched look on an old beveled mirror. This attracts the birds, and contrary to what you may think, they don't crash into it.
An Inspiring French Garden
Let's welcome tranquility and tour a gorgeous formal garden that resembles my humble rustic patch of gravel NOT ONE BIT!
Potting Bench Idea
My eyes are peeled for a bench or table for the courtyard with a scale like this:
Ornate Metal Bistro Set Under $200
Budget Friendly Wood Patio or Courtyard Furniture
Bistro Set Around $100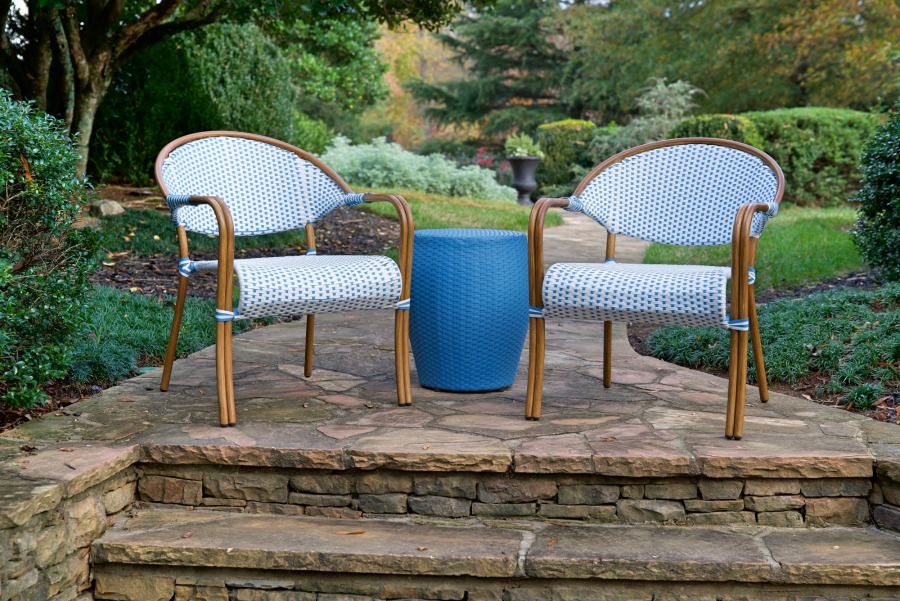 Black & White Bistro Dining Set
Black Outdoor Bistro Chairs
What did you think of the French garden tour (video above)? Go back to watch if you missed it, and find additional French inspired outdoor inspo HERE and HERE.
I independently selected products in this post—if you buy from one of my links, I may earn a commission.
Peace to you right where you are.
-michele
Shop for items you already intended to buy on Amazon RIGHT HERE (not just items in posts) or for home decor here keeps decor inspiration flowing on Hello Lovely!
Hello Lovely is a participant in the Amazon Services LLC Associates Program, an affiliate advertising program designed to provide a means for sites to earn fees by linking to Amazon.com and affiliated sites.