With the extreme temperatures and snowy forecasts many of us are shivering through, dreaming of balmier spring-like days spent in a French courtyard feels right! Before and After: Easy & Unfussy DIY French Country Courtyard will show you how a little work can lead to transformation.
Affiliate links follow and won't cost you a penny extra yet may earn this blog commission.
Before and After: Easy & Unfussy DIY French Country Courtyard!
My sweet private sanctuary (at the entrance to our home, sited on a woodsy hill in a country-ish neighborhood of larger homes) was once an eyesore which still somehow attracted me to the property back in 2015 as we shopped for just the right fixer upper.
The entrance looked anything but French inspired, timeless, or tranquil when we started.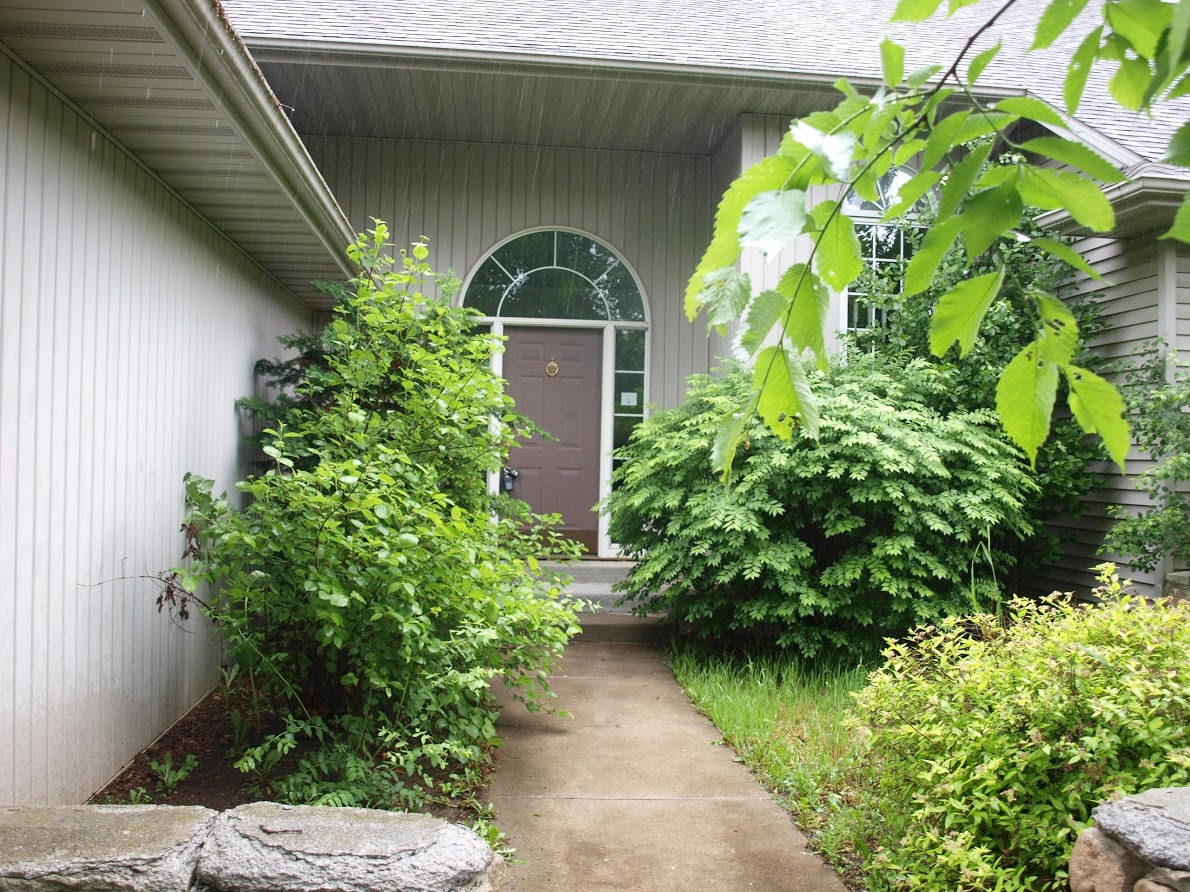 Wildly overgrown with shrubs, weeds, and grass, this courtyard shouted STAY AWAY! Yet we knew we could make it special.
This was truly one of the easiest transformations we have ever tackled. When you favor a light and airy landscape and have a limited budget, SUBTRACTION is your friend, friends.
So subtract is just what we did.
DIY French Country Courtyard…How We Did It!
The only original thing we left in place was the burning bush you see on the right near the front door.
Everything was weeded and cleared away before we laid landscape fabric and planted boxwood and lavender.
Then we arranged the outdoor wood furniture I snagged for a song from a friend's moving sale and painted out (custom mix of 50% FARROW & BALL Hardwick White and 50% Cornforth White (whites that are actually putty greys).
Thrifty Courtyard Ingredients
In came pea gravel and a few containers, and out went eroded stone wall tops. While I came up with an inexpensive temporary solution of $.94 cement 12″ x 12″ pavers to replace the top, these pavers have not yet been replaced with real stone.
Rustic Alder Front Door
The upgraded front door made a dramatic difference, and it is made of rustic knotty alder with a walnut finish, clavos, and speakeasy.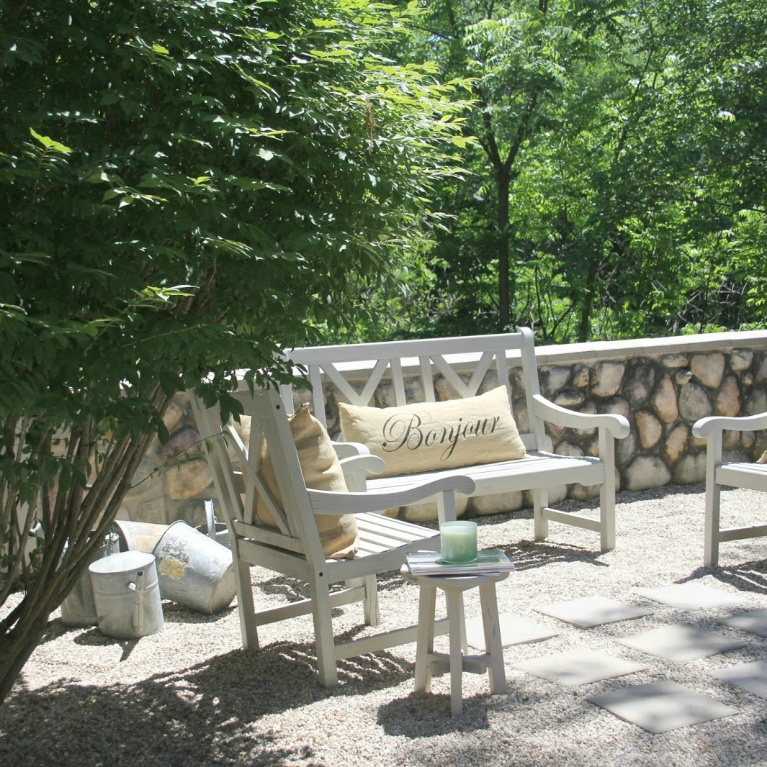 Sometimes, pretty rattan chairs are placed on the porch, sometimes it's Tolix-style industrial French chairs, and sometimes it's a vintage bamboo chair. With my weakness for chairs, there are plenty of options!
Tall planter boxes flank the front door, and these have turned out to be extremely longwearing and chic investments.
French Touches in the French Courtyard
An ornate French mirror on the exterior wall is slightly unexpected and enhances the courtyard by helping it feel more like an outdoor room.
This mirror has been brought into service in at least five other places over the years in several of our homes. (You can also plainly see I rotate furniture outside just like inside!)
The small lumbar pillow is RH, and the large one is discontinued, Grandin Road.
PIN THIS POST to save for future reference!
More Finishing Touches in the Garden Courtyard
We later added a little black iron gate to the entrance of the courtyard. It was an inexpensive, on-the-shelf gate we found as a temporary solution (we're both dreaming of a less mediocre, rustic cottage-y reclaimed wood arched gate) until we build something special.
Turns out lavender didn't like the soil here, so in came containers with herbs and a mix of blue blooms.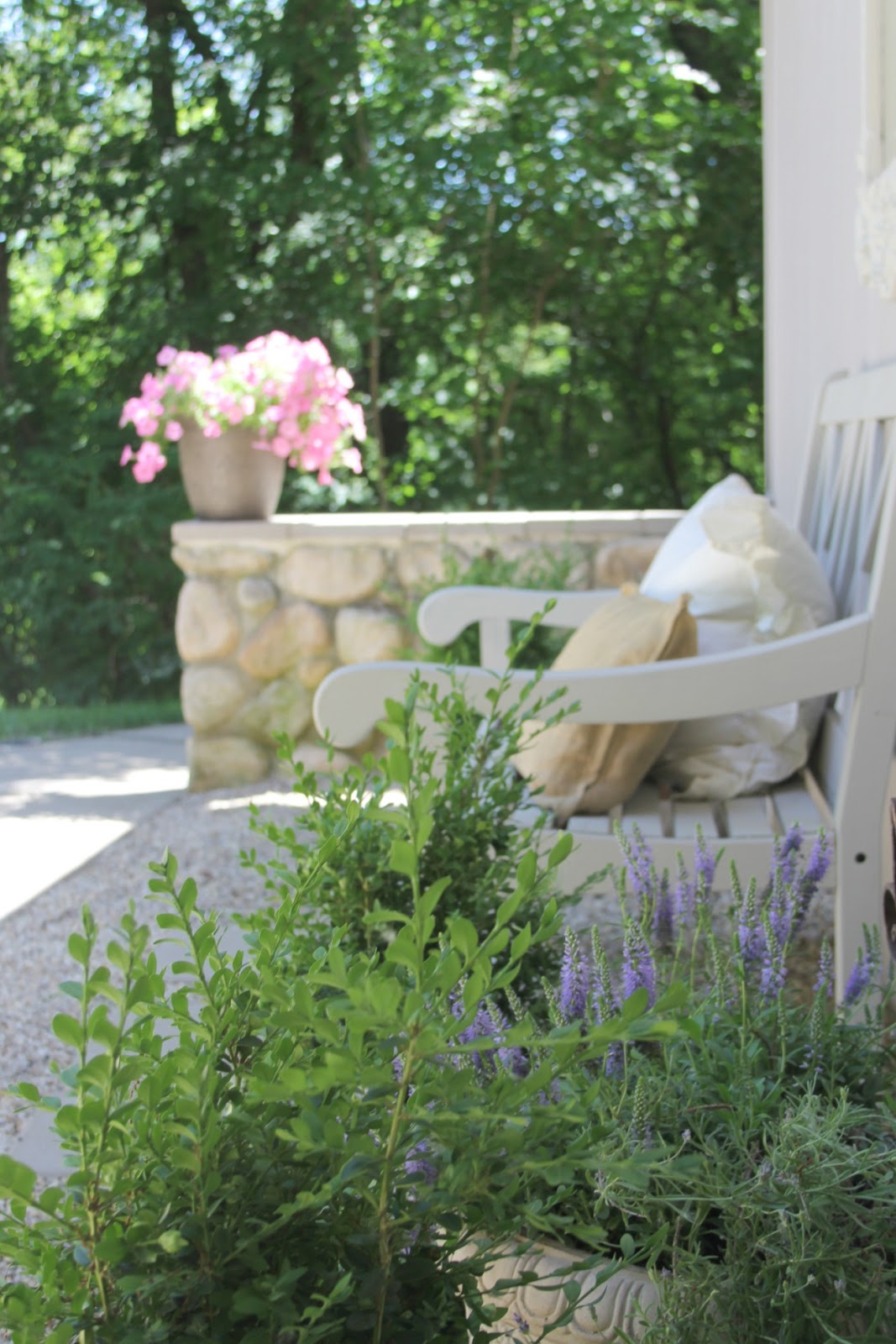 See the Project in Progress
Below, is a look at how things looked as we cleared the weeds and imagined a more functional use of the space. The trees in front of the courtyard buffer us from the quiet street below. Rustic stone steps up the hill create a charming path to our front door.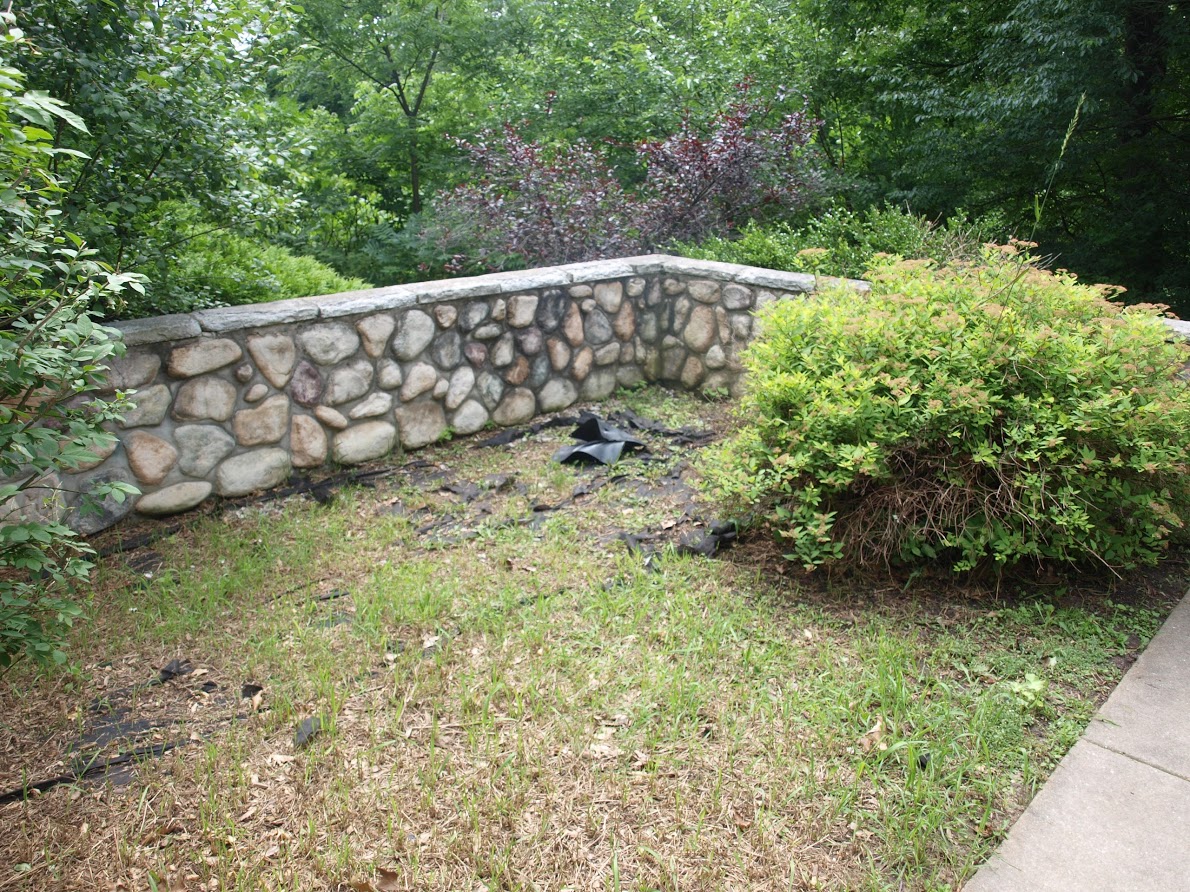 Here is how it looks without containers…very spare and peaceful.
French-y Imperfection & Unfussy Ease, Please
I have a collection of old galvanized watering cans and buckets I use and often leave in a heap like this.
Little chipmunks and birds find uses for them and shelter this way.
The teak 3-legged stools are a favorite, and I bring them inside after the fall for use inside.
How I Use This Courtyard
The French courtyard gets southern exposure so it's the perfect spot to soak up rays, commune with wildlife, and collect your thoughts.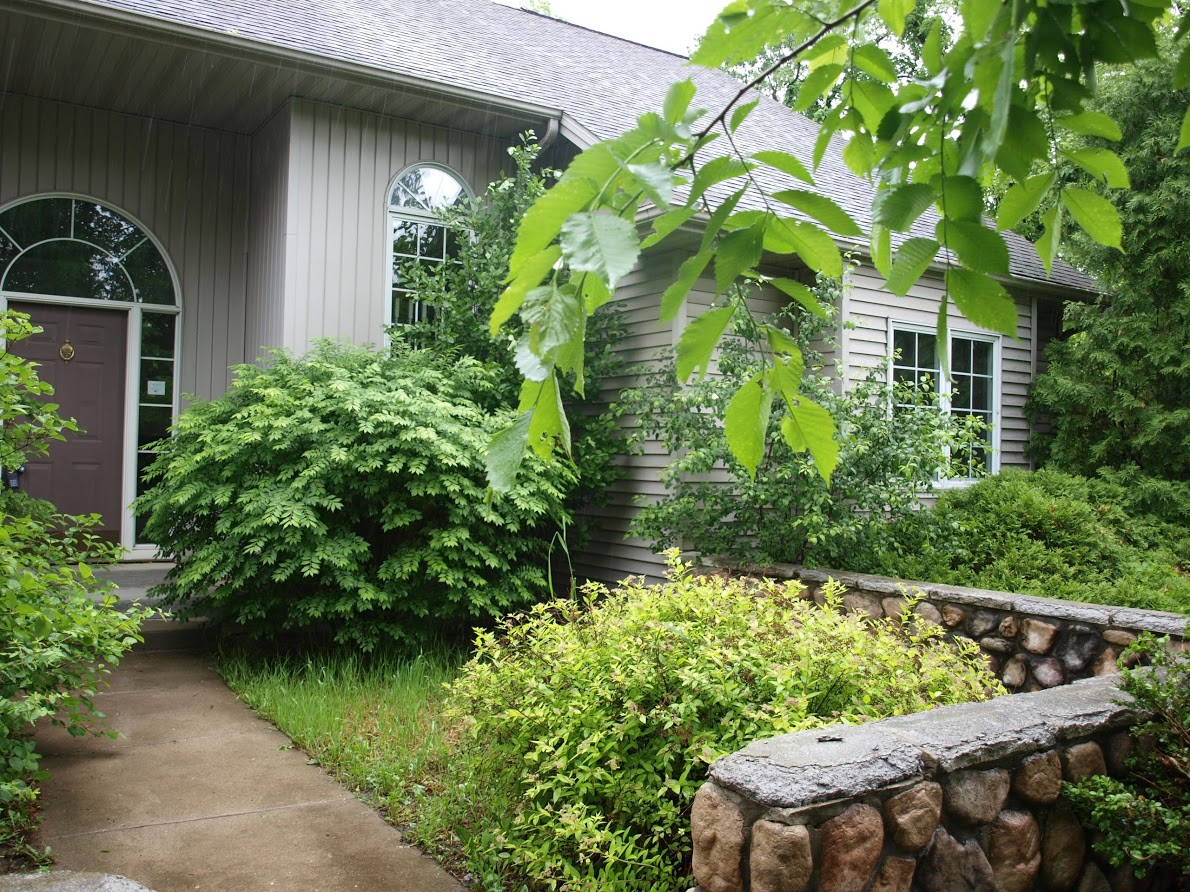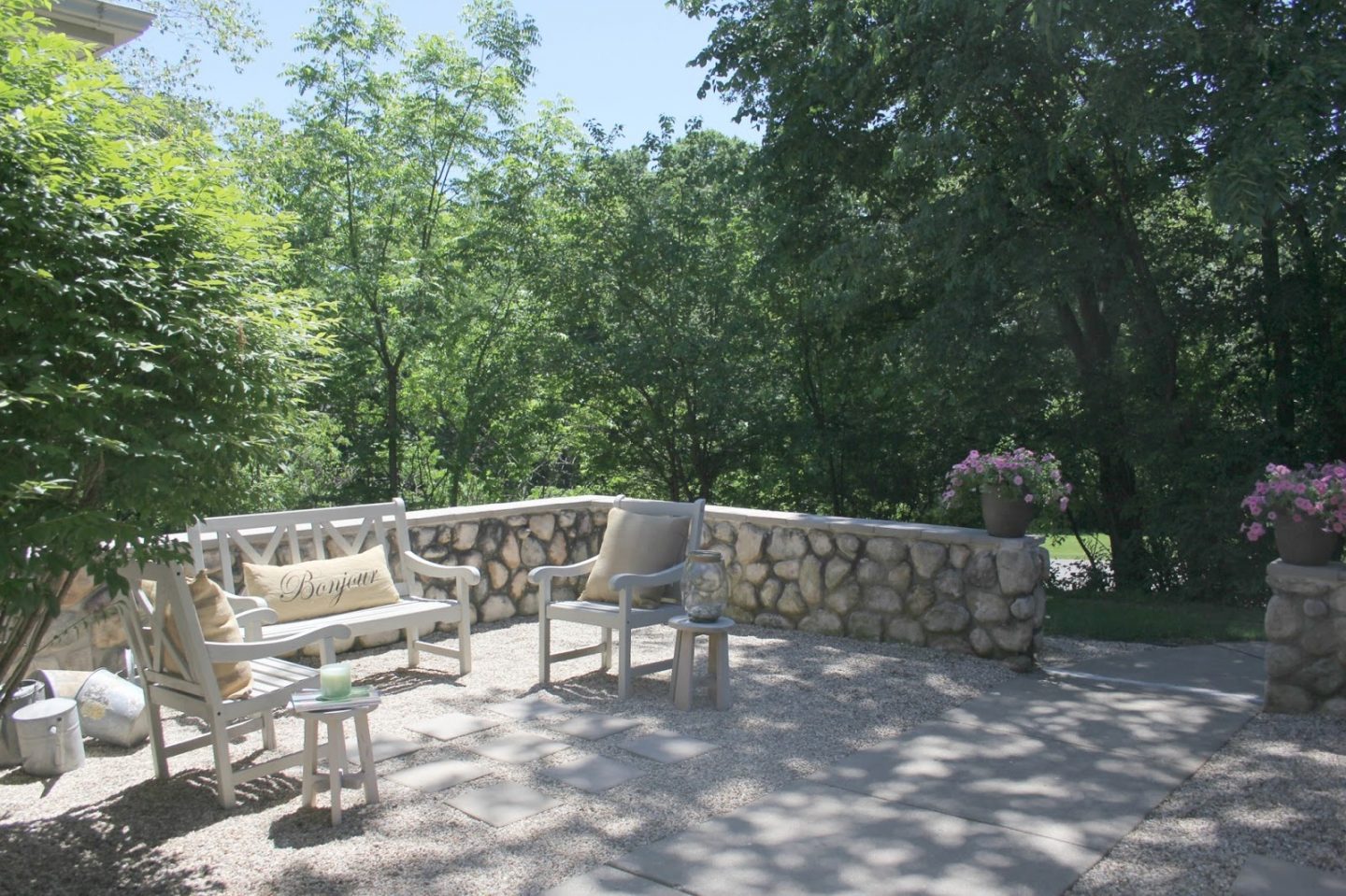 The burning bush you see above and below was lost after a long rainy season (this specimen is vulnerable to excessive moisture) so it has been replaced by a baby burning bush that turns that lovely crimson!
Stenciled French Mirror in Garden
The mirror (above) with the etched look is actually just a salvaged vanity mirror leftover from a bathroom demo here which I stenciled with this: French script stencil (a poem about spring).
The beauty of this particular stencil and project is that the stencil is huge so it takes no time at all to roll a little paint over it and wind up with a big impact.
The birds love to admire their beauty in the mirror, and we quietly gaze at them mirror-gazing from inside!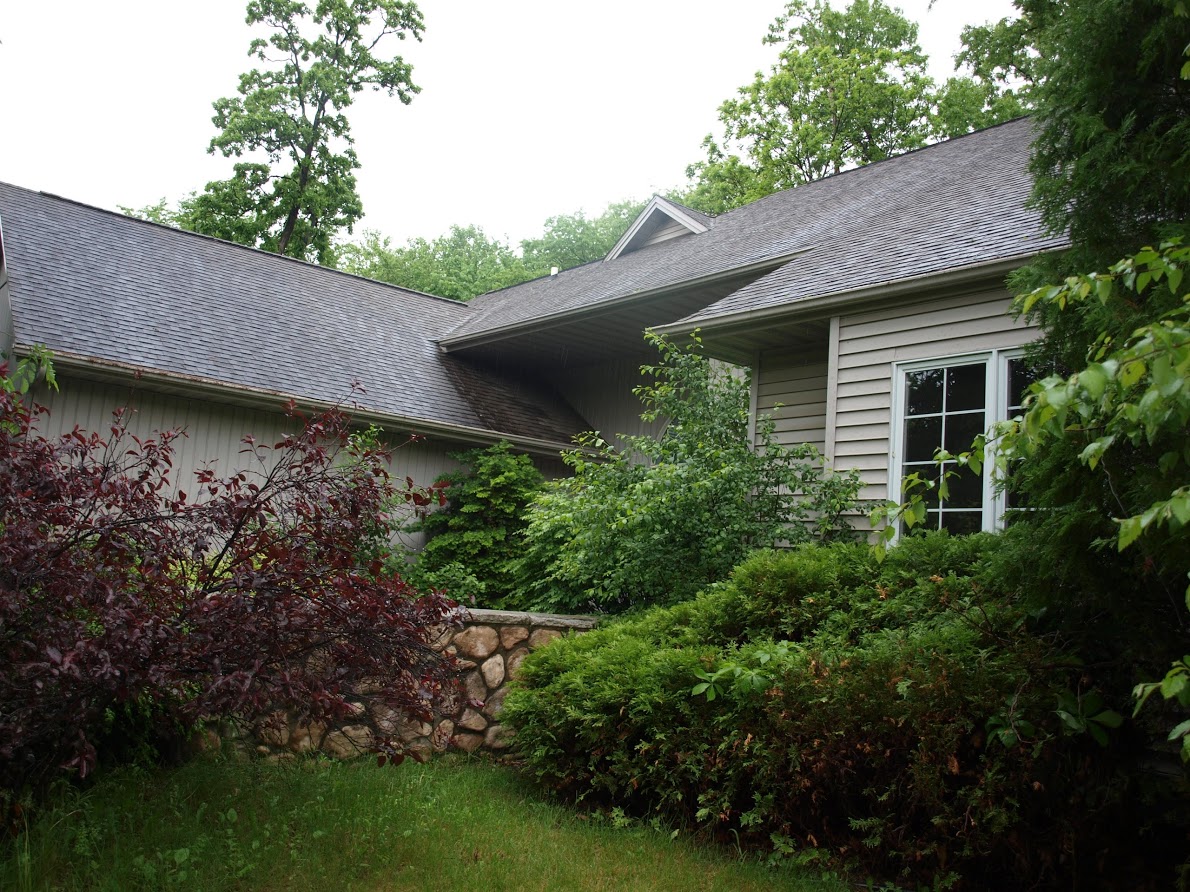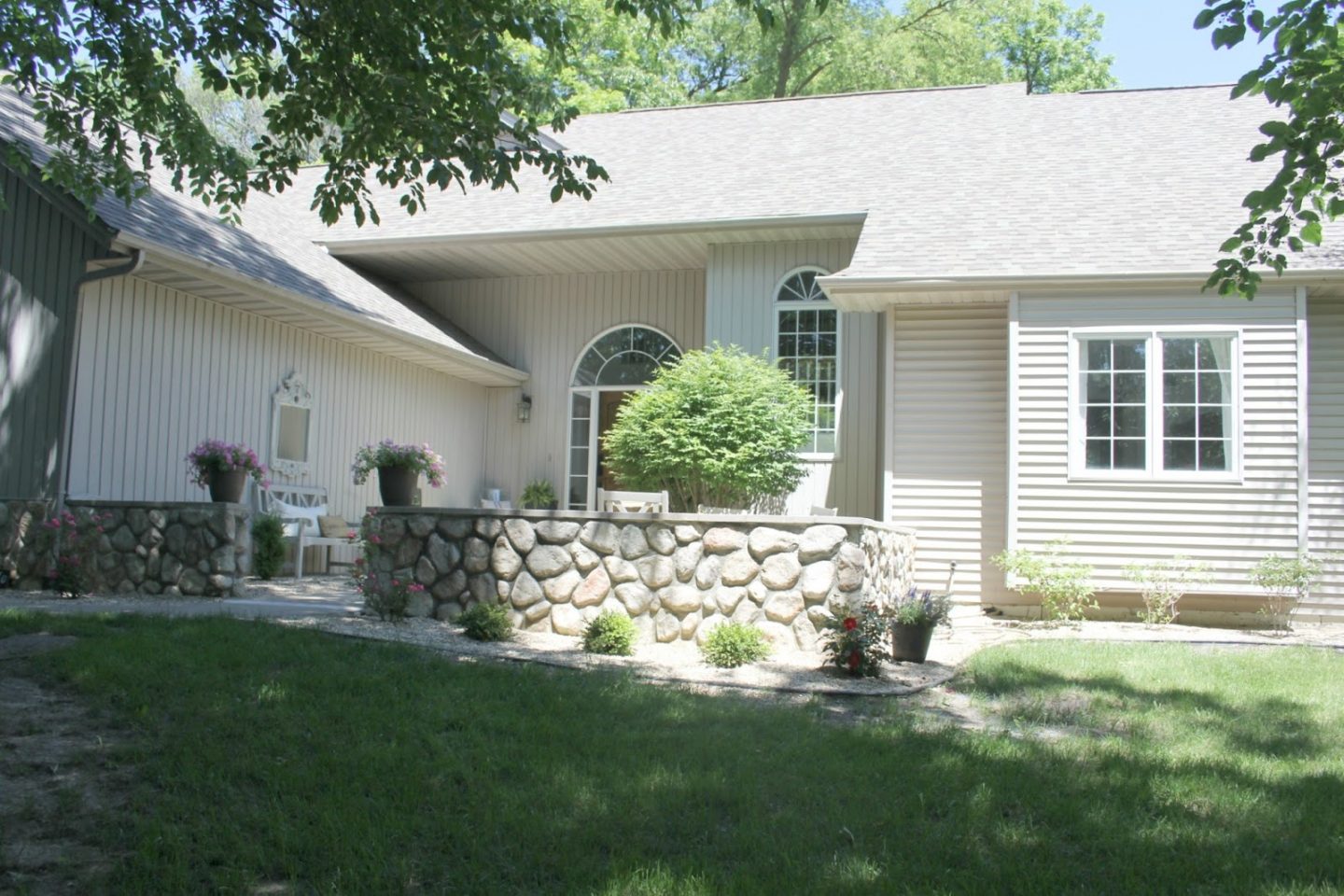 Pretty in Every Season
See THIS POST for info on my bistro set.
See THIS STORY for more info about this inexpensive firepit.
Rotation of Chairs on the Porch
Here's one of my rattan chairs, and I love their grey tone which harmonizes with the quiet tones I favor.
They sometimes live on the back patio we rarely use since it is mostly shady on the North side of our home.
One of the most gratifying things about having a French courtyard is how one can incorporate a collection of treasures: grainsack pillows, vintage galvanized cans, old mirrors, painted furniture, chairs, and quiet color.
Spacious Yet Low-Maintenance Outdoor Room
As you have seen, there are two seating areas and even space for a harvest table in the center.
It's truly a blessing to have this much space for an outdoor room!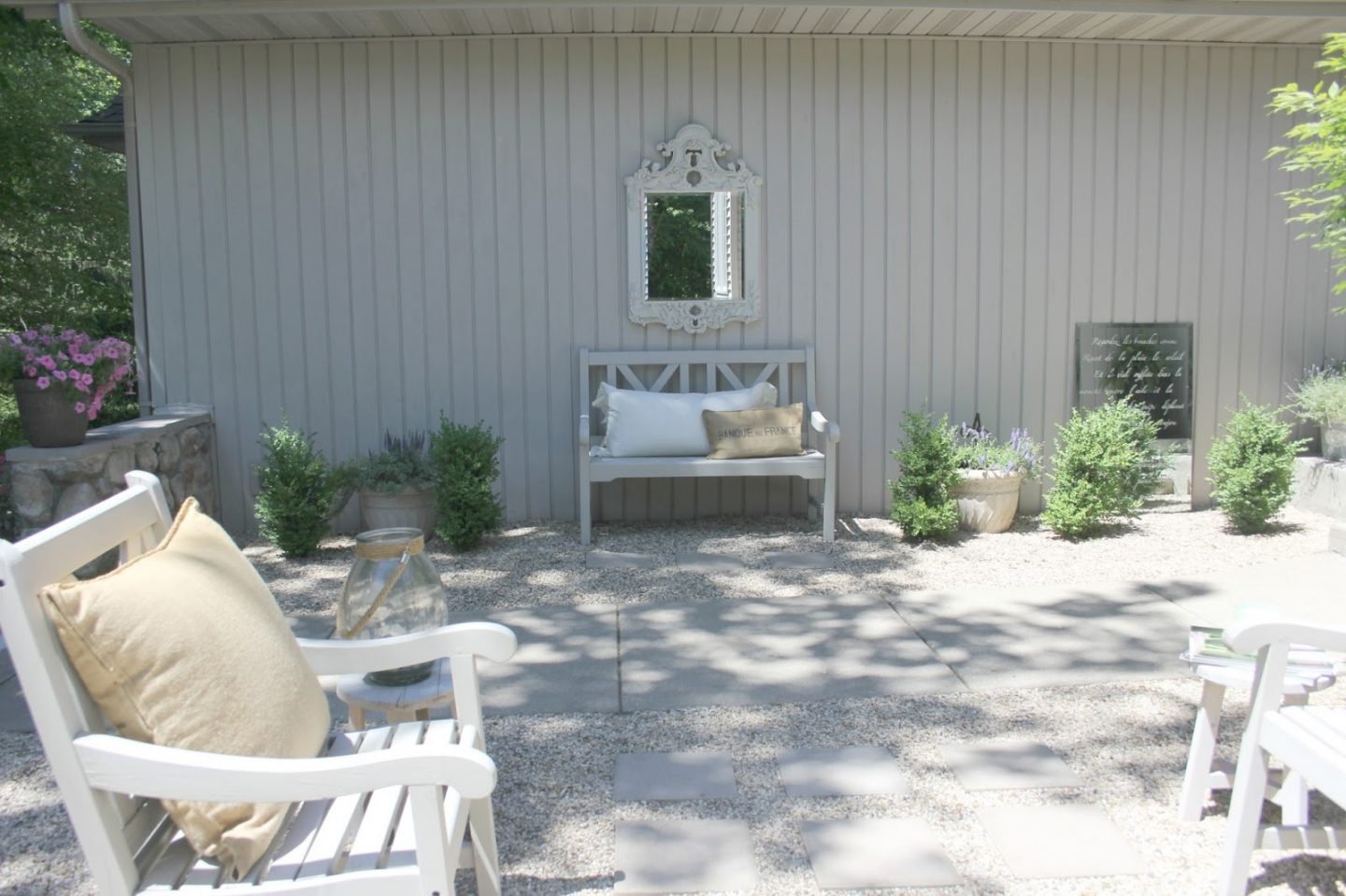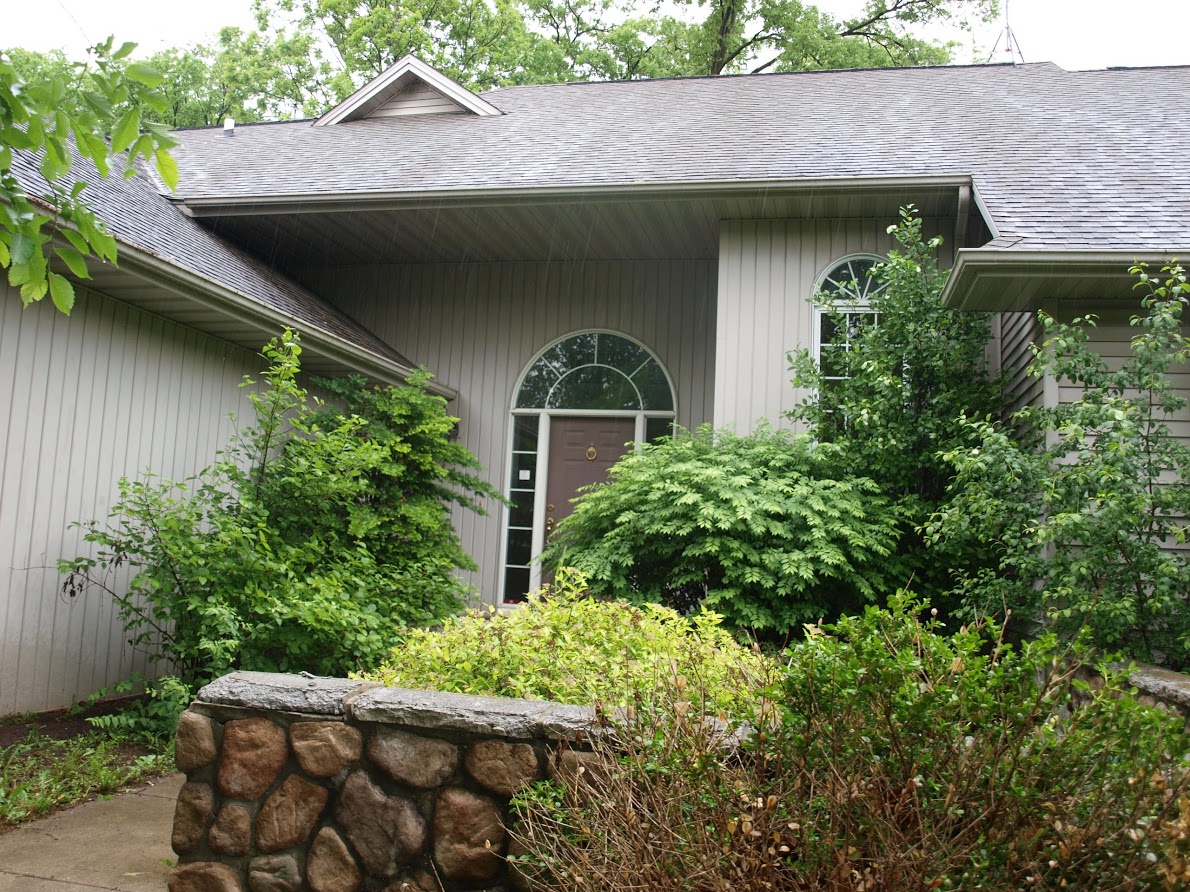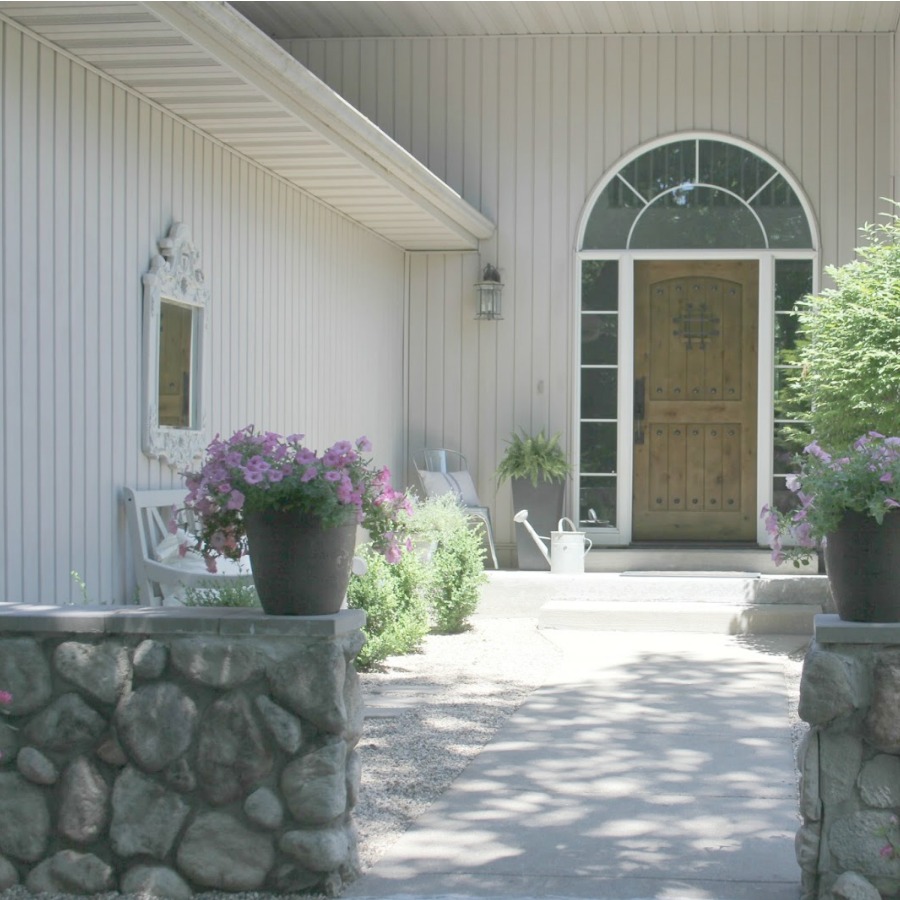 More French Courtyard Glimpses
Here's a small pillow cover with a whimsical feel.
French Courtyard Shopping Finds
I have a vintage French wire basket like this INSIDE our home, and I think it would be right at home outdoors to store any number of things!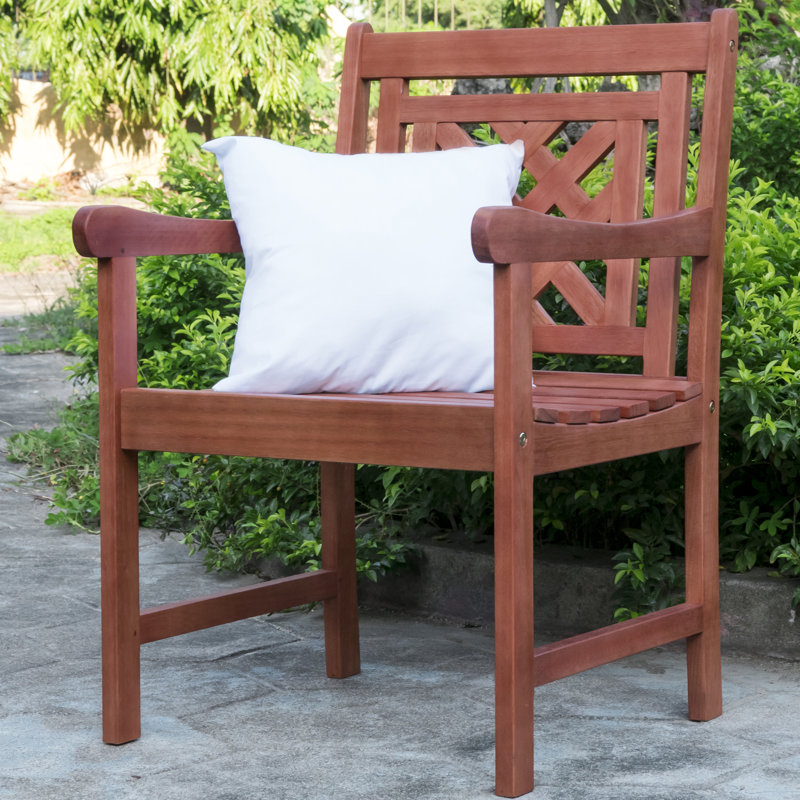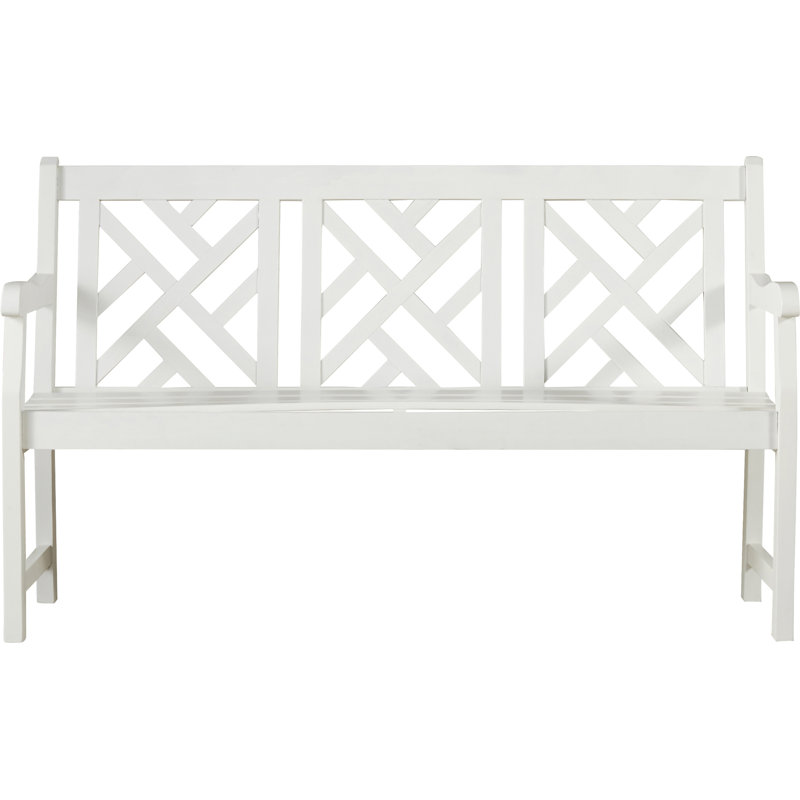 Here's a closer look at the weave…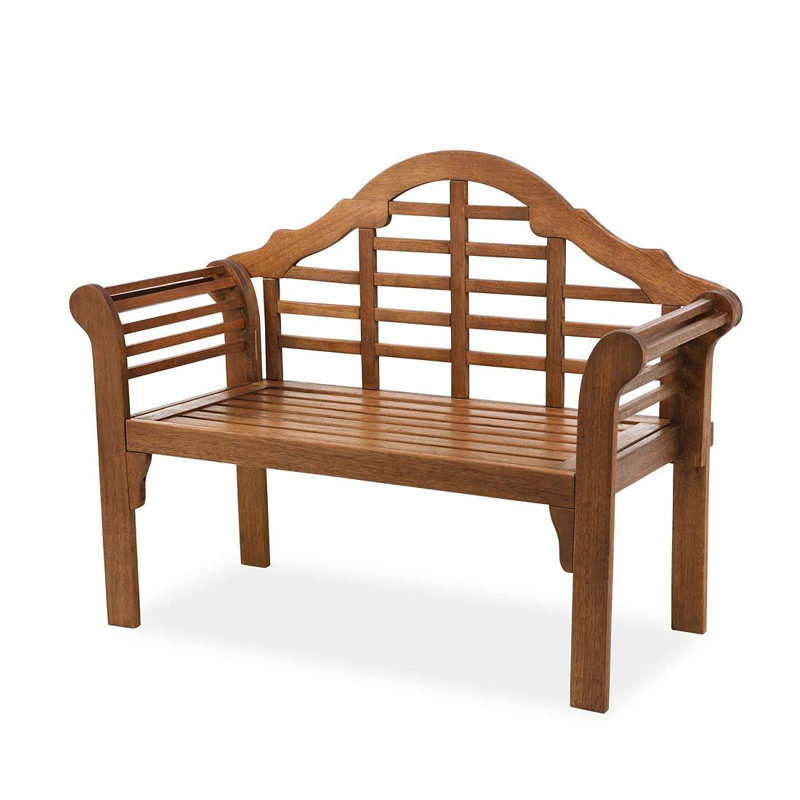 Are you dreaming of springtime and a place for peaceful time in a courtyard or park with the bees and butterflies?
Should this winter prove unkind and you long for a boost, think of this site as a sort of virtual French courtyard sanctuary…find me here and feel free to reach out.
I independently selected products in this post—if you buy from one of my links, I may earn a commission.
Peace to you right where you are.
-michele
Shop for items you already intended to buy on Amazon RIGHT HERE, and also find home decor here to keep decor inspiration flowing on Hello Lovely!
Hello Lovely is a participant in the Amazon Services LLC Associates Program, an affiliate advertising program designed to provide a means for sites to earn fees by linking to Amazon.com and affiliated sites.