If you are a fan of FRENCH FARMHOUSE DECOR INSPIRATION IDEAS, you'll admire these photos of rustic elegance and soothing glimpses of European country bliss. Whether it's incorporating antiques for Old World style or using pale colors consistent with timeless farmhouse romance, there's something beyond lovely about decorating with a French accent.
66 French Farmhouse Decor Inspiration Ideas
Classic Bicycle With Basket
So suggestive of the French countryside, visiting a market, and relaxing warm weather days, I wonder how a vintage or vintage-look bicycle with a basket near your front door might add beauty to your own surroundings?
In our prior home, I placed a rusty rickety old bicycle with wire basket in the corner of our courtyard, and decorated it seasonally. It didn't even come with tires, and I didn't bother adding any! Ha!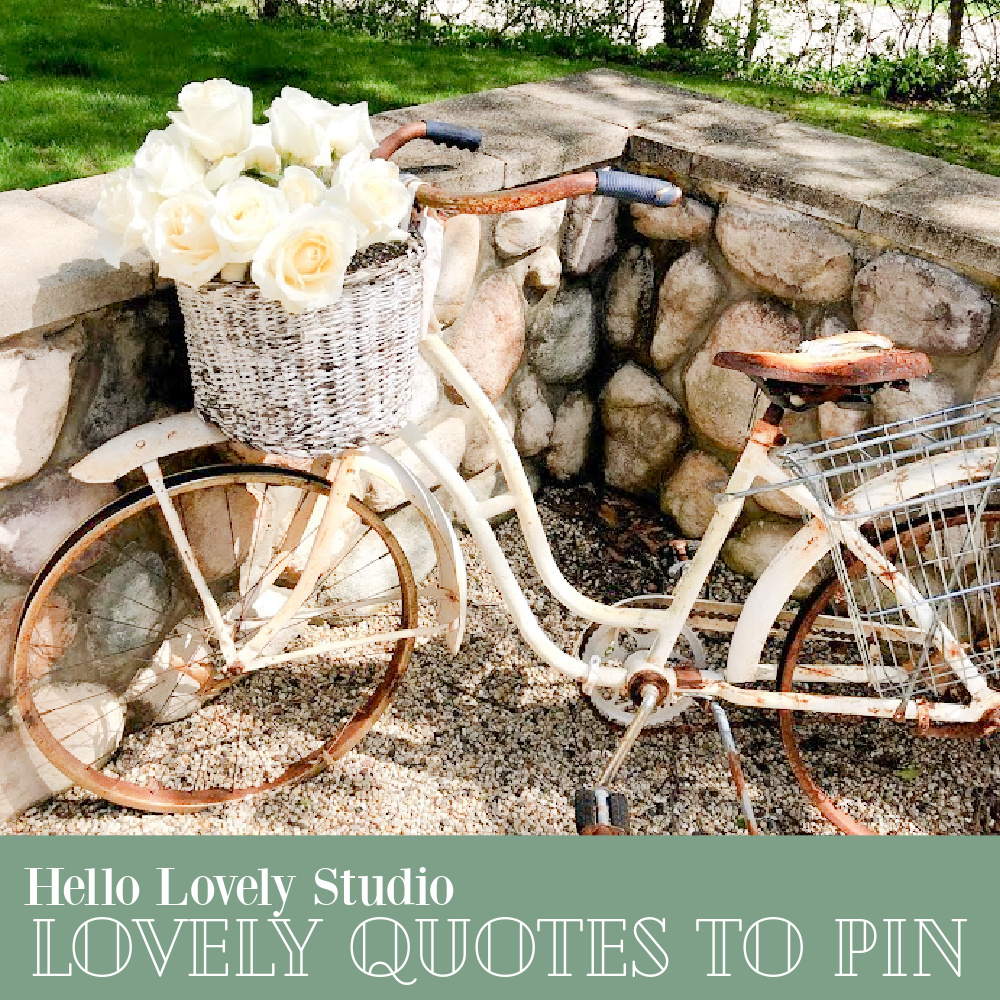 French Market Baskets
Vivi et Margot has the prettiest ones, and I love how owner Charlotte has them handily near the back door in her own French farmhouse near Bordeaux:
Terracotta tile floors are another inspiring design element for Country French style, and the ones above are antique reclaimed tiles that are 150 years old.
Country French Rustic Exteriors
Is there anything as charming as those gorgeous wood shutters you see on country houses in France? Wondering about the French green that is so popular there?
I asked Charlotte (this is her home below) about the exact color, and she revealed it is Tollens Green. Find more info about green paint colors HERE.
Pale Color Palette
French Farmhouse Bedroom in Historic Country House Near Bordeaux
I love the sun-faded, timeworn, soft, and ethereal pale colors we often see in homes inspired by the French countryside.
They are gentle on the eye and always understated.
Antique French Pots & Urns
They can get pricey and harder to find these days. You could start small by stalking Etsy or eBay for authentic examples. You can also try your hand at aging a pot to capture the spirit of the look.
If you're fortunate enough to live near Houston, check Chateau Domingue for the best!
Light Colored Stone
While we may not have the budget to collect reclaimed antique stone from Europe, it is still possible to train the eye and be on the lookout for similar tones.
Notice the low contrast of stone, linen, light woods, and even aged metals.
Collected Antiques
Elegant New Build With Reclaimed Materials & European Antiques
In this home, a less is more approach resonates with the owner. For me, a lighter hand results in a fresher modern take on French farmhouse style which I love.
Don't you love the idea of real candles burning in these lanterns?
Why just display your collected treasures when you can actually use and enjoy them everyday?
Add Romance to the Everyday
This sink moment in Ruth Gay's home reminds me of how thoughtful curating and mixing leads to creating a romantic atmosphere that can feel transportive.
Ancient Stone, Weathered Surfaces, and Patina Perfect Doors
Let's face it. Old things evoke a sort of mystique and romance. They have stories to tell, and they show signs of life lived with them.
Varied Textures Add Character
Whether it is texture from sculptural plaster walls, aged wood, or well-used door hardware, it all adds such warmth and interest when the color story is subdued and light.
I mean imagine if the backdrop for all these exquisite antiques was a flat painted new drywalled wall.
Where does that leave the majority of us with flat-painted drywall?
Rather than take a second mortgage to pay for stone-clad walls, maybe think creatively about achieving a similar mood.
I am thinking on such things this very moment as we re-imagine our 1990s kitchen and seek to add modern French romance to it.
While we won't be adding stone walls or even a stone sink, we are incorporating a farm sink and an unfussy linen skirt below it as you see in Ruth's kitchen.
Old World & Sophisticated European Country Style
And my entry and staircase won't be nearly as sophisticated, authentic, or stunning as this:
yet I will put my own spin on French-inspired charm to bring drama and character.
Religious Art & Antiques
These pieces tend to add another layer of soul and age to a French infused interior.
And don't you love the elegance a gilded frame adds on a rugged wall?
Linen Upholstery & Ruffles
If you live with linen upholstery as I do, then you already know. It is a very understated, unfussy, easy way to go!
It is so durable and even looks good as it wears. Truly. Our Belgian linen covered counter stools have taken so much abuse over the years, there are holes that need to be mended! And yes, I'm going to patch them rather than re-upholster because I love that worn look! It's the whole look I'm always going for: loved, cherished, and showing its age!
Collected Treasures from Provence, Tuscany, and Belgium
Old Metal Lanterns
They just look good everywhere, don't they? On a porch, over an island, near a bedside. You can't go wrong.
Here's one you won't soon forget:
Right?
Candlelight
It hardly gets simpler than lots of glimmering gentle flames.
Just imagine how your home office environment might be elevated if there was a wall sconce with a candle to light during the day as a gesture of self-kindness. (Why do we insist on torturing our better selves with fluorescent lighting and styrofoam dropped ceiling panels and then wonder why the work day feels stressful?)
Rustic Elegant Furnishings in a French Home
Comfy Cozy Chairs
Sometimes it just isn't about the stiff sofa and obligatory settee…
Feminine skirted comfy chairs inspire all sorts of more intimate conversation.
Baskets for Organization and Daily Use
I love baskets, but I don't like them purely for show. Put those babies to work!
Farmhouse French Treasures With Timeless Appeal
Investing in Forever Pieces
It is an old fashioned notion for sure to "buy once."
But it's so much better for the environment.
Do you suppose Americans will begin to see the value of buying better and keeping these treasures in the family with their layers of memories, marks, and soul?
Maybe it's just taking us a lot longer to understand what the French already know.
What families in older countries understand about history and tradition.
Collections Displayed Artfully
One of the qualities you can't miss in so many of these images is how the beauty of collected objects increases when they are grouped together.
Even a purposeful, inexpensive collection of scrub brushes or brooms on display can read "artful."
Ideally, all of the objects in our homes should feel like a unique collection of things we love to use and see. I am certainly not there yet!
So much decluttering and downsizing to do!
What a comfort to know that I can go at a pace that is right for me, and you can proceed at what's right for you.
This post contains affiliate links which I hope you will use since they won't cost you a penny extra yet may earn this blog a small commission.
Timeless French Country Decor & Furniture Looks
Find a few ideas from my own spin on modern French and French farmhouse looks for home:
A few more bedroom ideas: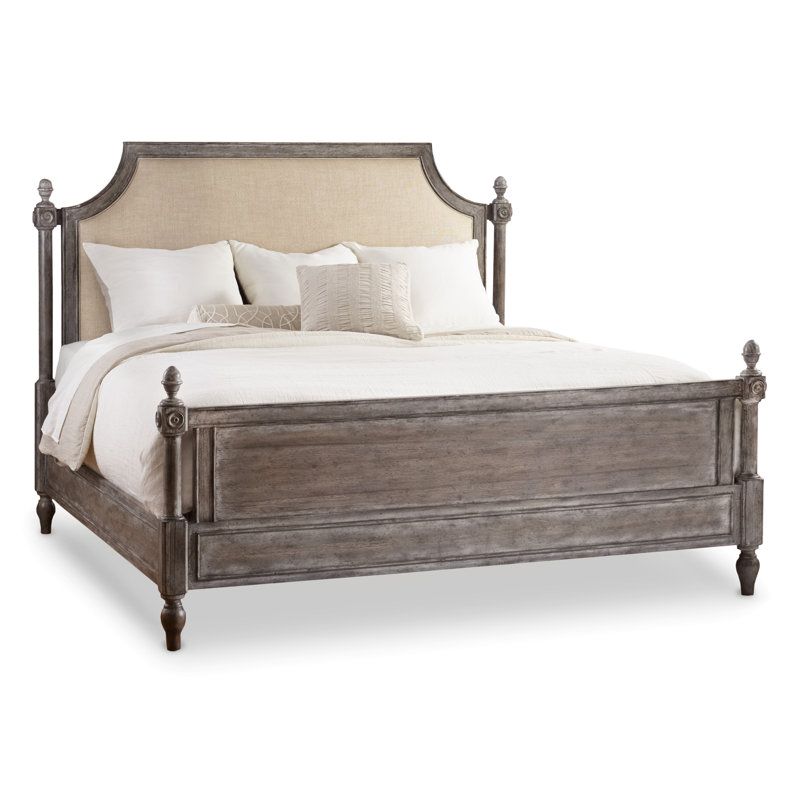 French Inspired Timeless Chandelier Ideas
French Farmhouse Accessories
French Farmhouse Charm Outside of France
Can you truly capture the romance and look outside of France? Oui. For example, here is one of my favorite designers (Desiree of Beljar Home) giving a casual tour of her beautiful home!
There were a few too many to include so visit Part 2 for equally important French Country goodness.
I independently selected products in this post—if you buy from one of my links, I may earn a commission.
Peace to you right where you are.
-michele
Shop for items you already intended to buy on Amazon RIGHT HERE, and also find home decor here to keep decor inspiration flowing on Hello Lovely!
Hello Lovely is a participant in the Amazon Services LLC Associates Program, an affiliate advertising program designed to provide a means for sites to earn fees by linking to Amazon.com and affiliated sites.