After we installed a gorgeous grisaille mural wallpaper from Photowall in a spare bedroom I used as an office HERE, I knew I wanted MORE! And here's the thing. There are no rules about these things beyond pleasing yourself. So don't feel bullied or policed by opinions from "more seasoned" decorators who might insist just one mural per household. There was plenty of space in our home for another expanse of glorious trees from Photowall's collection of highly customizable wallcoverings. This time we turned our attention to a big beige box of a bonus room. Wallpaper Mural Before & After in our Bonus Room: How to Get the Look shows you what pretty drama is possible with two hours of work, quality product, and a little paste.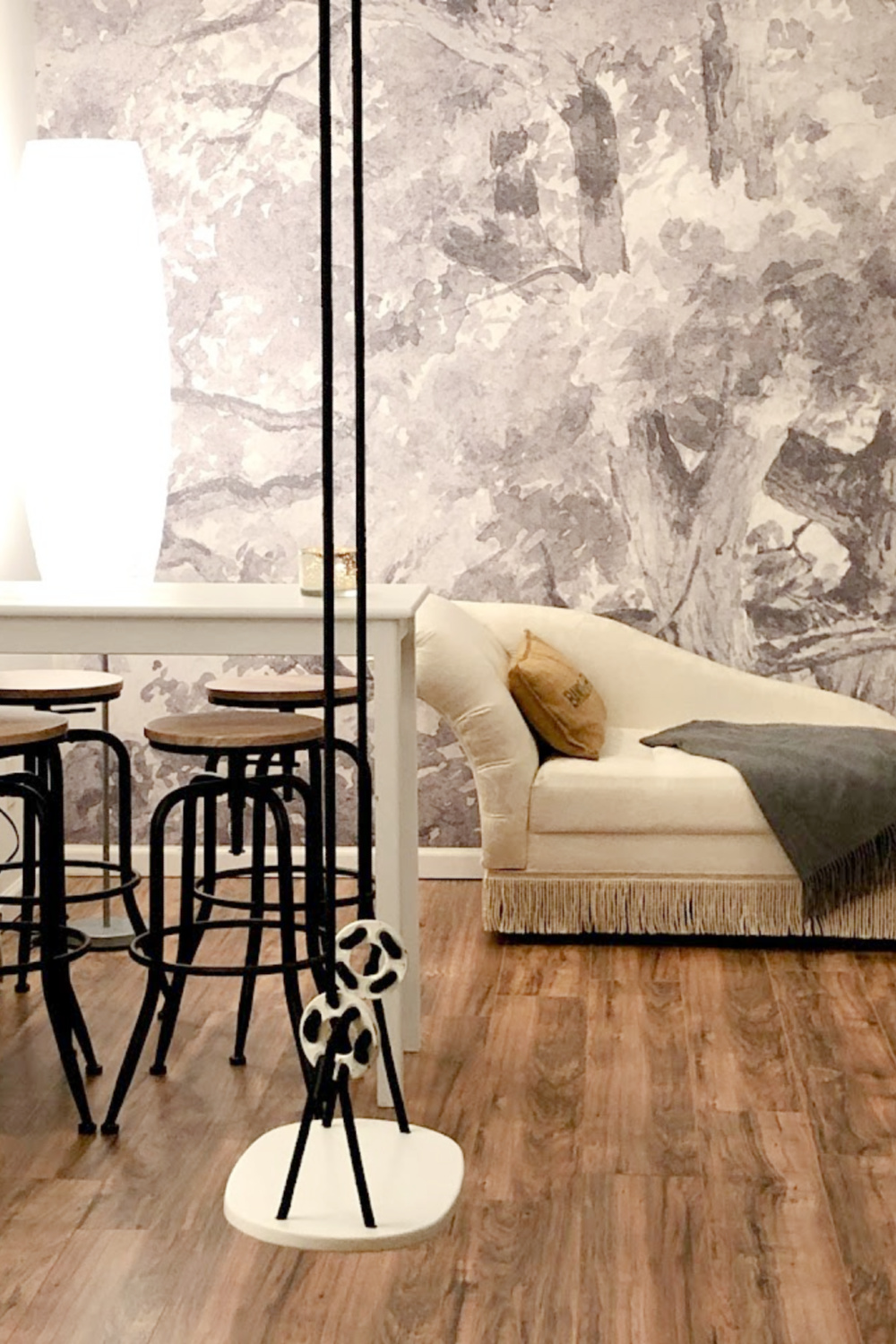 I independently selected products provided by Photowall for this post—all opinions are my own, and if you buy from one of my links, I may earn a commission with no extra cost to you.
Wallpaper Mural in a Boring Den: How to Get the Look
A bonus room in our finished basement lacked interest and architecture. This gorgeous, sophisticated custom wallpaper mural from Photowall elevated the whole look!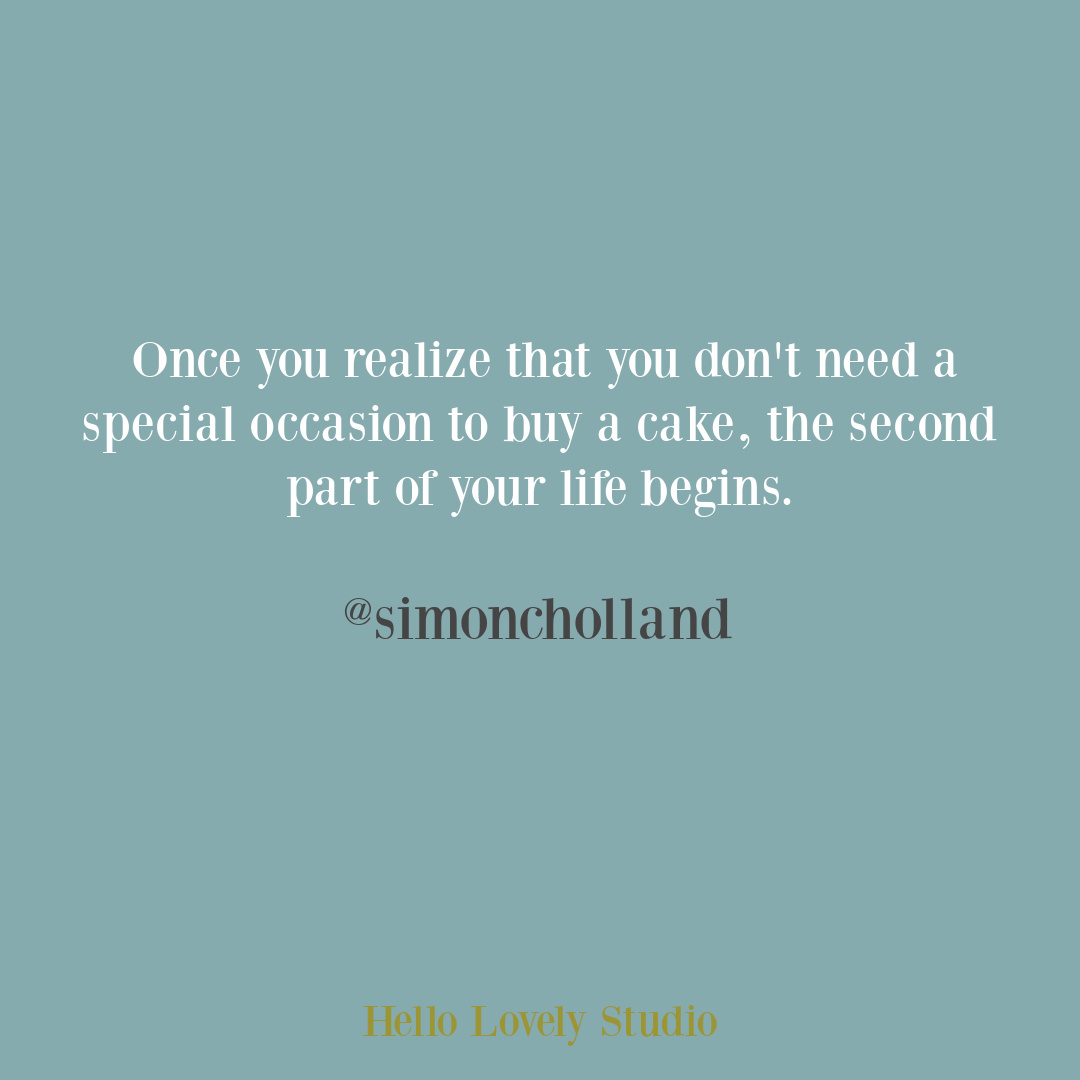 How to Add Interest to a Boring Space
Just how boring was the finished basement when we inherited it? They didn't even snap a photo for the real estate listing, but it was a little uglier than the media room adjacent to it: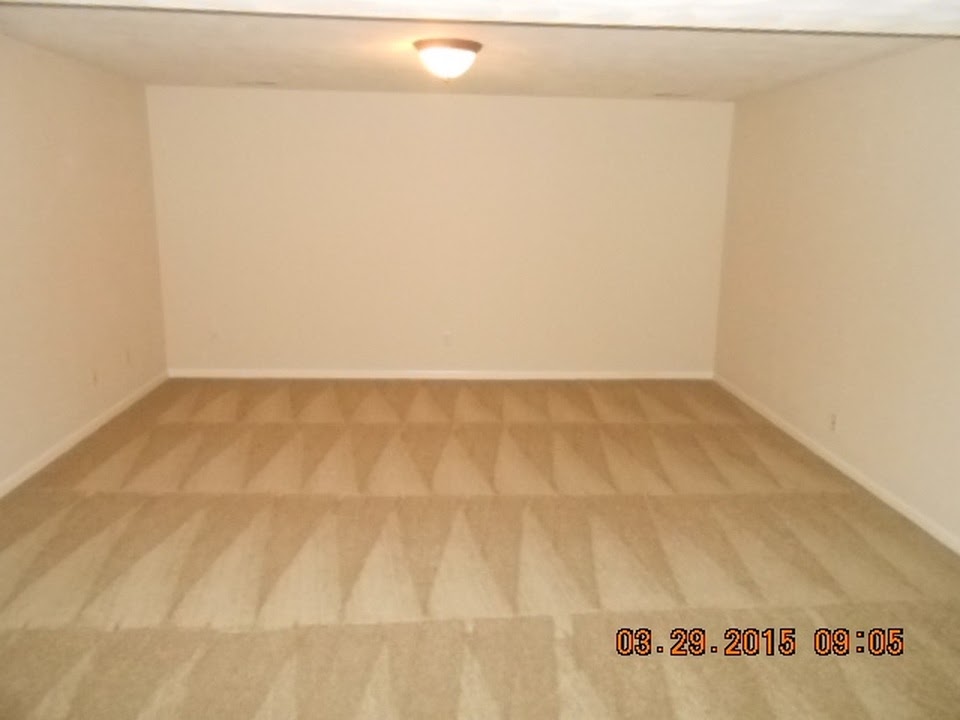 Just a big beige box with a little window. Our adult sons took turns using the space as a bedroom before they launched…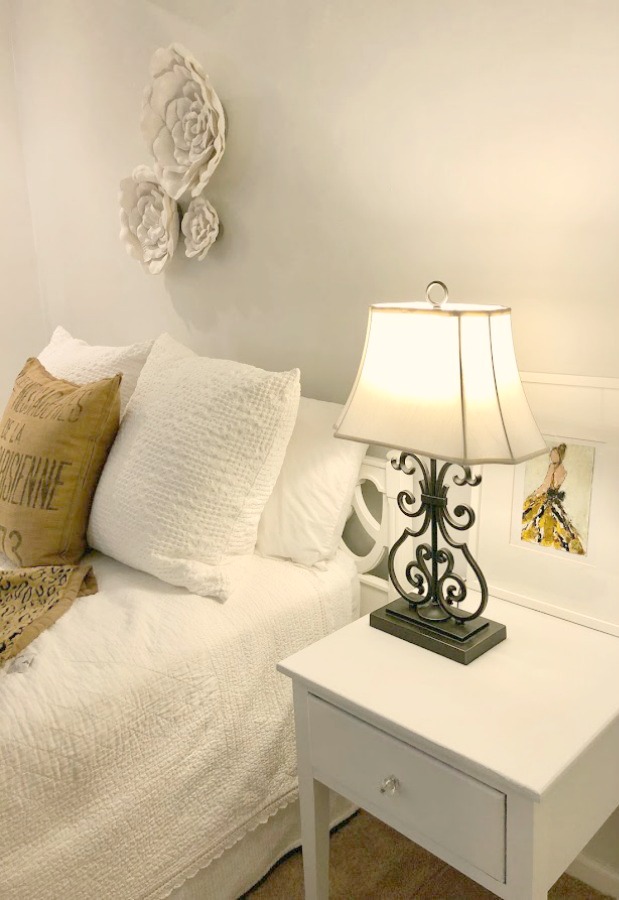 So it could only get better!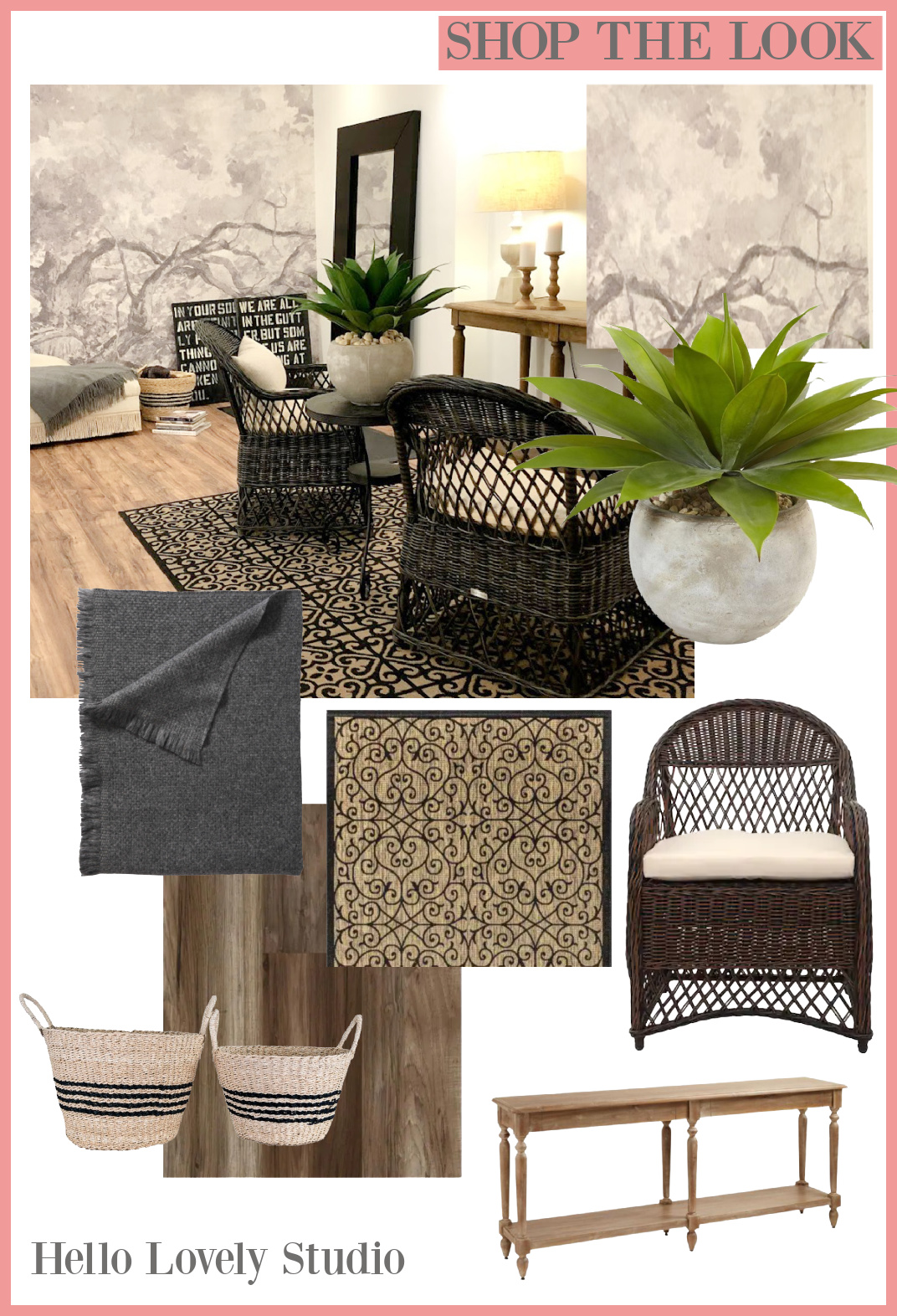 But I wanted to give it a new identity as a BONUS ROOM with BONUS beauty from this gorgeous tree mural. We ripped out the carpet for new no-fuss flooring (I'll share it another post) and added zones for yoga, TV, crafts, and work/study.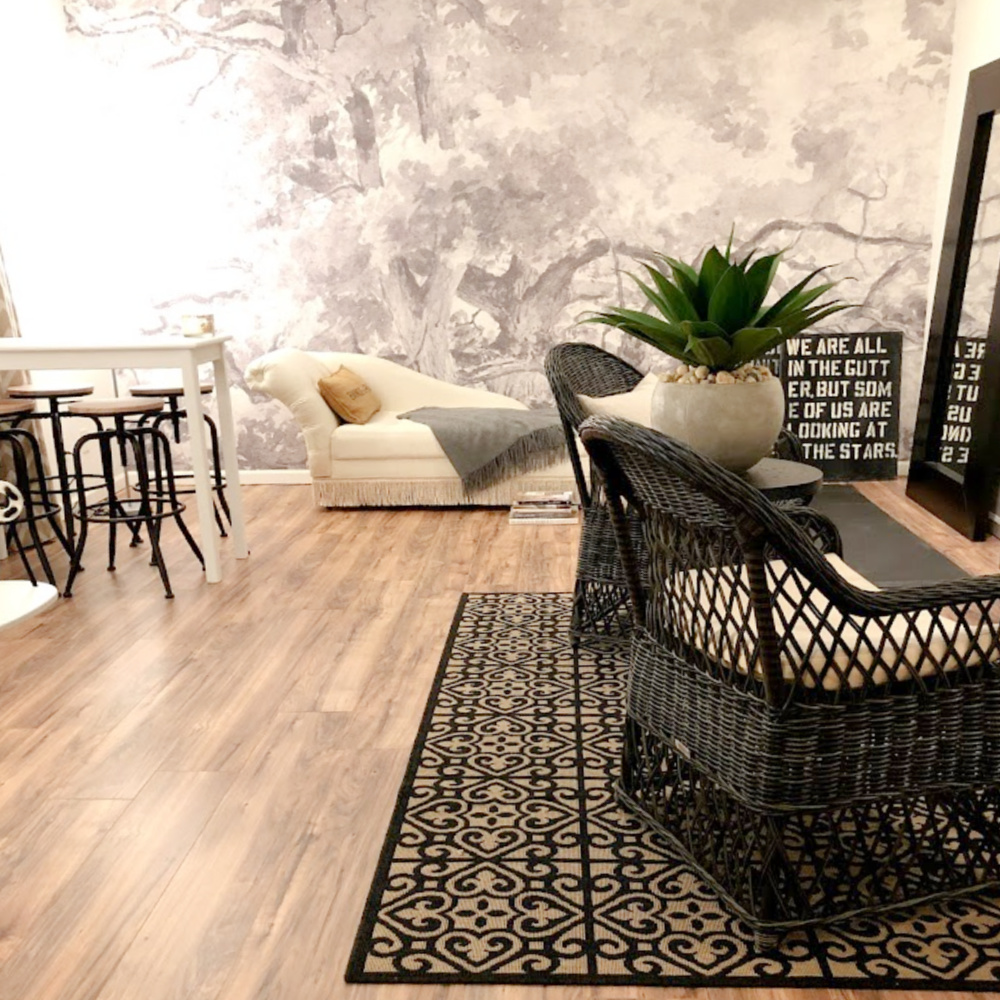 Before & After Mural from Photowall
Here's the same wall BEFORE: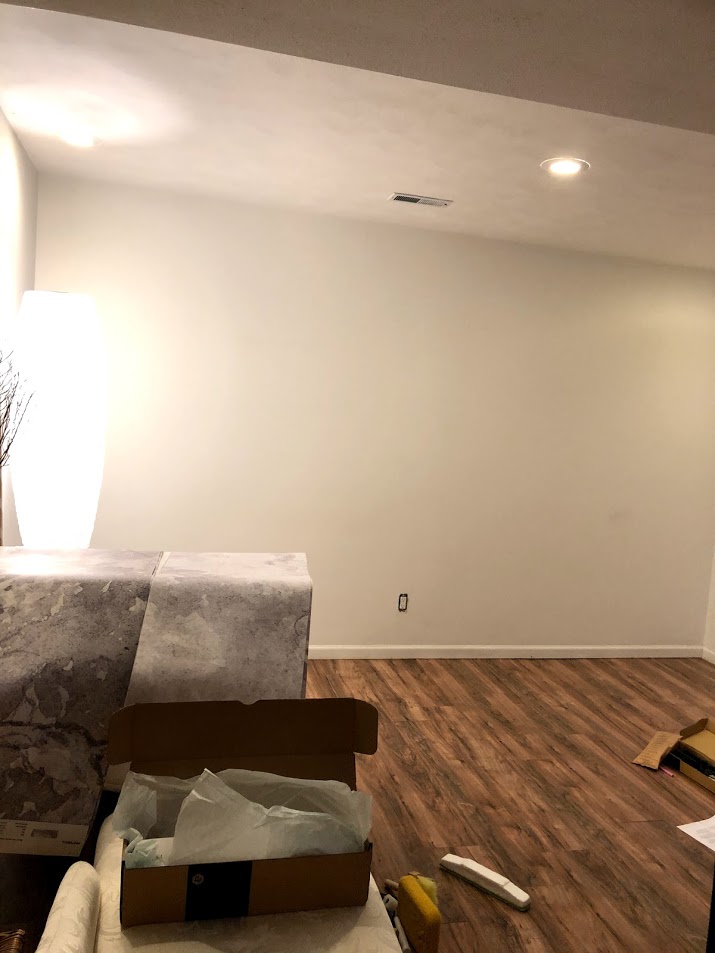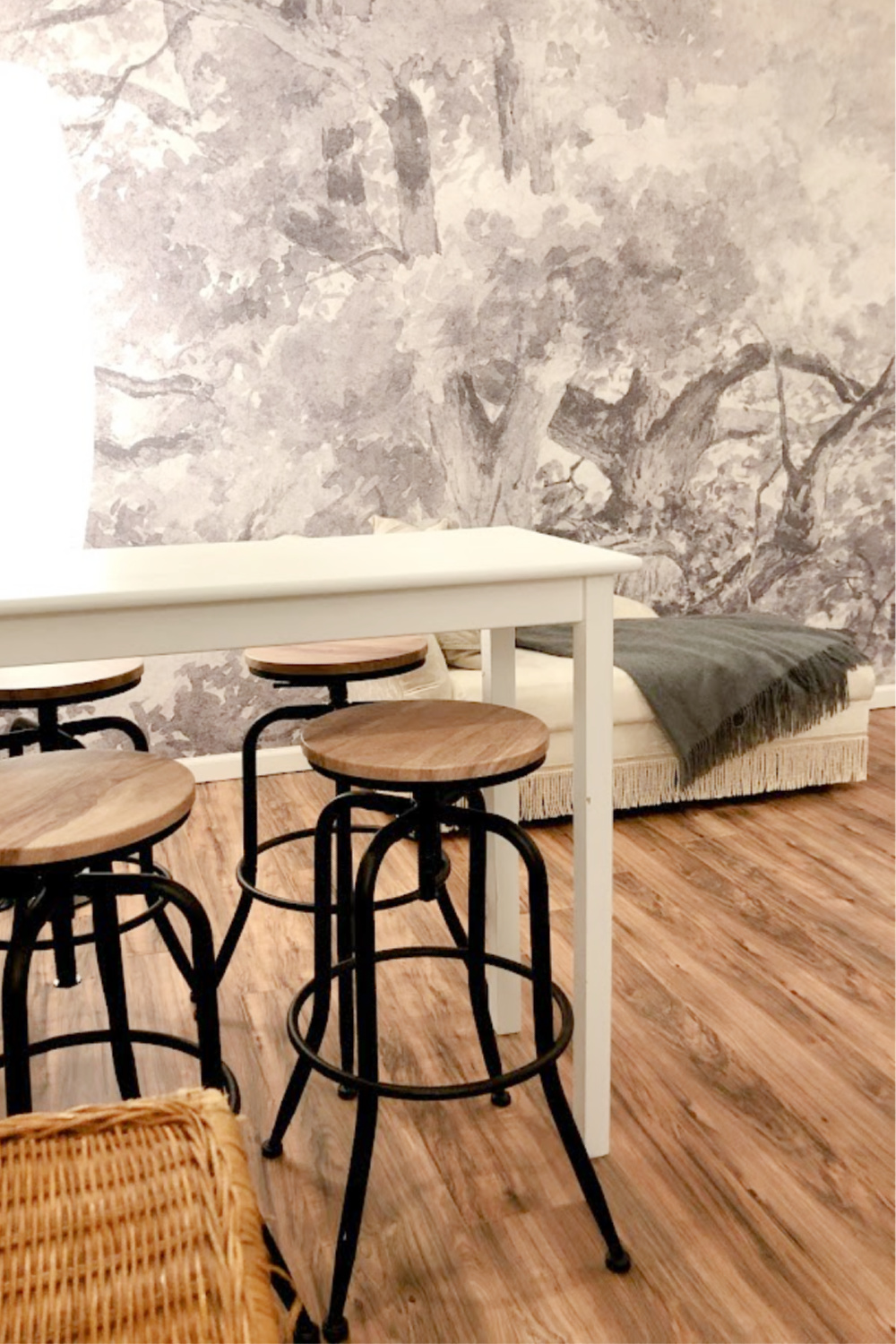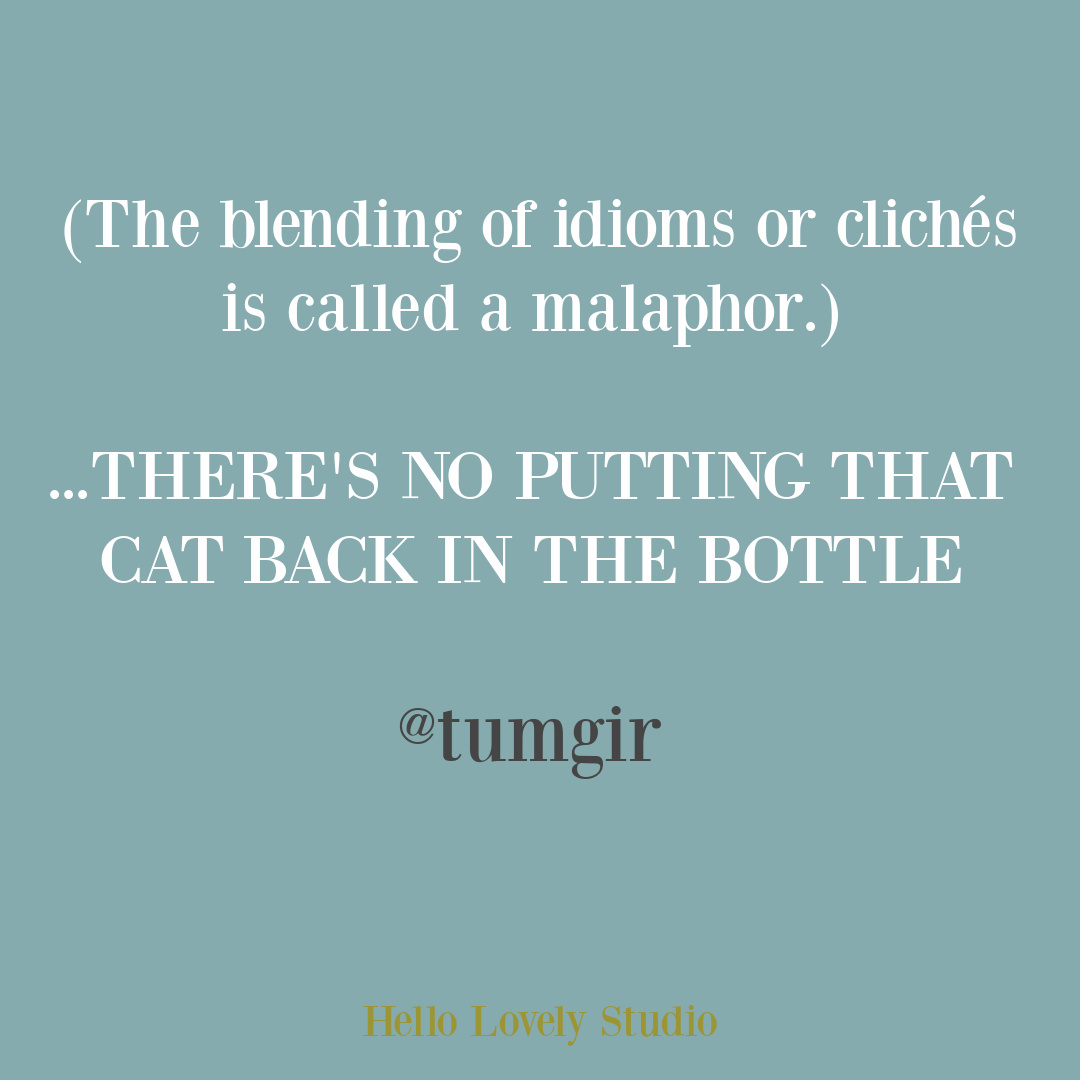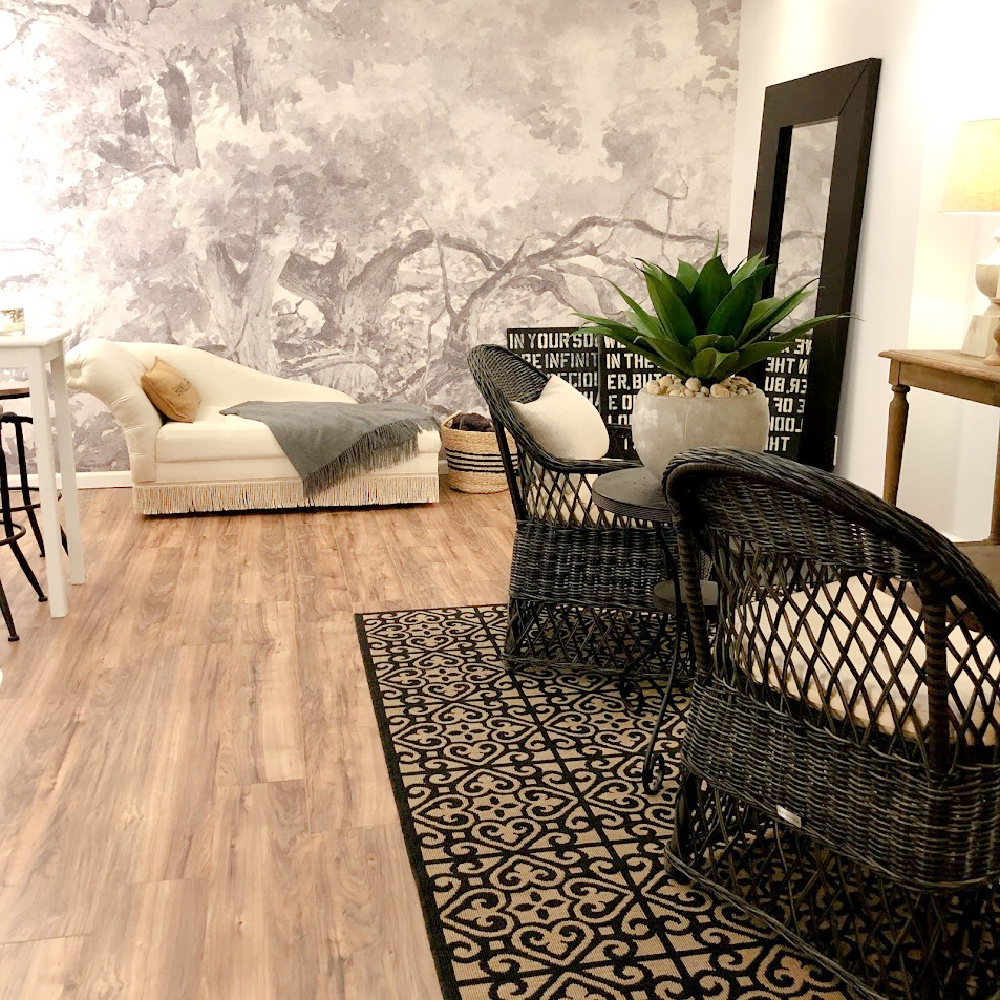 What a difference thanks to Photowall and the South African design studio Summer House who created this "Beauty Everywhere" design!!!!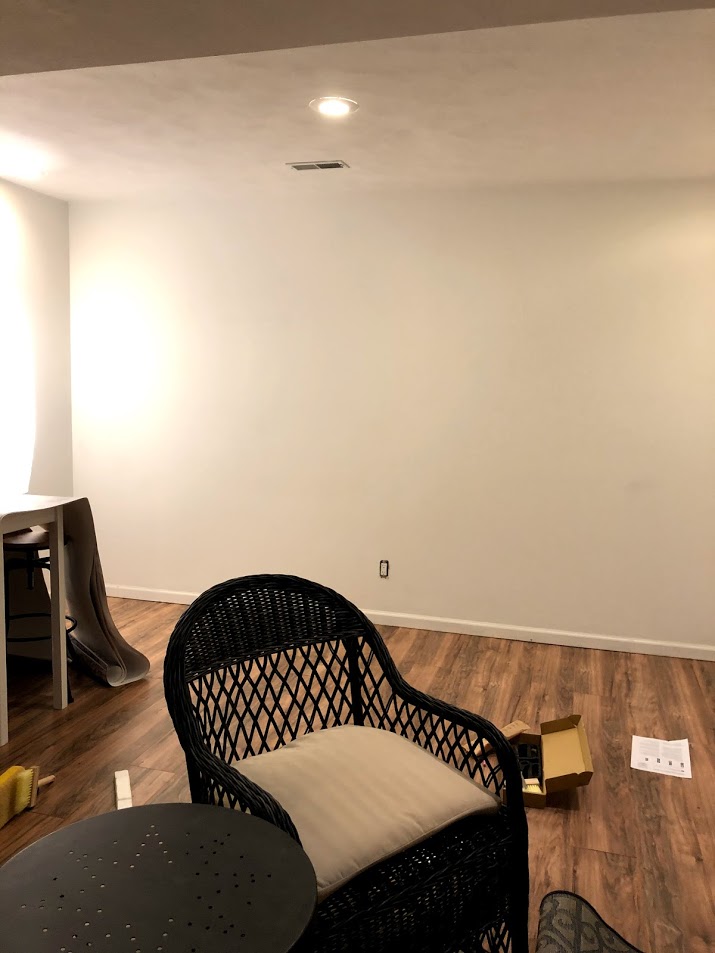 Oh, and I failed to mention the room has a zone for…swinging: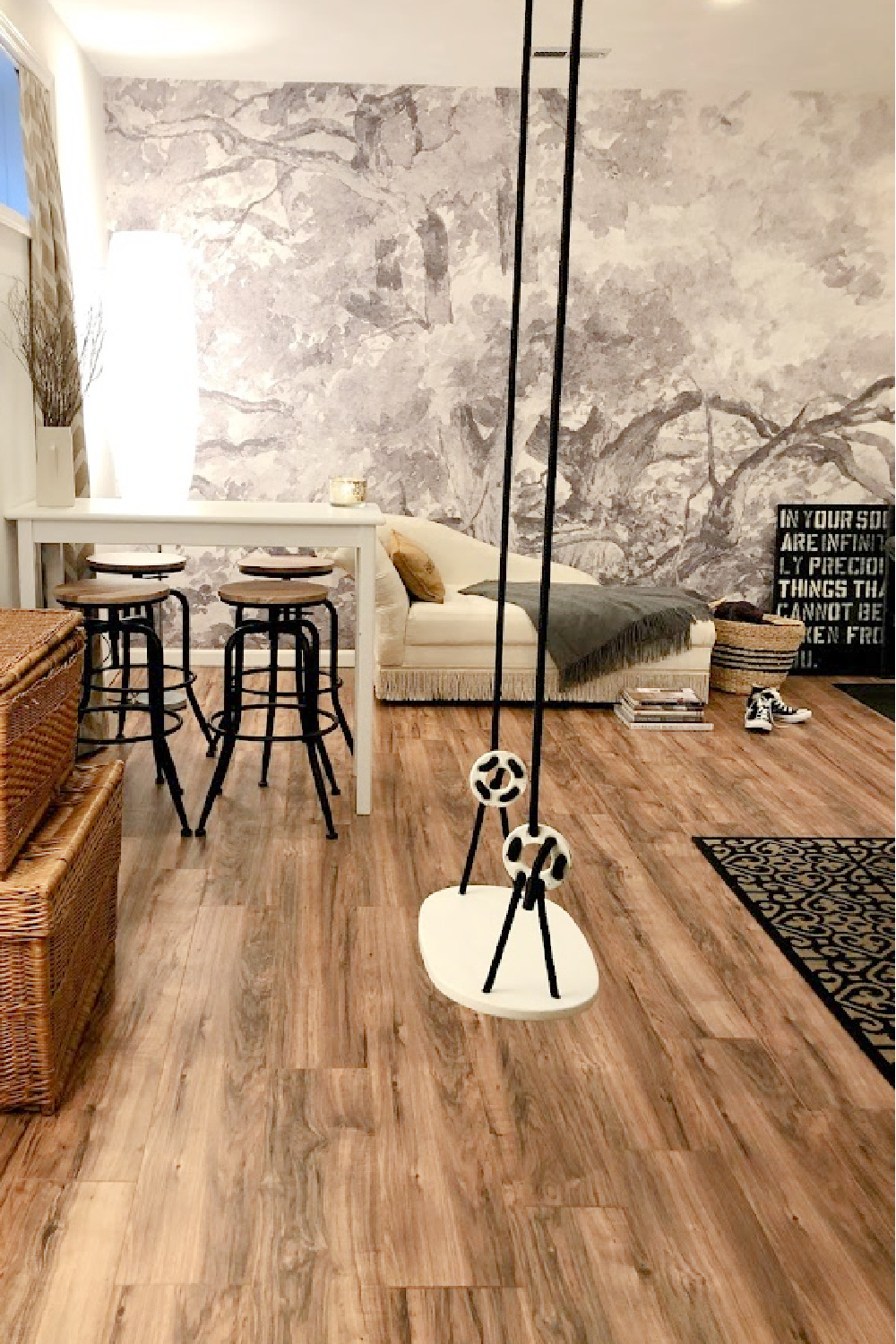 Was it an Easy DIY Statement Wall?
The only hard part of the whole process was deciding on a design because there are so many amazing choices. You can even upload your own photo or design! Even if you narrow it down to trees (are you EVEN surprised it is what I chose!?!), there will be plenty of options.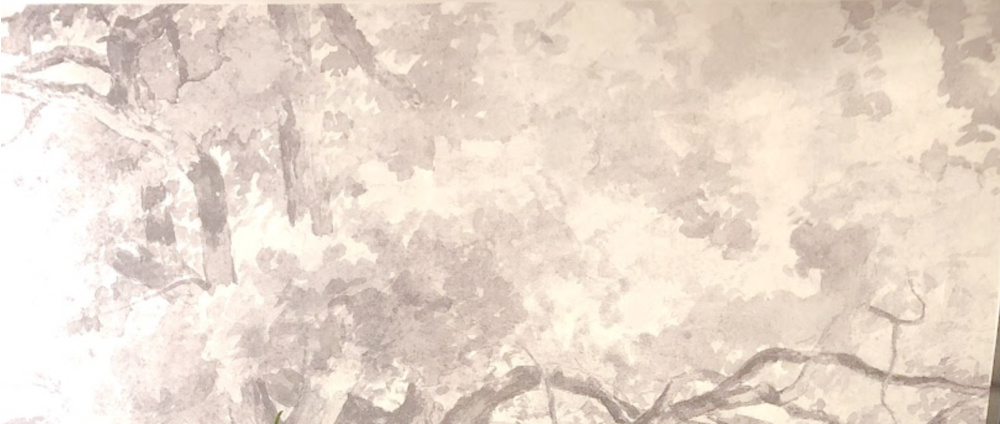 This was the perfect tone on tone choice since I was after a serene, freshened traditional take on grisaille.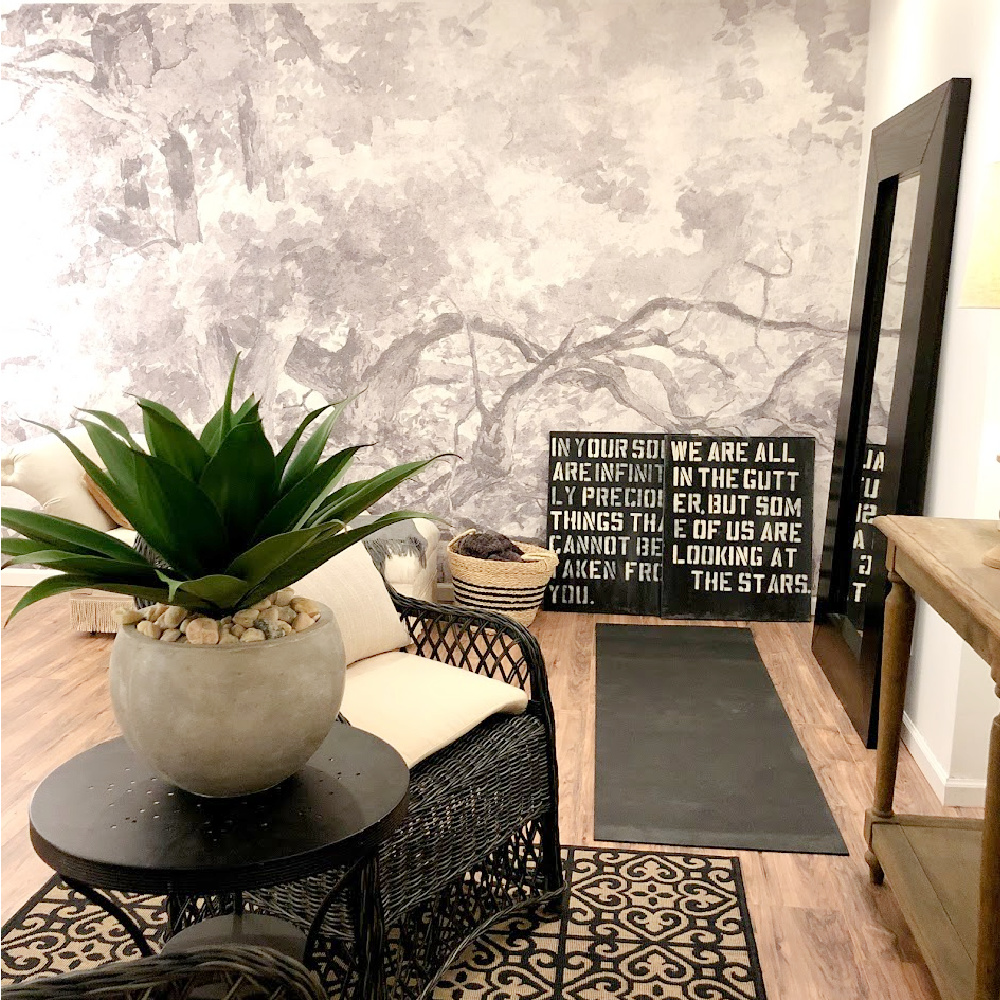 This handy kit you order from Photowall sets you up for installation success, and paste is included with the wallpaper.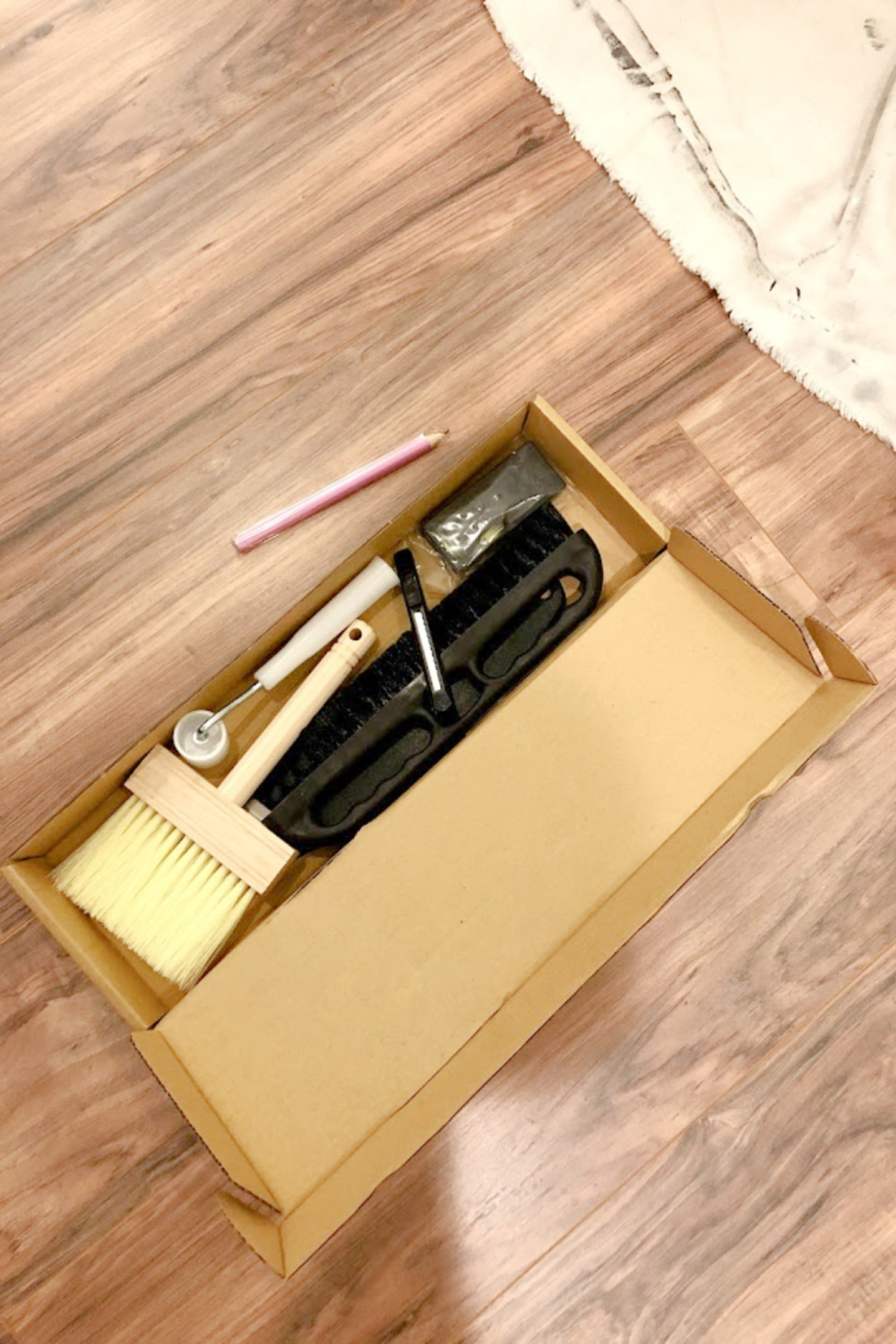 The high quality paper arrives in a roll, and you simply cut on the dotted lines which makes the numbered panels easy peasy to handle.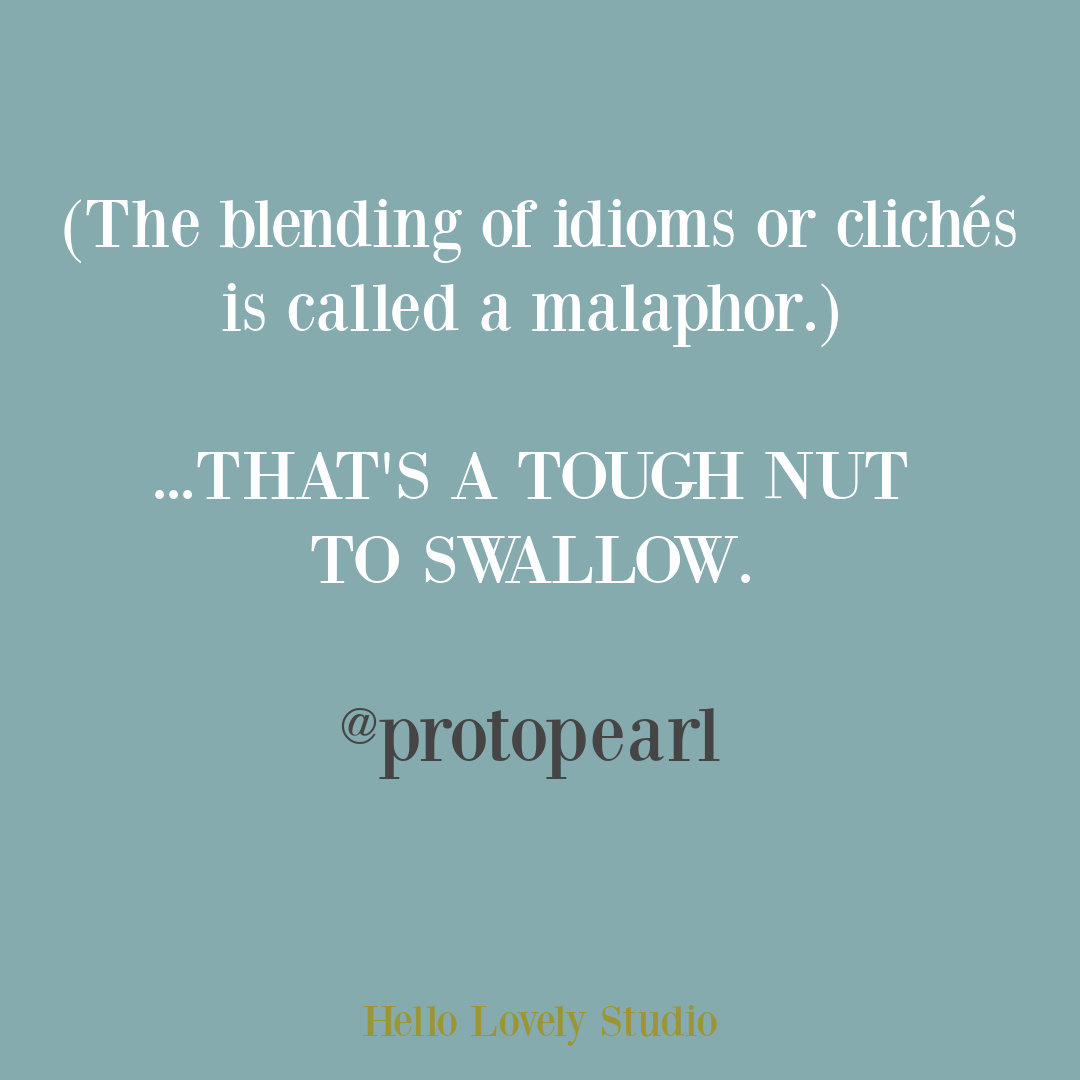 How to Install an Easy Accent Wall Mural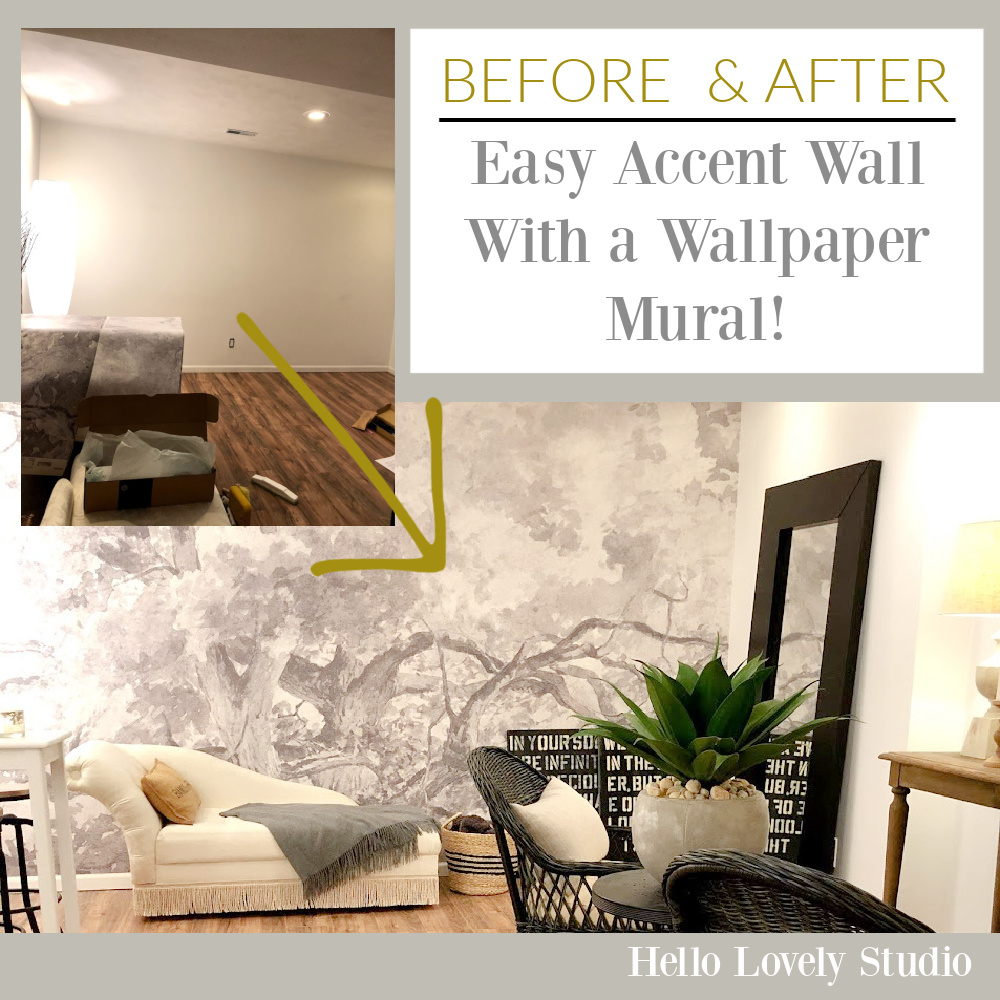 I cleared this far side of the room, cut the panels, and assembled the tools, while my husband hung each panel of the mural.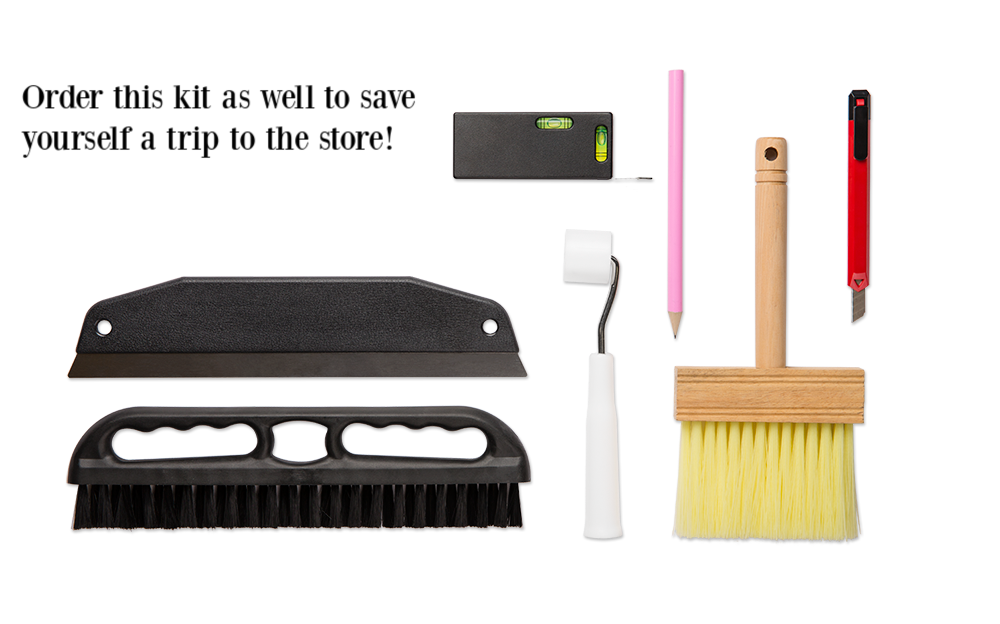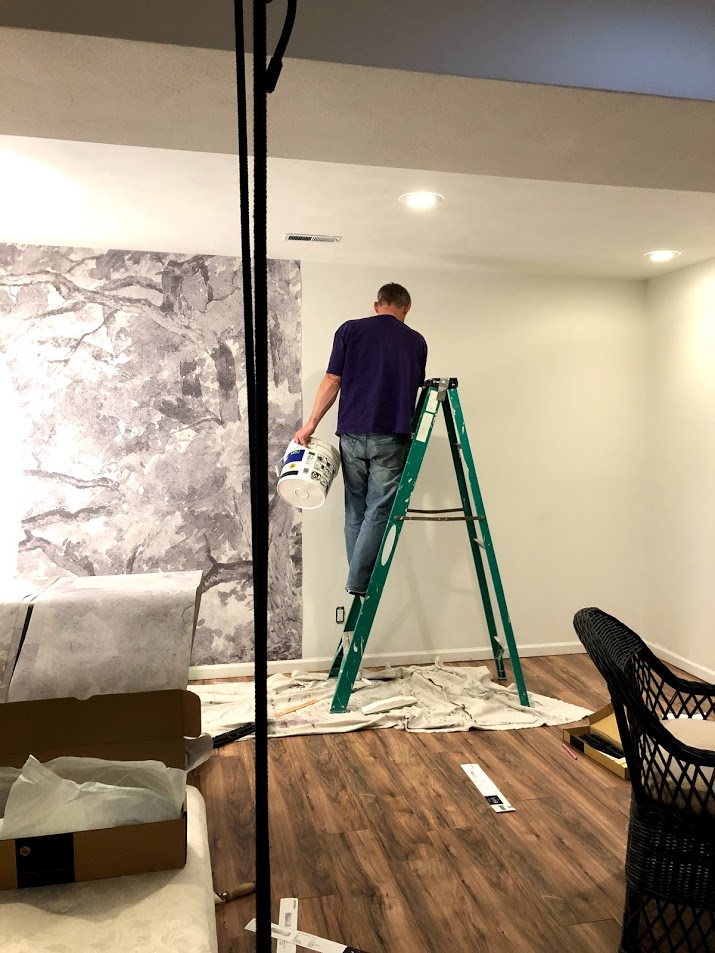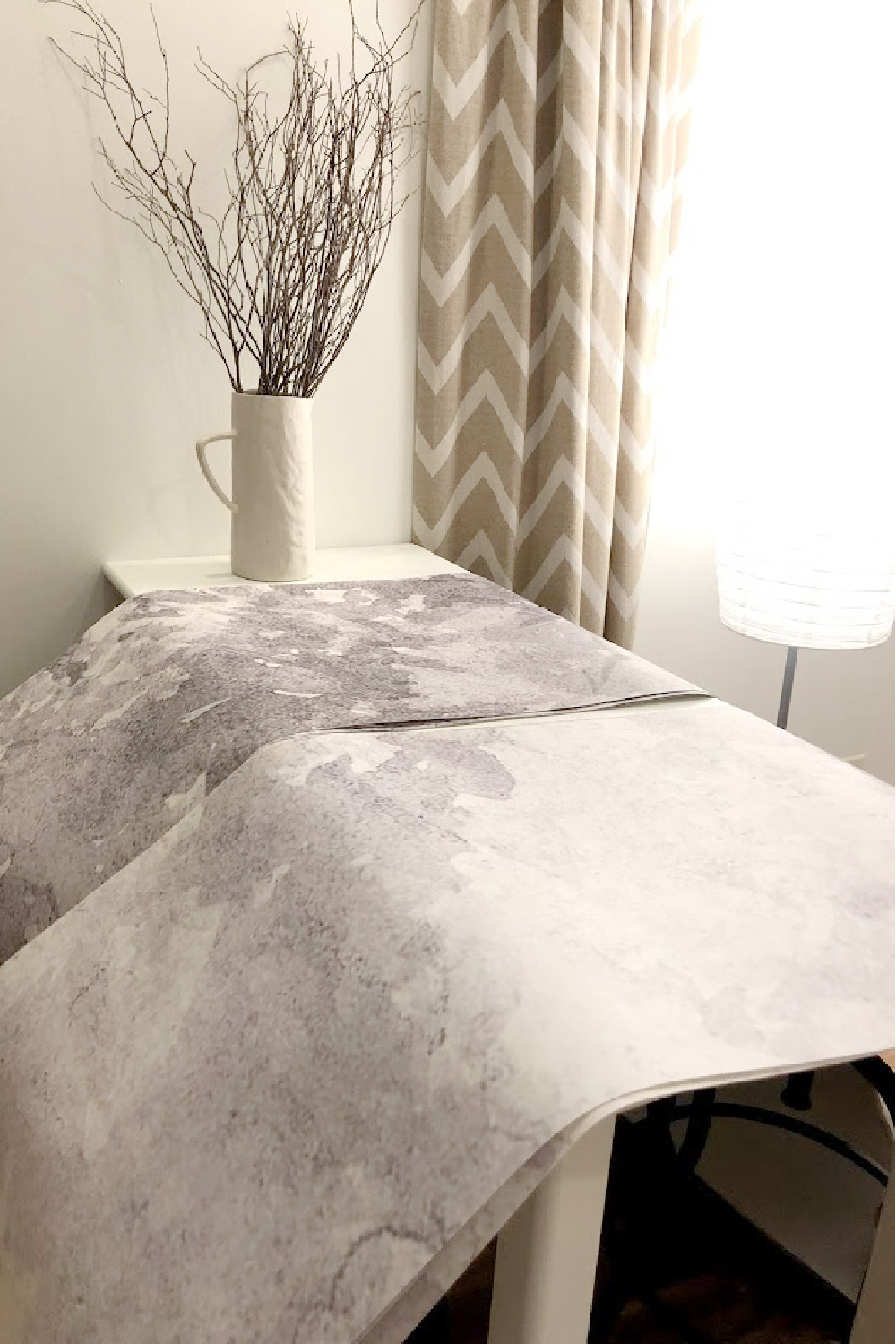 He found that trimming the excess of each panel of the mural at the ceiling as he moved from left to right worked well while the paper was wet with paste.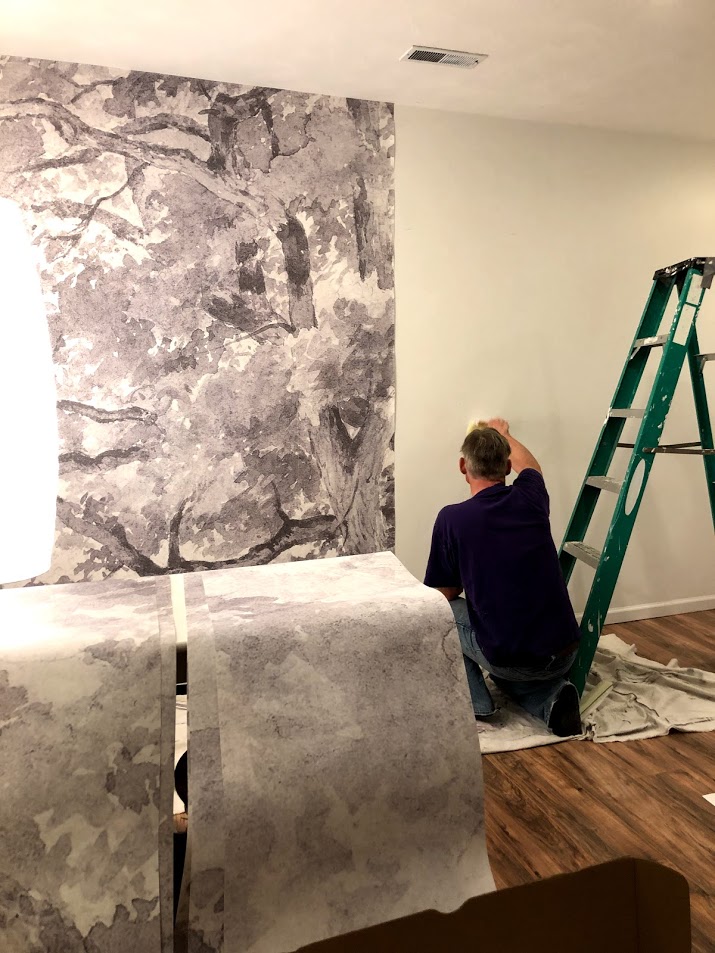 Time Required for the Project
How long did this DIY statement wall installation take in all?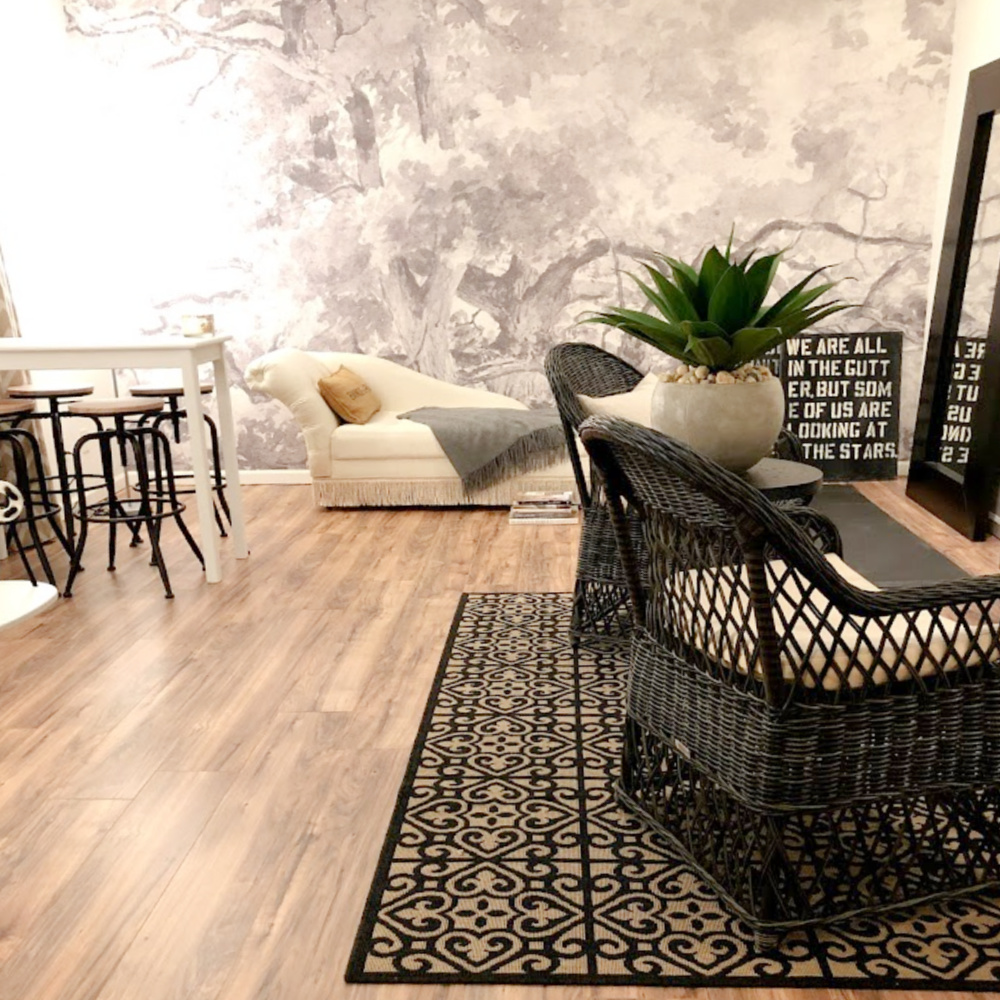 Just two hours for the 13′ wall.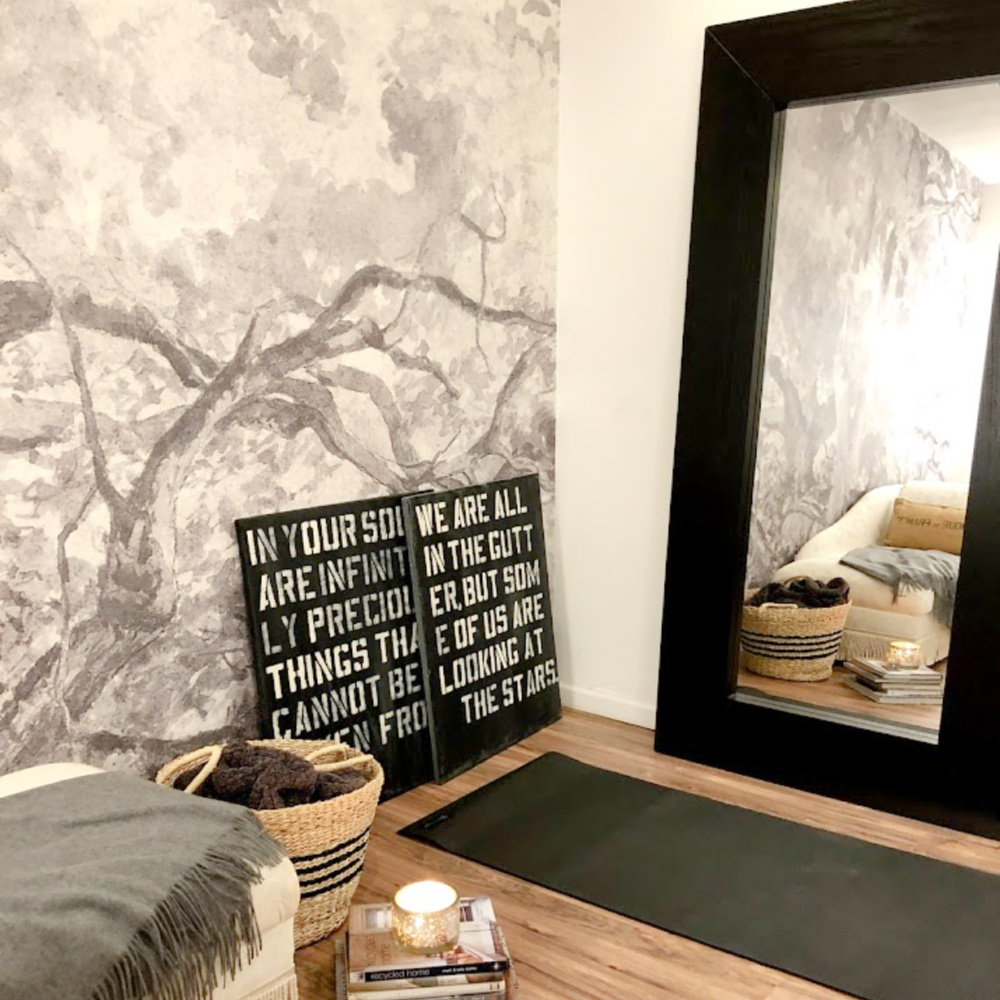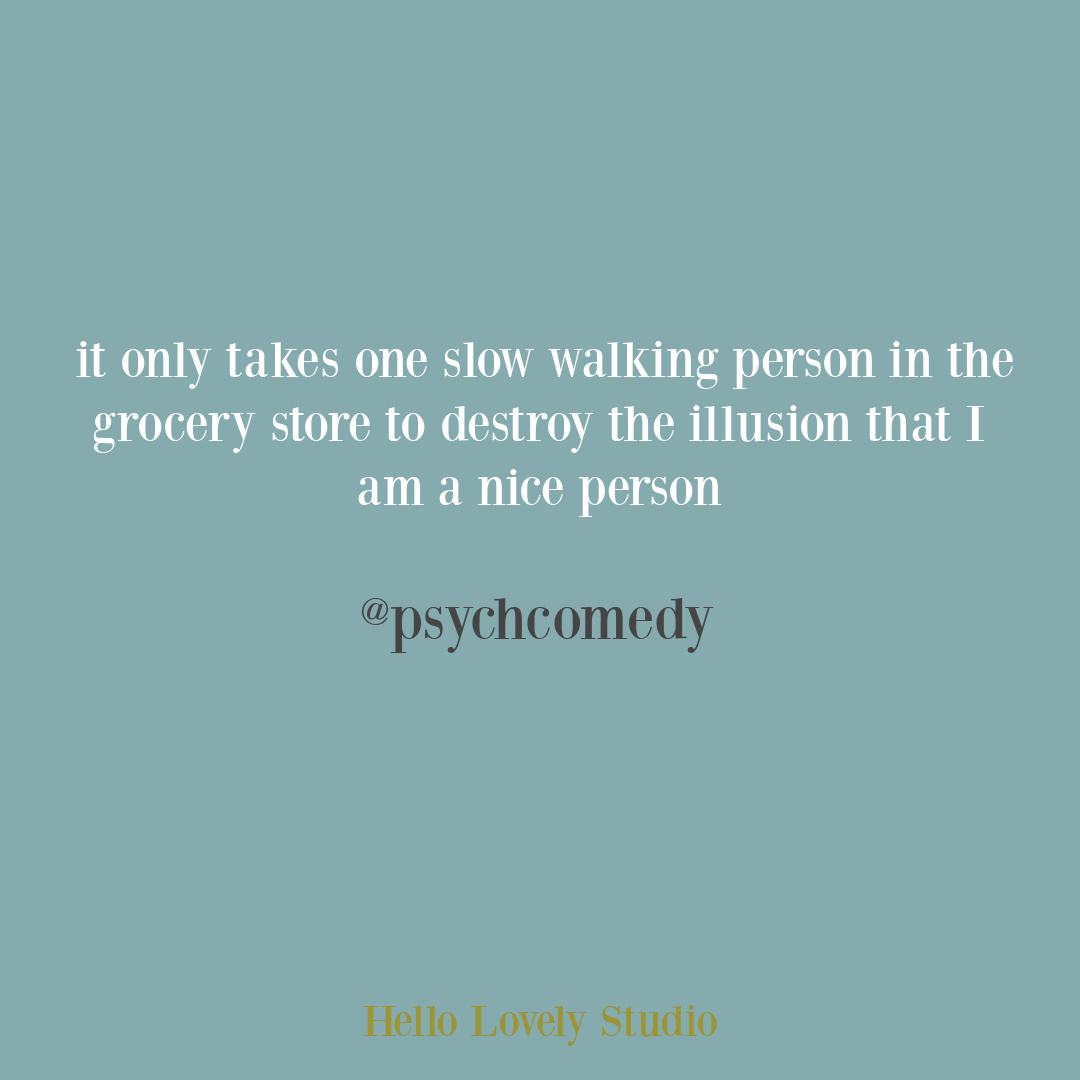 Cost of a Wallpaper Mural
I chose Photowall's premium paper, and an expanse like ours costs around $350. So if you're willing to devote a couple hours of labor, not too shabby!
Here's the video that shows how it is done: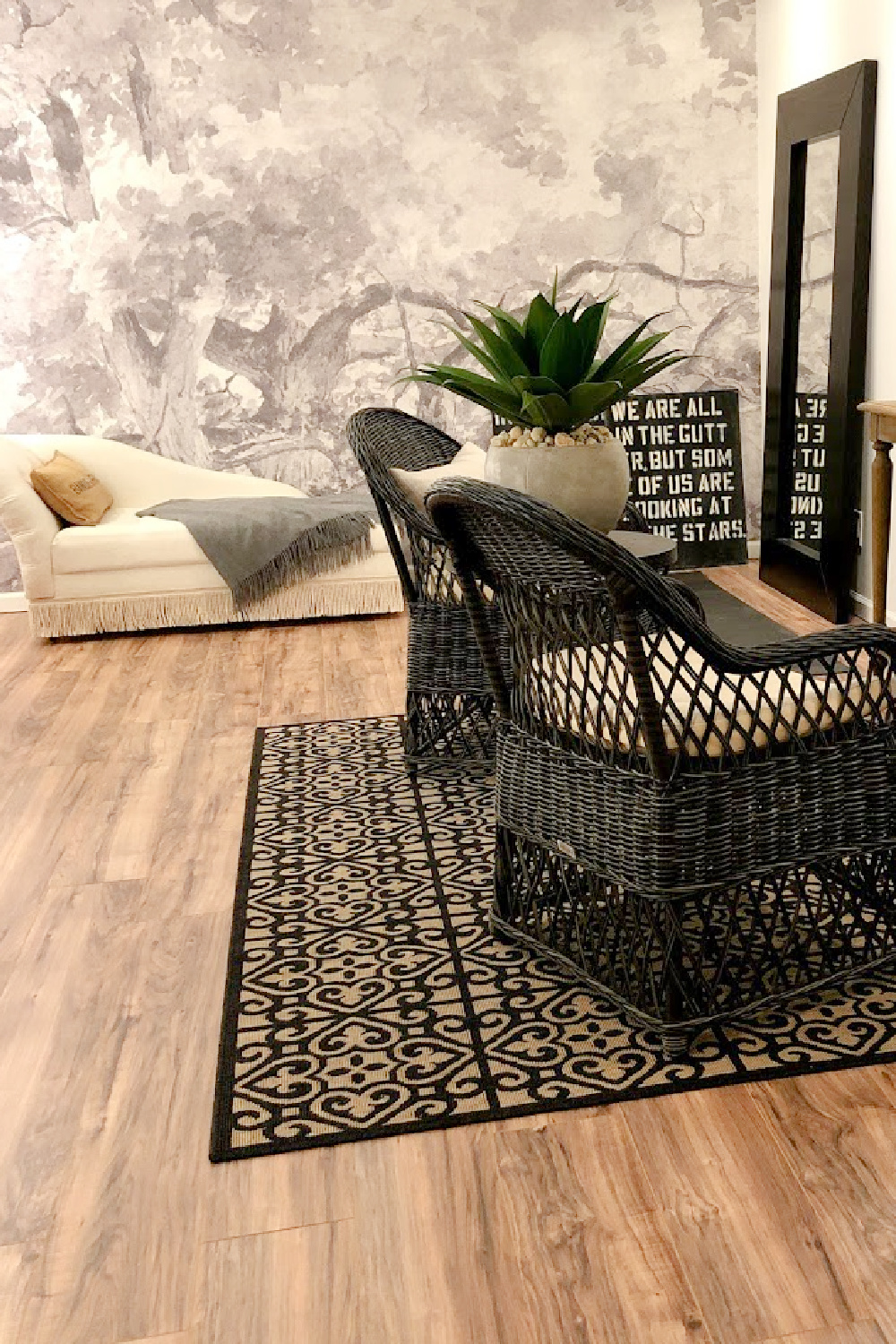 Helpful Tips for Design & Installation from Hello Lovely
Thoughtfully discern before browsing designs whether you want to cover the entire wall or install the mural above molding. If it is a wall with furniture, then it may be sensible to accent the upper wall only.
Order multiple samples before deciding on a final design. You'll be better able to see if the colors are right for your space. Sometimes the way colors appear on a tablet or desktop or phone screen can vary.
Don't freak out when your wallpaper arrives should the design appear "too blurry" or "too abstract." You can't properly evaluate a small expanse so be aware the complete look will indeed come together.
If your walls are textured, the panels may not adhere as well. I highly recommend sanding as much texture as possible before wallpapering. My walls in this bonus room were flat, and installation was quicker and easier than the bedroom mural which went over textured walls.
Don't forget to add installation supplies to your order.
Don't add a gallon of water all at once to the powdered paste. Instead, after adding paste to a bucket, mix in water gradually and give it a few minutes to thicken once you have a smooth consistency (you may require a little less than a gallon).
The first panel you install is extra important: get it level and straight since the remainder of panels will be lined up with it.
Brush on a liberal amount of paste to each wall section before you place a panel. If the paper isn't sticking, brushing paste on the paper as well may help.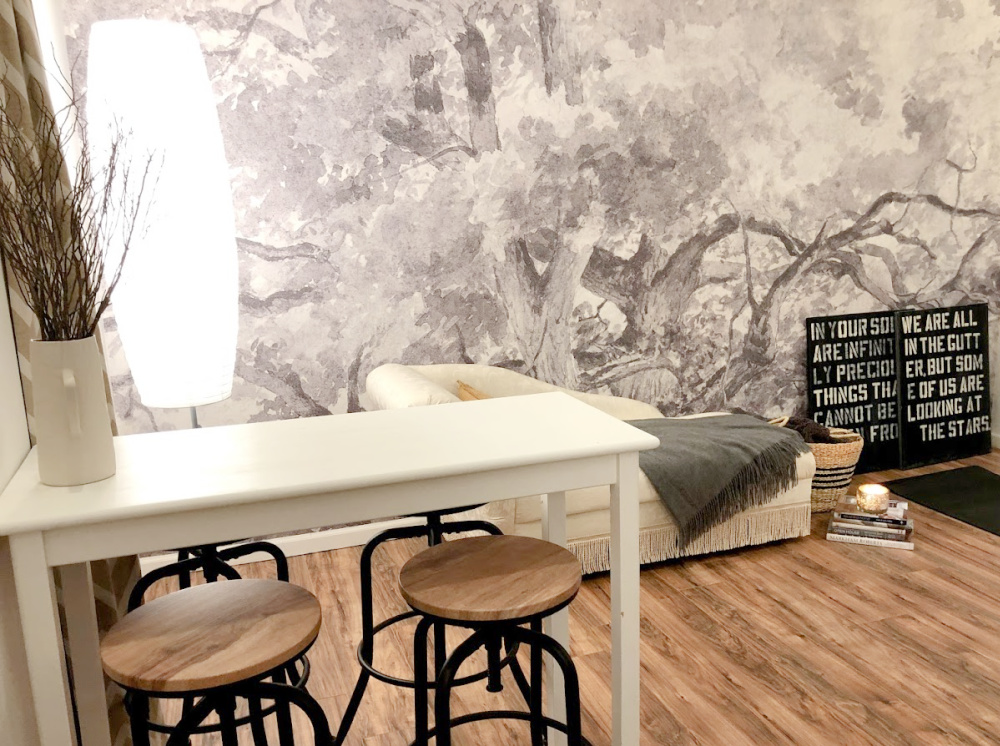 How Do We Like the Result?
We adore this mural and the transformation!
I'm still decorating the other side of this bonus room (there's a desk area), and because of how it is shaping up, my husband may move his home office to the space!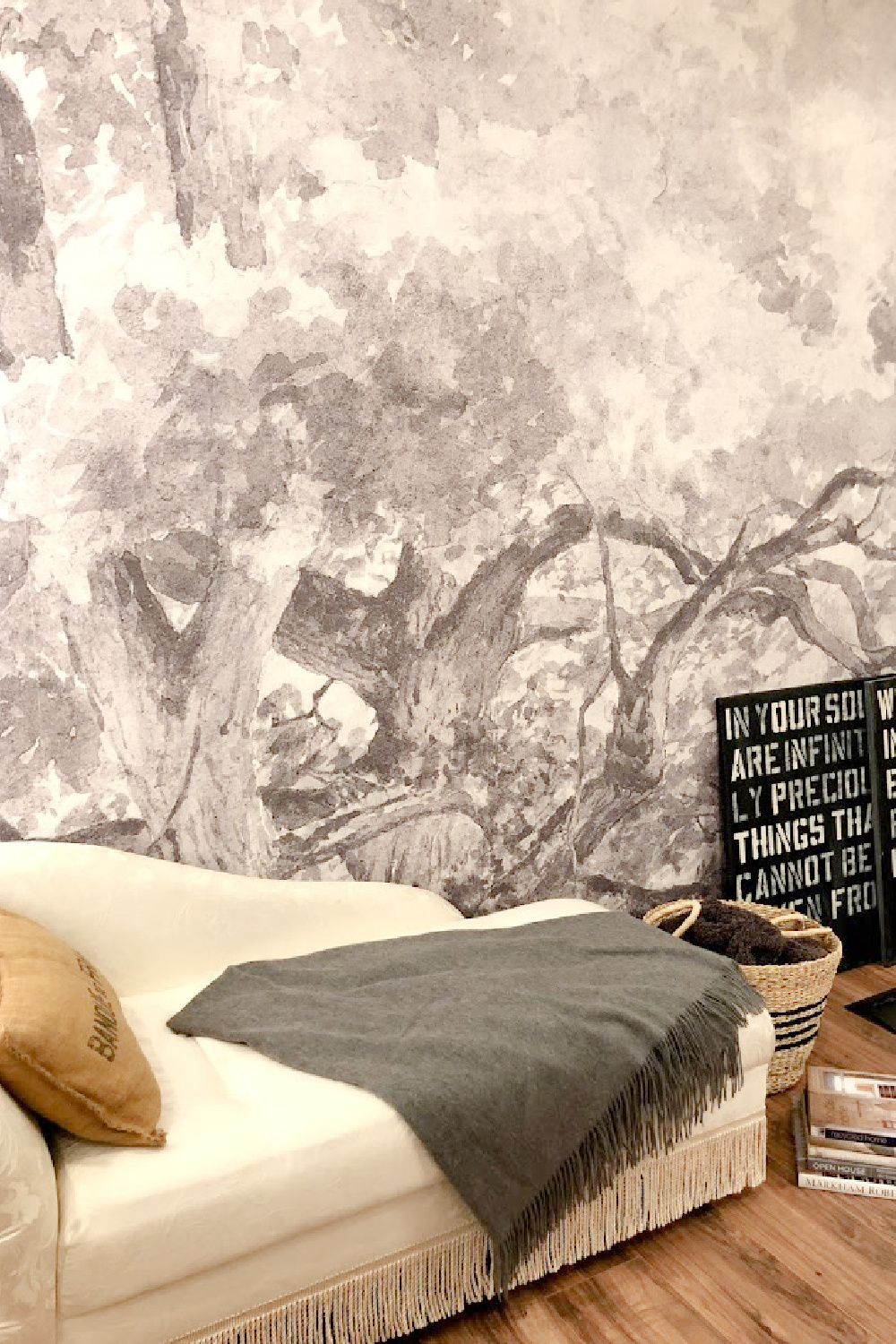 Lots of folks have bonus rooms like ours that become glorified warehouses for storage. Why not give it a variety of functions and then make it inviting?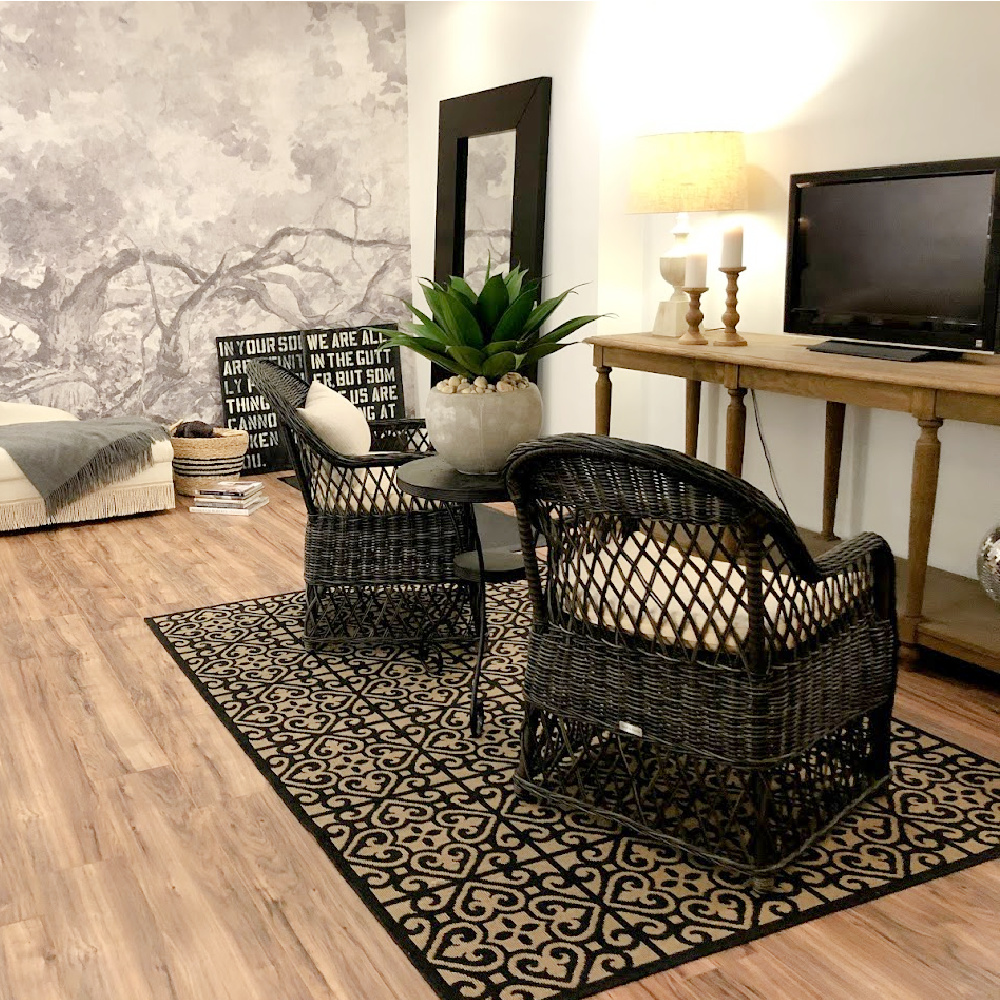 Thinking About Sprucing Up a Spare Room?
I hope this helps you if you are considering refreshing a bonus room, extra room, or any room that lacks architectural interest or charm. Did you see how I transformed a tiny awkward bedroom in our new house HERE to give myself my own closet?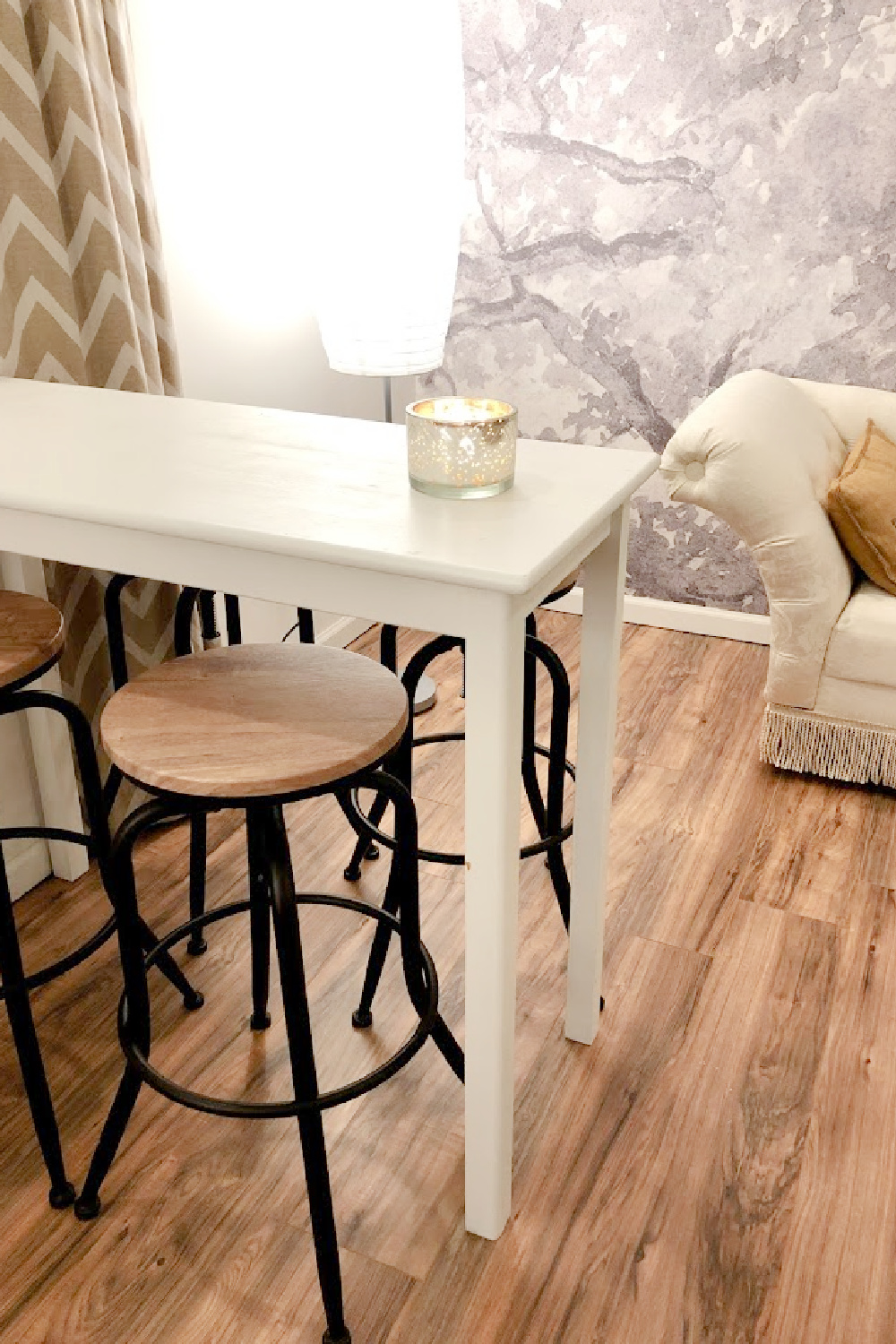 Sometimes all a space needs to be elevated is a dramatic dose of nature's beauty and a few hours of smoothing it on!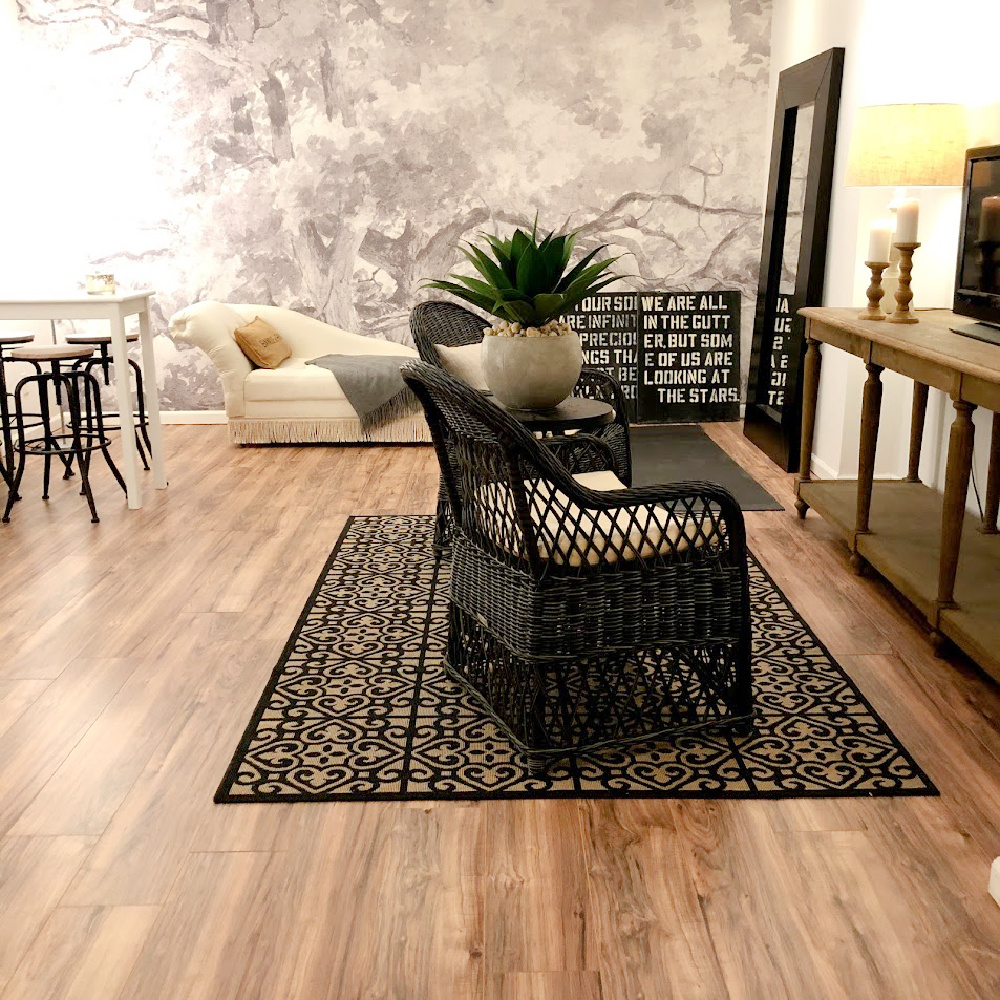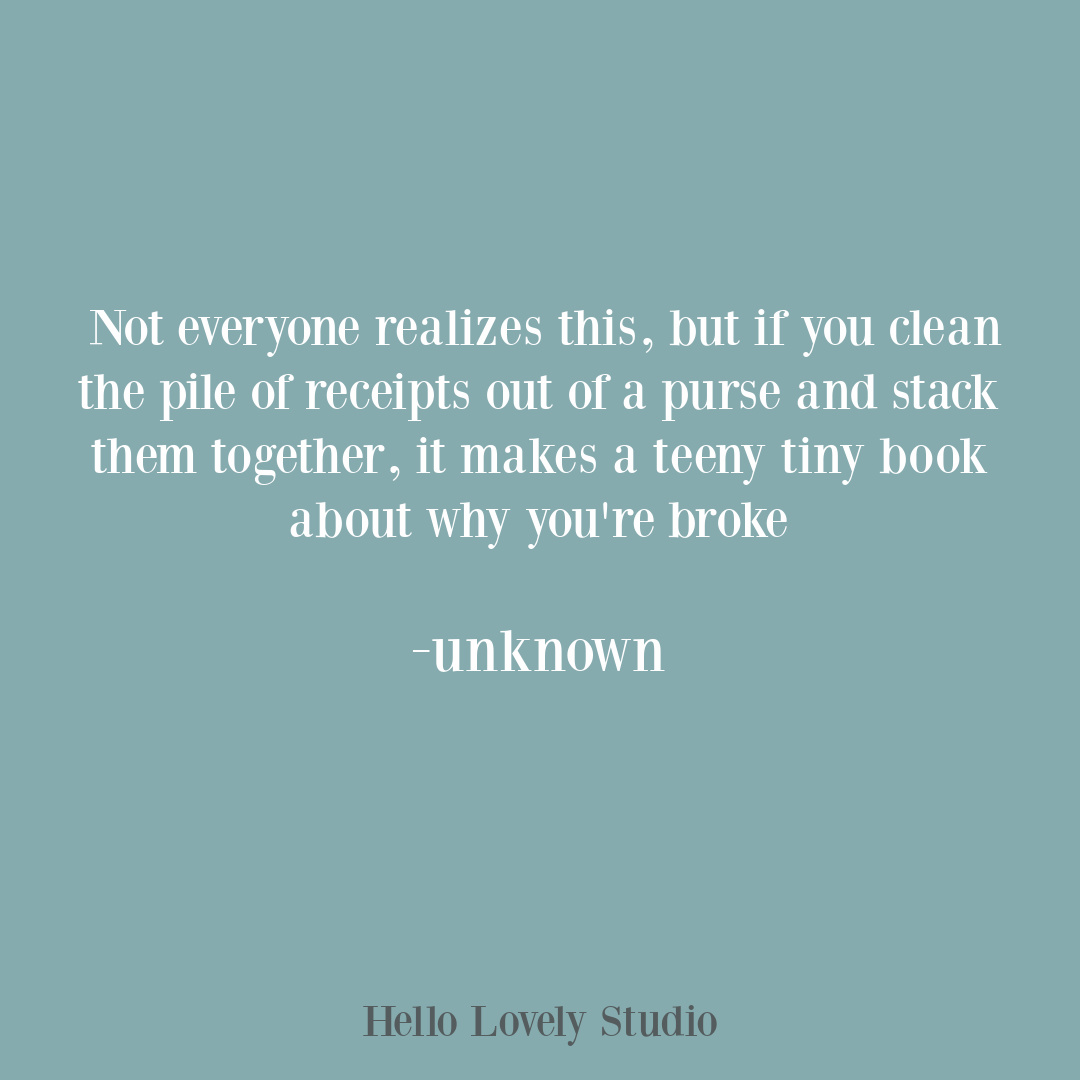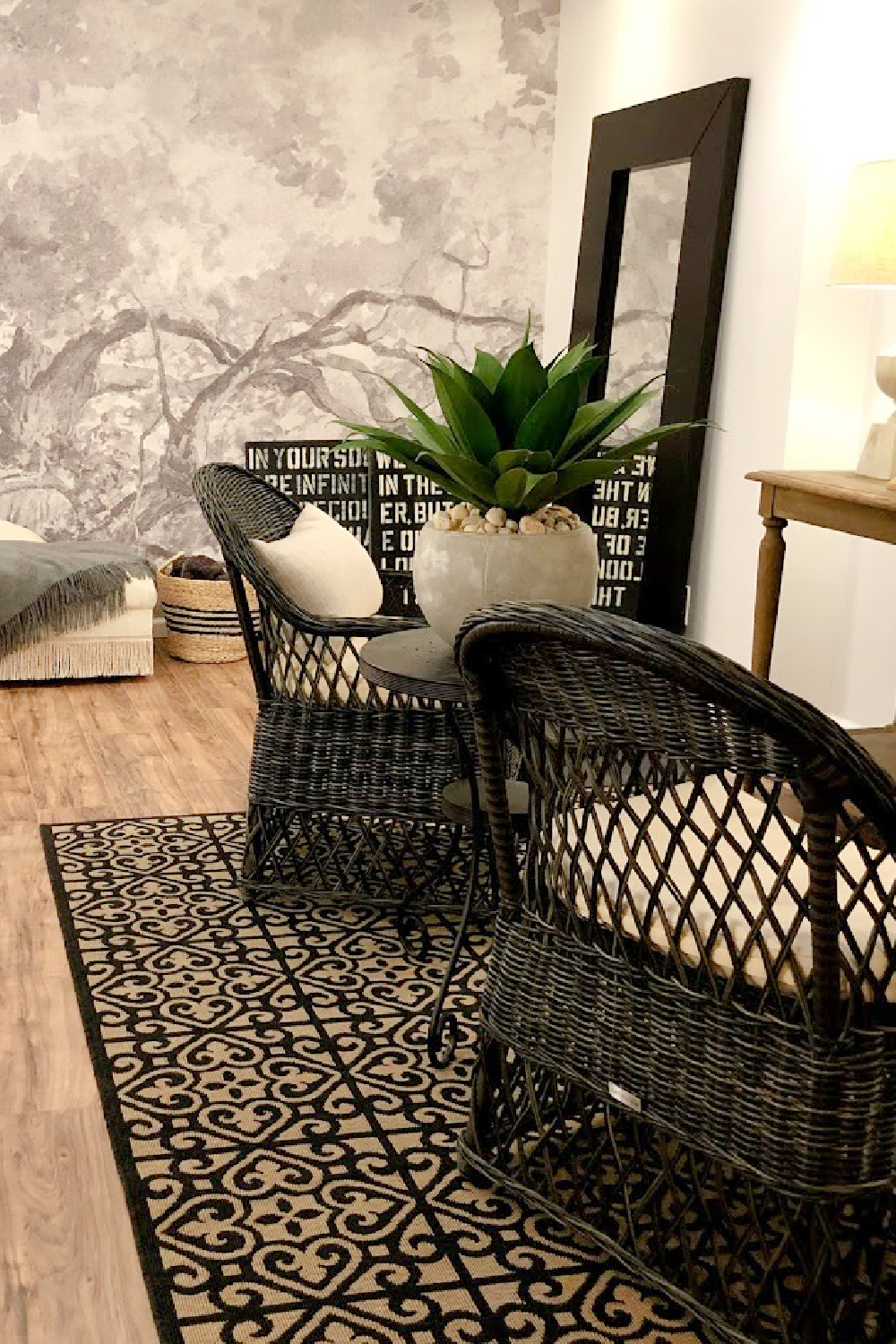 Stay tuned for more about this space where I share the sources for furniture/decor.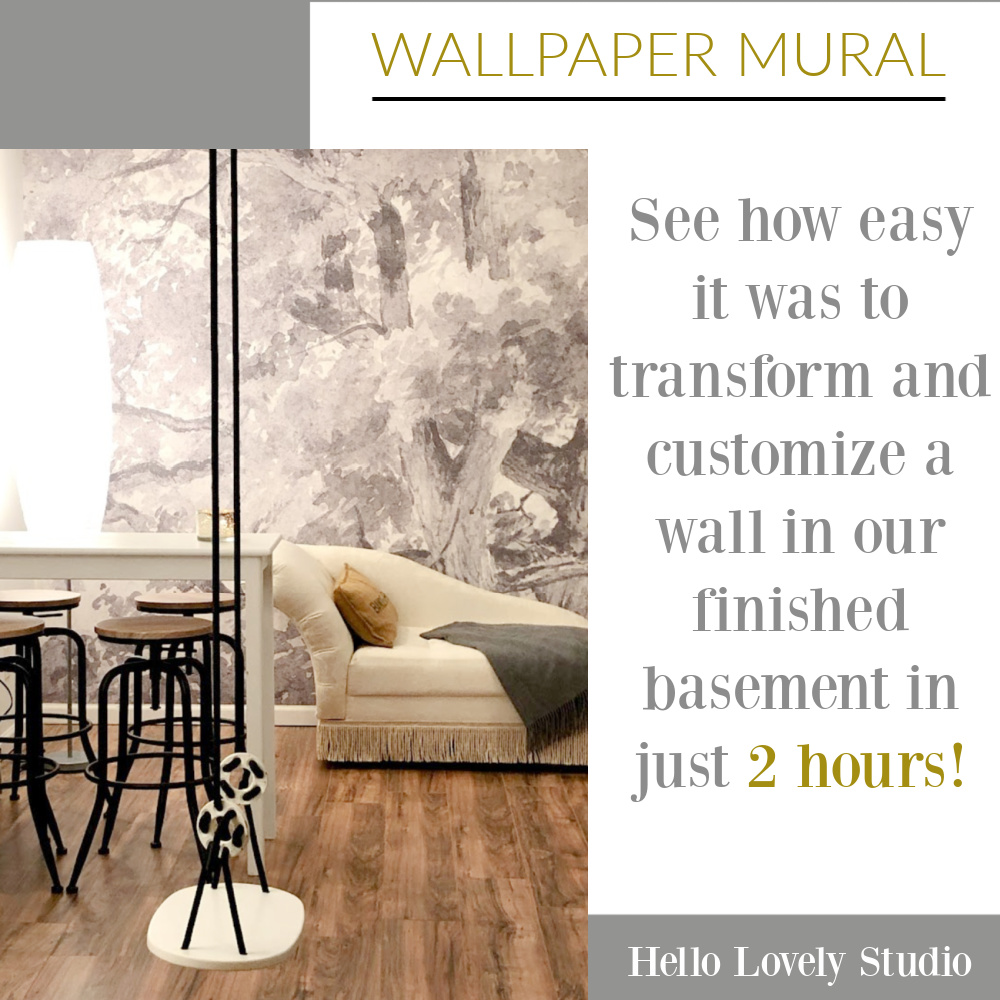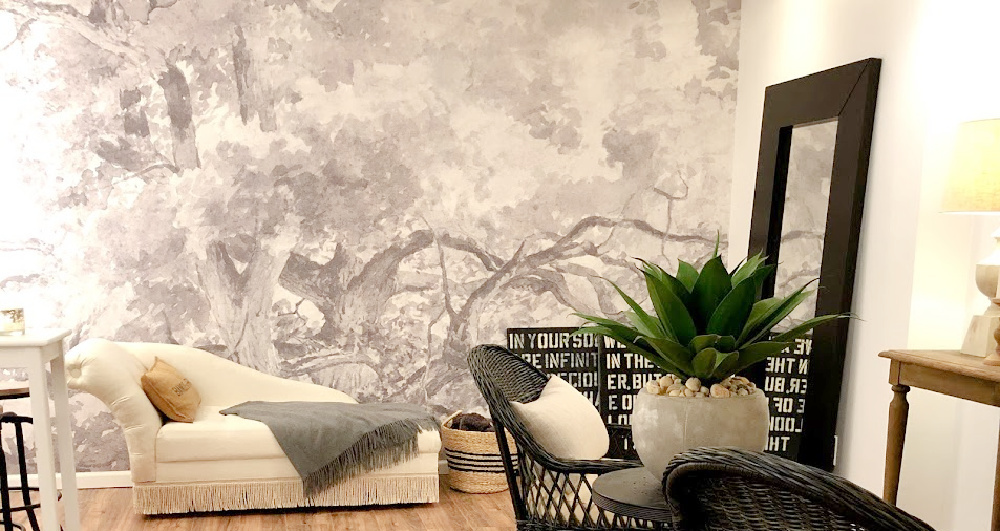 Thank you so much, Photowall! I love the quality and artistry of your beautiful designs which make it easy to customize and elevate the interiors in our home!
I independently selected products in this post—if you buy from one of my links, I may earn a commission.
Peace to you right where you are.
-michele
Shop for items you already intended to buy on Amazon RIGHT HERE, and also find home decor here to keep decor inspiration flowing on Hello Lovely!
Hello Lovely is a participant in the Amazon Services LLC Associates Program, an affiliate advertising program designed to provide a means for sites to earn fees by linking to Amazon.com and affiliated sites.