After we gutted then began renovating our European country inspired cottage's kitchen back in 2015, I could not wait to incorporate an apron front fireclay farm sink into the design. While plenty of other design elements were far more expensive, the sink was THE thing I felt passionate about. And I didn't want one just because it was fiercely trending with a modern farmhouse revolution. By now you know I am human and awake so I notice trends but I don't follow them. That said, I'm thrilled when farmhouse sinks are "in" because then we find tons of pretty pictures of them to admire! European Country Kitchen Remodel: Farm Sink Inspiration is a collection of beautiful reminders just in case you wonder what all the fuss is about.
What made me so bananas determined to have a farm sink? Even though I was wild about Brooke Giannetti's Patina Farm kitchen with its fireclay kitchen sink, it wasn't solely that.
Farm Sink in Our European Country Cottage
There is a timeless romance associated with these sinks for me. Here's the farm sink I bought for our prior home:
There was some drama involved with that one at the moment it was time to install…did I ever tell you about it?
Why You Should Always Inspect Your Sink Thoroughly
If ever you have remodeled a kitchen or built one, you may remember the sink must be in place before a countertop measure. Well, I was anxious to get that measure done and countertops installed after months and months living without a kitchen. Although I had ordered the farm sink well in advance, because of its immense weight, I never removed it from the box to look at all sides of it until install time.
Oops. That sink was completely warped and defective! A big ol' lemon!
The company, while apologetic, would not send out a new sink until I brought the defective sink to FedEx and it was received by them. I'll never forget the weight of that thing and the spectacle of getting it from my car to the drop-off counter.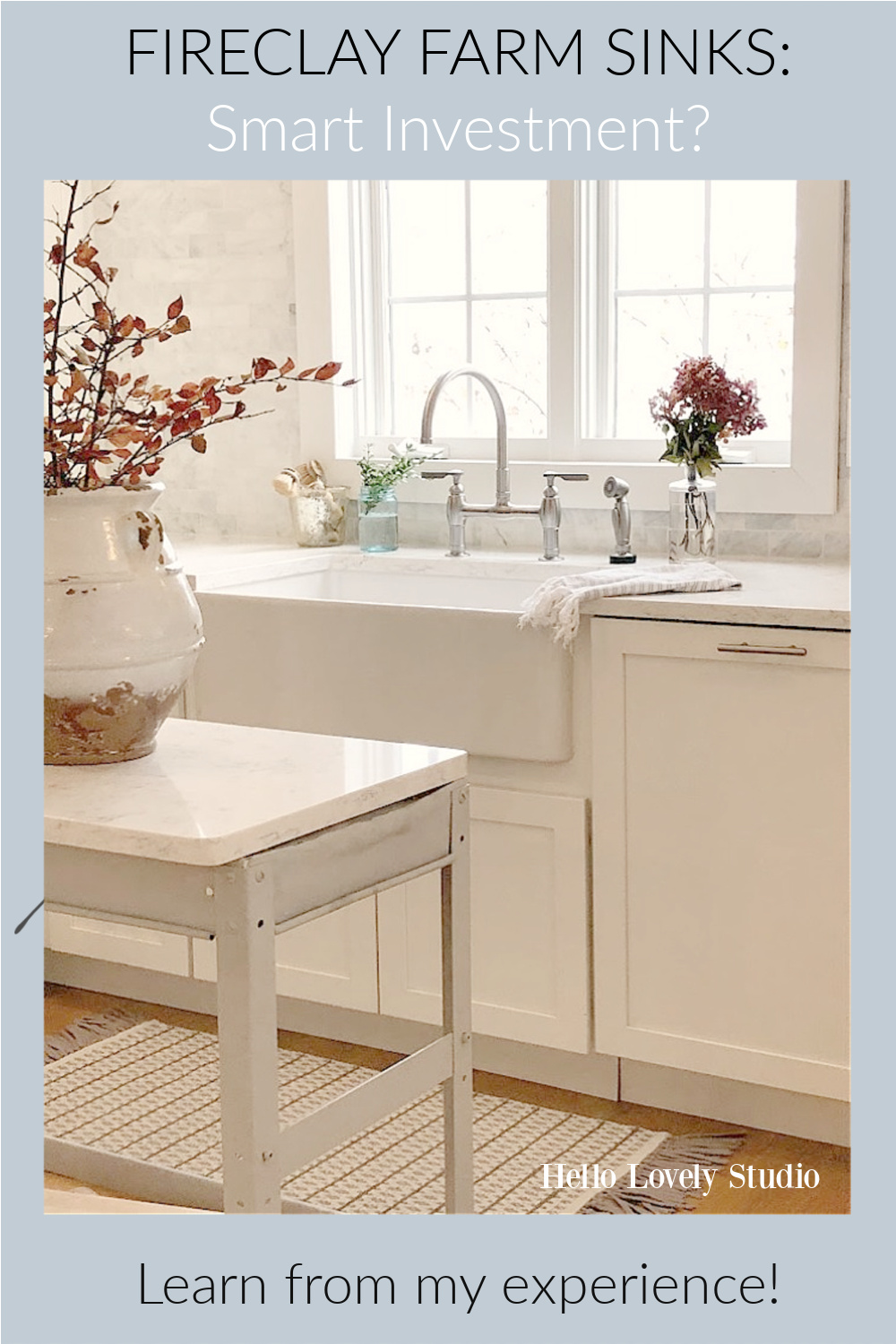 Lord have mercy–and I can't remember why the muscle-blessed men in my life were unavailable to assist.
All worked out in the end, but delays in construction are costly and frequently lead to a domino effect. It's always something with renovation, right? I mean, is it even a real renovation if there aren't meltdowns, disasters, and First Aid involved?
Should You Invest in a Farm Sink?
I plan to look for a different farm sink vendor this time around for our new kitchen. And you better believe, that baby will be thoroughly inspected for flaws!
My discerning eye is on a particular model from Nantucket Sinks so I'll keep you posted.
I don't have to wonder what all the fuss is about this time around because I already know. And since I am living WITHOUT ANY DANG KITCHEN SINK AT ALL AT THE MOMENT, it's going to be heavenly. (Hello, lovely paper plates!)
How Do Farm Sinks Add Home-y Cozy Factor?
Once again, as we embark on a new renovation of a kitchen in our 30-year old home–a classic traditional Georgian–I feel like a farm sink will truly make it feel like home!
There's just something so warm and cozy about a sink that looks like a glossy mini bathtub for dishes and food prep.
While I love modern, and I love farmhouse style, I'll be after a European country timeless tranquil feel in this kitchen.
If our kitchen feels even a little bit like The French Nest Co's (above), I'll be a happy girl.
Which European Country Kitchen is Your Favorite?
As you consider the beautiful collection of European country inspired kitchens with farm sinks, I bet you'll agree there's a wide world of possibilities!
For example, you need not be limited to fireclay or new. Look at this ancient looking beauty:
Are the skirts charming your pants off? (See what I did there?)
Because I'm smitten with this Old World Frenchy kitchen, and I don't even care for the color brown! I am drawn to quiet, serene, soft whites:
and here's proof you can do creamy warm whites with the crisp bright white of a farm sink:
English Country Kitchen With Farm Sink
For high contrast and English country sophistication, look no further than deVOL for blessed bespoke brilliance.
Mixing Rustic With the Refined in the Kitchen
These smartly designed kitchens with farm sinks are also serving to remind me of the importance to mix old with new.
You just can't evoke je ne sais quoi factor if everything is brand spankin new and shiny.
I'm also noticing that farm sinks belong in very rustic French farmhouse kitchens while they are also quite at home in more proper buttoned up English ones.
Yep. Farm sinks are very democratic and elevate humble spaces while they humanize more grand kitchens.
Is a Farm Sink Practical?
I had no trouble at all keeping my fireclay apron front sink free of stains and chips, and I can be clumsy doncha know.
And while we typically see farmhouse sinks paired with bridge faucets, don't feel like you are limited to that style.
In fact, I'm going with a different style and finish for the new kitchen.
And who knows? Maybe I'll try a cute skirt at the sink this time around.
Psst. Happy SPRING!!!!
I independently selected products in this post—if you buy from one of my links, I may earn a commission.
I hope this gallery of inspiration photos with farm sinks helped you! It's certainly giving me tons of life and great ideas.
I independently selected products in this post—if you buy from one of my links, I may earn a commission.
Peace to you right where you are.
-michele
Shop for items you already intended to buy on Amazon RIGHT HERE, and also find home decor here to keep decor inspiration flowing on Hello Lovely!
Hello Lovely is a participant in the Amazon Services LLC Associates Program, an affiliate advertising program designed to provide a means for sites to earn fees by linking to Amazon.com and affiliated sites.