Rustic Country Interiors: 19 Whimsical Ideas brings together pleasing design elements: white and rustic. My own interiors reflect neutrals and white decor, and plenty of peeks are HERE. Country style, vintage chic, white painted everything, and airy neutral interiors follow. So if you love a serene, airy, unfussy look…get ready!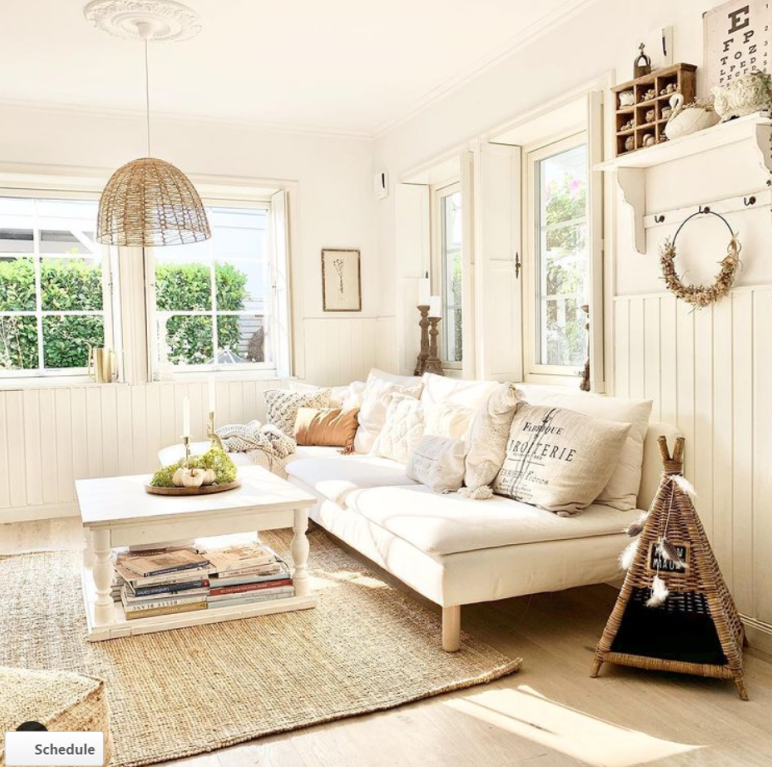 19 Ideas From White & Rustic Country Interiors + Whimsical Decor
1. Hang Vintage Plates Together
It's one of those "why didn't I think of that!" moments, yes?
2. Play With Scale & Silhouettes
Great big chunky vintage pendant with delicate lines on a modern style stool? It's visually engaging and a little unexpected.
I love how Leanne Ford breaks all the rules by ignoring formulas for rug sizes, how art must be hung, and just about everything in the design world!
3. Shiplap One Wall For A Rustic Statement
More can be more, but a little can also go a long way. Cladding every wall with shiplap makes sense in some instances, but if you're after a lighter look or just want to ease into the idea, an accent wall is lovely.
And shiplap may be growing tiresome for many, but it can still be chic!
4. Add Luxurious Pristine Marble For a Rustic Refined French Inspired Look
A marble backsplash is so elegant yet pairs beautifully with more rustic accessories and accents.
I mean there's nothing fancy frou frou (except the French range is very ooh la la) in this rustic French farmhouse kitchen, yet the marble subway elevates the mix.
(And marble accents upon marble counters? Yes, please!)
5. Add Beaded Board for Texture
You can ask my husband. I just can't get enough beadboard in my life, and I won't apologize. It's one of those humble, affordable, timeless, easy to live with design elements that makes every thing look more welcoming if you ask me.
I never did add beadboard to our bedroom's bath (as I intended) so maybe in the new house…
6. Create a Serene Vignette in the Kitchen
Pretty garden roses are so perfect in a white rustic kitchen!
And Tracie of My Petite Maison can style the heck out of a white rustic assemblage!
7. Board & Batten for Architectural Interest
While it is becoming increasingly common to see kitchen backsplashes extend to the ceiling, look what happens when it extends higher than the standard 18″ yet leaves space for a pleasing vertical board and batten detail…
8. Paint Exposed Rafters White
Here's an idea I have always wanted to try.
Ever done this? I would like to try it in our basement at the new house, but there is so much wiring happening that I'm unsure how that would look.
9. Add Cheerful Color to a Neutral Vignette
White rustic country style lends itself to ease when it comes to colorful accents since everything works.
10. Create Warmth With a Wood Island
When you're after an informal, unfussy look, there are so many opportunities to add warmth with light toned wood.
And don't you love that rustic wood pantry next to the Smeg? So unfitted and perfect even though it's completely a departure from the Shaker style white cabinets.
11. Display White Vintage Treasures Together
I am trying to concentrate on this post's commentary and not immediately open FB Marketplace to search "alabaster vintage lamp!"
Mixing white things is an art, and fortunately, we can get better at it by studying the work of artists.
12. Mix Varying Values of White
If you watch home design shows on television, the reveal inevitably features a homeowner uttering "it all just matches so well together." And what they really mean is they love the harmony and mix.
You don't want to match all of your whites in a space, but you do want to pleasingly gather pale colors and then layer them artfully.
13. Vintage Glass Bottles & Jars Make Sweet Vases
White labels are jars don't seem to be terribly common which is a shame since they would be more likely to be recycled!
14. Dare to Be Spare Interiors
It's the easiest trick in the books. If you love white, adore rustic, and are after a sophisticated country modern look, SUBTRACT. Stand back and decide if you can peel back even more.
15. Add Industrial Glass to a Sliding Door
Outlining anything in black is going to draw the eye through it, and in the case below, the black strengthens the industrial feel and modern look of the door.
I find that some rooms just call for black, and others are just fine without it. There's an intuitive element to so much of home decorating, and sometimes you can just sense when the added strength of an outline, border, or frame is needed.
16. Unify Disparate Furniture in a Space With White Paint
A room full of vintage pieces can begin to feel busy and disjointed. Painting inexpensive pieces white can change the mood completely.
17. Introduce Distressed Wood Texture in the Bath
I love it when an otherwise elegant white bath is humbled and warmed with the addition of a distressed wood finish.
It could be an accent like this bath try, but it could also be a wood door or repurposed antique vanity cabinet.
18. Paint the Floor White
If you're thinking of doing this, I have read all sorts of contradictory advice. Some folks will insist on porch floor paint or garage/concrete floor epoxy. Others will recommend oil based white primer. And still others say use your favorite paint and top it with a sealer.
All I know is, it makes sense to test a sample of the floor material…scratch it, see how it reacts to water, etc.
19. Mix Modern With Vintage
There's always the threat of an all white room looking too sterile or too granny-in-a-bad-way. So make sure to mix up the eras.
A Fun Before & After!
I independently selected products in this post—if you buy from one of my links, I may earn a commission.
White Decor, Country & Whimsical Finds
Apparently I am still fixated on alabaster table lamps…
White Kitchen Island
It can be nearly impossible to find a piece with simple, clean lines so it works with a variety of design styles. Here's an exception:
Modern simplicity!
Rustic Baskets to Charm
If you're lucky enough to find vintage examples at the flea market, lucky you!
In the mean time, find a placeholder to add warmth with all the white.
While it isn't rustic, a slope armed Belgian style accent or dining chair looks right at home with a rustic farm table.
Chunky knit throws have a modern whimsical look and are so functional.
Whimsy can greet you at the door in the form of an entry table that sets a tone.
Whimsical Decor & Touches
On the right country porch, these galvanized planters can add casual charm.
Anything angel wing themed seems to fly off the shelves (still!) so if you find lovely examples, scoop them up.
Decor Finds to Add Whimsy
Click here to PIN THIS POST to save it for future reference…you know you are going to be searching for it!
Distressed Finishes & Patina Style
When you need something inexpensive for a rustic white room…
Pretty White Accent
To Err is Human, To Forgive, Canine
Decor & Furniture to Bring Personality
I independently selected products in this post—if you buy from one of my links, I may earn a commission.
Peace to you right where you are.
-michele
Shop for items you already intended to buy on Amazon RIGHT HERE, and also find home decor here to keep decor inspiration flowing on Hello Lovely!
Hello Lovely is a participant in the Amazon Services LLC Associates Program, an affiliate advertising program designed to provide a means for sites to earn fees by linking to Amazon.com and affiliated sites.