These Paint Color Trends that move beyond the sea of greys reveal a rainbow of hues we may see raining on Pinterest (and dripping from paint brushes). But do they have endurance? Because I don't plan to be re-painting in a year! And also, I could care less what "experts" report about shades of gray. I find greys indispensable and unlike American politics, dang cooperative with a room's other design elements. Where do paint color trends come from anyway? For these, I reviewed assessments from design sites, browsed the work of brilliant designers, considered themes emerging in daily queries from readers of Hello Lovely, and analyzed cultural factors too.
I independently selected products in this post—if you buy from one of my links, I may earn a commission.
7 Paint Color Trends to Consider Beyond Grey!
Pantone Color of 2022: Very Peri
Here's the hue Pantone says can help us embrace an altered landscape of possibilities:
While I can see the cheerfulness in Very Peri, love blue skies, and can imagine it being adorable on a cottage exterior, it doesn't work with the European country inspired ingredients that help me feel at home.
Ever used periwinkle in decorating at home? I love it in the garden, and I painted our kids' rooms this color (with its violet red undertones), but it is too bright for this girl.
Illuminating: Pantone's 2021 Color of the Year
Last year's color of the year was actually a union of two colors, and if you consider the colors of uncertainty and hope, the pairing will likely make good psychological sense.
But does yellow sunshine pigment evoke optimism for you?
Because while I enjoy lingering in hope, sunny yellow walls cause me to exit them.
However, the business of analyzing color and color psychology is a much broader topic than choosing wall colors. Have you seen yellow appearing more frequently on the runway or in your closet?
In terms of trending paint colors in the 2020s, for me, blue is symbolic of hopefulness.
Blue is More Timeless Than Trendy
More than any other color, BLUE stands out as a color I imagine enduring as a popular trend.
It's all too easy to love whether it covers kitchen cabinets in a classic way (above) or envelops a bedroom with velvety goodness (below – a la Sherry Hart's masterful touch).
This year, BHG predicts consumers will continue to embrace blue as a neutral after many years of atmospheric grey paint colors dominating in years past.
Who Decides Paint Color Trends?
While Pantone is an established and esteemed color expert (drawing upon color psychology and consulting), paint companies make it their business to deeply understand and investigate how color and consumers interact.
Since paint brands are guided by purchasing decisions of customers and their product development relies upon understanding demand, the opinions of "color experts" truly matter.
Such experts synthesize data from trends as well as culture to forecast what colors homeowners are likely to roll on their walls.
Why Do Some Paint Colors Rise in Popularity?
How does a color expert intelligently assess what colors we'll reach for in a given year?
Andrea Magno of Benjamin Moore told AD that experts spend months researching and traveling the globe "picking up cues and influences from different industries, including fashion, art, and even politics."
(I'm still in love with pale blue-greys no matter what changes occur around the globe!)
Ya know? I like the comforts sophisticated, non-colors bring.
In that same article, Erika Woelful (an expert at Behr), noted that paint colors searched on Pinterest and even popular nail polish colors influence the forecast.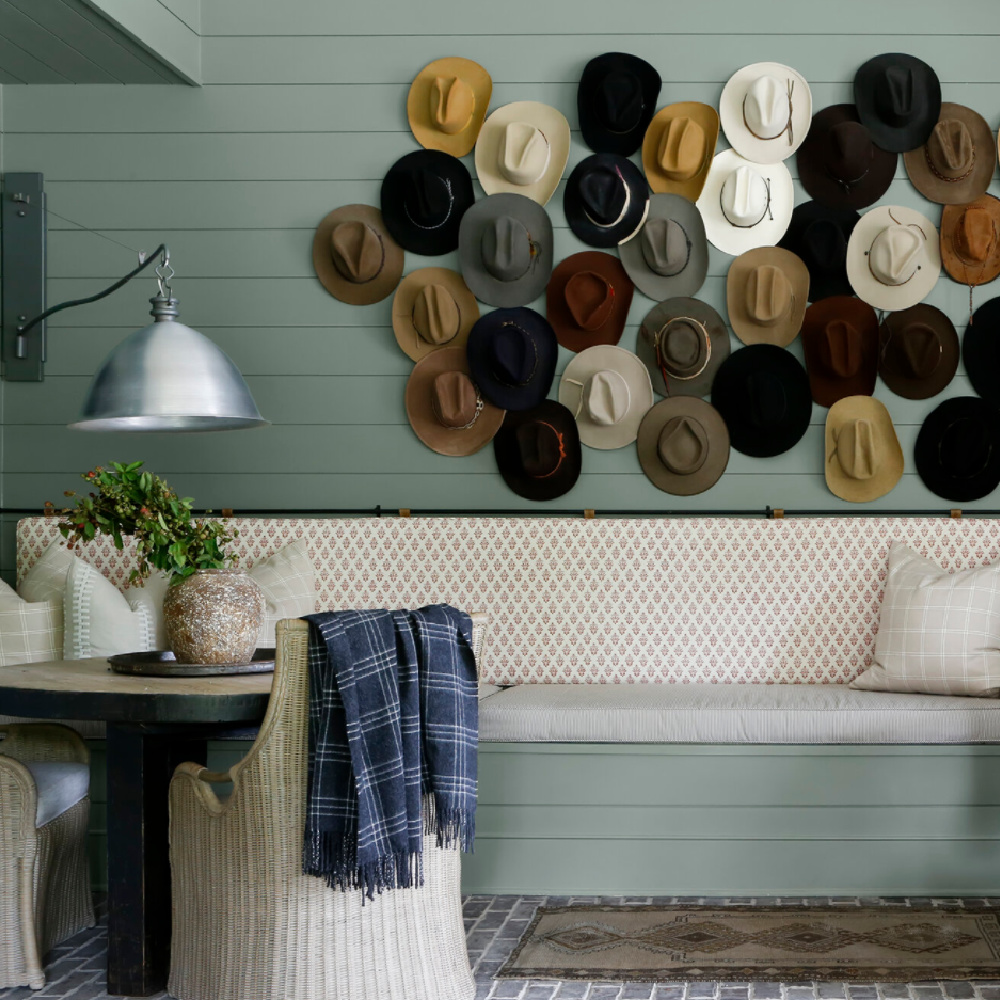 Pantone analyzes cultural influences (the entertainment industry, fine art, travel, fashion, and design) as well as "new lifestyles, playstyles, and socio-economic conditions."
Not sure what the wall color is on these kitchen walls, but you could try No Filter (above) for a similar look. I'm painting a bath in the new house with the color and will let you know how it turns out.
As you might imagine, technology is also an influencer of color along with "social media platforms and even upcoming sporting events that capture worldwide attention."
1. Mindful & Classic Blues Are Relevant in the 2020s
Here's the relaxing blue color HGSW chose as this year's color of the year: Aleutian 3355, which they say is a perfectly balanced washed indigo that sets a restful tone since it's grounded in both warm and cool tones.
In my own home, I often turn to paint colors from Behr and Glidden and often order samples from Home Depot. You can snag them with free shipping…so I am linking to a few favs seen here.
Easiest way to see if a paint color will work? Order samples with Samplize and have them delivered straight to your door.
2. Nurturing Warm Earthy Neutrals
Not sure what this calm green-khaki paint color is, but I have some ideas.
Try BM October Mist – their color of the year for 2022.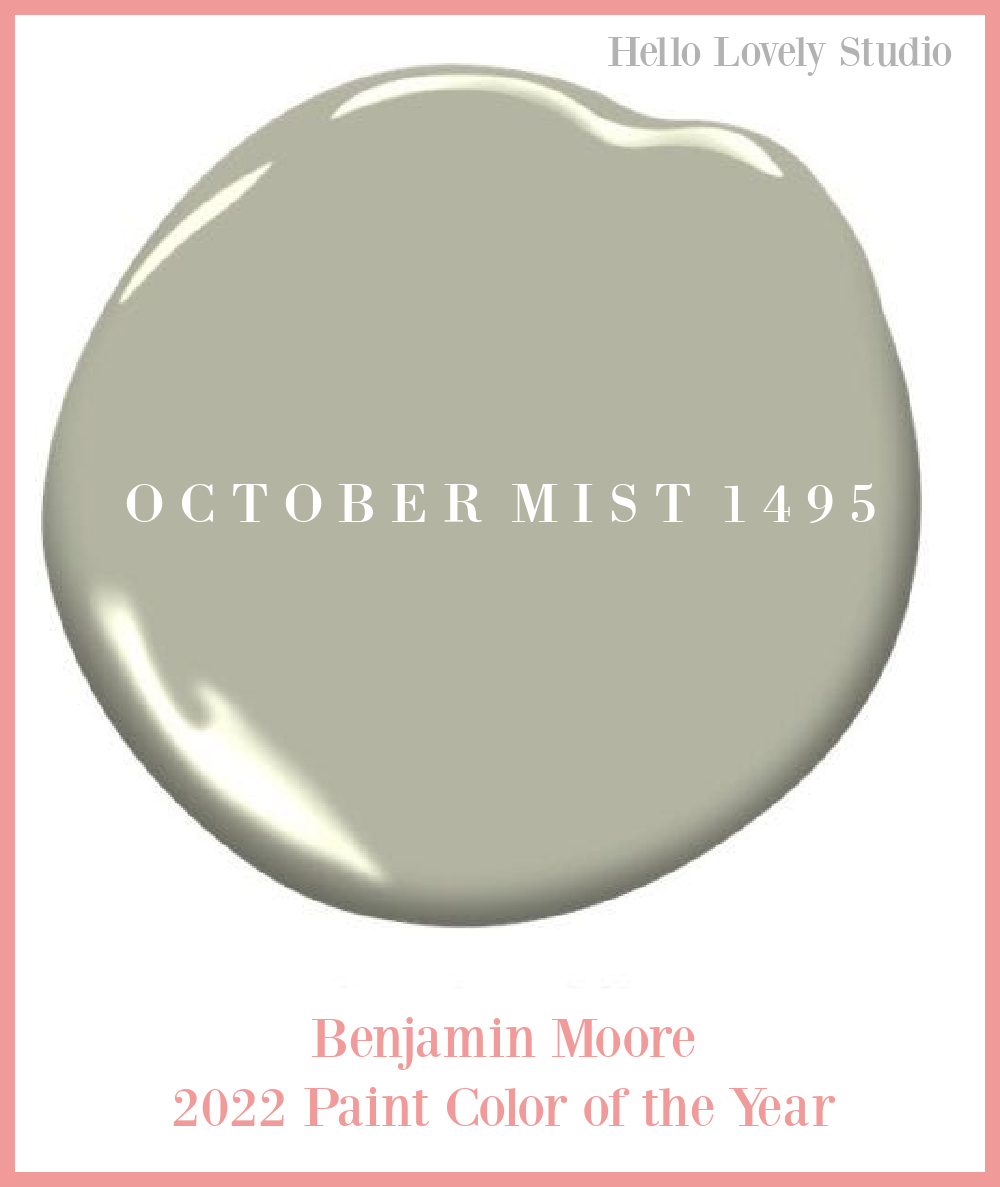 And here are a few more earthy green options:
The color on this bedroom wall with applied trim below looks similar to BM Flora.
Apparently beiges and warm neutrals are more popular than grays for 2022:
And here's a neutral that feels more European influenced:
3. Deeply Organic & Moody
More folks are going for moody tones on their kitchen and bath cabinets, and charcoal is a great choice.
I actually used Carbonized on interior doors and handrail at the new house, and we'll see if they stay that color! Seriously! I have to live with things before I know for sure!
Obviously it's fun to know which colors designers reach for…
and I love how Sherry Hart took a risk in her bedroom and still hasn't changed back to white walls!
If you haven't tried a color like this that can read brown in some light, dark gray in others, and even soft black, try it!
If you're feelin' spicy, here's a wild card for an earthy hue:
4. Peaceful Pastels
With the popularity of modern farmhouse and Grandmillennial style in recent years, pastels have become a familiar site on Instagram and in Pinterest-land.
Some influencers change the color of their front door with the season's change!
Here's a precious color I considered for our tiny house which has a white exterior:
Isn't it divine?
I ended up choosing BM Boothbay Gray after sampling a bunch of options. Here's another beauty:
These green-grays are hugely popular right now since GREEN is all the rage, and a color like this is so neutral.
Have a favorite front door color?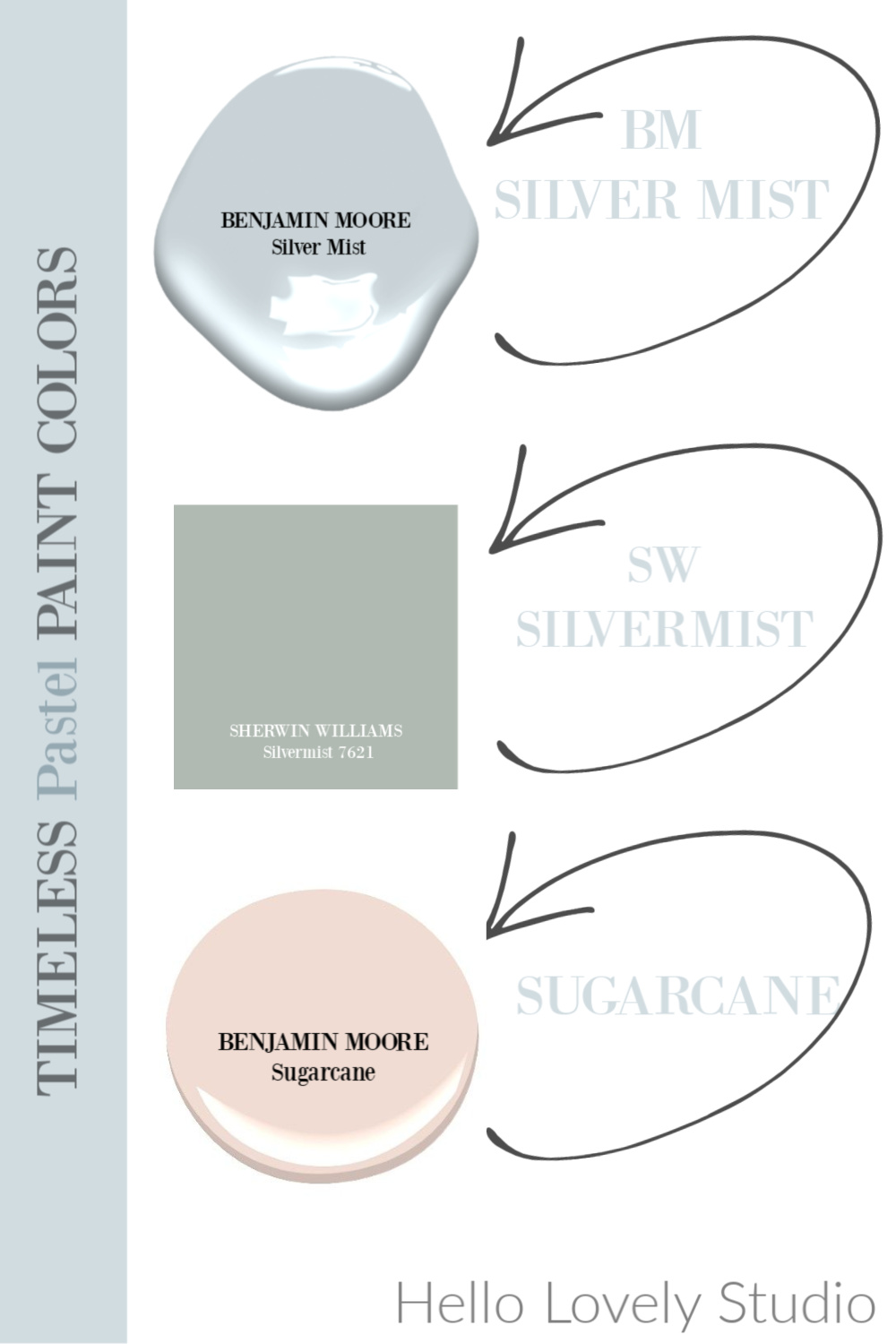 5. Sophisticated & Subtle
If you're after an atmospheric neutral that doesn't have "gray" in the name…
here's a color I have used with great success:
It's a mysterious kind of color that reads a beautiful pale aqua green in strong sunlight and cooler in low light.
Classic Silver may seem cool too, but when I used it on cabinets in the Southwest with that intense sunlight, it was this wonderful blue-grey!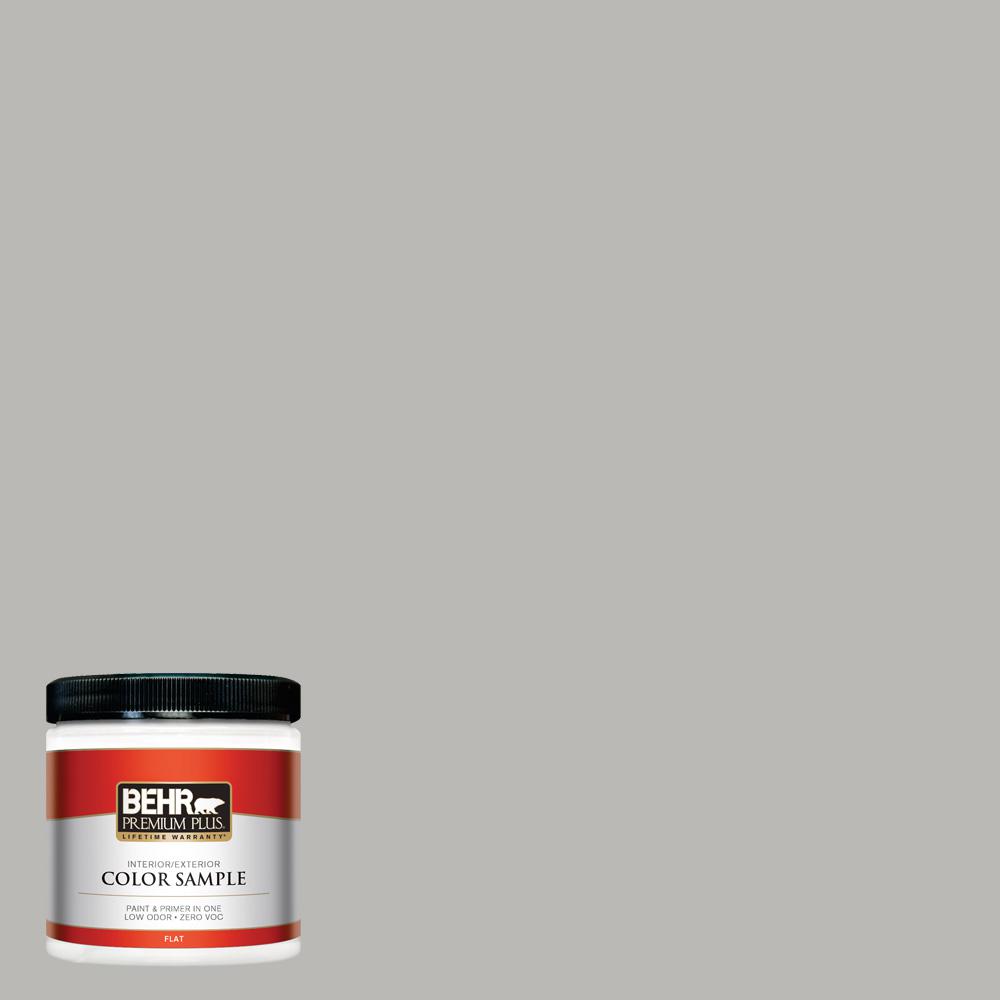 6. Nature's Favorite
If GREEN colors are going to be everywhere, we may as well have plenty of choices.
How would you characterize this color? It feels so spring-like to me.
And I can imagine it being delicious in a kitchen…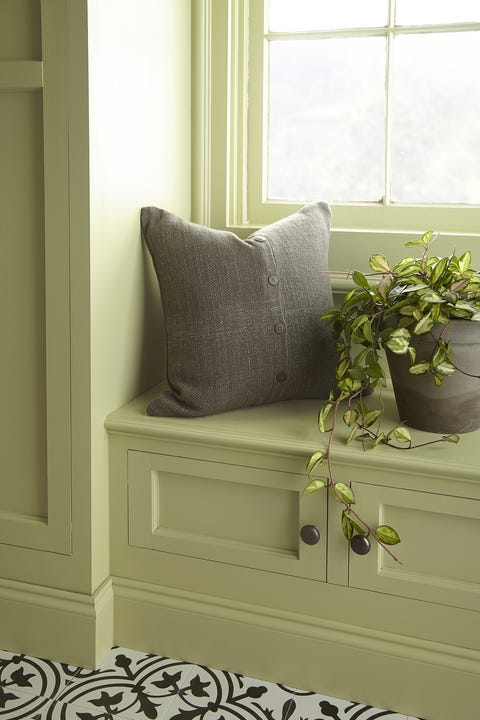 Do you like your greens more mossy?
Or reminiscent of teal? (Don't get me started on this lovely entry's floor!)
7. Chalky Blues
Oh, these muddy, chalky, hazy, dirty blues. I just love 'em.
There's something very Scandi about this shade:
Yet it works in both humble and fancier spaces…
Blue Blood has more green in it…
and reads teal in certain light:
YOUR TURN: Is there a paint color you have been meaning to try? What is keeping you from picking up a sample?
If you have a second, check out THESE STORIES with more paint color ideas…you never know what may inspire you!
Peace to you right where you are.
-michele
Shop for items you already intended to buy on Amazon RIGHT HERE, and also find home decor here to keep decor inspiration flowing on Hello Lovely!
Hello Lovely is a participant in the Amazon Services LLC Associates Program, an affiliate advertising program designed to provide a means for sites to earn fees by linking to Amazon.com and affiliated sites.