If white on white, laid-back, tonal, cozily rustic French Nordic country vibes feel welcoming, you'll fall for this cottage home tour. Most folks associate white interiors and all white decor with summer, but if you live with snowy white year round, then you know: it is certainly not limited to a single season. English Country Cottage Whites: Get a French Nordic Look celebrates quiet lovely country interiors and garden moments along with sweet kitty cats and a mix of random quotes for good measure!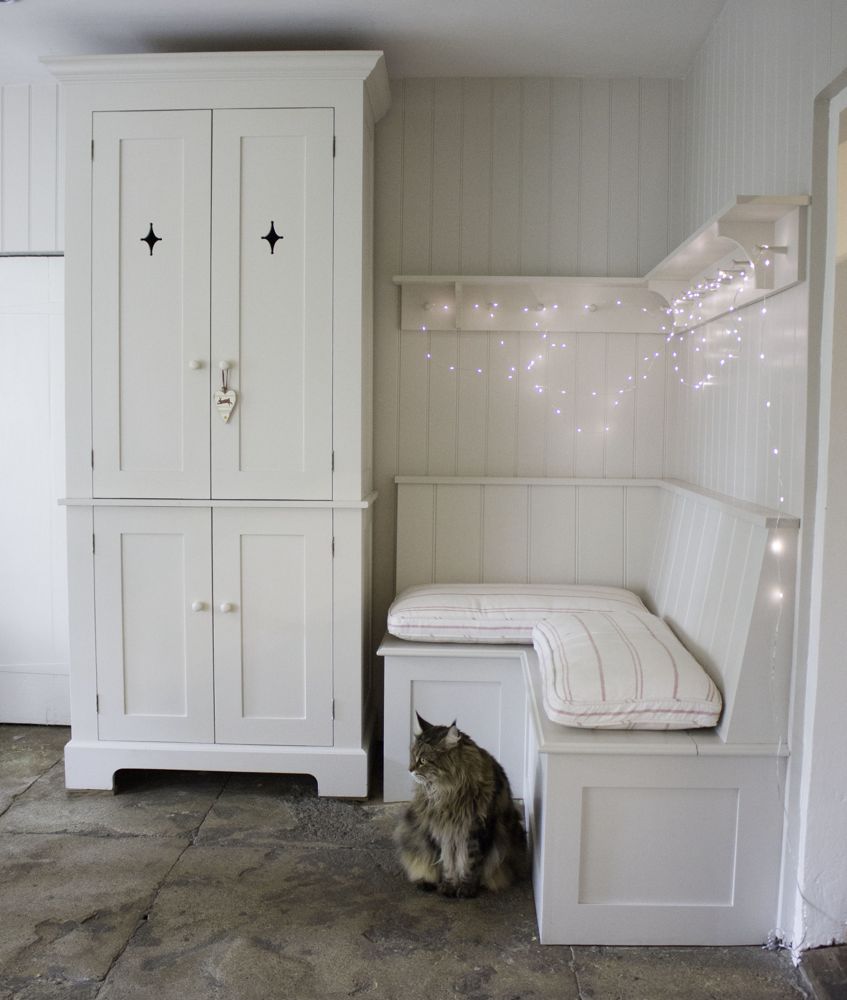 English Country Cottage Whites: Get a French Nordic Look!
Property: The Hatch; Photos: The Beach Studios; Interior Design: Atlanta Bartlett & Dave Coote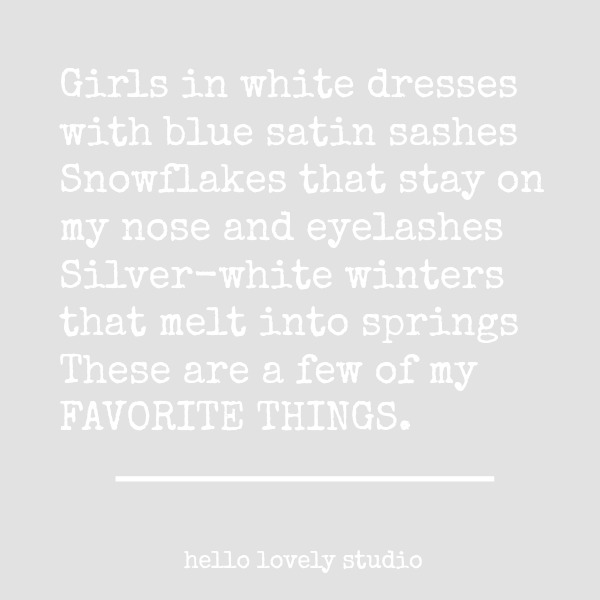 White Scandi Country House Design Details
Just 90 minutes from London, the property has served as a rental for photo shoots and vacations. It is intentionally spare with its classic furnishings and vintage style.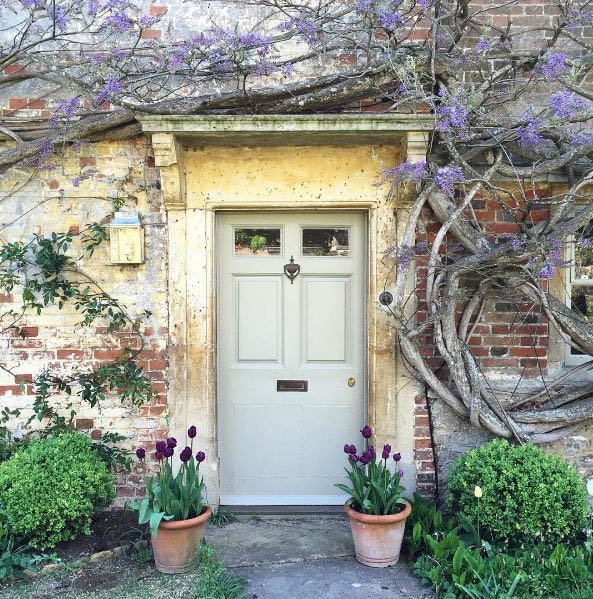 Wood floors are painted white, the shutters are original, and charming window seats encourage cozying on down.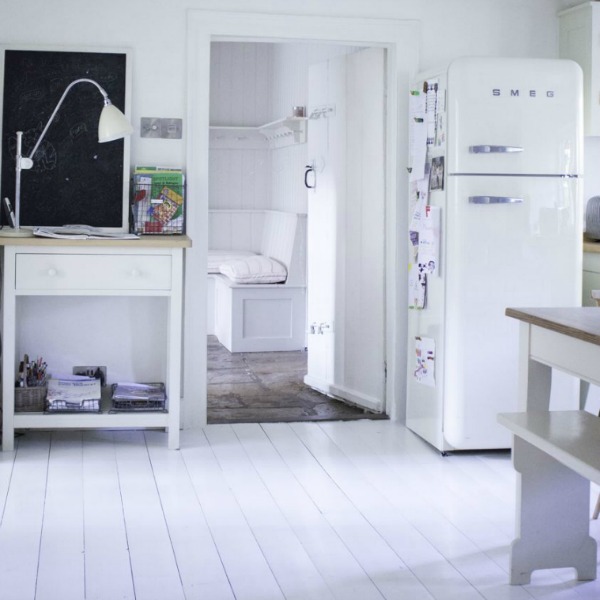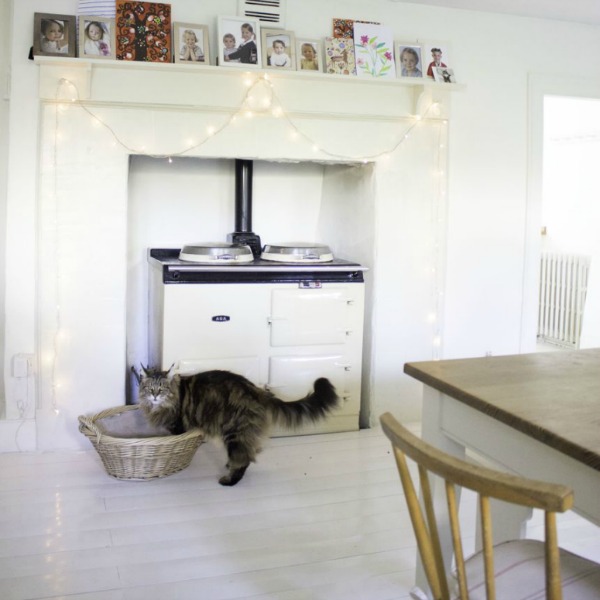 The gardens outside are beautifully maintained and the stuff of English countryside dreams.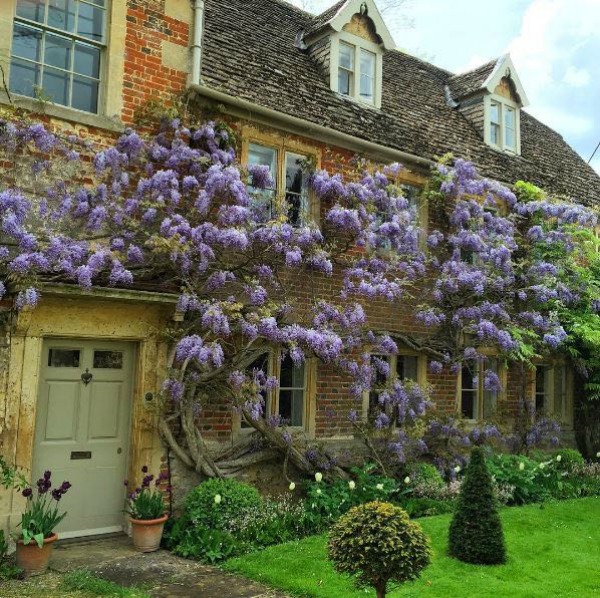 The boot room was renovated with Plain English cupboards and bench seating, the kitchen has a cream AGA, and you can't miss three Maine Coon cats who are ready for their close-up!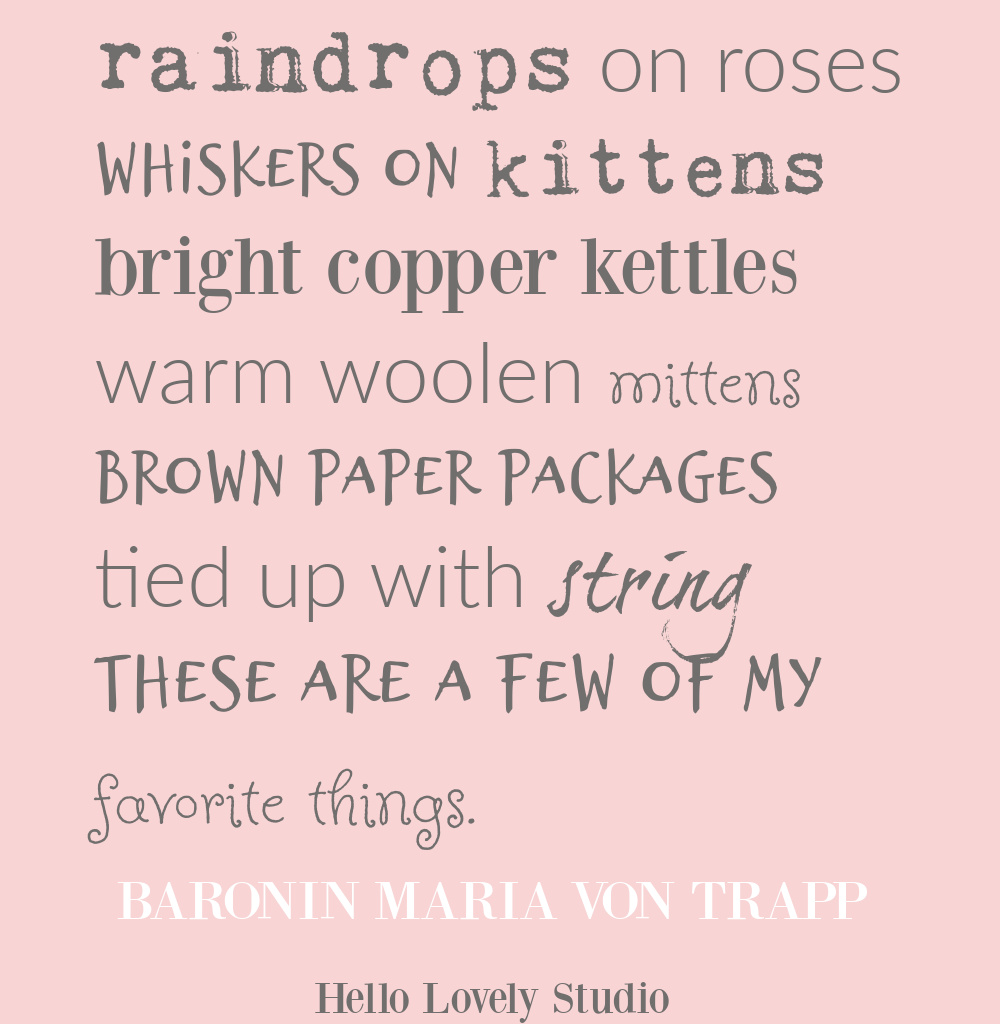 Look at this gorgeous specimen!
Can you imagine yourself entering this lovely little cottage door?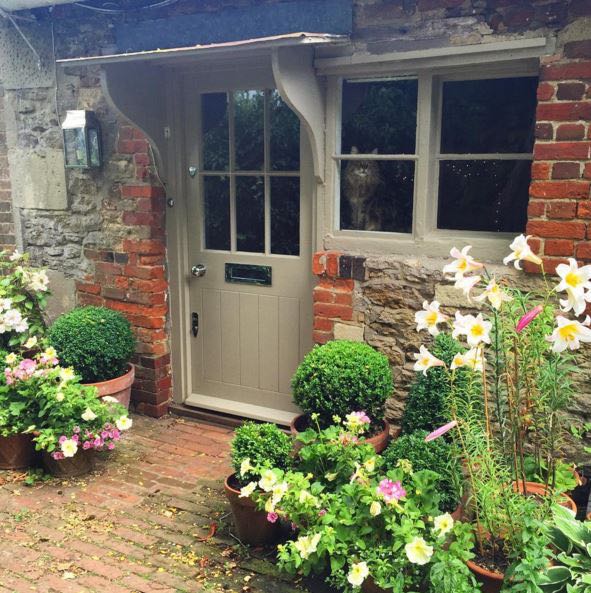 Simplicity With White Painted Everything
Pretty sure I made a convincing argument for white the other day HERE.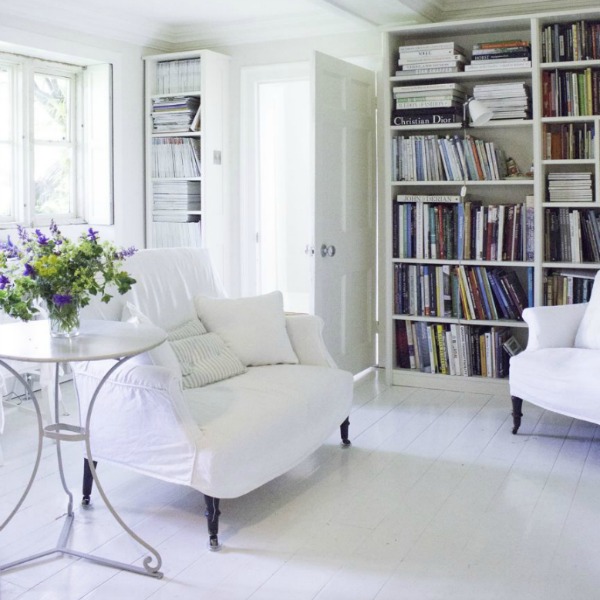 And I do feel like a broken record with how much I find myself saying "just paint it white."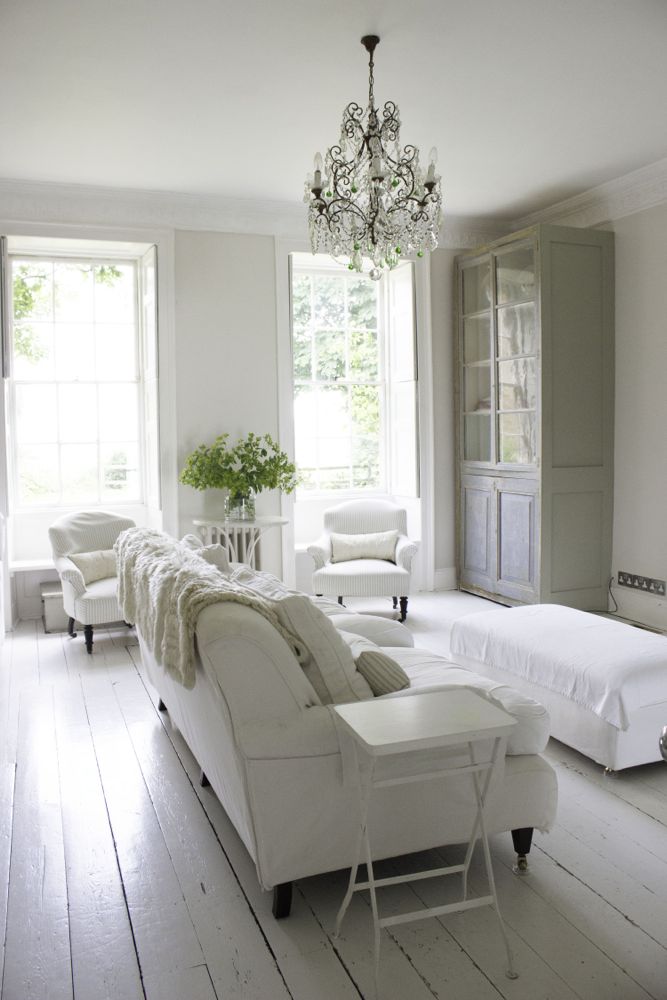 But I really am that passionate about white paint. I really do find myself joyful when there's a wet paintbrush in my hand as something is being transformed.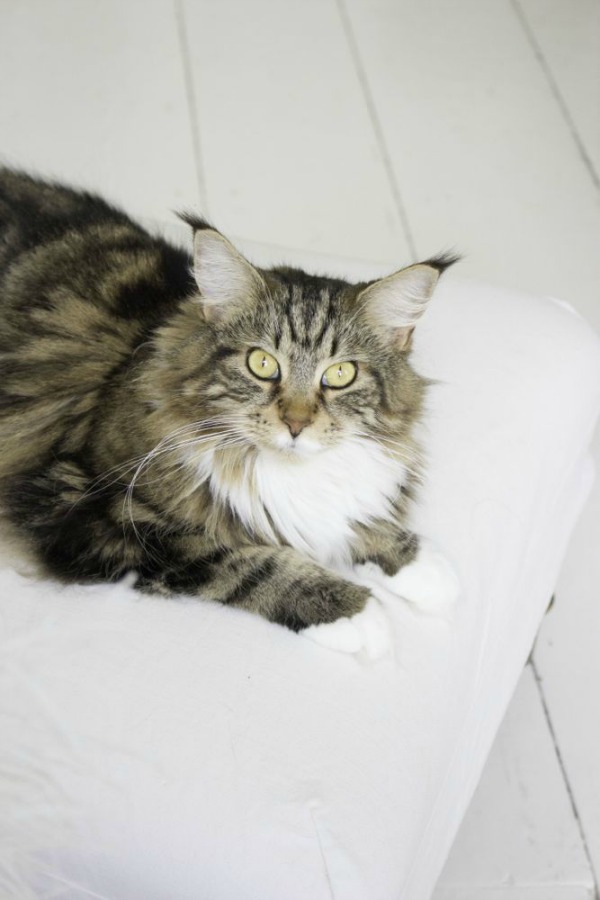 Oh these country cats! Even though we had a few cats when I was a child, I haven't had one as a pet in adulthood. So it's all new as I watch our sons enjoy living with theirs.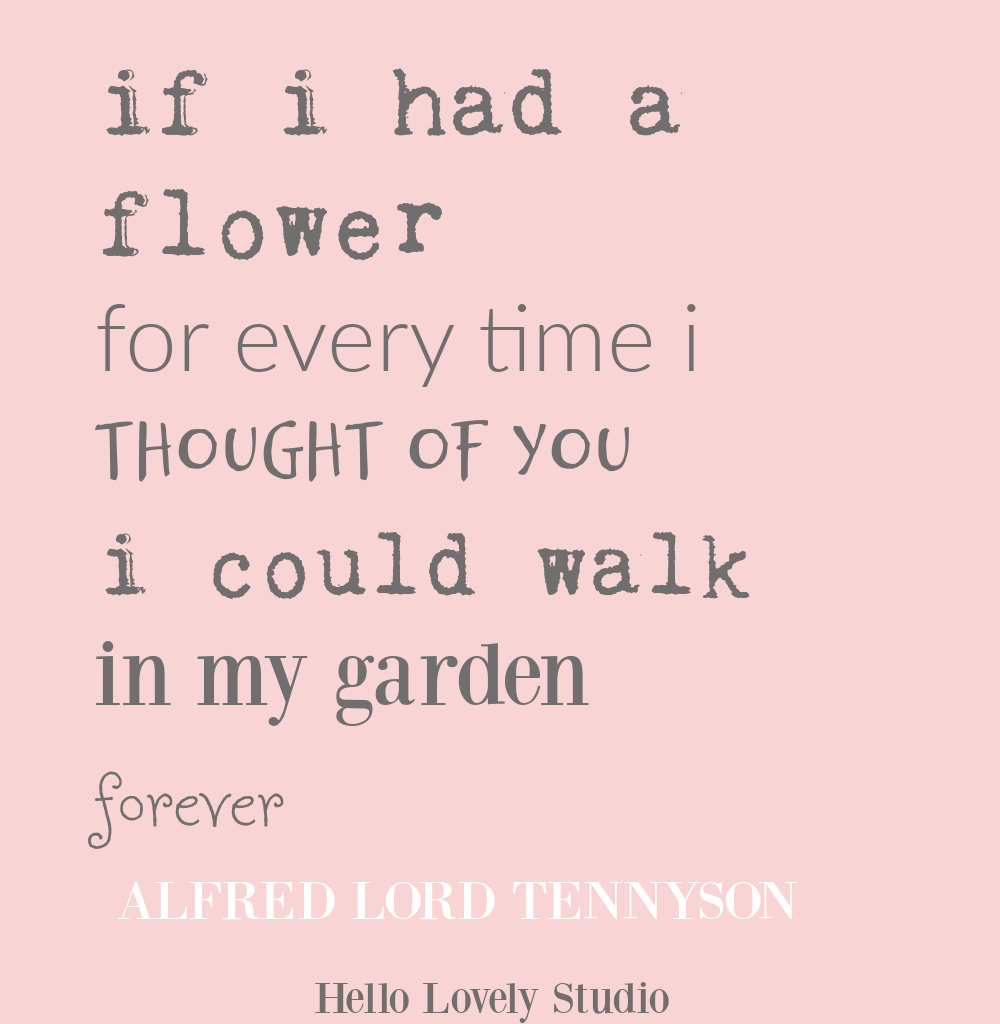 I have even heard a cat can become the soul of a house.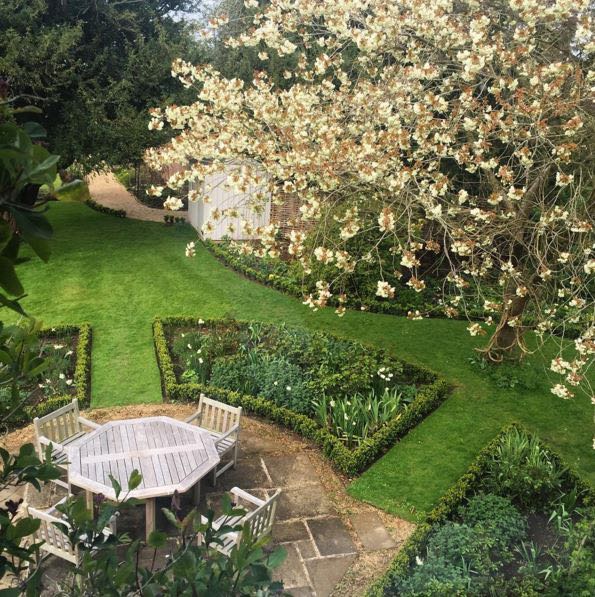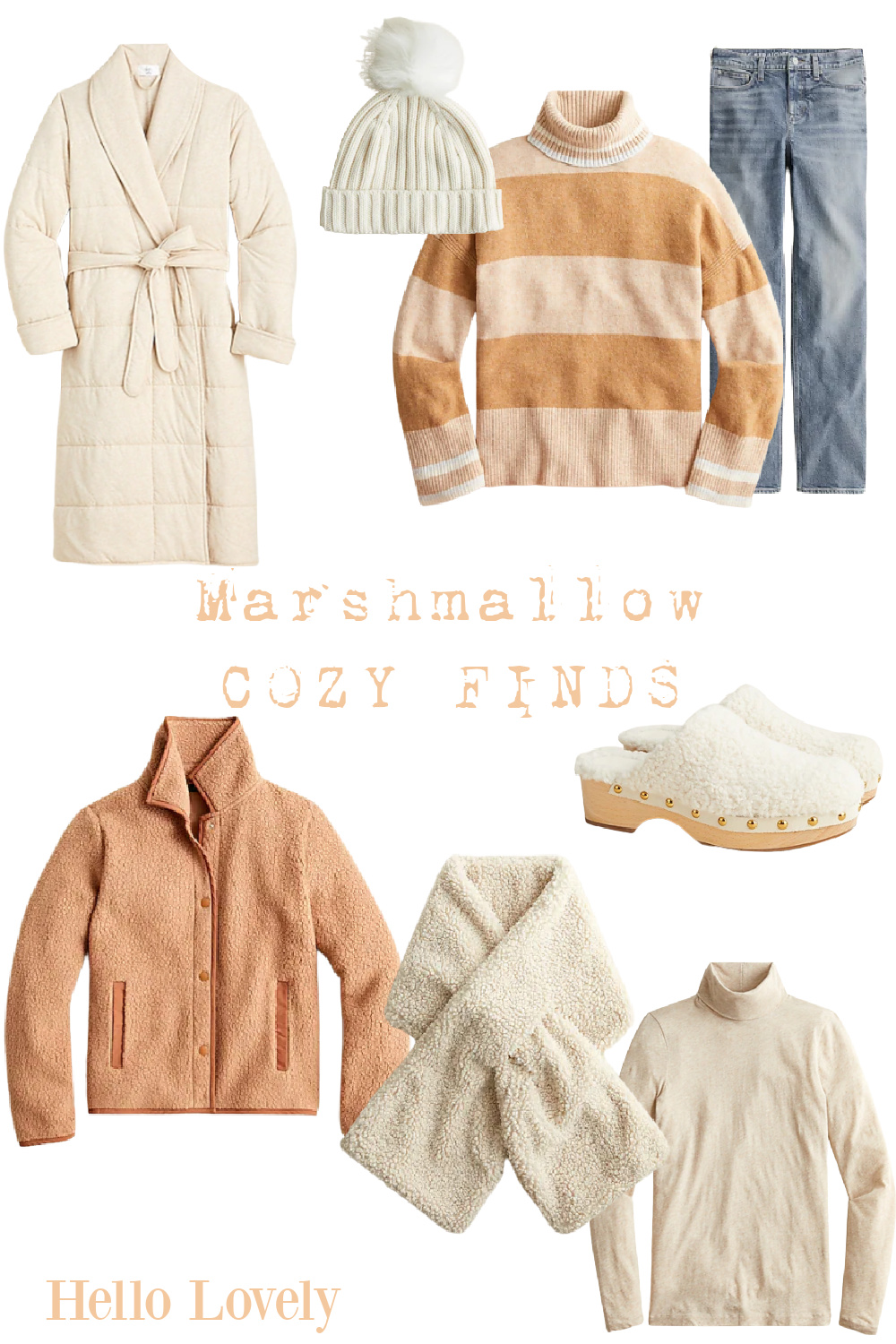 Plain English Classic Country Kitchen
How on earth do you keep them off your kitchen counters and tables?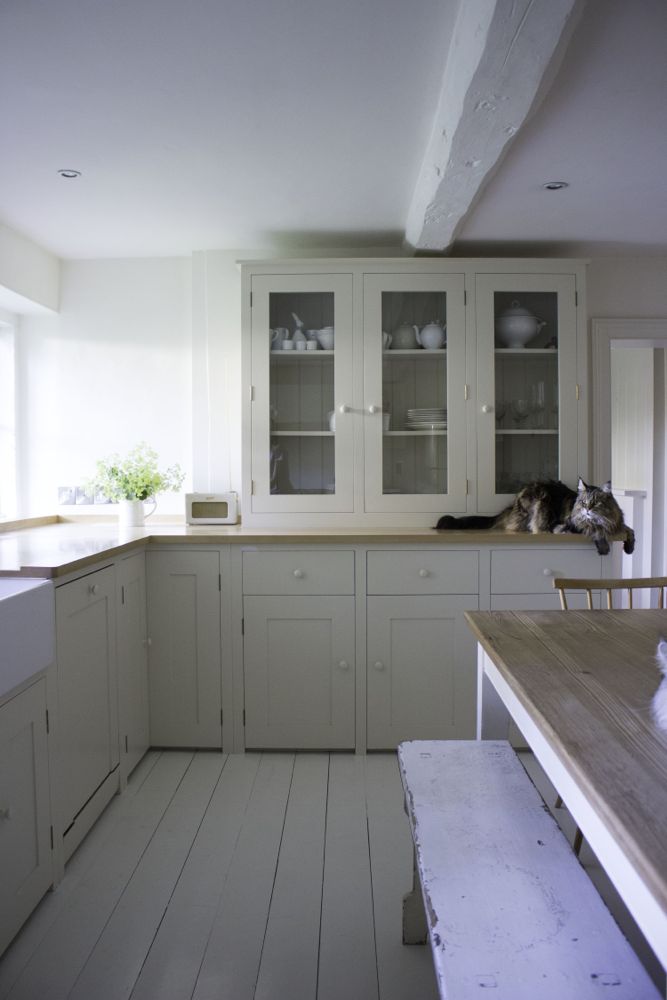 And how would one ever keep an indoor cat with gardens as inviting as these?
Back to the business of white Nordic cottage style…isn't this exterior lantern charming in the bath? And don't you love how European cottages often have beadboard or "boarded walls" even in the bath?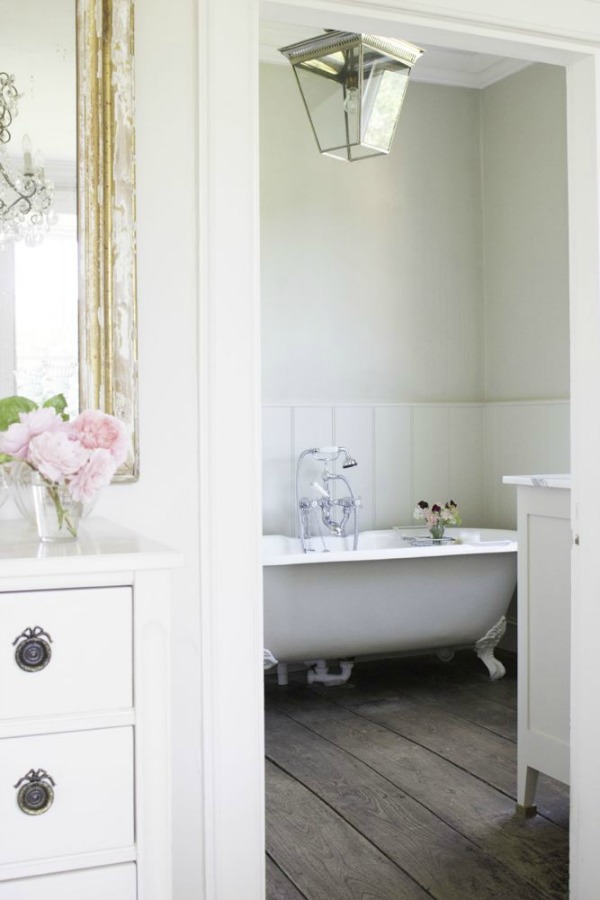 Americans seem more shy about using wood on the wall in bathrooms. I personally boarded the walls of our main bath and painted them with at least four coats of chalky white. They look old and imperfect just the way I prefer.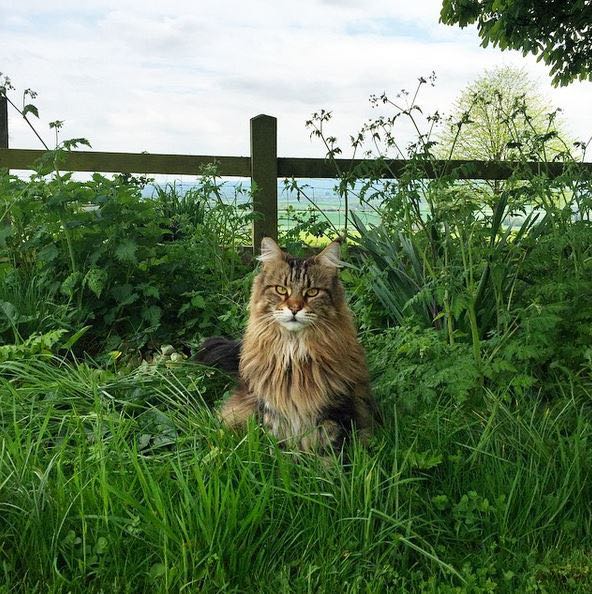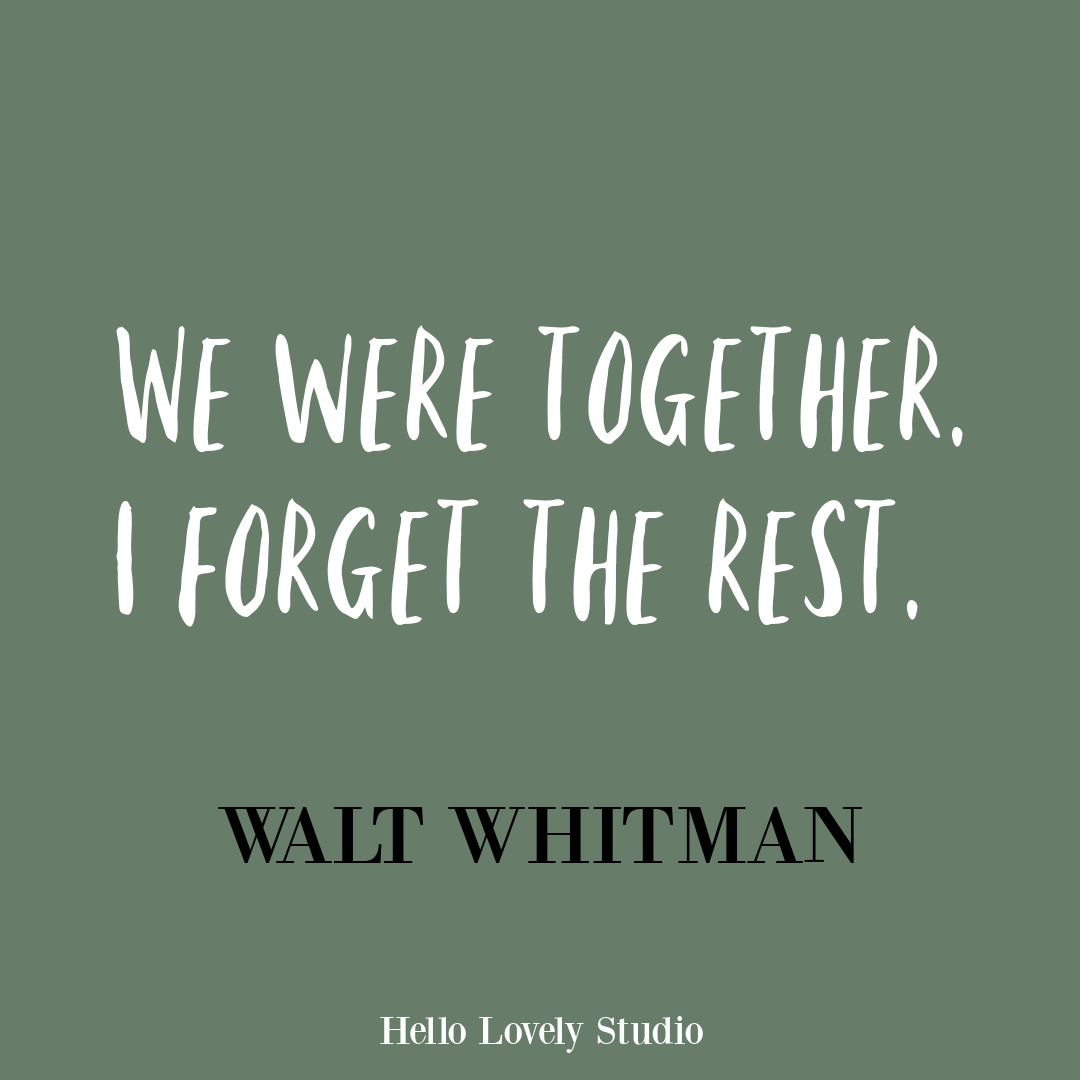 Nordic Whites & Spare Style in a Bedroom
Relaxed style means there isn't an attempt to match all your whites.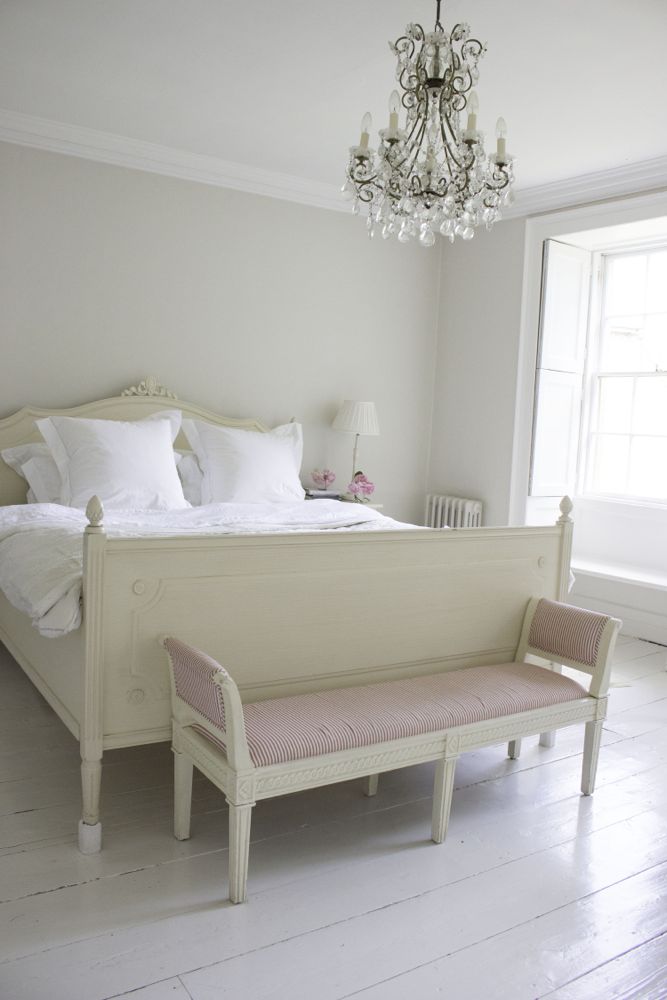 Floors can be bright snowy white, walls can be greyed-white, and furniture can be creamy. The mix suggests an evolved look (maybe it evolved, maybe it didn't…there are thoughtful ways of achieving the look).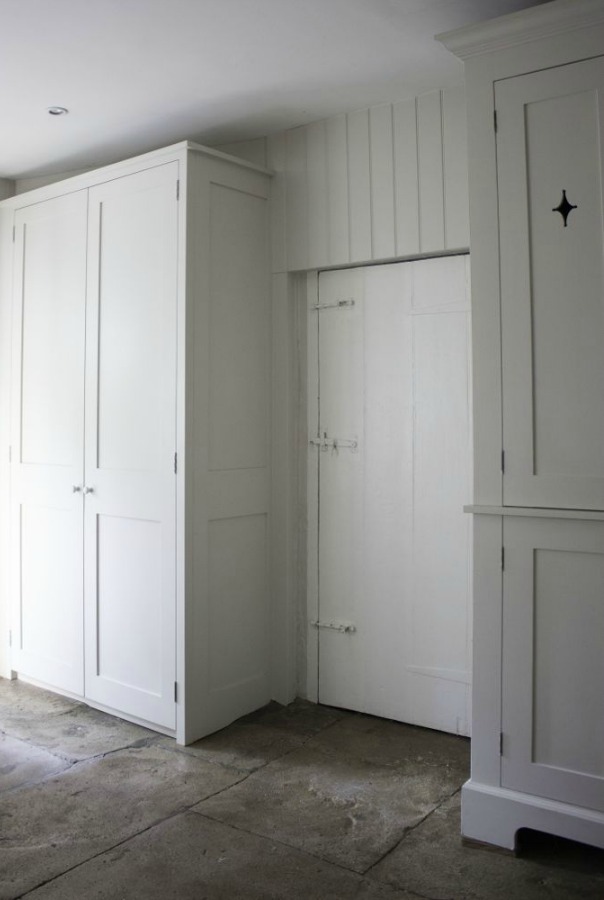 It's always smart to take advantage of vertical storage in cozy cottages, and there's something so timeless about unfitted kitchens. In the USA, it seems more common to gut a space and start over, changing the look completely rather than simply updating or enhancing it.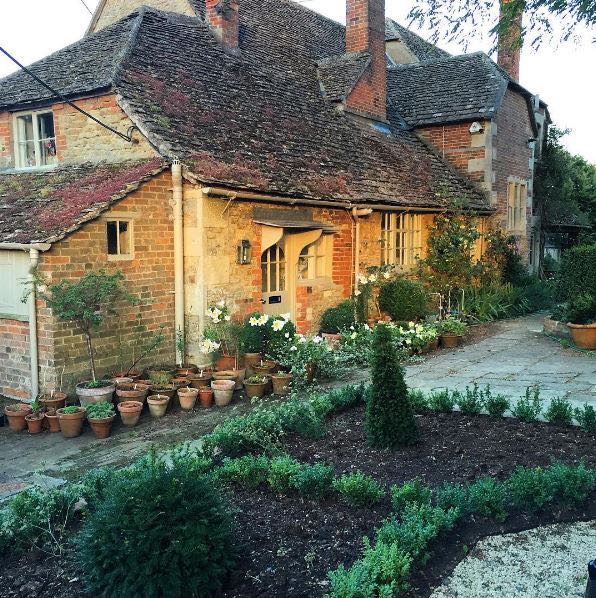 I'm not a terrific gardener so I can't offer much helpful commentary, but I know what I like. And I love seeing the mass of terracotta pots looking so promising and rustic.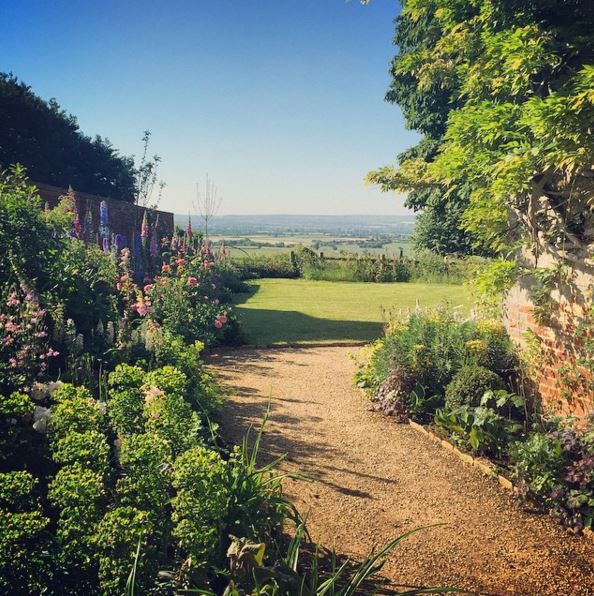 It's interesting to note that not all the floors received glossy white paint. Here we can see how high contrast feels with white: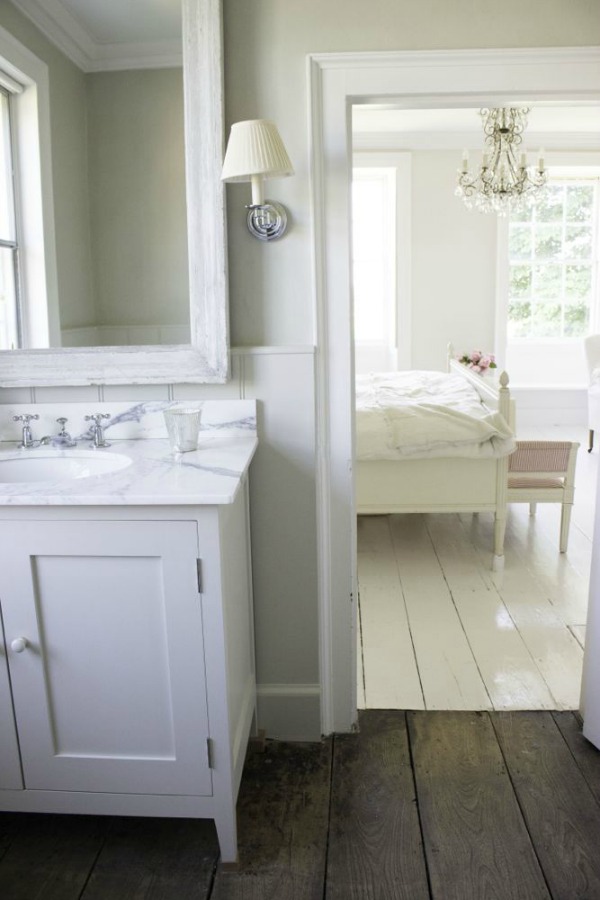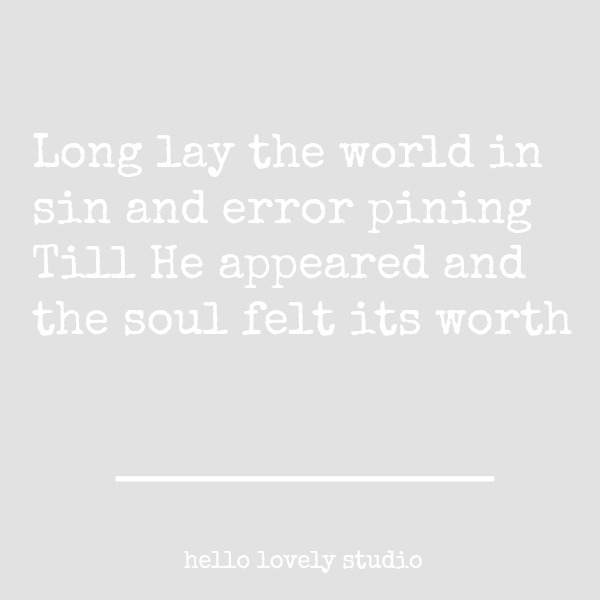 Charming Cats in a Charming English Country House
Deep windows in old homes are such an amazing feature, aren't they?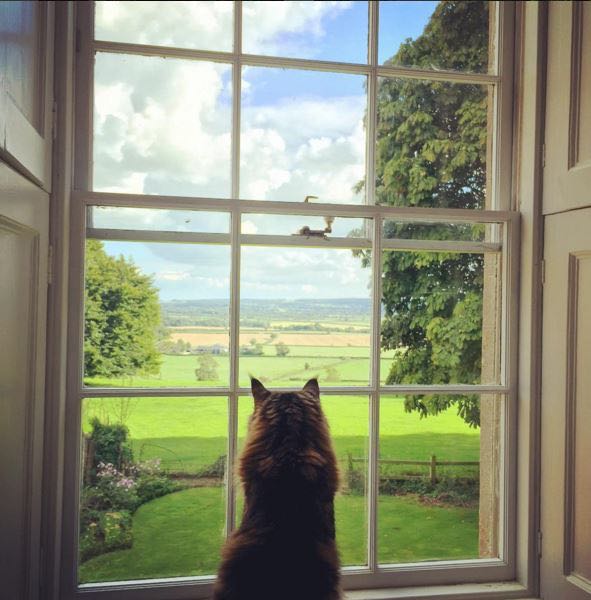 And here's a pretty Nordic moment with touches of rosy pink.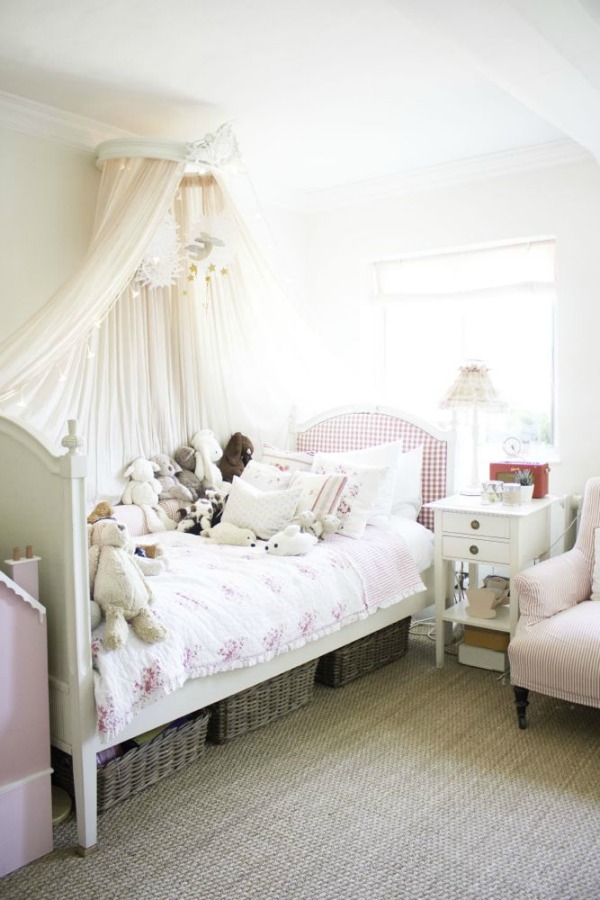 I spy rustic baskets 'neath the bed which are perfect for storage, and I'm also noticing that sometimes you must simply ignore where the windows are in a small bedroom.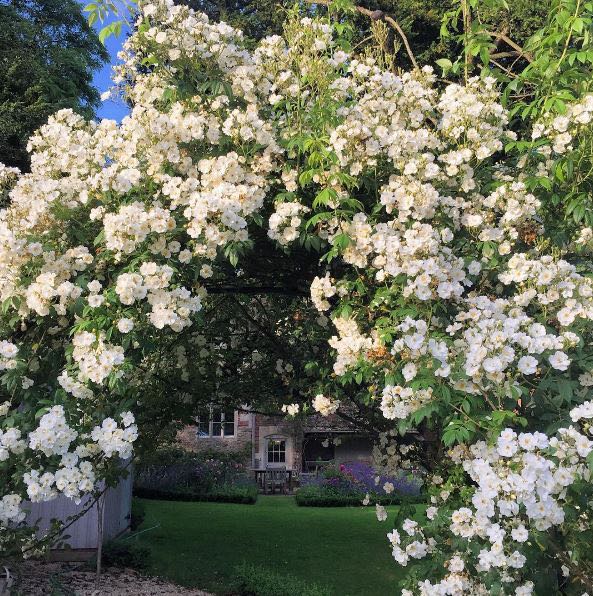 After all, it is what lies just outside those windows that makes up for those quirky vintage cottage features.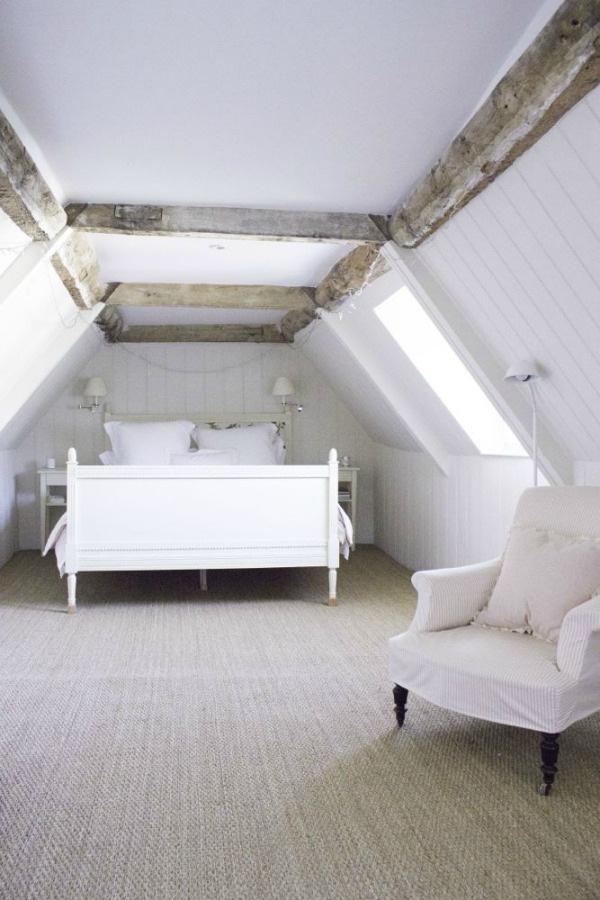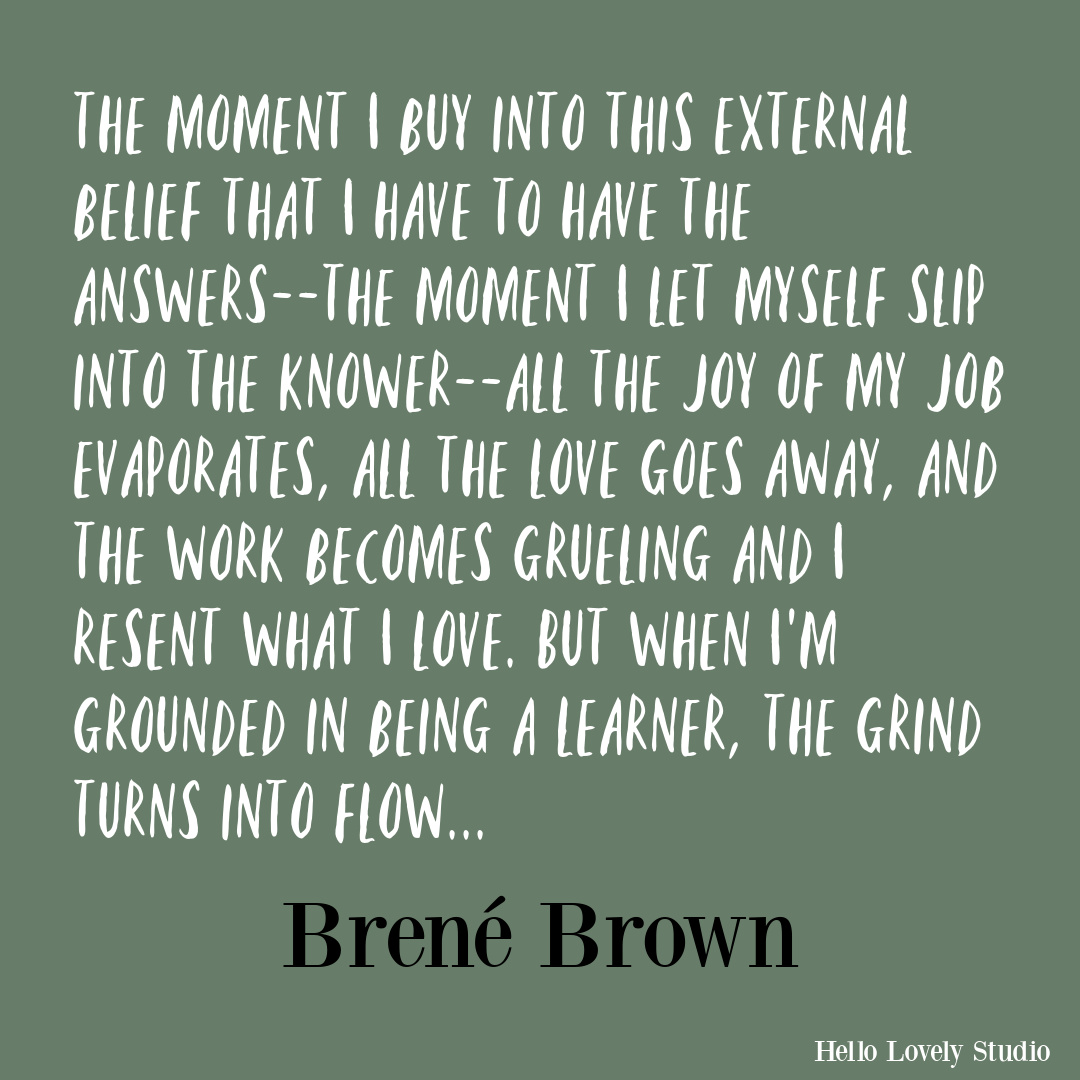 Rich Color Outside Pale Interiors
If a white and rustic French look appeals, make sure to visit the story HERE.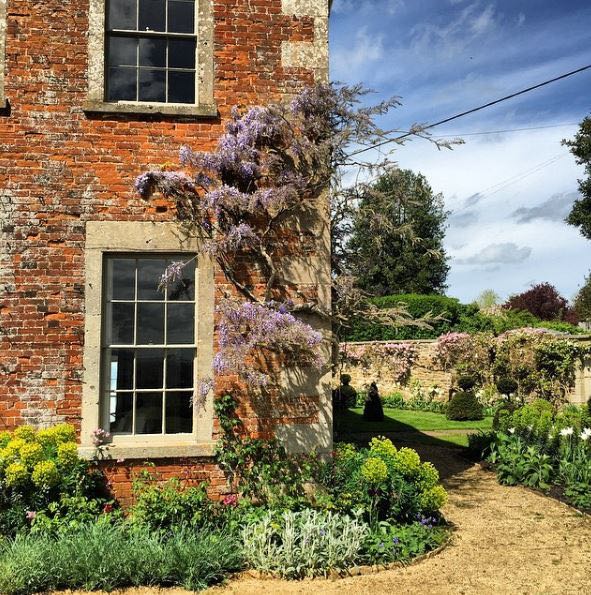 I independently selected products in this post—if you buy from one of my links, I may earn a commission.
Winter White Accents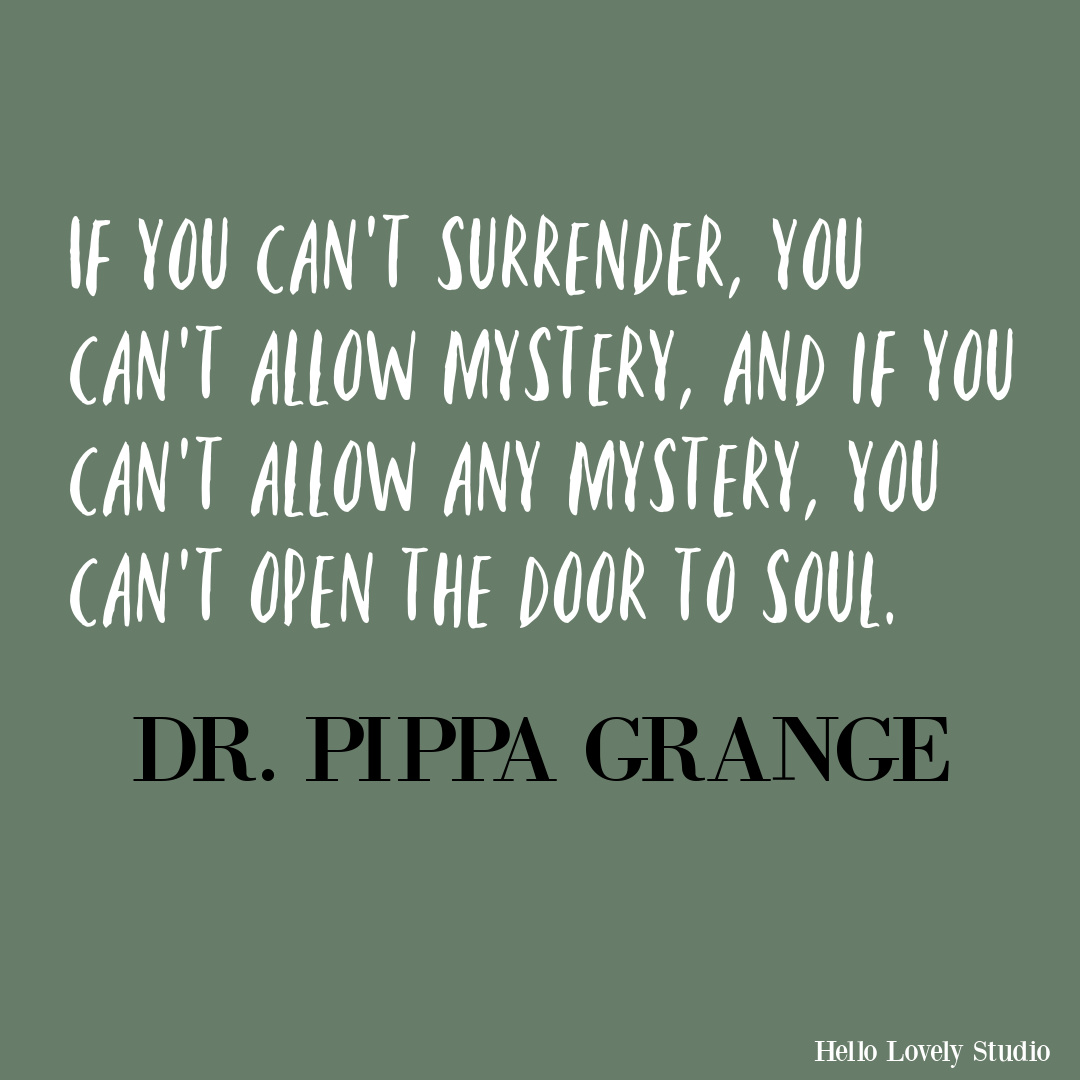 A Favorite Contemporary Christmas Hymn
Have a favorite Christmas hymn? I especially love OH HOLY NIGHT and also 'Noel.' If you have not heard this particular arrangement, you're in for a lovely surprise!
I independently selected products in this post—if you buy from one of my links, I may earn a commission.
Peace to you right where you are.
-michele
Shop for items you already intended to buy on Amazon RIGHT HERE, and also find home decor here to keep decor inspiration flowing on Hello Lovely!
Hello Lovely is a participant in the Amazon Services LLC Associates Program, an affiliate advertising program designed to provide a means for sites to earn fees by linking to Amazon.com and affiliated sites.