Thank you for your prayers…I'm sharing a personal update at the end of this post and told you things are hard here. Painting anything white never fails to bring me pleasure, never gets old, and always reminds me of the power of transformation, the power of white in any season. So let's celebrate my favorite color (don't you dare claim it's not a color…it contains ALL of the colors, doncha know!). We will blissfully explore and immerse ourselves in Calm White Country Interiors: How to Emulate the Look. (Many spaces are French inspired, others coastal or rustic in style, and most? A lovely mix.)
Calm White Country Interiors: 50 Lovelies & How to Emulate the Look!!
Timeless & Tranquil White: Pamela Pierce
She is just the queen of white if you ask me and has essentially written the book on white done right. (In fact, if you plan to write that book in 2022, Pam, I'm volunteering to pen the forward. Hahaha.)
To pay reverence, to connect and recognize the magnificence lying in the subtle realm of tones, well this takes a depth of design wisdom.
The lens is everything, and Ms. Pierce's has a purity you can sense in the work and the wondrous whites she chooses.
Serene, Subdued & Scandi Inspired
Tracie of My Petite Maison honors white in her humble Swedish immigrant's cottage in the Midwest and creates ethereal moments you simply want to linger in.
As a lover of neutrals, I am not opposed to colorfully vibrant interiors and skin and landscapes and language.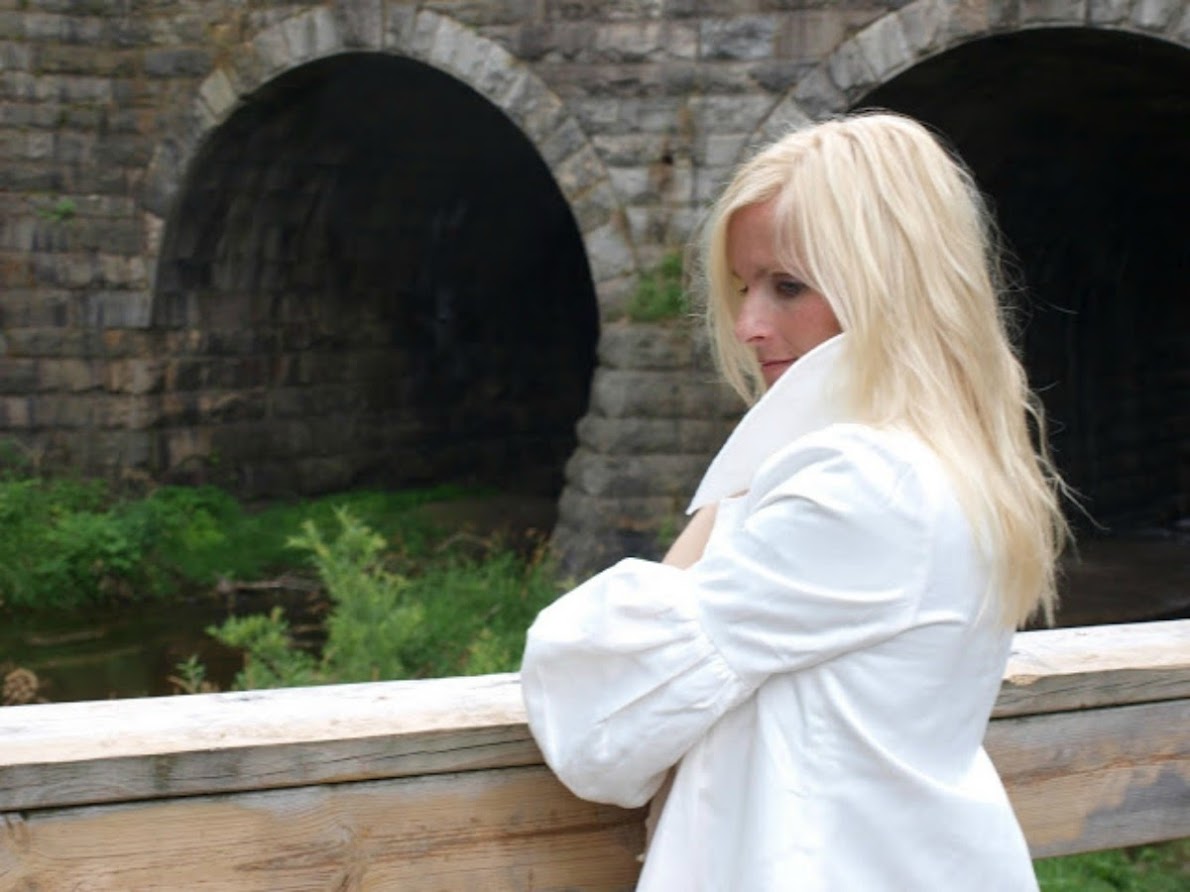 Yet I find myself emotionally drawn to white's pause.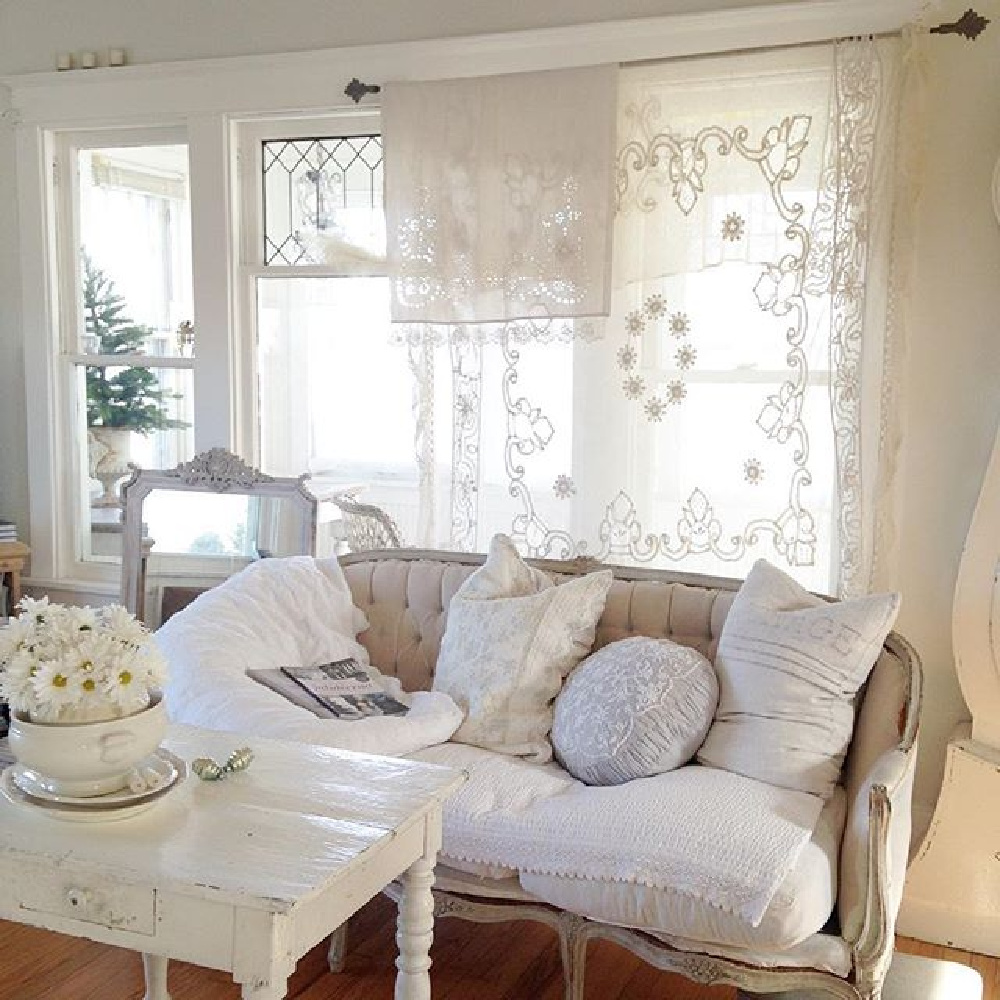 To its restful qualities. And to its quietude. For me, it is suggestive of an infinite source of grace an unfettered, un-manifested, unspoiled field of possibility and hope.
White Country French Rustic Elegance
White paint can erase busy-ness and distracting details like nothing else. It is a powerful tool for bringing forward what you wish to bring forward, for recessing what is best recessed.
BRIGHT IDEA: Pair blissful whites with pale wood tones for subtle, pleasing, low contrast.
French Farmhouse Inspired Dreamy Whites Kitchen
Neutral stone and white marble (such as carrara) harmonize with nature cooperatively. For me personally, there is a timelessness about such materials.
BRIGHT IDEA: Avoid matching your whites. Rather, MIX them. Ecru and bright snowy white can be best friends!
My Modern French Country White Breakfast Nook
It took a dozen white paint samples to arrive at Benjamin Moore White OC-150 for our home. Everything took on a yellow cast from the quality of sunlight and our unique exposure on a tree-heavy lot. It pays to take your time when you intend to use white liberally. It can help to look at images online or in magazines, but let your own eye decide which color sets your spirit at ease.
BRIGHT IDEA: To elevate interest to an all-white scheme, contrast textures. Polished surfaces with distressed wood, for example. Opposites can truly be attractive.
Natural Wood Shelves With White
Look to nature to understand more deeply your emotional response to color combinations with white. For me, the wood shelves with white below bring to mind snowy trees or a tall branch against a winter white sky.
Whites Mix in a Board & Batten Bedroom
In our bedroom in Arizona, I simply brought together shades of white. Valspar Salute on the walls has green undertones. Shiny white porcelain on a lamp contrasts with nubby white linen, greyed-white quilting, alabaster lace, and ecru embroidery.
White French Farmhouse Romance
Brit Jones used duck egg blue with her whites so beautifully. Sherwin Williams Alabaster walls feel creamy and comforting.
Cottage Style White Interiors
White can be used boldly, but I like it best when it whispers. Our reclaimed wood planked wall in the bedroom is a lovely subdued creamy tone with a surprising amount of variation. (It may be hard to glimpse it in photos.) If you're a fan of rustic wood texture, then you probably understand how much interest it lends to white.
BRIGHT IDEA: The beauty of all white bedding is how easy it is to introduce seasonal accent colors. Vary the throw at the end of the bed along with throw pillows.
Spanish Cottage With Rustic Warm White Interiors
Warm whites can be magical in a cottage with low ceilings that could otherwise feel oppressive.
Modern French White Elegance in Houston
There's a graciousness to white. It is quite happy to not be the center of attention; to allow other elements to be amplified.
Rustic French Farmhouse Whites & Shiplap
White can surely be a room's mood lifter. Just imagine this shiplap (which appears to be original) in its "natural" state of brown. The simple change to white opens up a fresh landscape of potential.
Romantic White Bedroom With Weathered Finishes
Critics of white say it is just too cold. And it can read sterile when it is not used thoughtfully. So be mindful of your intentions for the room from the start. What materials will make you want to stay in the space? In the bedroom below, the tufted velvet (well, I'm imagining it is velvet and can't be sure) seems even more beautiful and important because of the white wall.
White on White Kitchen
You'll always be told it is risky to go for a white on white or all-white decor scheme. Yet it's YOU who is granted the final word. Isn't that a lovely prospect? You can listen to all the design rules. Read all the data about resale. Be informed about trends. And then choose what feels right for YOU. (For crying out loud, you can change or add colors if ever it comes time to sell).
Tone on Tone Country White Bedroom
Neutral colors and white in particular have a gentle quality you simply can't argue with. I have never been in a red or purple room that felt gentle. So if you want your room to offer a lively energy and be suggestive of power or strength, white is probably not for you.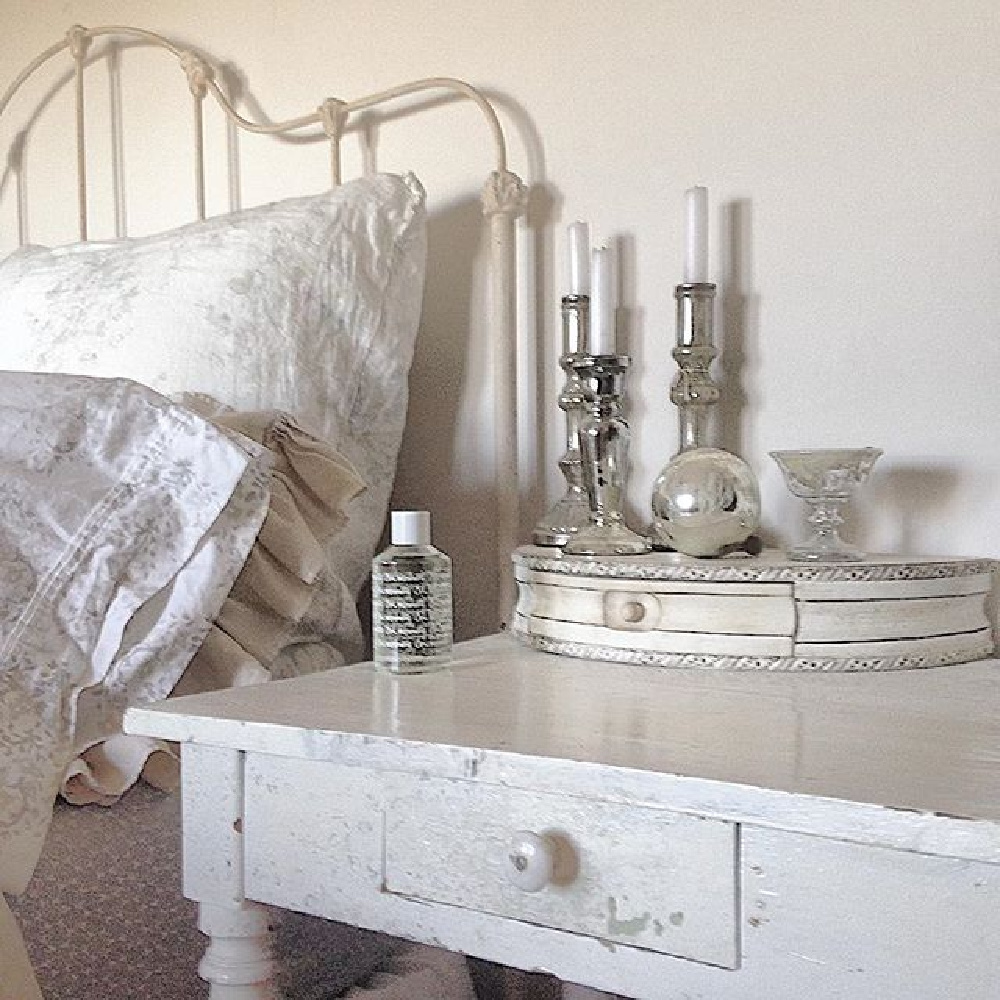 Shades of White in a Dining Room
Because white is so agreeable, it gets lumped into a category of "safe." I'll always disagree. I think white has a vulnerability that is honorable and brave. And in the world I call home, vulnerability still demands courage. It can be dangerous to reveal it. Yeah, there I've said it. White is dangerous.
Laid Back Dining Loveliness
Another criticism I see everywhere about white interiors is that they are uptight and fussy. I'm a broken record, but sure this happens when any color is used un-mindfully. If you love white, you can use it in unfussy, effortless, comforting, lovely ways that will not remind anyone of a museum, morgue, hospital room, or padded cell. (Can you tell I have had a few discussions about white with less-sensitive types who over-generalize?)
BRIGHT IDEA: Wood trim need not be painted white when you're keeping it calm…try a light putty or grey.
Playfully & Boldly Unfussy With White
White is willing to be your canvas and not judge you for what you throw at it. Be edgy. Or be spare.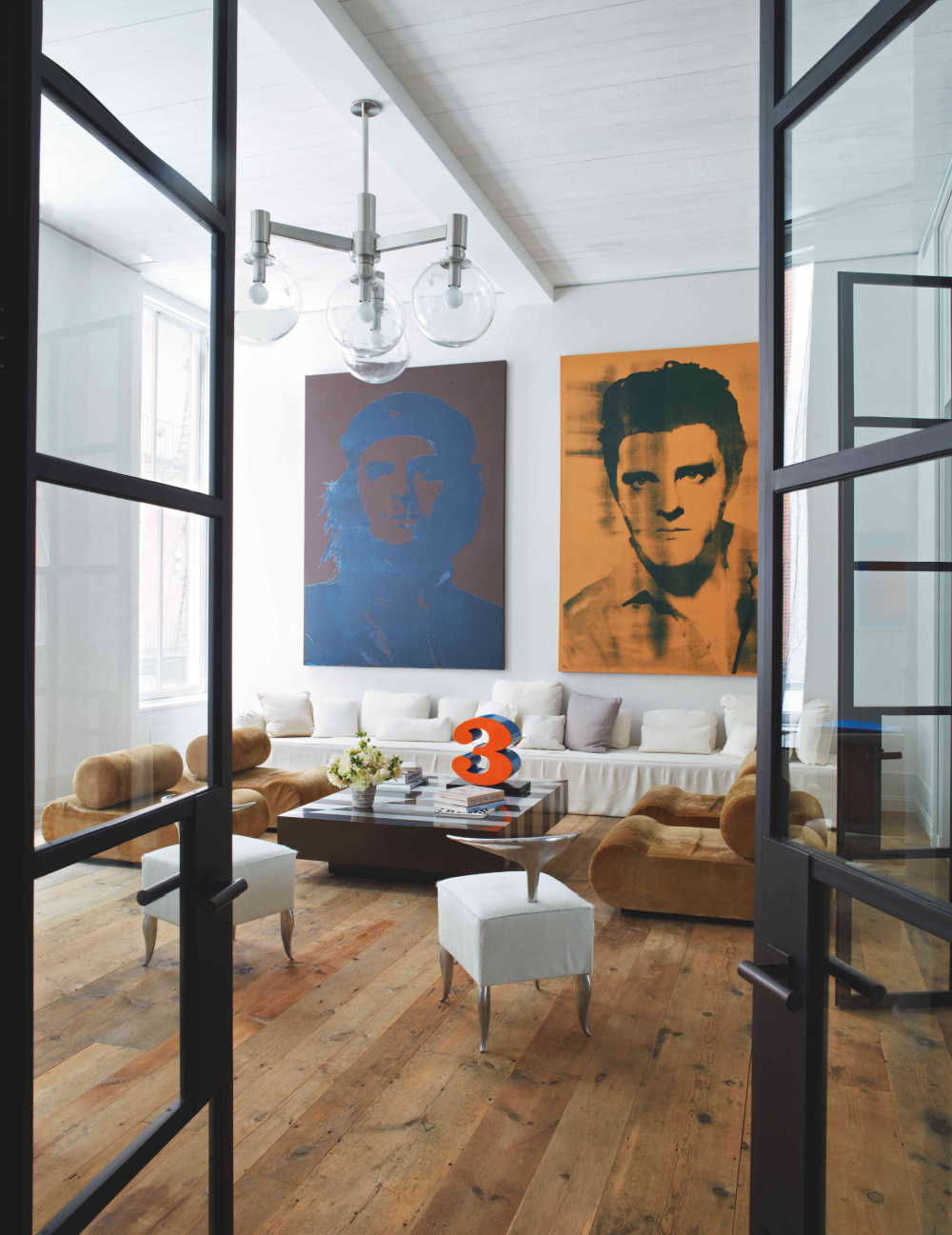 Be whimsical or serious. White's got you.
Clean White Order & Dignity
If this isn't a lesson in the power of paint and the enchantment of white to bring order and dignity, I'm not sure what is. White unites disparate things and holds them as a unifying force.
Mottled White Vintage Kitchen Sink
White doesn't need to be pristine or perfect to be fabulous. It doesn't need to shout or have an enviable number of followers on TikTok. White can be humble and strong simultaneously.
White Whispers With Bold Accents in a Country Bedroom
Remember those sexist-yet-memorable Love's Babysoft commercials from the 70s where the message was 'soft'll get 'em every time?' White can be soft. Yet soft is white's secret weapon.
Bold colors get to feel all puffed up and important while white is quietly holding all that s#&% together.
Swedish Style and Antiques
People who live where darkness prevails have a profound understanding of color, mood, and well-being so we can trust them.
White Rustic Country French Cottage Style
Interior designer Jennifer of The French Nest Co. honors white in her own home, and her interiors spring to life in winter with fresh greenery.
BRIGHT IDEA: Don't underestimate the power of chippy white painted urns and accent tables. How generous of country decor to let us quickly and lazily slap on white pigment and then reward us for years.
White Painted Country Floors
Yellow and white check hardwood floors in Storybook Cottage (Leiper's Fork, TN) charmed us on a vacation here.
Bold though they be, the white furnishings kept everything feeling calm and even chic.
Serene and Ethereal Interiors
If it is a billowy tranquility you're after, white can be your best friend to achieve a serene look.
When you gather your favorite country finds, your favorite objects to look at, they will somehow just work.
Chippy Painted Vintage Doors
A grey, not white wall in this bedroom, but a reminder that chippy white doors can add architectural interest and also bounce light around.
BRIGHT IDEA: Old doors can become mirrors with a simple swap out.
Atlanta Bartlett's Way With White Rooms
White sometimes likes to play a starring role…
Belgian Linen and White
Well they're a match made in heaven if you ask me.
Rustic White Christmas
Making spirits bright with white is a modern approach to country style. And yet. There is chatter that white is sooooo five minutes ago. Which is no problem at all. Because white is an excellent choice for old fashioned, vintage style. Boom.
Unfussy European Inspired Breakfast Nook
If you expand your notion of white, you'll discover all sorts of shades of it exist in nature. Bring those tones inside. Here, I painted a round dining table with Behr's Garden Wall, a very Belgian-influenced stone shade.
BRIGHT IDEA: One of the beauties of living with white is how easy it is to change things up for the season or when you're bored. This is our breakfast nook with three looks.
Inspiration From a White Coastal Cabin
This pale and interesting shabby chic "coastal cabin" as the owner calls it is such a charming example of a no-fuss vacation getaway and easy to love country style.
Atlanta Bartlett & Dave Coote renovated this 1930's rustic cottage with a pleasingly light touch. LIGHT is actually key to the design's success since natural light bathes rooms in bright light, and the light color palette is restrained and quiet as well.
Such effortless charm, and you get the feeling you could emulate the look without buying anything expensive.
A white painted door is somehow so much more friendly than a stained one.
Low contrast keeps everything feeling light and buoyant.
To get the look of this cabin, you'll have to exercise a good deal of restraint: don't bring too much in, and definitely don't spend too much cash!
Simplicity, Calm, and Timeless Elegance
Antiques that aren't fussy work such magic with white.
And fussy vintage pieces can be calmed with white paint.
Even brand new spaces can feel timeless when white is done right.
Because white is magical like that!
We don't give white enough credit for how it plays nice with both silver and gold tones.
BRIGHT IDEA: If you're after an effortless, less serious, imperfect look, play with the scale of design elements. To keep the look calm, use fewer objects and keep the color story quiet.
I independently selected products in this post—if you buy from one of my links, I may earn a commission.
Need ideas for a white sofa? SEE THIS.
White Cottage Style Decor Finds
Personal Reflections
I have felt comforted and uplifted by your prayers and comments. Thank you. Test results received last night reveal more info and sources of pathology. I'll share more after speaking with my doctor. A minute ago, I described the mix of feelings to Amy, a muse and friend and prayer warrior:
I have these moments of clarity and courage where I write and share and ask for prayer. And then I feel the ache of vulnerability hangover (I mean there is enough heartache out there for others to bear – why bring more depressing news to them?) so it's this weird sort of cycle. But I keep yielding to it rather than resisting because I know all of it can be re-cycled and used for higher purposes I may never understand…I really am going to be quite all right no matter what lies ahead. To feel that down deep in your bones is to be filthy rich in love and divine friendship with God. Let it be done to me. I must keep getting out of the way. For I only want to be permeable and not interrupt the flow which is always flowing.
I independently selected products in this post—if you buy from one of my links, I may earn a commission.
Peace to you right where you are.
-michele
Shop for items you already intended to buy on Amazon RIGHT HERE, and also find home decor here to keep decor inspiration flowing on Hello Lovely!
Hello Lovely is a participant in the Amazon Services LLC Associates Program, an affiliate advertising program designed to provide a means for sites to earn fees by linking to Amazon.com and affiliated sites.