Forgive, but I'm well aware "Mountain lodge" is not a singular style any more than "country interior" is. I guess I'm channeling "rustic, cozy, snowing outside, simple sophistication inside" earthy vibes here. And, of course, decorating is never as easy as 1-2-3…tada, mountain chic! Nor should the style be applied to just any ol' four walls outside of Colorado or Montana. But winter finds some of us yearning for (or at least mildly curious about) cabin in the woods type feels. Ever checked out beautiful finds for home and you at Sundance? It offers artisan wares and finds perfect for a laid-back luxe lodge. Another gorgeous source is McGee & Co. Both of those sources can help you out too if you're still shopping for holiday gifts. Enjoy an inspiring glimpse of Cozy Mountain Lodge Style: Smart Sources & Inspo.
I independently selected products in this post—if you buy from one of my links, I may earn a commission.
Cozy Mountain Lodge Style: Smart Sources & Inspo Now
For critics who say leading with the uber-chic, Ken Fulk designed Yellowstone Club living room is silly in a post about sources to get the look…um. Here's the thing. Those ottomans you see above? They came from Costco. How's that for a mix of high and low? And it reminds us how it is possible to create a vibe, a mood, an emotionally stirring space without bespoke everything.
An Inspiring Not-Too-Rustic Lodge Bedroom
If championing a mix of light, color and texture were an Olympic event, Marie Flanigan would be a gold medalist. Her spaces are so timelessly elegant, I just want to study their composition. (Even now, my tummy is rumbling and ready for lunch, but my attention has been engaged by the beauty of these images.)
BTW. While I don't see mountains outside the windows, I am imagining how this look would work so beautifully in such a setting. Don't you love the placement of a storage trunk with a flat top at the end of the bed to be employed for a variety of purposes? Genius.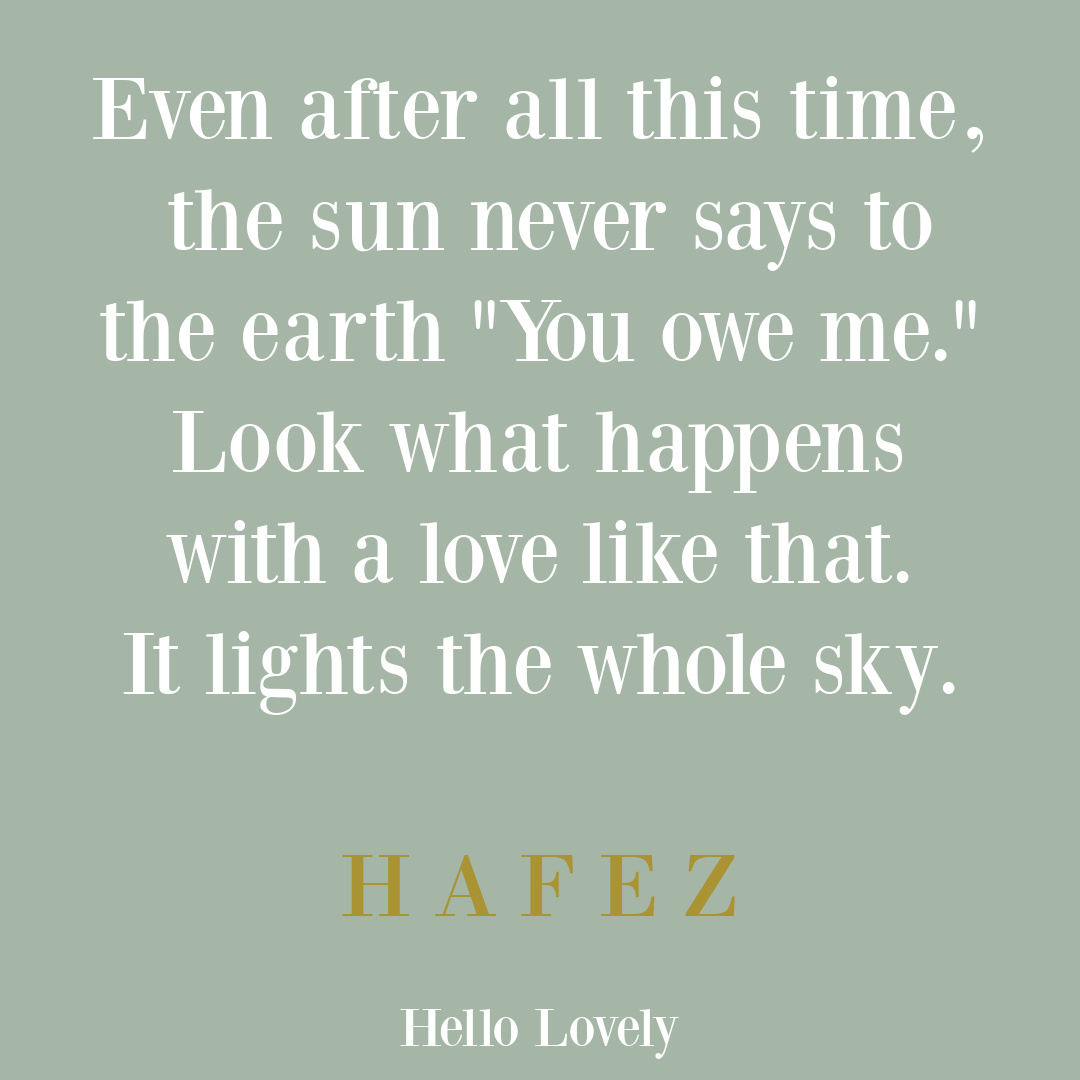 This bath by Marie Flanigan with beautiful reeded vanity is so classically timeless and packs so much interest into a small footprint! It is styled in such a warm and organic way, yes?
While it in no way whispers 'cabin,' I can imagine snow falling gently outside this bath with its snowy-soft walls.
Neutrals in a Rustic Modern Bath
In case you missed the memo: GREEN is essential for feel good designs these days, and it definitely belongs in mountain chic. However, you need not drench your walls in it.
The floor is an opportunity for interest. Also, I have always loved this Schumacher wallpaper and may use it somewhere in my own home. The motif has a natural, simple, Nordic quality, and I can imagine it working beautifully in modern spaces as well as more traditional ones.
Psst. Did you miss my post with my holiday baking favorite recipes? My pistachio g-free cookies are soooo easy, and if you have folks in your life following a g-free or vegan diet, they will feel seen and cherished. 🙂
So many of us work from home these days, and your office may as well be as inviting and comfy as the rest of your home…
I'm drawn to the simplicity of the lines of the desk and to the sumptuousness of the chair. There is a handsome gentleness to the design without sweetness or distracting embellishments.
Smart Sources for Mountain Lodge Style & Luxe Looks
For that "rustically cozy, snowing outside with simple sophistication inside, try these inspiring sources:
SEE THIS for inspiration from Jenni Kayne's new book, PACIFIC NATURAL AT HOME:
Cheerful Mountain Style from Sundance Catalog
If your style leans in the boho vicinity, you may already be familiar with Sundance Catalog (or maybe you're just familiar with Robert Redford!). You'll find heartwarming, handmade, hearth-friendly finds with a down to earth style.
While Sundance boasts artist-made finds for home, make to browse their jewelry…oh my.
You'll discover cute quality wares for pets too, and the designs are classic so they won't seem silly or outdated a couple of years from now.
I would wear just about all of the casual looks this site offers and appreciate the whimsy:
Natural Winter & Holiday Inspiration from Sundance
While this felt tree may no longer be available, wouldn't it be a great DIY to try on a long afternoon when the snow is piling up?
REALITY CHECK: no one in the history of Christmas tree decorating has ever looked this cute and relaxed getting those ornaments placed properly. (See why I don't often insert reality checks…it's impossible to not sound Scrooge-like. I think the key is to strive for progress and not perfection when it comes to holiday decorating or anything in your life…but there are plenty of things where I don't need the pressure of ALSO accomplishing the task with a relaxed smile!!!)
This was my favorite wreath…isn't it smart to offer a wreath that is right at home all winter long?
Artful Holiday Home Decor Inspiration & Colorful Whimsy
Especially for us children of the 60s and 70s…
Festive Pretty Socks to Give or Receive!
These are just the sort of colors I like to see in the middle of winter when all is grey outside. What a pick me up!
Amazing Book to Give or Receive!
In the same rugged yet soulful spirit as a few of these Sundance finds, Earth River Sky is a beautiful treasury of photographs by Rob Atkins that will open the eyes of your heart to northern New Mexico.
Imagine taking a spiritual pilgrimage to this sacred part of the USA, first with the magic of this lovely book and then perhaps on a voyage of your own.
The architecture, landscape, and light within Earth River Sky moved me and filled my being with a sense of reverence for the land, culture, and people of northern New Mexico.
Simple & Darling Front Door Welcome
I bought this as part of a Christmas gift for my sis last year, and it was a hit:
Sweet Holiday Pups on Pillows
Weathered & Lovely Console from Sundance
So Chic and Simple from Sundance
My darling pretty Pitty-mix rescue granddoggy should be a Sundance super model.
Healthy Meal Idea to Stay on Track
If you have a moment to catch up on all the Christmas decor inspiration shared lately, do CHECK OUT THIS CHRISTMAS LOVELINESS!
I independently selected products in this post—if you buy from one of my links, I may earn a commission.
Peace to you right where you are.
-michele
Shop for items you already intended to buy on Amazon RIGHT HERE, and also find home decor here to keep decor inspiration flowing on Hello Lovely!
Hello Lovely is a participant in the Amazon Services LLC Associates Program, an affiliate advertising program designed to provide a means for sites to earn fees by linking to Amazon.com and affiliated sites.