As the saturated energetic color of holiday decked halls fades with December, we'll peek at more "clean slate" images. Inspiring us today are Whispery Neutral Zen Interiors With Sophisticated Tonal Chic. Think rooms with natural decor elements, organic, calm, mainly minimal style. Scandinavian design, California cool, Danish Hygge, slow living, modern rustic, warm minimal, and laid back warm contemporary spaces with natural woods and pale tones. Designers and sources inspiring me for today's tone on tone aesthetic? Leanne Ford, Jersey Ice Cream Co, Remodelista and Jenni Kayne. Let's chat about ideas to achieve this vibe in your own home.
Whispery Neutral Zen Interiors With Sophisticated Tonal Chic
Leanne Ford's Inspiring Pittsburgh Guest Cottage
When I think of an "undone" zen look with comforting, pale tones and a luxuriously laid-back yet sophisticated vibe, I think of Leanne Ford.
The unique, unfussy interiors in her own home may just inspire you…not because you'll copy her rooms, but because you'll be inspired by her techniques, design courage, and insistence on ease.
In this guest cottage on the property of her suburban Pittsburgh home, she reworked a carriage house with classic Colonial Revival style. She wanted the place to have Old World, English garden charm, and to achieve it, she:
stained first floor walls with coffee to give them age (see their rustic beauty above!)
removed low drop ceilings
painted exposed beams and wood slats bright white
removed drywall in bedrooms before "grout washing" the walls
kept plumbing where it was and just painted pipes white
used humble butcher block countertop in the kitchen
tiled the backsplash with simple terracotta tiles found in a shed on the property
patched the wood floors with clay tiles
hid a refrigerator behind vintage confessional doors
As you can see, she stripped back the interiors to reveal their history and allowed the imperfect, aged, distressed and original materials to speak.
Are the wheels turning? Can you imagine uncovering layers of mystery, designing with freedom from rules, and even inventing techniques (i.e. grout-washed walls) as you go?
Need a Zen-like Bed?
The bedroom is often an optimal starting point if you're thinking about bringing more calm to your interiors. Choosing a bed or headboard these days can be daunting since you'll be living with your decision for such a long time. Here's a neutral option:
Bathroom Design Inspiration
Let's face it. Most of us don't design our bathrooms with much mindfulness.
Even though we know we'll be spending a fair amount of time in the space, a bright white box is the common result. So it's inspiring to imagine the possibilities…
If a luxurious new marble walk-in shower is not realistic, maybe a fresh green color is. While green tile can be beautiful…
maybe green walls or a vanity will elevate the look you're after:
Living Rooms With Calm Zen Vibes
In my own home, a calm color palette sets the stage for tranquility.
Shades of white and pale stone don't have to read cold…
and just look at how two completely different looks can be achieved with neutrals. The space above with its curves and sculptural elements feels Scandinavian, laid back and informal.
The interior below with its straight edges and geometry feels more urban and crisp.
Inspiring Cozy Zen Kitchens & and Dining Rooms
My favorite kitchens are zen-like in that they are uncluttered, cozy, and natural.
Utilitarian kitchens can be awfully cold and industrial, and since we tend to live in our kitchens these days, why shouldn't they be like inviting living rooms?
As you can clearly see, a tranquil classic space doesn't have one look or color story.
A relaxed look can be sophisticated, earthy, classic, country or casual.
Tranquil Bedrooms to Inspire
I independently selected products in this post—if you buy from one of my links, I may earn a commission.
To Inspire Sustainable & Thoughtful Decorating
If you're seeking stylish ideas for sustainable living, this new book may be just what your soul is craving.
Psst. I saw so many calm, dusty, rosy pink painted doors in 2021 (scroll back up to Leanne Ford's guest cottage!) and they're still popping up everywhere.
Need a gorgeously gentle dusty rose paint color idea? The one above is a favorite of Joanna Gaines, and the paint below is a Leanne Ford recommended hue.
Decor & Furniture Ideas to Get a Cozy Zen Look
An amazing start to a laid-back luxe and highly livable den? Leanne Ford's Ever Sofa:
I love Pottery Barn's Big Sur collection since the lines are so simple, and the timelessness of the sumptuous design won't fall from favor.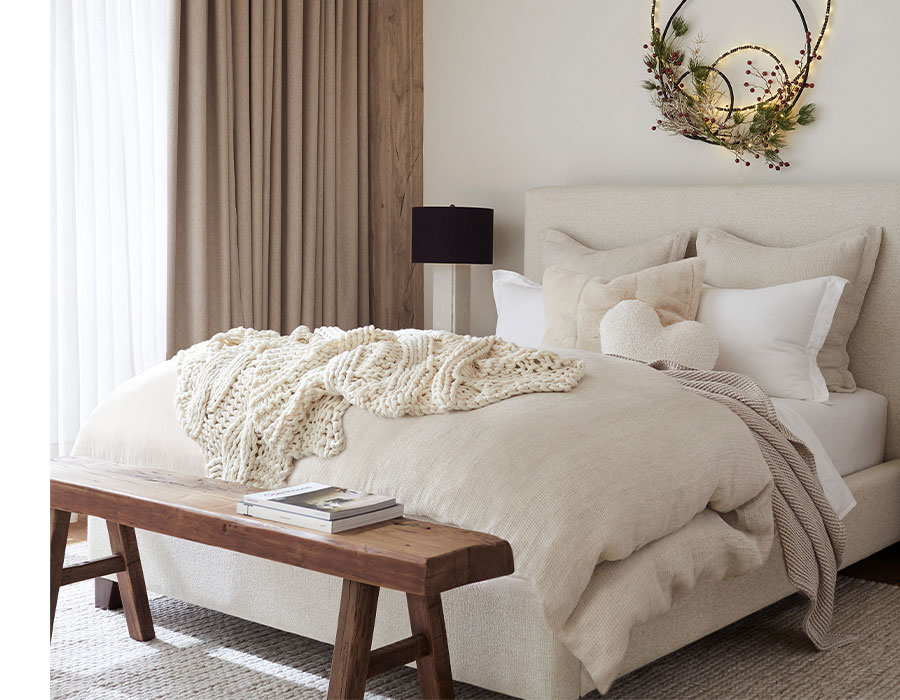 Chunky, cableknit throws are hard to beat for infusing your space with cozy factor.
But there are plenty of other gorgeous beds to create a cocoon of a retreat for your master bedroom or a guest bedroom RIGHT HERE.
Mediterranean Inspired Pottery & Earthenware
If you're lucky enough to find ancient pieces (try HERE and HERE), woohoo! For more friendly priced and sourced replicas…
Add a Cozy & Timeless Throw
Both my kitchen and living room are calm spaces with soft neutral colors common to European country inspired homes.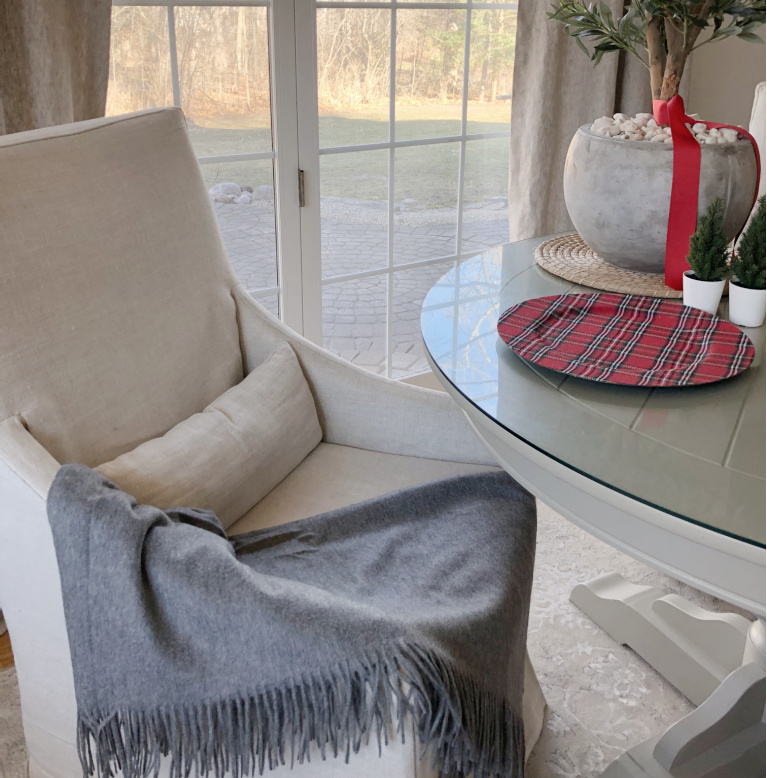 I love how this heather grey cashmere throw offers contrast with the light linen and the combo feels gentle, not jolting.
I also love how natural-toned throws like THESE work with light upholstery.
For a more tonal look (and splurge on a luxurious yet timeless accent!), this alpaca throw from Jenni Kayne offers lovely whispery dove grey beauty.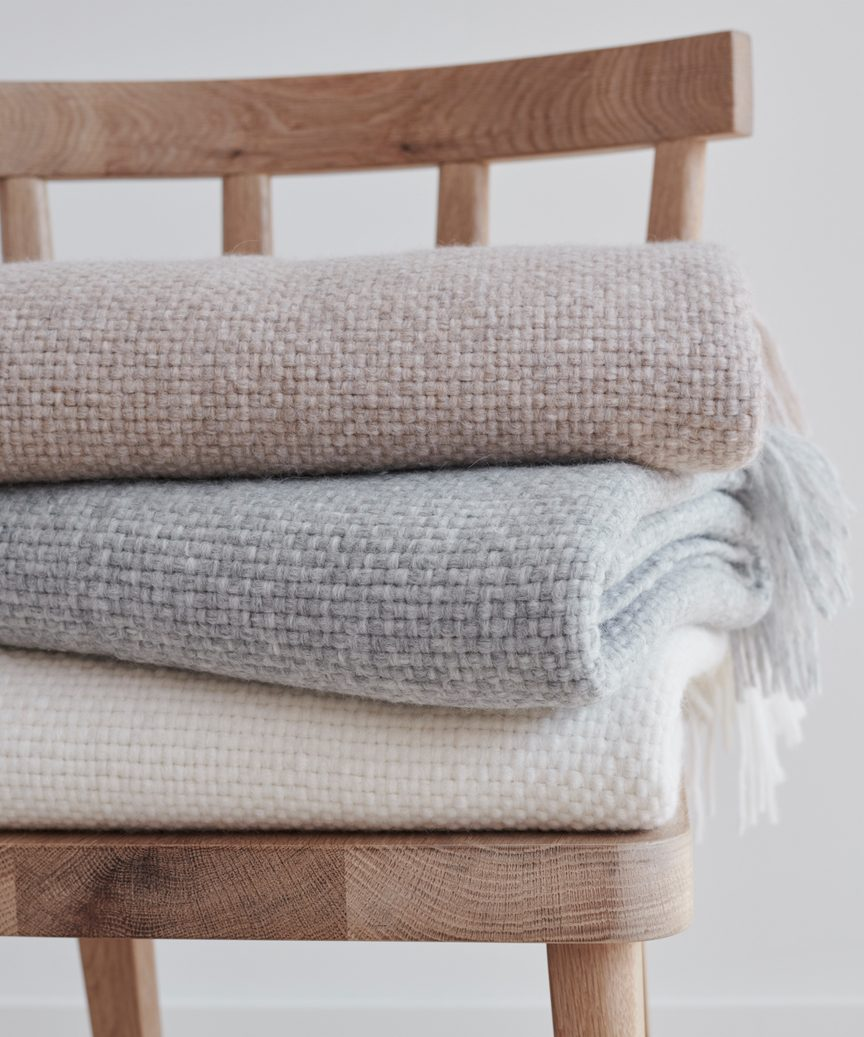 It seems wherever I toss this yummy luxurious yet not fancy throw, it looks just right.
Could Your Pantry Use a Zhush of Zen?
Mine could!
Thinking of you as you recover from Christmas cheer and prepare for a promising new year. I hope to have time in my next post to update you on happenings 'round here and share more glimpses from around the house at Christmas.
I independently selected products in this post—if you buy from one of my links, I may earn a commission.
Peace to you right where you are.
-michele
Shop for items you already intended to buy on Amazon RIGHT HERE, and also find home decor here to keep decor inspiration flowing on Hello Lovely!
Hello Lovely is a participant in the Amazon Services LLC Associates Program, an affiliate advertising program designed to provide a means for sites to earn fees by linking to Amazon.com and affiliated sites.