'Cause we need a little Christmas right this very minute. Or not. I mean. I'm all for candles in the windows, for hearts flowering with expectant wonder. The snowflakes are falling this very instant upon my hamlet. But what we don't need this very minute is more worry and division. So if you're not in the mood for decorating ideas, shopping, and all the trappings, enjoy a little pre-holiday gift of Mister Rogers Quotes along with Charming Holiday Finds Under 20 Bucks.
Snag These Holiday Finds & Mister Rogers Quotes Now
Even if we don't need a darn thing (in the name of mindfully simplifying or heartfully preserving the 'holy' in the days), maybe something unexpected within this parade of festive Christmas decor finds will speak to you or inspire a craft.
The Reason We Celebrate
Before we gaze upon whimsical trappings or giggle – my heart is turned toward all who may feel an ache with the mere mention of the holidays.
Maybe something precious has been lost and you find yourself limping through November and December with a fractured heart. Perhaps laughter eludes you.
The Sweetest Gift is Knowing Where You Are
I'm with you. I am thinking about the loss of our dearest Tina, whose soul flew home with the angels in the worst season of 2020 on record for our family. She will be missed deeply again this Christmas, yet we know she has been absorbed into the fragrant petals of the Sweetest Rose where Infinite Love blooms.
My hand is extended if you also grieve, and there are truly no words. So let's allow the sounds of music and laughter to echo and honor the beauty which lives on purposefully in another realm.
This is for you…sealed with so much tenderness.
Holiday Finds Under $20
How will we keep the holidays peaceful, rich in love, and meaningful, ringing with the magic jingling of sleigh bells?
Surely it begins in the heart–becoming centered and aligned with ultimate mercy and goodness so that love can flow freely from us to thirsty places.
For so many of us, 2020 and 2021 has involved a whole bunch disappointment. As a people, it seems we are very slow to learn to expect and accept mistakes of any sort.
Pin Away, S'il Vous Plait!
Please click here to PIN THIS POST which will save it so you can refer to it later when you need it, and DO FEAST ON HOLIDAY DECORATING INSPIRATION pins HERE, kindly re-PINNING to spread lovely good cheer.
Affiliate links follow and won't cost you extra to use them while they may earn this blog a small commission.
1. Bottle Brush Christmas Trees & Ornaments
There's nothing like the nostalgia and memories of Christmases past than little flocked bottlebrush trees.
Don't you love ornaments that work just as well in little vignettes away from the tree?
More super cute bottle brush Christmas trees RIGHT HERE.
2. Christmas Entertaining Decor Find: Festive Napkins
Sometimes it starts with a cute napkin to inspire your whole color scheme, table decor, or holiday.
Here are some cute options, and don't forget these high quality napkins are also great for so many decoupage crafts…
If you have never tried this sort of DIY, start here:
3. Inexpensive Whimsical Holiday Pillows
In case you have a bench or a bed or an easy chair that may need a little cheer.
4. Chocolate Count Down
Is there a better way to work our way to December 25th than chocolate? (My hips may be answering "yes, m'am," but my sweet tooth is drowning them out with NO BETTER WAY!)
5. Buffalo Check Beauty
Checks just feel homey and never go out of style. They work on casual tables but can also mix with more formal schemes.
6. Milagro Heart Shaped Box
You all went nuts for this when I introduced it here in 2019, and it's a timeless accent with so many uses. Suspend it with ribbon from a wall sconce, use it as a fancy wrapped gift embellishment, or mass a few on the table as part of a French inspired centerpiece.
7. Cheerful Christmas Kitchen Towels
Do we tire of seeing Nutcracker themed holiday decor each year around the holidays?
No, sir. We do not.
Let the beauty of this next quote from Fred Rogers really soak into your being because I have found this truth to be precious.
Between what is said and what is heard is a vastly significant territory. Think about modern communication with its texts, social media blasts and written messages. So often they are devoid of tone as the human voice disappears, as more AI voices emerge. Without love and trust in that subtle space, so much may be lost, misheard, or misconstrued.
8. Forest-y Fragrant for the Kitchen & Bath
We don't have to live near a forest to enjoy the experience…
9. Smart Christmas Ornament Storage
My own ornament storage is sort of falling apart so I need something like this:
10. Wooly Sweet Bird
I adore felted wool anything and have a few sweet little pieces like these I bring out every year.
11. Pom Pom Garland
12. Swedish Christmas Ornaments
These Scandi straw ornaments are what I grew up with, and they bring me such joy in their simplicity.
13. Simple Corrugated Zinc Vase Set
14. Cozy Romantic Lighting
15. Casual Chargers
16. For Brown Paper Packages Tied Up With…
17. For All Winter Long
18. Turned Wood Candle Holder
19. Organic Christmas Soy Candle
20. Does Double Duty (Festive Red Works as Decor on Counter!)
The price of these babies has increased (hello, inflation!) so we can't snag em for 20 bucks anymore, but they truly are gifts that keep on giving. All winter long, the cheerful red filled with your favorite yummy drinks will encourage you to hydrate.
In Case You're Over 40 and Have Been Humming It But Forgot the Lyrics…
Haul out the holly;
Put up the tree before my spirit falls again.
Fill up the stocking,
I may be rushing things, but deck the halls again now.
For we need a little Christmas
Right this very minute,
Candles in the window,
Carols at the spinet.
Yes, we need a little Christmas
Right this very minute.
It hasn't snowed a single flurry,
But Santa, dear, we're in a hurry;
So climb down the chimney;
Put up the brightest string of lights I've ever seen.
Slice up the fruitcake;
It's time we hung some tinsel on that evergreen bough.
For I've grown a little leaner,
Grown a little colder, Grown a little sadder, Grown a little older.
And I need a little angel
Sitting on my shoulder,
Need a little Christmas now.
DON'T MISS any of the LOVELY HOLIDAY INSPIRATION right here!!!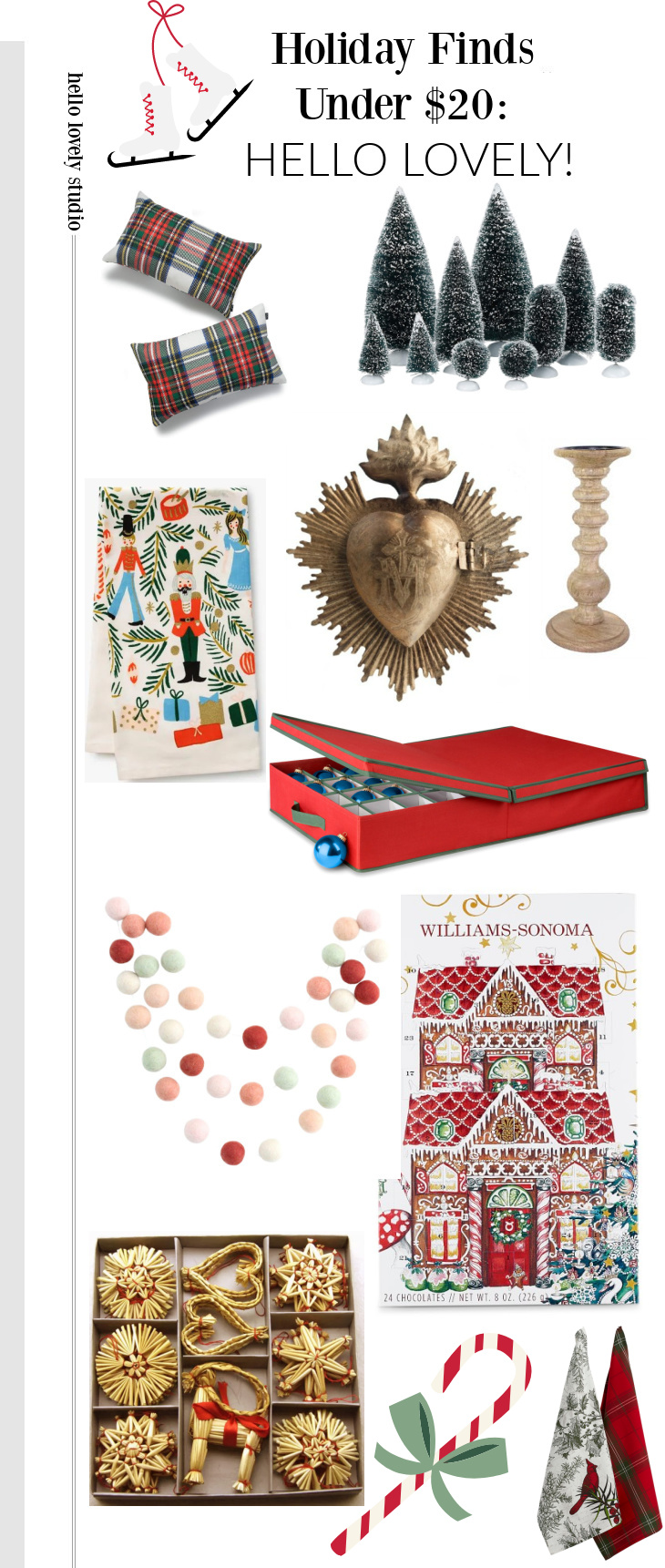 I independently selected products in this post—if you buy from one of my links, I may earn a commission.
Peace to you right where you are.
-michele
Shop for items you already intended to buy on Amazon RIGHT HERE, and also find home decor here to keep decor inspiration flowing on Hello Lovely!
Hello Lovely is a participant in the Amazon Services LLC Associates Program, an affiliate advertising program designed to provide a means for sites to earn fees by linking to Amazon.com and affiliated sites.