Early Fall Glimpses of Home & Hello Lovely Decor Finds offers a peek outside and inside of our European country home this week. Just a few fall touches and new things I have added and want to share. You'll also discover a few smart or pretty things on my radar this very moment. (Apparently Santa's helpers are getting their ducks in a row in October since shipping delays are certain.)
This post contains affiliate links which I hope you will use since they won't cost you a penny extra yet may earn this blog a small commission.
Early Fall Glimpses of Home & Hello Lovely Decor Finds!
Autumn Light in the Kitchen and Hall
There's nothing like the dappled light that enters the kitchen in early autumn when the leaves are beginning to let go and everything is turning gold.
A white kitchen can feel rather cold at night when the windows go black, but during the day, all sorts of different qualities emerge.
This old cart is still working overtime in our cozy kitchen, and we don't know how we got along without it.
Sort of like our grandbaby rescue, Eve. Here she is "on my lap." (Why yes, I did patch my Levi 501s with a high end designer damask fabric…thank you for noticing how glamorous my life is lounging on a 60″ LoveSac.
This grand-kitty was nearby with his brilliant blonde self.
He is also a rescue who belongs to our son, and I call him Pony Boy. It just suits him.
He's the most loving kitten ever and just turned one.
Back to the Kitchen
I like the reflective quality of the glass since what you see beyond the French door is our backyard with dim Northern exposure.
I also brought back this Couristan Provincia Odette area rug with its gorgeous muted colors. If you love the color of natural linen, you'll approve of this one.
I'm crushing on this elegant, understated blue one as well:
You'll find a few finds below from my own home as well as options that caught my eye!
Pssst. Feelin less than curious about my home or fall finds or online shopping? Maybe take a peek at the fall cozy vibes here for beautiful autumn goodness and Francophile nirvana!
Peeks Inside Our Home
Worth sharing again…if you care to begin minimizing waste, or buying less, here is a calming beautiful lesson about lovely alternatives:
Feminine Bedroom With Floral Quilt
More Lovely Finds Spotted
Home Office on a Budget
Home Office NOT on a Budget
It's a replica, but it's still a gorgeous splurge…come to mama.
Voice Activated Everything Still So HOT
Bet there's someone in your life who would smile wide at the sight of this…
Have You Learned Your Ancestry?
What fun it was to discover my roots. Makes a wonderful gift too.
When Flawless Skin is NOT in Your Genes
Here's what I'm wearing this very moment and raving about since it is made for mature skin and is the easiest to apply and wear! If you are tired of liquid foundation, applying messy concealer, and spending too much time blending…this is for you. I can't see much without my glasses so the bonus is I don't have to!!! Just swirl the brush around in the baked foundation and swirl all over your face. Then swirl on bronzer on forehead, and cheeks. Also, don't worry about which shade you choose – they are designed to be forgiving.
Even though the palettes look like a gorgeous disco, you won't.
Wouldn't it Be Over the Top Indulgent Yet Fun to Have One on Each Floor of the House?
I Still Haven't Gone Wireless…You?
Because Mini Anything is Hard to Resist
Is This a Sign It's Time to Make Your Own?
For My Techie Peeps
Recommended Lovely Reads!
Collection of All Time Favs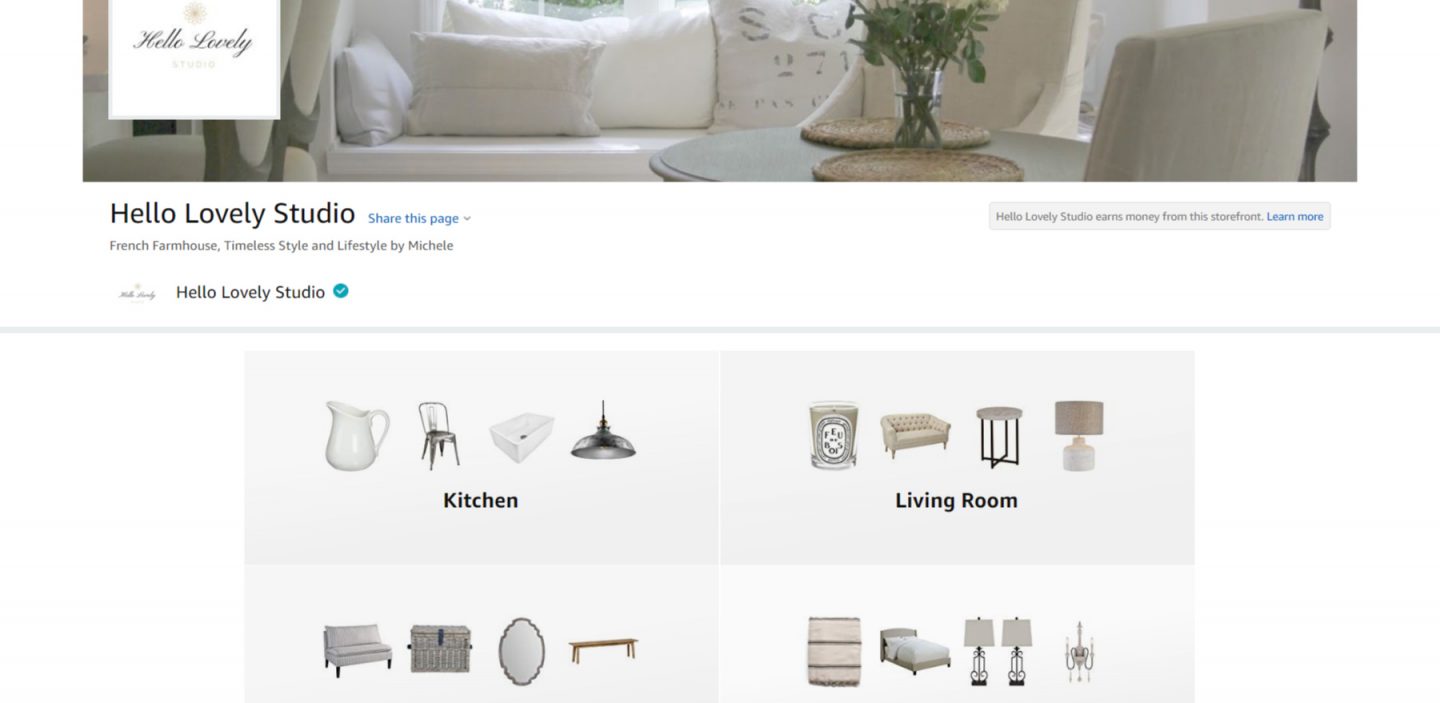 They are sweetly organized by room RIGHT HERE!
To discover a favorite book I love and you'll likely want to snag from Amazon, SEE THIS and also THIS.
French Inspired Amazon Home Decor Finds
There are more quality decor items and brands you love than you might imagine available from Amazon too.
For example, Louis ghost chairs. I think you either love 'em or hate 'em, and I'm not mad at them at all. While I own a pair for extra seating (indoors or out), I could probably use a few more. I love how lightweight and stackable they are for storage. They're also a breeze to wipe off and take up no visual space!
Frenchy Louis Chairs
A set of 2 chairs with free shipping when you have PRIME is a lot more expensive than two years ago, but shipping delays and stock issues are going strong.
Rustic French Inspired Finds
French country style Aged Pots…they add so much character and interest.
Elegant & Pretty French Bench
French Louis Style Upholstered Bench…so many locations one of these beauties can deliver style and function.
Is the Perfect 'Modern French' Accent Table?
Bronze Accent Table with claw feet…these add so much style to living spaces, bedrooms, and baths…yes, the bath! I have one near to the shower!
Inexpensive Charming Throw With Stripes
Comfy Turkish Blanket...this is in my cart, and I can't wait for it to arrive!
My Favorite Frenchy Find from 2019
Milagro Heart Box…Milagro means miracle in Spanish, these religious folk charms can be hung on Christmas trees, placed on a tabletop in a charming vignette, or on altars, Santos dolls and statues.
The heart opens to reveal a space to place a prayer, a wish, notes of gratitude or thanks. Additionally, this sacred heart has a hook on the back for hanging on a wall. Also called an ex-voto, it can be used as a Christmas ornament, holiday decor or a christening gift.
I have a small collection and love mine!
Low Price for 2
Pretty Louis Style Dining or Desk Chairs…I am sitting on one of these as I type – they are beautiful in home offices as well as dining rooms.
Window Treatments
Toile Curtain Panels…and just wait til you see all the classic choices!
Rustic Bench With Wood Seat
This farmhouse bench with French bistro style is so cute for porches and patios.
Just the Yummiest!
Still Zero Calories & Luscious
Hand Sanitizing Mist
My sister gifted me this, and I keep mine in the car…scent is amazing.
Amazon Favorites for the Kitchen
Here's the Vitamix I use and love in my kitchen, and it's such a dream after years of fighting with disposable blenders that required 30 minutes to make a smoothie (at least that is what it felt like!). I'll never be without one again, and I have never been a machine or gadget girl (I like things quiet at home so a quick burst and it's done)!
Mini tumblers. Have loved these for years, and a set of 12 Bormioli Bodega 7.5 oz tumblers have endless uses. Desserts, wine, juice, yogurt…
Environmentally Conscious Amazon Finds
Soul Keeping Amazon Finds
If you have not yet treated yourself to this wonderful title–oh my, you will thank me since it is full of wisdom from a Texan who has done her work!
This is a MUST WATCH from Brene!
Acquainted with Parker Palmer? I have read most of his stuff, and he has so much wisdom for us. This is his new book On the Brink of Everything: Grace, Gravity & Getting Old.
A Favorite Book to Give
I have shared my MUST READ favorite book when you are in the throes of despair before, but in case you missed it…here it is:
This book is often out of stock. I know this because I have bought so many copies for others. So I buy second-hand copies all the time – who cares if the corners are bent? BTW. The very sweetest antidote for despair I have learned? Doing something kind for someone else. Period.
No time to volunteer or serve? Cards, emails, calls, and gifts are possibilities too. Amazon is my go-to source for finding the perfect something since they have it all.
One Size Fits Em All
I have gifted these so many times!!!
Still Using This HP
I independently selected products in this post—if you buy from one of my links, I may earn a commission.
Peace to you right where you are.
-michele
Shop for items you already intended to buy on Amazon RIGHT HERE, and also find home decor here to keep decor inspiration flowing on Hello Lovely!
Hello Lovely is a participant in the Amazon Services LLC Associates Program, an affiliate advertising program designed to provide a means for sites to earn fees by linking to Amazon.com and affiliated sites.