While I am partial to French and European country inspired interiors, I appreciate various interior design styles and am often drawn to neutral color palettes or tone on tone. A classic black and white scheme can be interpreted uniquely in a number of ways across the world of design styles as you'll see in this collection of Black and White Design Inspiration.
Black and White Design Inspiration + Decorating Resources
Black & White in My Own Home
This is a bonus room downstairs, and the mural is something we installed during Le Pause.
Here's the thing. I couldn't stop at inspiration for just interiors!
Too many pretty exteriors and whimsical or encouraging quotes with this winning combination as well (find a wealth of inspirational quotes to pin right here).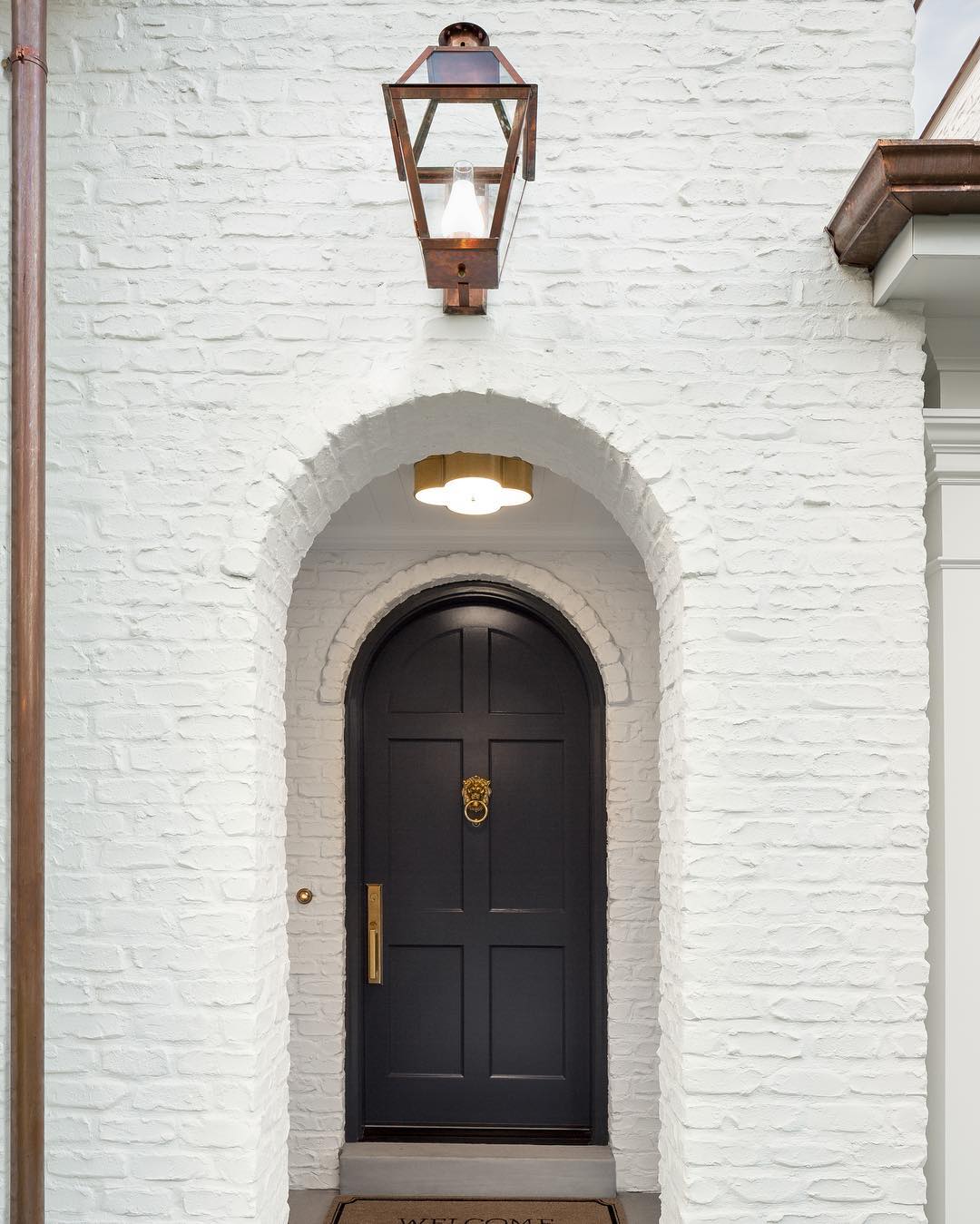 Enjoy the inspiration! Have you noticed checkered everything showing up in your IG feed and in stores?
It's certainly not like it's a new thing, but Millennials especially seem to be drawn to all things gingham at the moment.
Would you tire of the black and white checks in an entry or kitchen? It would take me about three days. Because. Problems.
Black Windows As Well As Doors
When we were building our first home in 2006, I remember a friend with great taste suggesting we do black windows for the French country manor house. Remember, this was 15 years ago, and I thought: I can't commit to something that bold and austere!
But today, it's as natural and common as painting brick white!
Remember when no one dared paint brick exteriors? My mama has excellent taste and was way ahead of her time though. So in the 80s when I was in grad school, she painted their brick ranch a gentle greyed-white, and her neighbors (in Kansas) lost their minds! Hahahahaha.
I mean, it truly is a personal preference. But when it's your home, you really should customize it to your lifestyle and loves. And if gentle whites and dramatic black contrasts thrill you…
Well, hiring an interior designer and discussing all of those faves is definitely the smartest move, and if it's not in the budget, keep showing up here! 🙂 If you missed the incredible chic modern French interiors the other day, GO SEE THIS!
Brownish Black Bedroom Walls
Seems like a lifetime ago when interior designer Sherry Hart painted her bedroom walls a moody almost-black!
I was in the camp who thought she would take those walls back to white faster than grass through a goose after that makeover. But nope. She kept the deep tranquil mood!
This bed designed by Leanne Ford could make a bold statement:
Are you more of a black as an accent person?
In Case You Love Luxe Modern Rustic
If a modern rustic look is your favorite design style, then a black and white scheme works brilliantly.
When you turn up the volume on texture, magic starts to happen. I mean, look at the shaggy pillow and the boucle you can sort of see on the wing chair in this room designed by MDP. This was years ago, and you can't scroll anywhere at the moment without a barrage of boucle smacking you in the eyeballs.
Oh, Michael, the nubby deliciousness and triumphant cobalt oval ooh la la of it all…
How would one ever find the strength to rise from a sherpa sofa so sumptuous!!!???
Clever Idea for Wainscot in a Bath
In Case You Love Rustic Luxe and Modern With Your Black and White
Do you like this table Leanne Ford designed (below) with its plaster-like appearance? She just launched a larger pedestal table version of Willy which is perfect for entries or intimate dining.
Michael Del Piero Global Luxe Style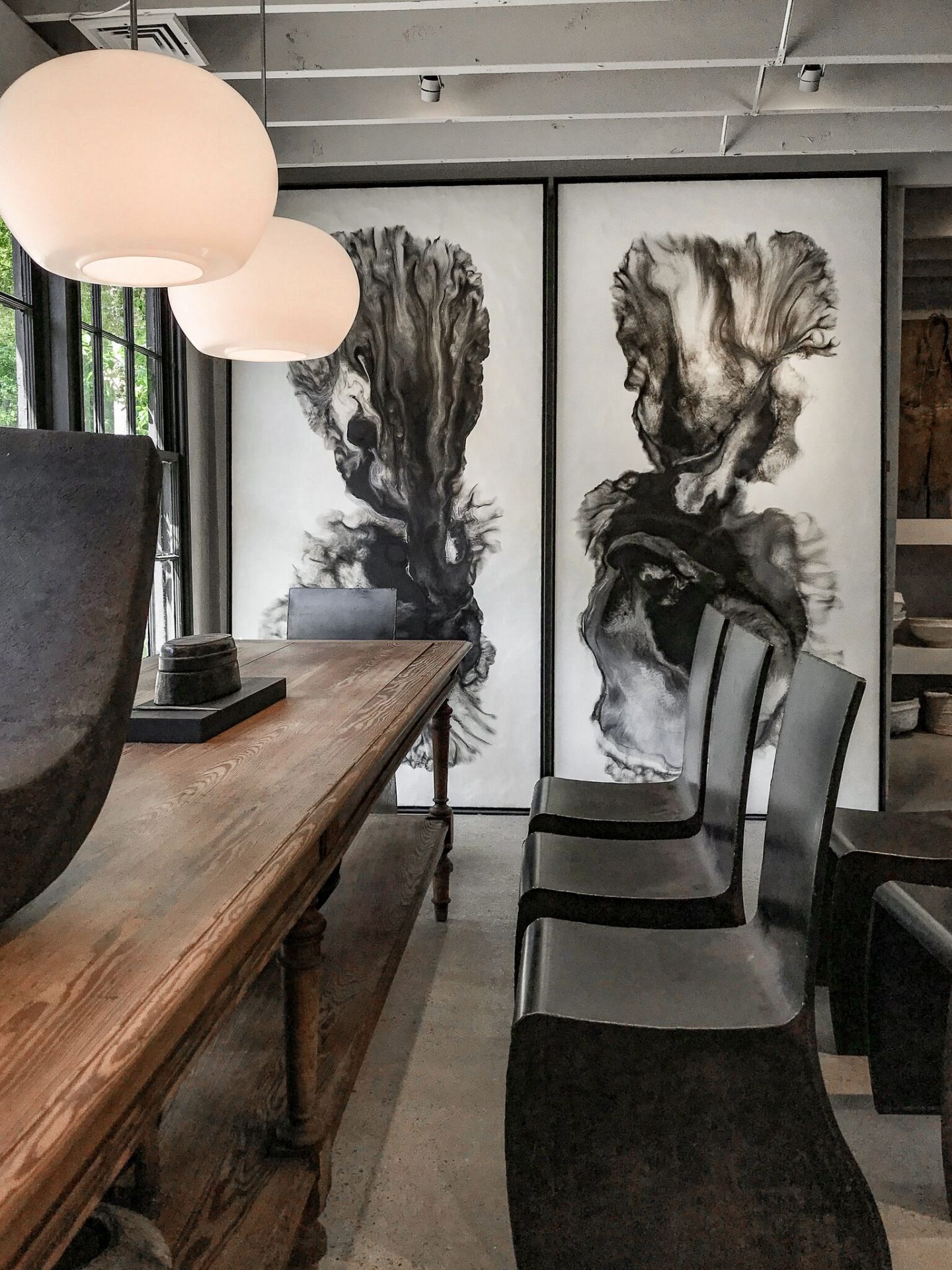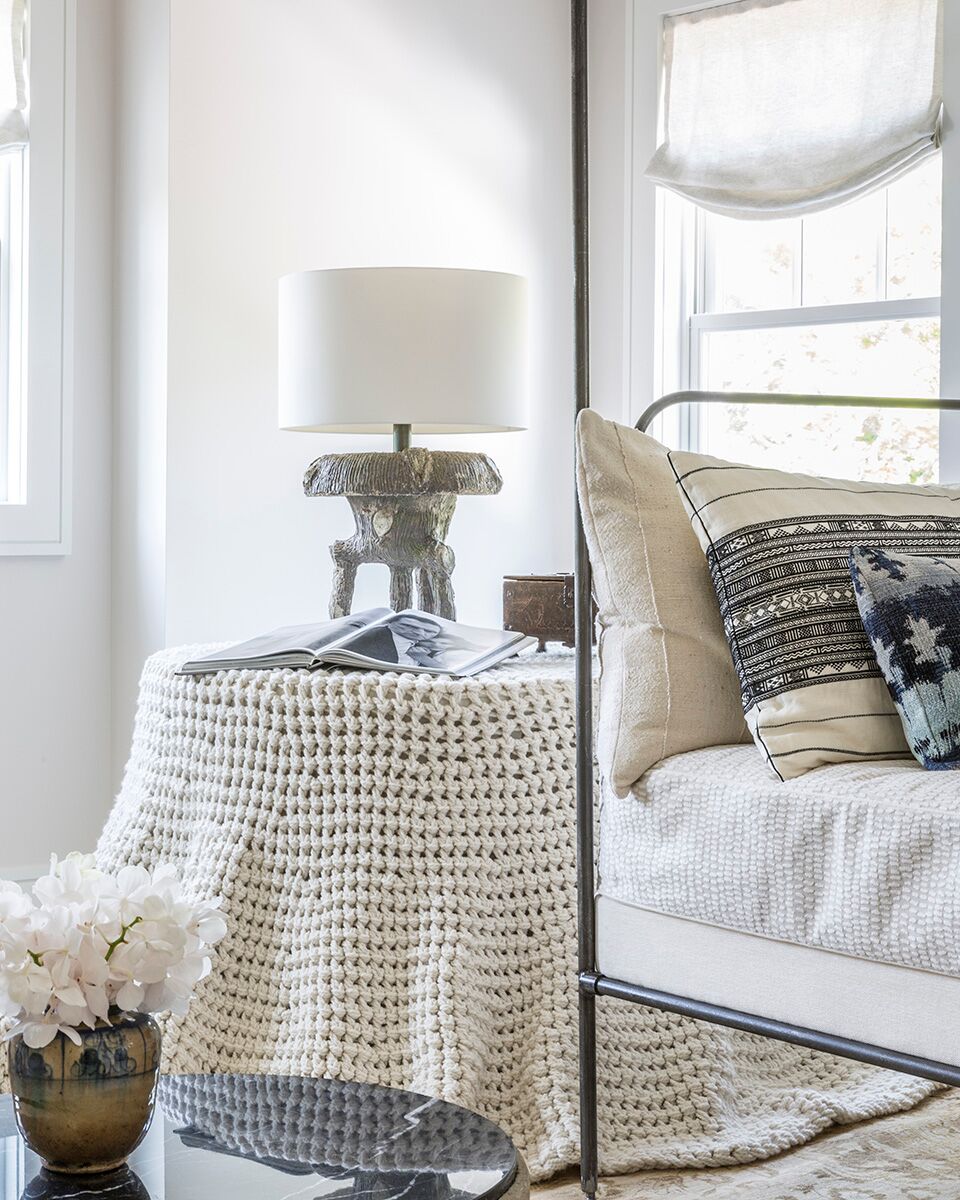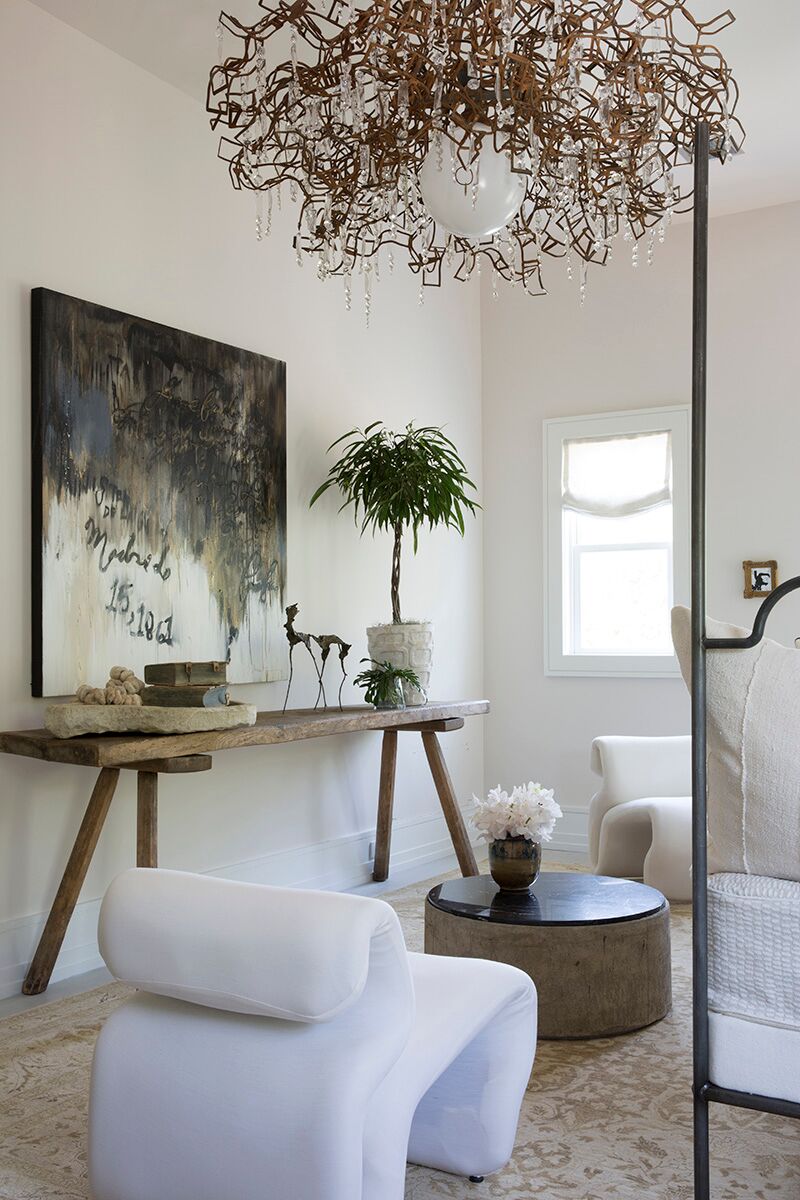 Modern Farmhouse & Classic Styles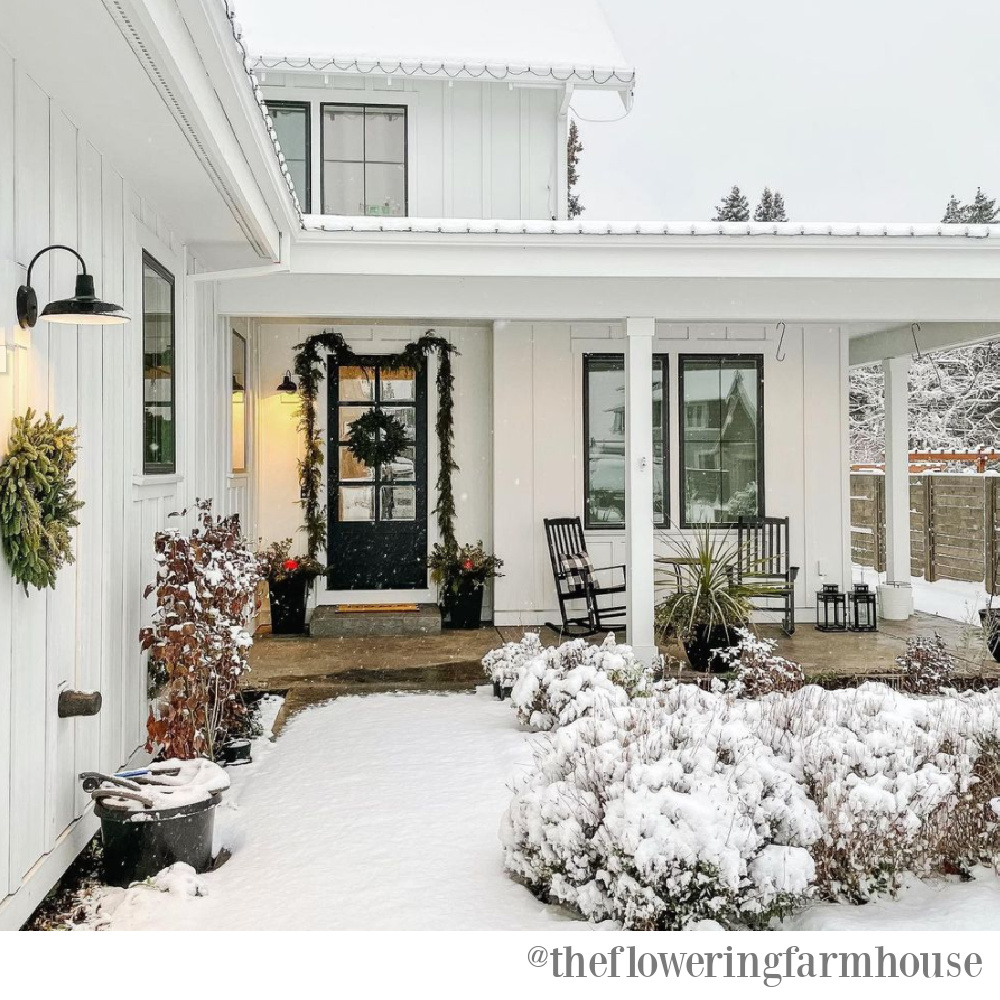 I independently selected products in this post—if you buy from one of my links, I may earn a commission.
In Case You Love Wearing the Combo
I love Cindy Hattersley's fashion sense, and she has been rocking and recommending these vegan leather leggings for years…ready to give 'em a try?
A Few Favorite Black Decor Finds
I never tire of this sweet cast iron teapot on my cooktop:
This bistro set is the one I own in white which you can see here…I highly recommend it.
Black Window Trim Inspiration
Inspiring Ebony Flooring
See THIS STORY for paint color ideas from Leanne Ford.
Charming Black Front Door Inspiration
Black Pendant Lighting
Next to black wood picture frames, black lighting is probably the most common way we tend to bring black accents into our homes. (Oops. Forgot about the big black box TVs we all seem to accept now.)
Have a black pendant somewhere?
Trudy Crane's Loft
Classic Black and White Stripes
They're so youthful, cheerful, and whimsical, aren't they?
In Case You Love Bold Black Wallpaper
Black and White Edgy Bedroom
When Black Walls are Elegant
In Case You Love Laid Back Luxe
Black and & White Inspiring Tile
This Medina encaustic tile is one of my favorites of all time!
Decorating Resources
Black and white and minimal is so Scandinavian, yes?
Care to add just a touch of black to your white kitchen?
Decorating Finds Friendly With Black
The very first kitchen chairs I ever purchased for myself were Marcel Breuer Cesca chairs for my first apartment as a freshman in college. I was 18 and over the moon to find them at a garage sale.
This Modern Chair Comes in Black As Well
My Favorite Black & White Sneaks
Find black and white Converse sneakers HERE.
I independently selected products in this post—if you buy from one of my links, I may earn a commission.
Peace to you right where you are.
-michele
Shop for items you already intended to buy on Amazon RIGHT HERE, and also find home decor here to keep decor inspiration flowing on Hello Lovely!
Hello Lovely is a participant in the Amazon Services LLC Associates Program, an affiliate advertising program designed to provide a means for sites to earn fees by linking to Amazon.com and affiliated sites.