The topic du jour: 11 White Kitchen Ideas to Add Cozy Factor, is an important one for fans of a white color palette, white kitchen cabinets, white backsplash, and a white color scheme. If you are designing a kitchen from scratch or renovating, make sure you follow my Pinterest Kitchens Board!
11 White Kitchen Ideas to Add Cozy Factor
I shared how a sweet little industrial cart or work table or mobile island can add function AND cozy right here, and I cannot imagine my own kitchen functioning without ours!
In addition to adding much needed work space, it provided character, age, and a surface that can be decorated for the season.
Too much brand new can feel artificial. A vintage piece or an antique is often just what is needed. Sometimes a subway tile backsplash can help since it is a very traditional material used in other eras and can add age.
So many times it is those small design details and additions that help a slightly cool space filled with new to emote a more comfortable, interesting, and inviting vibe.
Today we'll explore decorating ideas for adding warmth to white kitchens by reviewing lovely examples that inspire.
White Kitchen Design Idea No. 1: Two-tone Cabinetry & Contrast
Even when there is low-contrast…for example, in this kitchen by Lisa Furey where she painted the island a light grey (BM Pashmina) and the cabinets a bright white (BM White OC-151), it's a soothing shift for the eye and less formal.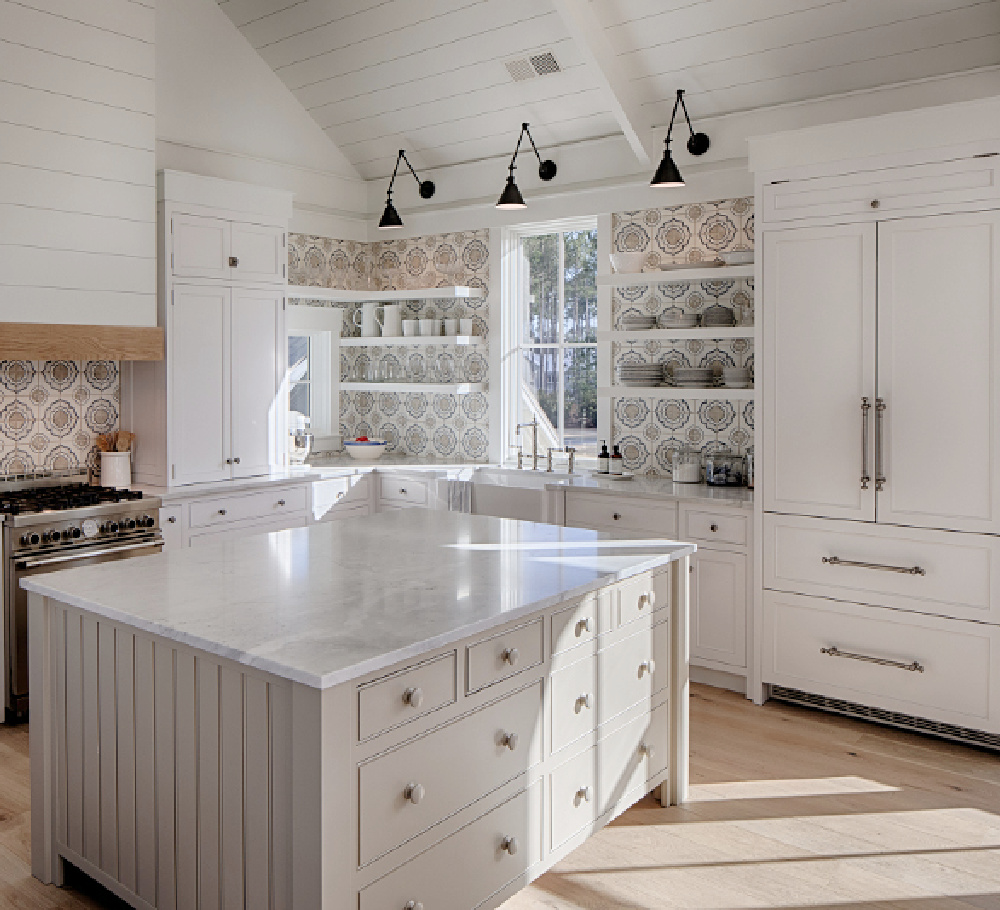 White Kitchen Idea No. 2: Natural Wood
There's just nothing like the combination of a beautiful, natural, character-enhanced wood and a simple white kitchen. This breathtaking kitchen design below is a lesson in just how much warmth wood pocket doors and a knotty hardwood floor can bring.
Here is another example of how natural wood flooring can balance an all-white pristine kitchen with brass hardware. (Obviously it hasn't been styled with decor – just imagine what plants, pots, and pretty things could live here!)
Perhaps my favorite kitchen of all time – reiterating the point about what warm beauty natural, rustic wood can bring and also proving beautiful kitchens need not be grand in scale.
White Kitchen Design Idea No. 3: Add a Bold Pattern or Geometric
In the kitchen below, the herringbone brick pattern brings movement and keeps the range hood from being lost or cold.
Natural stone imparts pattern as well as does the veining in quartz. Busier veining in countertop materials like the quartz in my own kitchen is often less formal and less modern. Does that make it cozier?
White Kitchen Design Idea No. 4: Add Color to Island
Here's an idea you may be toying with to add personality and dimension to a kitchen since it would not be difficult to experiment with the change.
Painting or staining the entire island/peninsula/breakfast bar or part of it a warmer hue is an option which may be just the right choice in a white kitchen lacking depth.
White Kitchen Idea No. 5: Flooring With Movement or Interest
In my neck of the woods, it seems every homeowner was adding white square ceramic tile to their kitchen floor in the 90s.
While that color and pattern can often look smart for a backsplash, it's not ideal for adding interest to a kitchen floor. I mean. Unless you're keen on daily cleaning of unforgiving, cold white square tiles.
Warm wood, painted encaustic tiles, and rugged stone add character and warmth.
Sometimes, just taking a more casual attitude about mixing tones and colors in the kitchen (avoiding strict matchy-matchy factor) can result in a warmer outcome.
White Kitchen Design Idea No. 6: Warm it With Rustic Wood
Whether it's shiplap on the walls, beadboard on a backsplash, or wood planks on a ceiling, adding warmth with such texture is a smart way to turn up the casual and cozy factor while dialing down the "precious."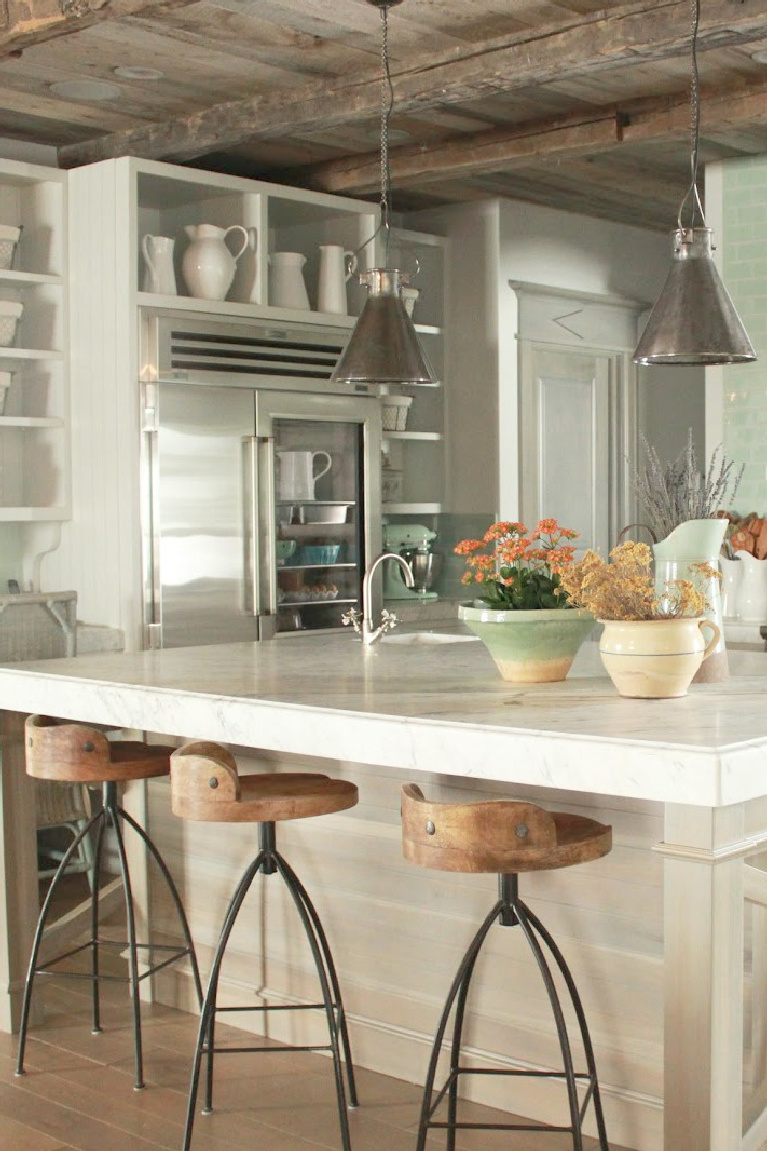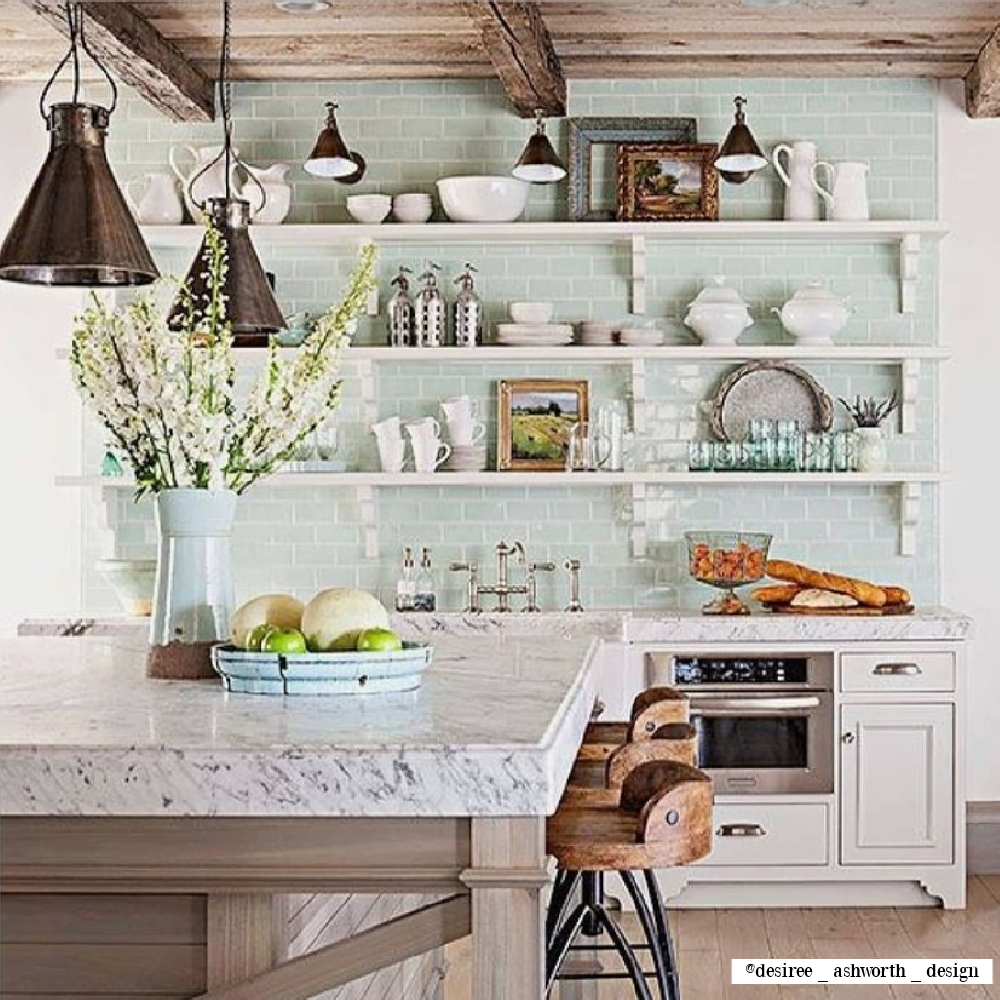 White Kitchen Design No. 7: Classic or Vintage Style Cabinets
When new kitchen cabinets feel old, they impart a romantic nostalgia that is hard to beat in a white kitchen.
White Kitchen Idea No. 8: Counter & Bar Stools
If the white kitchen design involves a breakfast bar or island, turn up the warm factor with bar stools to add color, texture, and form.
White Kitchen Idea No. 9: Banquettes
They are cozy and a place to cozy on down with pillows or upholstered cushions for added warmth.
White Kitchen Design Idea No. 10: Farm Sink
These country sinks add character with their nod to the past and create informality.
While the kitchen above has pale, not white cabinets, I'm including it since the idea of bringing a warm hued farm sink (metallic or stone) can spell warmth.
White Kitchen Design Idea No. 11: Unexpected Accessories
I love seeing vintage treasures, sculpture, art and framed painted portraits brought into a white kitchen to add personality because when it feels personal and even quirky, it feels warmer.
Have an opinion about ways to add interest to white kitchens? Do add to the discussion!
Peace to you right where you are.
-michele
Shop for items you already intended to buy on Amazon RIGHT HERE, and also find home decor here to keep decor inspiration flowing on Hello Lovely!
Hello Lovely is a participant in the Amazon Services LLC Associates Program, an affiliate advertising program designed to provide a means for sites to earn fees by linking to Amazon.com and affiliated sites.