Even though it's early autumn, if your happy place is late summery surfer girl vibes and the sound of the Beach Boys, Jenny Sweeney style will most definitely inspire you to hang loose! Whimsical Boho Beachy Home: Jenny Sweeney features gorgeous photos (most by Soling Photography) snapped of comfy, colorful, cheerful, vintage, beachy boho home interiors and surfer girl chic.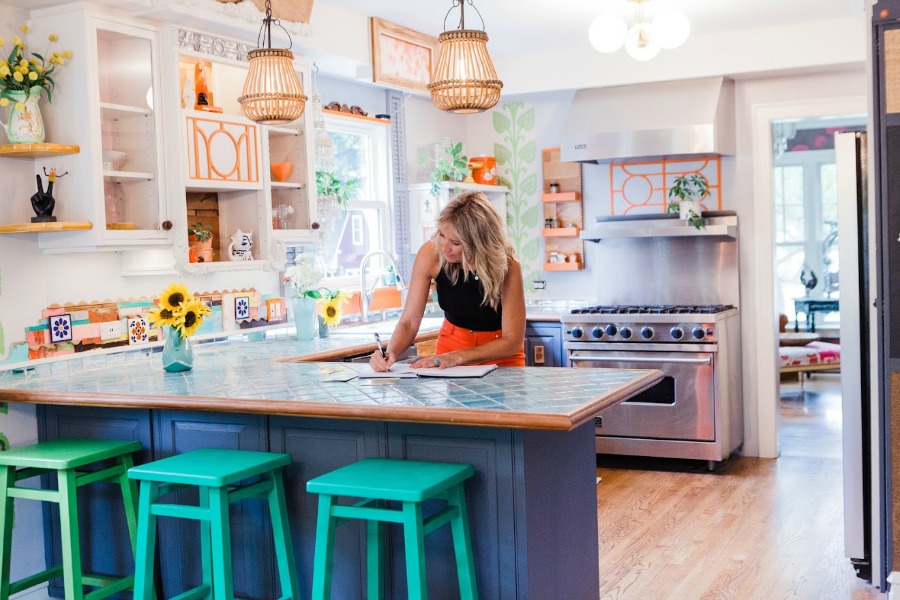 Whimsical Boho Beachy Home: Jenny Sweeney
I recently relaxed with Jenny at home and posted images I snapped of her charming suburban Chicago home in this companion post with details about the design elements in the mix.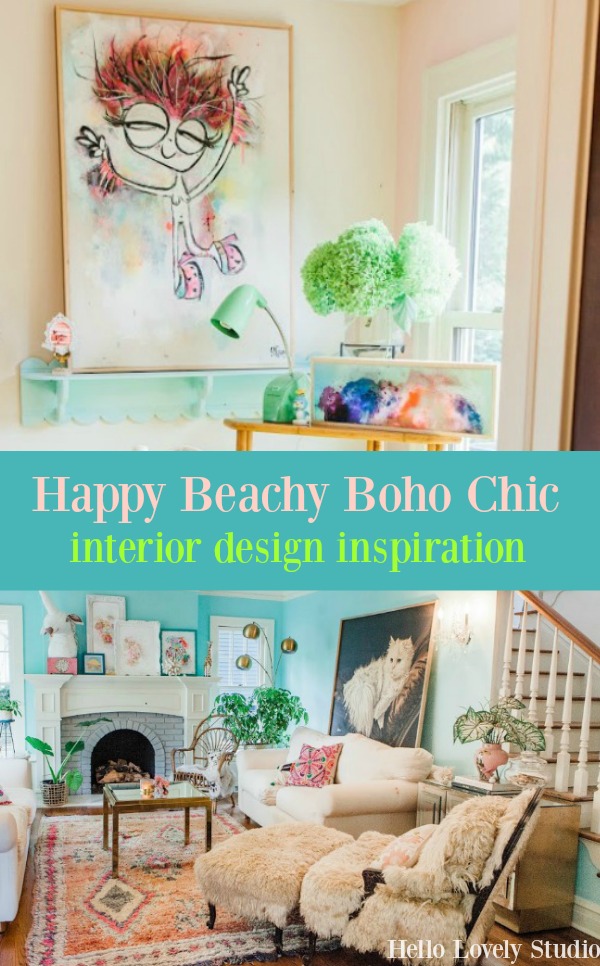 But for today, let's delight in her one-of-a-kind, cheerful vintage style and peek inside her lovely heart.
Photos: Soling Photography and Jenny Sweeney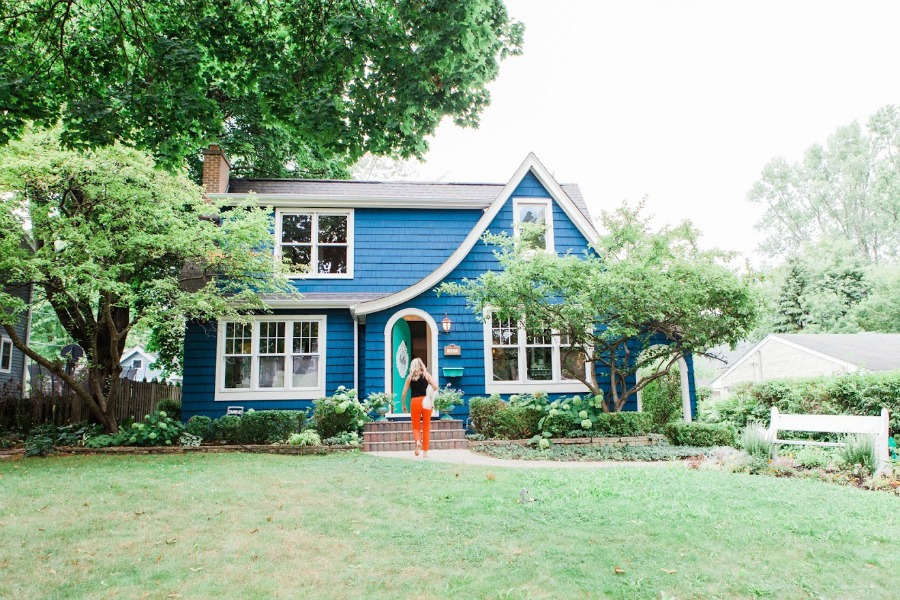 Inside an Artist's Heart & Colorful House
Where is this Tudor located? Libertyville, IL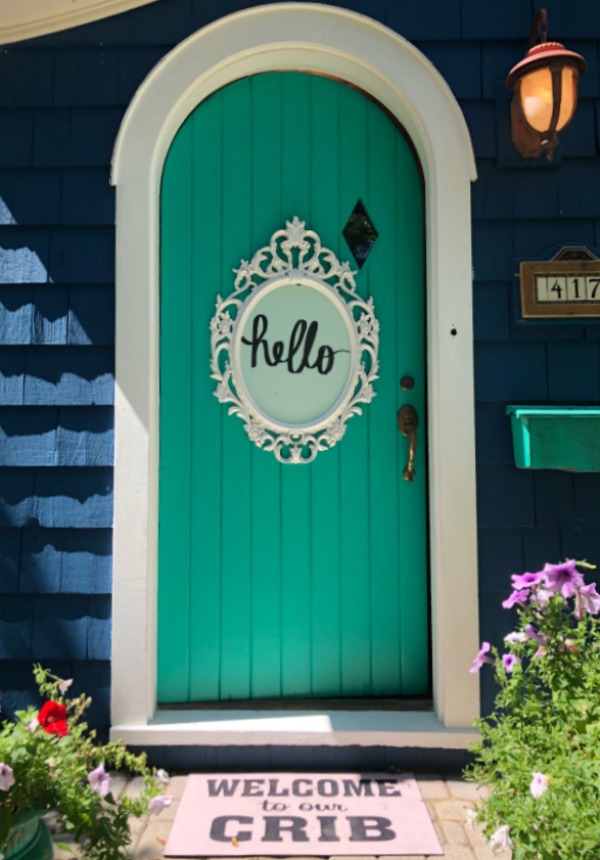 Jenny Sweeney's Inspiration for the Re-Design
You can go searching for a bio, but good luck finding one. The quirky and brilliant Chicagoland artist has been too busy crafting beauty and re-designing the interiors of her home to be concerned with refining a mission statement, getting insta-famous, or defining herself as a brand.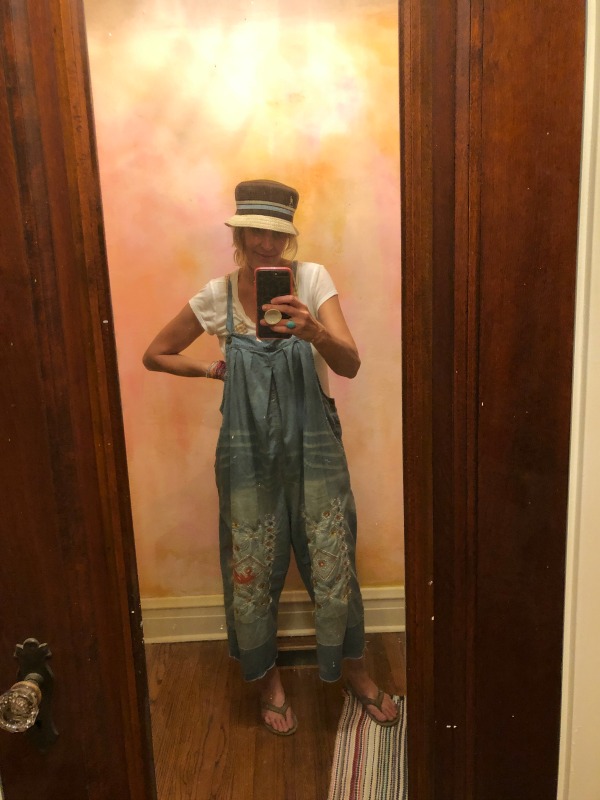 What may surprise you is that this darling re-design was inspired by a decision to put the house on the market!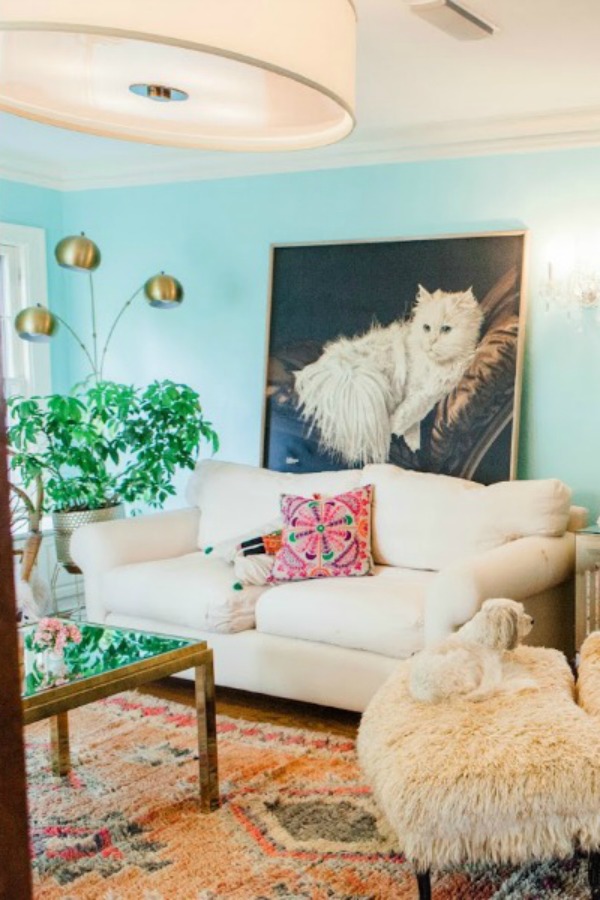 So if you are reading this and happen to fall in love with the happy Tudor in Libertyville, IL…it can be yours.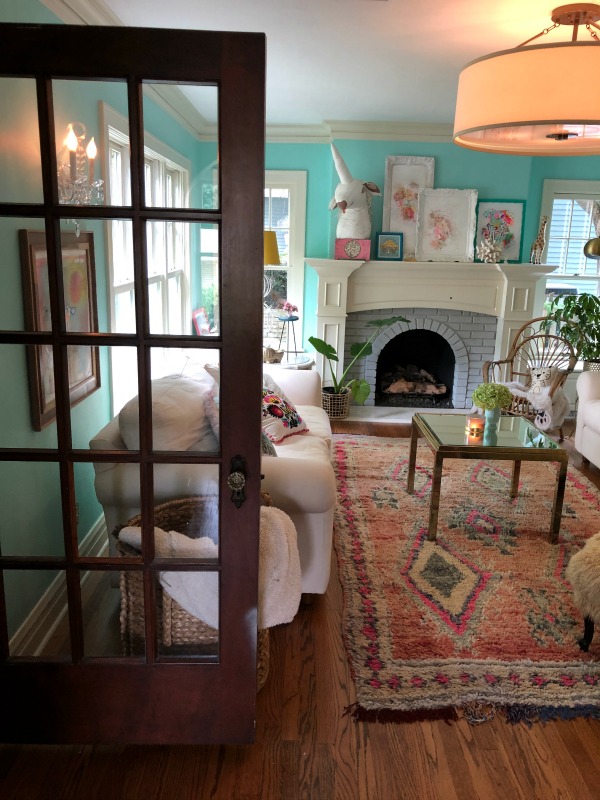 The lucky next homeowner will inherit a ton of good vibes flowing within these walls upon which Jenny has left her mark.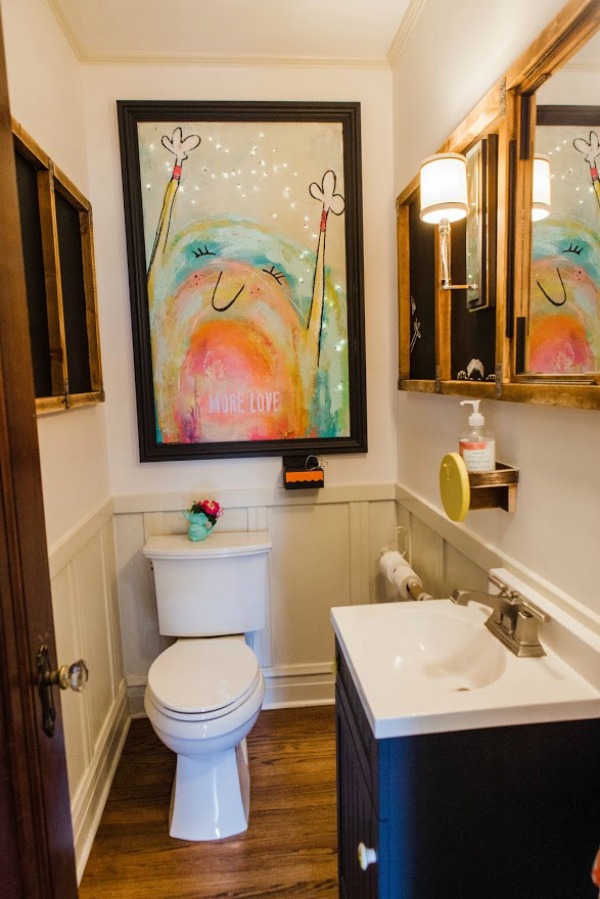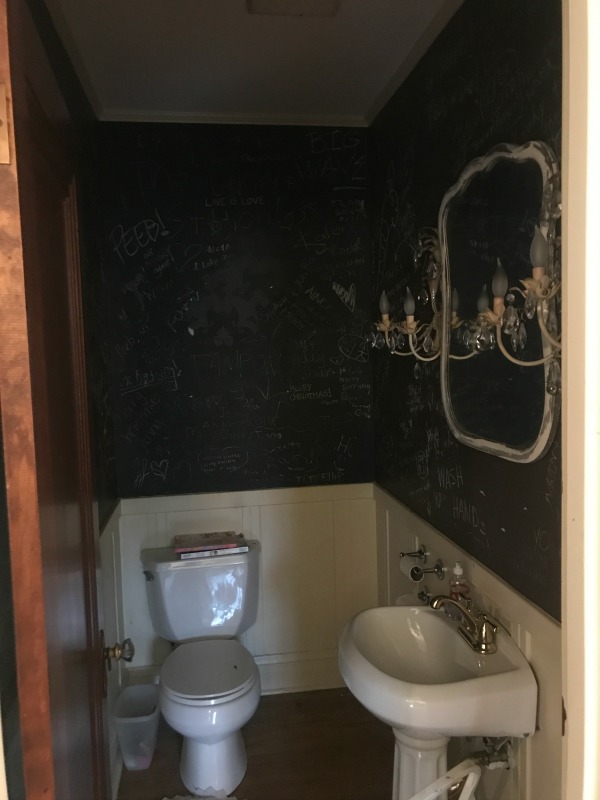 Meet the Artist
Sensitive, witty, smart, and self-deprecating here is a kind soul who has clearly chosen WONDER over woe and earned child-like wisdom from very grown-up pains.
Jenny's mantra lately?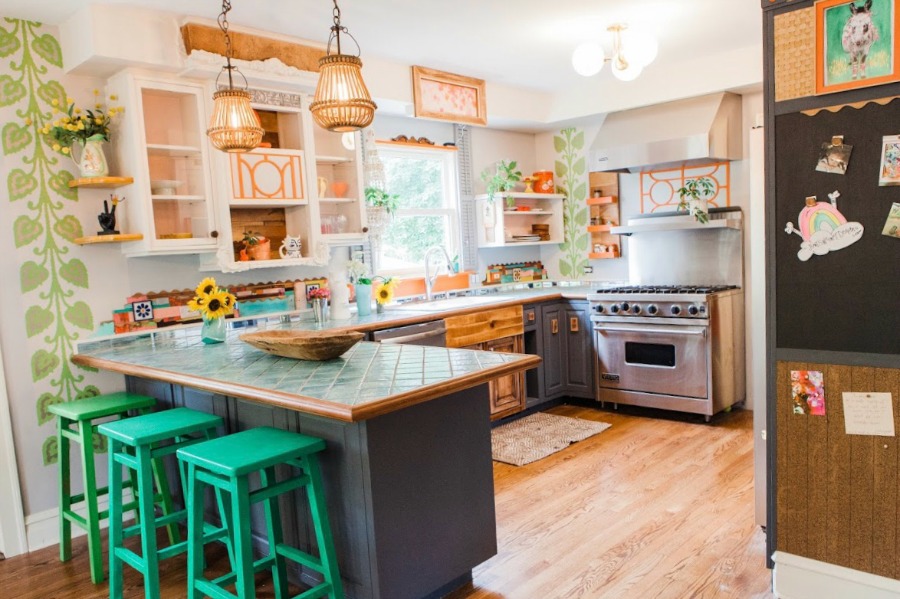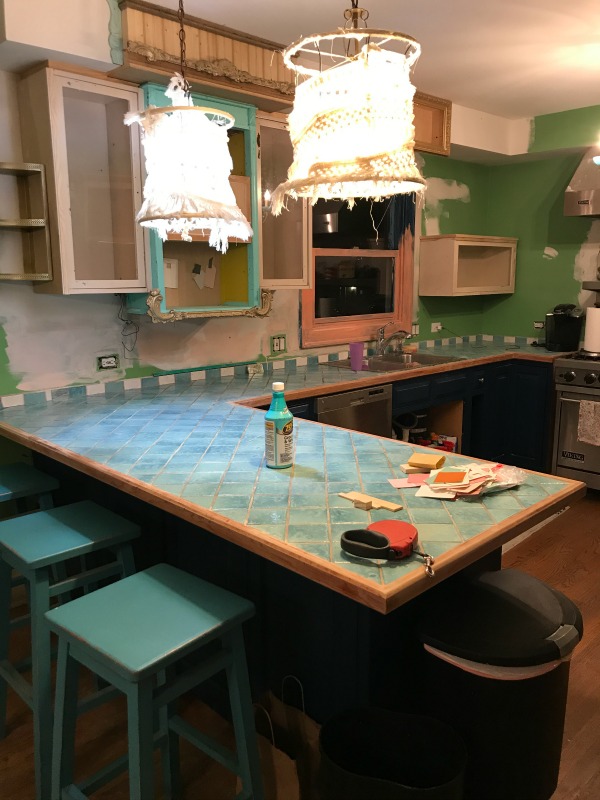 "Peace, love and ridiculous fun…happiness starts with loving yourself, despite yourself."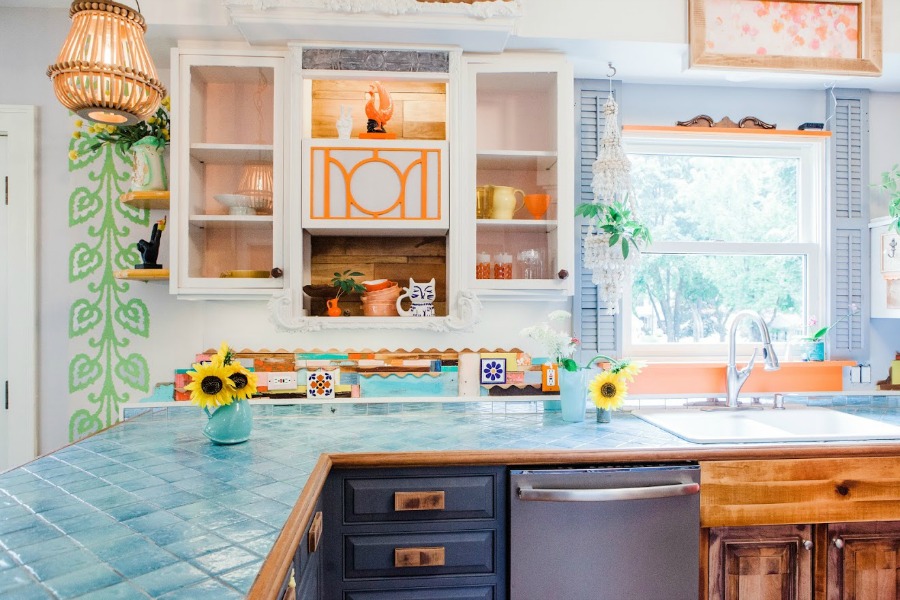 Putting the FUN in Funky Design
Ridiculous fun? These two words perfectly describe the kitchen designed by Jenny Sweeney, and here's her philosophy: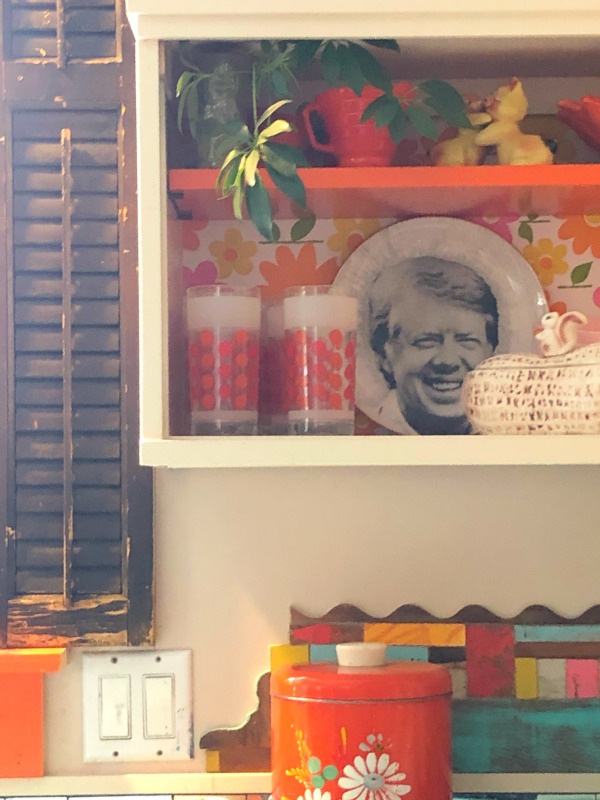 "We spend so much time in our kitchens but I think sometimes we take them too seriously. I always fall in love with a kitchen that inspires conversation, creativity and makes you feel like doing a little dancing."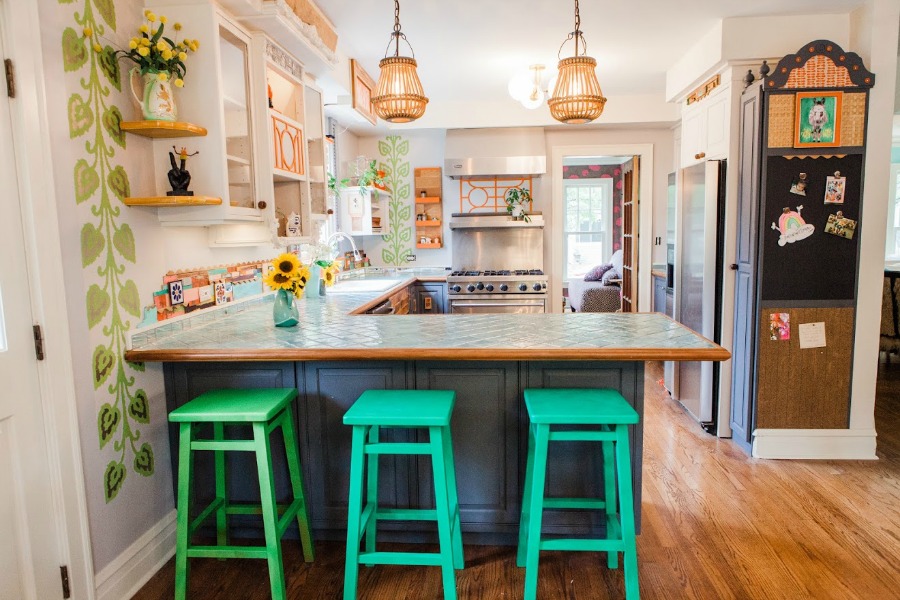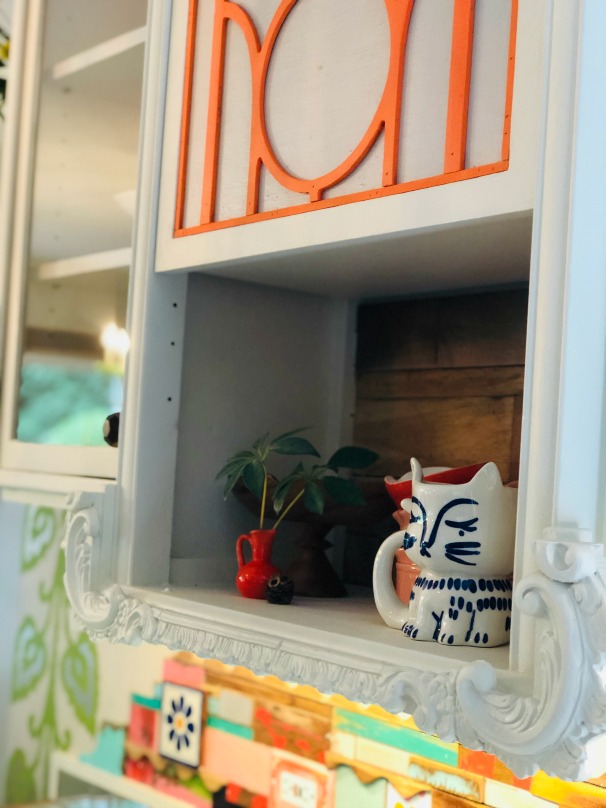 I can attest this kitchen inspires dancing and shenanigans with its vibrant strokes of bold color, texture, and Bali-inspired magic. There is an energetic optimism flowing through the interiors that just makes you smile.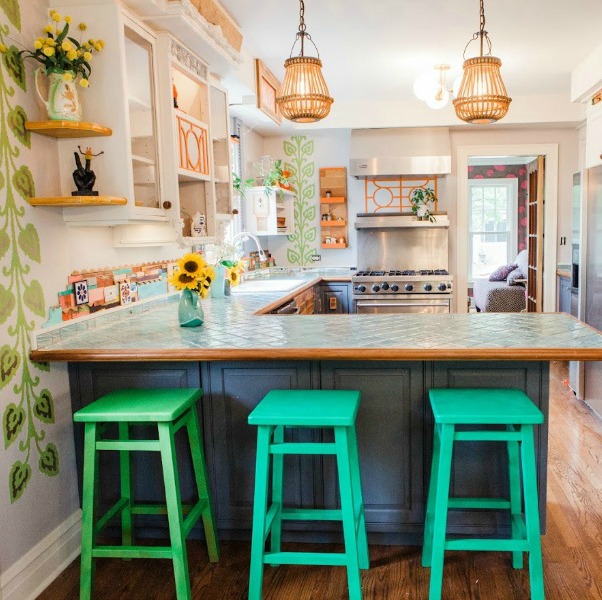 Then again, the artist who lives here has a Ph.D. in smile-making.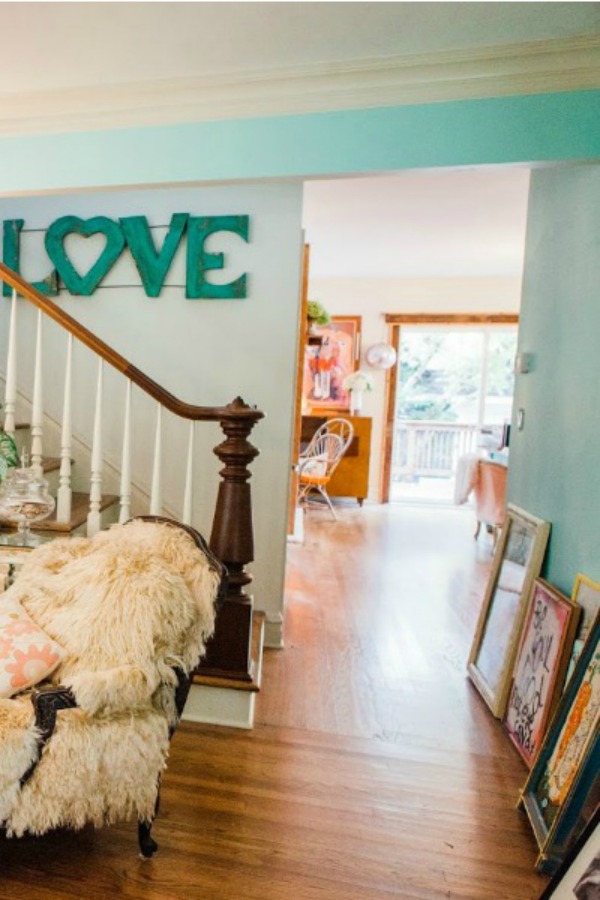 Jenny's Colorful Journey
Jenny spearheaded a creative company (bet you've seen her signature style greeting cards) with only a few dollars in her pocket and guided it beyond her wildest expectations. With the help of a staff of 12, her work was distributed in 1,500 stores, and partnerships with major retailers like Target and Victoria's Secret followed.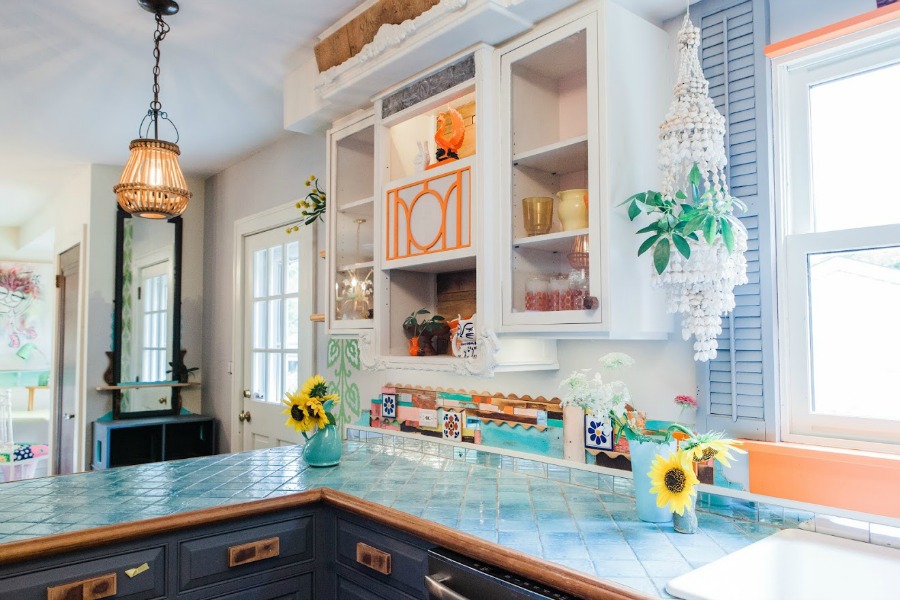 As demand for her talents grew, she even collaborated with Mariska Hargitay on projects and events. But a thriving career could not insulate her from a painful season of depression.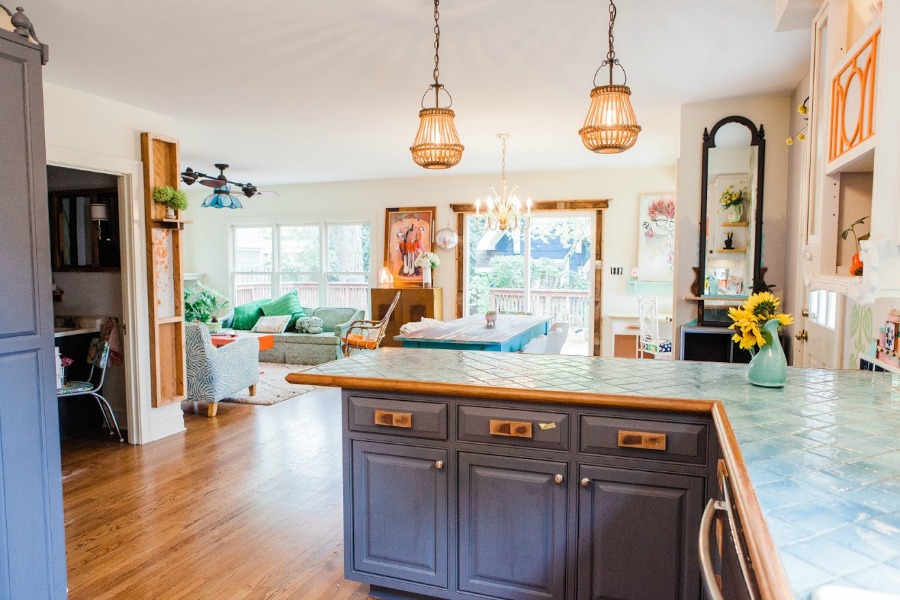 "I feel like much of it was motivated by trying to prove my worth to people around me who I felt never believed in me."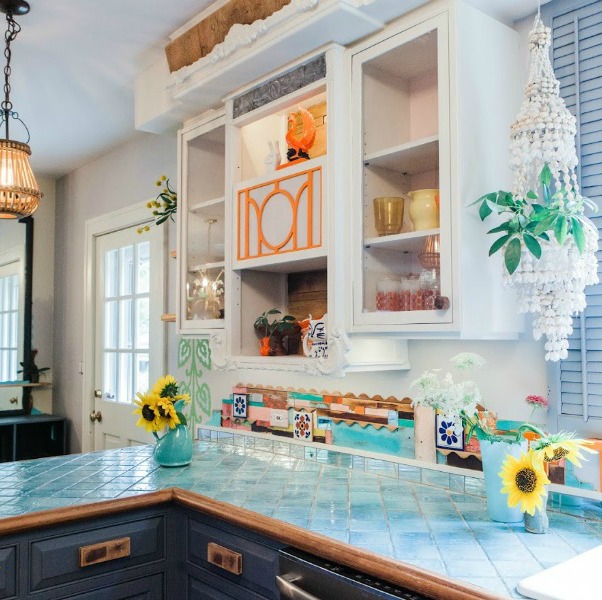 Awakening to Fresh Colors on the Horizon
Her experience in the deep pit of despair eventually made way for an emotional breakthrough in which she gained new awareness for the smallest of miracles, for tender signs of fresh life budding.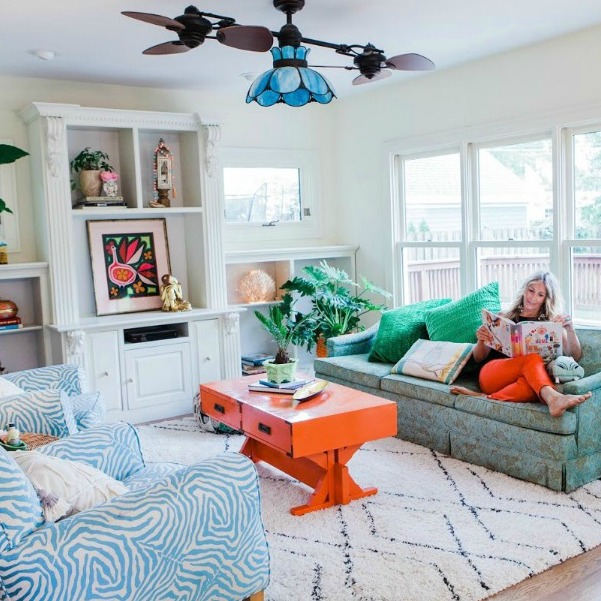 "The single most important thing I learned was to be okay with myself. I'm flawed, quirky, imperfect and sometimes I make bad decisions. So what? It's part of the human experience."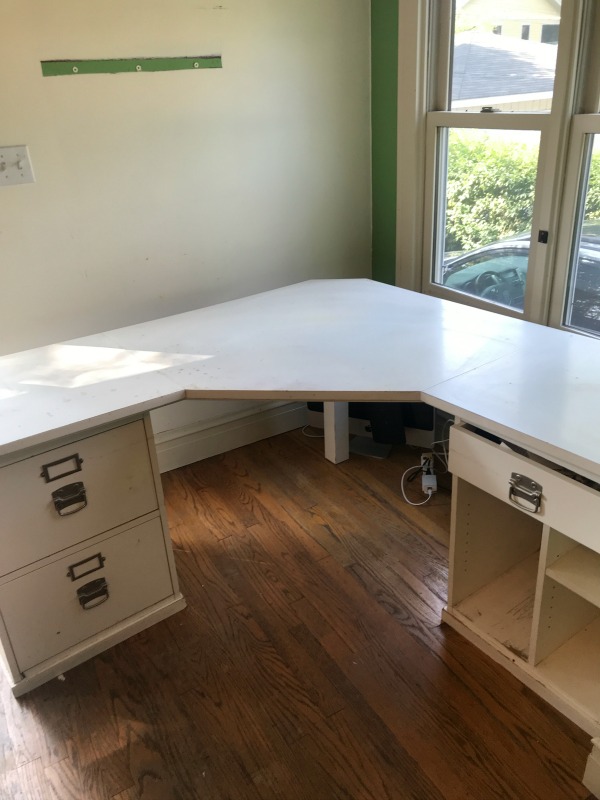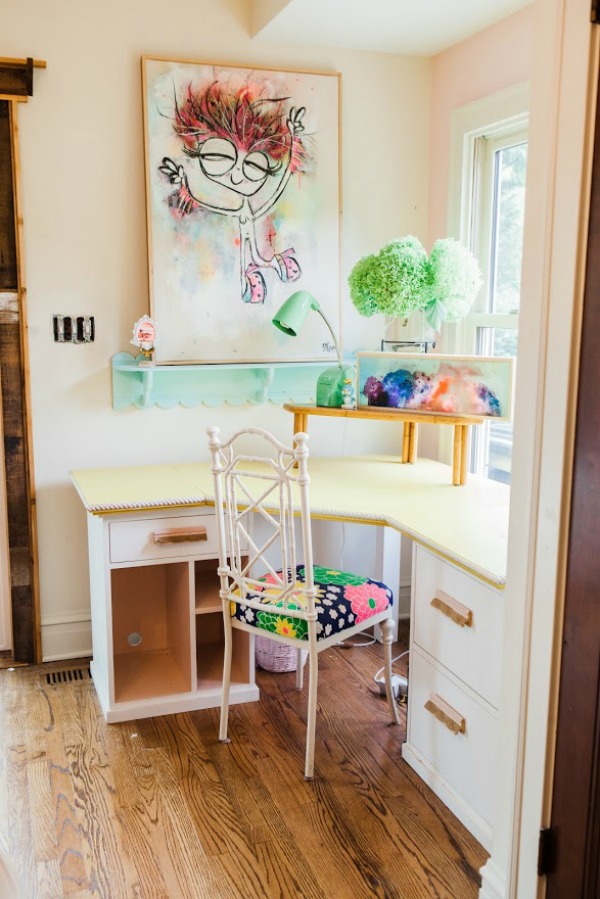 Self-Care and Gentleness
Taking literal and figurative baby steps toward gratitude made all the difference as she immersed herself in nature for healing and wholeness.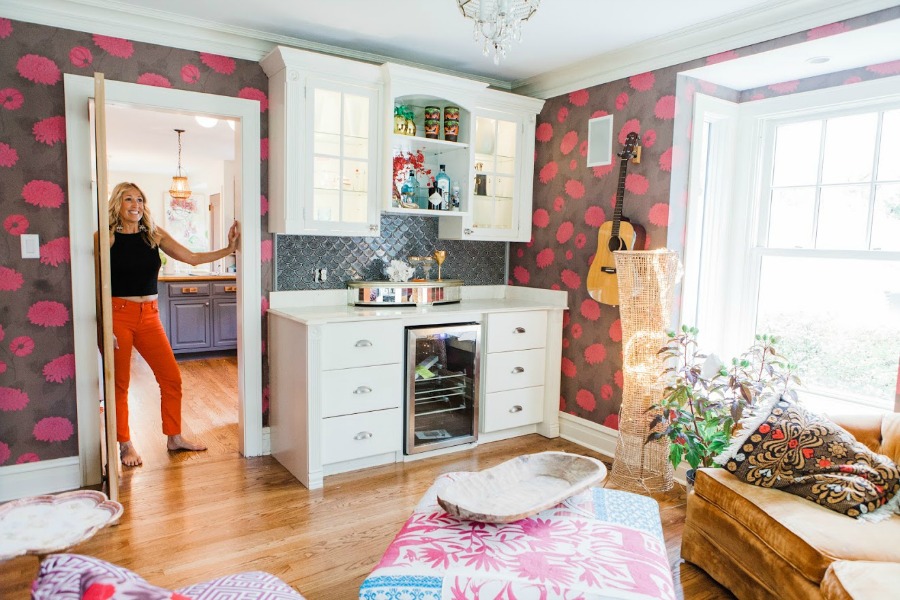 "The more love we have for ourselves, the more love we can share with others. It's just true. I wish it hadn't taken me so long to figure this out, but now that I know it, I will never forget it."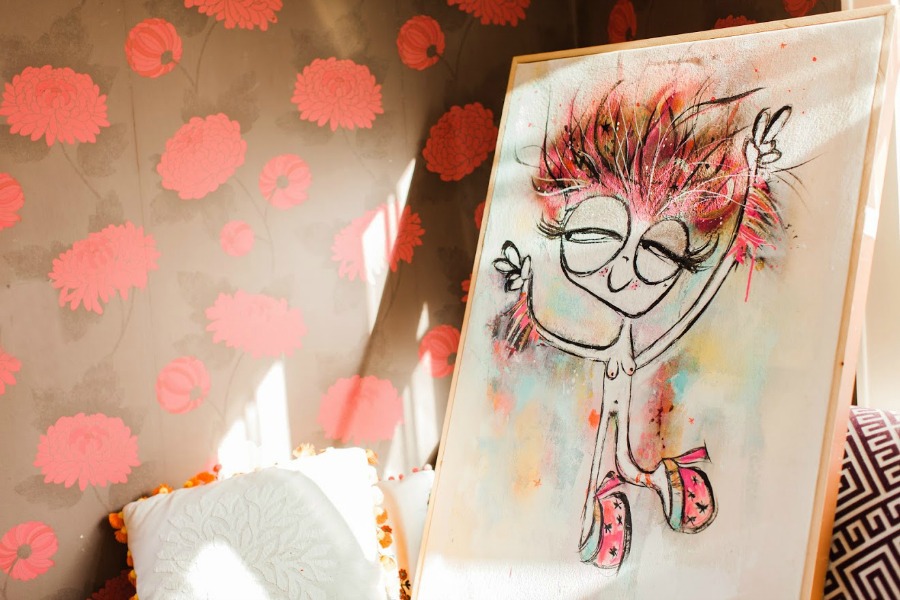 When Home Becomes Sanctuary
A new chapter of Jenny's story is currently blooming.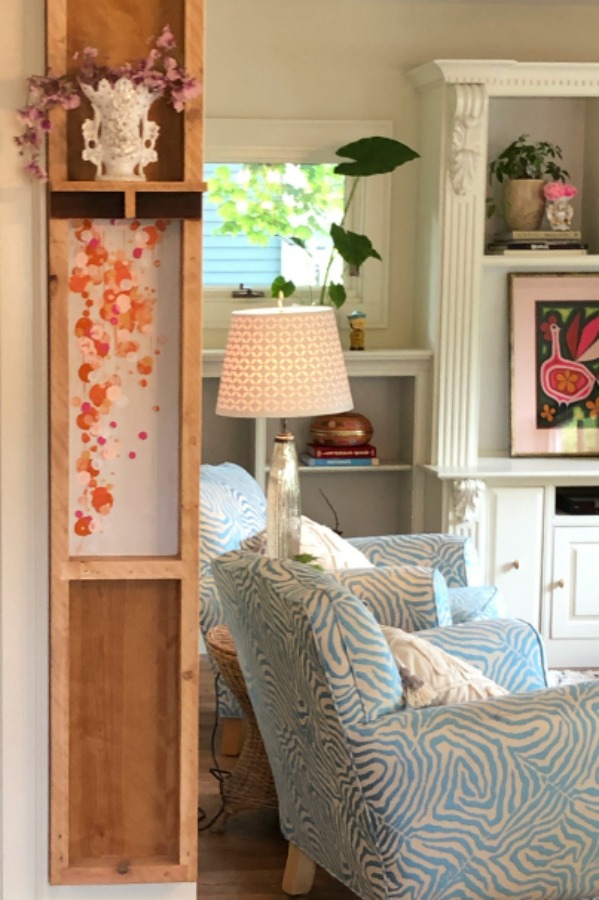 While she is letting go of a personality-filled home which became the living work of art that soothed her and put wellness within reach, she is saying HELLO, LOVELY to what's next!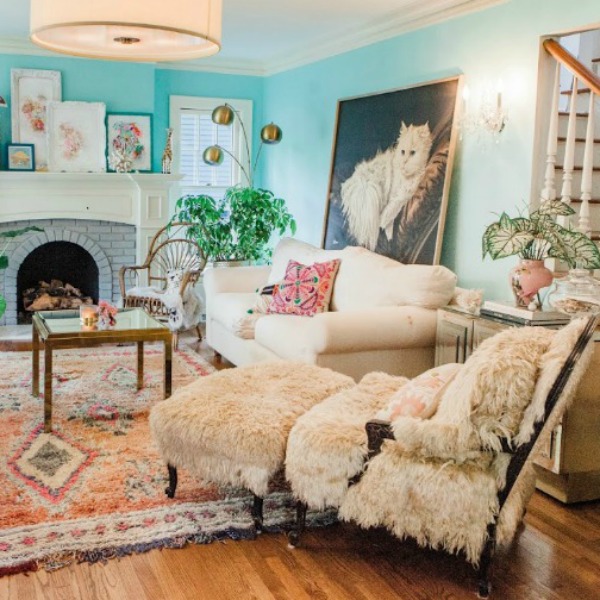 "Life has been full of change and challenges the past few years and this place has been my sanctuary. Its warm, womblike energy has saved me from some of my darkest beliefs about myself and the world."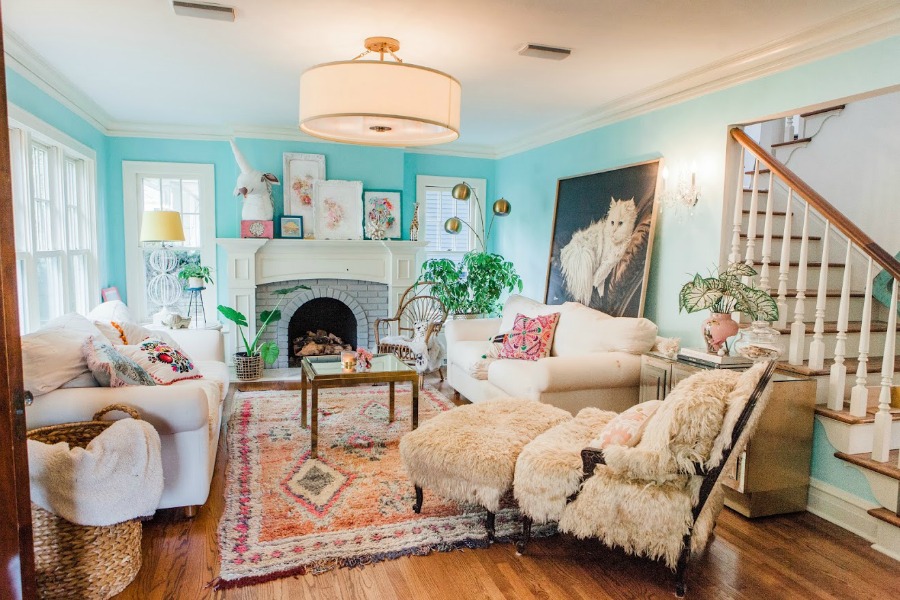 Oh, friends, there are houses and then there are SHELTERING HOMES. Homes that prosper us in mysterious ways and help us renew our strength.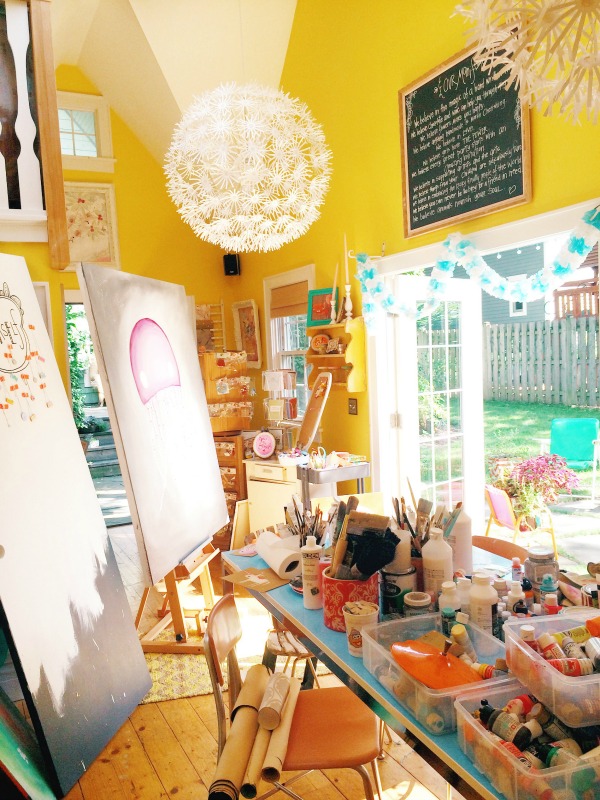 I am so inspired by Jenny's courage to create from the heart and sprinkle this home with WONDER. Love the yellow walls? Try Behr Lemon Zest!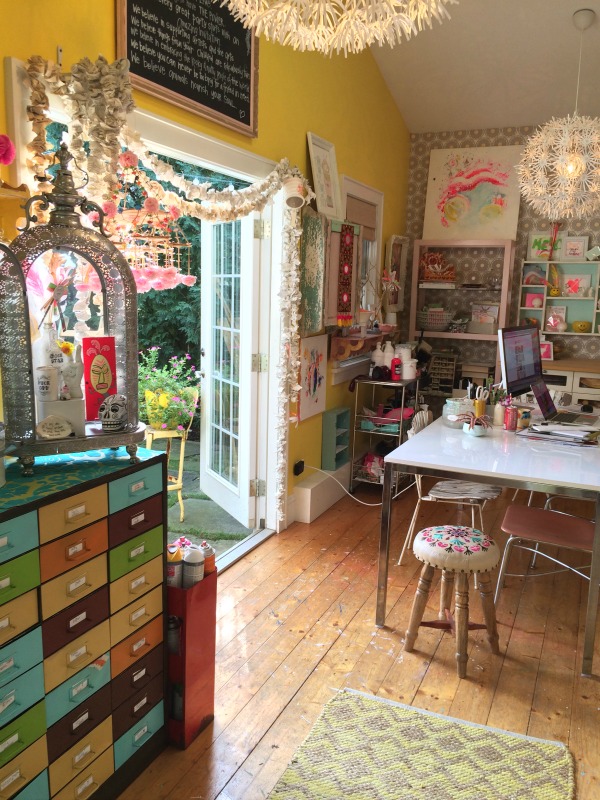 The magic blooming within these walls today began life as little seeds of hope buried within an artist's colorful imagination.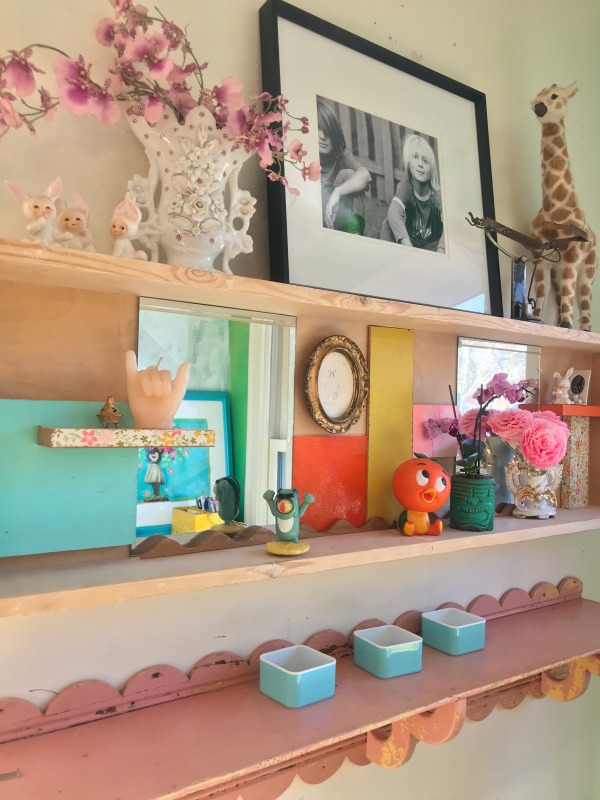 And hope never disappoints!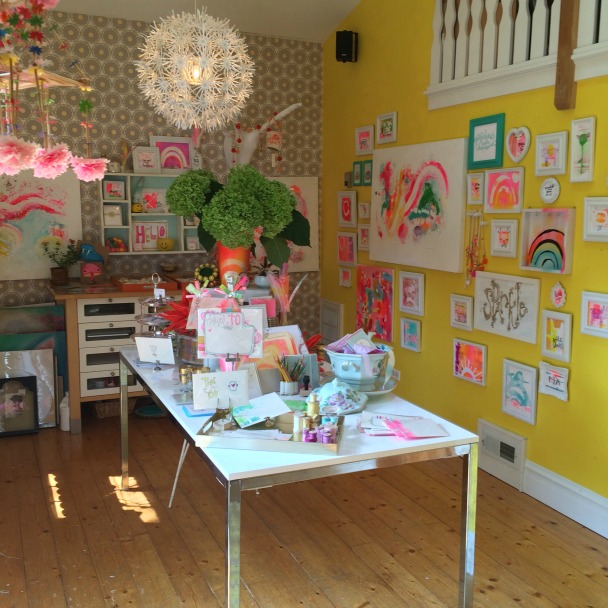 Treat yourself to more of Jenny's darling style and home HERE and see more of her creations in my story here.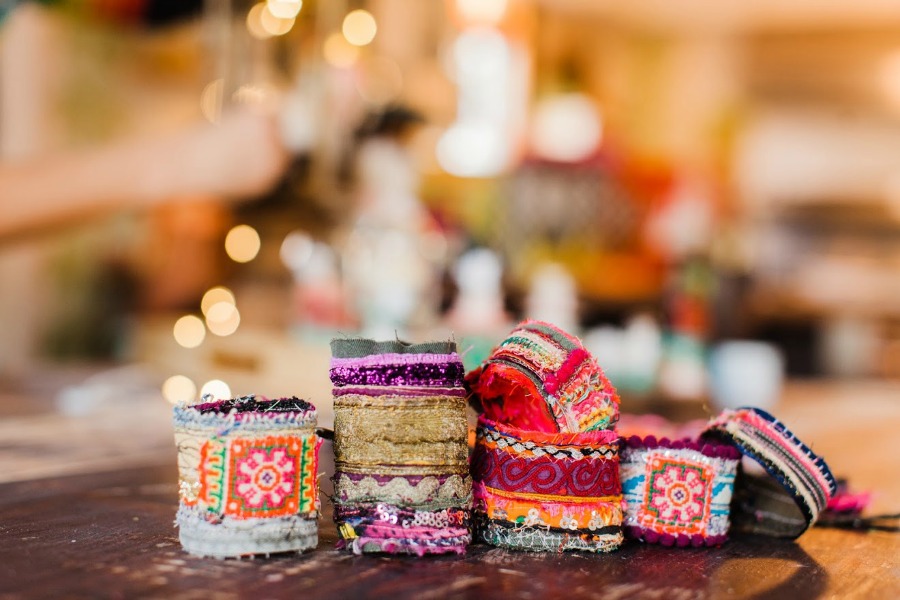 Wonder if Jenny would dig this place?
I independently selected products in this post—if you buy from one of my links, I may earn a commission.
Peace to you right where you are.
-michele
Shop for items you already intended to buy on Amazon RIGHT HERE (not just items in posts), and also find home decor here to keep decor inspiration flowing on Hello Lovely!
Hello Lovely is a participant in the Amazon Services LLC Associates Program, an affiliate advertising program designed to provide a means for sites to earn fees by linking to Amazon.com and affiliated sites.