We toured my favorite white modern farmhouse in Barrington, Illinois the other day with its sprawling, renovated, 1875 historic home interiors. It's a fresh mix of minimal and industrial farmhouse design elements, with bedrooms both spare and serene. In today's Modern Farmhouse Bedrooms: Industrial, Spare & Grey, we'll take a tour and chat about design style as well as smart grey paint colors.
I independently selected products in this post—if you buy from one of my links, I may earn a commission.
Photography: Hello Lovely Studio
Modern Farmhouse Bedrooms + Grey Paint Colors
BTW, how do folks even define 'modern farmhouse' these days?
I ask because I know it is confusing to a lot of people whether they are the type who pick up home magazines or not.
Defining Modern Farmhouse is No Easy Feat
In a conversation with a passenger in the plane not long ago, the topic came up.
She was gearing up to place her home on the market and inquired about staging tips.
As I discussed trends and features home buyers currently rate as highly desirable, she stopped me when I mentioned modern farmhouse style as she had never heard the term.
This herringbone patterned reclaimed wood bed stopped me cold! Wouldn't it be perfect in a freshened farmhouse?
Farmhouse Has Replaced 'Country'
Modern farmhouse style used to be called casual modern country or just modern country.
Why did we need more categories for country decor or architectural style?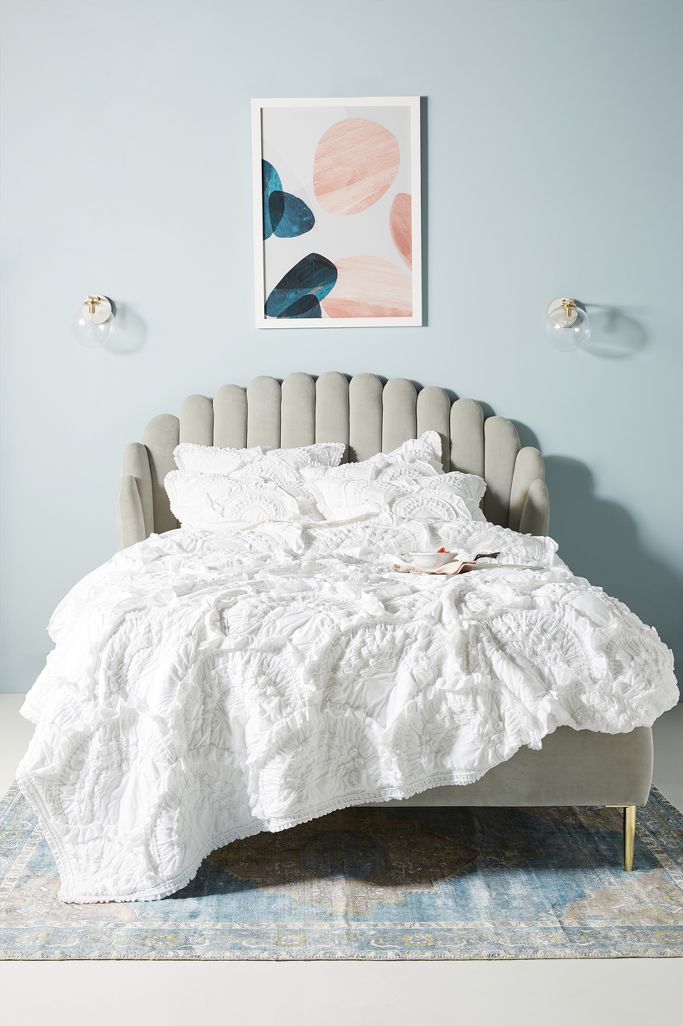 Vintage & Less Edgy Design
Maybe it is a masterful marketing scheme, but I think it is more likely that as the culture becomes more technologically advanced, many homeowners long for their homes to reflect a simpler time with more organic elements.
Know what I mean?
As artificial intelligence and virtual everything permeate our everyday, there is a greater pull for the real, the imperfect, the fleshy.
Modern Farmhouse is a Lovely Mix
Traditional farmhouses and old country houses feel homey, welcoming, and nostalgic.
It's easier to say what modern farmhouse style is NOT than to define it with any accuracy.
It isn't your granny's farmhouse because it isn't cluttered or one note. And it certainly isn't your aunt's fancy French Tudor with its ornate details and all those polished surfaces.
Endless Interpretations of Modern Farmhouse Style
A mix of vintage and new live harmoniously under a modern farmhouse roof, along with painted furniture and mostly light wood tones. (There are always exceptions! This home in today's story, for example, has solid black stained wood flooring.)
Many modern farmhouse devotees favor a black, white, and natural color story. Others opt for gallery white walls to highlight bright and colorful art collections.
Modern Farmhouse Bedrooms Vary in Color
There surely aren't rules for color schemes in a modern farmhouse, while there IS an unfussy, laid back, sweet informal humility.
This historic farmhouse happens to have a magnificent grand piano in the living room; however, that piano is just inches away from a distressed and deconstructed arm chair.
Is This the Common Denominator?
From what I can gather, modern farmhouse style seems to be attractive to folks who don't take themselves too seriously and consequently don't want their interiors to feel too precious or stuffy either.
That doesn't mean modern farmhouse is shabbily unsophisticated though!
In this charming renovated modern farmhouse, you'll find the decor reflects plenty of distressed and rustic finishes as well as nods to the past.
When Luxury Meets Understated in a Historic Farmhouse
However, it also boasts a range of luxurious finishes and handcrafted, quality, heirloom pieces built to last multiple lifetimes.
Since this home doubled in size when it was expanded in 2008, the beautiful bedrooms are spacious and luxurious, while maintaining the humble integrity of the original structure.
Understated and minimal, the bedrooms throughout the home whisper with a decor sparity showcasing the architectural details.
Living Minimal in a Lofty Space
Because the construction materials are of exceptional quality, they can stand on their own confidently without ornamentation the owners find busy and distracting.
Of course there are always exceptions! Sometimes you're in the mood for antlers and mood lighting…psst…the seascape below at right is by moi.
Adding the Unexpected Always Works
I love it when a room has an unexpected wink in the form of a Curt Cobain rag doll!
Minimal Modern Farmhouse Luxurious Master Suite Bath Tour
The master suite's luxurious bathroom is a study in minimal modern farmhouse chic, and what a spa-like space to get ready in!
Freestanding Tub
Homeowner's Favorite Scented Candle
Bright Idea: Turn an Extra Bedroom Into a Craft Room!
Grey Paint Color Ideas
This home's interior walls are painted in two grey paint colors from Benjamin Moore. While the home may appear to have the same grey color throughout, two shades came into play dependent upon the amount of natural light available.
1. Benjamin Moore Stonington Gray
2. Benjamin Moore Platinum Gray
Step Inside a Renovated Farmhouse!
Here's the fun part. Go inside for a walk-through.
See this home's exterior here.
Get the Look: Modern Farmhouse Furniture & Decor
Most of Furnishings in This Home
Restoration Hardware (RH), Pottery Barn, and Crate & Barrel.
Bedding in Bedrooms
Just in case you are seeking modern farmhouse style touches, rustic design elements, or industrial farmhouse accessories…behold!
Farmhouse Style Finds for Home
Dining Chairs
Dining Tables
Side Tables
Shop the Look: Industrial Farmhouse
Please select a Look to display
For more modern farmhouse charm? Give these stories a whirl:
I independently selected products in this post—if you buy from one of my links, I may earn a commission.
Peace to you right where you are.
-michele
Shop for items you already intended to buy on Amazon RIGHT HERE (not just items in posts), and also find home decor here to keep decor inspiration flowing on Hello Lovely!
Hello Lovely is a participant in the Amazon Services LLC Associates Program, an affiliate advertising program designed to provide a means for sites to earn fees by linking to Amazon.com and affiliated sites.