Oh, my! Has it truly been seven years since I shared the beautiful artistry and rustic French farmhouse of Alexandra Ritchie of Byloom & Hyde? Because that is far too long for a talent and spirit as lovely as hers.
Let's revisit a conversation with the artist and peek once again around her French country home and atelier in France. It's a Rustic French Farmhouse in Dordogne where bits of cotton, leather, and salvaged textiles are transformed into timeless creations by a lovely dream weaver.
First…Some personal news.
Just before we explore the amazing creations and farmhouse…some personal news, friends. It has been quite a week for this fairy. I have just returned from the hospital and welcome your prayers. A gastrointestinal complication is to blame, and I have some healing to do. I'm weak, weary, and appreciative of all of your gentle thoughts. I'm discouraged but trusting…leaning on everlasting arms and looking forward to recovery. Thanks in advance.
Second…Have you watched NBC's "Making It" yet?
This is such a fun show! If you love Etsy, you will likely enjoy this romp. From executive producers and hosts Amy Poehler and Nick Offerman, this lighthearted competition series celebrates the creativity and craftiness in all of us. Think: a six-episode competition with eight of the most talented makers from across the country. They take on a variety of handmade projects with the hopes of impressing Poehler, Offerman and expert judges, Simon Doonan and Dayna Isom Johnson. Poehler is a self-proclaimed crafting novice who has long harbored a secret appreciation for those who can imagine and execute incredible things by hand
Third…How did this Etsy shop appear on my radar anyway?
The charmingly timeless and tranquil images of beautiful handmade bags from Alexandra Ritchie's Etsy shop Byloom and Hyde called to me when I glimpsed them almost a decade ago. I just had to know more about the maker and her French home near Angouleme!
And I could not wait to become an owner of a one-of-a-kind Byloom & Hyde bag!
Want to see mine?
My Leather & Woven Byloom and Hyde Bag
Rich, buttery leather in a sandy shade of bliss with beige wavy goodness.
Rustic French Farmhouse in Dordogne & Artist
Each bag made by her is custom, and I love sneaking peeks of her rustic farmhouse and barn from the photos she snaps of her wares.
Byloom and Hyde: In the Shop Now
Here is a sampling of her current inventory which includes bags/purses, clothing, jewelry, and shearling.
Conversation With Alexandra Ritchie
How would you describe your style?
"Bohemian with classic restraint…the artist in me has to be expressed but all with subtle understatement. Does that make sense?
Can you describe your charming French farmhouse?
My home mixes old and new everywhere –
I love my old crumbly gilt frames,
stone walls and shabby French vintage finds.
I am most comfortable with muted shades
of grey, french blue and stone.
Our home would not be complete without
Rocco our adoring Rhodesian ridgeback
curled up by the kitchen door."
Your 400 year old home in South West rural France came with a barn you renovated?
"The house was attached to the barn to form a courtyard so it made sense to make it one property…during WW2, the house was occupied by the Germans, and several antique cast iron beds still remain from that period."
Tell us about the surrounding farmland and forest.
"Sweeping fields of sunflowers can be seen everywhere in the month of July – it's so beautiful. I love to listen to the frogs and crickets as they sing their song at sunset. There is an overwhelming sense of peace and tranquility here."
It must feel like a dream come true to do what you love in a place you love…
"It is a dream fulfilled living here!
There is a natural, slower way of life here –
we aren't caught up in the race
everyone else seems to be in.
I breathe a sigh of contentment when I
realise once again that it is possible to live differently."
What is special about life in South West France?
"The French are most definitely in no haste
to change to the next best thing all the time.
They still 'wait' in queues, postpone things
until they are ready, have two hour
lunch breaks and don't work on days off.
Admittedly, being from the UK I do suffer
from frustration sometimes when I want
things done yesterday!!"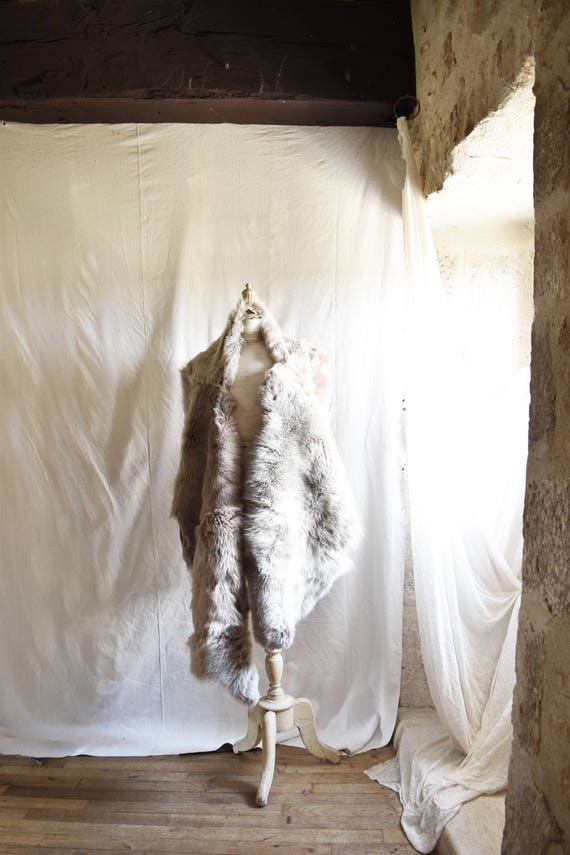 It does sound rather romantic.
"As for romantic – having a young family,
being a full-time Mum, running my studio
and renovating a barn…
the romantic side of things gets
a little hazy!!"
How did your business–Byloom and Hyde–come to be?
"Byloom and Hyde
(by weaving loom and leather hide literally)
has come about since I settled here in France.
I find my weaving method marries so well
with rare leather finds I come across
and creates a unique combination.
I'm hooked!"
What Can you tell us about this magnificent loom?
"My weaving loom had been lying in storage gathering dust waiting for its big moment. I have such a love for the texture and construction of cloth – I studied constructed textiles – mainly embroidery and weave at Glasgow School of Art in Scotland (Jonathan Saunder's class actually!) and realised it truly was a passion of which I would never grow tired."
The process of making a single bag…can you walk us through it?
"Spontaneity is vital! It keeps my ideas fresh –
sometimes my hands move before I have
the idea in my head which creates unexpected
results even for me – it keeps me on the edge.
Being too fixed in my mind stifles the creative process.
OOAK or rather 'one of a kind' pieces or at best 'limited edition' work well for me
– it keeps repetition to a minimum. Passion is key."
What three things were inspiring the artist in 2011?
1.
"Quiet tranquility all around me…
2.
"The Aladdin's cave of my leather supplier.
One day I'm going to get lost in there never to return!
And it is so disorganised I never know what I'm going to come across next."
3.
"Rodarte – what an inspiration!
I love the fact these two sisters are just
doing their own thing away from the city,
not compromising their choices for anyone
– and what creativity they have!"
Be sure to check out Alexandra Ritchie's amazing Etsy shop RIGHT HERE.
I independently selected products in this post—if you buy from one of my links, I may earn a commission.
Peace to you right where you are.
-michele
Shop for items you already intended to buy on Amazon RIGHT HERE, and also find home decor here to keep decor inspiration flowing on Hello Lovely!
Hello Lovely is a participant in the Amazon Services LLC Associates Program, an affiliate advertising program designed to provide a means for sites to earn fees by linking to Amazon.com and affiliated sites.