RAISE YOUR SPARKLING CLEAN HAND IF YOU'RE READY FOR SUM SUM SUMMERTIME! Cue: the Beach Boys, sunshine, farmers markets, beach time, flowers in bloom, ice cream, and road trips (will we take road trips?). Longer days lend themselves to daydreams, and starry nights to firefly chasing. Does summer mean gardening bliss for you or hanging out with a book in the backyard? Are you dreaming of a she shed, potting shed, garden shed, greenhouse or mini cottage? Me too! She Shed Chic, Potting Sheds & Backyard Inspiration is for us.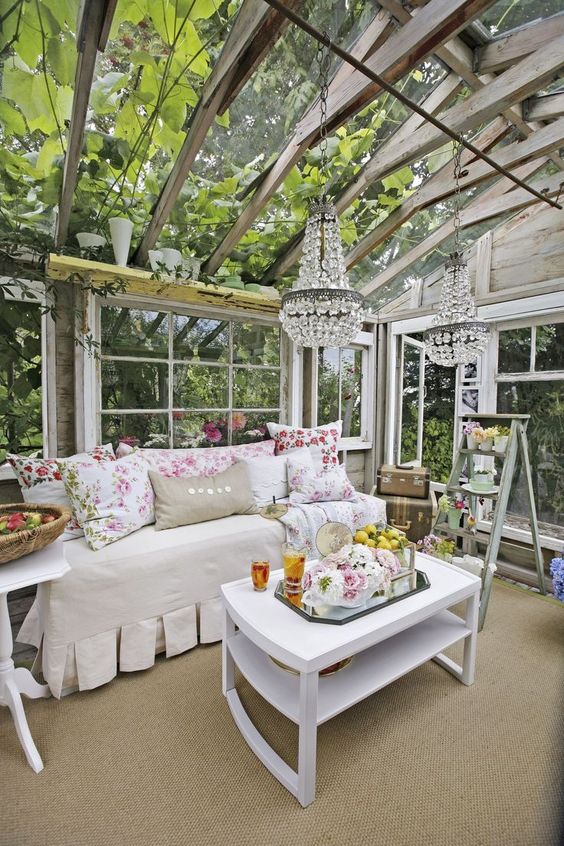 I independently selected products in this post—if you buy from one of my links, I may earn a commission.
He Shed, She Shed Chic, Potting Sheds & Backyard Inspiration
For me, a backyard she shed it is one of those 'someday' sort of dreamy notions like re-vamping a vintage Airstream. In the mean time, I'll happily collect inspiration and keep designing in my head.
Beautiful Shed Possibilities Online
Did you know you can shop for shed kits, sheds and even greenhouses (pre-assembled, primed and ready to paint) online?
YES, m'am, you can.
And if you have been doing more online shopping than usual, you are in good company.
Ever find yourself doggone spoiled rotten and Amazonian big time impatient about delayed shipping and shortages in this pandemic season?
Check out my hilarious, chic white low pump wearing, Gospel singing BFF Shirleen who has an online shop and encourages us to WAIT…
Ha! I love her so much!
Does the concept of 'he shed she shed' ring just too trendy and silly?
Sophisticated Backyard Shelters
Semantics aside, it's easy to appreciate how creative souls are designing truly custom backyard shelters with high function and high style to suit their needs for gardening, writing, working, playing and relaxing.
For example, have you seen the magical fantasy of a sophisticated potting shed with it stunning good looks outside AND inside designed by Loi of Tone on Tone?
Butter my biscuit and color me Smitten Von Smitten…it's a lovely newer build that only looks as though it's always been there!
Beyond the Chi Chi She Shed
So many inspiring, purposeful backyard structures varying in design and style to live large within a cozy footprint!
Whether you hire a builder, order a DIY kit, or buy something ready to paint, the possibilities for creative customization are endless.
Maybe I don't even need a whole she shed…maybe I just need a modern French-y fab fort with:
and a couple of these nearby:
Farmhouse Style Artist's Studio in Alabama
This nearly 500 s.f. she shed in Alabama boasts a picturesque setting, and its owner (an antiques dealer) describes the design as "Victorian greenhouse meets Alabama farmhouse."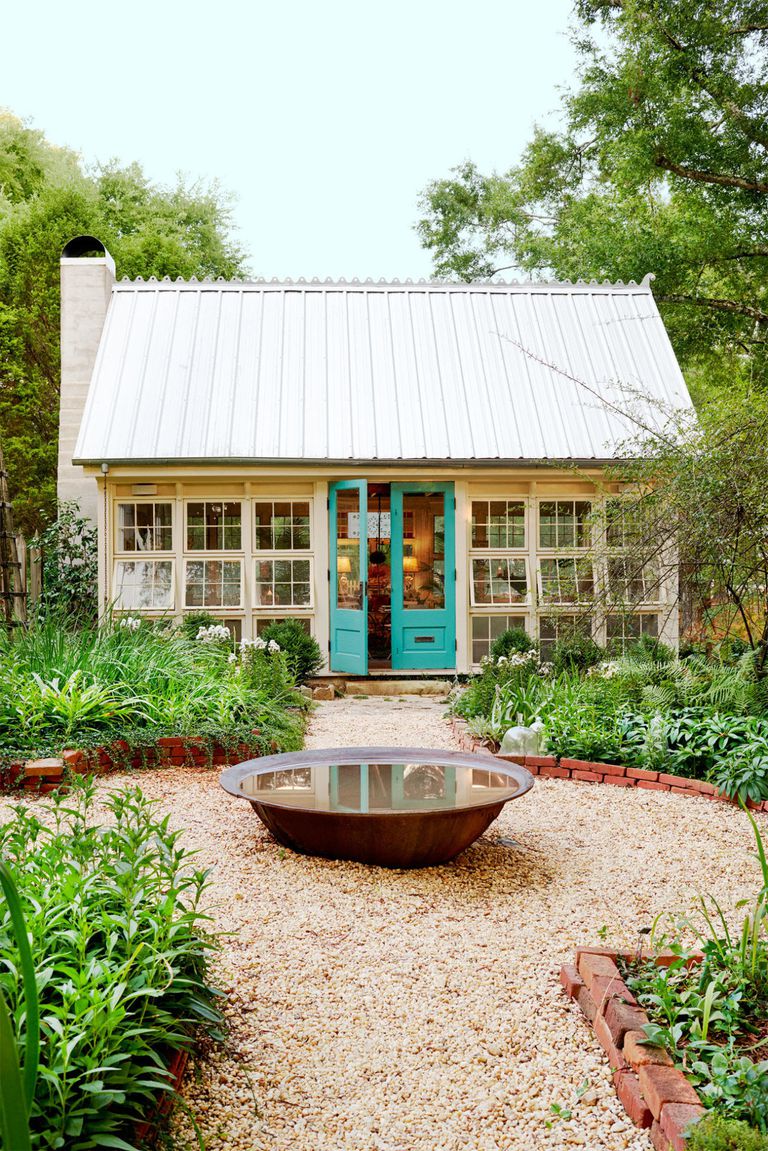 Elevated Glass Tree House She Shed
Outdoor Oasis Inspiration
Enchanting Chic She Shed & Potting Shed
Known as The Hobby House, this Sharpsville, Indiana backyard oasis potting shed has been graced with dreamy robin's egg blue paint and superb styling by its creator, Donna Jenkins.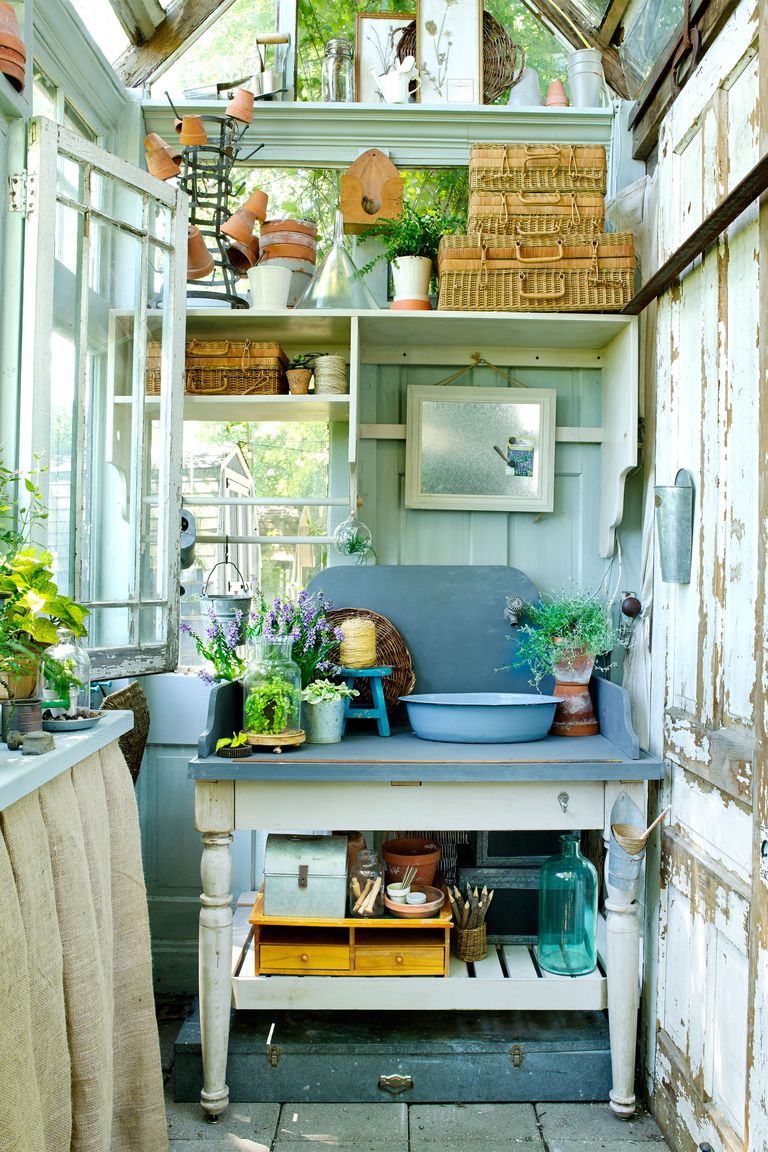 If you love pretty blues and greens, you just may fall for this French cottage.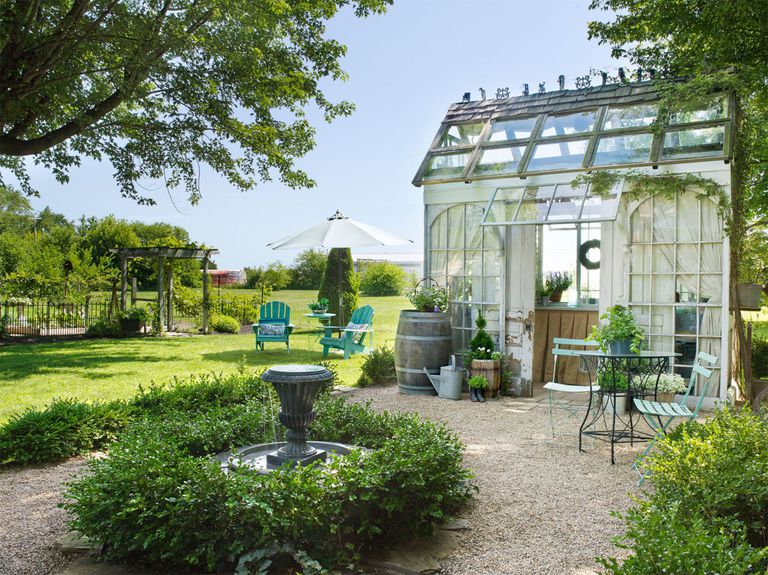 Writer's Retreat Farmhouse Style She Shed
Barn Shed for French Farmhouse
I'll never forget when Brooke and Steve Giannetti were designing outdoor structures at Patina Farm and came up with a creative solution for a little barn shed for these guys:
When the estimate to build the original design dreamed up by Steve Giannetti came back on the astronomical side, they found this alternative:
The beautiful creatures at Patina Farm are indeed living a charmed existence in Ojai, California. Remember the chicken coop which is accessed through the greenhouse?
Window Boxes on a Cedar Shed
DIY Backyard Greenhouse
A young couple who bought a 100 year old home in Nashville reimagined the old broken down garage that came with it as a functional backyard greenhouse…utilizing their collection of vintage windows and help from The Home Depot!
Work & Play Garden House
Built from recycled wood pallets and architectural salvage, Alice Collyer's rustic backyard garden storage she shed has evolved with the times and lived many lives. Currently, it serves as both a work and play space for her children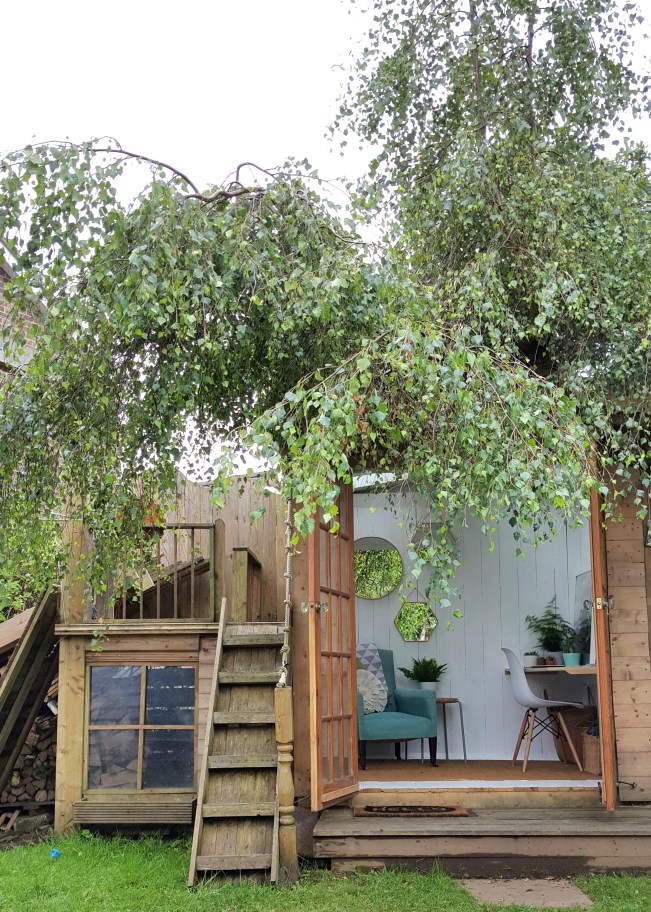 Don't you love this bright idea of hanging a mix of geometric mirrors inside on the rugged white painted wall for an uber reflective and dreamy clean vibe?
Rustic Luxe She Shed for Relaxation
High Style & Architecturally ShedTacular Good Looks
Glass Garden Shed Palace
139 windows plus five French doors and a glorious imagination add up to 600 square feet of backyard garden bliss in Georgia.
PIN THIS lovely PAINT SWATCH for future reference!
Chic Shed with Stunning Spanish Style
She Sheds, Garden Sheds, Potting Sheds, and Shed Kits to Consider
Find a collection of shed kit ideas in a collection HERE.
Watch This Smart Rendering of a Shed Taking Shape!
No dangerous cuts to make when you use a kit like this.
Perfect for a Rustic Elegant She Shed
If you have a moment to visit an only slightly more spacious she shed, my story about a one bedroom wonder tiny house cottage has been wildly popular with readers!
I independently selected products in this post—if you buy from one of my links, I may earn a commission.
Peace to you right where you are.
-michele
Shop for items you already intended to buy on Amazon RIGHT HERE (not just items in posts) or for home decor here keeps decor inspiration flowing on Hello Lovely!
Hello Lovely is a participant in the Amazon Services LLC Associates Program, an affiliate advertising program designed to provide a means for sites to earn fees by linking to Amazon.com and affiliated sites.