The calendar says it is fall, but it is is winter-like in my neck of the woods with a blanket of white covering fallen leaves outside, the decor remaining pale and spare inside! As I considered the relationship of outdoors to indoors, I realized there is a ton of color and busy interest outside mostly undressed windows. No wonder it feels natural to balance all the fussiness with simple interiors. Snowy White Serene Fall Decor Around the House shares peeks around the house as well as plans for simple holiday decor (and a few white lovely finds for home).
If your fancy holiday anxiety has replaced your regular anxiety, you may want to peek at yesterday's gift guide for ideas or Christmas decorating inspiration HERE. I plan to begin crossing a few things off the list this weekend…and little by little, it will all get tackled imperfectly. There's no time for perfection, and as I mature, I am discovering the satisfaction of simply getting it done so there's time to be still and to savor.
Snowy White Serene Fall Decor Around the House
I have a few simple ideas for the master bedroom to make it feel a little more magical during the holidays. Some greenery for the vintage sconces, a bare branch prelit birch, and maybe (oh, mercy, I have put this off for years now), a pretty piece of quiet art to cover the big black TV over the dresser.
I independently selected products in this post—if you buy from one of my links, I may earn a commission.
I have several of these candelabra, and I have never brought them into the bedrooms, but they might be perfect in a bedroom window.
Home On a Snowy Hill
You can see some of the stone steps in the snow leading to the front door. Our front yard is a woodsy hill lined with mature trees and large berry bushes providing natural privacy and beauty.
I bought pom pom trim to try at this kitchen window where I will drape little starry white lights and hang a fresh wreath.
Pottery Barn offers a similar collection of Tuscan urns.
Snowy Courtyard
A wreath on the gate will also be perfect. (Bear in mind, these photos were just snapped days ago!)
More pom poms may soften this window in the nook as well.
Snowy White Backyard
We have so many shrubs with juicy berries that there are always wonderful winter birds near, and I enjoy every moment of their presence.
The photo doesn't do this gorgeous lamp justice, and I'm kicking myself for not snapping a photo of it in person, but I'm thinking of bringing one of these into my studio to replace another too-fancy lamp. The burlap shade is sold separately, and the look is so rustic and timeless.
You may not be able to assess the scale of this terra cotta urn on the kitchen counter, but it is enormous and found in Franklin, Tennessee on vacation.
Snowy White Kitchen
I'll be bringing in greenery clipped from the yard to fill my vases and simple glass jars.
Changing Colors in Fall
The courtyard's appearance seems to change daily and dramatically. Magical and blanketed in white like this and then a blanket of orange fallen leaves. What remains constant are the busy squirrels, chipmunks, and birds who make it their home.
I never tire of white!
My most popular posts to date are those about calm paint colors and about choosing white quartz. Our Viatera (Minuet) counters are still looking great with constant abuse from us, and they were my secret weapon for bringing light into a relatively dim space which started out with dark navy counters.
Rustic White Wood Planked Wall
Snowy white reclaimed pine on the bedroom wall has a cleaner feel than stained wood (at least for me) and imparts a warmth the bumpy textured drywall couldn't deliver.
I have been back at the piano composing happily, and switched things around in my studio so that it functions better as a creative space rather than a guest bedroom. (Translation: the bed was moved downstairs so there is room to spread out art projects and exercise.)
As you'll see below, I really am influenced by the palette outside!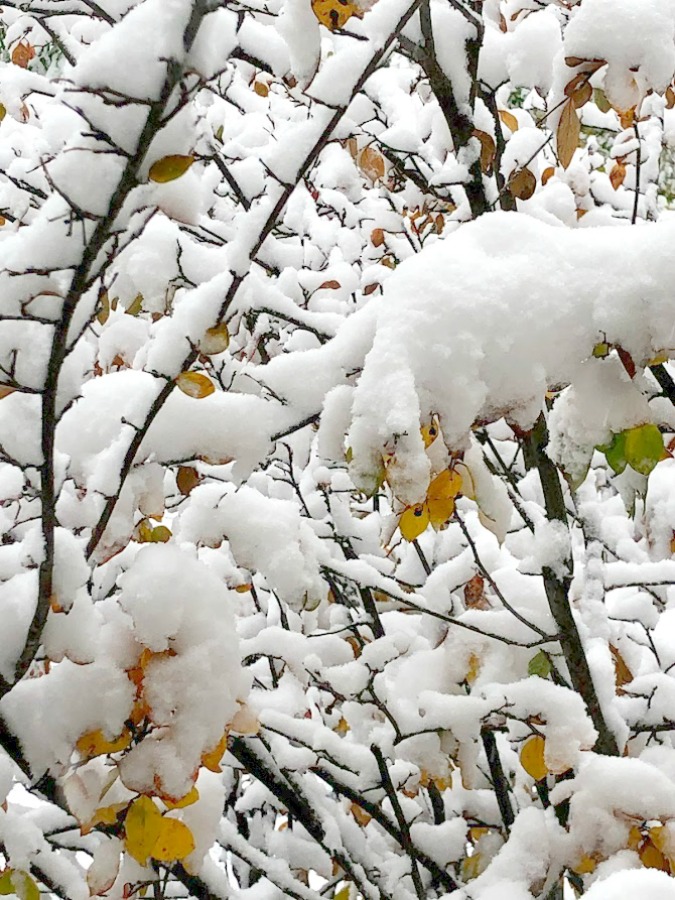 Distressed White Chandelier
Still haven't upgraded our bedroom light fixture which is presently a plain, oudated ceiling fan. Since the ceiling is vaulted, it could handle a grand chandelier. Since I'm drawn to small scaled vintage chandeliers and reproductions like this one…I have still not pulled the trigger and committed to a giant one.
I found so much timeless, pale, and understated color inspiration in the new book, SEGRETO impressions…it's a triumph worth every penny.
The Color of Snow
I'm not athletic or much of an outdoorswoman beyond power walking and simple hikes through the park, so I tend to enjoy the VIEW of the snow outside and inside.
Snow on the pumpkins is always such a heartwarming sight for me.
Look, mom and dad, I haven't touched my vintage shutters or piano bench with a paint brush…yet.
Why are the white foods (bread, pasta, vanilla ice cream) so comforting!?!
Bright White Kitchen
Here's a view of the kitchen I don't typically capture – it shows how I have attempted to use every inch available for storage in this not-too-spacious kitchen.
Meditative Studio With Neutrals
My studio is a pleasant space to blog and read, and it's evolving slowly. I paint in silence and need a tranquil, uncluttered environment to relax so this is as fussy as it gets!
Thanks for chatting with me and peeking inside and out today at a range of whites.
Someday, all of this will likely be traded for the desert…
Tour a Lovely Holiday Decorated Home!
The bonus is you can snag all the things you see from McGee RIGHT HERE!
Shopr: No products to show.
Peace to you right where you are.
-michele
Shopping for items you already intended to buy on Amazon RIGHT HERE (not just items mentioned in posts) or home decor keeps decor inspiration flowing on Hello Lovely!
Hello Lovely is a participant in the Amazon Services LLC Associates Program, an affiliate advertising program designed to provide a means for sites to earn fees by linking to Amazon.com and affiliated sites.
no products