Choosing a material for kitchen counters can be a daunting one, and I personally spent a fair amount of time mulling over options even after deciding I wanted a bright white quartz. Four years later, I still love Viatera Minuet quartz! This is not one of those promo-sponsory type posts, by the way. Nope. I paid hard earned cash for these pretty quartz counters! Since I field so many questions about this particular white quartz countertop we chose for our completely renovated kitchen, I'll try to enlighten you as best I can in 15 Smart Reasons to Choose Minuet Viatera Quartz.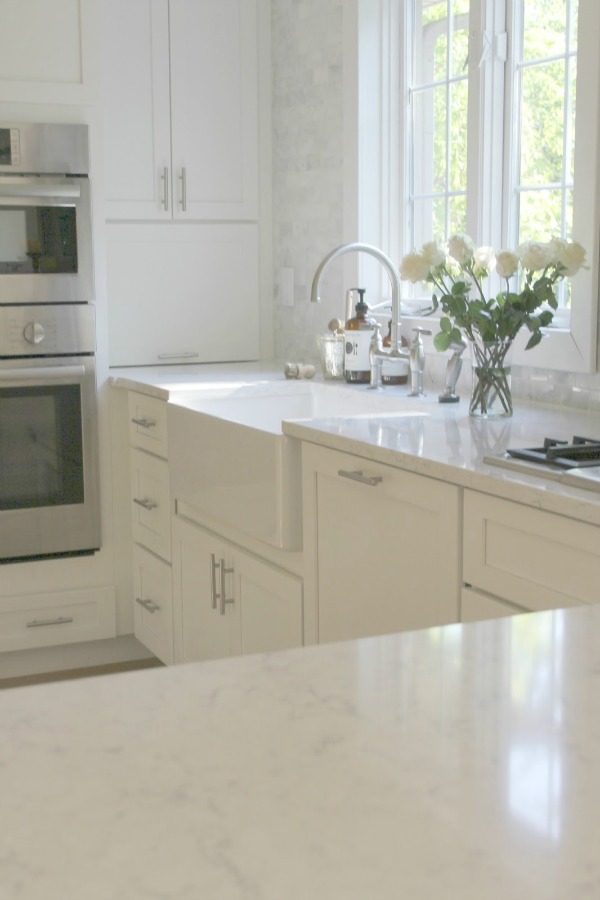 This post contains affiliate links which I hope you will use since they won't cost you a penny extra yet may earn this blog a small commission.
15 Smart Reasons to Choose Minuet Viatera Quartz
See it in person!
In this short video I made (ignore me, just watch for the countertop in our kitchen!) you'll get a glimpse of Viatera Minuet.
No. 1: Quartz Offers a Healthy Surface Free of Formaldehyde
Because quartz is not porous like natural marble or wood, it won't absorb nasty unhygienic substances left behind on the countertop. While a countertop material like laminate is solid, it may contain formaldehyde which can be toxic. I'm allergic to formaldehyde so this solid surface makes me happy. Read more about the benefits of Viatera quartz here.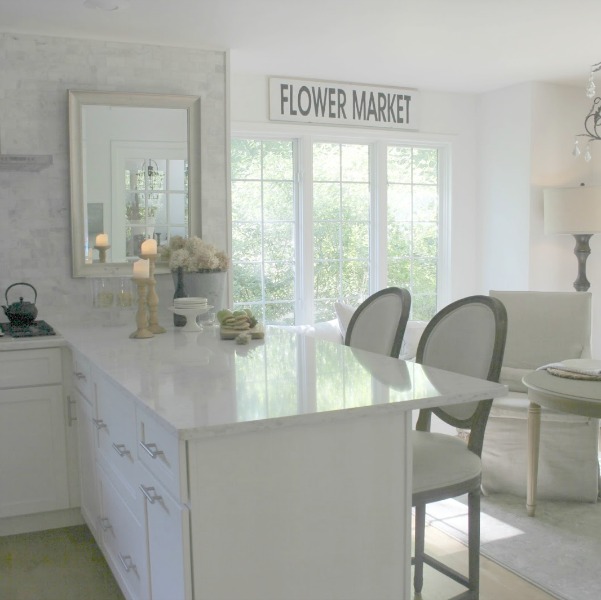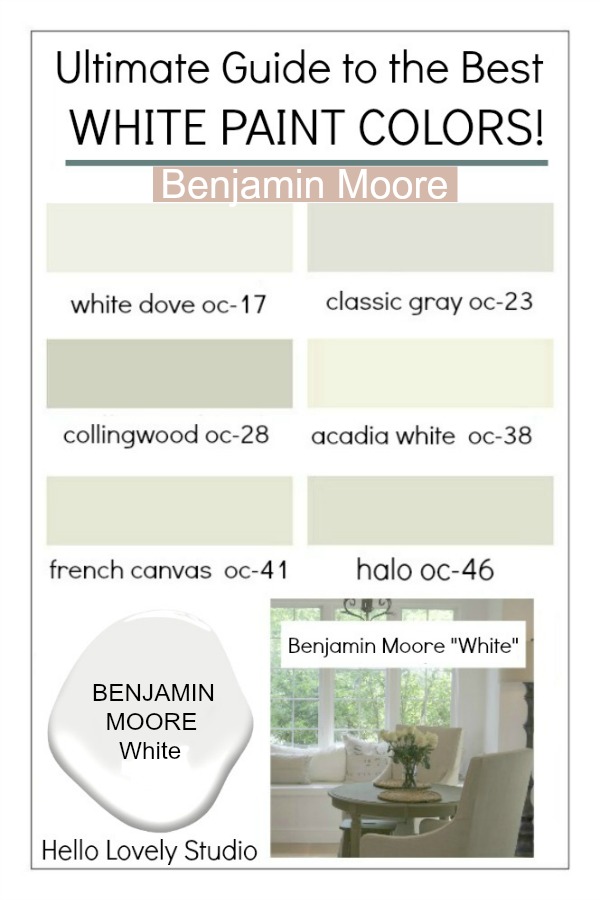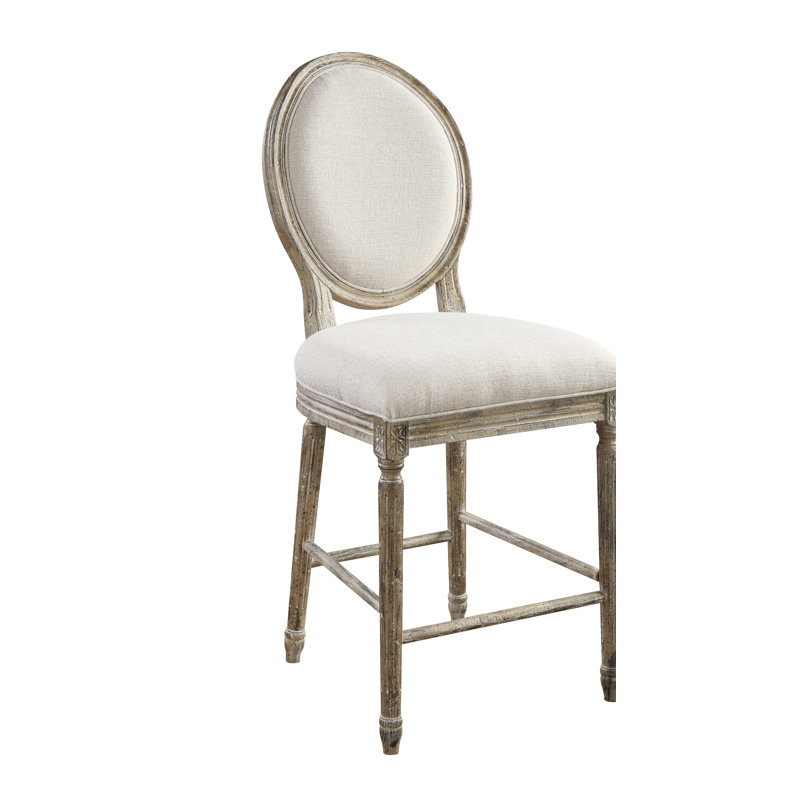 No. 2: Minuet's Veining: Not Too Subtle, Not Too Bold
I am often asked about Minuet's veining, and I would have to rate it somewhere in the middle in terms of its boldness. Other samples of quartz I brought home were slightly more subtle (i.e. Caesarstone London Grey, Viatera Cirrus) and plenty were bolder (i.e. Silestone Pietra).
Is it busy? Not for me. This is a highly subjective matter. Order or bring home samples from the showroom to see what is candy to your eye.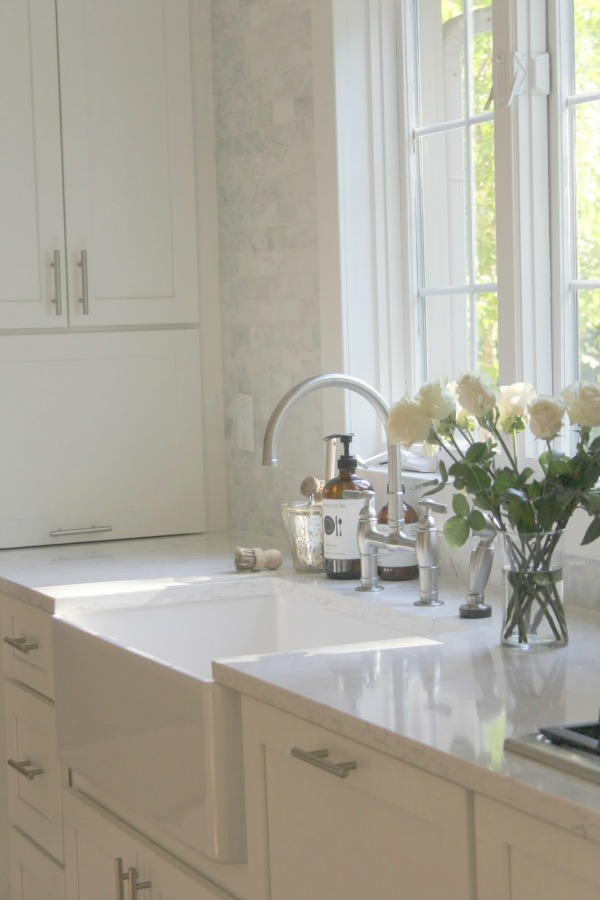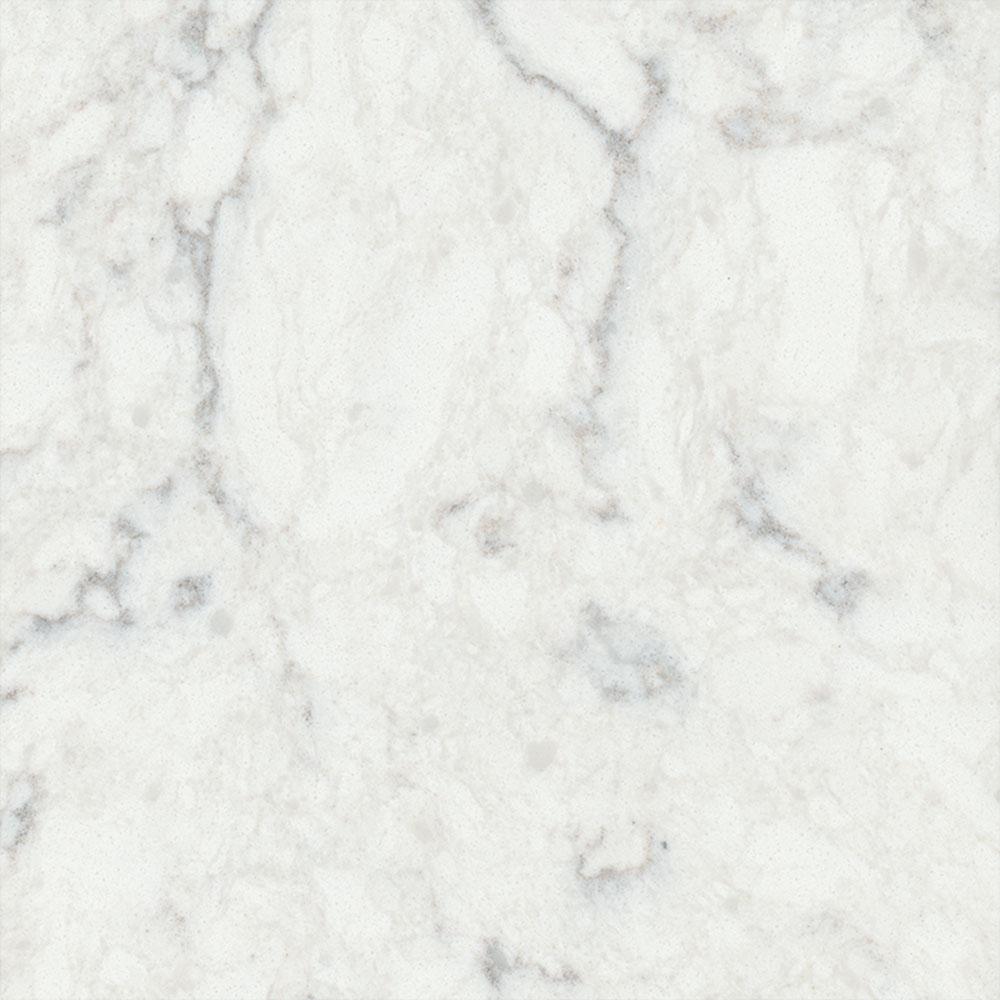 No. 3: Minuet is Reflective & Bounces Around the Light
This was an important factor considering our kitchen receives only filtered light from the west and mostly shaded Northern exposure. Since I crave natural light, I didn't want any dark expanses in the space, sucking up what light I do get. Viatera Minuet has a polished surface with just the right amount of sheen for my taste. I chose a polished marble for the wall and even hung a mirror over the counter for the same reason – to bounce the maximum amount of light around!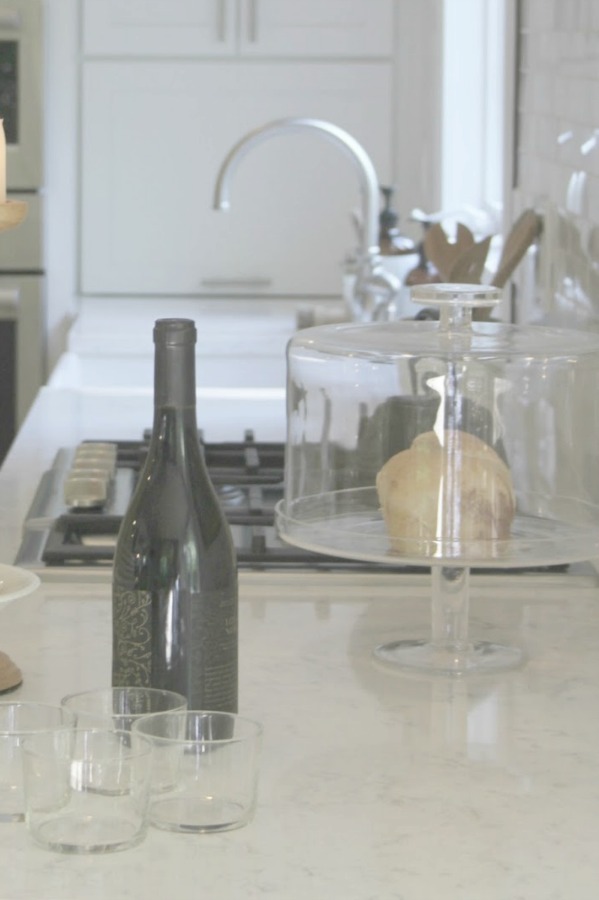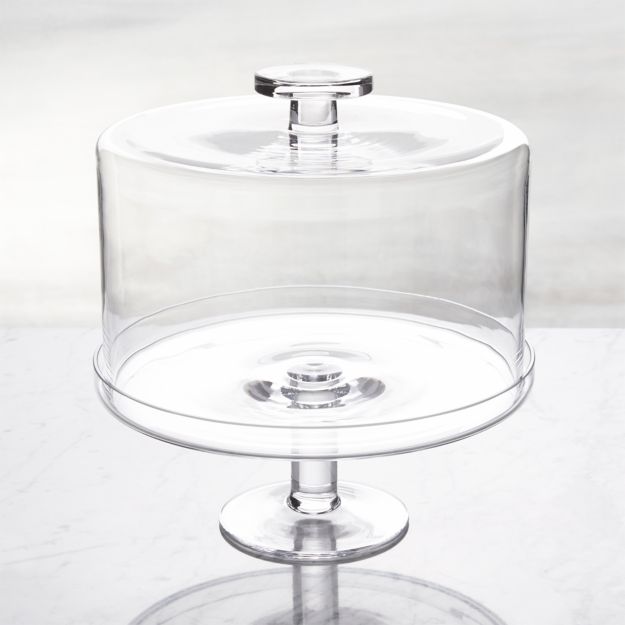 The light in here obviously changes throughout the day, and this 'before' pic will give you an idea of just how dim it can get. (We ripped out these cabinets, counters, sink, appliances, water damaged floor, etc. The window seat bench is about all that hasn't changed!)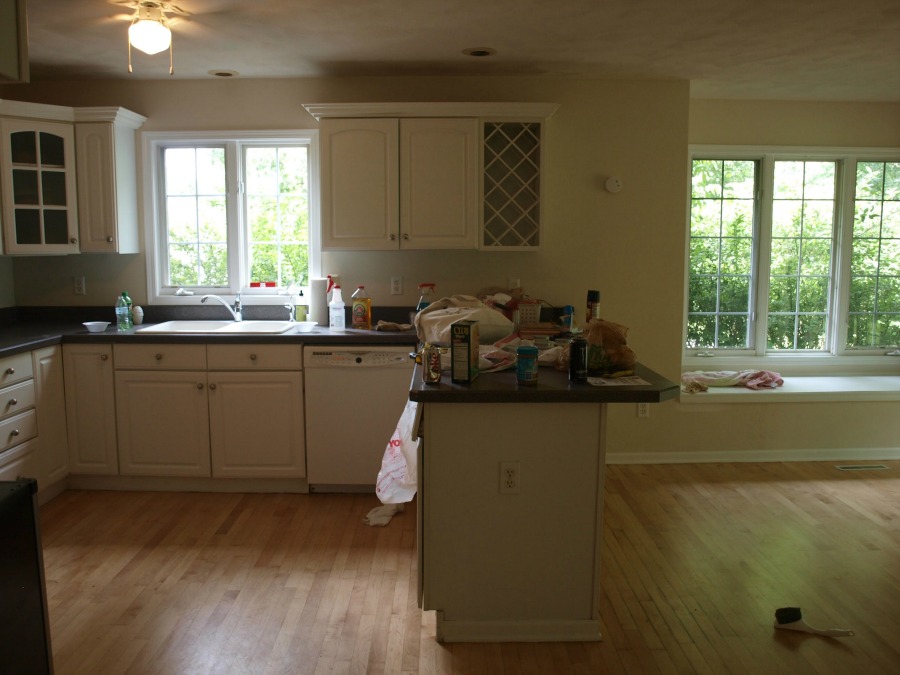 No. 4: Lots of Lemons & Limes Sliced Here
I love natural stone and beautiful marble surfaces, but you don't want to mix your citrus juice with those countertops! There is plenty of proof in this story that lemons show up on our kitchen counters frequently! While lemon juice won't stain marble, it can etch it due to its acidic content. If you're someone who spills coffee or red wine frequently on the kitchen counter, quartz may be your best friend.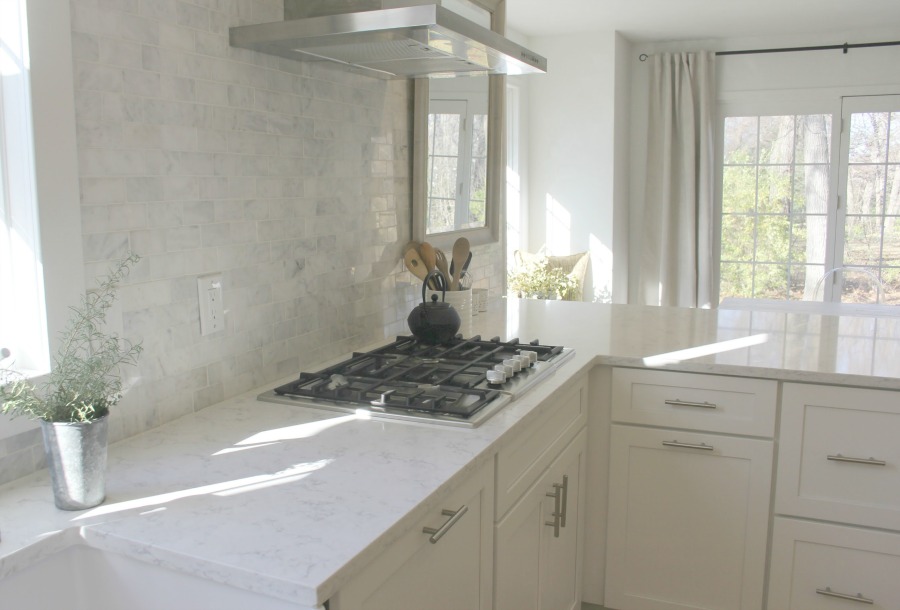 No. 5: White Sinks Look Awesome With Minuet
Truth be told, I never gave a thought to how Viatera Minuet quartz would look with the fireclay farmhouse sink I chose for our kitchen design. The sink was one of the first purchases I made for the kitchen, and it stayed in the box until the last minute. What a triumph that they work so well together! Definitely a lucky match.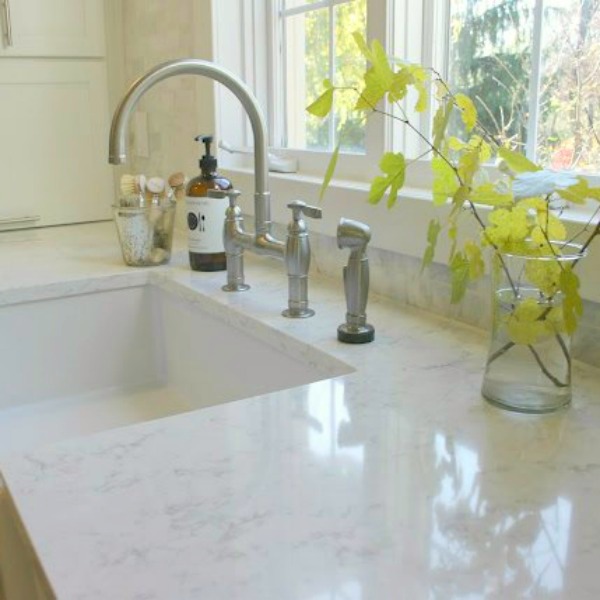 No. 6: Works So Well With a Polished Marble Mosaic Backsplash
Quite often, I am asked about the marble subway mosaic tile we chose for the statement wall in the kitchen. With so many options for a tile backsplash, I didn't choose a tile until after I chose Minuet. The polished venatino mosaic subway tile I bought was right off the shelf at Lowe's right here.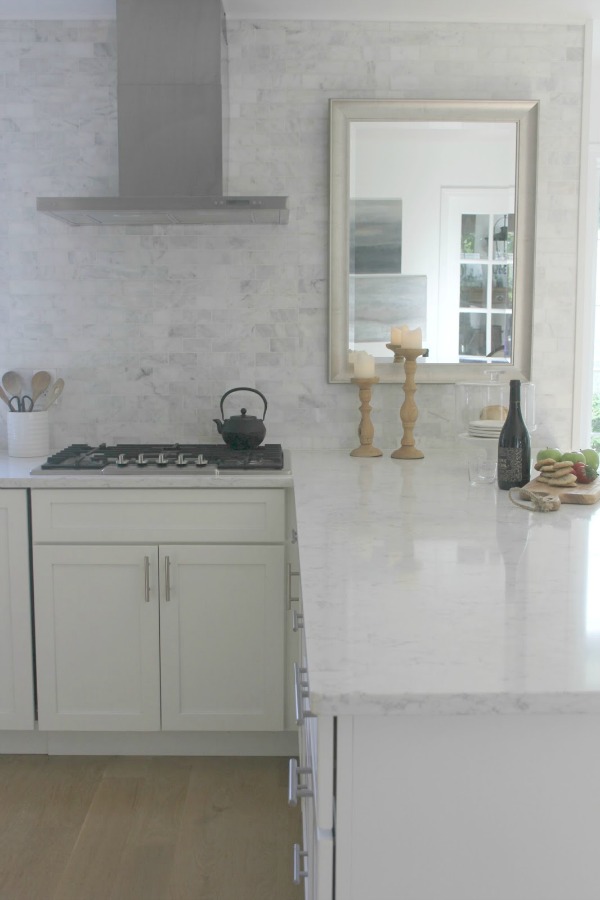 No. 7: Scratches Happen Yet Don't Jump Out at Me
If you're like me, you freak out a little when the first scratches on your perfect new quartz countertop happen! Our Minuet quartz was installed in 2015, and I have never needed any subtle scratches bug me enough to get the countertop buffed or modified. It is a forgiving surface that doesn't easily etch or scratch.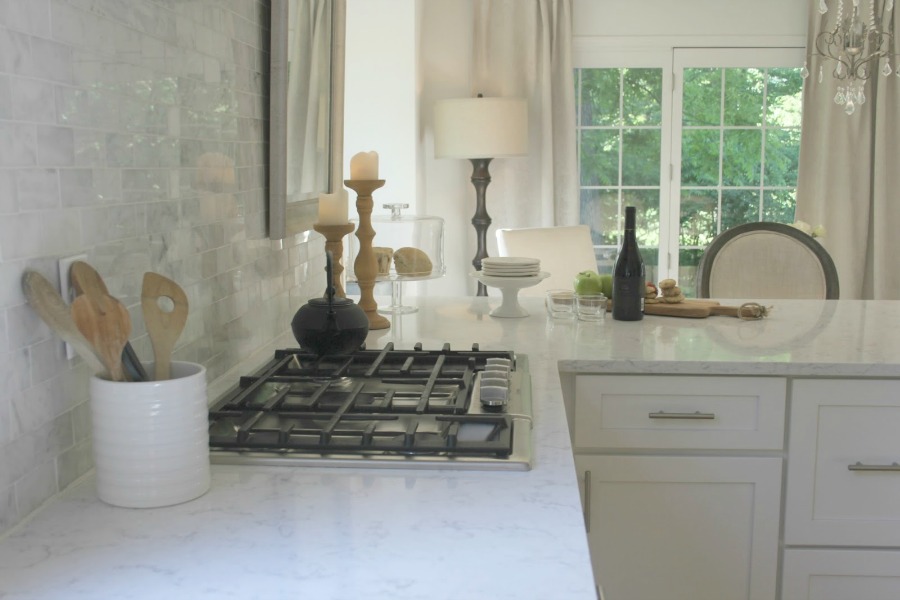 No. 8: Feels Like a Dreamy French Pastry Tabletop
Even if you're not going for a French bakery look, you may appreciate how Viatera Minuet quartz has a crisp clean look!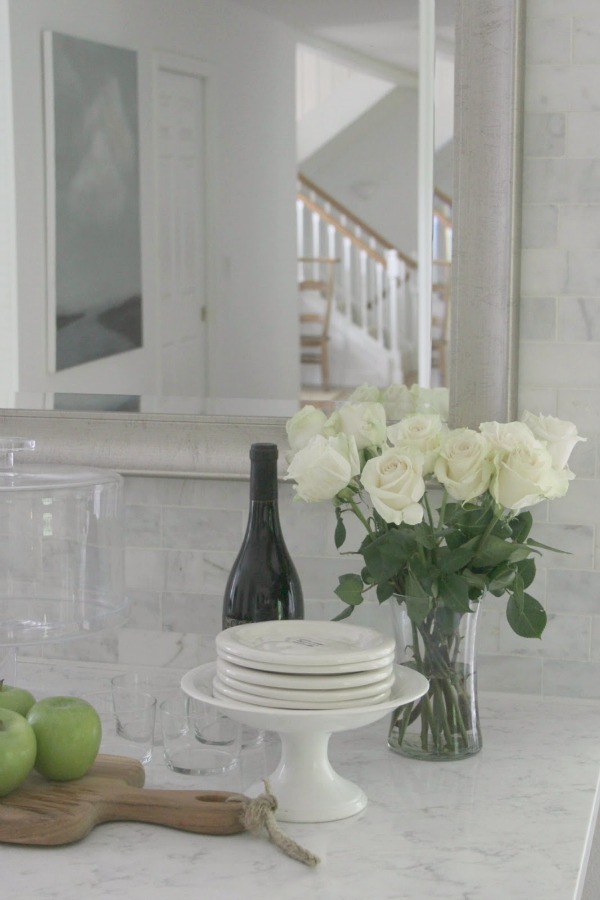 No. 9: Minuet Takes A Fair Amount of Abuse in This Kitchen
I love it when I am asked whether I'm one of those bloggers who actually cooks and bakes or just styles pretty things. This is a real working kitchen, and it's not very large so every work surface with quartz gets used and abused regularly. And I'm often clumsy in the kitchen in terms of dropping pans, dishes, hot soup, wine, and you get it…The Minuet looks awesome after years of abuse.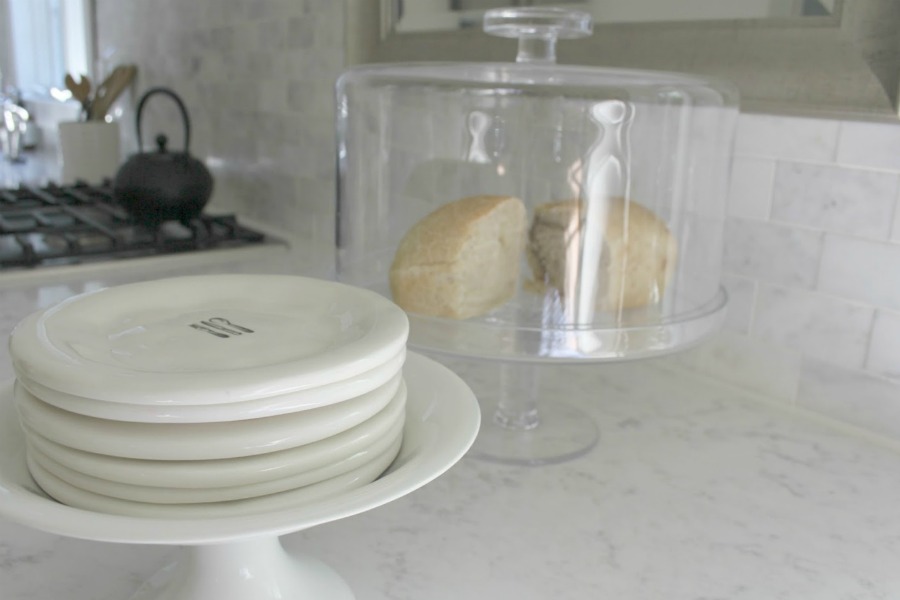 No. 10: Ethereal Grey Veining is Forgiving
Even though I love the look of some calacatta-imitating quartz options, those large expanses of white scare me a little bit. I like the amount of veining in Minuet for concealing everyday crumbs and the occasional scrath. If you have lived with any solid color countertop, I bet you know what I'm talking about.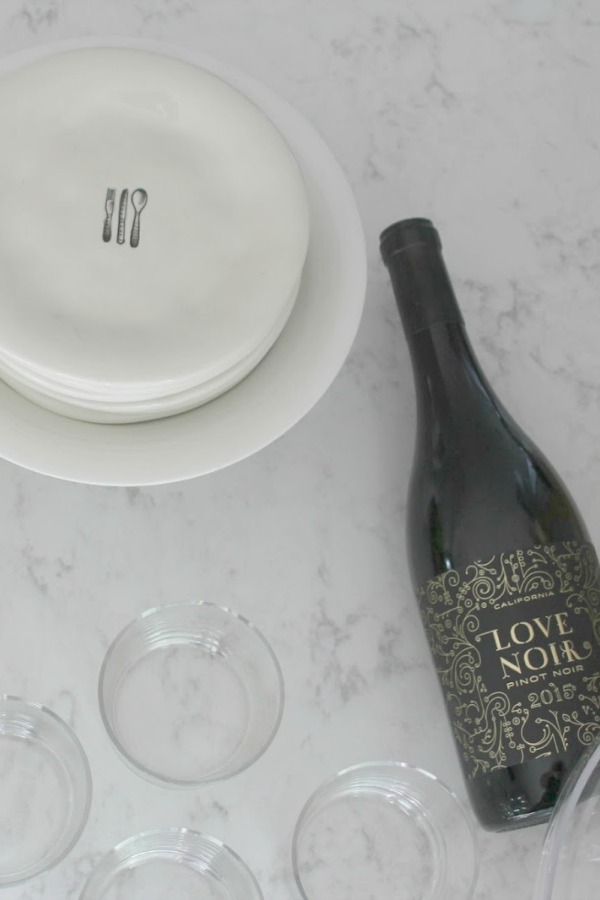 No. 11: Doesn't Change Like My Carrara Marble in Bathroom Does
This point is related to the previous one about Minuet's forgiving-like veining. Since I chose natural carrara marble in a couple of our bathrooms, I can tell you I have noted more changes in the marble. There are parts of the marble that are discolored from age and use. And there are scratches in the marble. Additionally, our marble vanity tops absorb liquids, and let's face it, corrosive substances (whether it's personal hygiene items or cleaning products) may affect natural stone. I'm afraid carrara would have caused me a few headaches in the kitchen so I'm happy the quartz is there.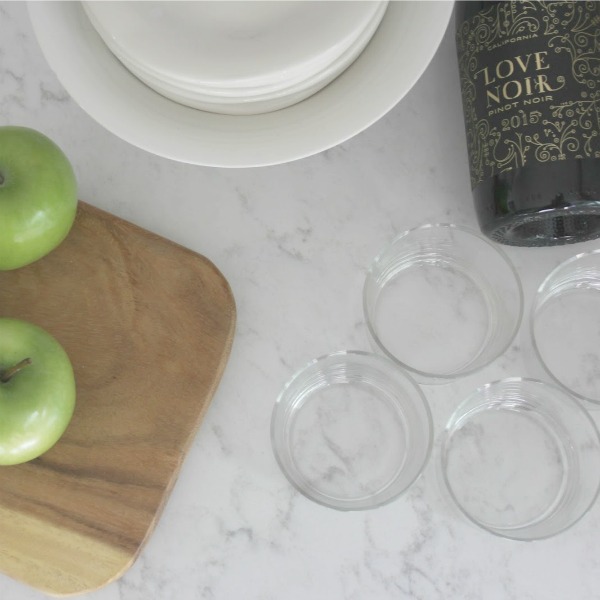 No. 12: Gentle and Lyrical Veining Movement
With so many white quartz options, you might find the process of choosing one quite dizzying. Some of the veining patterns themselves can be dizzying. I like Minuet's gentle pattern that doesn't feel too artificial, although it is fairly uniform. In choosing quartz, I wasn't trying to 'fake' natural marble–I don't think that should be the point. Rather, I wanted a surface to work harmoniously with the other design elements chosen for the space.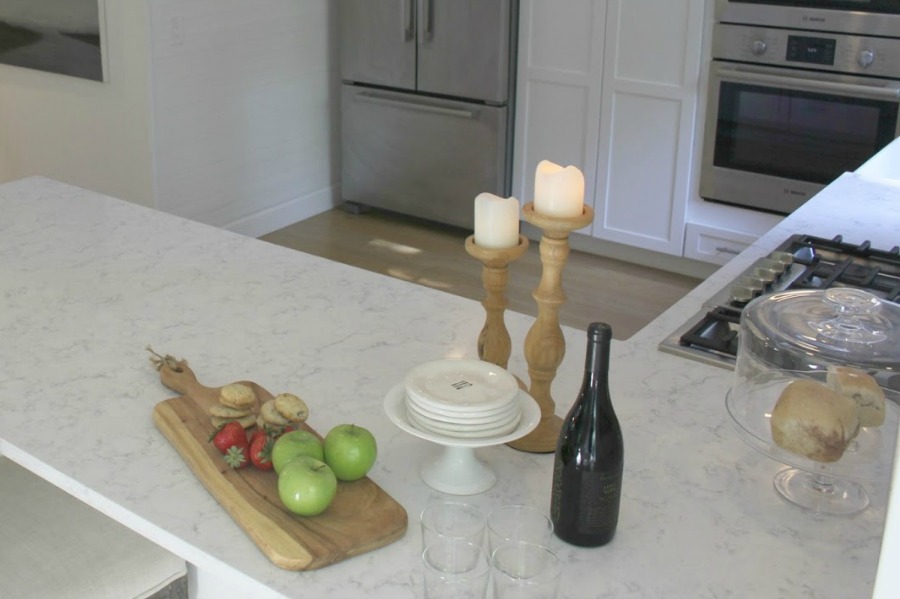 No. 13: Sets a Serene & Cloudlike Mood
The light grey veining in Minuet provides enough contrast with the quartz's white background while also remaining subtle. If you're after an elegant, timeless, and tranquil mood in the kitchen, this countertop color may also be right for you. Another Viatera quartz color I fell in love with? Soprano! We put it in our Arizona kitchen when we completely gave it a makeover with no demo, just upgrades. See it RIGHT HERE.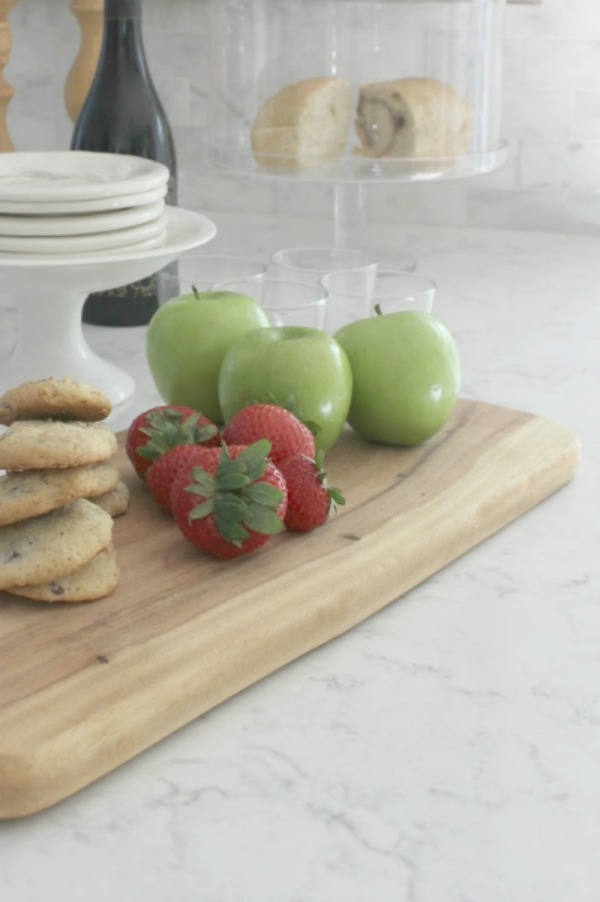 No. 14: More Elegant, Formal, and French Inspired Than the Earthy Quartz in Our Last Kitchen
In our prior French country kitchen I designed, I chose a warm sand-hued quartz which worked well with creamy cabinets and travertine marble accents. While it was a wonderful quartz to live with, I do like the elegance of Minuet, which imparts less of a beachy and organic feel.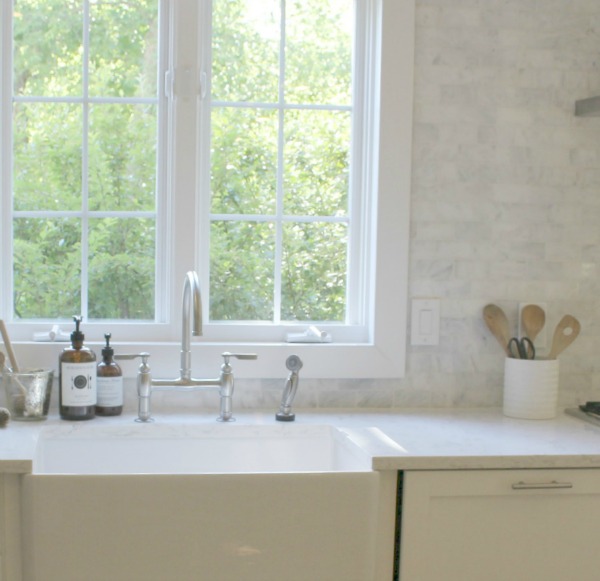 No. 15: Imparts a Classic Look Which Works With a Variety of Kitchen Design Styles
How do I know Viatera Minuet quartz works well with other kitchen designs? Because my sister Jo chose it for her more modern kitchen with its wraparound raised bar counter, and it looks great! Let's tour Jo's kitchen.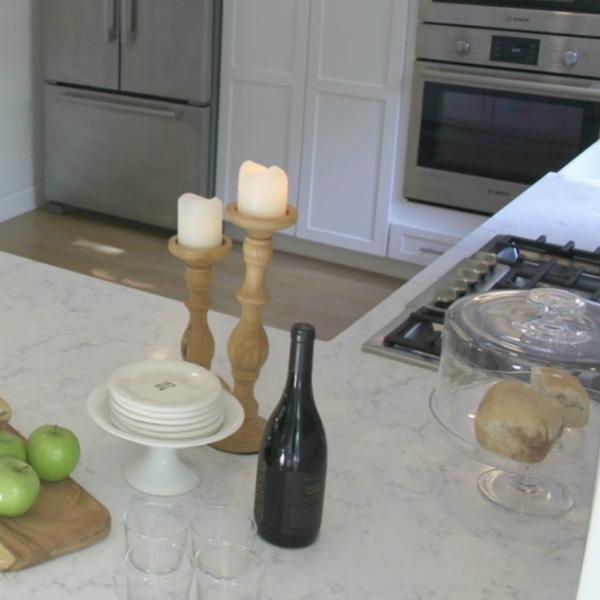 I snapped these a couple of days ago for your reference, and I'll try to get more images of the Viatera Minuet in her bathrooms – she continued the material throughout her newly built home and loves living with the quartz.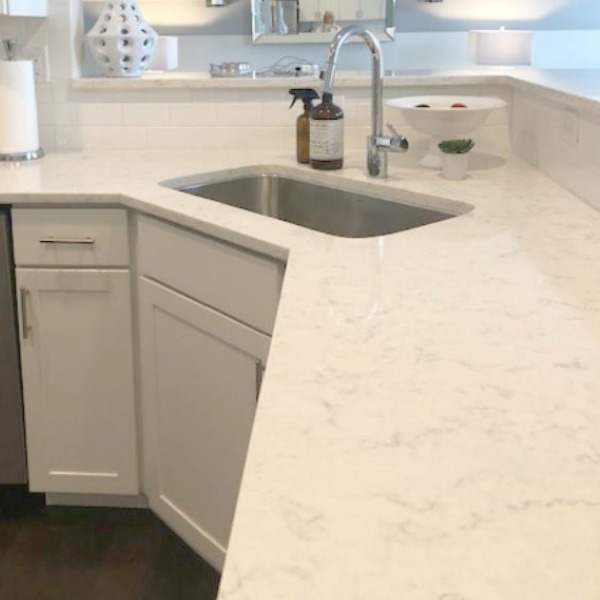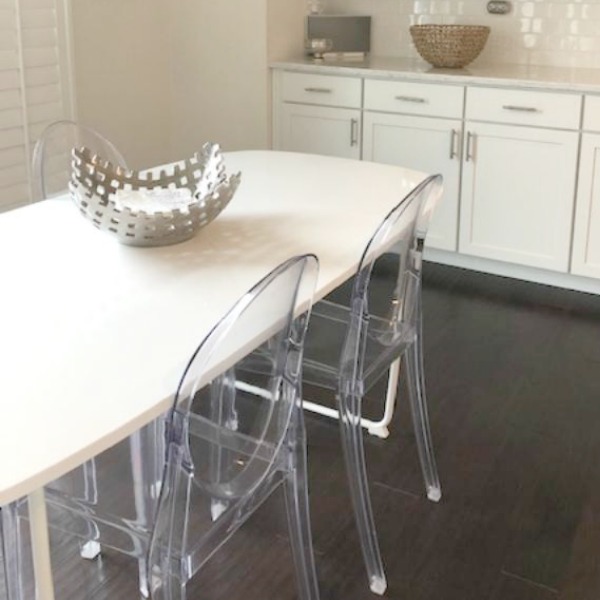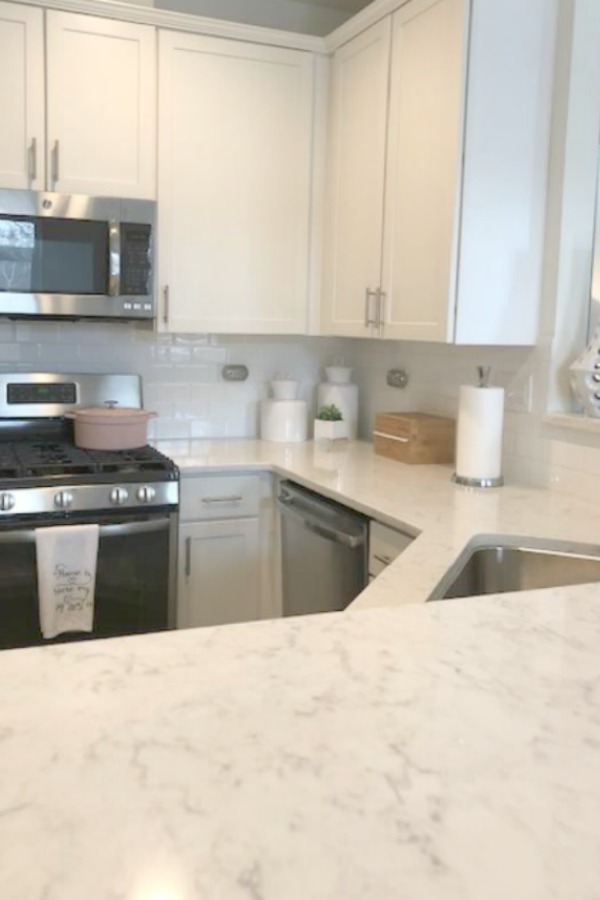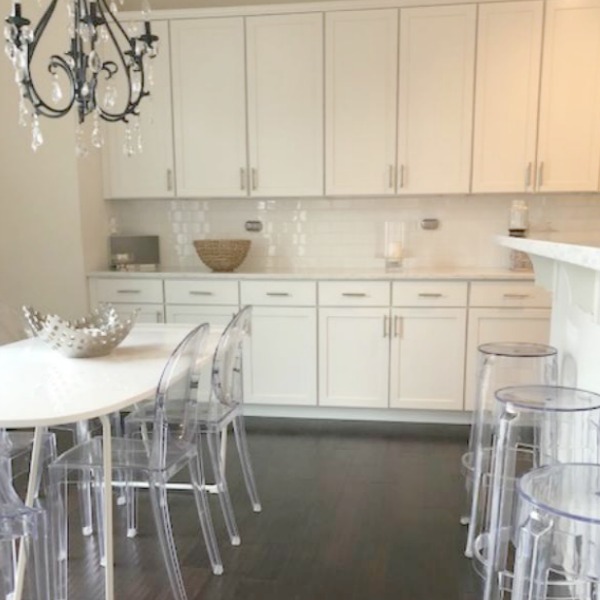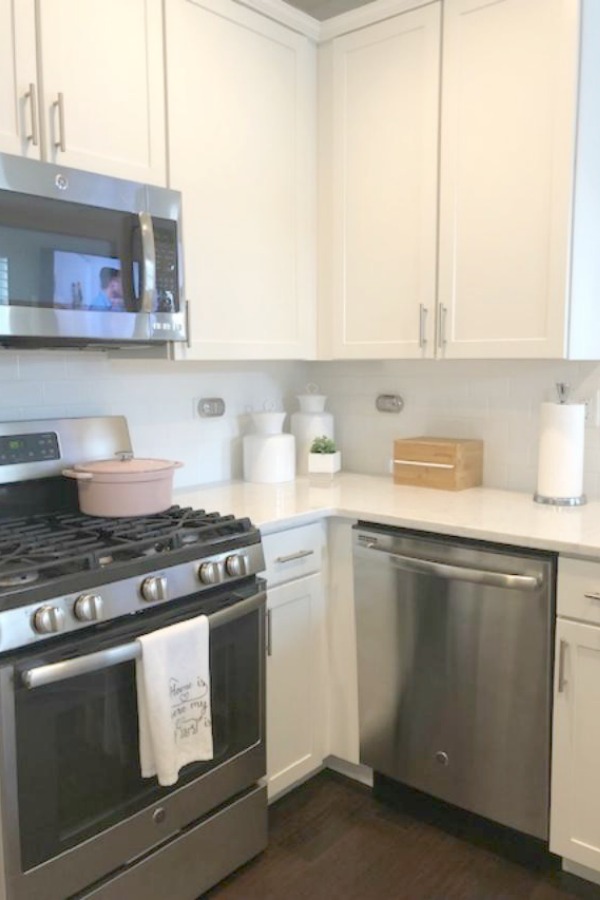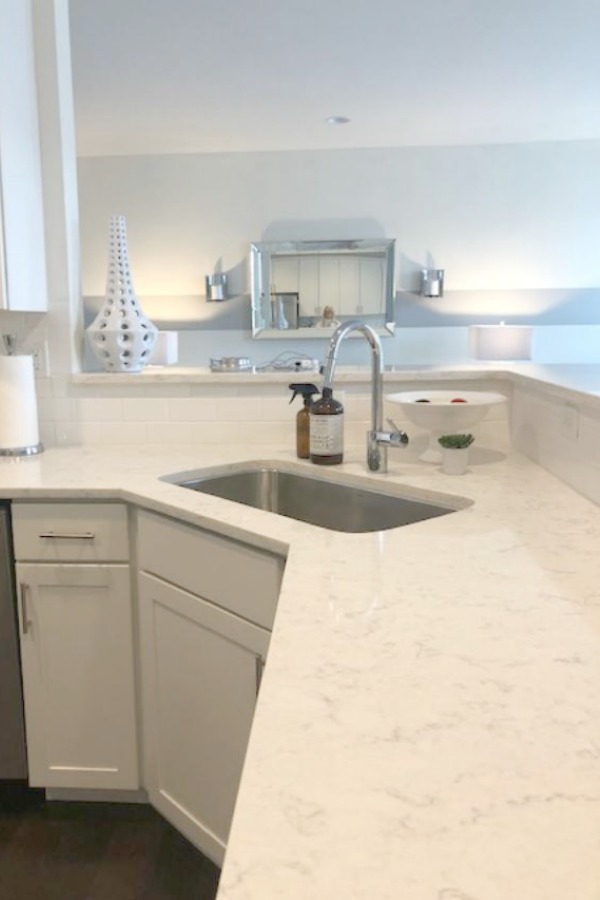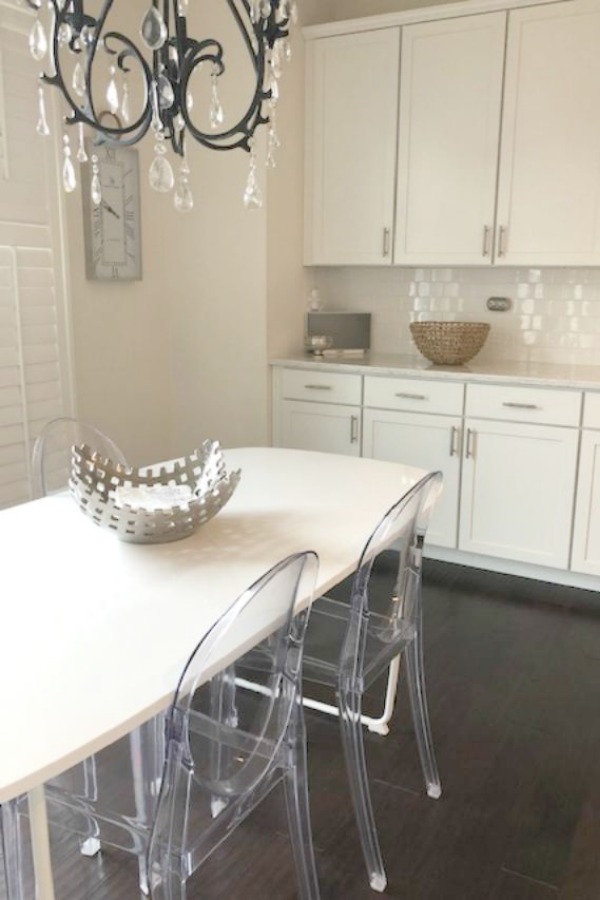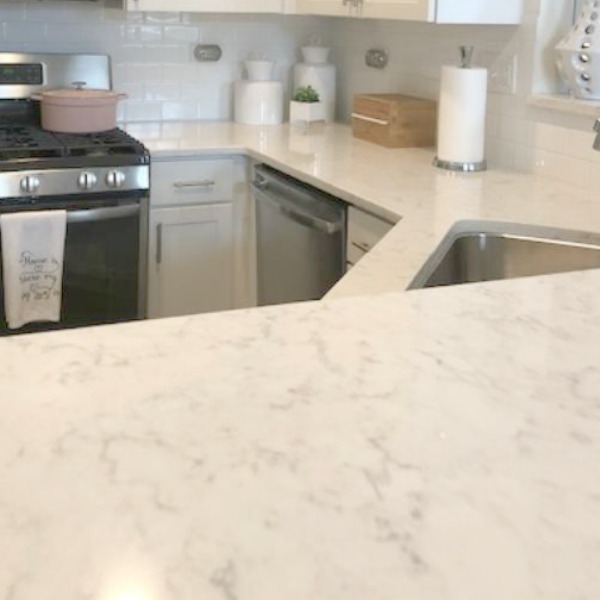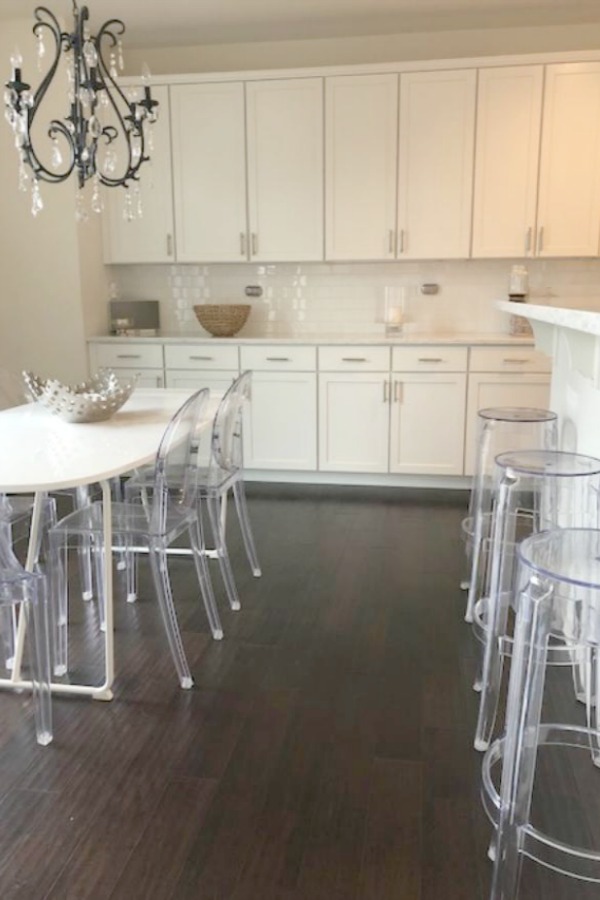 A few years back, we bought a vacation home in Arizona to fix up and completely made over the kitchen, choosing Viatera quartz for the counters. We went for a warmer, creamier look with Viatera Soprano…see that kitchen HERE.
FIND MORE TIPS FOR CHOOSING A WHITE QUARTZ in this story HERE!
I independently selected products in this post—if you buy from one of my links, I may earn a commission.
Peace to you right where you are.
-michele
Shopping for items you already intended to buy on Amazon RIGHT HERE (not just items mentioned in posts) or home decor keeps decor inspiration flowing on Hello Lovely!
Hello Lovely is a participant in the Amazon Services LLC Associates Program, an affiliate advertising program designed to provide a means for sites to earn fees by linking to Amazon.com and affiliated sites.