23 White Christmas Decorating Ideas From a Romantic Nordic French Home Tour takes us to Spain once again! Did you catch the holiday decorating post with the tour of a rustic French country cottage in the Spanish countryside? Today's glorious cotton candy cloud fairy tale home qualifies as a French Nordic fantasy. Whimsical and romantic decorations, a tone on tone color palette, twinkling lights, and soft touches tick all the lovely boxes for an elegant French Christmas.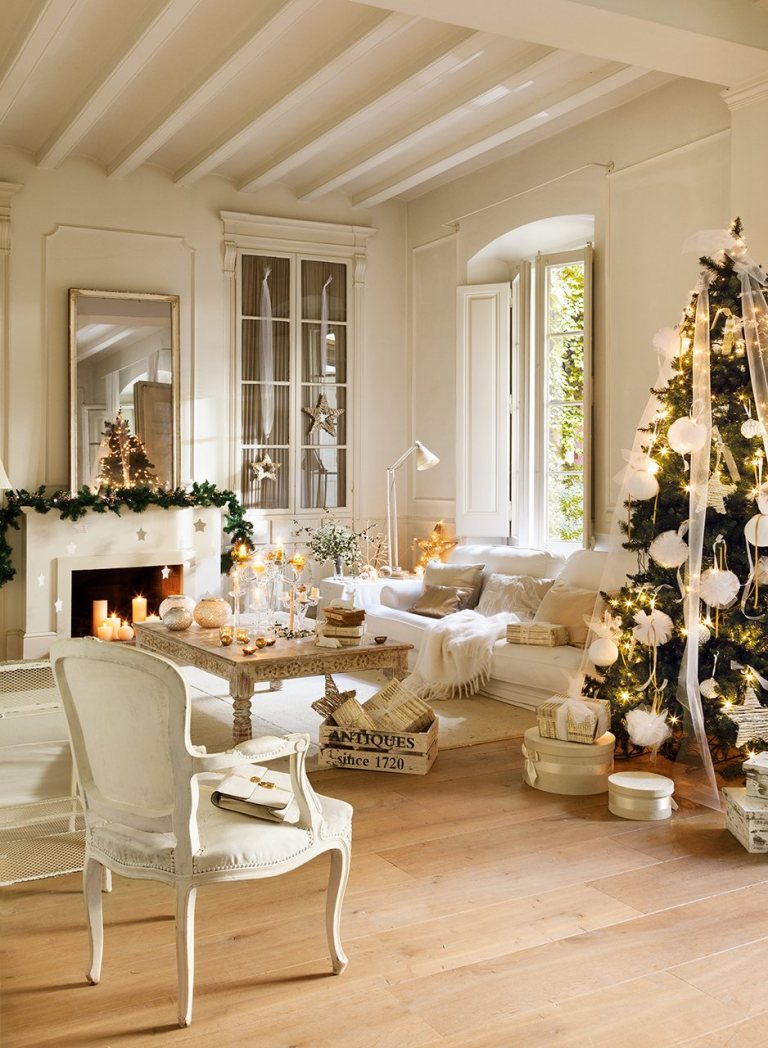 Photos: El Mueble
Timeless Christmas decor. I recall seeing this Christmas decorated home online everywhere a few years back, and what a testament to timeless style that it still tingles my jingles after several seasons have passed.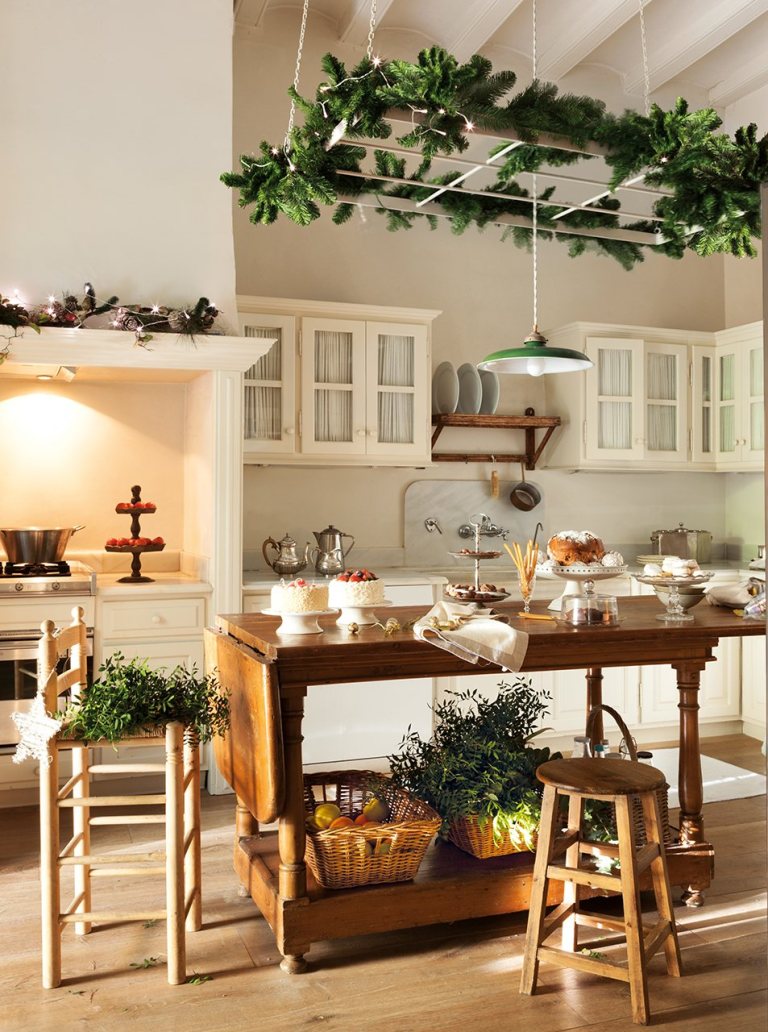 23 White Christmas Decorating Ideas From a Romantic Nordic French Home Tour
Where is this home? This beautiful home located on the Maresme coast in Spain hails from 1864. It has been lovingly restored, lightened, brightened, and quite possibly kissed by angels.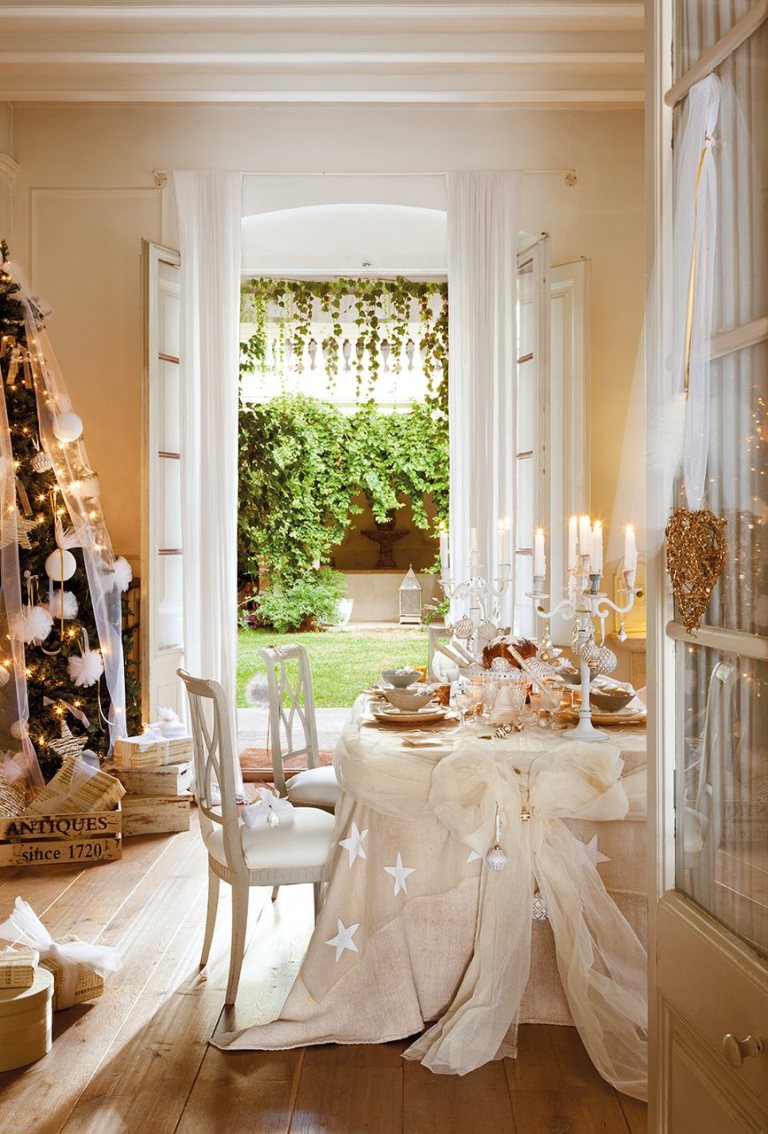 Subtle Christmas Color Palette. What a magical example of the softer side of holiday decor which may appeal to Nordic Frenchies and Parisienne-wannabes as well as fabby shabby chic-sters.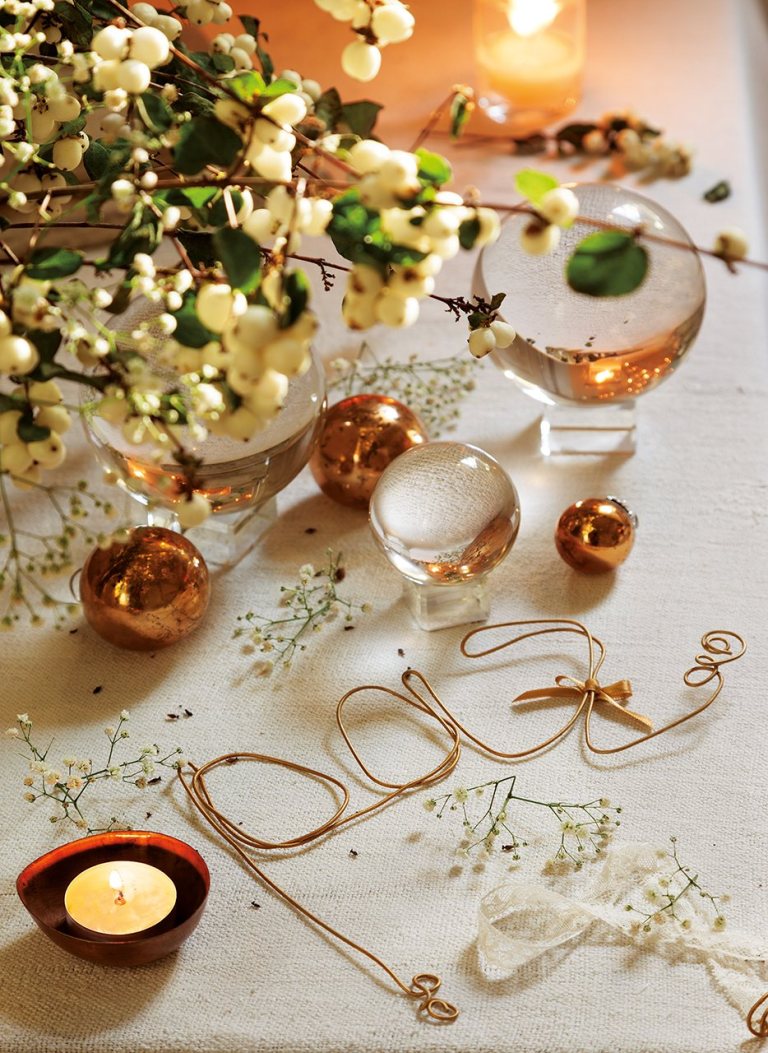 Let's collect white Christmas decorating ideas from these gorgeous French Nordic style interiors.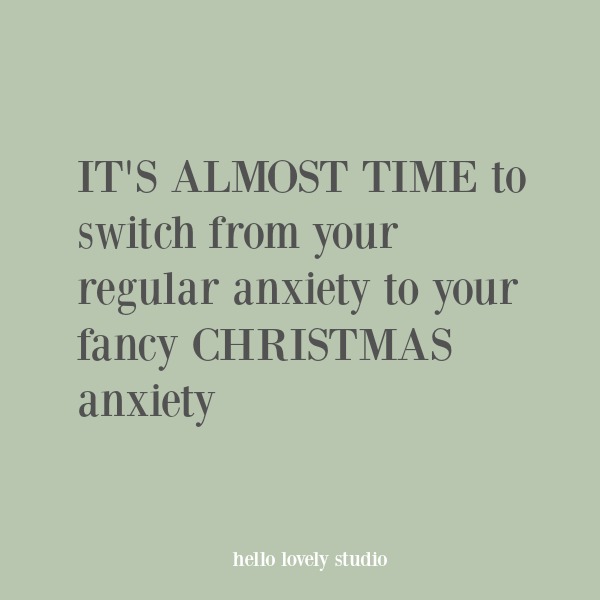 1. Rustic Crates and Wood Boxes
Unfinished wood crates and wood boxes are easily found and can be customized with hand lettering (for the most authentic, rustic look) or a stencil. Tuck gifts, books, pet toys, firewood, candles, dishes, and other festive objects inside. Crates and boxes look great near the Christmas tree, fireplace, near a chair, in the entry or in an empty corner.
FIND Rustic Crate POSSIBILITIES HERE.
2. White Tulle Ribbon for Christmas Tree & Garland
It's the simple things! I have used white tulle on Christmas trees through the years, and I like it best as seen here. A simple tied bow at top and long straight ribbons casually streaming to the floor. Weave white tulle with little sparkling white Christmas lights through simple greenery (artificial or fresh). Your mantel, dresser top or stair railing can be dressed with this romantic trio.
FIND White Tulle POSSIBILITIES HERE.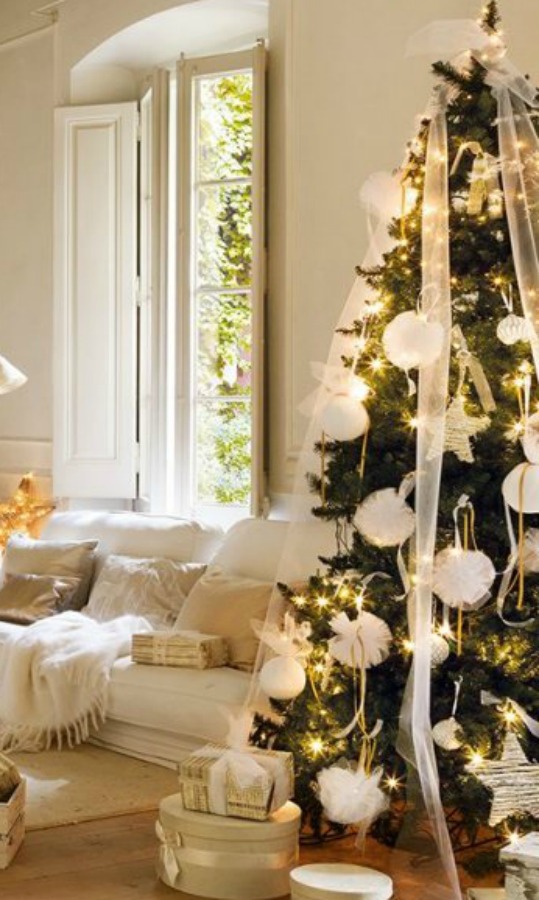 3. Christmas Star Motif
There's something so nostalgic and classic about decorating with stars at Christmas, recalling the Star in the East. Repeat this dreamy simple motif throughout your holiday decorated home to leave you and yours starry-eyed.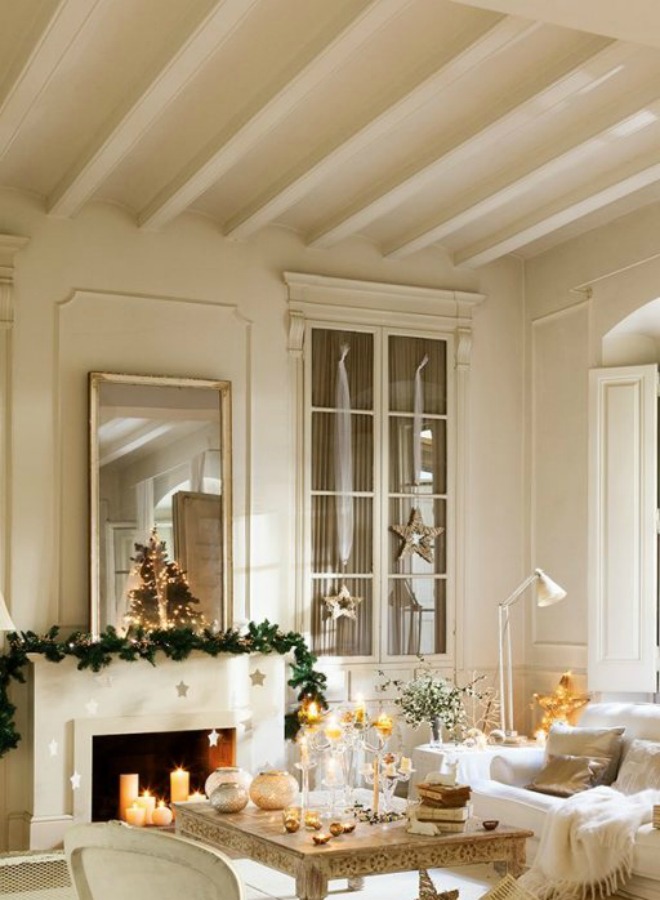 4. Beyond Stockings From Fireplace Mantel
Everybody understands the language of Christmas mantelscape (greenery, candles, stocking hangers, signage). But what about suspending little delicate stars as this homeowner has done or hearts or Christmas trees from silk thread or fishing line? How simple to adhere them with a little tape to the mantel and hide them under greenery. What I love about this sweet holiday decor touch is the gentle swaying movement these sweet embellishments are destined to make.
5. Tulle Ribbon Suspended Holiday Ornaments
Tulle ribbon works so well for a variety of Christmas decorations when you're after an ethereal, gossamer, light and airy mood. I have had great luck feeding it through the little loop of Christmas ornaments to suspend them from windows, mirrors, door knobs, kitchen cabinet pulls and beyond.
6. White Candles in the Fireplace
There's nothing like a blazing fire in the fireplace to set a romantic Christmas mood. But whether your fireplace is a working one or just decoration, the flickering flames of creamy white candles provide a hard to beat ambient glow. Use various sizes and arrange them in a metal receptacle to catch wax.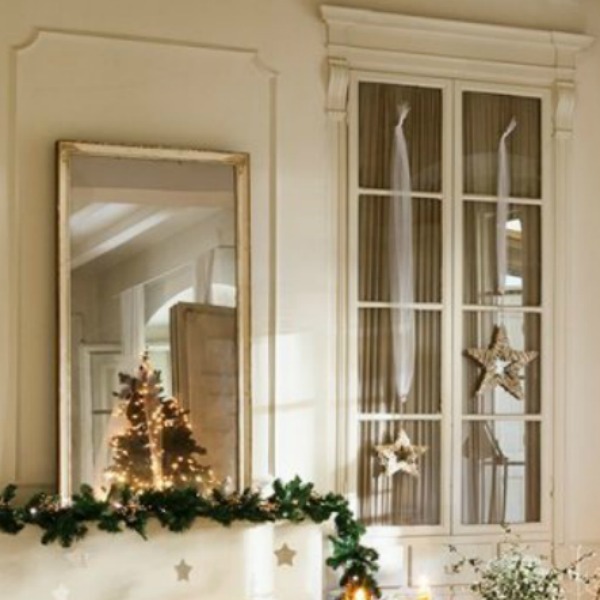 7. Christmas Candelabra
I don't know about you, but after seeing this home tour, I'm ready to keep my eyes peeled for a candelabra or three when I'm at the thrift store. Who cares if they care the wrong color if they are cheap? You can easily spray paint them and create French Nordic inspired Joyeux Noel moments. For a more dramatic statement, dangle metallic Christmas ornaments from the candelabra arms as this homeowner did.
8. Simple Wreath Hung From Vintage Frame
It hardly gets much easier than this simple DIY. Score an ugly framed piece of art from your basement or antique mall, spray paint it white, then tack a little nail on the frame. Voila! Any wreath (even a plain grapevine one) hung from a ribbon will look more important and interesting.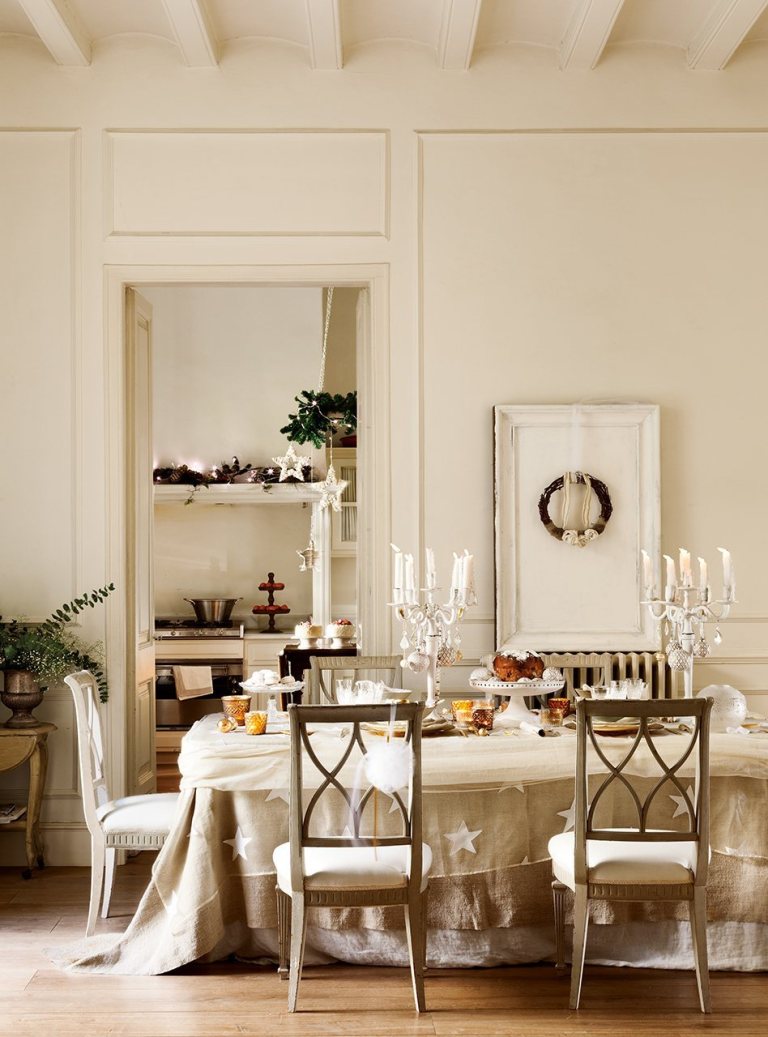 9. White Christmas Reindeer
It hardly gets simpler than white reindeer Christmas decor! Transform dollar store, thrift store, or inexpensive new reindeer with your favorite white paints. Make it more interesting by varying the shades of white.
10. Stacks of Creamy Hued Books
Keep an eye out for pretty vintage books with white, cream, oatmeal, and pale hued covers. Are they falling apart? Lucky! Tie the stacks together with some twine or white ribbon or just imperfectly stack them.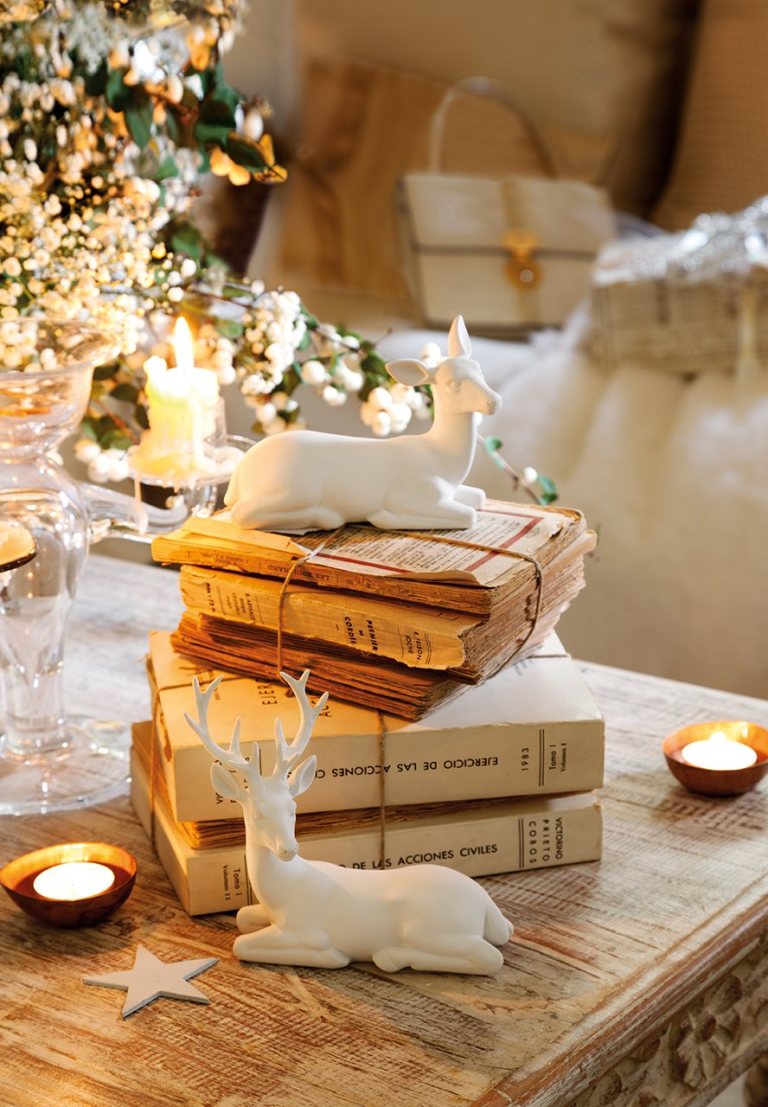 11. Balance White With Woven Textures
It is going to make all the difference so make sure to incorporate plenty of Scandinavian and European inspired baskets, placemats, and touches.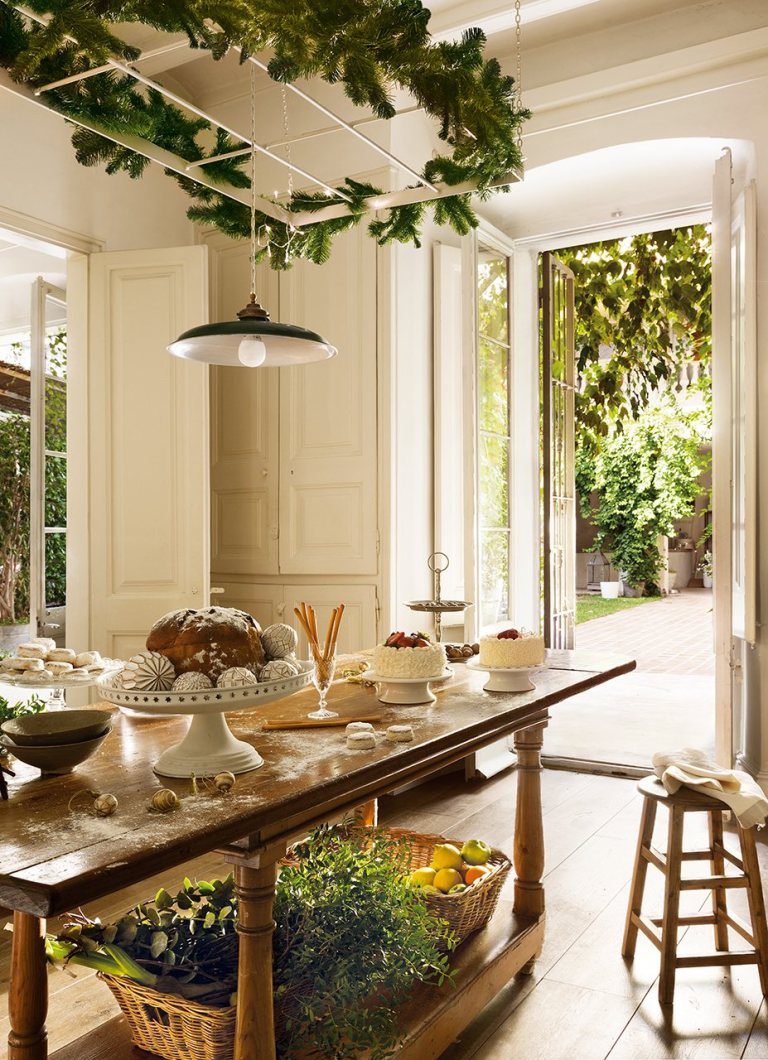 12. White Roses for Christmas
Fresh white roses are right at home in a white Christmas decorated home and look wonderful in rustic light colored urns, white ironstone pitchers, crystal vases, and pale earthenware. I have even tucked everlasting white roses into branches of the Christmas tree for a very French Nordic look.
13. Skip the Christmas Red
This is going to a controversial Christmas decor idea for sure, but stick with me. You'll notice in this beautiful Nordic French home's decor that the subdued, quiet, calm mood is accomplished without pinks and reds (beyond a few apples in the kitchen). What are you supposed to do with all your decorations with red?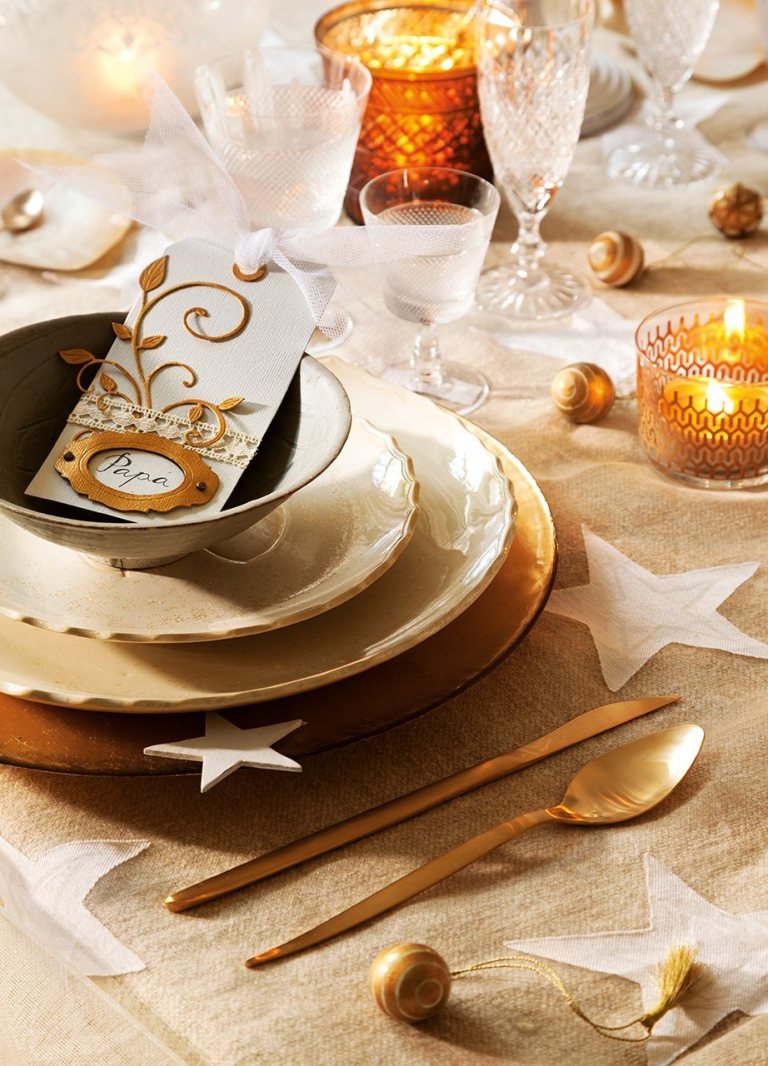 14. Lovely White Tulle + Gift Wrap
Does decorating for Christmas with pretty wrapped Christmas gifts even qualify as a decor idea? Maybe not, but for a more romantic and feminine look, use white tulle alone or combined with ribbon.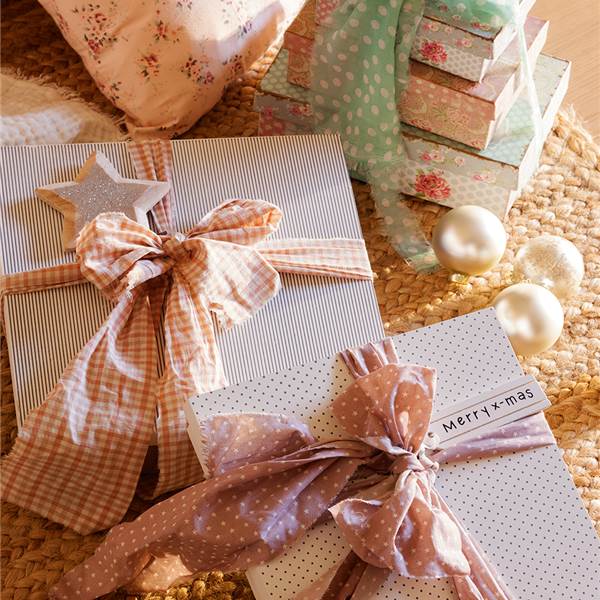 15. Give Tired Christmas Decor a Makeunder
If a few decorations have lost their charm for you and aren't valuable…yes, I'm going to say it–of course, I'm going to say it. PAINT THEM WHITE. But if painting everything white doesn't delight you as it does me, what about reserving reds or greens for one room? Go for vibrant color in a powder room or guest room if you have objects that don't fit with the white Christmas decor scheme. Or simply tuck them away for next year's bold scheme if changing it up year to year is how you roll.
16. White Christmas Cakes
Think beyond frosted windowpanes and royal iced houses. Why not? I am a horrible cake decorator–just no natural skill or patience for it–but I can whip up buttercream and pile it on for a plain and simple, gorgeous smelling layered lovemuffin or batch of cupcakes.
Skip baking and buy them from the grocery store. Request an all white frosted cake or plain cupcakes from the bakery department if all you see in the case are colorful, over the top, tacky specimens. ARE YOU SUGGESTING I USE THE CAKE AS DECOR and NOT PLACE IT IN MY MOUTH? I like my cake and am nooooooot going to judge whether that cake sits prettily on the pedestal in the kitchen or dining room for one hour or one month. Hahahahahahahahaha.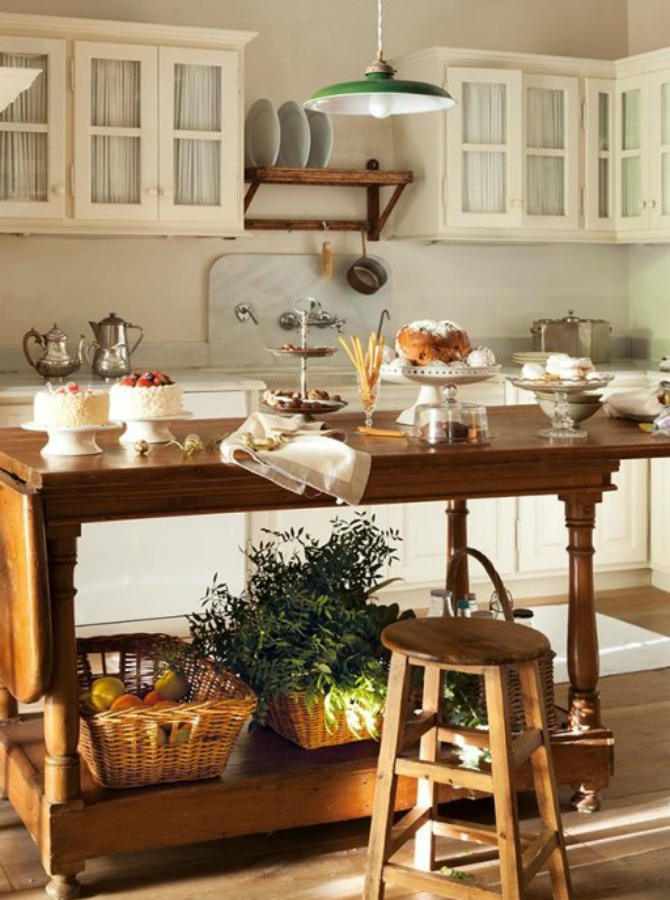 17. White Sheepskin Rugs & Pillows
Oh this is just the best white Christmas decor idea EVER. Why? Because it satisfies so many requirements. Nordic French? Um, like totally. Cozy and tactile? Oui. Functional and beautiful? Hallelujah. FIND a few possibilities HERE.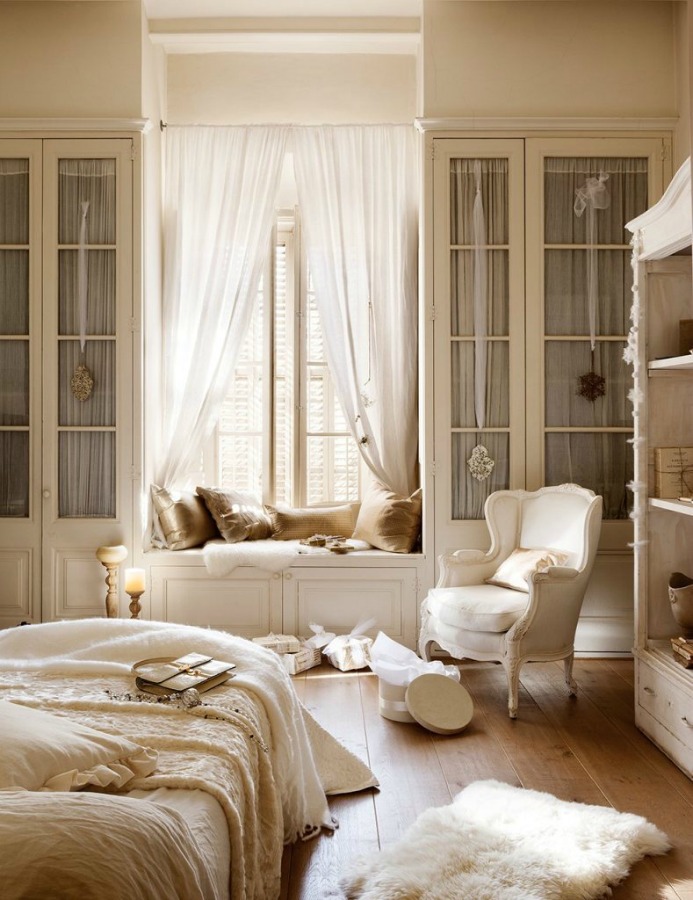 18. White Painted Vintage Chairs
Many folks need extra seating at home around the holidays as they entertain family and friends. So why not shop your basement, garage, or local thrift shops for stools and castoff chairs that may be transformed with a few coats of the white stuff? You may remember that eons ago, I painted an ugly brown upholstered Louis-style arm chair white…including the fabric. While that chair now serves as a perch for bath towels and as a decor element, it would be perfect stacked with gifts in a French Nordic Christmas decorated room.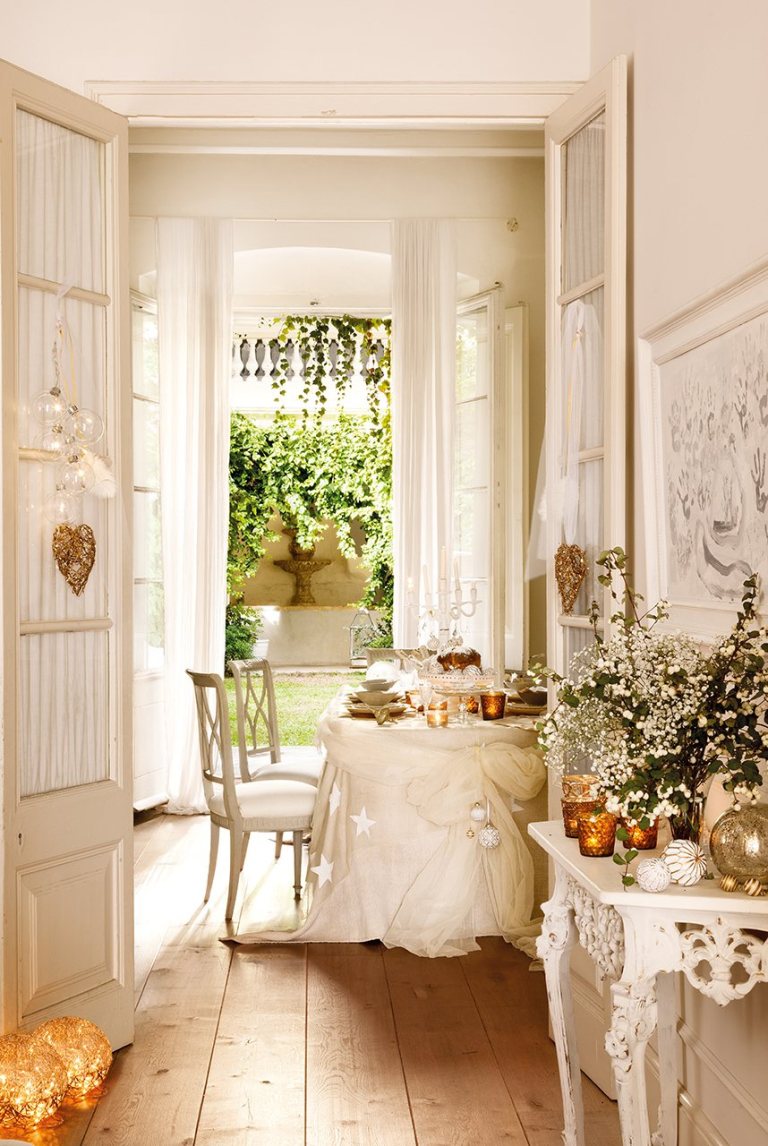 19. Treat a Table in the Entry as a Mantel
Decorate the top of a console table, shelf, or other surface in the entry with a few metallic or light-hued ornaments and votives. I love how amber glass works with all the white in this glorious French inspired home.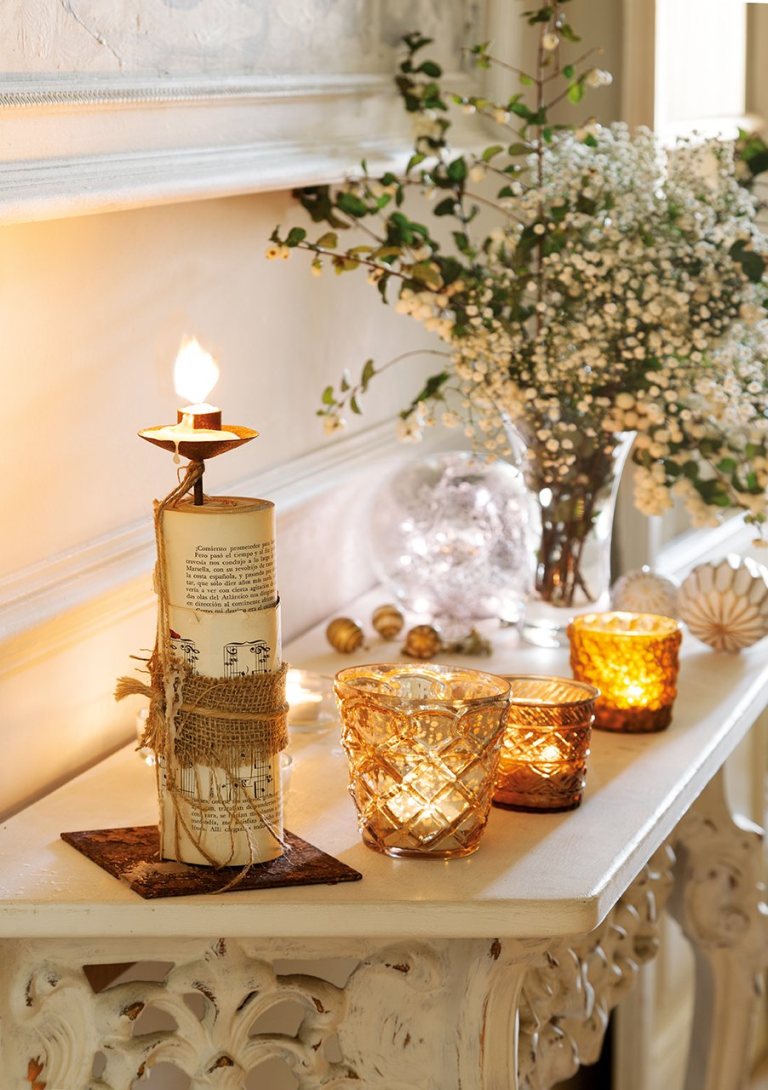 20. Celebrate Green + White
Something truly magical happens when green and white get together for the holidays so they can never be underestimated. Just look at the Christmas tree or fireplace in this Spanish home to be further convinced.
21. Remember to Look Down
The holiday decorated interiors of this enchanting white home remind us not to neglect floor surfaces and areas like the bottom shelf of a kitchen work table. A simple detail like a grapevine sphere wrapped in white twinkle lights where a doorstop would be can be a charming unexpected design detail. And I find the Scandinavians are such pros at laid back, rustic yet elegant touches like candle light on the floor. Not every home (kids! pets!) may be appropriate for glowing floor decor, but candles can have batteries and need not be real flames, kittycats!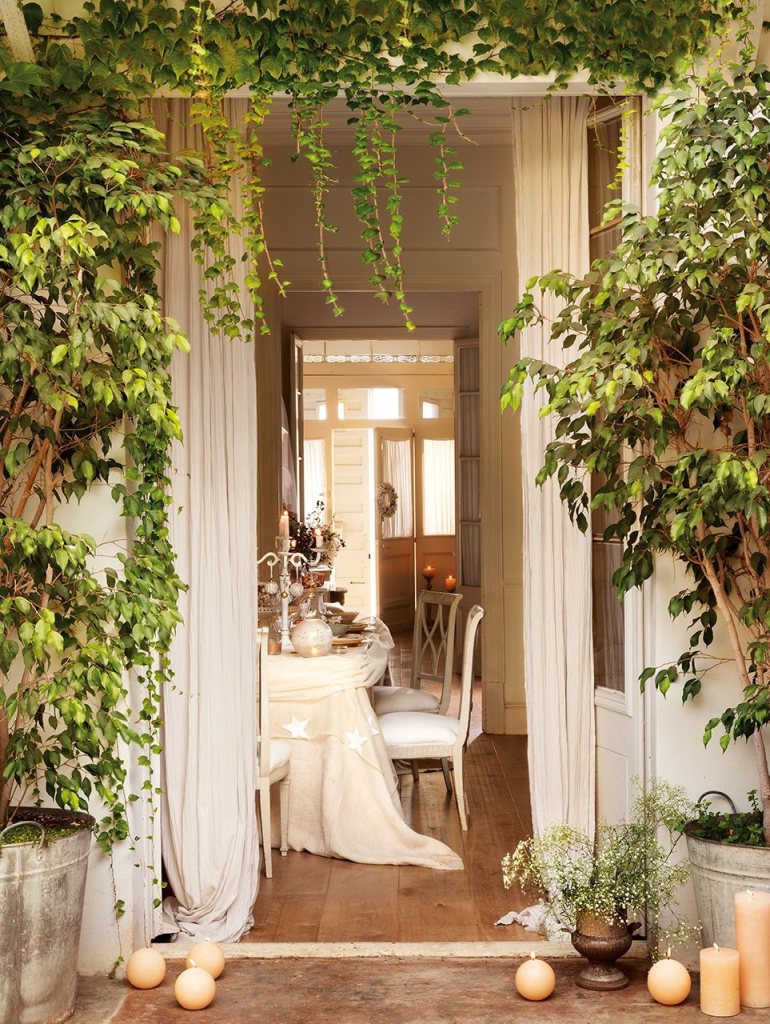 22. White Tissue Paper & White Poufs
If you have followed this blog for awhile, you know I have a thing for tissue paper pom poms, poufs, and garlands. They are relaxing to make and add so much whimsy and fun for Christmas and beyond. They also have a Nordic French quality so it's an inexpensive, creative layer you can add to holiday decor when you're keeping it White Christmas. FIND TISSUE PAPER IN BULK HERE.
23. Understated White DIY Reindeer Pillow
While this video may be in Spanish, it doesn't matter since you'll get the gist.
I independently selected products in this post—if you buy from one of my links, I may earn a commission.
Peace to you right where you are.
-michele
Shopping for items you already intended to buy on Amazon RIGHT HERE (not just items mentioned in posts) or home decor keeps decor inspiration flowing on Hello Lovely!
Hello Lovely is a participant in the Amazon Services LLC Associates Program, an affiliate advertising program designed to provide a means for sites to earn fees by linking to Amazon.com and affiliated sites.